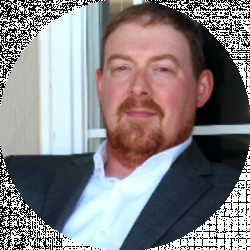 Latest posts by Justin Caldwell
(see all)
One of the best things about meat delivery services is the convenience. You don't have to get up and run to the grocery store and mess with traffic and other people. Plus, you're likely to find a greater selection than what you'll find at your local grocer. That means you can get the type of meat and cuts that you want.
Some of the best quality meats are available without leaving your couch. This includes pork, which offers delicious cuts such as pork chops, pork loins, ham, and of course, bacon. In addition, buying pork online gives you detailed information regarding where your pigs were sourced and raised. 
How to Choose the Right Pork Delivery Service
Before we get started with the best online pork delivery services, let's take a look at a few criteria to consider before you make your decision.
The recommendations made in our guide are not randomly selected. In addition, we go through a vetting process to confirm that all pork delivery services are high-quality and reliable. 
Every pork delivery service on our list includes the following:
Positive Feedback
We want to provide the best possible options, which means spending time researching and testing the pork delivery services available. That also means checking out the customer reviews. The choices on our list have positive reviews by the majority of customers who use them. 
Availability
There's no point in choosing a pork delivery service that doesn't deliver to you, right? That's why we did our best to choose companies that deliver to the majority of the United States. 
Affordability
Pork can get expensive very quickly, which is why we wanted to include delivery services on our list that provide affordable options. No matter what type of budget you have, there'll be an option that works for you.
Best Pork Delivery Service – Top Picks
If you search for them, there are plenty of online sites that offer pork. Here's our list of the best online pork delivery services available.
Rastelli's – Best for Those Who Want Frozen Meat
Rastelli's has been in business for over 45 years now, initially starting as a New Jersey butcher shop. Nowadays, Rastelli's is a family-run business that offers amazing meat that's been responsibly sourced. The company delivers its tasty meat to customers all over the United States.
All of the meats available through Rastelli are certified free of hormones, steroids, and antibiotics. To ensure that the flavor and texture of its pork are maintained, Rastelli's freezes its meat using a blast freezer.
The company then vacuum seals the product before it ships out. With this method, the meat is frozen in a matter of minutes, which preserves its freshness for up to 365 days.
The site itself is user-friendly, which makes finding the cuts of pork you want a breeze. Not only does Rastelli's deliver delicious pork cuts, but you can also get seafood dishes, along with over-ready meals.
Rastelli's meat and seafood shop offers an excellent way to buy your favorite dishes, including pork, steak, chicken, fish, and lamb.
Or, if you have kids, you can also request macaroni and cheese and chicken tenders. Plus, Rastelli's has an excellent spiral ham the whole family is sure to enjoy when the holidays roll around.
There are also curated boxes available through Rastelli's, so you can select exactly what you want. These boxes work more like bundles than subscriptions, so you don't have to make a commitment to a monthly payment if you don't want to. Check out our full review on Rastelli's here.
ButcherBox – Best for Meat Varieties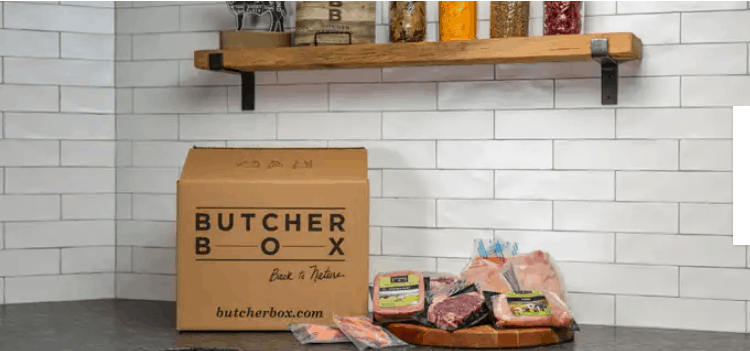 If you want a monthly subscription, then you might want to give ButcherBox a try. This meat delivery service offers sustainably sourced meat, which includes crate-free pork. In addition, all its pork is free of hormones and antibiotics and is raised using humane and ethical methods. Check out our guide on the Best Pork Cuts and Varieties in the market.
To get started with ButcherBox, simply select the box you want. You can choose from a Pork and Beef Box, Beef and Chicken Box, Mixed Box, Custom Box, and All Beef Box. Every option comes in either a classic box size – which is ideal for smaller familiar or individuals – or a big box size – which is excellent for large families. 
The Mixed Box is one of the most popular choices with ButcherBox. This box comes with vegetarian-fed pork, organic chicken, and grass-fed beef. Or if you just want a bunch of different cuts of pork, you can go with the Custom Box. No matter what, you'll get delicious, savory pork in every box delivered right to your doorstep. Delivery is included in the price of your box, and the site allows you to cancel anytime you want.
Porter Road – Best for Getting Fresh Meat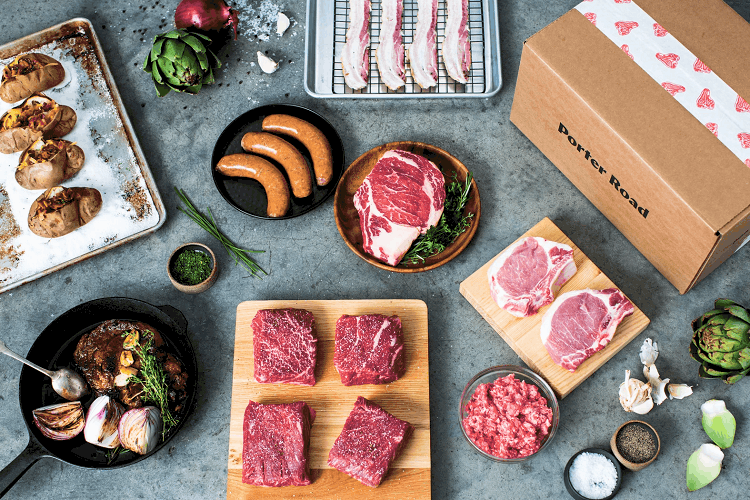 Porter Road is another pork delivery service that offers a great variety of cuts and offerings. It's apparent when you view the website that former chefs founded it. Prior to launching its online services, meat from Porter Road could only be purchased at one of its local shops in Nashville.
Now, you can order these delicious, vegetarian-fed, pasture-raised meats and have them delivered right to your home. 
While a few of the cuts you'll find on the Porter Road site are shipped frozen, the vast majority come fresh. Plus, it doesn't hurt that the packaging is recyclable and biodegradable. Customers can order delicious pork bacon, pork chops, ground pork, or pork links right from the comfort of their couch.
Plus, Porter Road offers other meats, including chicken, lamb, and beef. If you need to feed a large crowd, you can also order whole hams or pork butts that are sure to win everyone over.
If you want to sign up for a monthly delivery, you can choose from one of five curated boxes that Porter Road offers. These include the Butcher's Choice Box, Beef and Pork Basics, Best of Porter Road Box, Stay at Home Bundle, and the Grill Master Bundle.
Once you choose which box you want, you can have it delivered every two, four, or eight weeks. Of course, no matter which time frame you select, you'll never pay to ship. 
D'Artagnan – Best for Organic Meats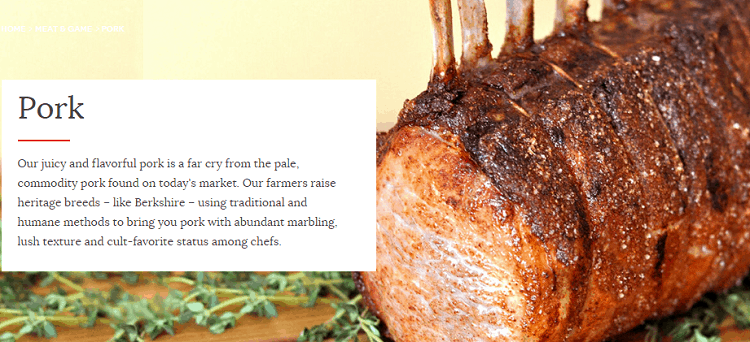 Another popular pork delivery service is D'Artagnan. This high-quality domestic and game meat butcher has been in business in the United States for over 35 years.
The company specializes in delicacies primarily due to its owner being the daughter of a French chef. As a result, D'Artagnan introduces unique French specialty products and meats to its US clientele. 
This woman-owned pork delivery company offers traditional meats like pork, chicken, beef, turkey, and lamb and game birds like pheasant, goose, duck, and quail. Plus, you can add delicious truffle butter and charcuterie must-haves to your order. It's a veritable smorgasbord of mouth-watering foods all in one place.
D'Artagnan is heavily focused on providing humane and organic products to its customers. This is why it's one of the best organic meat delivery services in the market. All animals, including the pigs from which you get your pork, are humanely raised on small farms and ranches throughout the United States.
The online pork delivery service is serious about offering high-quality meats. With D'Artagnan, you can choose from a wide variety of meats, including selections that include pork chops, pork shoulder, pork butt, smoked bacon, pork sausage, and much, much more.
Snake River Farms – Best for High-Quality Meat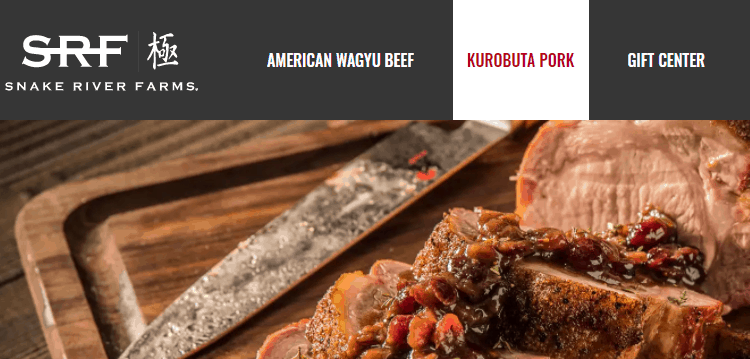 Snake River Farms offers Kurobuta pork, which is some of the most delicious pork you'll find in the world. These cuts come from sustainable farms and ranches in the Northwest United States and are raised with no antibiotics or hormones. Those who like to cook at home will enjoy the variety of cuts available on the company's website. 
Keep in mind that Snake River Farms orders are frozen and arrive in vacuum-sealed packaging. Of course, these premium cuts will run you a little more, but you'll taste the difference when you place that bite of pork on your tongue.
For example, Kurobuta pork is well-known for its fantastic juiciness and delicious flavor from high-quality heritage breeds.
Kurobuta pork cuts include ham, roasts, pork chops, ribs, and savory bacon. Plus, you can enjoy options for large gatherings, like a bone-in ham and short ribs. No matter what you order, you're sure to enjoy the meat you get from Snake River Farms.
Omaha Steaks – Best Delivery Experience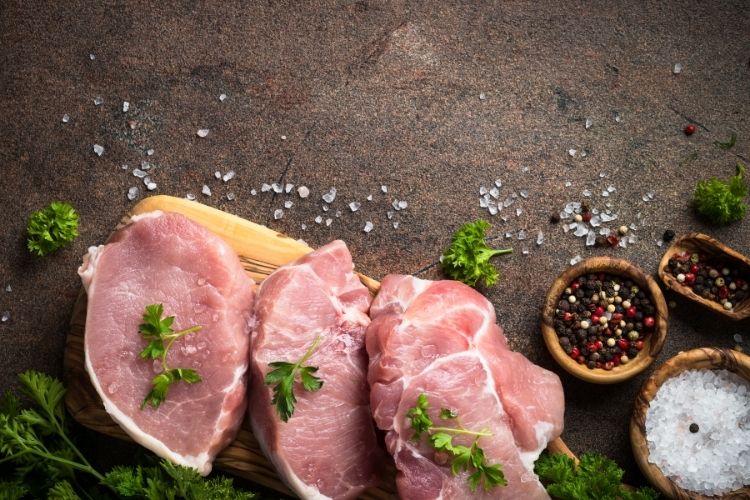 When it comes to having your pork delivered, Omaha Stakes is one of the best in the business for a reason. This Nebraska-based butcher boasts more than a century of experience in the meat market and has shipped meat all across the United States for the past 50 years.
But don't let the name fool you. Omaha Steaks offers more than just steak. You can order amazing cuts of pork, along with turkey, chicken, and seafood, right from the website. 
Plus, you can customize your order, which means you can send your favorite person – or yourself – all the best cuts of meat available from Omaha Steaks. When it comes to pork, Omaha Steaks has an amazing selection of cuts. These include pork chops, pork loin, tenderloin, pulled pork, bratwursts, sausages, ribs, and much more! 
Additionally, you can order some of the amazing desserts and side dishes on the website. Something like a nice chocolate souffle might be just what you need after a savory, grilled pork chop. Find the perfect wine on the Omaha Steaks website as well, and you'll wonder why you ever bothered to leave your home for groceries.
Perdue Farms – Best for the Budget Conscious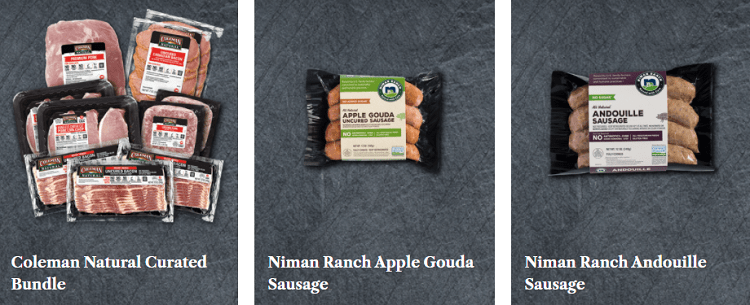 Perdue Farms is a meat company that originated in 1920, which means they've been in the market for over a century. This high-quality pork delivery service stays true to its values by continually improving its methods and practices.
This family-owned company works with small ranches and farms throughout the United States to provide sustainable, high-quality meats to its customers.
You can choose from a selection of meats on the Perdue Farms website, which offers pork, chicken, turkey, beef, and lamb.
Plus, the site offers plenty of budget-friendly bundles, so you don't have to spend your entire paycheck on one order. In addition, the website is easy to navigate and makes filtering between various meats is a breeze. 
When you order pork from Perdue Farms, you can select pork chops, pork sausages, bacon, ribs, pulled pork, ham, and much more. There are also bundles so you can order in larger quantities if you have a big family or want to store some meat in your deep freeze.
No matter what, you're sure to find some delicious pork you can grill, cook, or smoke, that the whole family will enjoy.
DeBragga – Best for Restaurant-Quality Pork

DeBragga is an excellent online pork delivery service, well-known for providing meats to some of the best restaurants in New York City.
However, DeBragga wants to give everyone access to its high-quality meat, which is why it started its own delivery service. So whether you're a home griller or a famous chef, Debragga wants to give you an opportunity to procure your favorite cuts of pork, chicken, beef, and more.
It's no secret that this award-winning butcher goes above and beyond for its customers. DeBragga gets its pork from the finest heritage breeds. These pigs are naturally raised without hormones, antibiotics, stimulants, bi-products, or artificial ingredients.
They are all raised outdoors, which includes the Berkshire/Duroc pigs. These come from family ranches and farms across the United States.
Since you only get the best, restaurant-quality meat from DeBragga, it's no surprise that some of its top sellers are pork options.
You can try the skinless pork belly, the porterhouse chops, the pork butt, the roast, the ribs, or the delicious American Iberico pork loin chops. Or, if you're feeling spontaneous, you can give the Iberico sampler assortment a try.
DeBragga is among the best in quality when it comes to online pork delivery services. They don't skimp on quality, which means you'll pay a little more for your meat. But, if you have the money to spare, it's worth it for the full flavor you'll get from your favorite pork cuts.
FAQs
Question: What is the Best Quality Pork?
Answer: The most flavorful and best quality pork you'll find on the market is the Berkshire breed. This is also known as the 'black pig' to many within the industry.
This breed has amazing taste, which is considered to be superior to any other pig out there. As a result, Berkshires are ideal for all cuts of pork, including hams and pork chops.
Question: What is the Most Expensive Cut of Pork You Can Buy?
Answer: The pork tenderloin, also known as the pork fillet or pork tender, is the most popular and expensive cut of pork you can buy. These are also called pork loin chops, so don't get confused if you see them labeled as such.
Question: What is Iberico Pork?
Answer: Since its diet consists primarily of acorns and unique genetics, Iberian pigs have a lot of fat in their muscles, resulting in a more flavorful cut of meat. When you take a bite of Iberico pork, you're tasting the result of its fantastic marbling. In addition, Iberico pork is quite distinctive, giving a more juicy and flavorful taste.
Question: How Does Berkshire Pork Taste?
Answer: Berkshire pork is typically described as having a porky and more intense flavor than its counterparts. This is mainly due to the intramuscular fat and redder flesh associated with these types of pigs.
The meat's popularity in Japan and subsequent interest in the US means it's often compared to the popularity of Wagyu beef.
Choose A Meat Delivery Service and Pig Out!
As you can see, there are plenty of pork delivery services available in the United States. Choosing the best one will come down to what you want and need.
Do you prefer affordability over everything else? Then Perdue Farms might be the best option for you. Do you favor quality and taste? Then may you should give DeBragga a try.
Regardless of which company you choose, the amazing thing is that you're getting pork delivered right to your door. Of course, some will be more expensive than others, and some will taste better, but before you know it, you'll have a delicious, juicy cut of pork sitting on your plate ready to be consumed. 
For more meat delivery options, check out our guides on the Best Online Beef Delivery Services and Best Online Chicken Delivery Services.