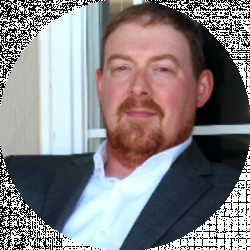 Latest posts by Justin Caldwell
(see all)
Some people are turned off from the idea of buying seafood online because it doesn't sound like it's the freshest way to get seafood on your table. The problem is that unless you live near the coast, there's really no better way to get fresh seafood at home than a delivery service.
Fish from the grocery store has been frozen and then thawed before being put in the display. However, if you choose the right online seafood delivery service, they'll flash freeze seafood at its peak freshness and then deliver it straight to your door.
There are quite a few reputable companies offering online seafood ordering. Most make it easy to buy in bulk, and they're packaged with dry ice to keep them fresh until you're ready to unpack the box.
However, understanding how fresh your seafood is may likely be your most important consideration, so transparency is key. It's important that you know where your seafood comes from and how it was caught.
Take comfort in the fact that seafood flash-frozen at the peak of freshness is often even better for you than that fresh seafood you find at the grocery store. You'll be able to order some of the best quality seafood you can find anywhere.
Key Considerations for Ordering Fish and Seafood Online
There are a few things you can consider when looking for the right fish and seafood delivery service for you. They're all very different, so you'll want to evaluate them carefully before choosing.
Freshness
The freshness of your fish and seafood is key. Nobody wants to eat bad fish. All of the companies on our list prioritize freshness, ensuring that your fish arrives either fresh or flash-frozen at the peak of freshness to lock in the flavor and quality.
Be sure that you look at how the company ships your items to ensure that it will be as fresh as possible when it gets there. While some companies don't catch the fish until you order it, others will simply flash freeze it while it's fresh to keep it that way until it arrives.
It's also a good idea to make sure you follow the tracking information closely to ensure you're home when it arrives or shortly after. That way, you can open the package and get everything put away before it goes bad.
Sourcing
Many people think it's important to know exactly where their food comes from. Many companies offer detailed sourcing information and pride themselves on transparency. You can order fish and seafood from companies that will offer all of this information.
If this is a consideration for you, look for companies that detail where each product comes from online or ship your items with all of that information included. Often, you can select companies that keep you updated every step of the way, from where it was caught to where it was processed.
Variety
For some people, variety matters most. If you want to get all of your meat in one place, there are a lot of companies that offer a lot of different types of protein in addition to seafood. While they may not have the most extensive seafood selection, they'll have a large combination of items, allowing you to shop for everything at once.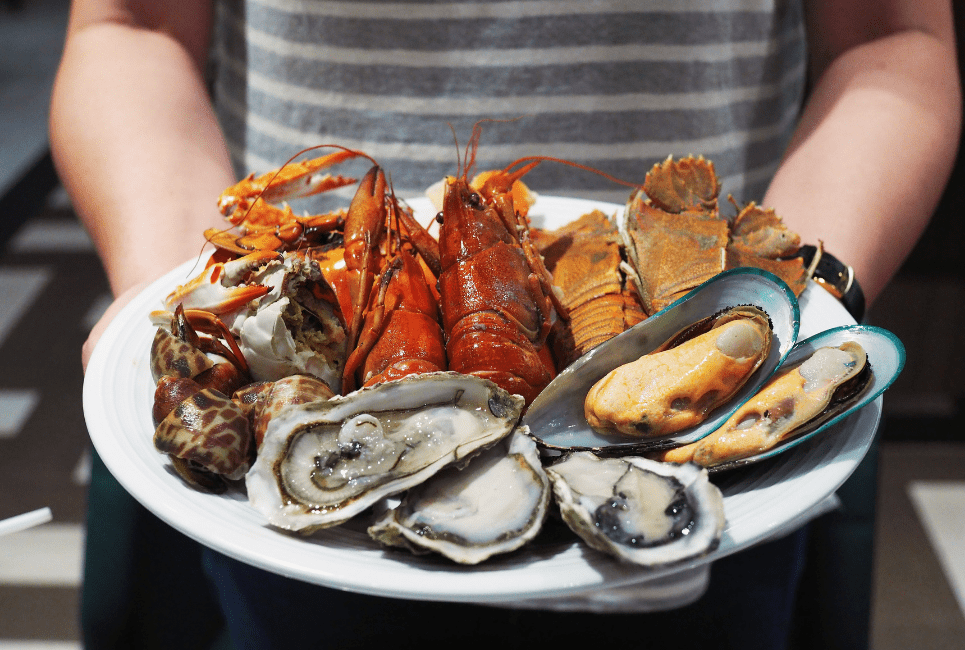 Subscription Boxes
While a la carte ordering is nice when you know exactly what you want, sometimes you like to be surprised, or you simply want to try new things. If that's the case, look for a seafood delivery service that has a subscription option.
Signing up for a subscription allows you to automate your seafood delivery so you can expect it to arrive at certain intervals without having to order it again. If the box is customizable, it will come with everything you ordered. If you choose a curated box, you may or may not know what's in it.
Delivery
Delivery is important for more than just freshness. Of course, you want to ensure that your delivery comes within a few days of sourcing or freezing. However, you also want to make sure the company can ship to your area.
Many companies won't ship to Alaska or Hawaii, so if you live in one of these states, you'll have to find someone who does.
For the rest of us, it's not hard to find companies that deliver to the lower 48, but if you live on the coast where good seafood is readily available, a seafood delivery company may be pointless. On the other hand, you can get fresh seafood delivered to your door without having to leave the house.
Price
Price is always an important consideration. Seafood isn't cheap, and many of these companies charge a lot. You can find affordable options, and you can also find free shipping, but you may not find both.
It's up to you to determine whether the seafood you want is worth the price. With companies that offer more detailed sourcing information and a more personal experience, it may be worth the extra cost. For people who don't think that's as important, you can find cheaper options.
Best Online Fish and Seafood Delivery
There are dozens of companies offering online fish and seafood delivery. They each specialize in something different, so what you choose may depend on what you're looking for. Here are some of the best options on the market today.
Fulton Fish Market

Fulton Fish Market might be the best place to order fish and seafood online in terms of variety. If the name sounds familiar, perhaps you've heard of them before. This is a physical fish market in the heart of New York City, and it's the second-largest fish market behind Tokyo's Tsukiji.
They sell wholesale quantities off the docks to restaurants and other well-known purveyors, but now they also sell their fish online. This gives you access to one of the largest varieties of fresh fish and seafood.
You can get nearly any variety of fish and seafood you can think of. They have popular choices like salmon, trout, halibut, oysters, scallops, lobsters, crabs, clams, and mussels, as well as things that are harder to find, like swordfish, eel, and sea urchins.
You can also order fish that's already been prepared, like smoked salmon, as well as tins of paddlefish caviar. They have sushi, sashimi, shark, sardines, shrimp, octopus, and a whole lot more.
You can order fish a la carte, you can create your own box, or you can choose a curated bundle. You save more money per pound if you order bundles, but they offer ordering versatility that makes it easy on you.
You'll find both fresh and frozen bundles like the Wild Seafood Stock Up bundle, the Fish Stew Bundle, the Feast of the Seven Fishes bundle, a grilling bundle, a lobster tail, and scallop dinner, and many others.
There are seven different subscriptions to choose from, not including the custom box you can make yourself. You can choose from finfish boxes, shellfish boxes, whole fish boxes, and several others. These orders ship every 1, 2, or 4 weeks.
Pros
Wide variety of fish and seafood

Custom boxes, curated boxes, and bundles

A la carte ordering
Cons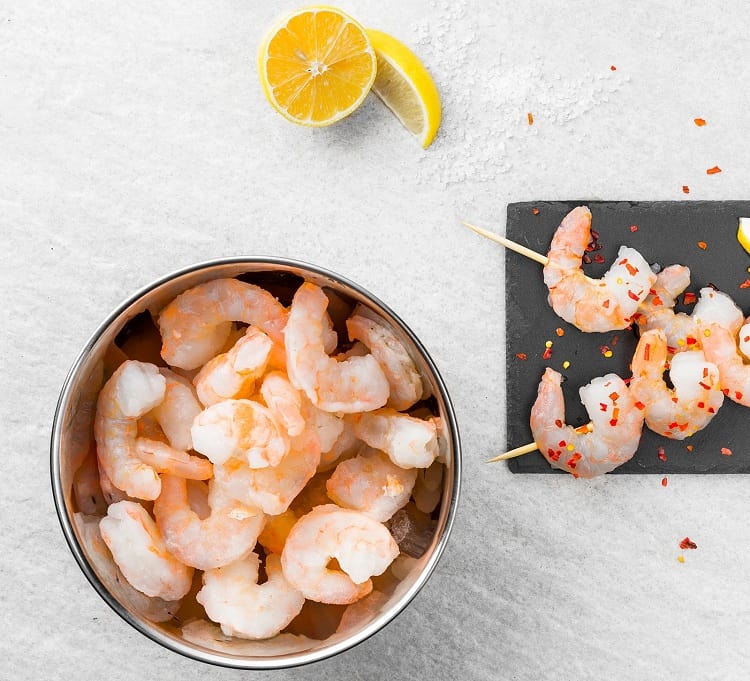 Rastelli's is a great option for people who are looking to order both seafood and traditional meats. They started out as a New Jersey butcher shop, but their online presence grew quickly, and they're now one of the best places to order meat online.
It's still a family-owned company, offering a wide variety of meats and great customer service. Their attention to detail in every order is second to none. They flash freeze everything and then ship it in an insulated box with dry ice and an insulated Rastelli's bag.
They offer options like shrimp, lobster, salmon, Icelandic cod, scallops, swordfish, mahi-mahi, yellowfin, flounder, sea bass, and tilapia. While they don't have the extensive seafood selection that Fulton Fish Market does, they also have plenty of beef, chicken, pork, lamb, and veal as well.
They offer a la carte ordering, and they're one of the few options that don't offer any subscription boxes, although they do have a few curated samplers. Shipping is free after $200, so you can get several weeks or a month's supply without having to pay extra.
Pros
Seafood and other meat in the same place

Easy a la carte ordering

Excellent customer service and attention to detail

High-quality meat
Cons
Riviera Seafood Club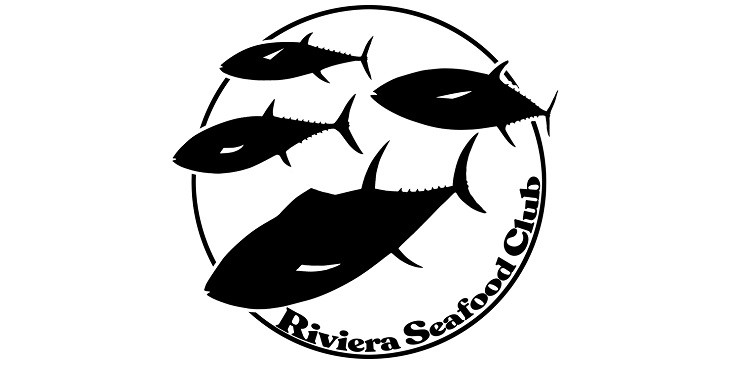 Riviera Seafood Club is a family-owned seafood supplier in Los Angeles, and they are one of the best choices for people looking for fish to make sushi or sashimi. The family obtains and distributes high-quality sushi-grade fish.
You'll find black cod, salmon, unagi, bluefin tuna, yellowtail, caviar, striped bass, scallops, shrimp, plenty of sauces, and plenty of other options. They ship everything either fresh or flash-frozen to all 50 states.
Almost everything is sashimi-grade, which means you can just slice it and eat it without cooking. The best news is that this club is relatively affordable compared to other options. However, if you want free shipping, you'll have to spend at least $125, and in some regions, it's at least $375.
This club offers a la carte ordering of not only fish but Japanese Wagyu, wasabi, and pantry items. They don't have a subscription option.
Pros
High-quality, sushi-grade fish

Affordable

Ships to all 50 states
Cons
LobsterAnywhere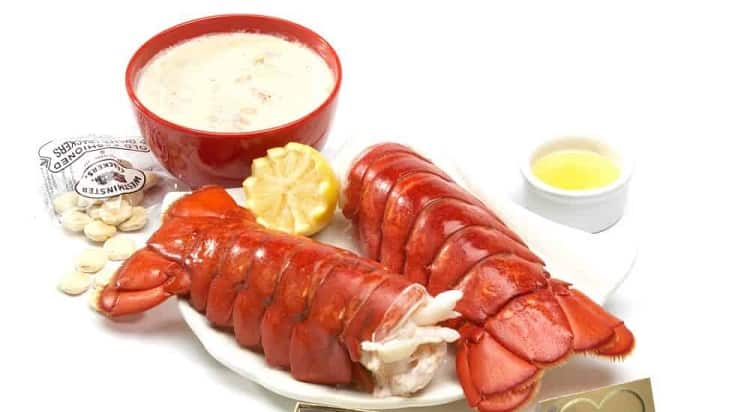 If you're looking for lobster, this is the best place to get it. The company ships them live from the lobster capital of the United States – the cold water of Maine. You'll find hard-shelled lobsters, which are more expensive than soft-shell lobsters, but they're generally regarded as better.
This quality lobster is better than anything you'll find in the supermarket. You can also order scallops, shrimp, and seafood utensils. You'll also find pre-made chowders, bisques, and soups.
While they have other options, their lobster is the main reason to order from them. You can get lobster tails as well as whole lobsters or lobster meat by the pound. They offer a la carte ordering but no subscription options.
Pros
High-quality Maine lobster

Ships live directly from Maine

Whole lobsters, lobster tails, and meat by the pound
Cons
KnowSeafood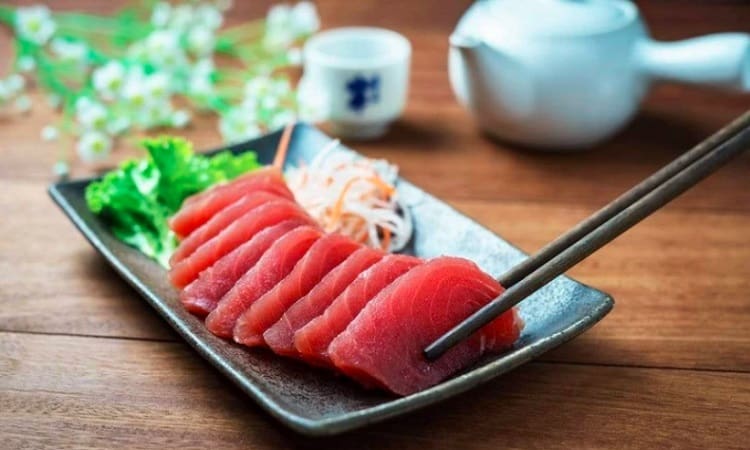 KnowSeafood prides itself on being fully transparent about where they get their seafood. This seafood shop provides seafood direct-to-consumer, and every step in the process is visible when you scan the barcode on everything you order. You can see where it was caught, processed, and transported.
It will also display information on the best way to store or defrost your seafood in preparation for cooking it. Everything is flash-frozen at its peak freshness to preserve its quality and flavor until you're ready to eat it.
KnowSeafood fully vets all of the fisheries they use, so they know exactly what kind of practices are in place, ensuring that everything is ethical and of the best quality.
Your options include custom boxes that you create yourself from a large selection of fish, shellfish, tuna burgers, salmon, shrimp, scallops, sushi, and sashimi. You can also pick from more than a dozen curated boxes.
Everything is competitively priced, so it's a great value if you're looking for seafood online. The only downside is that they don't have a huge selection.
Pros
Follow your seafood every step of the way

Full transparency

Great value

More than a dozen subscription boxes
Cons
A smaller selection of seafood options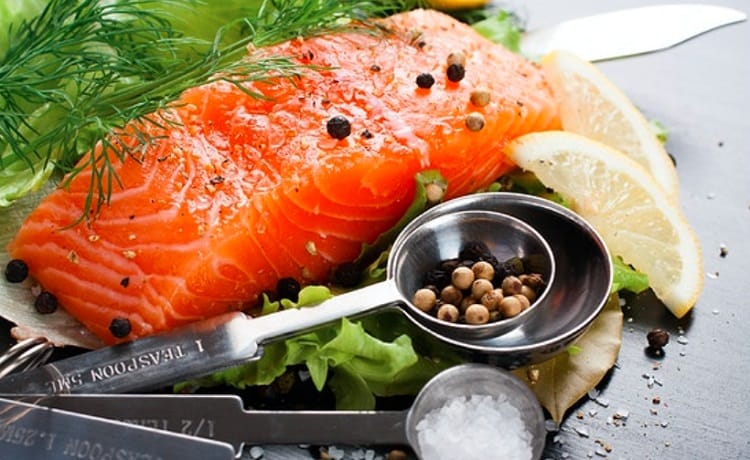 Crowd Cow is known for their selection of affordable meats, but they also have seafood. People trust Crowd Cow to deliver quality, and the company is committed to transparency when it comes to sourcing its products.
All seafood is sustainably caught, and you can order from options like salmon, cobia, Icelandic arctic char, Mexican blue shrimp, wild black cod, trout, lobster, scallops, halibut, mahi-mahi, crab, seabass, mussels, and a lot more.
You'll also find a number of prepared dishes like lobster mac and cheese and ceviche. It's a great place to get all of your meat and seafood in one order, especially if what interests you the most is where your food comes from. You can even shop the website by the farm if you have a favorite.
Pros
Large selection

Committed to transparency

Detailed sourcing information

Ability to shop by farm
Cons
Omaha Steaks
The first place you look when shopping for seafood online might not be a place with steak in the name. However, Omaha Steaks has been shipping meat across the United States for more than 100 years – far longer than almost everybody else.
They have a huge selection of meat, seafood, meats, sides, desserts, and wines. You can get everything you need for a nice dinner from this company, and it's a family-owned business that's dedicated to customer service.
Choose from seafood options like salmon, cod, sole, tuna, halibut, grouper, seabass, mahi-mahi, snapper, cobia, trout, swordfish, sablefish, tilapia, lobster, crab, mussels, scallops, shrimp, clams, and oysters. They also offer sampler packs and full meal kits.
Pros
Family-owned and operated

Great customer service

Trusted for over 100 years

High-quality meats and seafood
Cons
Sea to Table
The founder of Sea to Table set out to introduce lesser-known types of fish to American households. He'd like to see more people eat things like Dover sole, redfish, and Atlantic skate. Everything this company offers comes from wild domestic fisheries in the United States.
Every piece of fish you order has a label so you can trace exactly where it was caught and processed. You'll know exactly what you're getting, right down to the precise fishing vessel where it landed.
You can choose from any number of subscription boxes, including the Salmon Lover's box, the Fish Lover's box, the Alaskan Home Pack, or the Pescetarian Pack. You can order anything one time or subscribe for more savings.
You can have them delivered every 2, 4, or 8 weeks and everything ships froze at the peak of freshness via FedEx. It's packaged with dry ice in a completely recyclable package. If you're looking to order from the most sustainable source, this might be it.
Pros
The package is 100% recyclable

Full sourcing transparency

A variety of subscription box options

Several less common seafood options
Cons
Not a lot of variety

No free shipping
Vital Choice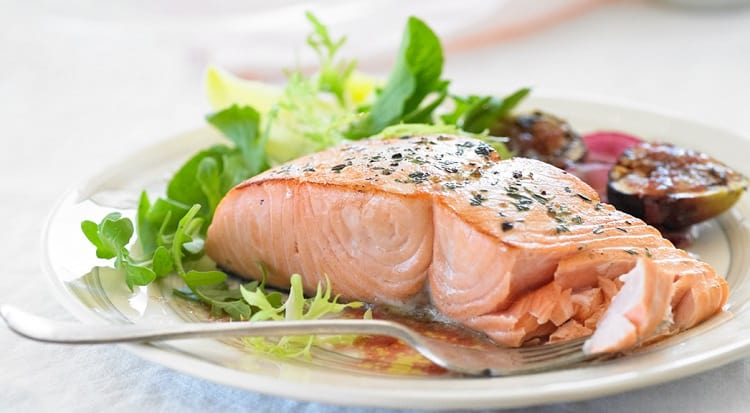 The name of this company doesn't make it sound much like a seafood delivery service, but you won't believe the number of options they offer. In addition to plenty of seafood, they also offer a few other protein options, berries, vitamins and supplements, oils and kinds of vinegar, and even chocolate.
You'll find fish like salmon, halibut, tuna, cod, Chilean sea bass, mahi-mahi, lingcod, sablefish, haddock, and petrale sole. You'll also be able to order shellfish like scallops, clams, oysters, mussels, shrimp, prawns, crab, lobster, and calamari.
Vital Choice chooses to put sustainability above all else and limits its offerings to fisheries that are certified sustainable or promoted by sustainable experts.
You can order a la carte or choose a subscription. There are three subscriptions – Wild Salmon Box, Wild Seafood Box, and Wild Fish Box. They contain anywhere from 10-22 servings, depending on which box you choose and the varieties you get to change each month.
Shipping is free after $99, but there are so many options that you won't have a problem meeting that minimum. However, the website could use some finesse and may be difficult to navigate.
Pros
Huge selection of seafood

Other protein options

Vitamins and supplements

A la carte ordering and subscription boxes
Cons
Wild Alaskan Company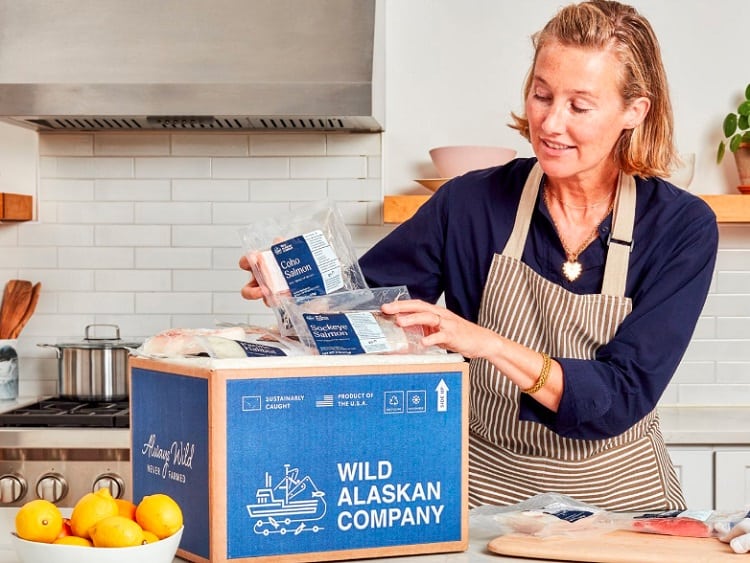 The name of this company might give them away. They specialize in wild-caught Alaskan salmon. However, they have a variety of other wild-caught seafood as well. Wild-caught seafood is more sustainable and healthier than farmed fish.
It was founded by an Alaskan native that wanted to give the American consumer access to high-quality fresh fish. Everything is caught in Alaska or the Pacific Northwest.
They operate on a strict subscription box basis. You can choose a salmon box, a wild combo box, or a wild white fish box. Each comes with 12-24 individually wrapped packages, and you can skip a month or pause your membership anytime.
Pros
High-quality wild-caught Alaskan salmon

Healthy and sustainable practices
Cons
No a la carte ordering

Not many subscription options
Salmon Sisters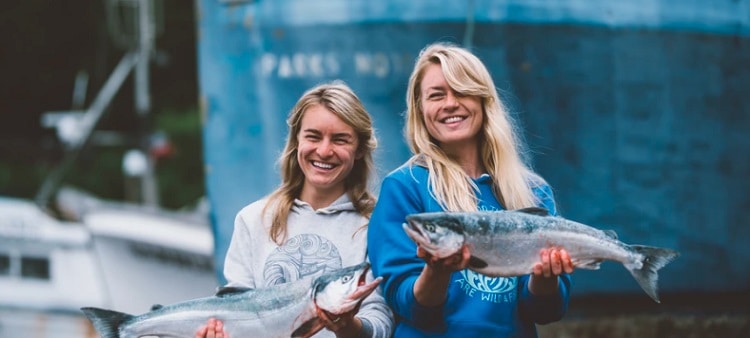 As the name might suggest, this company offers several different varieties of salmon. You can order stock-up boxes of sockeye salmon, coho salmon, and salmon, and halibut. There's also a Pacific cod box, smoked salmon, and canned provisions like herring and octopus.
Everything is flash frozen and vacuum sealed before shipping, so once you choose your favorite variety, it will be prepared, packed with dry ice, and air-shipped in a recyclable cooler. All salmon are sustainably caught in Western Alaska.
You can find sourcing information on all species on the website, so if you're curious about where they get their fish, you can read up on it before you order. You'll also get a complimentary copy of the Salmon Sisters cookbook when you order.
Pros
Standard shipping costs included

Sustainable fishing practices

Recyclable shipping materials

Complimentary cookbook
Cons
Downeast Dayboat
This Maine-based company is the perfect place to get fresh scallops. Nothing is harvested until you order it. Downeast Dayboat contracts with local fishermen to catch your scallops and bring them back to shore in just a few hours. Then they're packaged and shipped to you in just a couple of days.
They only ship on Tuesday and Wednesday, so if you want your order without having to wait a week, order by Sunday evening. You can also place advanced orders and then specify the delivery date on the checkout screen.
The Main scallop season opens in December every year, and they are a seasonal catch, so during the off-season, you can place your advanced orders in preparation. The company supports fishery health, so all fishermen who partner with Downeast Dayboat must follow regulations that protect the scallop resources in the surrounding waters.
In addition to scallops, you can also order crab meat, unagi, oysters, clams, mussels, salmon, and lobster roll kits.
Pros
Designed to protect scallop resources

Fresh, high-quality scallops
Cons
The website could be better

Not a huge selection
Honolulu Fish Company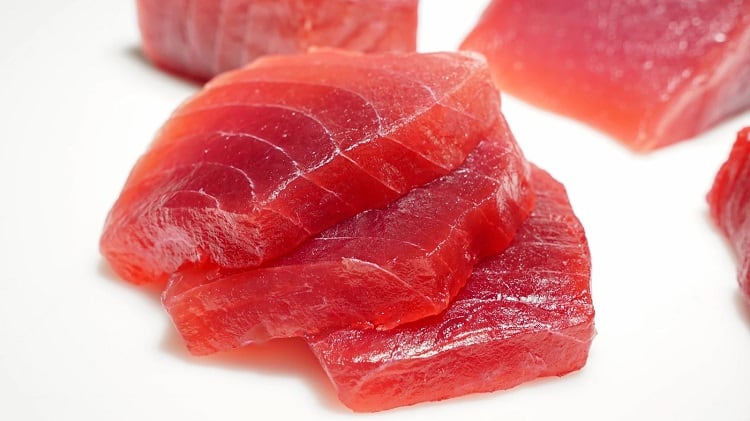 Honolulu Fish Company is the only delivery service offering more than 14 different species of sashimi-grade fish. They offer high-quality and sustainably caught Hawaiian fish. The company was started by a trained marine biologist, and they offer over 30 types of Pacific water fish.
The company has been used by dozens of top chefs in the United States, but they wanted to bring the same great quality to the average consumer. While you'll pay more for the high quality, it's some of the best fish for raw preparation.
Fish are sustainably caught by hook instead of nets, hand-selection, and inspected by sashimi experts before they ship. Everything is delivered in 24-48 hours of ordering.
You can order one time for free shipping on over 2 pounds of fish, or you can choose a three or 6-month subscription that delivers 3 pounds of fish on the first Thursday of the month.
Pros
High-quality sashimi-grade fish

Ships in 24-48 hours

Sustainably caught by hook

Decent variety
Cons
Website isn't very easy to navigate
Browne Trading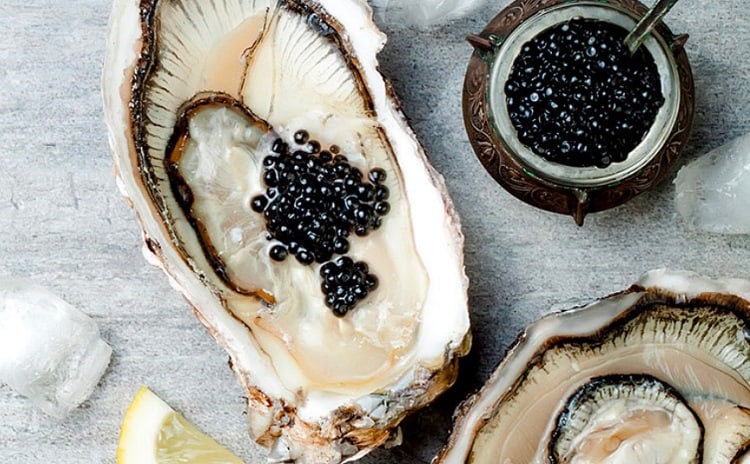 This company resides in the commercial fishing district of Portland, Maine, but they import fish from all over the world. They're known by top chefs for their caviar selection, with more than 50 varieties available.
They also have smoked seafood, fresh seafood, and wholesale products available. You'll find oysters, clams, mussels, lobster, crab, tuna, swordfish, salmon, trout, shrimp, prawns, scallops, and a lot more.
If you're looking for caviar, you can join their caviar club for $250 per month. Every month you receive two tins of caviar, a package of blinis, Vermont Creme Fraiche, and two mini mother of pearl spoons.
The caviar program focuses on quality and traceability. This is the only company in the United States that co-brands their caviar with some of the world's top producers. All other fish is wild and line-caught by sustainable fisheries.
Everything else is available a la carte, and shipping is free if you order more than $300 or more than $150 of caviar only.
If you're not into caviar, this is also one of the best places to get smoked seafood prepared with all-natural, high-quality ingredients.
Pros
Huge selection of caviar

Excellent smoked seafood

Committed to traceability and quality

Sustainable practices
Cons
FAQ
If you're looking for the right online fish and seafood delivery service for you, there are quite a few options out there. These frequently asked questions may help you learn a little bit more about how it all works.
Question: Is it Cheaper to Order Meat Online?
Answer: All kinds of meat are expensive. Seafood can be even more so. There's no way around paying a lot, especially if you want it delivered to your door. You'll pay even more if you want detailed sourcing information, sustainable practices, and ethical treatment of animals.
However, there are times when you can save money by ordering in bulk or ordering the minimum required for free shipping.
Ordering fish and seafood online may not be cheaper than what you get at the grocery store, but it will be of better quality.
Question: Are Meat Delivery Services Safe?
Answer: Having meat delivered to your door is generally regarded as safe. While some people hesitate when it comes to fish and seafood, these delivery companies do everything they can to ensure that the fish arrives fresh.
Most of the time, these delivery services will flash freeze the fish at its peak freshness to lock in all of the flavor and nutrients and keep it safe until it arrives. They pack it in insulated boxes with dry ice, so it will last up to 72 hours even if you don't get it put in the freezer right away.
Question: Why is Online Meat so Expensive?
Answer: There are several reasons why buying meat online can be expensive. The fish and seafood you order will be a large upgrade in quality from what you might get at the grocery store. These services pride themselves on sustainable practices, which cost more to execute.
The cost of refrigerated shipping is also expensive. There's a lot of packaging included in your order to keep the food frozen until it arrives, and the carrier will likely be driving a refrigerated truck.
Final Thoughts
My personal favorite choice for online fish and seafood delivery is Fulton Fish Market because they have the best variety. Their selection is huge, you can order a la carte or create your own box, and you can choose to be surprised by any of their curated boxes. There's a lot of versatility here.
However, any of these companies will provide what you need as long as you do your research and find the one that delivers what you want and follows practices you're comfortable with.
Ordering fish and seafood online doesn't have to be scary or dangerous. In fact, it's incredibly safe, and you'll be very pleased with what you get.
Further Reads: