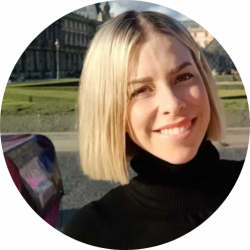 Latest posts by Jodie Chiffey
(see all)
All meat lovers know there are few options that combine delicacy and utility more than jerky. Not only is jerky delicious and healthy, but it also gives you a way to safely store your meat for a long time.
If you are a hunter or purchase meat in bulk, then meat jerky is something that definitely never goes missing in your freezer.
The best way to make good jerky is by having the right equipment at hand. There are many suitable jerky-making kits out there with all the tools included. In this article, we will take a closer look at 6 of them hand-selected by me.
At a Glance: 6 Best Jerky Making Kits
| | | | | |
| --- | --- | --- | --- | --- |
| Name | Dimensions | Best for | Weight | More Info |
| SIGVAL Classic Jerky Gun | 14.8" x 9.21" x 3.39" | Large-scale jerky making | 2.5lbs | Find out more |
| Nesco BJX-5 Jumbo Jerky Kit | 11.75" x 3.25" x 6.5" | Jerky making on the move | 1lb | Find out more |
| Presto 08632 Jerky Gun | 11.5" x 3.2" x 11.75" | Wide barrel stuffing | 1lb | Find out more |
| Smokehouse Large Jerky Gun | 16.25" x 8.5" x 3" | Heavy-duty jerky making | 1lb | Find out more |
| Chard JG-9 Jerky Gun | 13.5" x 2.75" x 8.25" | Comfortable handling | 1.55lbs | Find out more |
| Xinqiao Jerky Gun | 14.45" x 8.94" x 2.99" | Making up to 4 types of jerky | 1lb | Find out more |
Bottom Line Up Front
While all the jerky-making kits on my list have their own pros and cons, the SIGVAL Classic Jerky Gun is the best all-around jerky kit, in my opinion. It is versatile and the best bang for your buck. You will be hard-pressed to find one that eclipses it.
Selection Criteria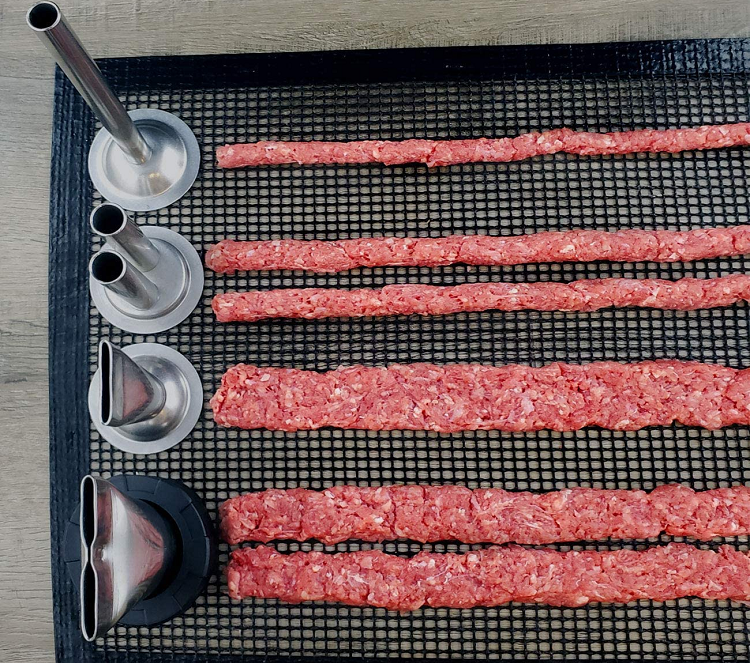 To ensure you get the right jerky-making kit, I hand-selected 6 of the very best jerky-making kits available on the market. The following criteria were used in making the picks:
Solid Construction
A good jerky gun should be able to handle being stuffed without bursting as you work. All the jerky guns in my selection feature sturdy construction.
Some are made from metal, while others are made from reinforced plastic. This way, you can properly load and push the meat through without getting messy meat splatters all over.
Handling Comfort
Using a jerky gun can be difficult on the hand, especially if you're working with a lot of meat. Comfort when handling is key, and it is with this in mind that I selected the following kits.
All feature ergonomically-constructed handles that provide cushioning for your hand and give you a lot of space to adjust your fingers as you work.
Cleaning Ease
You should be able to restore your jerky gun to tip-top shape with minimal effort. This way, you get quality jerky each time you use the gun.
This selection is made up of jerky kits that are easy to clean as supported by hundreds of positive reviews. Some even come with their own cleaning equipment to make your job easier.
Reasons for Buying a Jerky Making Kit
Quality Jerky
Nothing from the supermarket, or even your trusted butcher's, can surpass homemade jerky. A jerky gun lets you mix up your own seasoning, so you know exactly what goes into your meat. You can monitor the amount of fat and sodium in the jerky and maintain it at a healthy level.
Jerky guns give you even-sized jerky that retains all the juiciness of your quality meat, preventing it from becoming dry or tough. They also ensure your jerky cooks evenly, so every piece comes out perfectly done. No more over or undercooking!
Less Wasteful
Sure, you could cut your meat into very thin slices, salt and season it, then dehydrate it to make jerky. However, you will waste a lot of time and lose a lot of meat in the process.
Jerky guns produce less waste than traditional methods of slicing meat by hand. This means that you can make more jerky with less meat.
Fast Acting
Jerky guns are quick and easy to use, making them perfect for busy people who want to make their own jerky. A jerky gun is handy when you want a healthy meat snack to soothe your cravings.
Tips for Using a Jerky Making Kit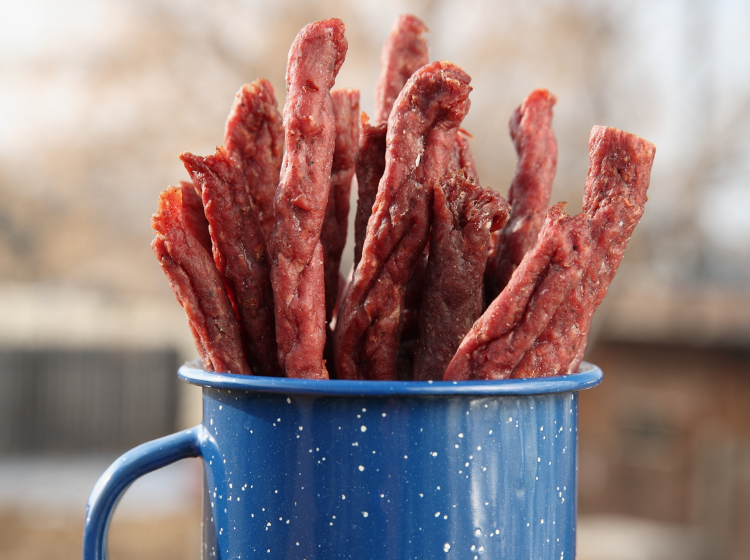 Meat Prep
To get your jerky the way you want it, make sure to fully prepare your meat before putting it through the gun. First off, rid the meat of any excess fat since this will give you unnecessarily oil jerky. Then mix in the seasoning you like, which could be the seasoning that came in the jerky-making kit.
If you are using ground meat, it is best to mix in some bread crumbs or other binding agents so that the mixture will stay together while being extruded.
Don't Overpack
When filling the gun barrel, pack it tightly but don't overfill as this could cause problems with loading and unloading. If you are using sliced meat, make sure the strips of meat are not wider than the barrel of the gun. If the meat is too thick, it can be ground with a food processor or blender to make it more manageable.
However, the slices should not be too thin because they will fall apart inside the barrel. Be sure to overlap the strips of meat as you feed them into the gun to ensure even cooking.
Lubricate the Gun
When making jerky, there's nothing worse that can happen when the meat jams in the barrel. It can be really frustrating pulling all meat scraps out, and it will take you longer than it should to get your jerky.
To prevent this, the gun barrel should be well lubricated with cooking oil or shortening to prevent the meat from sticking. Ensure all parts of the barrel are lubricated, including the plunger. You will be thoroughly grateful for this when cleaning.
Clean Regularly
To keep your jerky hygienic and healthy, clean the jerky gun after each use. First, disassemble the gun, removing the cups, plunger, and nozzles. Soak them in warm soapy water for a while before going through them with a cleaning brush.
Some nozzles may be challenging to clean properly with the brush, so take a toothpick and make sure to get all the meat out of them. If your jerky gun is dishwasher safe, put it in the top drawer to clean it correctly without ruining it.
6 Best Jerky Making Kits – In Detail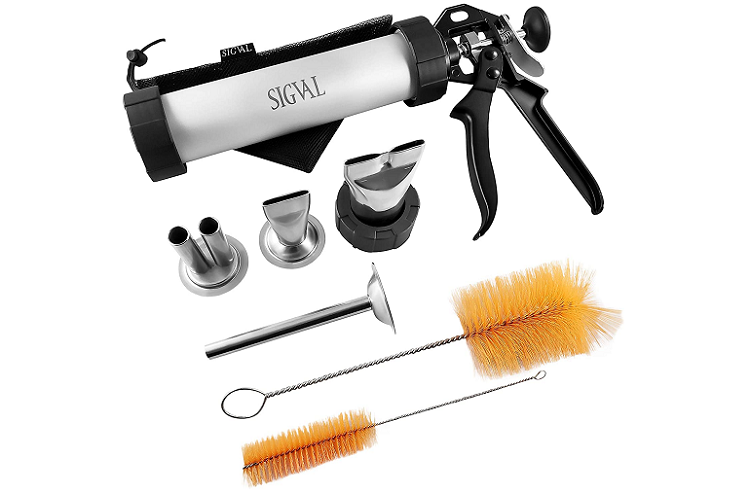 The SIGVAL Classic Jerky Gun is a great option for those who want a classic jerky gun kit. The gun barrel is made from anodized aluminum, which is a well-constructed, durable material that will last for ages. It is also food-grade, and thus your meat is protected from metal contamination.
Included in the kit comes with four stainless steel nozzles: a round nozzle, a double round nozzle, a flat nozzle, and a double flat nozzle. This offers you a lot of variety regarding the size of jerky you make.
The gun's handle is made from die-cast metal, so it will not break off as you work. Heavy-duty plastic caps keep everything in place and eliminate splatter.
In addition to the instruction manual, this kit comes with 2 double-sided brushes. The larger one allows you to clean every extremity of the jerky barrel, and the smaller one maintains the cleanliness of the steel nozzles. With solid construction and easy hygiene maintenance, you are sure to enjoy using the SIGVAL Classic Jerky Gun.
Pros
Food-grade aluminum construction.
Heavy-duty metal handle.
Strong plastic caps reduce the chances of splatter.
Includes two double-sided brushes.
Easy to use and clean.
Cons
The double nozzles can be hard to clean.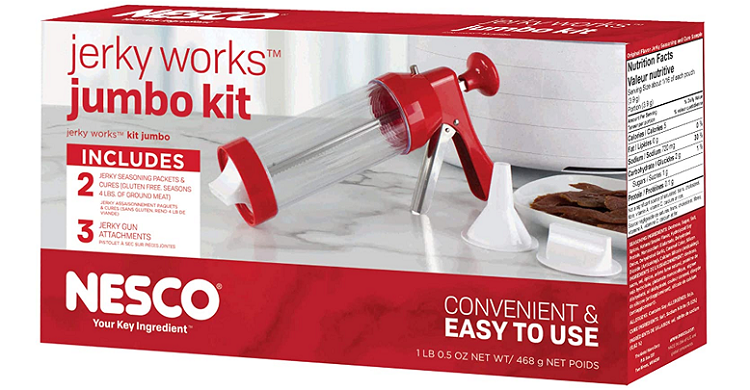 The BJX-5 Jumbo Jerky Kit from Nesco is a great option for those who want to make a lot of jerky at once. It is also the ideal kit for someone who wants to make jerky on the move, so carry it along with you on hunting or camping trips.
This kit comes with a jerky gun with a clear barrel and a wide entrance. This makes it easy to load the jerky gun without making a mess.
The grinding blade is made of metal, so it can quickly strip through your meat. The handle is also made from metal, so it will not break off as you use it. The kit also includes 3 attachments so you can get your favorite jerky shape and size. Check out our guide on the best meat grinder recommendations here!
Included in the BJX-5 kit are 2 packets of seasoning and 2 packets of cure. These are enough to make jerky from 4 pounds of meat.
The seasoning is gluten-free and ideal for making jerky from both ground or sliced lean meat. After use, you can hand clean the jerky gun and attachments or place them on the top shelf of your dishwasher after each use.
Pros
Portable for off-grid use.
Metal handle withstands heavy-duty use.
3 attachments to create various types of jerky.
Comes with enough seasoning for 4 pounds of meat.
Dishwasher safe.
Cons
Mainly plastic construction may be a deterrent.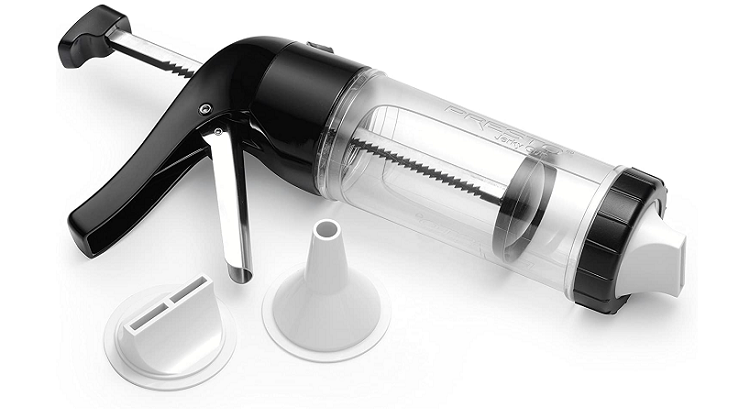 This Presto 08632 Jerky Gun kit has everything you need to make delicious homemade jerky. The barrel is made from plastic and can fit up to 1 pound of ground meat at each turn. It has a powerful metal blade that will effortlessly churn out strips of jerky just how you like them.
The wide entrance to the barrel makes it easy to load the gun without making a mess. A strong plastic cap ensures the barrel's contents remain in place as you pump the handle.
This jerky gun's metallic handle is also a plus, as it is durable and easy to grip. You can dish out pound after pound of jerky without the fear of the handle snapping off. The other parts of this jerky gun are made from polystyrene, which is a BPA-free plastic that will not contaminate your meat.
Included in this kit are 3 plastic nozzles. They offer you the option of producing wide strips, dual strips, and round sticks of jerky. You can easily insert a brush through the barrel and nozzles to clean or place the whole assembly into a dishwasher drawer for a good cleaning.
Pros
Made from robust and BPA-free plastic.
Solid construction that eliminates food waste.
Comes with 3 nozzles for a variety of outcomes.
Metal handle endures heavy use without breaking.
Dishwasher safe.
Cons
Does not come with seasoning packs.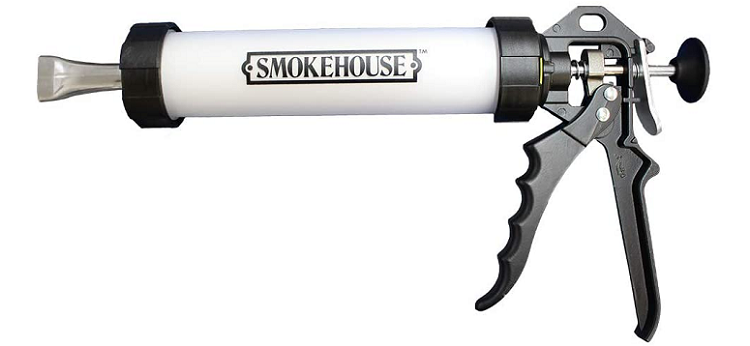 The Smokehouse Large Jerky Gun is a house Jerky Gun is a heavy-duty jerky gun that is designed to handle all your jerky-making marathons. It is well-loved among serious jerky makers because of its large size and solid capabilities.
This jerky gun is made from strong, durable metal. It is also resistant to corrosion and thus will not contaminate your jerky strips.
You can comfortably season your meat the way you want without being afraid that the chemicals will ruin the barrel of your jerky gun. Two attachments come with this gun to offer you variety in your jerky strips.
The barrel of the Smokehouse Jerky Gun can handle up to 1 pound of meat at one go. The wide entrance is easy to load and enforced by strong plastic caps that will not pop out as you work. The ergonomic handle of the gun makes those jerky-making marathons easier on the hands.
Pros
Strong metal construction.
Comes with two jerky attachments.
Large barrel for heavy-duty work.
Ergonomic handle for comfortable operation.
Dishwasher safe.
Cons
It can be challenging to clean out the meat stuck in the plunger.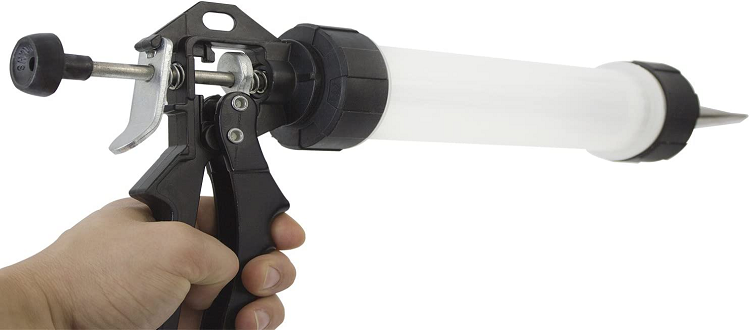 The Chard JG-09 Jerky Gun is a great option for those looking for an affordable and quality kit. The barrel is made from sturdy die-cast metal.
It is 9 inches in length and can hold up to three-quarters of a pound of meat at a time. In addition, the barrel is translucent, so you can properly monitor the progress of the process as you work.
This jerky gun also comes with three different nozzles for making jerky in different shapes and sizes. This includes jerky strips, double strips, and jerky sticks. The nozzles are made from stainless steel, so they will serve you for a long time.
The jerky gun is operated by a metallic handle. The handle comes with grooves for fingers. It is also long so that your hands can settle into a comfortable position as you work. The spring-loading mechanism of the trigger allows you to work fast.
Pros
9-inch barrel for large operations.
Made from sturdy die-cast metal.
Features an ergonomic handle.
Spring-loaded trigger works fast and efficiently.
Comes with 3 nozzle attachments.
Cons
The flat strips may be too thin.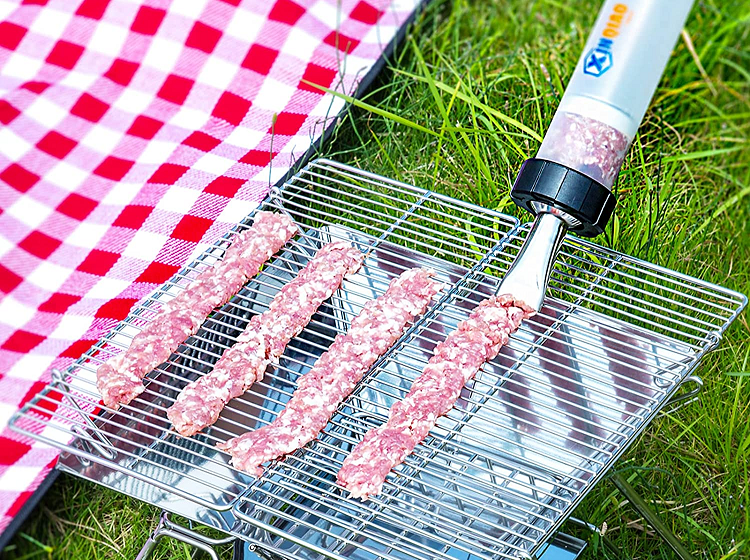 To finish off our list is the Xinqiao 1-Pound Capacity Jerky Gun. The gun barrel is made from plastic that is 100% BPA-free. The base material for all components has been certified to be safe by SGS, a third-party professional inspection service company.
So, you do not need to worry about any adverse health effects from using this product over an extended period. The barrel is fitted with strong caps so that meat does not come shooting out of it as you work.
This kit features four jerky nozzles made from stainless steel. You get a flat nozzle, a round nozzle, a double round nozzle, and a flat nozzle.
This way, you can make any type of jerky you desire. To operate the gun is a metallic handle that can comfortably handle high-intensity jerky-making sessions.
Packed in the kit are two brushes, one large enough for the barrel and the other for nozzle attachments. The bristles are sturdy, ensuring you can properly clean the gun and nozzles. In addition, the whole system is detachable and dishwasher safe, so you can maintain the hygiene of the kit.
Pros
Large capacity barrel.
Food-safe, sturdy construction.
Comes with 4 nozzle attachments.
Packed with 2 cleaning brushes.
Detachable and easy to clean.
Cons
Meat can get stuck behind the plunger.
Frequently Asked Questions
Question: What is the Difference Between a Jerky Gun and a Marinade Injector?
Answer: Both tools are designed to help you make your own flavorful meat. The main difference is in how they work. A jerky gun has an attached plunger that pushes out ground meats with spices through its nozzle while injecting it into large cuts of meat (like beef, pork, or venison).
A marinade injector works like a syringe needle piercing small holes in the meat so that juices can be infused into them from the inside out.
They usually come with multiple tips for different flavors. Most experts agree that using both devices together creates some amazing flavor profiles!
Question: Can I Make Vegetarian or Vegan Jerky With a Jerky Gun?
Answer: Yes, there are many recipes online for making delicious vegetarian and vegan jerky. The key ingredients usually involve using soy sauce or teriyaki sauce as a base, but you can get creative with different flavors and spices to make it your own.
Question: What are the Best Cuts of Meat to Use With a Jerky Gun?
Answer: The most popular meats to make jerky with are beef, pork, lamb, and turkey. But you can also use venison, elk, or ostrich if you're feeling adventurous!
However, make sure to trim any excess fat from the meat before using it in the jerky gun. This will protect your nozzles from clogging and make the process easier and faster. Plus, you will get healthier jerky this way.
Which is the Best Jerky Making Kit?
The SIGVAL Classic Jerky Gun will give you everything you need in a jerky-making kit. The gun is constructed from quality anodized aluminum. The metallic handle of the gun is both sturdy and comfortable to use.
The kit also comes with 4 stainless steel nozzles and 2 double-sided brushes. You can't go wrong with the Classic Jerky Gun from SIGVAL. A close second is the Xinqiao 1-Pound Capacity Jerky Gun.
If you want to make the best jerky possible, then a jerky gun is a must-have tool. They are easy to use and produce great results every time.
Recommended Reads: