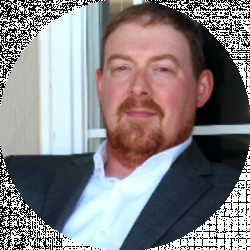 Latest posts by Justin Caldwell
(see all)
I love to smoke. Brisket, ribs, turkey, chicken, you name it and I'll smoke it. Don't get me wrong, I enjoy grilling a thick steak too, but there's just something to be said about that long, slow process of sealing the juice in on a nice piece of meat. In my humble opinion, there's nothing quite like it. (The fact that I hail from Kansas City has absolutely nothing to do with it.)
Finding the right smoker is a monumental undertaking if you're serious about cooking your meat. You'll discover that there are plenty of categories to choose from, especially when you take into account some of the newer and more advanced smoking features found on today's smokers.
The diversity among the different smokers can make it challenging to make a decision. Not only is there contention about what type of smoker to use, but many within the smoking community don't even agree on the best methods to use when smoking meat.
Lucky for you, I'm here to help you determine which smoker is the best one for you. This isn't a one-size-fits-all type of decision. There are plenty of niche choices that will help steer you in the direction that makes the most sense for you. Of course, you'll have to make some key decisions, but don't worry, we're not throwing smoke.
With that said, here's our guide on how to find the best smoker.
What to Consider Before Buying a Smoker
Before you run out and buy the first smoker you see, you should consider a few things first. Sure, a fancy new smoker would be fantastic, but there are items to think about before spending your hard-earned money on one. Here are a few topics that will give you an idea of what type of smoker will work best for you.
Insulation
One of the most important things to think about when buying a smoker is how well it retains smoke and heat. This means excellent insulation is a must for your new unit. You'll find the felt gaskets or fiberglass mesh, along with flanged lips, are some of the best features you'll find for providing amazing insulation.
Additionally, finding a smoker with thick-gauge metal can help as it's designed to absorb the heat and radiate it back to the food you're smoking. However, the best-insulated smokers you'll find on the market are the Kamado smokers.
Be sure you pay attention to gaskets or seals located throughout the smoker where smoke can leak out. If these areas aren't probably sealed, your food won't get the flavor you want, and you'll wind up using more fuel. So be sure you're choosing a smoker that has a solid warranty and is made of quality material.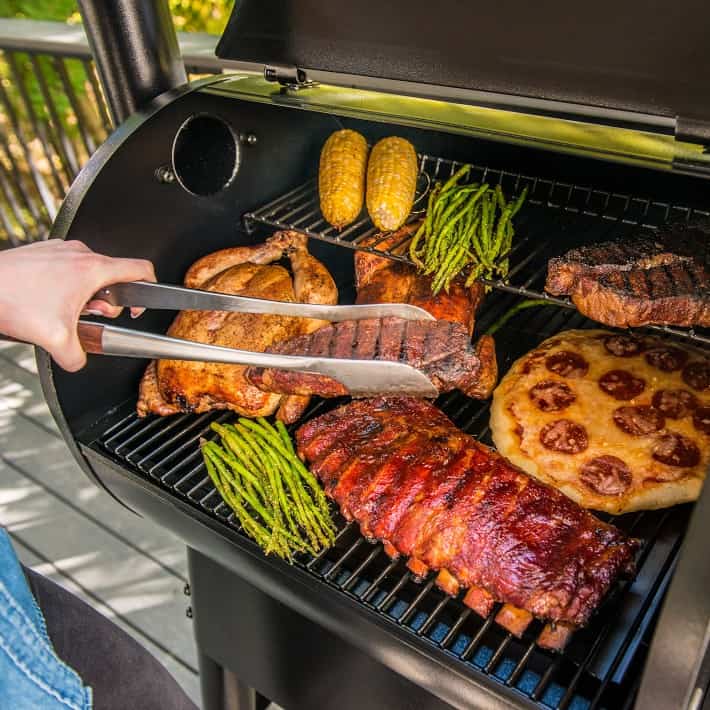 Temperature and Airflow
If you know anything about smoking, you know how important it is to control the airflow and temperature. If you can't do that, then you may as well forget about smoking. When selecting a smoker, be sure you completely understand the temperature and air control system of the model you're considering.
For example, Kamado and charcoal smokers use dampers and vents to adjust the airflow throughout the cooking area. As a result, the internal temperature and fire are controlled as well. Gas and electric smokers work in a similar method, with a damper to accurately determine the temperature of the unit.
That means you want to make sure you can quickly and easily access the vents. Also, check to ensure they're easy to move and operate and are free of obstructions. Last but not least, how durable are the materials they're made of? Will it rust easily? If so, you might not be able to adjust your damper if it rusts shut.
Wood – Chunks or Chips?
Many smoker models use wood to create the smoke that flavors your food. There are a lot of various options and flavors out there, so be creative and experiment with several different types.
There are some differing opinions on whether you should use chunks of wood or smaller wood chips, but ultimately it's up to you to decide which you prefer. However, here are a few tidbits that might help make the decision a little easier:
If you're cooking for a long period of time and want a steady stream of flavor-filled smoke, go with chunks.
If you're cooking for a short time and want heavy smoke full of flavor, go with chips.
Depending on what you have on the smoker, you can choose to have a solid mixture of both to get a strong, steady stream of smoke.
Another area of question that regularly arises with wood chips is the topic of soaking them. Should you soak them or leave them dry before you put them on the smoker. Many people say that soaking your wood chips helps increase the amount of smoke you get out of them. Others disagree and say that all you're accomplishing is delaying the time it takes for the actual chunks to ignite.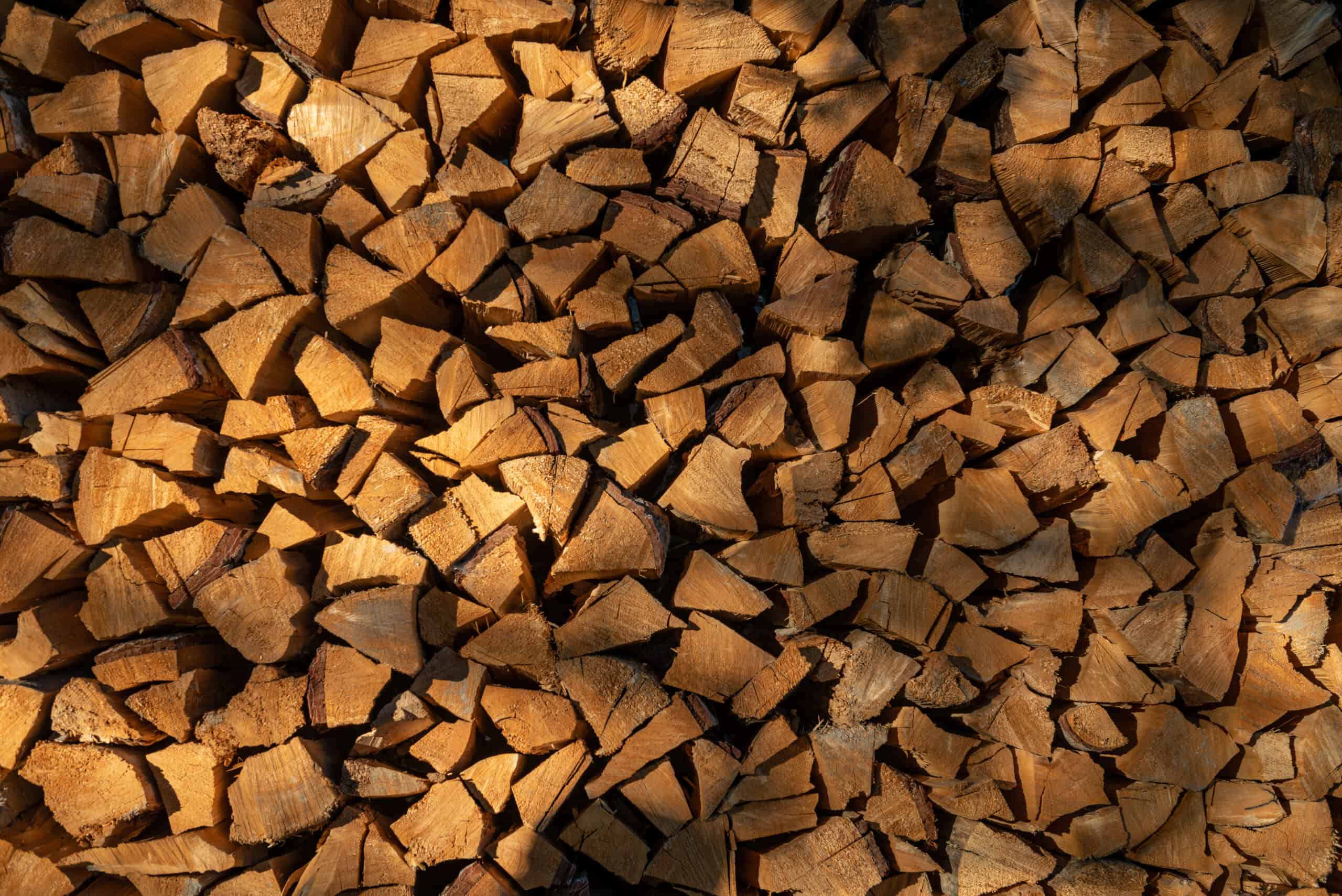 Really it's up to you, but I'd say the only time you'd want to soak your wood chips is if you plan on having a really long smoking session. If this is the case, you'd soak half your chips or chunks. Then, when the dry wood starts to burn out, the wet pieces will start to ignite, which would basically refuel your smoker without you needing to open it up.
Water Pans
A lot of people use water in their water pans, but you can actually put other liquids in it as well. This would include cider vinegar, apple juice, beer, or any other liquid that adds flavor to your food. The purpose of using a water pan has two functions: First, it aids in temperature stabilization.
Temperature stabilization is important because you want the heat to spread evenly throughout your smoker. While you don't have to use a water pan for this to occur, but it helps make the entire process much more manageable.
Second, it creates high humidity levels within the smoker. Why does humidity matter? I'll answer that with a question. Would you rather eat a dry piece of turkey or a moist, flavor-filled slice? I know my answer.
Fuel Type
Today's smokers work with more than just charcoal and wood. With the introduction of additional fuel types – like gas, electricity, and even wood pellets – smoker options and alternatives have grown significantly. Of course, every fuel type has its own advantages and disadvantages.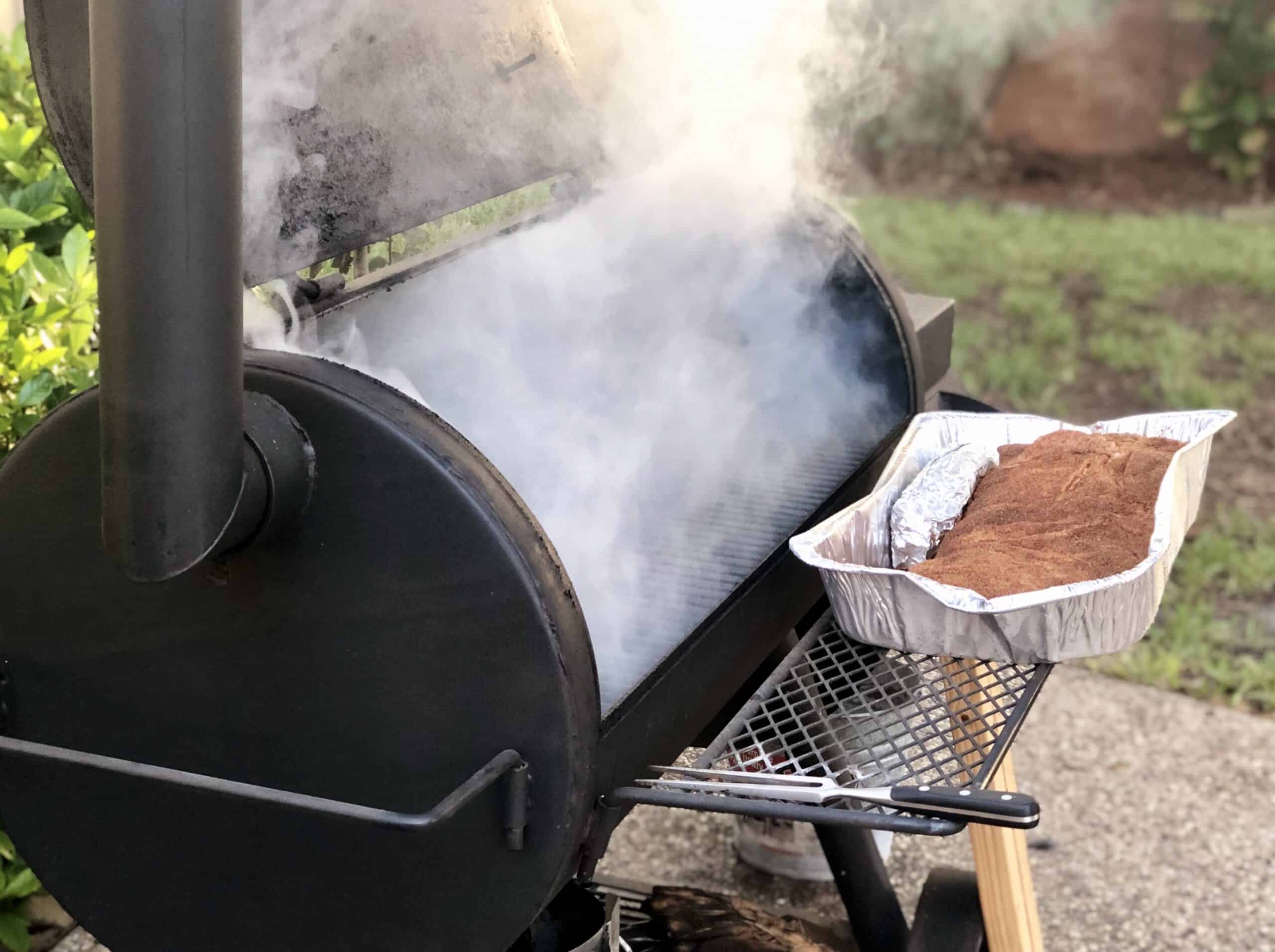 Let's dig deeper into each type of fuel you can use with your smoker and what they have to offer.
Electric Smokers
If you're the type of smoker who likes to set-it-and-forget-it, then an electric unit might be just what you're looking for. With these models, you can control the interior temperature of the smoker with thermostats. Think of something along the lines of an indoor oven.
Some electric smokers use rheostats. These devices adjust the flow of electricity to the heat source coil. They don't actually turn the power on or off. If you don't have a big budget and want a smoker, this is a decent option, but I would recommend it if you can afford something better.
No matter what type of electric smoker you choose, the coil in the unit creates smoke by burning wood chunks or chips in its smoker box. Since you don't have to manage the temperature or reload the fuel box while you're cooking, the only thing you have to worry about is the amount of airflow and smoke your food is getting. (It'll also make result in a high electric bill, but that's not a smoking problem.)
For electric smokers, airflow and smoke are critical. Basically, you're combining a large smoker box with a minimal rate of airflow. As a result, it's easy to over-smoke your food, which you don't want to do. That means airflow is especially important when you're cooking food like chicken or turkey, where you want to keep as much juice and moisture as possible.
Pros
Easy to start
Maintenance is simple
Can use it in your home
Set-it-and-forget-it smoker
Distributes heat evenly throughout the smoker
Cons
Can be challenging to assemble
Requires outlet to use
Must be cleaned often to prevent grease buildup, which can lead to fires
Recommendations
If you're looking for a high-tech smoker, this Masterbuilt option might be just what you want. With its built-in Bluetooth feature, you can monitor your smoker right from your smartphone. You can use it to check the internal temperature of your smoker so you know when your meat is ready to eat.
Additionally, the smoker comes with an upper element that is perfect for finishing off your food. Smoke your brisket, brush on the sauce, and broil them in the upper chamber to finish it off. You can load in wood chips from the side, so you don't lose heat while you're smoking. This Masterbuilt smoker can hold six chickens or two turkeys, so you have lots of room.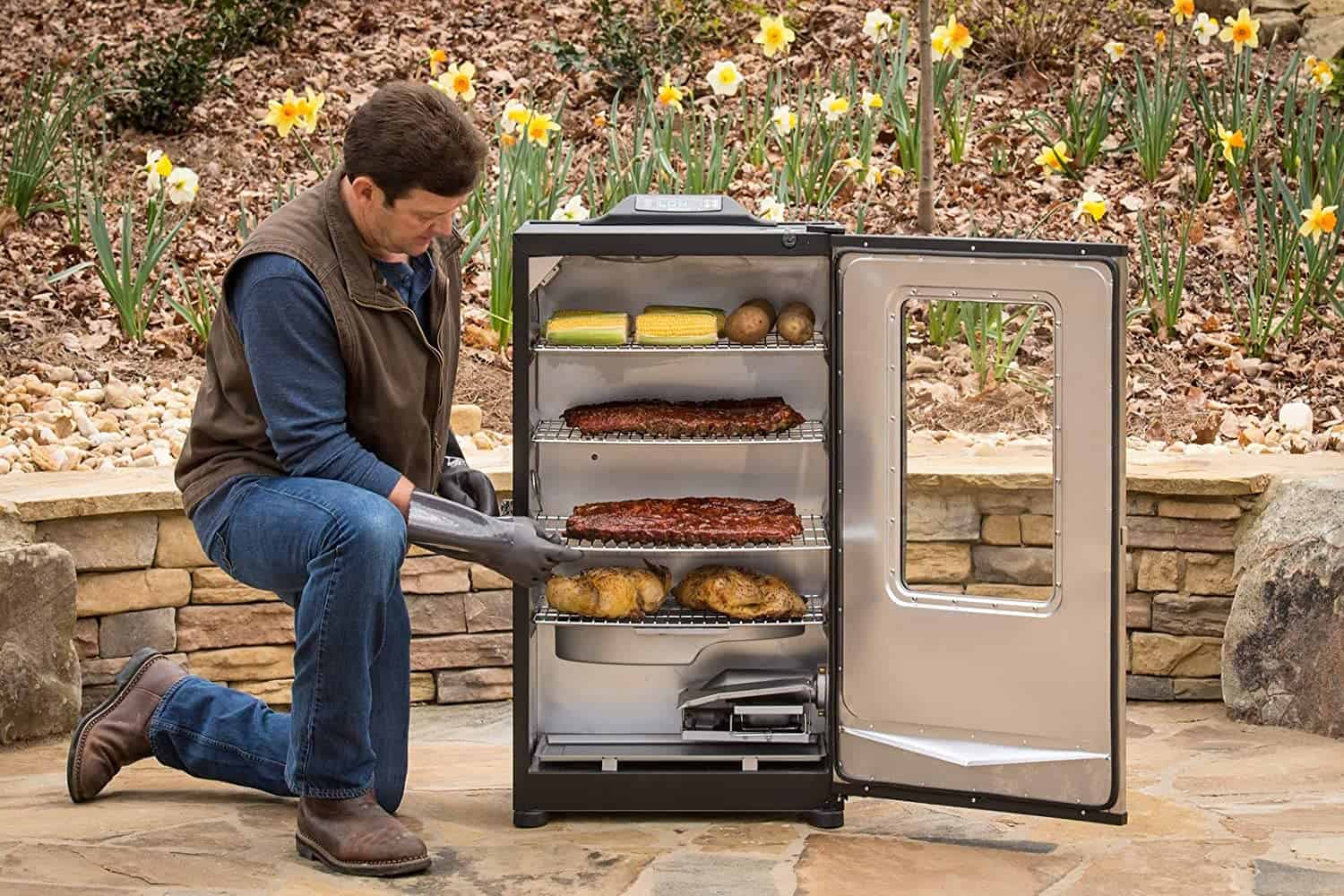 The Cuisinart 30-inch includes three stainless steel racks that won't ever rust or corrode. You'll also get 548 square inches of space for your favorite meats. With an adjustable thermostat ranging from 100 to 400 degrees, you can easily quickly roast or slow cook your meal. 
Additionally, there are two side handles on the unit, which makes it easy to move to the exact place you want it. Using the Cuisinart 30-inch is easy. Turn the dial to the desired temperature and let it run.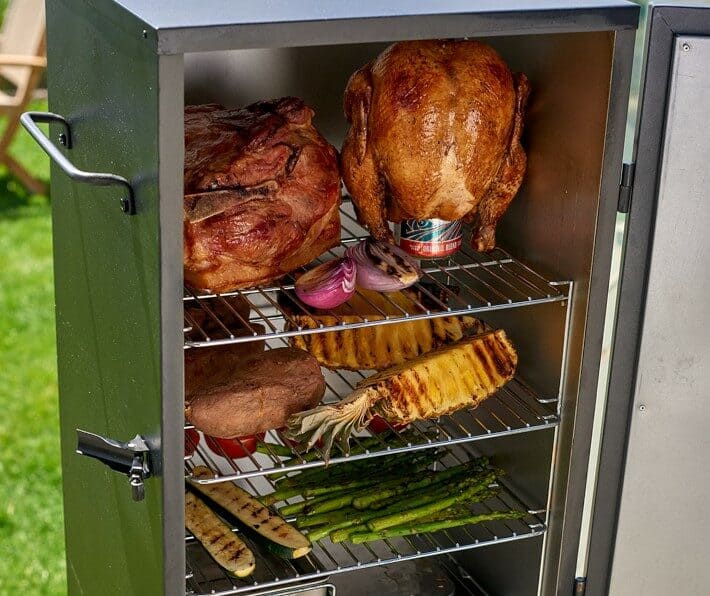 Gas Smokers
Just like their electric counterparts, gas smokers are very easy to use. They are constructed in a vertical fashion, similar to electric smokers, but instead of an electric coil, a gas burner is used. With gas burners, you'll get stable heat, which lights your wood chips or chunks, which in turn gives you the smoke and flavor you want in your food.
Additionally, the gas ignition method makes it much easier to get the temperature exactly where you want it, something you may struggle with if you use charcoal or wood smokers. When you don't have to mess with the temperature, you can focus on getting the right flavor and smoke for your food.
Some smokers say that gas smokers sacrifice flavor for convenience, but if you've had meat barbecued on this type of smoker, you know, that's not true. You'll still get smokey, tender meat with a perfect, crunchy crust. When using a gas smoker, one last to remember is to keep the air control vent open while smoking. Doing so keeps soot from building up within the cooking chamber.
Pros
Easily achieve high temperatures
Offers many portable options
Use it anywhere at anytime
Cheaper to operate than an electric counterpart
Cooks faster than other smokers
Cons
Requires more attention than an electric smoker
Smaller size smoker means less cooking capacity
Typically don't offer last features and gadgets
Recommendations
For a reasonable prices gas smoker, check out the Dyna-Glo Vertical LP Gas option. You'll get plenty of features at an affordable price. The Dyna-Glo comes with 4 adjustable wire racks and 784 square inches of cooking area. It also includes a double door system, so you can add more wood chips without disturbing the smoking chamber.
If you're familiar with the Masterbuilt line of smokers, you'll have no trouble with the Dyna-Glo. Plus, you'll get an electronic ignition button, a 15,000 BTU burner, and a control dial found near the bottom of the unit.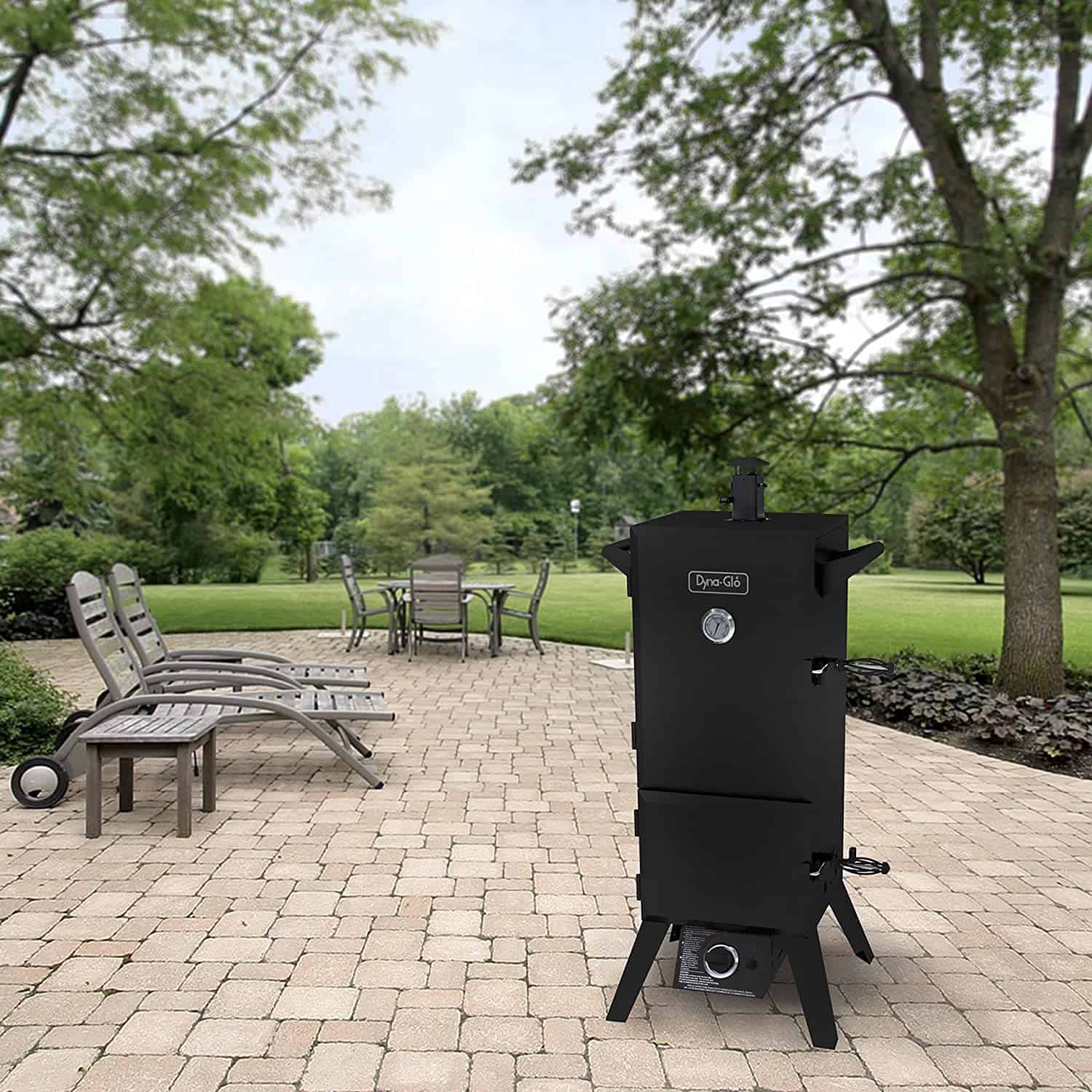 This Smoke Hollow vertical smoker comes with 7 cubic feet of cooking area, all packed into its 44-inch frame. The smoker comes with 5 removable racks, so you have plenty of places to put all your food. However, the unit does use a lot of propane, so if you're cooking for a lot of people, plan accordingly. 
The smoker is sturdy and robust, so you know it will stand up to all the smoking you want to do. Plus, with two stainless steel burners, you'll get to your smoking temperature in no time.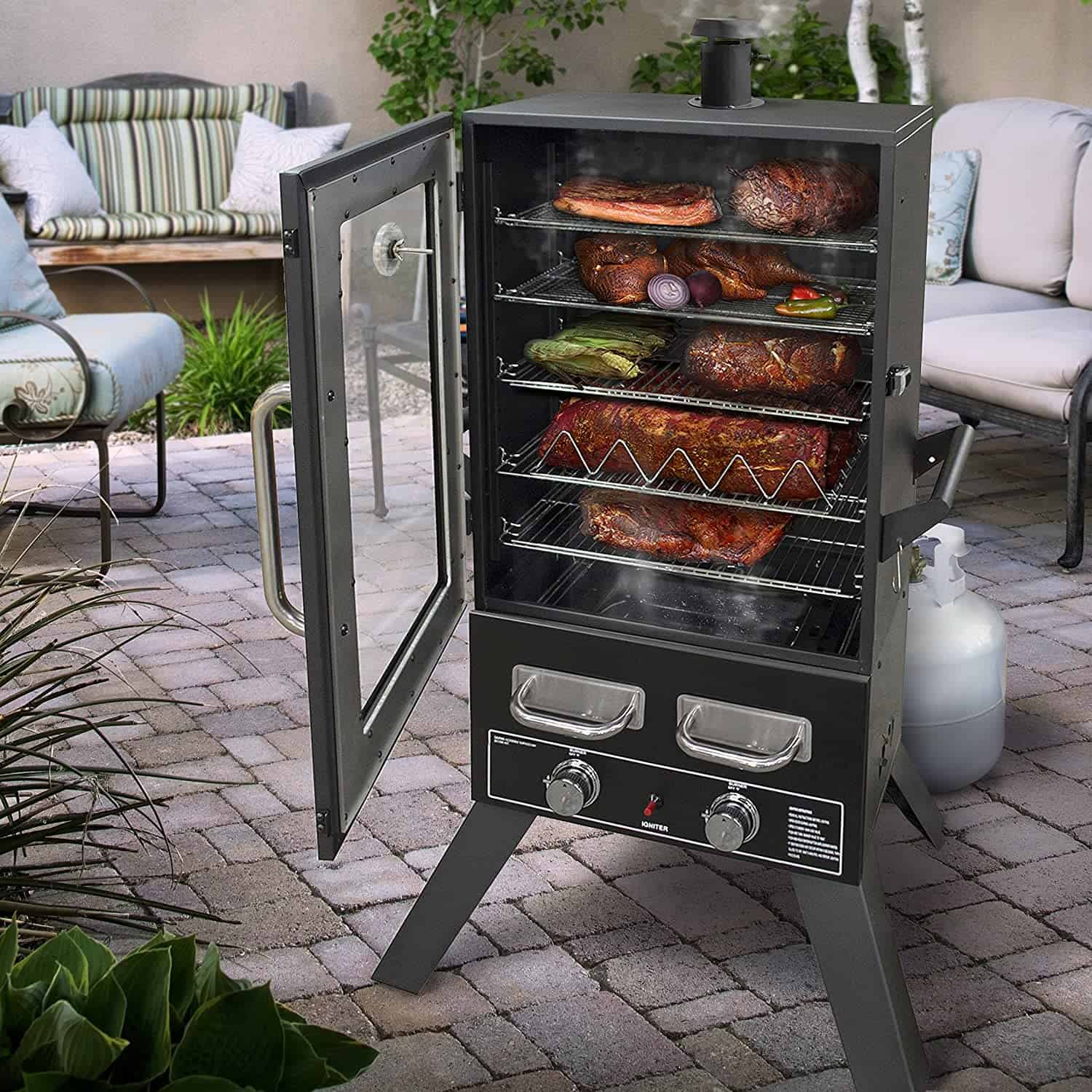 Pellet Smokers
I've mentioned a few times how easy it is to use an electric and gas smoker, but pellet smokers are even easier. These smokers basically do everything for you. The best one will manage the heat and fuel levels while managing and regulating airflow and smoke. What more is there for you to do?
Some of the fancier ones even have advanced features like programmable cooking settings. With these smokers, you'll get high-quality smoked meat by just pushing a button.
Since you can find flavored wood pellets, you don't have to worry about looking for chunks or chips for your smoker. That means you'll get nice, subtle flavors that make it difficult for even the lesser experienced smokers to overstock their food. So, if you're a beginning smoker, pellet smokers are a great option.
Keep in mind that the hotter the fire in your smoker, the less smoke you're going to produce. You want to keep a nice, low, even temperature so you fire smokes and smolders. With pellet smokers, you can use its 'smoke mode,' which will create more smoke by lowering the heat.
Pros
Easier to manage than other smokers
Don't have to mess with wood chunks or chips
Larger capacity
Reduced flareups
Lower maintenance
Cons
More expensive than other smokers
Flavor isn't as full as what you get with charcoal
Requires electricity to feed pellets into the smoker
Recommendations
If you know anything about pellet grills then you know that Traeger is one of the most recognizable brands in the industry. Mostly because Traeger was the first to market with this type of smoker. It doesn't hurt that they're versatile enough to be used as either a smoker or a griller. 
The feature that makes the 575 so appealing is its new D2 Direct Drive, which feeds pellets into the smoker and adjusts the airflow based on the internal environment of the unit. What's even more impressive is that the 575 is checking the status of the smoker every 30 seconds.
With almost 600 square inches of cooking space, you'll have plenty of room for all the large gatherings you want to host. You can fit 16 burgers on it at a time! That's enough room to cook dinner for your family and a few other families too.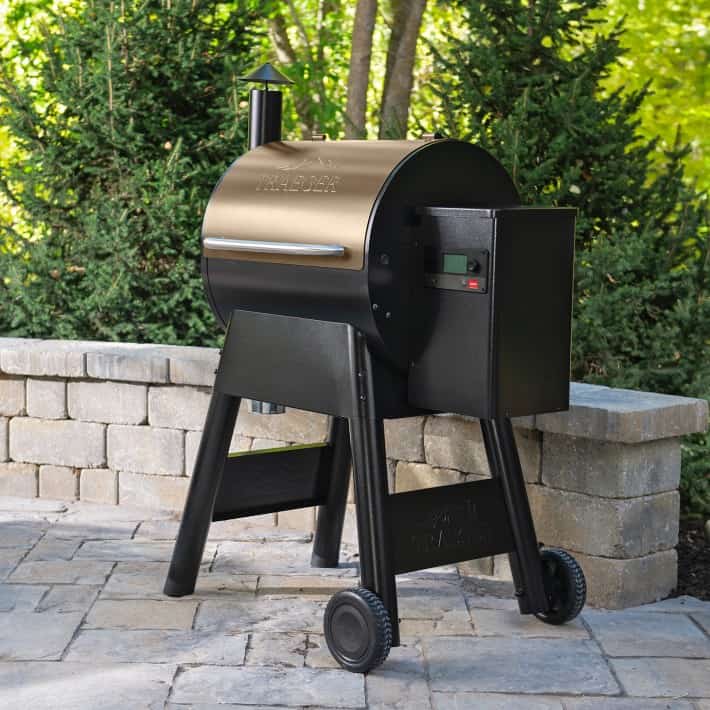 Sometimes it's nice to have a mobile smoker, which is where the Green Mountain Davey Crockett model comes in. It's the ideal smoker for camping or tailgating, so you always have a way to smoke your favorite meat. The unit has foldable legs so it takes up less space during travel and a 9-pound hopper, so you'll get plenty of heat.
Additionally, the Davey Crockett is one of the few portable smokers that comes with an integrated thermometer and digital controls. With wifi connectivity, you can monitor the progress of your food from the convenience of your smartphone. I don't know what else you could want from a portable smoker.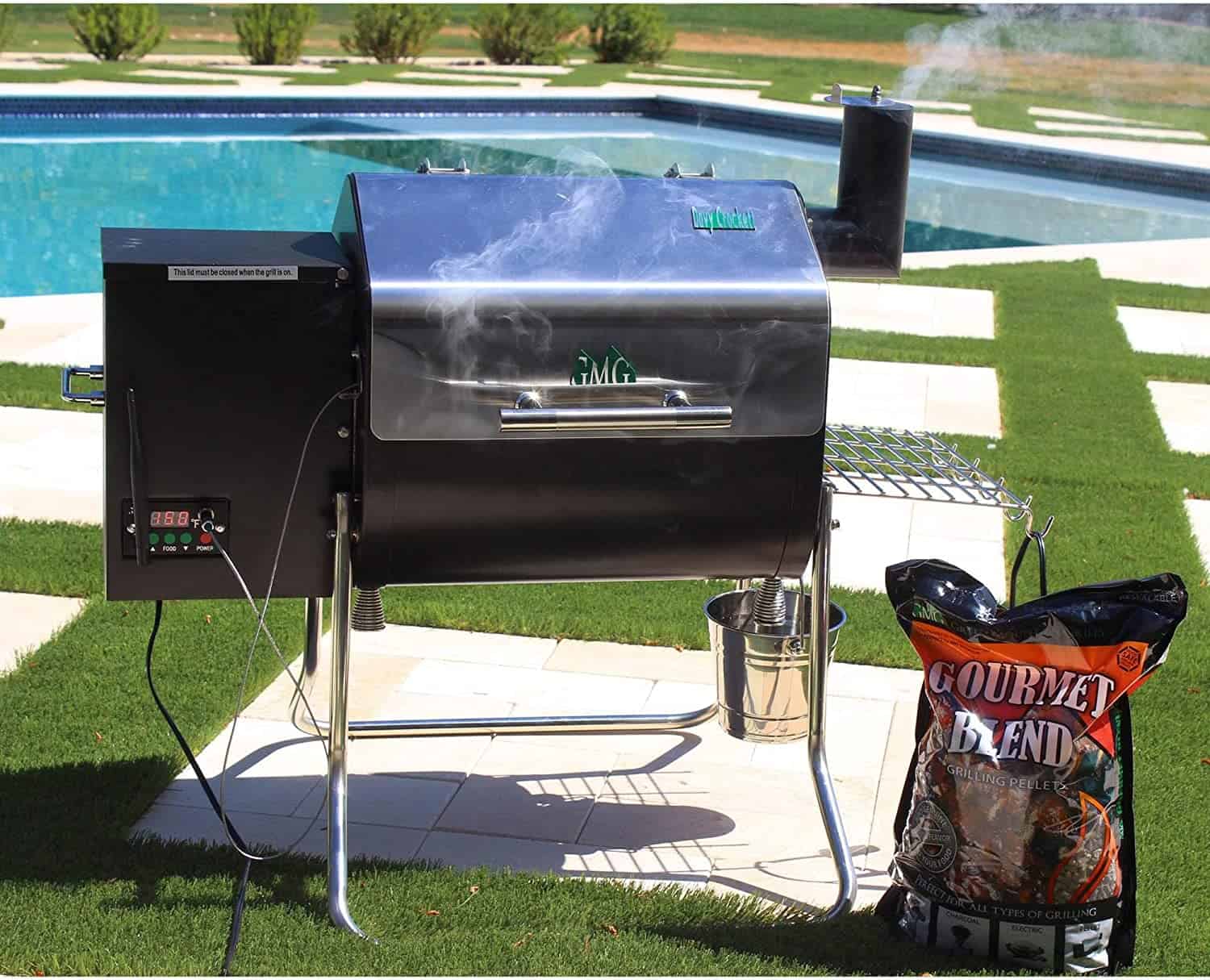 Last on our list of fuel types is charcoal, which is what most people think of when they hear the word smoker. The biggest advantage to charcoal, which is why it's my favorite type of smoker, is that you get a nice, hearty, full smoky flavor. Even though the live-fire combustion charcoal models are tough to use, the payoff is worth it.
While the learning curve for charcoal smokers is steeper than others, the flavor is amazing, especially if you purchase a smoker that offers a smoker temperature control, which gives you control over the airflow.
If you're just getting started with using a charcoal smoker, keep in mind that you'll need to stay on top of your smoke and fuel levels. The good news is that getting a feel for how to manage your smoker usually only takes a handful of cooks. It seems intimidating and daunting at first, but once you get the hang of it, you'll enjoy rich, flavorful, juicy meat.
Pros
Cheaper than other smokers
Excellent, smoky flavor
Great for outdoor smoking
Wide variety of woods for experiencing with flavor
Perfect outlet for serious smokers
Cons
Takes longer to get started
Requires a lot of attention and management
Can be a challenge for newer smokers
Recommendations
One of my favorite smokers out there is the Weber bullet-style smoker. Don't be surprised if you see this well-known unit in competitions around the country. The biggest option available weighs 68 pounds but offers a total of 481 square inches of cooking space.
If you're new to smoking and want to use charcoal, the Weber Smokey Mountain smoker is great for producing excellent food with a delicious, smoky flavor. The cooker is easy to use and because it's so popular, you'll have no trouble finding support if you run into issues.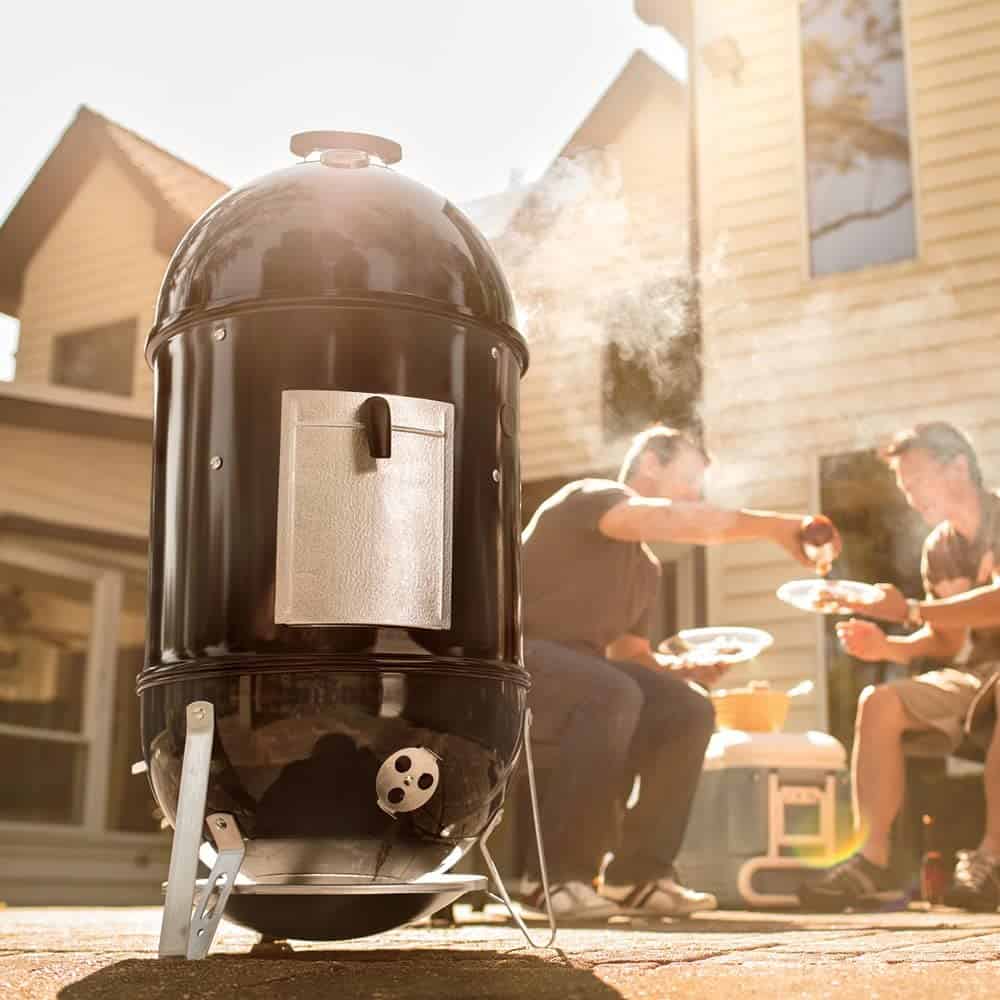 Another well-known name in the smoking industry is Char-Broil. This gourmet charcoal smoker comes with two wheels so you can easily move it around and get it where you need it. Plus, there are two stationary legs to keep the entire unit stationary and stable. If you need a mobile smoker, the Char-Broil is a good choice.
There are two surfaces in the primary chamber you can use to smoke as well. There's the firebox for direct smoking and the main chamber for indirect heating. Char-Broil offers adjustable grates, so you can put them at a height that makes sense for what you're smoking. Overall, the Char-Broil is a solid option for smoking your favorite foods.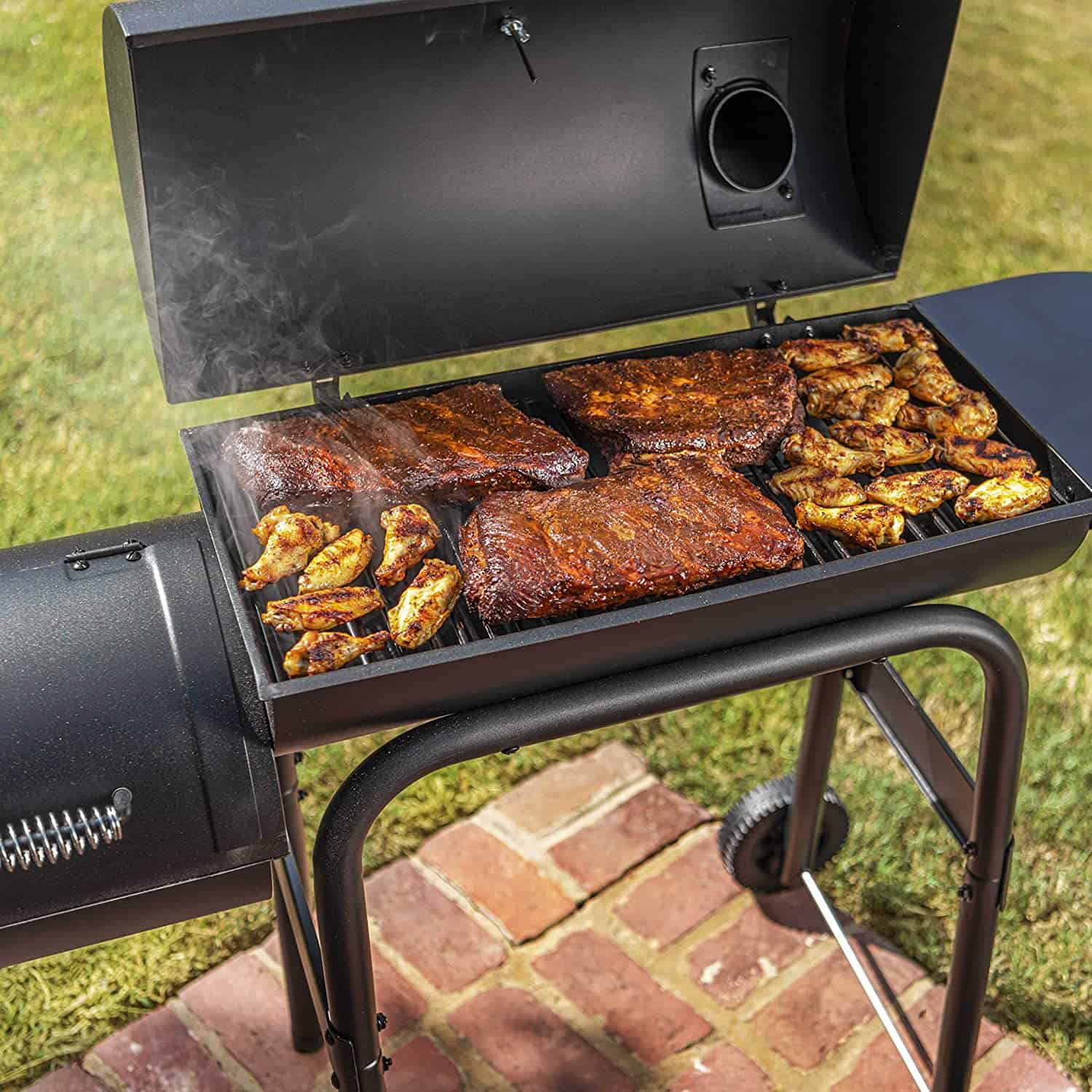 Smoker Design
Fuel type is just one method you can use to decide which smoker is right for you. Just like you can choose your smoker based on the type of fuel you want to use, you can also choose from various body types and designs.
For example, do you need to save space? If so, a vertical smoker might be the right option for you. Keep reading to learn about the various smoker designs and get an idea as to which one works best for you and your needs.
Vertical Smoker
Vertical smokers keep the heat source right below the main cooking chamber, which is usually in the shape of a cabinet. Starting at the bottom and working your way up, most vertical smokers are built with the heat source at the bottom, the smoker box in the middle, an option water pan, and the cooking grates on top.
With this type of design, you can easily control and manage the temperature of the smoker. This is because heat rises and it does so throughout the unit to cook your food. The vast majority of electric smokers are vertical, but you can also find vertical versions of gas, charcoal, and pellet models as well.
No matter what type of fuel you decide to use, be sure you can quickly and easily get to the first box on your vertical smoker. Doing so makes refueling simple, especially if there's a door or sliding tray that slides right off.
Pros
Compact and portable design
Use less fuel than other smokers
Smoking chamber heats up quickly
Does not require electricity
Typically a more affordable option
Cons
Most designs don't have a large smoking area
Have to rotate your meet to cook it evenly
Some designs make refueling challenging
Recommendations
One of the best vertical pellet smokers on the market is the Pit Boss 5. This smoker delivers on both taste and quality, with temperatures ranging between 150 degrees and 450 degrees Fahrenheit. You control the temperature on the unit through the use of an LED display that shows the internal temp of the smoker.
With a large, 40 pound hopper for your pellets, you can smoke as long as you need without adding more fuel. Plus, the interior racks on the smoker are adjustable, so you can manage a large amount of food.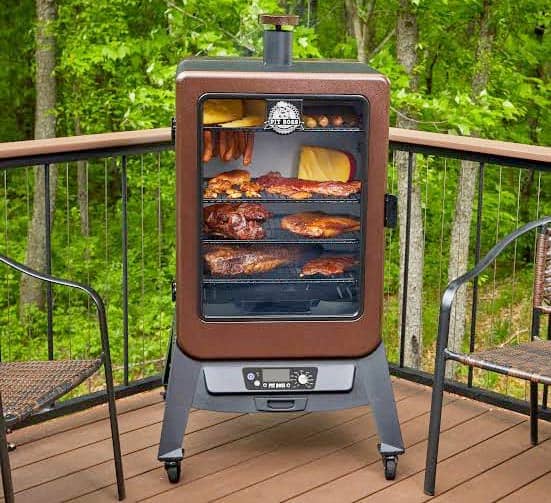 This propane-powered vertical smoker looks a lot like an old-time bank fault. But don't let its looks deceive you. The Camp Chef Smoke Vault comes with an 18,000 BTU burner along with a heavy-gauge wood tray and a removable basin that makes cleaning up quick and easy.
There are three independent damper valves you can adjust to control the heat, along with an easy-to-read thermometer right on the door. One cool thing about the Smoke Vault is that the company sends a book full of recipes and tips and tricks to make your smoking experience more enjoyable.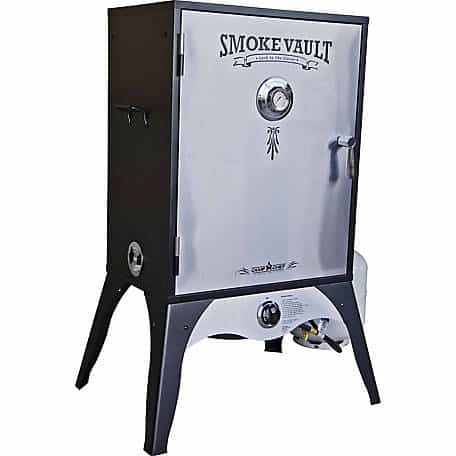 Offset Smoker
An offset smoker is a unit that has its firebox set off to one side of the primary chamber, typically horizontally. Usually, offset smokers consist of a barrel-shaped horizontal body and use wood or charcoal to create smoke and heat. Among purists and competitors, offset smokers are the most popular option.
If you find a unit with a temperature controller, tending to your smoker becomes much easier, because it will handle the airflow and heat for you. However, you're still going to have to manage the smoke production, which requires keeping a close eye on the fuel.
Older models will have variance in temperature across the entire cooking grill due to the way the heat moves across the surface. However, newer options come with advanced features like reverse-flow air intakes and large heat baffles which help keep the heat remain even throughout the smoker.
Pros
Large surface area is great for cooking lots of food
Easy to add more fuel
Durable and long-lasting
Can also be used for grilling
Little maintenance required
Cons
Some of the more expensive units on the market
Offset smokers are large and cumbersome
Requires patience and experience to use
Recommendations
One of the best offset smokers out there is the Oklahoma Joe's Highland. (As a side note, if you're ever in Kansas City and visit Oklahoma Joe's, be sure and get the Z-Man.) This smoker offers plenty of features at a decent price. For starters, it's made of high-temperature steel, which means you're getting a well-built smoker designed to handle the heat.
There are plenty of dampers and vents on the smoker that makes it easy to control the temperature and the removable shelf lets you keep all your utensils handy. The built-in thermometer lets you keep a close eye on the temperature so you can make adjustments as needed. It's safe to say that one of the best barbecue company's in the land knew what they were doing when they built this high-quality smoker.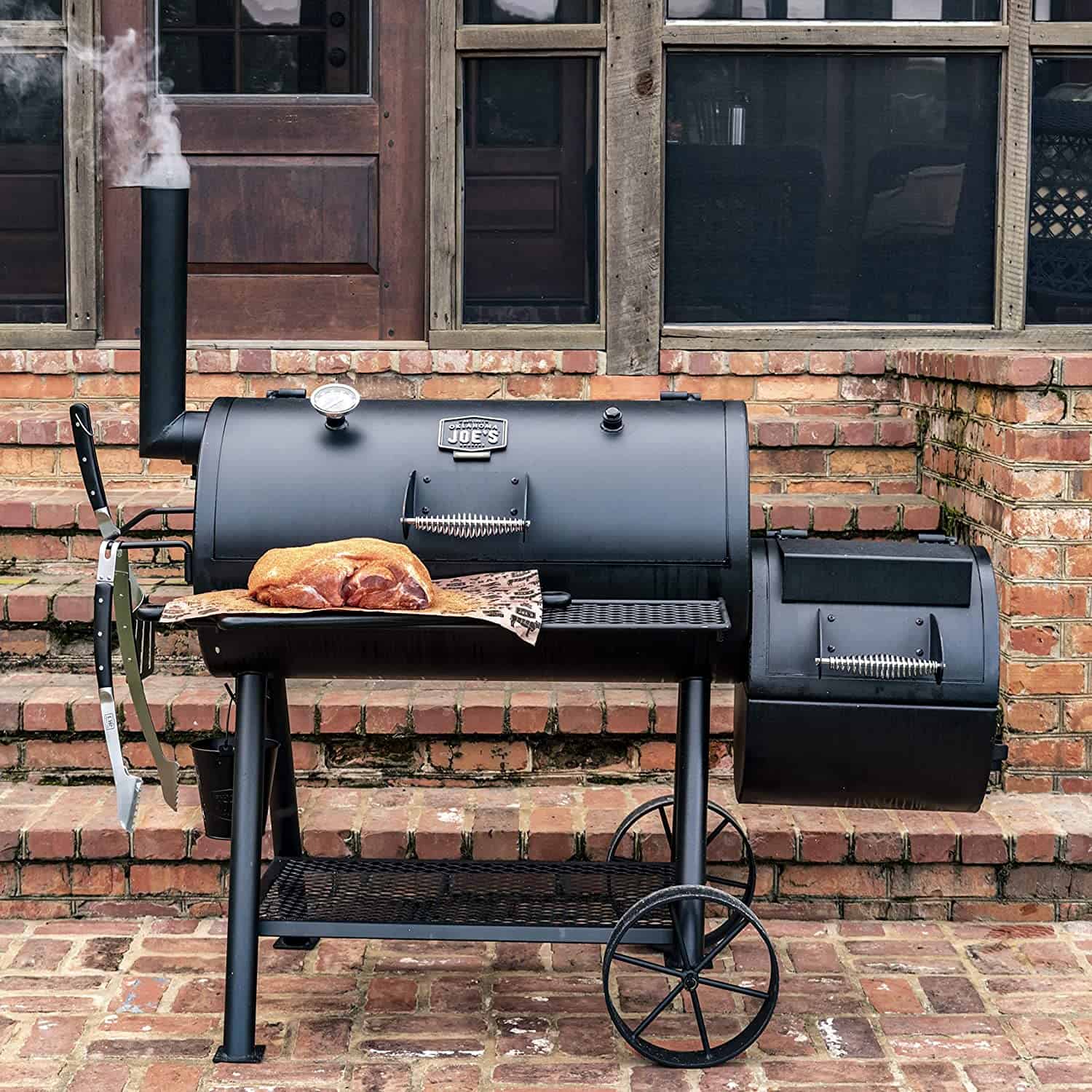 If you're in the market for an offset smoker but don't have a huge budget, this offering from Royal Gourmet should do the trick. Weighing at 60 pounds, like a light and portable smoker is perfect for you no matter where you need to keep it. Even though it may not last over the long haul, it will get you through until you can afford something a little more heavy-duty.
There's plenty of room on the smoker if you plan on taking it camping or tailgating, but if you plan on feeding a lot of people, you might have to look for something a little bigger. Still, it's a solid option if you're ready to start smoking but don't have a lot of money to spend.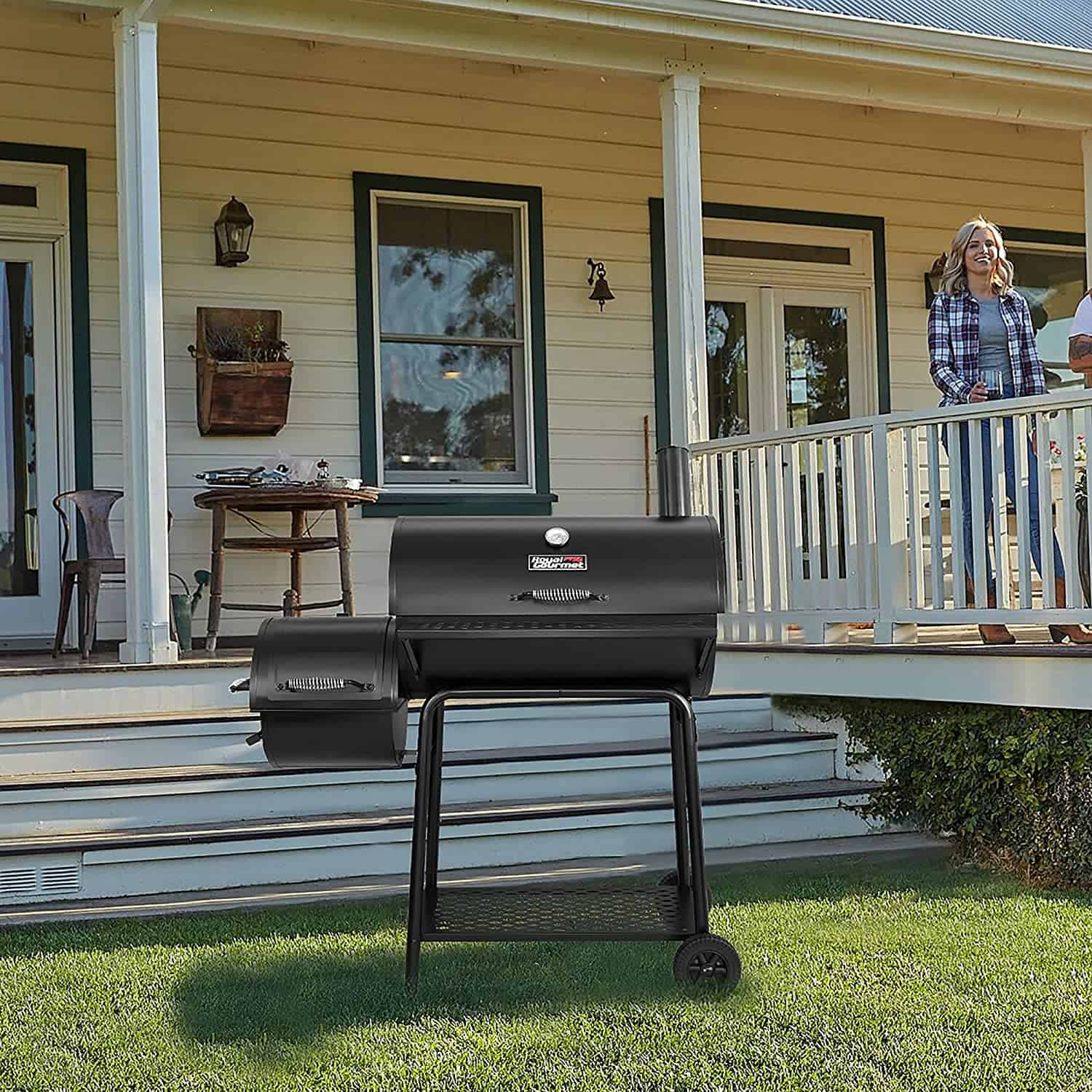 Drum Smoker
When it comes to smokers, Drum units are about as simple and straightforward as you can get. They are designed with a basket at the bottom to hold the charcoal and wood chunks. About a foot above your fuel is the grate, and then your lid goes on top of the drum. Vents are located toward the bottom of the barrel and on the lid so you can control the temperature as you smoke.
The design is as basic as you get, but so is the use of a drum smoker. The first thing you'll do is load up your charcoal basket, then throw in some wood chunks and lit charcoal to get the smoke flowing. Put your meat on top of the grate, then fine-tune the heat until you get it just where you want it.
Since they have a compact design, drum smokers don't offer much in the way of oxygen and airflow within the smoker itself. However, some smokers say they can use their drum smoker for nearly 12 hours without needing to add fuel.
Pros
Small and compact
Easy to use
Small learning curve
Cheap to buy or Do-It-Yourself
Can also be used as a grill
Cons
Not as shiny and fancy as other smokers
Small cooking area
Recommendations
One of the best drum smokers you'll find on the market is the Classic Pit Barrel. Manufactured by the Pit Barrel Cooker Company, this veteran-owned company has risen to popularity with its set-it-and-forget-it smoker. The smoker itself is made of 18-gauge stainless steel, so you know it's going to last over the long haul.
Plus, the interior is coated in porcelain enamel, so you won't have a hard time cleaning up when you're done cooking. The smoker is ready to use right out of the box. All you have to do is connect the handles and you're all set. Follow the included instructions, light your smoker and enjoy!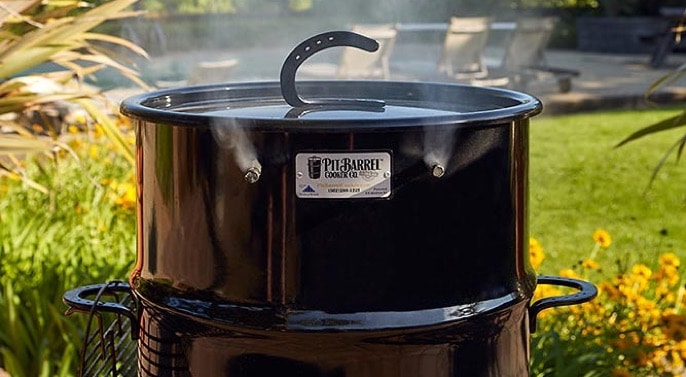 I had to include this smoker because it's just so cool. If you like to do things yourself, then this is the smoker for you. You're going to save a lot of money with Big Poppa's DIY Drum Smoker Kit. It's easy to build and Big Poppa tells you everything you need to know to get started.
The drum isn't included with the kit, but everything else you need it. Your cooking grate, charcoal nest, handles, and other accessories come with the kit. Find yourself a 55-gallon drum and get to work! You'll need a drill and a few other hand tools, but that's it. Before you know it you'll have your very own drum smoker.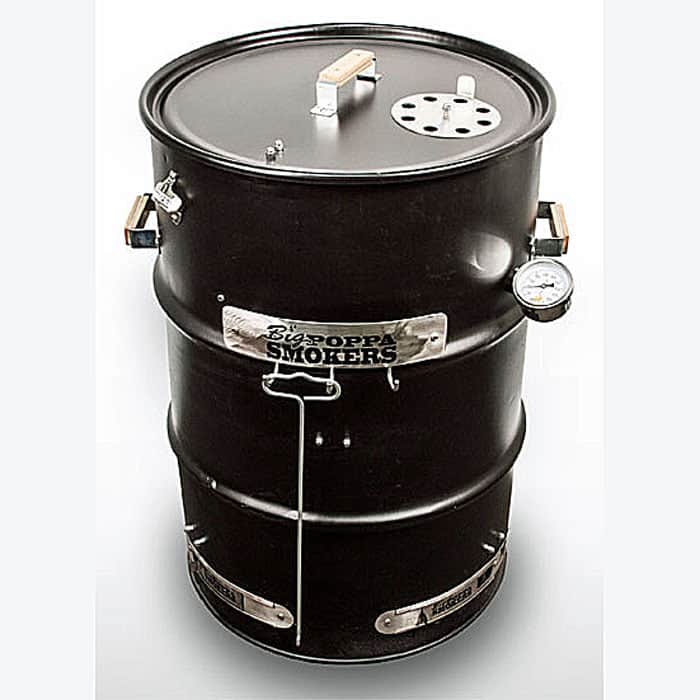 Configuration
Once you've decided on what type of fuel you prefer to use and what design you want, you can decide how you want to configure your smoker. Think about your configuration in terms of mobility and placement. Do you want a unit you can move around or take with you? Or would you prefer a smoker that's built into your backyard?
Freestanding smokers
Freestanding smokers are the most popular configuration you'll find. These are mobile smokers that have significant benefits. For example, they're easy to clean, especially after you've spent an entire day smoking. With some smokers, you need to be able to access all areas to really get it clean, which is much easier to accomplish if you can get to it from several angles.
Additionally, if you want to take your smoker anywhere – like to compete for example – then a freestanding option is the way to go. They're great for traveling and are easy to store for a long time. Just make sure your smoker has strong wheels and a smoker cover for protection.
Built-in smokers
You'll find plenty of built-in grills if you look around, but not many people can boast that they have a built-in smoker. Building your smoker into your outdoor kitchen adds a certain level of appeal to those who are serious about smoking. Plus, you can offer a variety of foods when you pair them next to your traditional grill.
If you really want to get creative, you can put your smoker into an outdoor island cutout. There are plenty of options on wheels you can slide right into the counter cutout and still provide plenty of ventilation.
FAQs
Question: What size smoker do I need?
Answer: When it comes to size, you want to focus on capacity. If you're only cooking for yourself, then you should be okay with a smaller, portable unit. However, if you want to cook for a large family or for groups of people, you'll want a smoker that has plenty of cooking area. For something like this, you might be better off finding a nice, big offset smoker.
Question: Is it possible to have too much smoke?
Answer: Remember that when you're smoking, the wood produces the smoke and your fuel type is used to heat your smoker. It's tempting to want to add a lot of wood, but if you add too much, your smoke will trunk thick and white, which isn't ideal for smoking meat.
Question: How do I make the smoker hotter?
Answer: Since hot air rises, you want your vent to behave as a vacuum and draw out air through the intake vent. As the hot air goes up, your smoker heats up. To starve the fire, close the vent. Eventually, it will die out, even if your exhaust damper remains open. If you want to get your smoker hotter, open up the vent as far as it will go.
Question: Why is there so much smoke in my smoker?
Answer: If you notice a lot of smoke coming out of your smoker, the likely culprit is too much fuel. Additionally, you might not be getting enough airflow through the smoker. Let the wood burn down and open up the vents for a bit to let the smoke thin out a little.
What are You Waiting For? Get Smoking!
As you can see, there are plenty of smokers available on the market. They come in all sorts of configurations and designs and you can use the fuel you want to give your food that delicious smoky flavor. Whether you're a beginner looking for your first smoker or an experienced cooker looking to upgrade, you're sure to find what you need.
If you enjoy the taste of smoked food, buying a smoker is the way to go. There are advantages and disadvantages to each type of smoker, so take into account all the factors that you need to consider before pulling the trigger. Choose one that fits your needs, get it set up, and get started!