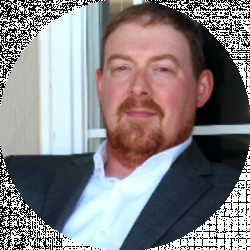 Latest posts by Justin Caldwell
(see all)
A charcoal smoker is the best option for getting the smokey flavor you love at home. It creates an authentic barbecue feel with a deep, rich flavor. Using charcoal for smoking gives you the best temperature control, allowing you to also control the amount of smoke and add just the right amount of smokey flavor.
In this review, we'll discuss what to look for when shopping for a charcoal smoker, the types of charcoal smokers, and some specific models you may want to try.
Charcoal Smoker Buyer's Guide
There's more to a charcoal smoker than the brand and the price. If you've heard of the brand before, it's likely made with quality materials, but there are more factors to consider that will help you decide how good a charcoal smoker really is.

Square Inches of Cooking
Smoking meat takes a while. The racks in your smoker will be occupied for a long time, meaning you can't use that space for anything else until you're done. You want to make sure you have plenty of space inside the main chamber for all of the food you need, especially if you're entertaining.
You won't want to smoke meat in two or more batches. It would take too long. A smaller smoker will do if you don't ever smoke meat for more than just your family. Just be sure you look at the total cooking area and capacity before you buy a charcoal smoker.
Build Quality and Materials
Every tool you use for cooking should be built with quality materials to ensure they're safe for food and that they'll last a long time. However, smokers are typically outside in the elements, have to withstand hours of heat, and will come into contact with a lot of steam and smoke.
While they are typically kept at lower temperatures than charcoal grills, they still have to be able to withstand cooking for hours at a time. It should be made with cast iron, stainless steel, and other durable materials. The firebox should be made of thick gauge steel, and the main cooking chamber is typically stainless.
The grates inside can be made of porcelain-coated stainless steel or cast iron, both of which are very durable and can withstand heat and smoke. Cast iron is better at transferring heat, but you have to oil or season them after each use if you don't want them to rust.
Charcoal smokers should also have cooking chambers that are well insulated to retain heat and smoke. They also keep a more steady temperature throughout your cooking time.
However, lower-quality smokers have thin chamber walls that can leak smoke and heat. They need more attention during your cook with adjustments at the firebox to maintain your temperature. While leaking smoke isn't necessarily bad, it can make it harder to keep your temperature even.
Smoker Grates
The grates hold your food. You can place food directly on them, or you can use another surface in between the two, but the grates are still an important consideration. They should be made with quality so they can hold the weight of the food and withstand the smoke.
Look for options that are cast iron, heavy-duty steel, or porcelain-coated. Cast iron transfers heat better, while stainless is easy to clean. However, all grates will require some maintenance. They have to be oiled to prevent rust.
Porcelain-coated grates work very well, but they chip or scratch more easily, so you need to use a porcelain-safe brush to clean them.
Also, consider whether the grates are adjustable. This can increase the functionality of your smoker because you can move the grates to accommodate different meats and sizes of cuts.
Features
It's important that you look into all of the extra features your charcoal smoker might have. Most will have at least two cooking grates as well as a warming grate. A built-in thermometer in the lid helps you monitor the temperature inside without disrupting the process.
Only the best smokers will have advanced features like reverse flow cooking chambers, digital thermometers, cold touch handles, insulated cooking compartments, adjustable dampers, large water pans, and air vents to feed fresh air to the firebox.
Your smoker should be able to handle several different types of charcoal, giving you more versatility and cooking options. Lump charcoal is larger, so make sure the wooden boxes are large enough to accommodate the amount you would need for the capacity of your smoker.

Pay attention to the number of cooking racks and whether they're adjustable. This will help you determine whether it will meet your needs.
Portability
You're probably not going to take your smoker hiking, but you may want to take it on vacation with you or move it around your backyard. Larger smokers will be heavy and hard to move around, but it's important that you can roll it out of the way when you're done or put it in a convenient spot. Locking casters are helpful.
Small smokers are easier to load into the back of a truck or pick up and move to a new location. If you want something that's more portable, you'll want to look for a smaller option.
Price
Price is always important, no matter what you're buying. No one wants to break the bank. While price shouldn't be the only determining factor, you can certainly try to get more bang for your buck.
Some charcoal smokers will cost several hundred dollars while others can cost several thousand. However, charcoal smokers are much cheaper than pellet smokers because they're easier to manufacture.
Only you can decide what you're willing to pay for the features and functionality you need.
Types of Charcoal Smokers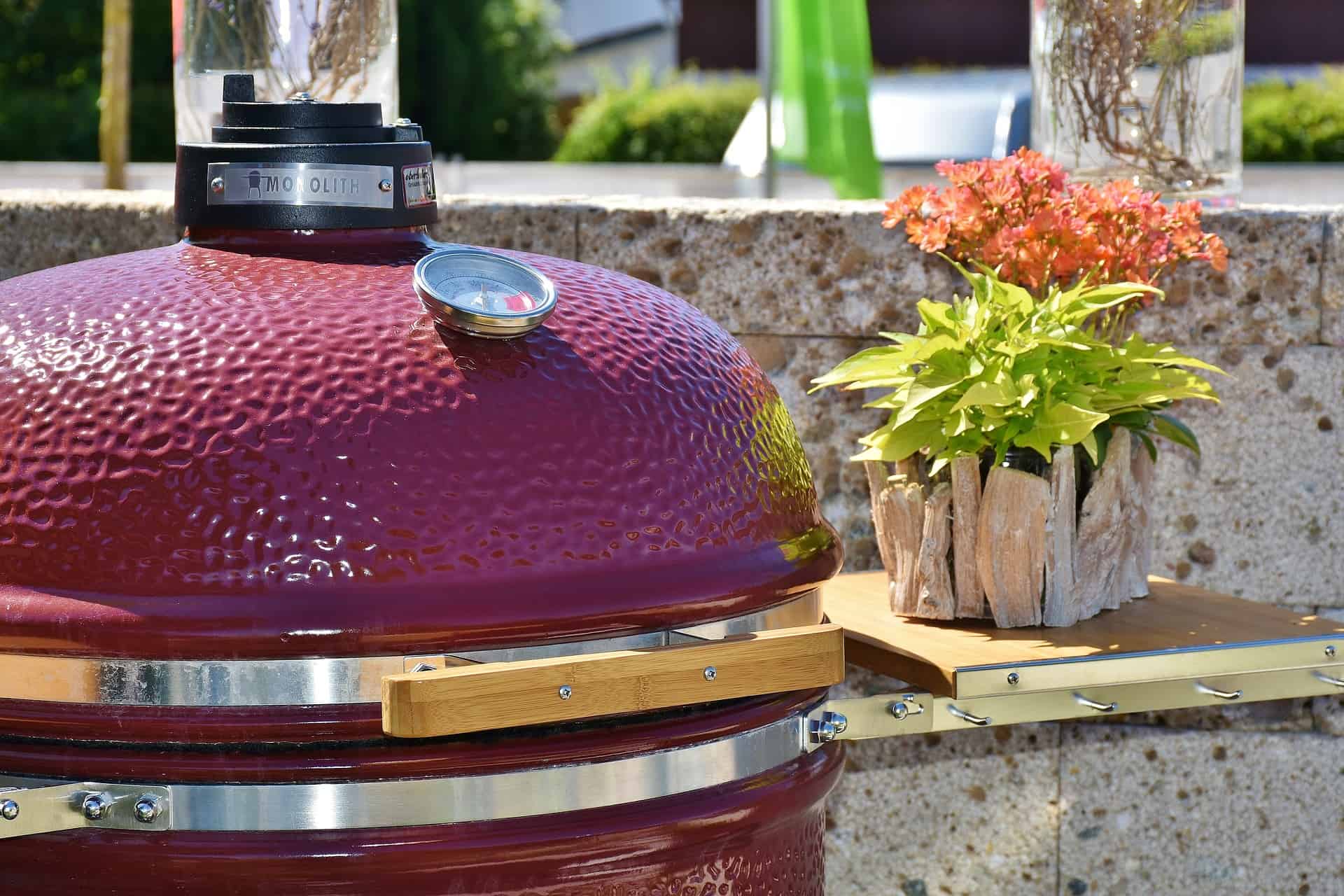 There are several different types of charcoal smokers, and each has its own unique design and works in its own way to burn the charcoal and cook your meat.
Offset Smokers
An offset smoker is named for the position of the firebox in relation to the main cooking chamber. The firebox is separate from the main cooking area and on its side. Many professionals use this type of smoker because it gives you a large cooking surface with the capability to slow smoke your meats using indirect heat with either charcoal or wood.
These designs are perfect for large amounts and meat and may take some practice to learn how to use, but they will be much more versatile than most other types. Traditional offset smokers weigh several hundred pounds, so they're hard to move but very practical with great temperature control and smoke.
Kamado Smokers
Kamado smokers are versatile enough to smoke, grill, and bake food. Many people prefer this type of smoker for outdoor cooking because they have a durable ceramic shell. They make chicken, ribs, and pizza very easy.
These designs are built with ceramic, making them versatile and durable. They offer very good heat control. You can even use leftover charcoal from your previous cooks, making it incredibly efficient.
The problem with these is that the ceramic shell can crack if it gets hit hard enough. It's important to protect it from the weather when it's not in use.
Drum Smokers
Drum smokers aren't very attractive, but they're very popular. They typically come in 30-gallon steel drums and are perfect for cold smoke cooking at 160 degrees Fahrenheit. They work with both wood and lump charcoal.
Drum smokers, or barrel smokers, are great for people who want something a bit more straightforward to use. They're relatively simple and easy to figure out. They don't have the same frills as other designs do, but they work very well.
Vertical Cabinet Smokers
Upright smokers are another popular configuration because not only can you buy them at the store, but they're relatively easy to make out of an old upright tool chest or old gun safe.
The smokebox, firebox, and water bowl are all on the bottom of the smoker, inside the main chamber. They work well and are very effective. As the hot air rises, it brings steam and smoke with it, cooking the meat within.
You'll find a lot of cooking area for the money, and because they are upright, they take up less floor space while still offering more cooking space. The meat you'll get from this type of smoker is moist and tender because there's always a consistent amount of steam in the cooking chamber.
Best Charcoal Smokers
The smokers in this review were all chosen for their cooking area, features, cooking grates, and price. They're some of the best you can buy.
Meadow Creek BX25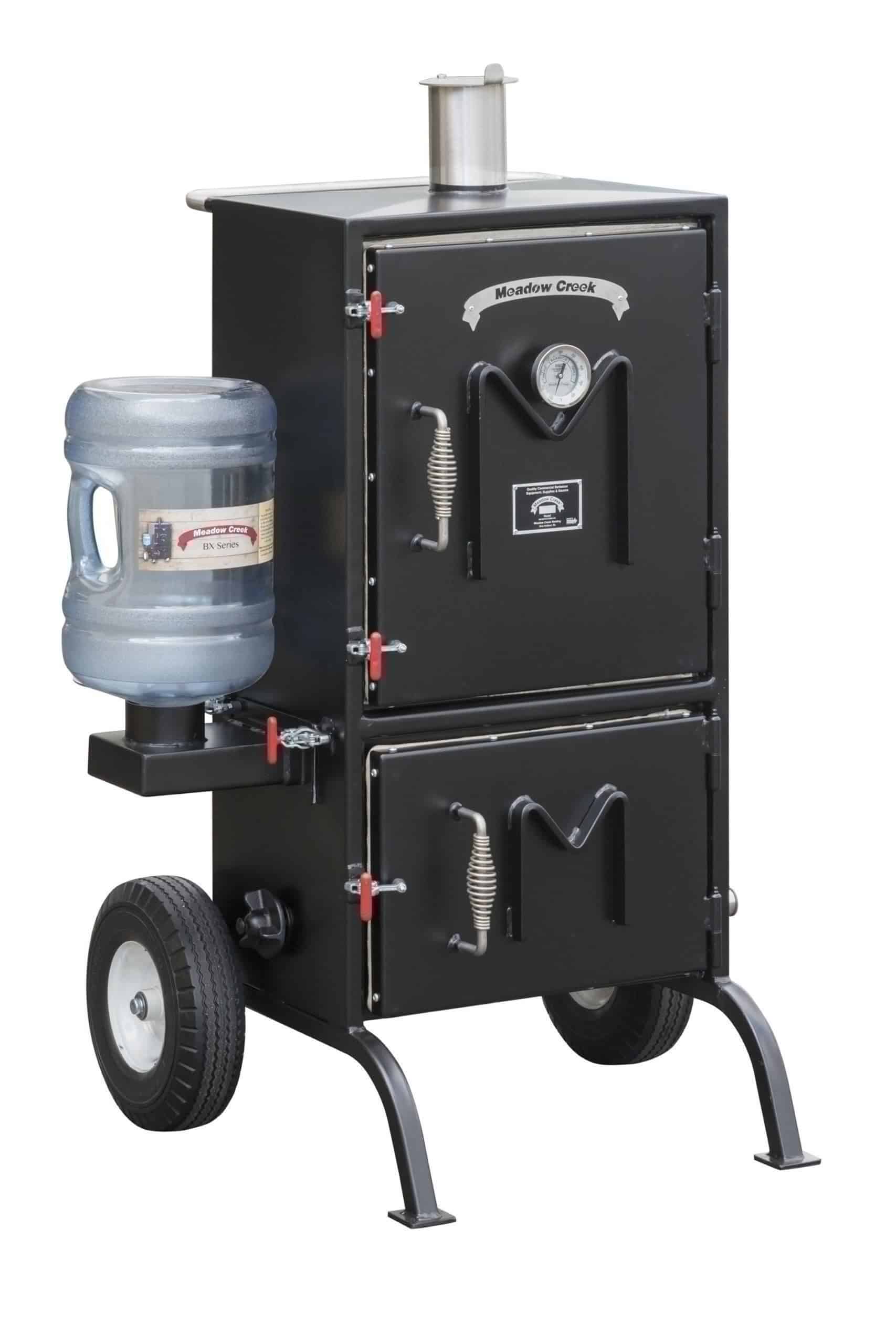 Meadow Creek offers some of the best smokers on the market. They are made of heavy-duty steel for high quality and durability. The BX 25 is a large smoker that will accommodate quite a bit of meat.
This particular model has a well-insulated cooking chamber that seals heat and smoke inside. There are sealed door edges on the cabinet and the large tires will support the weight well. It features excellent design and attention to detail, demonstrating its quality.
You'll be happy with the performance on this one because of the double-walled construction and the extra insulation in the cabinet. There's excellent heat retention and efficiency that only gets better with gas seals on the doors.
Meadow Creek also has a unique water pan system in which a 5-gallon bottle feeds water into the pan that rests inside the cooking chamber using gravity. It's simple and efficient, so you can always ensure there's enough steam to keep your meat tender and juicy.
The design on this smoker is super, but you'll pay for it with a lot of extra weight. It's a heavy unit that isn't as portable as other models. However, there's a lot of cooking space within, so you can entertain all of your friends.
Pros:
High-quality construction

Excellent heat and smoke retention

Efficient water pan system

Large cooking area

Large rubber wheels
Cons:
The Pit Barrel Cooker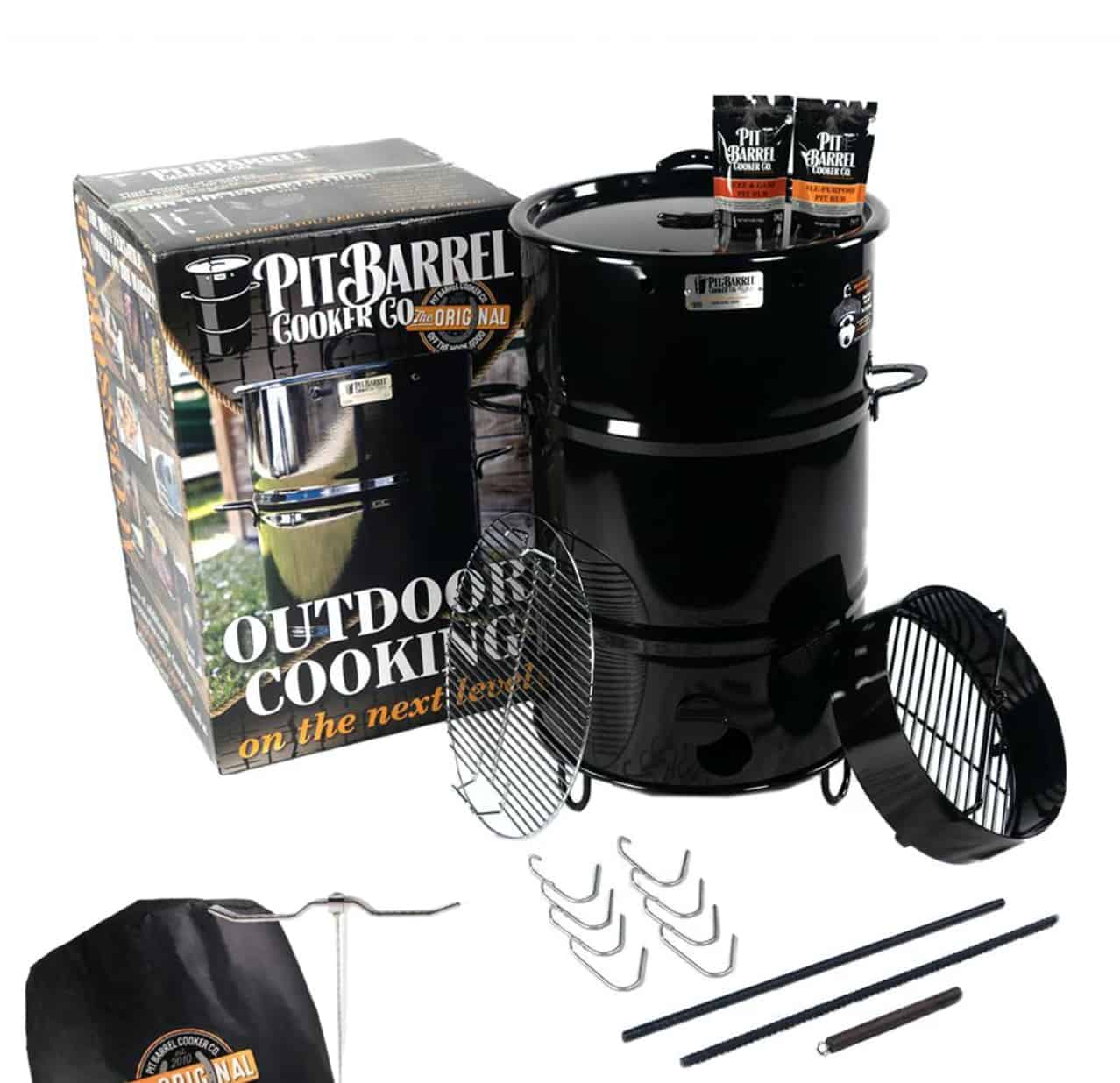 Suppose you can get past the appearance of this drum smoker. In that case, you'll find an easy-to-use design that's great for experienced smokers and beginners. You may also enjoy the large cooking capacity and the hook cooking system.
It's a relatively simple smoker made from just a steel drum and a lid, but it does include a charcoal basket, steel meat hooks, and welded handles that you can also use as grate hooks. The meat hooks attach to a steel rebar that runs the diameter of the smoker.
This simple configuration is easy for beginners to learn, but it's also a no-nonsense design that many experienced smokers prefer. It's easy and quick to simply light the charcoal, pour it into the basket, and set the venting system.
Pros:
Simple design that's easy to use

Includes steel meat hooks and charcoal baskets

Large cooking capacity

Features a beer bottle opener on the side

Available in 3 sizes

Easy to move
Cons:
No built-in thermometer

Not attractive
Weber 22-inch Smokey Mountain Charcoal Smoker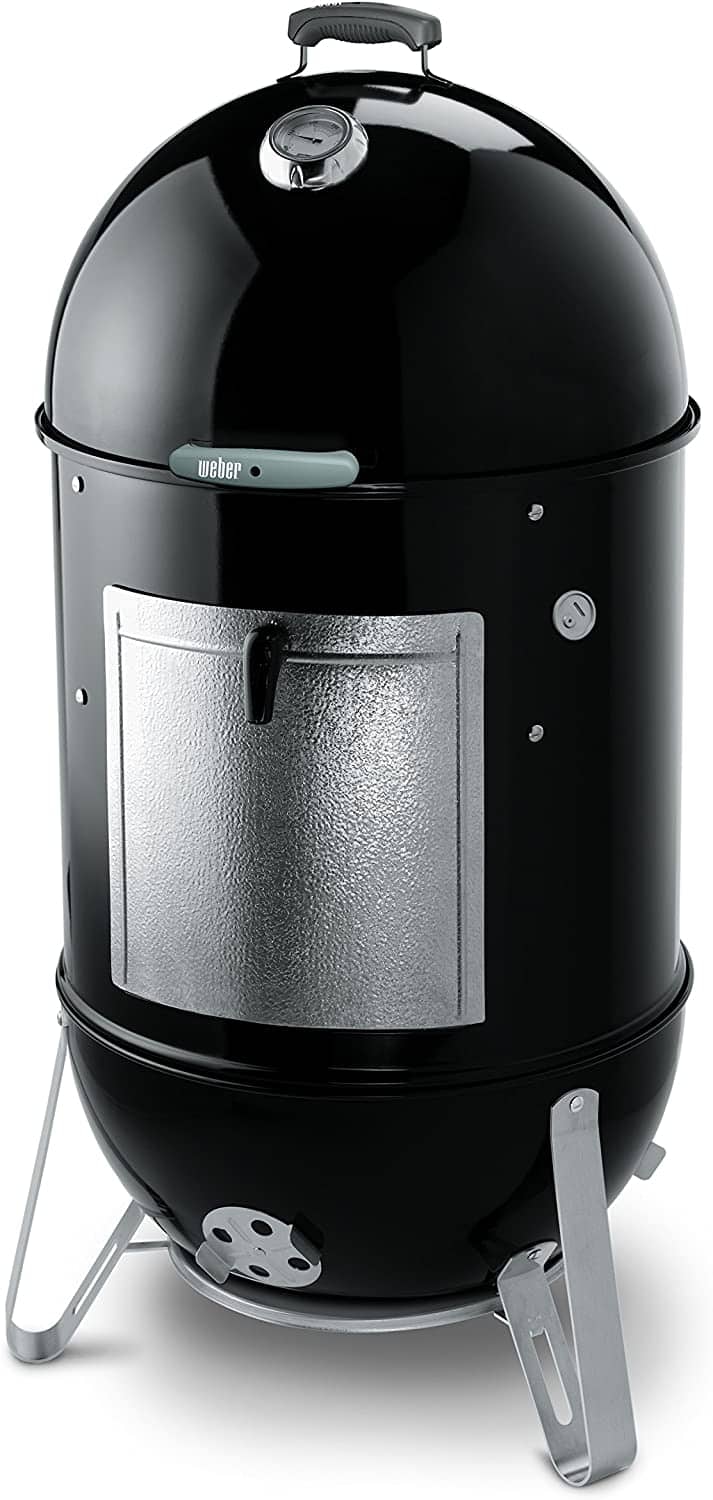 Weber has been a trusted name in charcoal grills for longer than almost anybody else, so it's no surprise that they also make a quality charcoal smoker. The simple design is attractive and functional.
This bullet smoker comes with everything you need and comes in a variety of different sizes. This classic smoker is rated one of the best overall by professionals and beginners, so it's versatile enough for everyone.
The Smokey Mountain series has been around for a while, but Weber continues to make improvements. It's built with quality, and it's affordable. It's not made with heavy-duty steel, but it's still durable enough to keep its shape, even after exposure to a lot of heat and smoke.
The metal can get hot to the touch, but this thin metal also helps keep the smoker a lot lighter than thicker models. It offers 726 square inches of cooking space and has a built-in thermometer so you can keep tabs on your progress.
The front charcoal chamber access makes it easy to add more in the middle of your smoking session, and the air vents promote airflow. It's extremely easy to use and light enough to be portable, even without wheels.
Pros:
Affordable and easy to use

Portable

Front access charcoal chamber

Attractive design from a trusted manufacturer
Cons:
Thin metal shell can get hot to the touch

No removable ash pan
Oklahoma Joe's Longhorn Reverse Flow Smoker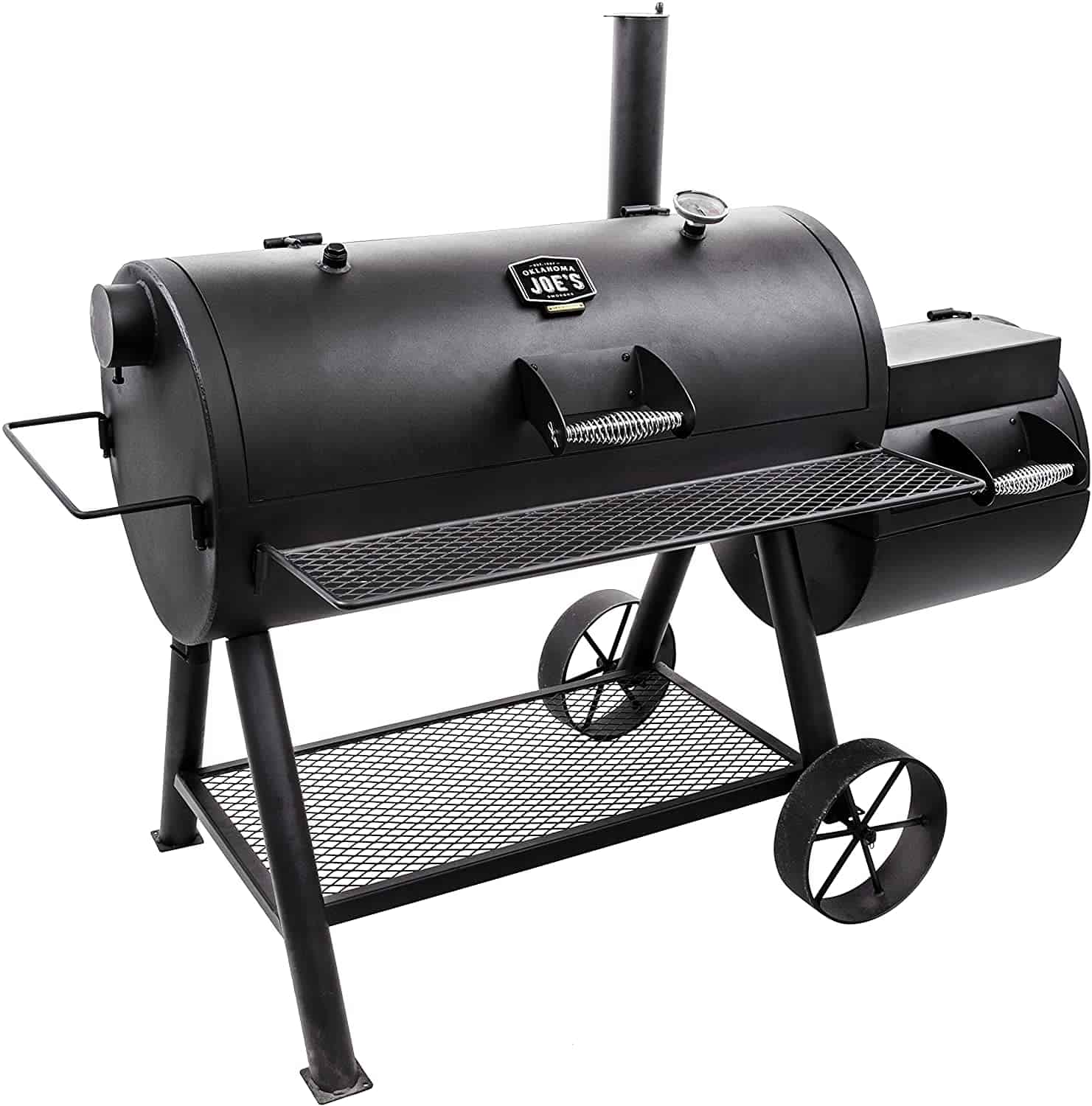 Oklahoma Joe's smokers are hard to beat, and this model is insanely popular. It's an offset smoker, which we already know promotes excellent airflow, and it features plenty of cooking area in an attractive design.
The reverse flow capability means the smoke passes below your meat to the opposite side of the smoker first and then back over your meat and out the smokestack. This technique is popular with professionals and often results in a smokier flavor. This is a great design for larger cuts because you can cook it for longer without drying it out.
The firebox can burn charcoal or wood, and heat will then travel through the cooking chamber to smoke your meat very slowly.
The sleek black, heavy-gauge stainless steel construction gives this smoker a rustic look, but it's also what makes it so durable. They're also priced pretty reasonably, considering how durable they are.
This particular smoker allows you to remove the reversing baffles and move the smokestack, turning it into a traditional offset smoker, which is a brilliant design that makes it incredibly versatile.
Pros:
Large cooking capacity

Durable and built with quality

Uses indirect heat

Easy to manage firebox during smoking

Versatility as a reverse flow and traditional smoker
Cons:
Large and heavy

Quality materials increase the price
Dyna-Glo Signature Series Vertical Offset Smoker and Grill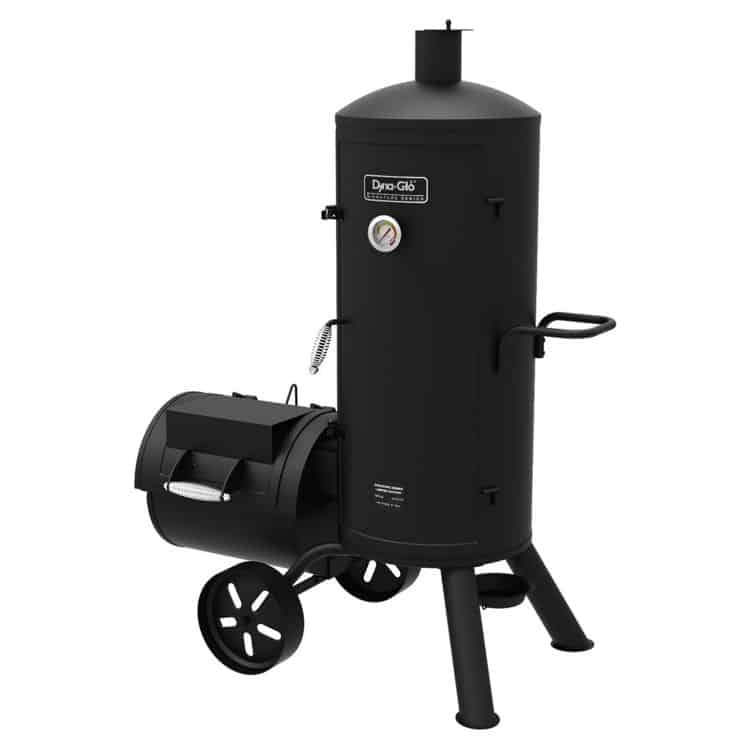 This unit pulls double duty as a smoker and a grill but also features the benefits of an offset design with a vertical cooking chamber configuration. So if you're looking for an offset model that takes up less patio space and can also replace your charcoal grill, this is the one.
It's a clever design that features a large cooking area but can fit in tighter spaces. In fact, it has more than 1200 square inches of space. The heavy-duty steel construction also makes it incredibly durable.
You'll enjoy features like excellent door handles, a built-in thermometer, a removable ash pan, and built-in meat hooks that can hold anything from sausages to vegetables. The wheels also help make it more portable because it weighs 124 pounds.
Pros:
More cooking area in less space

Durable and solid

Uses indirect heat

Plenty of extra features that increase usability and function
Cons:
Large and heavy

Does not include door seals
Cuisinart CPS-118 Vertical 18-inch Charcoal Smoker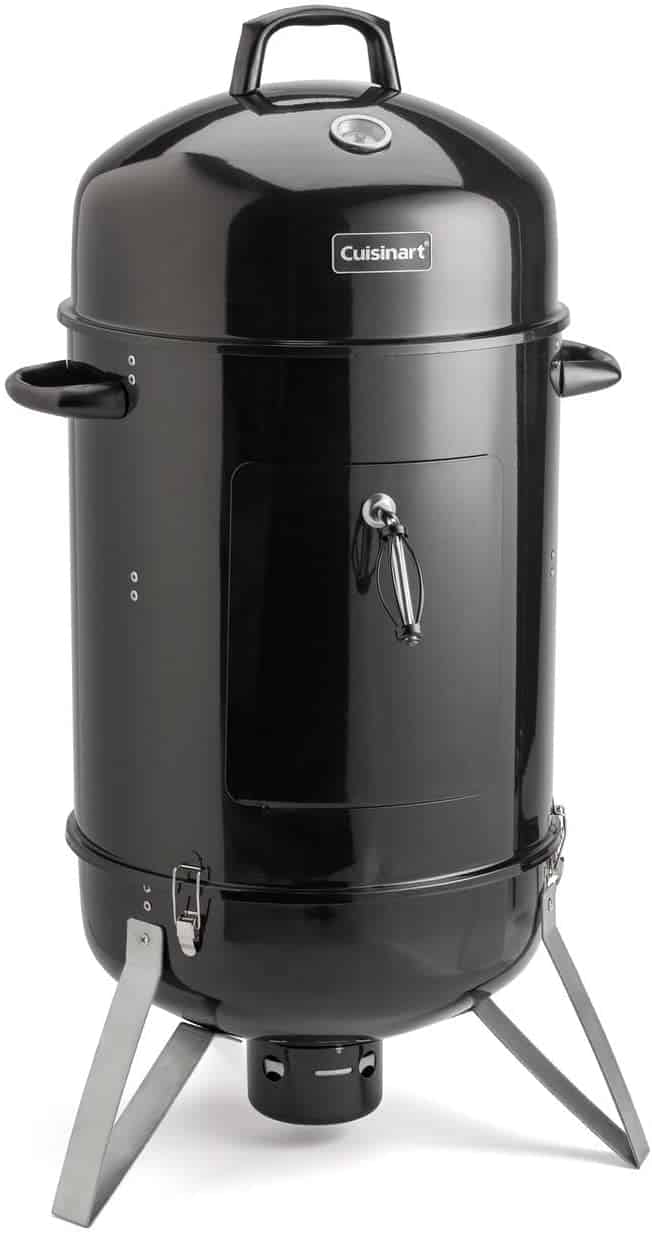 This design is similar to the Weber Smokey Mountain bullet smoker, but it's a bit smaller and lighter. It offers 510 square inches of cooking space with a grill grate on top, so you can use it as a grill as well.
This is a great option for people on a budget because it may not outlast some of the higher-priced options, but it offers a good value. It uses thinner steel to make it lighter and more cost-effective, but it will get hot to the touch.
It's an inexpensive option for those who smoke occasionally and want something that doesn't take up a ton of space. It features a temperature gauge on top of the lid and two air vents to help you control smoke and heat.
It only weighs 25 pounds, so it's a great portable option as well.
Pros:
Lightweight and portable

Affordable

A good amount of cooking space
Cons:
Sides get hot to the touch

Made from thin metal
FAQ
If you're looking for a smoker, there are plenty of options that can make it hard to decide which to choose. These frequently asked questions should help you make a better decision about what's best for you.
Question: What is a good charcoal smoker?
Answer: Weber, Oklahoma Joe's, and Dyna-Glo are some of the best charcoal smokers on the market. You can't beat these name brands for quality and longevity, but that doesn't mean there aren't other budget brands that work well. They just won't be built as well or last as long.
Question: Is a charcoal smoker any good?
Answer: A quality charcoal smoker will hold a steady temperature for hours without having to give it much attention. They retain heat, control smoke, and are very efficient. Plus, charcoal lends a great smokey flavor that you won't get with gas.
Question: Is a pellet smoker better than charcoal?
Answer: Charcoal and pellet smokers are known to lend a much better flavor than propane. However, which you like better is a personal preference. Some people prefer charcoal because they say it adds better flavor to the meat while others prefer pellet smokers because they help keep the meat juicier.
Question: Is a propane smoker better than charcoal?
Answer: Professionals generally regard charcoal as better than gas grills because they can lend a smokey flavor that you won't get with propane. However, some people say that propane is at least slightly better than electric. Propane is also more convenient, and these types of smokers require less maintenance than a charcoal smoker.
Final Thoughts
The right smoker for you is going to be different than the right smoker for your neighbor. It all depends on which design you want, how much cooking space you need, what kind of quality you're looking for, and the extra features you might enjoy.
My personal favorite is the Oklahoma Joe's Longhorn reverse flow smoker because of its versatility and quality. Oklahoma Joe's smokers are well-built, and they work better than almost anything else. This particular model makes it easy to access the firebox and gives you the added versatility of swapping the smokestack to make it a traditional smoker.
Suppose you're looking for something more portable. In that case, Weber offers a great solution that's also built with quality, and you can depend on the name. Whatever you choose, as long as it features the design and capability you need, you'll love the meat that comes out of it.
Recommended Reads: