Buying kosher meat can sometimes be an immense challenge. Depending on where you're shopping, the selection can vary, and it's really common to be presented with the same cuts over and over, limiting what you can cook. That's where online kosher butcheries come in handy!
When you go online, you choose a larger variety of cuts than the kosher section at your local grocery store for competitive prices. Some of these websites also have a Passover section where you can get items that wouldn't otherwise be easily available to you for your celebrations. All you need to do is pop some cuts in your cart, and your high-quality meat is conveniently delivered straight to your door as fresh as possible.
But what exactly makes meat kosher? Let's take a look.
What Qualifies a Meat as Kosher?
For meat to be considered kosher, it needs to conform to kashrut; Jewish dietary law; that deems food "proper or suitable for consumption" according to an extensive list of rules. The meat must also be slaughtered by a shochet which is someone who is specially trained and certified to butcher according to Jewish law. The utensils used for slaughtering and butchering must also be kosher, so it is a very specialized process.
When it comes to the meat itself, the laws allow for the consumption of ruminant animals with cloven hooves like cows, sheep, goats, deer, and bison. Only cuts from the fore half of these animals, however, are considered kosher. Some poultry is also kosher, namely chicken, geese, quail, and turkey, and these can be eaten as a whole bird.
The only process that you need to take on at home is soaking the meat in water before cooking to remove all traces of blood.
We are going to be looking at three specialized kosher online butcheries today. The criteria we will be using to assess these butchers are how easy it is to navigate their site, the range they have available, delivery cost, and what each website has to offer that is unique and make your experience as seamless as possible.
Top Picks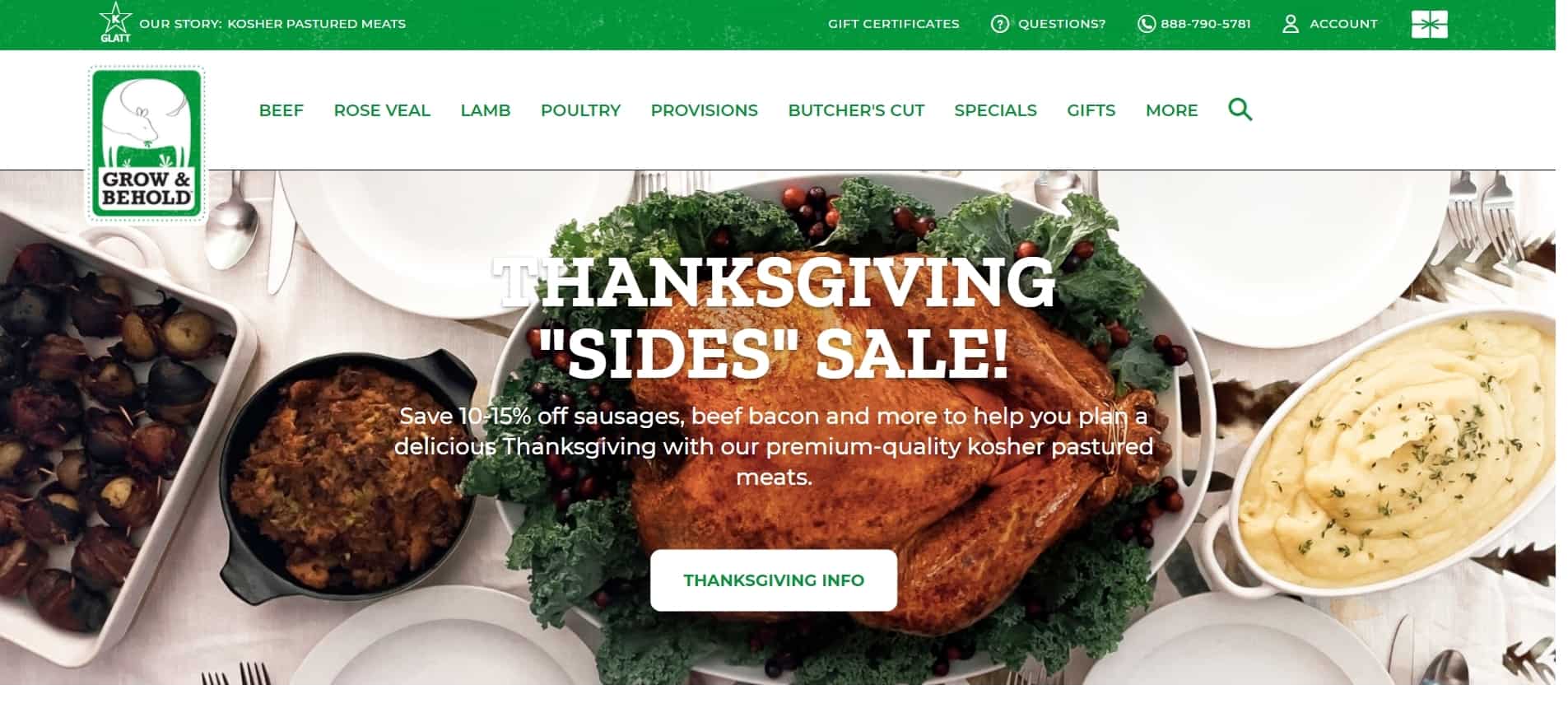 Grow, and Behold is a beautiful website that is immediately pleasing to the eye and easy to navigate. All the pictures are high quality, so you know just what you are getting and of what quality. This site has a really large range of meat with so many different cuts to choose from that are all fully kosher, sitewide. All the meat on this site is guaranteed to be raised on pasture with no hormones or antibiotics, which is a huge element of extra value for this site in particular.
Their aforementioned large range includes chicken, rose veal, lamb, chicken, duck, and organic turkey. The cuts they have available are varied for slow cooking, roasting, and quick searing, so you have a lot of choices right off the bat. They have pre-tied roasts available for the utmost convenience to ensure that you have an evenly cooked roast without fussing around with string. They also have a dry-aged beef section if you're looking for something really delicious and luxurious. Apart from your average cuts, they also have a variety of offal to choose from in every section, like duck gizzard and livers, veal offal, and lamb kidneys that are underrated heroes.
Apart from the butchery sections, Grow and Behold also sports a deli section for any prepared meats you want like pastrami, as well as a Kosher for Passover section that includes seder bones and other items you need to prepare for the celebration. They also have a kosher cheese and seafood section.
The section of this website that really sets this one apart is the Provisions section. This is where they have a variety of specialized products and prepared meat that would be hard to find in your average supermarket. This section includes kosher bacon made from beef or lamb, broths, soup bones, jerky, salami, marinated meat, burger patties, sausages, rendered chicken fat (schmaltz), and hot dogs. This is your go-to site for anything meat and kosher, from celebration cuts to everyday meals.
If you want to save money and buy in bulk, Grow and Behold have you covered with bulk packs as well as fore half or forequarters available so you can stock your freezer with kosher meat of varying cuts that will last you ages. As an added extra, the website also features recipes if you need some inspiration for what to do with your purchases.
One downside that I see with this site is the fact that it offers imported meat. This is not only not as fresh, but it is much more expensive than local meat and is more harmful to the environment as it has a lot more air miles. On top of that, the cost per pound is higher on this site than on others, but the cuts are very high quality, so it really depends on your budget and whether you are willing to pay that little bit extra for the quality.
When it comes to shipping, the fees include carrier fees, dry ice, and the insulated containers that the meat is shipped in so that the fees may be higher than your average online order. Every order is frozen at its peak quality and will arrive frozen or refrigerated. Ground shipping varies for small packages or larger orders, depending on what you are ordering. Priority overnight shipping will be more expensive, but you can get it much sooner, which is great for last-minute orders. Delivery is free if you are in the NY/NJ area.
Pros:
Large range
Priority overnight shipping
Offal
Provisions section
Cons:
Offers imported meat
Expensive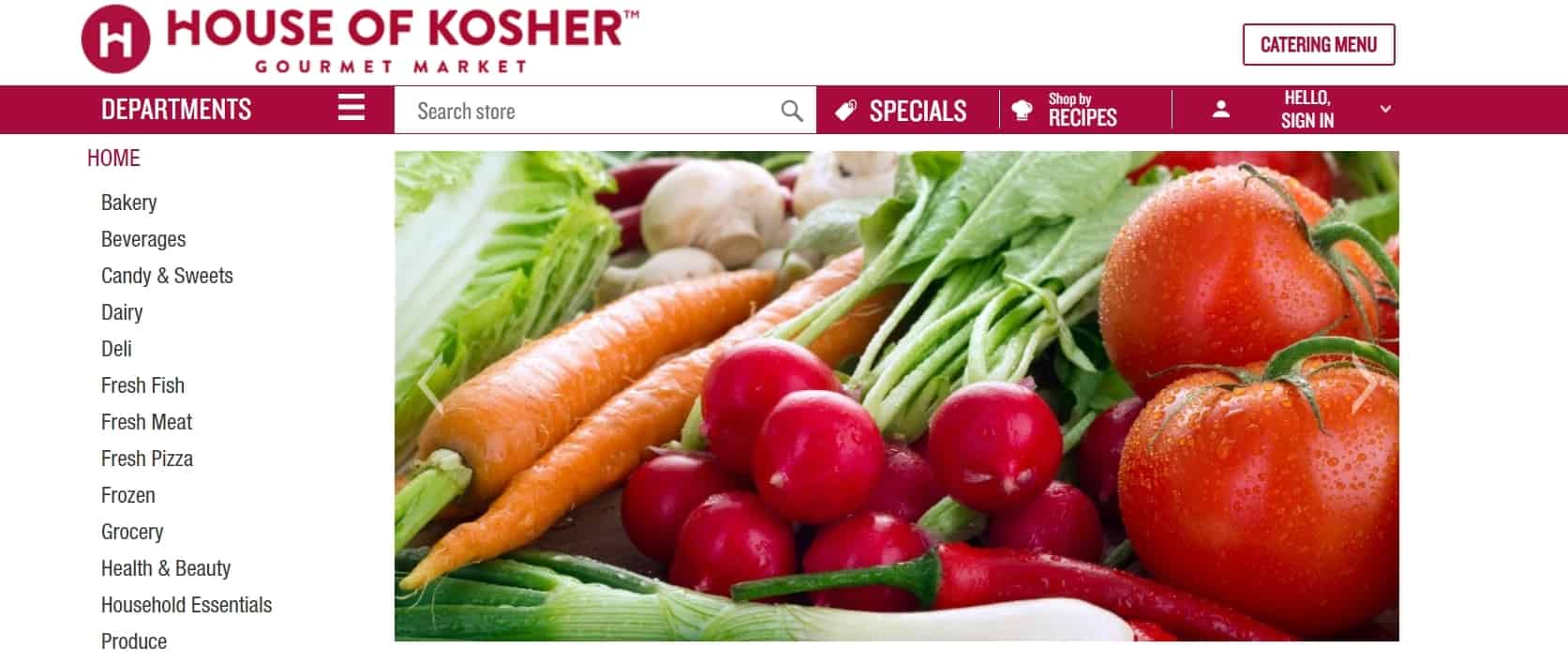 House of Kosher is a gourmet online market that has a brick-and-mortar location in Philadelphia. The market includes sections like bakery, sweets, beverages, dairy, fish, general household items, and, of course, meat. The site is fairly attractive with a very clear style that is super easy to find your way around. The pictures are clear and appealing to make the meat look as delectable as possible.
The meat they have available is chicken, beef, veal, lamb, turkey, and duck, so they also have a lot to choose from. Whole chickens are available as well as cuts, but the turkey and duck are only available in butchered form. Ground meat is on offer in each category, so you are not just limited to ground beef, which would be found in your local supermarket. They also have a selection of offal in each meat category, including calves feet, and cooked chicken livers. Brisket is an important part of Jewish meat cookery, so of course, House of Kosher has briskets of different sizes on offer at all times.
Apart from their meat offerings, they also have a kosher catering menu available for any of your events. The website also features a lot of recipes for delicious kosher dishes.
Your order total will be an approximation subject to availability and the exact product weight when it comes to ordering. The website has an extensive list of areas on their site, so you will have to consult that as each area has a different minimum order and varying service fees.
Compared to the other sites, House of Kosher is in the middle of the pack when it comes to prices. If you don't want to break the bank, but you still want a certain level of quality, then this option might be one to consider.
Pros:
More affordable
Additional brick and mortar location
Large variety
Cons: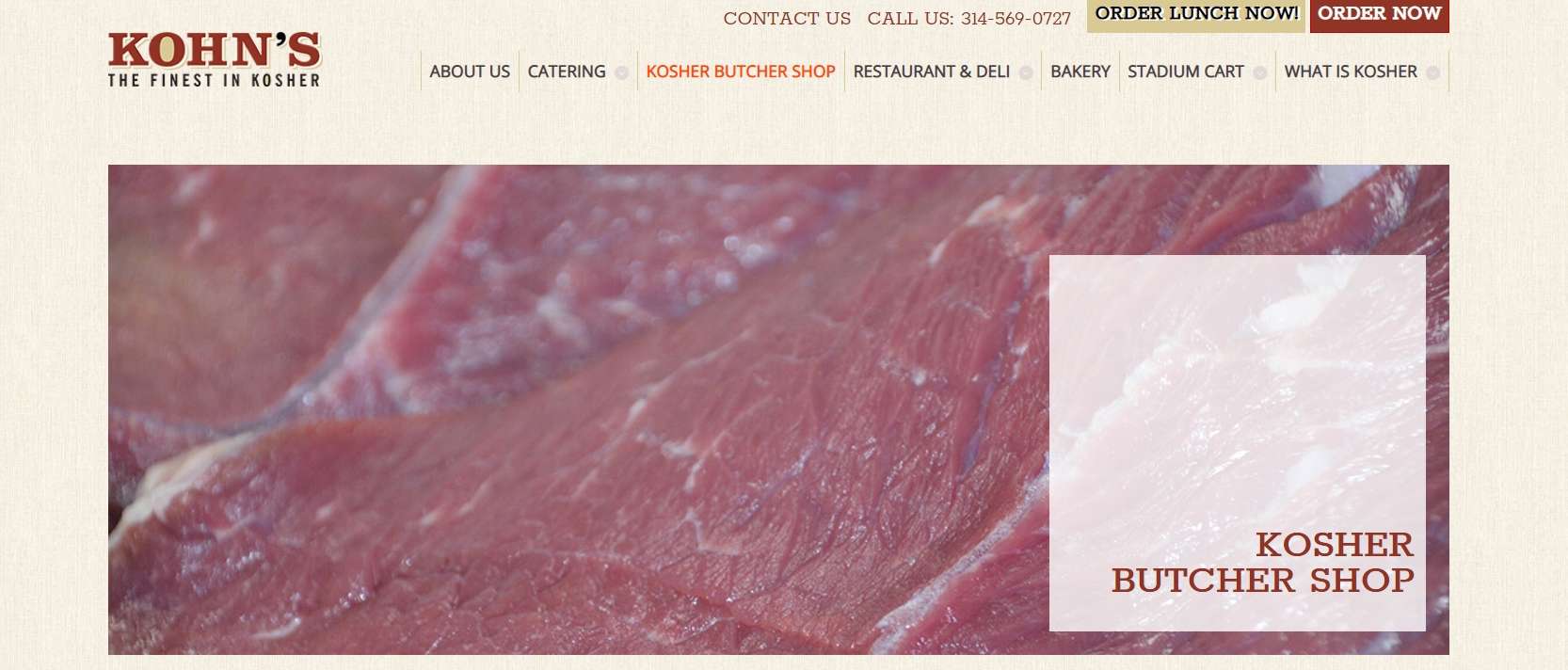 Kohn's is a specialized butcher shop dedicated solely to kosher butchery that they sell online or in their physical location in Missouri. This site is by far the least appealing of all three we have looked at today with navigation that is not quite as seamless either. The pictures are low quality and don't give you a clear idea of the quality that you will be getting so this is a large negative for Kohn's.
Like the other sites we have looked at today, Kohn's offers beef, chicken, duck, lamb, turkey, and veal, but, uniquely, they also have a large range of bison on offer. This makes Kohn's a sought-after site for this meat that would be hard to find in the grocery store let alone a kosher iteration. Their cuts are made to order and processed on the same day for guaranteed freshness. They not only provide you with all kinds of different cuts but also house-made sausages and roasted meats available in slices that are all fully kosher.
Like the other two, Kohn's also has chicken schmaltz available to add flavor to your meat cookery. Apart from regular whole chickens and cuts, they also have whole cornish hens and even kosher chicken nuggets, which is unique. Their beef offerings are widely varied in the regular sear, slow cook, and roasting cuts, but they also have offal, tongue, and pork-free hot dogs. There are no extras available in their lamb section, but they do have a full rack on their books which is a luxurious and delicious cut. In their extensive bison section, they have so much on offer that you can roast, slow cook, or sear so you can really get creative with this rarer meat. Like Grow and Behold, they have tied roasts that minimize your prep and help make preparing a roast simpler and mistake-proof.
When it comes to orders, the minimum order is $50 online, and it will be shipped either overnight or on a more budget-friendly second-day air option. Shipping is calculated by weight, so the cost will depend on what you order.
Out of all these three, Kohn's is by far the cheapest per pound, but the quality would be something you would have to keep an eye on for such an affordable price. If you eat kosher but are on a budget, then Kohn's is one you should seriously consider.
Pros:
Cons:
Unattractive website
Hard to navigate
Smaller selection
Best of the Choice of Cuts
By far, the site with the largest variety is Grow and Behold. This site has a large selection of different meat with cuts like steaks for searing, whole chickens or roasting, and traditional Jewish brisket for slow cooking. If you enjoy cooking a variety of dishes and trying new cuts, then Grow and Behold is the place to go.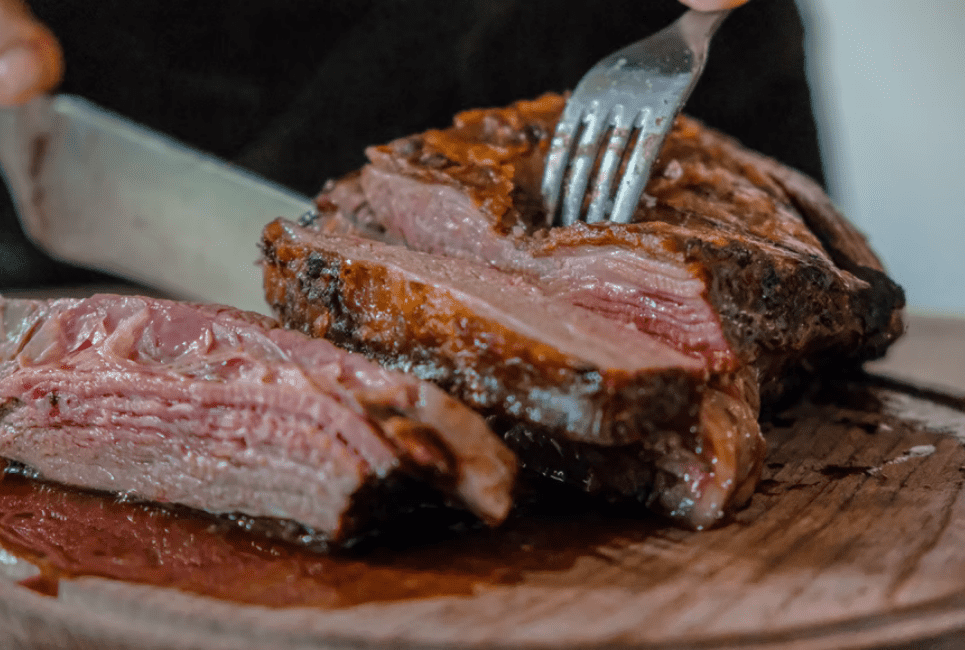 Best Value for Budget
As we have seen, the site with the best price per pound overall is Kohn's. If you are on a budget and trying to eat kosher, Kohn's s definitely a site to consider. It does have its issues with navigation, and you will need to assess whether the quality is up to scratch when you get your order, but this is still a great option for when money is tight. If the meat is good, then you can look past the website's issues.
FAQs
Question: What does Glatt Kosher mean?
Answer: Glatt kosher refers to food that is completely kosher according to Jewish law. This may describe kosher meat products on their own or prepared meals to guarantee that meat and dairy have not been combined within the dish, as this goes against kosher rules. Be sure to be on the look out for this certification on your online orders.
Question: Is seafood kosher?
Answer: Some seafood is kosher, but, like the meat, they must adhere to very particular rules. For seafood to be kosher, it must have scales and fins. This rules out any shellfish or fish that may have one but not both of these characteristics.
Question: What is the safest way to thaw my meat?
Answer: Your microwave may have a defrost button, and sometimes it may be tempting to just leave your meat out on the counter to thaw, but both these methods can be risky. Thawing in the incorrect way could lead to bacteria growth and, in turn, cause you to get sick. The safest way to go about it is to plan ahead and thaw your meat in the fridge overnight.
Conclusion
These three sites really show the benefits of going online to source your kosher meat. They have a huge range of cuts from common to rare and specialized cuts specifically created with a kosher diet in mind. These websites are an access portal to a larger variety of dishes than you could ever hope for with a general supermarket.
Looking at all of these sites side by side, the one I would recommend would be Grow and Behold. They may be expensive, but the meat they have available is high quality and ethically sourced, which adds a significant amount of value. The site is clear and bright, with an attractive color scheme that is super easy to navigate. It is also the best site for more specialized cuts and high-quality butchery. If that wasn't enough, their extensive Provisions section is also another reason to give Grow and Behold a try with their unique products.
Recommended Reads: