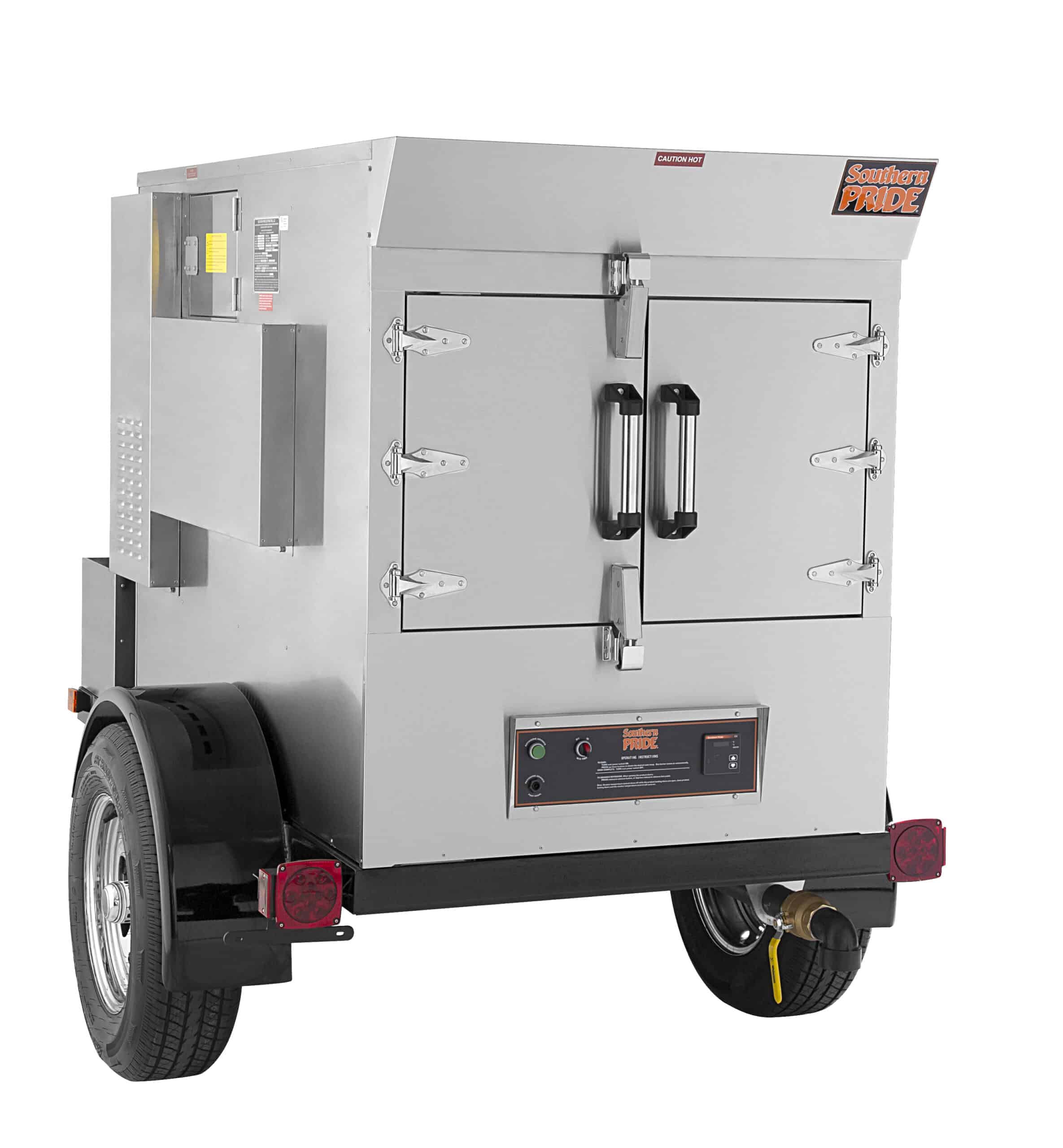 A proper Southern-style BBQ, there are not many things quite as American as that. Picture the idyllic scene: you and your family hanging out together in the sun, drinks on ice, and the sweet, bitter smell of smoking meat on the air, perfection!
This little scene is pretty great, but if you are a keen smoker, it might be time for you to take your smoking to the next level and hit the road! Maybe you want to start doing event catering with your smoky skill or even compete in BBQ competitions to show the world you smoking chops. An excellent mobile smoker will let you achieve the same quality of smoke no matter where you go and what conditions you are under. Whatever the reason you want to mobilize your smoking, we are here today to help you out on your journey with this review of the Southern Pride Mobile Smoker. This is one of many mobile smokers available on the market for just this purpose, so you can hitch your smoker to your car and take it on your travels with ease!
About the Brand
Southern Pride is a third-generation, family-owned company that started its journey in the early 1970s. It all began when father and son duo B.B. and Michael Robertson wanted a more efficient BBQ and less laborious for their restaurant. Being unable to find one, they decided to build one themselves. Now Southern Pride has an extensive line of fully automatic, wood-burning gas-fired or electric smokers, including mobile versions. With eight industrial models to choose from, you're bound to find the right one for you in their range.
To assess this Southern Pride Mobile Smoker, we are going to be using the following assessment criteria:
convenience
value for money
space available
extra features
So now that we are armed with this inspiration let's look at this traveling smoker.
Key Features
This Southern Pride Smoker has a lot going for it. It runs on gas and has a firebox that can fit 1-3 logs at a time, depending on their size. This is a unique feature as most smokers use wood chips that burn out quickly and need to be replaced during the cooking process to keep the smoke going. Using whole logs means you can set up your smoker and walk away knowing, with confidence, that it will carry on doing its job while you sit back and relax in the sunshine or tend to customers. The smoker's operation is pretty straightforward with an automatic system that lets you be hands-off during cooking. It has a standard digital thermostat that ranges from 140 to 325 F, so you can tailor your smoking exactly to each cut you are smoking.
The body is made from heavy-duty stainless steel both inside and out that is hard-wearing and durable. This finish also makes cleaning inside easy, which is great because who wants to spend hours cleaning out your smoker after you've been working hard all day? Inside it was three tiers of 10×22″ nickel chrome-plated racks so you could smoke multiple cuts at once. The compact design means that these racks might not be as big as some of their counterparts, but it makes up for space in the convenient and compact design that makes traveling with this smoker so easy.
The whole heavy-duty smoker is flush mounted to a compact little trailer with two wheels and a 2″ coupler that you can attach to your car super easy and be on your way in an instant.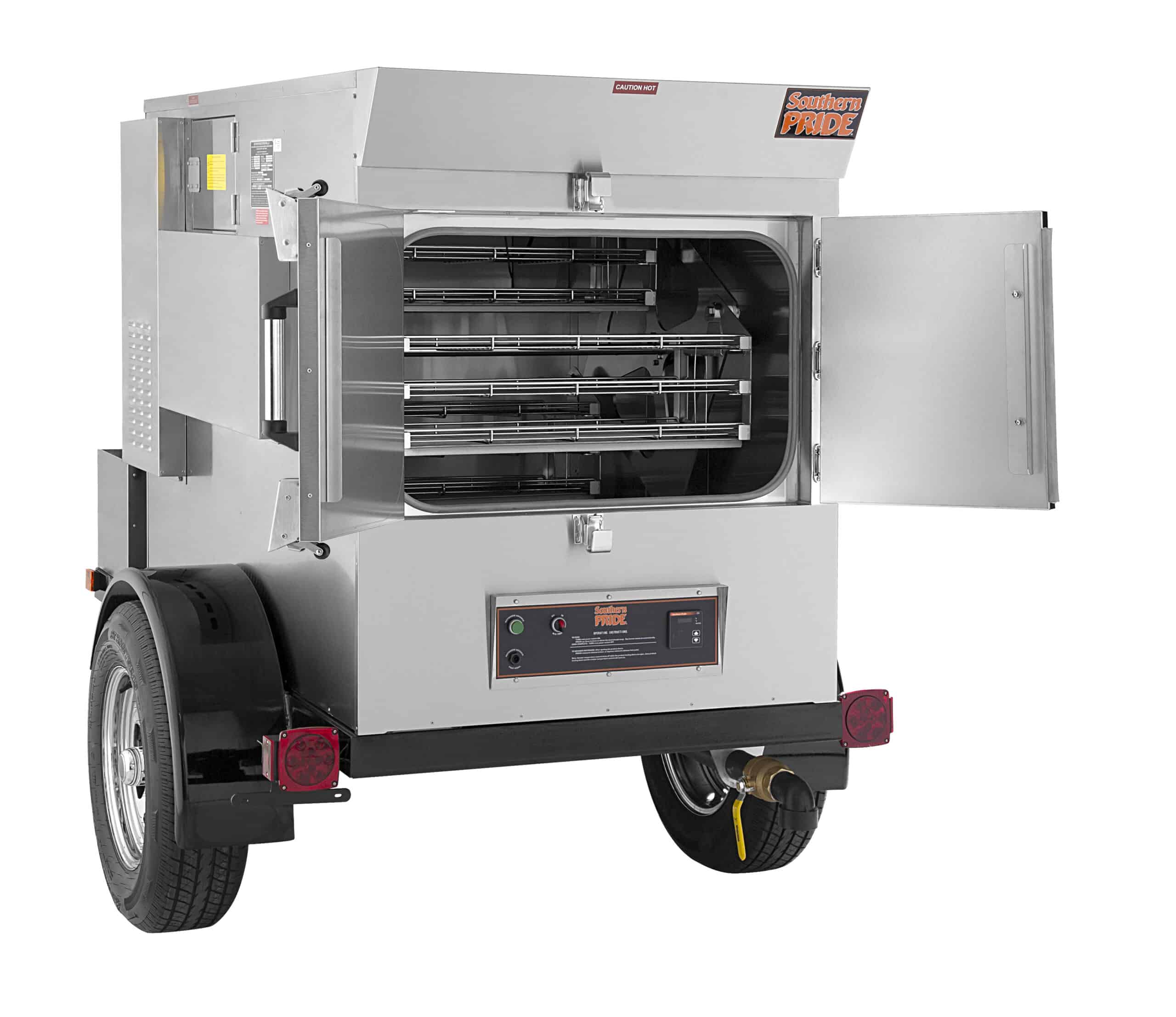 The Technical Stuff
If you want to get technical and into the nitty-gritty, this is the part for my smoking nerds. This smoker works on a convection air system with a 19kw burner. One of the features that make this smoker stand out is its trademarked Subterthermic flue. This is a specially designed flue that makes the smoke more intense. This increases the flavor in the meat while reducing your wood usage, which will be a big money saver in the long run. The fan is an element that will have to be cleaned over time; luckily, this has been considered in the design, so it is easily accessible from the outside. Technically this smoker is efficient and makes smoking away from home consistent and manageable.
As an added extra, this smoker can also be used to roast meat if you leave the smokebox empty and use the gas for cooking.
Pros:
Uses whole logs that burn slower
Easy hitch and go
Subterthermic flue
Cons:
Expensive
Unattractive
Multi-use
Other Alternatives to Consider
The Southern Pride smoker is a great option, but it is not the most attractive design, and it is rather expensive. If either of these factors is a deal-breaker for you, then you might want to take a look at some of the alternatives I've found for you.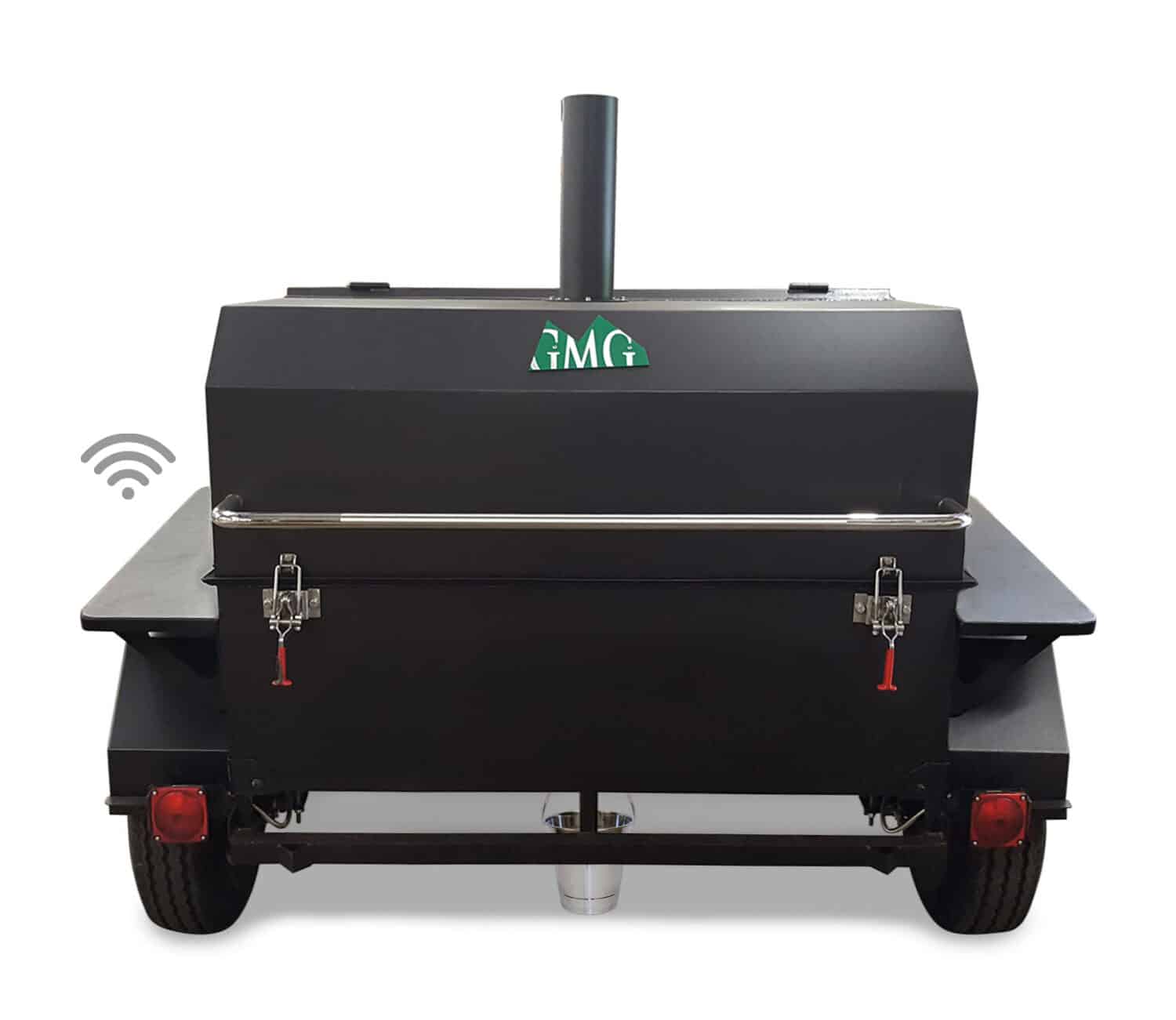 This aptly named Big Pig is a smoker that takes convenience to the next level. If you thought the Southern Pride smoker was hands-off, you ain't seen nothing yet! This smoker comes with its own app that allows you to monitor and adjust the smoker's temperature while sitting on your couch or spending some quality time with the family. This is the closest option to the size and design of the Southern Pride, so if the compact quality of that smoker is a considerable selling point, then the Big Pig is a hog you want to get to know.
Inside, this smoker has a pellet hopper that can hold 84lb. Since it is not a whole log smoker, you will need to top these pellets up while cooking. The body has two-tiered racks that are large enough to accommodate an entire hog or, if you want to get a clear idea of the size, 150 whole steaks, so you have a lot of room to work with.
This smoker is half the price of the Southern Pride, but it has a very similar setup with a much more attractive matte black finish, so it depends on your budget and what look you prefer. The app is a significant selling point for this smoker, so it should definitely be on your radar.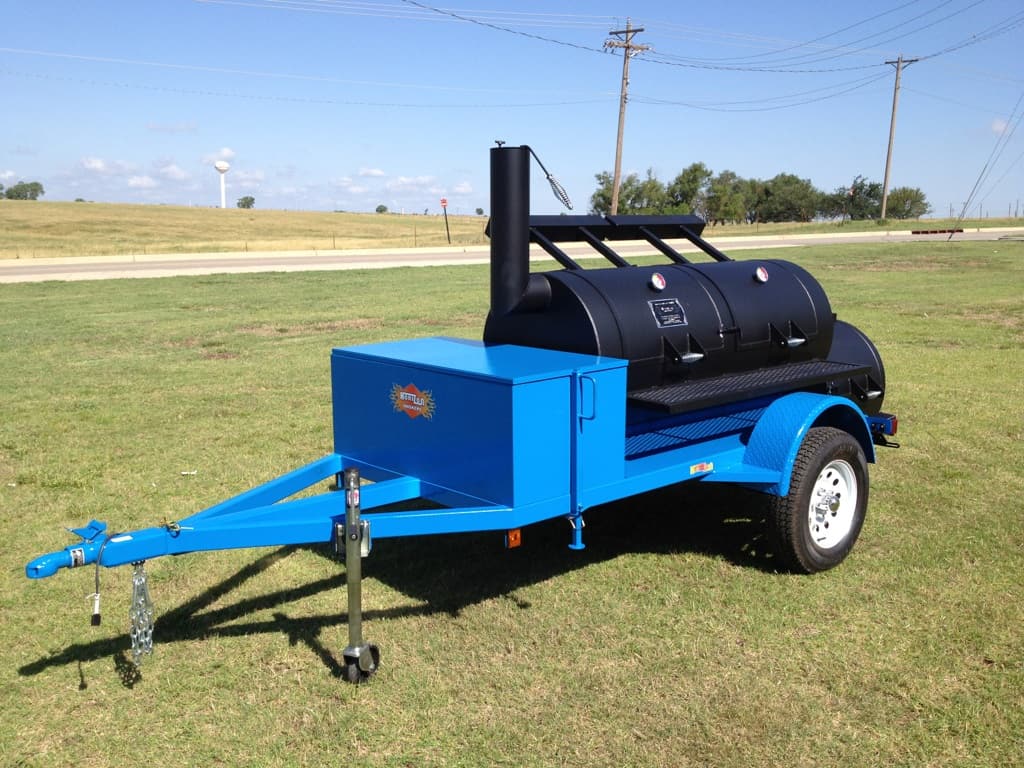 This Horizon BBQ smoker is a different style to the Southern Pride, but it is probably a design you have seen before. Its matte black barrel body is a classic smoker and grill style that just sings American BBQ! It has two thermometers and two levels of cooking racks that are 29×70″, so you have a lot of space for different types of meat. This is a pretty simple model for half the price of the Southern Pride smoker but without any of the added features that allow for a more hands-off approach. However, unlike the Southern Pride smoker, it comes with additional storage built in so you can store all your tools and utensils within the trailer rather than taking up space in the car.
But let's take some of the negatives into account for a second. This trailer is more on the bulky side, so it may be harder to store when it's not used, which is an issue if you are short on space. It also has the wheel arch sitting directly in the middle of the smoker's doors which could be inconvenient to work around. These are issues that may seem small but are essential to consider since you'll be spending so much time with your smoker.
This is a much more stripped back and less expensive smoker, but it may not be as much of a value for money when considering an option like the Big Pig.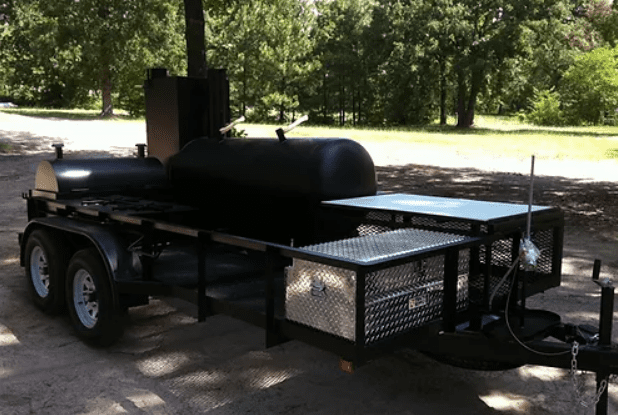 If you are mainly looking at getting into larger-scale catering and big competitions, then this East Texas Smoker is one to take a second look at. It doesn't have the compact design of the Southern Pride because of its size and trailer setup, but it has many features that make up for this.
It has ample prep space so you can work efficiently without having to bring extra tables that you would have to find somewhere to store. On top of this convenience factor, it also has a deluxe charcoal grill, a toolbox, smokestack, and a custom cutting board all in one matte black package. In addition to the smoking chamber, it also features a large warming box with five removable racks so you can free up the smoker for the next cut and keep the meat warm for customers. Inside, it has four removable racks; two 30×29″ and two 30×26″ so you have a lot of space for smoking large amounts of meat simultaneously.
This behemoth is in a similar price bracket to the Southern Pride smoker, but it boasts a whole heap of extras that make this a much better value for money at the end of the day. This is one that I would seriously consider, especially for catering, since it has everything all in one place even though it has a much larger footprint.
Conclusion
All in all, the Southern Pride Smoker is a quality product. It will give you juicy, smoked cuts every time with a minimal amount of intervention on your part. You can simply hitch the trailer to your car and take your smoking adventures wherever your heart desires.
However, the price tag on this is really steep, so you will really have to consider if this is the smoker you want to invest your money in. Its key features like the whole log burner and the innovative Subterthermic are significant and unique features that should play a part in your decision. To be honest, even with all these mod cons, there are many other versions of a smoker like this that would cost you far less at the end of the day. So before you fork out all that cash, maybe have another glance at our alternatives, the Big Pig in particular, to make sure that you pick the smoker that fits you and your wallet the best.
FAQ
Question: What are the best wood chips to use for smoking?
Answer: When it comes to wood chips, the thing you're really looking for is flavor, and the perfect way to achieve this is through hardwood chips. Hardwood burns more slowly than softwood would, and this smoldering is what is going to give your meat that distinctive flavor. You can even change up your chips to find the perfect flavor profile for you. Chips that we recommend are hickory, oak, cherry, and even apple.
Question: Is smoking meat healthier than grilling?
Answer: Some very interesting studies have shown that smoking meat may actually be a little healthier than grilling. This is due to the fact that smoking relies on cooking your meat 'low and slow.' Reducing the heat that the meat is exposed to prevents the forming of certain compounds that, in high quantities, have been linked to the forming of some tumors. Besides this, when you are smoking, a good amount of fat will drain away from the meat, which will reduce how much fat you are actually consuming.
Question: What kind of meat is the best to smoke?
Answer: Not every cut of meat is created equal when it comes to smoking; there are specific cuts that thrive when it comes to this cooking method. If you want to go with poultry or fish, the best way to smoke these is whole more the most delicious result. On the other hand, for the red meats, you can also smoke a whole high or forequarter if you have the space and the ambitions! Generally, however, it's the fatty cuts that do best under these conditions. Brisket, ribs, and pork shoulder are the most sought-after and tasty cuts, so if you have a smoker, you have to try these out!
Recommended Reads: