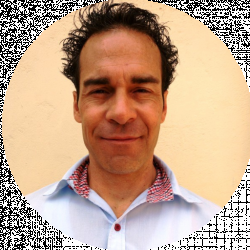 Latest posts by Douglas Bloom
(see all)
Cold smoking was not that popular some decades ago. Nowadays, it has become common almost everywhere in the world. Initially, many people used it to preserve food until when refrigerators were invented. They were designed and built to cook food without necessarily allowing the fire to get in touch with the food.
By doing so, your food is dried by the smoke, which introduces antimicrobials and antioxidants to ensure that your food stays safe. We have done detailed research through online videos, reviews, and journals.
In this article, we have looked at the top-rated cold smokers available in the market. There are plenty of online forums, groups, and platforms where you find enthusiasts of cold smoking. You can find ratings, reviews, and user experience from them. After going through them, we were able to narrow down the best cold smokers in the market. Take time and go through before you plan on getting one that meets your needs. Let's get started!
Our Top Cold Smoker Picks
With the many cold smokers in the market, it may be a daunting task to find one that meets your needs. We chose these based on affordability, availability, and positive customer reviews. Don't worry as our research from different online sources has given us a list of the best products. Check them out below to make an informed purchasing decision.
Smoke Daddy P.I.G: Best Overall Cold Smoke Generator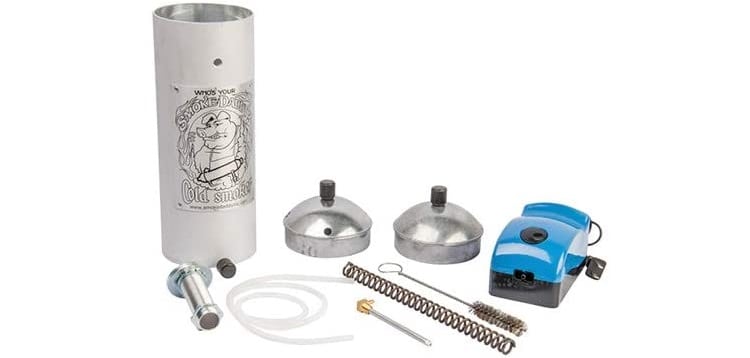 Are you looking for a smoker that will carry out your cold and hot smoking endeavors perfectly? Smoke Daddy attaches to existing units to produce a smoky addition to your food.
You can use it comfortably for grills or any other type of cooking appliance compatible with its features. It's built to last long with heavy-duty materials such as heavy gauge aluminum.
This cooking appliance produces high-quality smoke which helps the aluminum get a good seal. Through this, your smoker gets to work and serve you for quite a long time. This smoker comes with a stainless-steel cleaning brush, which you can use to clean your appliance once you are done cooking.
It's designed to produce a high volume of smoke for long durations. If you are planning for a get-together or those small parties, then this is your ideal smoker. It's mainly built for cooking for large groups of people. The manufacturer is a family-owned company that stands behind its commitment to quality.
Pros
Designed for high volume
Long-lasting
Focuses on quality
Can attach to an existing unit
Best for both cold and hot smoking
Comes with a stainless-steel cleaning brush
Cons
Becomes substantially hot when lit
Not budget-friendly
Masterbuilt Electric Smoking Unit: Best Full Cold Smoker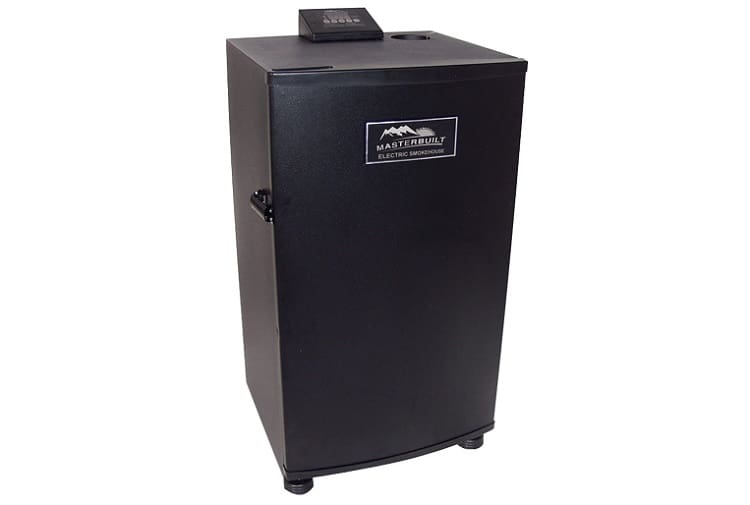 Do you want a full smoking appliance and not just an attachment? Here is a perfect option for you. The temperature control comes with a lot of variety, offering you the option to cold smoke at any low temperature that you may want.
In case you want to use a cold smoker attachment, you can do so when using this product. However, it's not necessary since Masterbuilt is a smoker by nature. This 30-inch smoker has 3 racks and an inbuilt temperature gauge.
The good thing with this smoker is that you can also upgrade the packages and get an analog smoker. You can also get a smoker with racks and BBQ chips or a smoker with racks and covers. The options are numerous and highly rated by many users.
Masterbuilt smoker features a simple wood tray with ash removal for simple cleanup. Apart from that, it also has a 1500-watt heating element. This makes it easy for you to enjoy even and consistent smoking from start to tantalizing finish. Note that the smoking trays are all chrome-coated and designed well.
Pros
Features chrome-coated racks
Has 1500-watts heating element
Adjustable temperature controls
Comes with a wood chip tray for easy cleaning
Numerous upgrading options
Can use a cold smoker attachment
Cons
Low exterior quality
Not budget-friendly
Lizzq Premium: Best Budget-Friendly Cold Pellet Smoker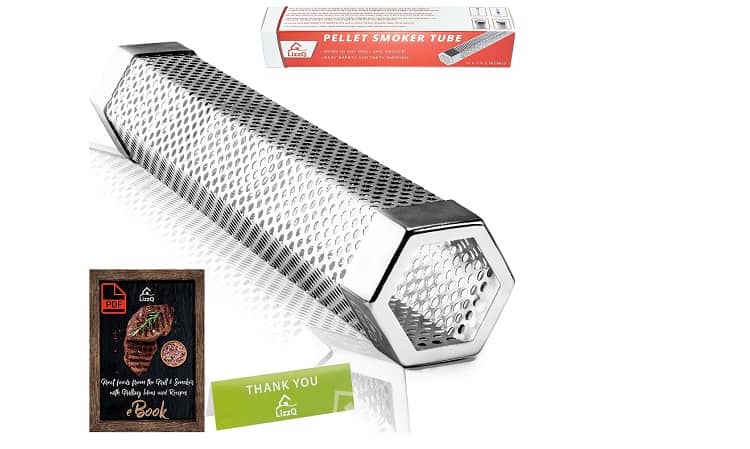 For those with a constrained budget and who want a smoker with a budget-friendly price point, this smoker model will suit you. Lizzq is a smoker tube. It means you can use your regular grill or smoker and then use it to add the smoke.
You can use the tube with any cooking appliance and attach it to your old smoker instead of buying a new one. This pellet smoker tube can work with gas, electric, or charcoal types of smokers.
That said, you can use any pellets that you want, from apple to pecan and any other option you may like. Lizzq smoker tube uses an open cap on one end and a closed cap on the other.
This gives you an easy place to light the pellets and helps to keep your pellets in place. It's made of long-lasting stainless-steel materials. For those who like performing both hot and cold smoking in one appliance, look no further!
Pros
Best for cold and hot smoking
Smokes for long hours at a time
Features quality and durable materials
Consistent and efficient diffusion of smoke
Compatible with most smokers and grills
Budget-friendly
Cons
Works for short hours when short pellet tubes are used
Not easy-to-clean
Pit Boss Smoker: Best Analog Cold Smoker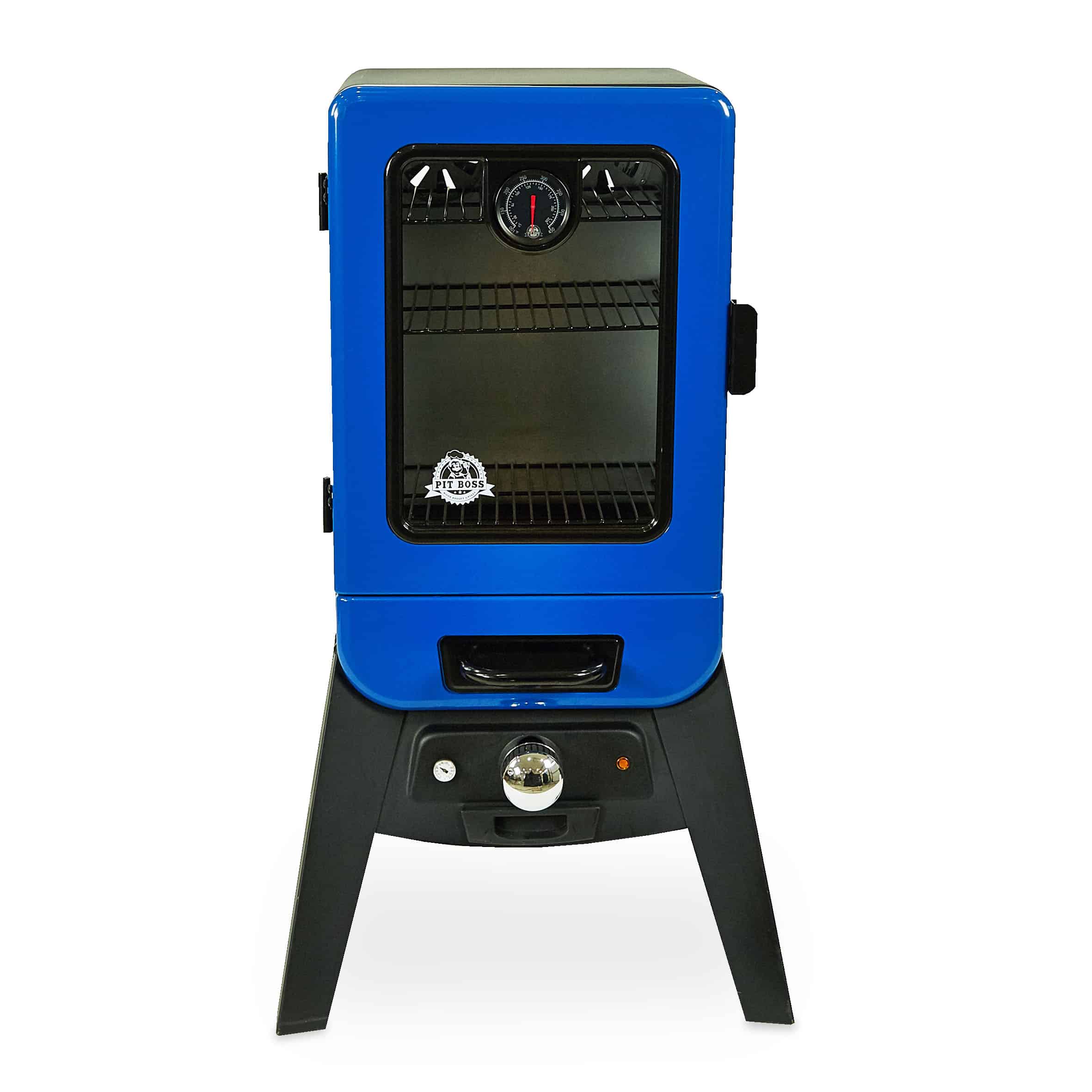 Are you looking for a smoker with easy access to wood pellets during cold smoking? Pit Boss is a full-sized smoker that can help you out with your cold smoker needs. You can use it for both hot and cold smoking, provided you know what you are doing.
This appliance smokes using wood chips. It's one of the unique smokers that features analog controls with low-temperature capabilities. It comes with 3 racks that can be easily adjusted. Other features include a base drawer for wood chips and a tray for removing your ash.
Pit Boss also comes with a nice stand, which is sturdy, stable, and easy to access. The smoke can cover around 593 square inches of your cooking space. One interesting feature about this smoker is that you can access the wood pan without opening up your smoker.
This helps minimize the possibility of bacteria when carrying out cold smoking tasks. Note that, this smoker also has an analog meat probe. It allows you to keep an eye on the progress of your smoking.
Pros
Best for both cold and hot smoking
Features 3 racks
It's a stand-alone smoker
Comes with analog temperature controls
Has an exterior wood access
Features a base drawer for wood chips
Cons
Not budget-friendly
Temperature control is a challenge
Landmann Mountain: Best Spacious Cold Smoker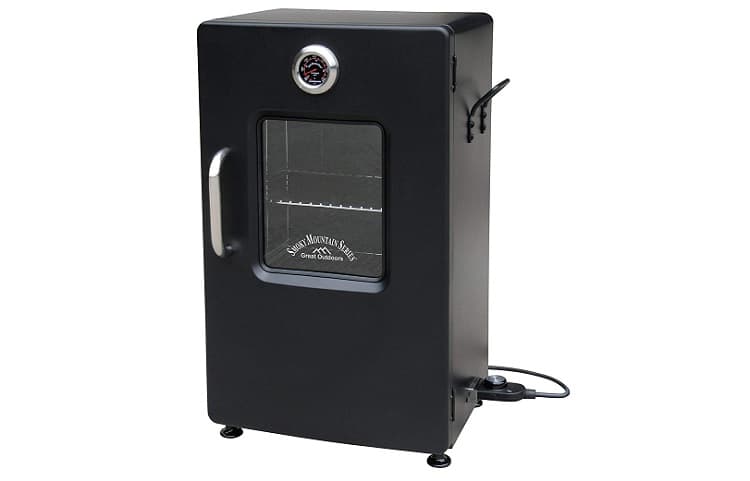 Landmann is one of the high-quality smokers in the market. This smoker is ideal for low temperatures with some of the lowest functional temperatures available. To get your smoking done, it comes with a final tray for chips and 3 racks for other items.
One of the good things about this unit is that it opens up much like a mini-fridge. This helps increase the internal space enabling the smoker to hold a lot. Fortunately, the cooking chamber is not insulated. This feature allows you to keep your temperatures low.
Additionally, low temperatures of about 50 degrees can be measured by the temperature gauge. There is a viewing window that has exterior temperature control. You can also move the smoker easily using the handle.
This solid and sturdy smoker is made up of high-quality materials. It's one of the highly-rated options considering its size and quality. That said, it's also pretty affordable for cold and hot smoking.
Pros
Low-temperature capabilities
Comes with a viewing window
Features exterior temperature controls
Has a large internal space
3 racks
Affordable
Cons
Not easy-to-clean
Not easy to access the wood tray without opening the entire unit
Bradley 4-Rack Smoker: Best Digital Cold Smoker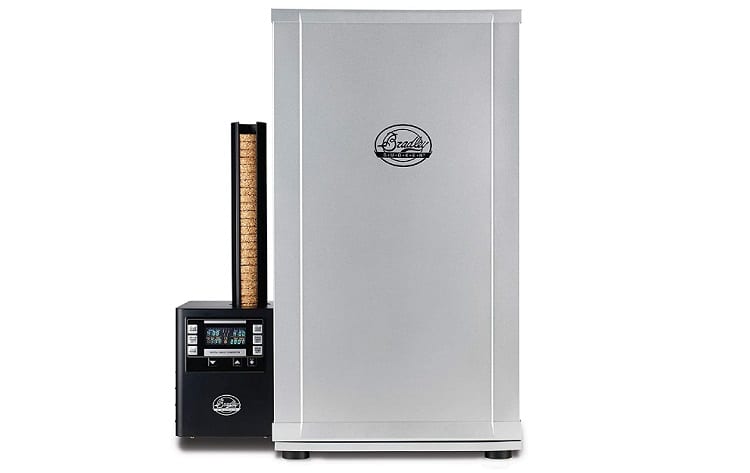 For those that prefer a premium option with all the bells and whistles, this might be your best option. Bradley does it all and can also carry out cold and hot smoking. This electric smoker has numerous capabilities.
It features full digital control that enables you to keep the temperature where you want it. This model comes with 4 internal racks. Therefore, it's easy to hold a lot of food at a go. It can hold up to 2 large turkeys at the same time.
Bradley features a drip tray making it easy to clean. Most of the racks have slight lips to ensure you can contain all your cooking items. This smoker uses specialized wood chips placed from the exterior. You need to purchase these separately.
You can track, monitor, and refill them when necessary. Loading the smoker full of chips can give you about 8 hours of smoking time.
Pros
4 racks
Full digital control
Comes with a drip tray to ease cleaning
Numerous capabilities
Best for both cold and hot smoking
Longer smoking hours when full
Cons
For compatibility, wood chips have to be bought from the manufacturer
Hard-to-read LCD screen
Kaduf Pellet Smoker Tray: Best Easy-To-Use Cold Smoker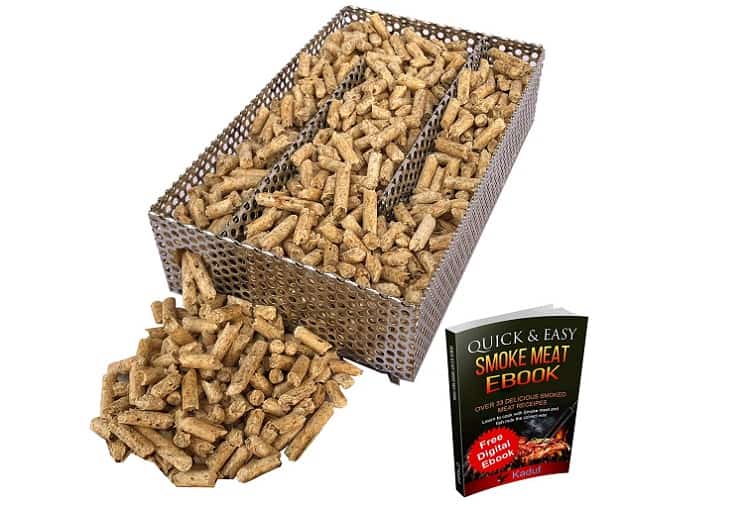 Lastly, the Kaduf smoker tray is a cold smoke accessory that you can comfortably use on whatever grill or smoker you already have in your home. It can hold a lot of pellets. Meaning that you can leave your items smoking for even up to about 12 hours without refilling.
It's a versatile option that is ideal for both cold and hot smoking tasks. The pellet tray comes with a handy eBook. It contains recipes for cold and hot smoking uses. If you like even distribution of smoke, this smoker tray is nice. The reason is it's open and you can also use it with what you already have.
Besides, you also get more smoke time with just a single refill. Apart from being easy to clean, this tray is also easy to use. It's ideal for low temperatures. Note that it's a well-built stainless steel product designed to last long.
Pros
Easy to use and clean
Features an eBook
Compatible with most pellets and grills
Best for both cold and hot smoking needs
Can last long with just one refill
Cons
Not budget-friendly
Challenging to prevent a fire from starting or the smoke from going out
How to Choose a Cold Smoker
Before you think of purchasing a cold smoker, there are a few qualities that you need to consider first. Most of the factors come down to a matter of preference. However, we want to offer you some food for thought concerning the matters you will need to consider before you buy.
Smoker Type
Generally speaking, there are only 2 major types of cold smokers. Your cold smoker can either be electric or manual. Many buyers prefer the electric option because it has more functionality and is easy to manage.
For lovers of manual smokers, you require more effort to run them. You need to monitor and operate them more keenly, but they are still a good option if they happen to be your ideal preference.
Size
A big number of cold smokers are more or less the same size. Take note some have several variations. The internal and external sizes also vary quite a little bit from one model to the other. The size of your smoker will matter a lot depending on how large your family is.
Before you plan to buy a smoker, you need to have a general idea of what you will be smoking. Another factor to consider is how much space you will need for your smoking needs.
Functionality
One of the most important factors to pay attention to in a smoker is functionality. You should be aware of how it works and what it can do for you. Also, take note of how the controls look like and how easy it is for you to operate.
Besides, it's good to note that the functionality of a smoker is also a matter of your preference. Several cold smokers have a lot of different options, and some are limited. By the time you check out your options, know that you must be sure of the functionalities that you expect in your smoker to avoid regrets.
Safety Measures and Precautions for Cold Smoking
There are some risks you need to know about if you plan on cold smoking. The biggest one is that your meat and other items are cooked at dangerous temperatures. This is a level where bacteria and germs thrive best because of the low temperatures.
If not well monitored, this can give bacteria a chance to grow on your food. Luckily, there are various things that you can do to avert or mitigate these risks. Try to follow these tips when you are ready to start cold smoking:
Make sure that you follow all the safety recommendations and protocols
Only use tried and tested recipes
Ensure that you get high-quality fresh meat from your local butcher
Always combine salting for curing with cold smoking
Use a cooking method that gets your meat cooked and reduces the likelihood of bacteria after cold smoking
Hot Smoking Vs. Cold Smoking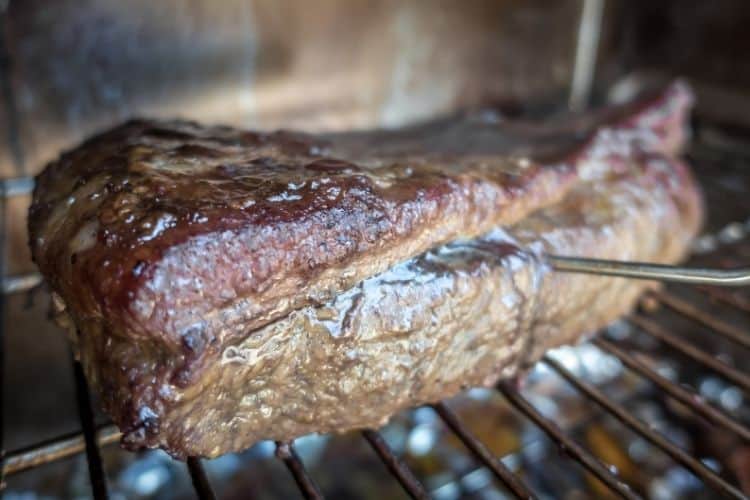 Talking about the differences, we want to take a moment and clarify. Despite all being smoking methods, hot smoking methods tend to be more popular. This is because you use heat to reduce and kill any bacteria.
Cold smoking can be safe for items like cheese, salmon, and salami. You need only to know what you are doing and ensure that you follow safety procedures keenly. Remember that hot smoking lies between 225 and 250 degrees Fahrenheit, and there are also times that it can be higher than that.
Cold Smoker FAQs
Question: What Does Cold Smoking Entail?
Answer: In cold smoking procedures, your food remains raw throughout the smoking process. The ideal smokehouse temperature for cold smoking typically ranges between 20 to 30 °C (68 to 86 °F). In this temperature zone, foods remain relatively moist but with a smoked flavor.
Question: How Does A Cold Smoker Work?
Answer: When doing cold smoking, you need to place your food in a box or chamber, and the smoke will be pumped through the chamber for a duration of between 12 to 48 hours. The temperature of the chamber should be between 20-25 °C. The fire producing the smoke should be kept away from the food.
Question: How Do You Cold Smoke Safely?
Answer: You can cold smoke safely by ensuring that you clean your tools and kitchen properly. Follow safety protocols and ensure that your cold-smoked food is free from pathogens.
Question: What Is The Ideal Cold Smoking Temperature Range?
Answer: Rapid microbial growths may occur between (40-140°F) since foods are held in the temperature danger zone. As a result, only those meat products that have been cured, salted or fermented can be cold-smoked. You should cook most of your meat at an internal temperature of about 160°F before it's eaten.
Conclusion
Cold smoking is a practice that is slowly gaining popularity among grilling fans. If you are looking for a cold smoker, check out our list of smokers above. They have been categorized to making your purchase decision easier.
In case you didn't find one that meets your needs, we have provided a buying guide. It gives you the information you need to consider before buying a cold smoker. All this information should make it easy for you to make the right decision before you purchase a cold smoker.
Further Read: