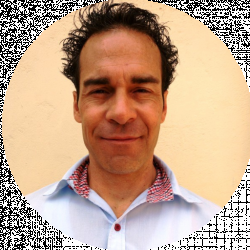 Latest posts by Douglas Bloom
(see all)
You may need to get a meat injector to up your grilling game or for competition purposes. Either way, your decision should be made from a point of information. Every company that makes these products state they have the best quality. SO how do you know if you are getting the right injector for your needs?
It's not easy to get the right injector to suit your needs considering the plethora of options available in the market. That said, we did thorough research by checking out cooking sites, forums, and grilling fan pages to gather as much information as possible.
According to the reviews, testimonials, and recommendations, we were able to compile a list of the best injectors in various categories. Check them out below!
Our Top Meat Injector Picks
Everyone has different needs when it comes to meat injectors. Some are working on a small budget while others don't have an issue with spending a lot of money. Either way, check out the products provided below and their classification. They will help you make the right purchase decision to suit your needs.
Milagroso Meat Injector: Best Meat Injector Kit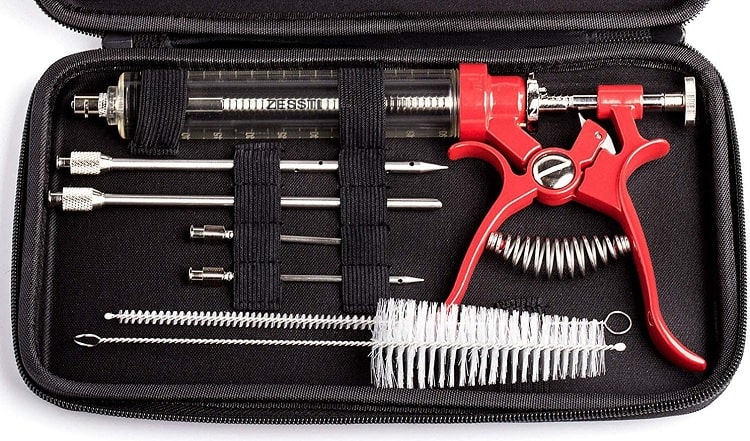 If you want a perfect meat injector kit, it should come with everything you may require to add some delicious flavor to your food and clean it up once you are done. Milagroso is amongst the best meat injectors in the market.
It comes with a long BPA-free plastic barrel with a large capacity and a heavy-duty handle. This makes it easy for you to add as much of those tasty juices that you like without repeatedly refilling it. This meat injector is made using stainless steel.
There are markings on the handle and a bilateral scale on the barrel that informs you how much marinade you need to add at a time for precise measurements. That said, included in the Milagroso meat injector kit are 4 food-grade heavy-duty stainless-steel needles.
There are 2 small precision needles, particularly for thinner pieces of veggies or meat. The remaining 2 are all 6-inch needles. One has 12 holes along the needle arm for multiple simultaneous infusions, while the other has an angle cut.
Other features include a hole needle, O-rings, 2 cleaning brushes, and an angle-cut needle. Once you are done with your marinade and have eaten, cleaning up your injector kit is quite easy and quick.
The injector can be dissembled, enabling you to wash out all the crannies and nooks, leaving no juices behind. To ease the cleaning process, 2 cleaning brushes (small and large) are also included. For added convenience, this meat injector is also dishwasher safe.
Pros
Comes with 4 needles
Has a durable build
Easy to clean
Large capacity
Has heavy-duty handle
Dishwasher safe
Cons
Not budget-friendly
Small capacity
Ofargo Meat Injector: Best Durable Kit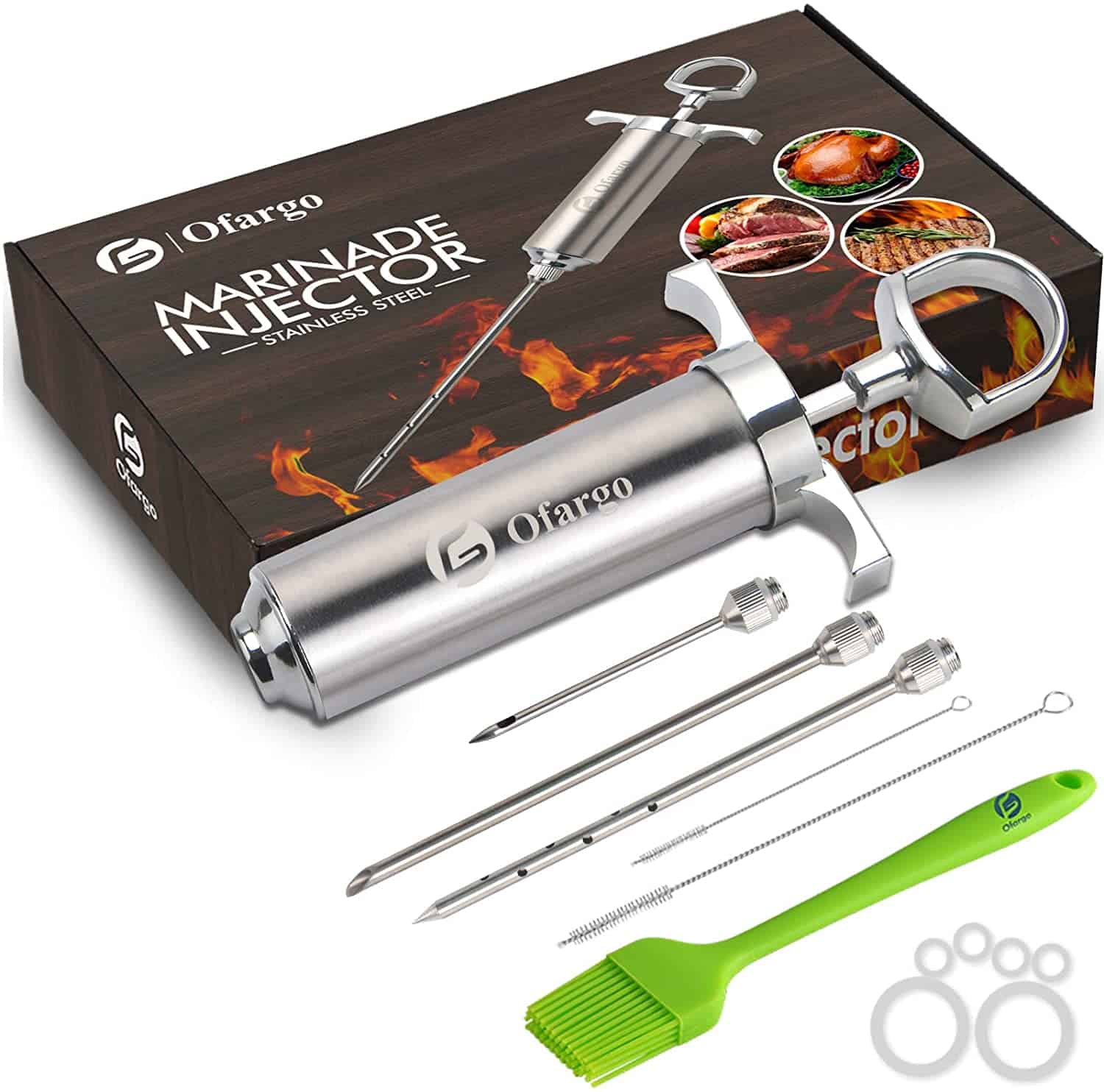 Would you like a durable and high-quality meat injector? There are numerous reasons why the Ofargo kit model is the best meat injector for slow cookers, ovens, or BBQ. The syringes and the injector barrel are made of culinary-grade stainless steel. The meat injector handle is made of a zinc alloy.
The good thing with these materials is that they eliminate rust and erosion and are also strong. With them, leaks are not common. Ofargo comes with 3 needles with which you can marinate anything that you want. One of them is a 3-inch needle perfect for thin liquids and thinner meat.
The other 2 are 6-inch needles. One has an angled tip for those chunky marinades applied on thinner meats, while the other has 12 holes designed to be used on thicker meats. The handle of the injector not only has wide loops to fit your fingers more comfortably but also comes with an ergonomic design.
To keep the plunger moving smoothly, you need to oil it before use. One of the reasons many users like this model is that it's easy to assemble and dissemble. This makes it easy to clean using brushes. Note that all of its parts are also dishwasher safe.
Ofargo also features 5 spare O-rings, a digital ebook containing instructions and recipes, and a silicone basting brush. That said, it also has the EVA box for keeping all the pieces together when they are not in use.
Pros
Easy to assemble and dissemble
Comes with a comfortable 3-ring handle
Has multiple accessories
Heavy-duty materials
2 cleaning brushes
eBook feature
Cons
Lacks paper instructions
Not budget-friendly
Premiala Meat Injector: Best Steel Meat Kit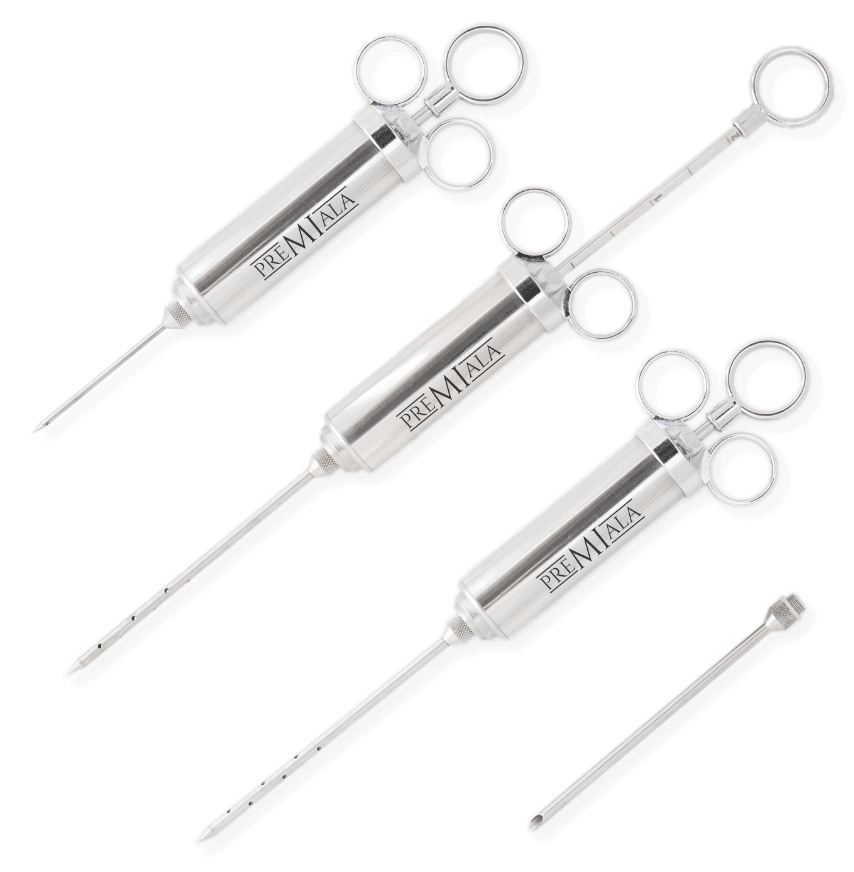 Do you want a decent meat injector made of durable materials? The Premiala meat kit is one of the best meat marinade injectors in the market in terms of durability. Other features include a custom foam insert and a flip-top cardboard outer gift box.
Most of this meat injector's parts are made of 304-grade stainless steel. It's a material that gives your meat injector a super finish. It's resistant to corrosion and rust. For easy cleaning, this kit is also dishwasher safe. To ensure that your food is safe, the product features a zinc alloy with silicone O-rings.
Premiala has 3 needles, of which 2 are 6-inch. One with a single hole for purees and the other with 12 holes for liquid marinades. For smaller cuts like chicken breast, minute steak, or even some tasty kabobs, the 3-inch steak needle is the most ideal. You should note that the sharp point doesn't need a lot of pressure to pierce the meat.
This kit also features 5 spare O-rings in case you get some damaged. It also comes with 2 cleaning brushes for scrubbing the inside of the needles. All of them are stored in a flip-top cardboard box with a custom foam insert to keep it all organized. Premiala has no paper instructions. However, it has a free downloadable eBook.
Pros
Free downloadable eBook
304-grade stainless steel parts
Comes with 3 needles
Budget-friendly
Free from rust and corrosion
Dishwasher safe parts
Cons
Small capacity
No paper instructions
Chop's Power Meat Injector: Best Large Capacity Meat Kit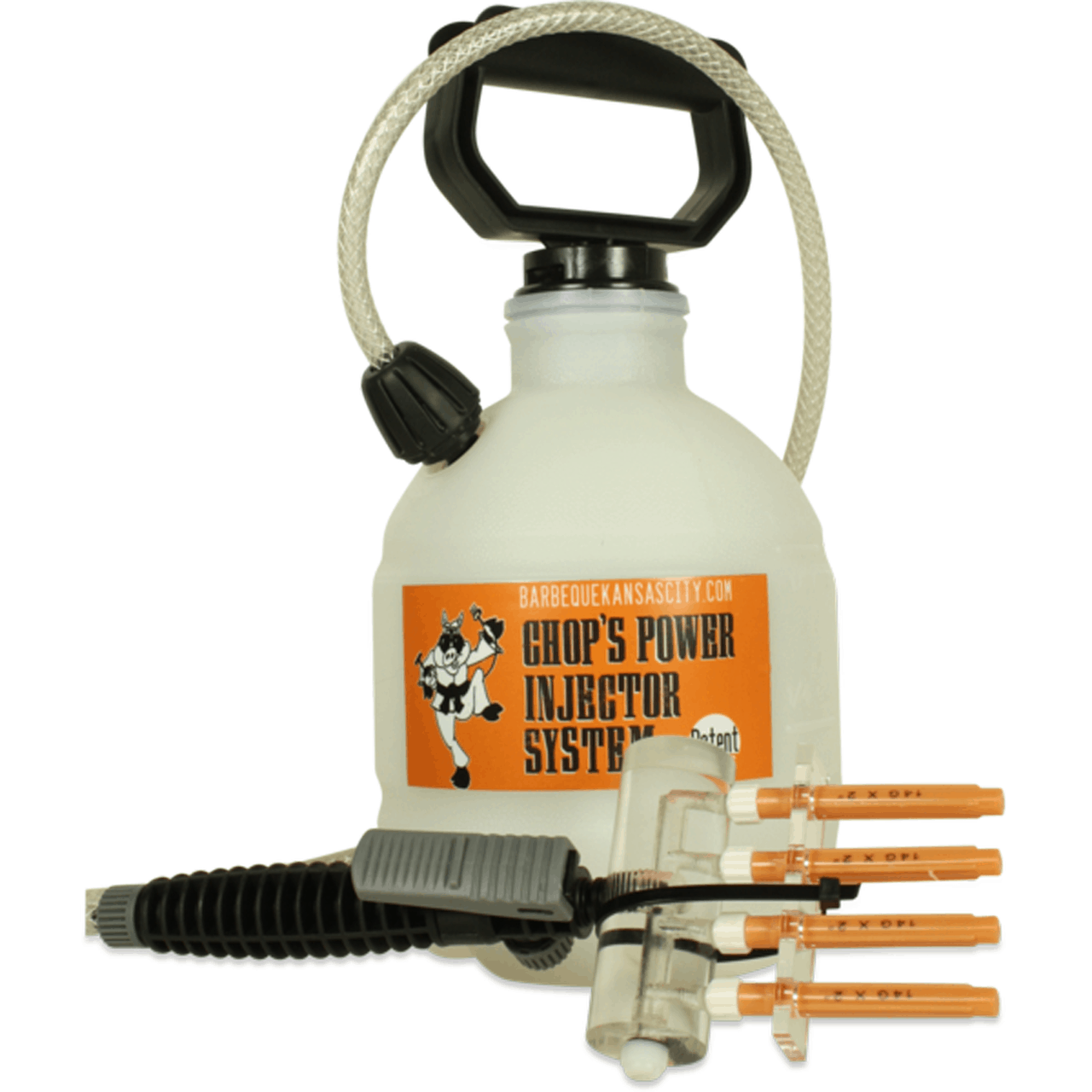 Do you want to feed a large number of people, or are you planning to marinate a whole hog? Then it would be best if you had a meat injector that can comfortably handle the task. Fortunately, the Chop's power injector is the best for such barbeque needs.
The bottle is made of food-safe materials that can hold a full gallon of the marinade. This means that you won't be refilling it after every few minutes. All the other parts of this kit are medical-grade. This is meant to ensure that they are safe for use with any dish on your menu.
For beginners, this injector is easy to use. After filling it up with your favorite marinade, all you need to do is to pump the needle. Pull the trigger, which sends your marinade through the needles deep into the meat. This kit comes with 4 fourteen-gauge needles equally spaced along the injector arm for fast injections in large cuts of meat.
In case you want to use less than 4 needle spaces, you can use the plug screws. After you have finished using the kit, you can use the included needle protectors to store the needles. You can't handle chunky marinades with small needles comfortably. For those smaller get-togethers and meals that require less marinade, you can go for the half-gallon kit.
Pros
Large capacity
Easy to use
Has 4 needles
Fast injections
Features plug screws
Cons
Not budget-friendly
Not ideal for chunky marinades
SpitJack Magnum Injector: Best Meat Injector Gun Kit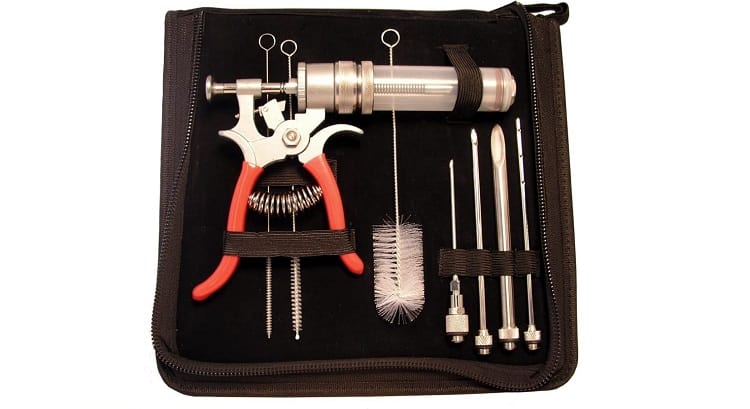 Are you looking for a high-quality meat injector gun that comes with a lot of extras? SpitJack is one of the best meat injector guns available in the market. On the downside, it is pricier than most in the category. However, its features and durability make it worth the cost.
Fortunately, it's not easy for this kit to fall apart if used properly. The reason is the materials used are all medical grade and well-built. The squeeze handle enables you to inject juices without straining your hand. With the dose adjustment dial, you can choose doses that are 1-5ml per squeeze.
This kit features 4 commercial-grade needles. For smaller meat cuts, you can use the small, thin gauge needle. If you want to work with chunky marinades, the largest needle is the best option. The remaining 2 needles are long and thin. One has a slanted tip to let a few spices and herbs through, while the other has perforations on the sides for liquids.
The needles and small capacity are great for turkeys and roasts. However, they are not ideal for whole hogs. This kit is dishwasher safe. The fact that it comes with 3 different-sized brushes ensures that you can properly clean the needles and the barrel's interior.
SpitJack has a rugged carrying case for storing the meat injector's parts once they are cleaned. You can use it to carry your kit to your friend's house or a cooking competition in case you are a fan.
Pros
Comes with adjustable doses
Features 3 cleaning brushes
Made of quality materials
Has a rugged carrying case
Has 4 commercial grade needles
Cons
Not budget-friendly
Small capacity
Ofargo Plastic Meat Injector: Best Budget Pick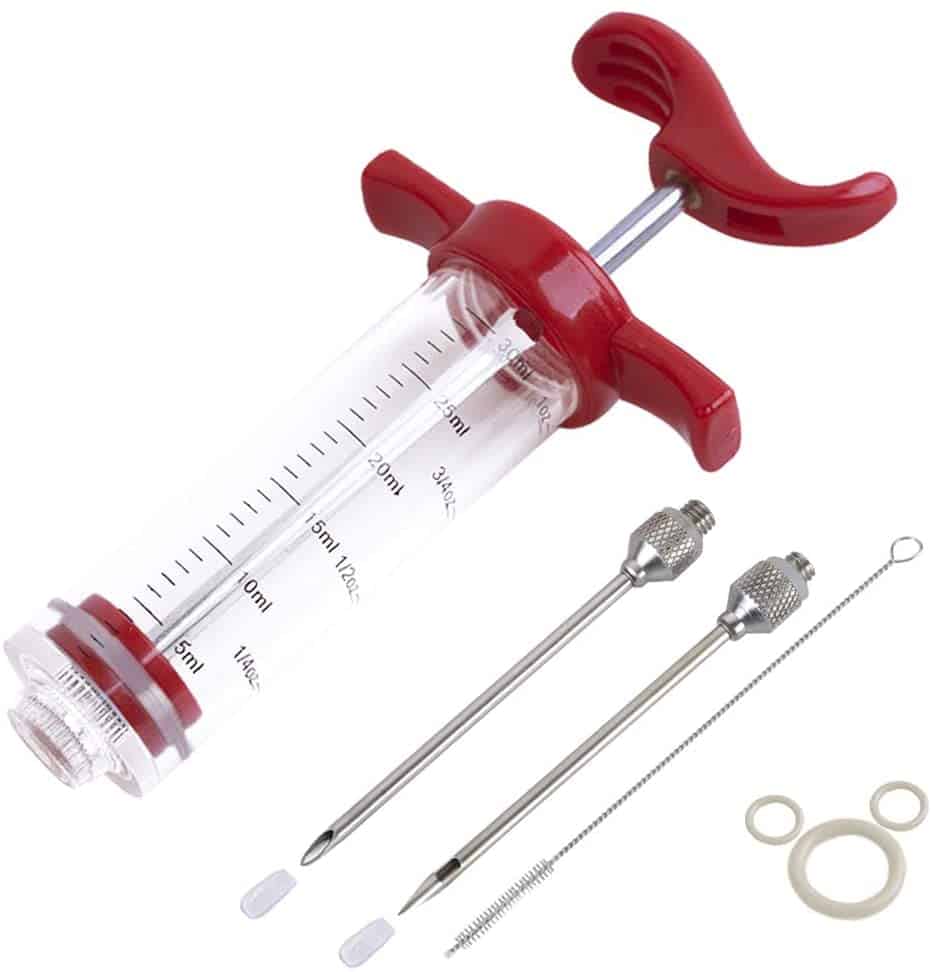 There is no reason to spend a lot of money to get the best clear meat injector for adding juices and some extra flavor to your meat. The Orfago plastic meat injector has proven this beyond doubt. It's lightweight and easy to use. It also has a few extras that make it a worthwhile purchase.
The pump plate, barrel, and handles are all made of eco-friendly plastic. This means that it's not easy to contaminate your food or cause damage to the environment. Measurements along the barrel are in millimeters and ounces, making it easy to measure each dose accurately. Although, for larger cuts, you may need to refill the barrel due to its small capacity.
This kit comes with 2 three-inch stainless-steel needles. For puree marinades, use the needle with a small hole. The other has an angled cut for sauces including finely ground spices. Every needle has a protective cap that keeps the tips intact and protects you from injury.
The needles feature a screw-on O-ring connection that applies anti-shake technology. This keeps them from moving around when the tool is in use. The needle brush is designed to remove all the traces of marinade. It's a crucial step before you store them in the cap holes located on the injector's handle.
That said, this kit also comes with a PDF eBook that has instructions on how to use and maintain the meat injector. It also has recipes and tips for making some tasty meals.
Pros
Budget-friendly
Has a safe needle storage
Made of safe materials
Features barrel measurement markings
Lightweight and easy to use
Screw-on O-ring connection
Cons
Small capacity
Not ideal for chunky liquids (too thin)
DIMESHY Meat Injector: Best Heavy-Duty Stainless-Steel Kit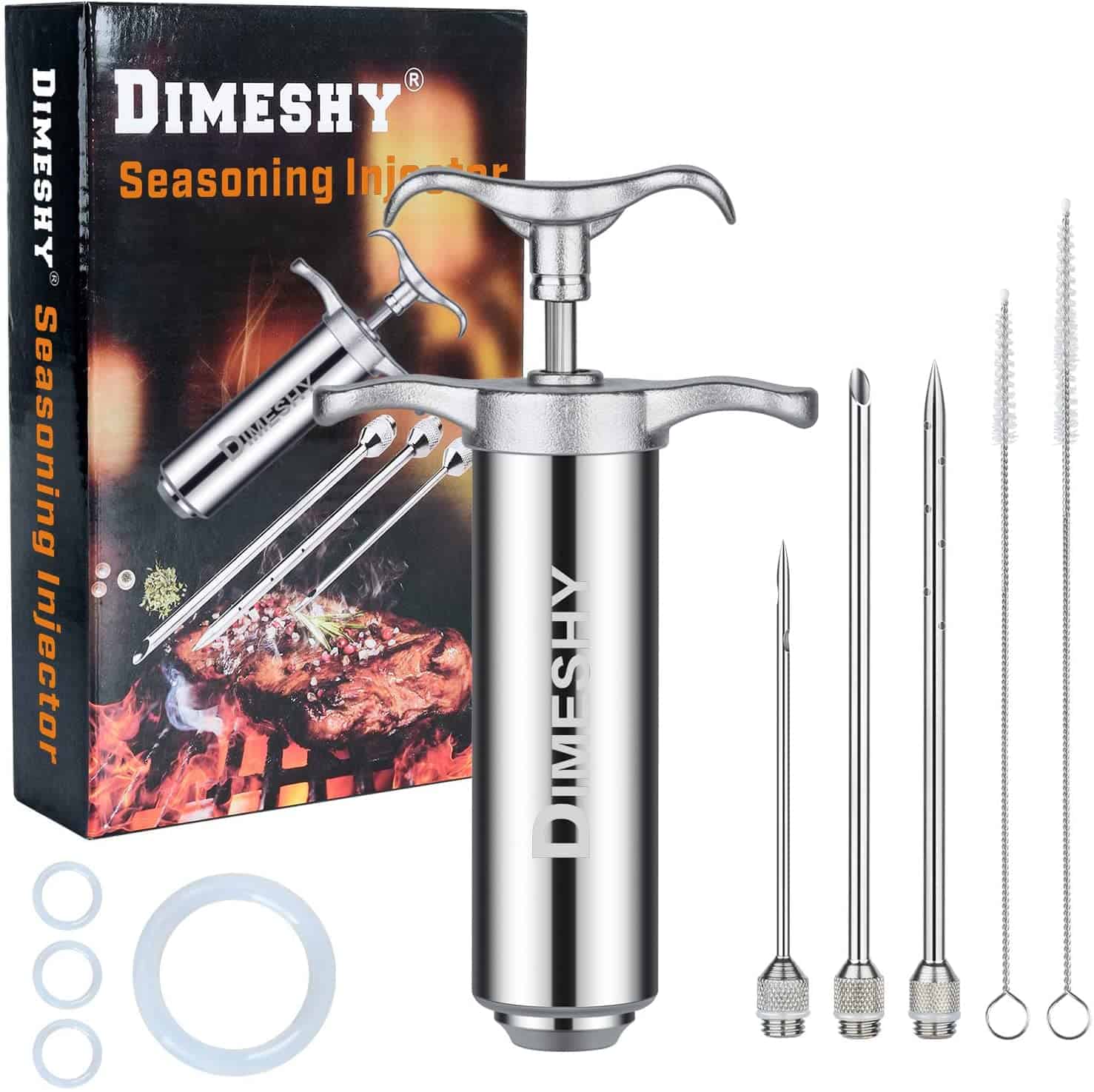 This meat injector kit comes with 3-ring handles that offer you a good grip. It's immune to corrosion, breaking, and rust because it's made using stainless steel. The kit features 3 durable needles that easily puncture and penetrate deep into the meat.
You can use the largest needle for onions, minced garlic, and other solid marinades. The middle-sized needle has side holes for liquid marinades, while the smallest one is for marinating chicken. DIMESHY has a 2 oz. capacity designed to increase the flavor of almost every type of meat.
This stainless-steel meat injector can be easily dissembled for efficient cleaning. It's a dishwasher-safe product. Apart from having a 12-month warranty, this injector is also FDA-approved.
Pros
FDA approved
Dishwasher safe
Comes with 12 months warranty
Features a large storage capacity
Easy to dissemble for efficient cleaning
Has 3 durable needles
Cons
Not budget-friendly
At times, the marinade leaks
Meat Injector Buying Guide
With the varied brand names on the market, choosing a good meat injector that fulfills your cooking requirements may be quite challenging. This guide puts much focus on all the variables that you should consider before you place your order.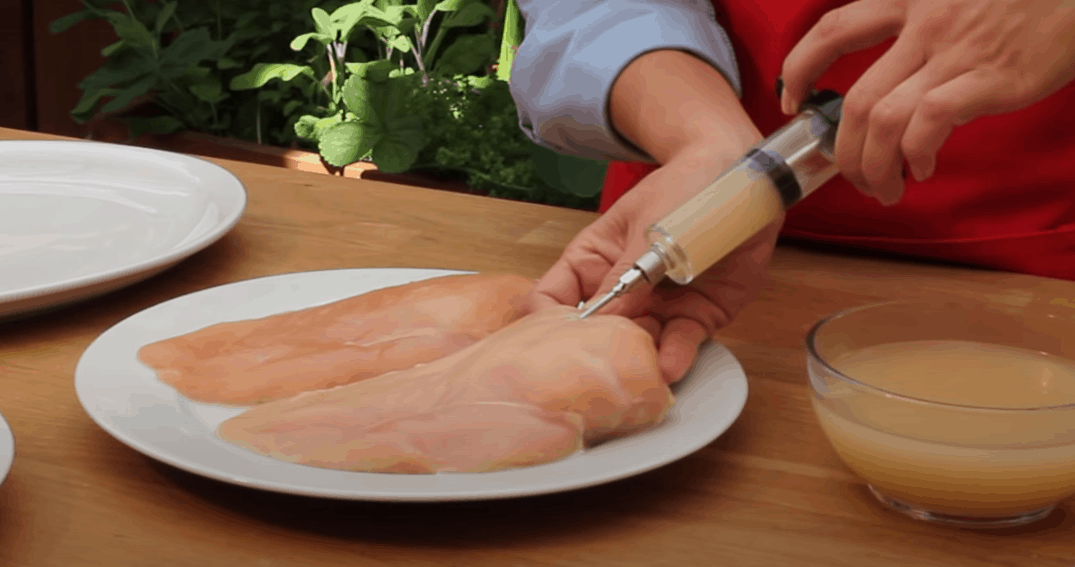 Quality
The material used to make an injector determines its quality and customer experience. Meat injector materials include stainless steel and plastic, just to name a few. In terms of quality, we recommend stainless steel. However, if you have a constrained budget, you can select other materials provided they are food-safe.
Injector Dimension
Each meat injector comes with its capabilities. High capability plungers minimize refills and conserve time. We recommend injectors with a capacity of 2 oz. for industrial purposes. Those below 2 oz. are ideal for home use.
Needle Dimension
Your needle dimension determines what you can inject right into your meat and how deep you can go. Most of the meat injectors come with different needle dimensions to enable you to inject different flavors and marinades. While bigger needles are rather hard to run but superb for infusing thick marinades, the smaller needles are handy and enable you to inject sauces without any difficulties.
Note that you should select injectors with various needle dimensions if you expect to infuse both fluid and strong sauces.
Gauging Window
Even though a meat injector helps drive your marinade deep inside, the quality of your meat is determined by the quantity utilized. This is the point where you require a gauging home window. Those appliances with a gauging window enable you to measure your dishes correctly before marinating them.
Durability
Tough meat requires a secure injector. Most of the manufacturers give guidelines on how to use various meat injectors. You should pick a trusted injector that will assist you in dispensing your flavor efficiently. This will also mean the product is durable.
Ease of Use
A hard-to-use injector will tend to waste a lot of your time. An ideal meat injector should have very sharp needles that can pass your marinade quickly and deeply. If you look at the customer's evaluations, you will be able to identify the experience you might expect when you buy a particular one.
Application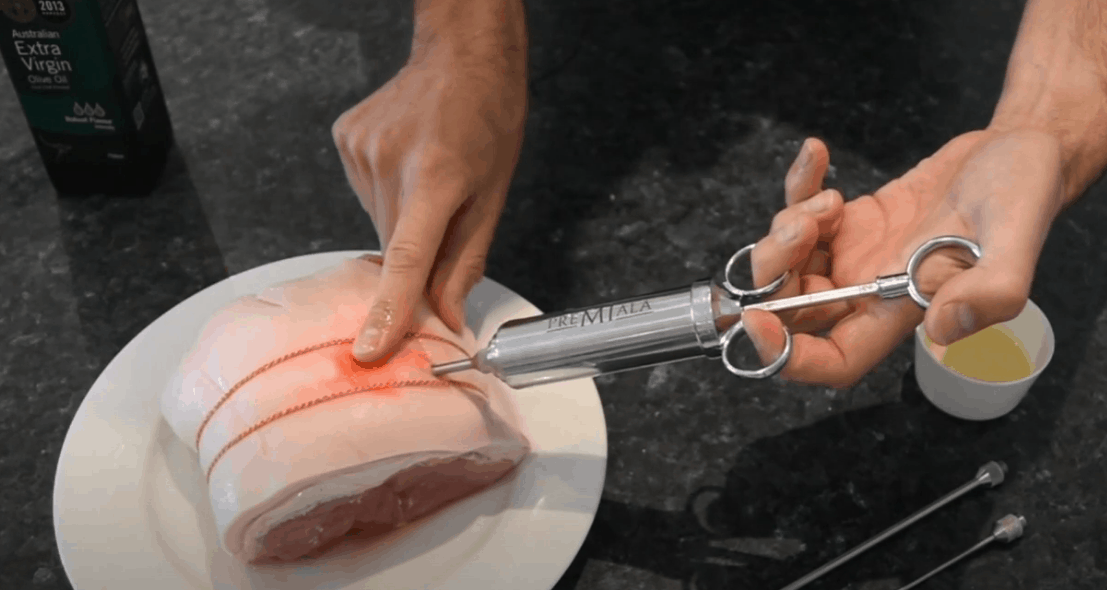 Meat injectors are not all the same. They are, however, made to give your meat taste as well as wetness. You will not get optimum efficiency using an injector that is not recommended for a particular type of meat. Take time and learn what you want to do with your injector before investing your money in one.
Various Other Devices
Some meat injector models come with cleaning brushes and silicone O-rings. Cleaning brushes are very important tools for cleaning your tool properly. Capitalizing on meat injectors that have cleaning tools can save you time and money.
Other injectors feature a recipe publication that makes it easy for you to use. If you want to equip yourself with various food preparation ideas to help you improve your grilling game, capitalize on dish books.
Ease of Cleaning
Injecting right into raw meat messes up your needle. Cleaning up your needle interior can be a bit challenging due to its size. To eliminate germs and promote bacteria-free healthy food preparation, you need to acquire an injector that can be decontaminated.
In addition, not all the injector parts are cleanable. When looking for the perfect meat injector get one with removable components. This ensures they can be cleaned easily and separately.
How to Select Your Meat Injector Needle
Most of the decent injectors come with interchangeable needles to fit any application. The type of dish you want to infuse determines the type of needle you need. If you want to infuse dishes with chucks such as garlic and ground seasoning, you will need needles with a single thick opening.
For thinner dishes like sauces, you need needles with holes along the shaft. After choosing your favorite needle, you can then screw it on the barrel.
Meat Injector FAQs
Question: How Can You Avoid Clogging The Needles?
Answer: If you want to avoid clogging your needles, we recommend that you use liquids with as few chunks as possible. You can achieve this by pureeing your marinades to make them as fine as possible. To ensure that your marinade has no large pieces, you can strain it before filling your syringe. Always use a large needle for thicker marinades.
Question: How Long Should You Wait Before Grilling?
Answer: It's recommended that you wait for a minimum of 5 minutes after injecting your meat with marinade before putting it on the grill. This allows your marinade to spread throughout your meat thoroughly. Remember, the longer you wait, the more flavor it will have and the tastier your dish becomes.
Question: How Much Marinade Is Needed For A Whole Turkey?
Answer: For every pound of meat, you need about ¼ cup of marinade. Meaning that you need about 3.75 cups of the marinade to keep your meat tender and juicy during your cooking process if you intend to cook a 15-pound turkey.
Conclusion
A meat injector is an important tool if you are a fan of grilling meat. For you to have nicely grilled and marinated meat, you need to know how the various models of meat injector function. Although they have different specs, the sole purpose of having a meat injector is to pass your marinade into your meat.
What matters is the level of user-friendliness. The best meat injector is the one that enables you to create moist, tender meals that your family will enjoy. Several of these tools are available in the market. However only a few, have a bit more to offer. Milagroso is our favorite followed by Ofargo, then the Premiala meat injector.
The products above are classified into various categories to ensure you can easily choose the right meat injector for your needs. If you don't find one that works for you, check out our buying guide. With this information, making a meat injector purchasing decision is a breeze.
Further Read: