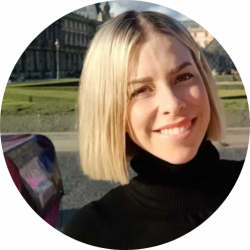 Latest posts by Jodie Chiffey
(see all)
In this article, we will look at the LEM Meat Grinder, one of the most durable stainless-steel meat grinders you can buy today.
LEM is an innovative family-owned company known for its high-quality kitchen appliances. You can acquire their meat processing equipment online and in over three thousand stores all over the United States. When it comes to meat grinders, LEM offers various options: from small manual machines to highly modern electric grinders.
This review will focus on the LEM 12 Meat Grinder, one of the best electric grinders this brand has to offer. We will take a look at its key features and functions. We will also mention several other grinders to give you a few more options if you are interested in alternative products.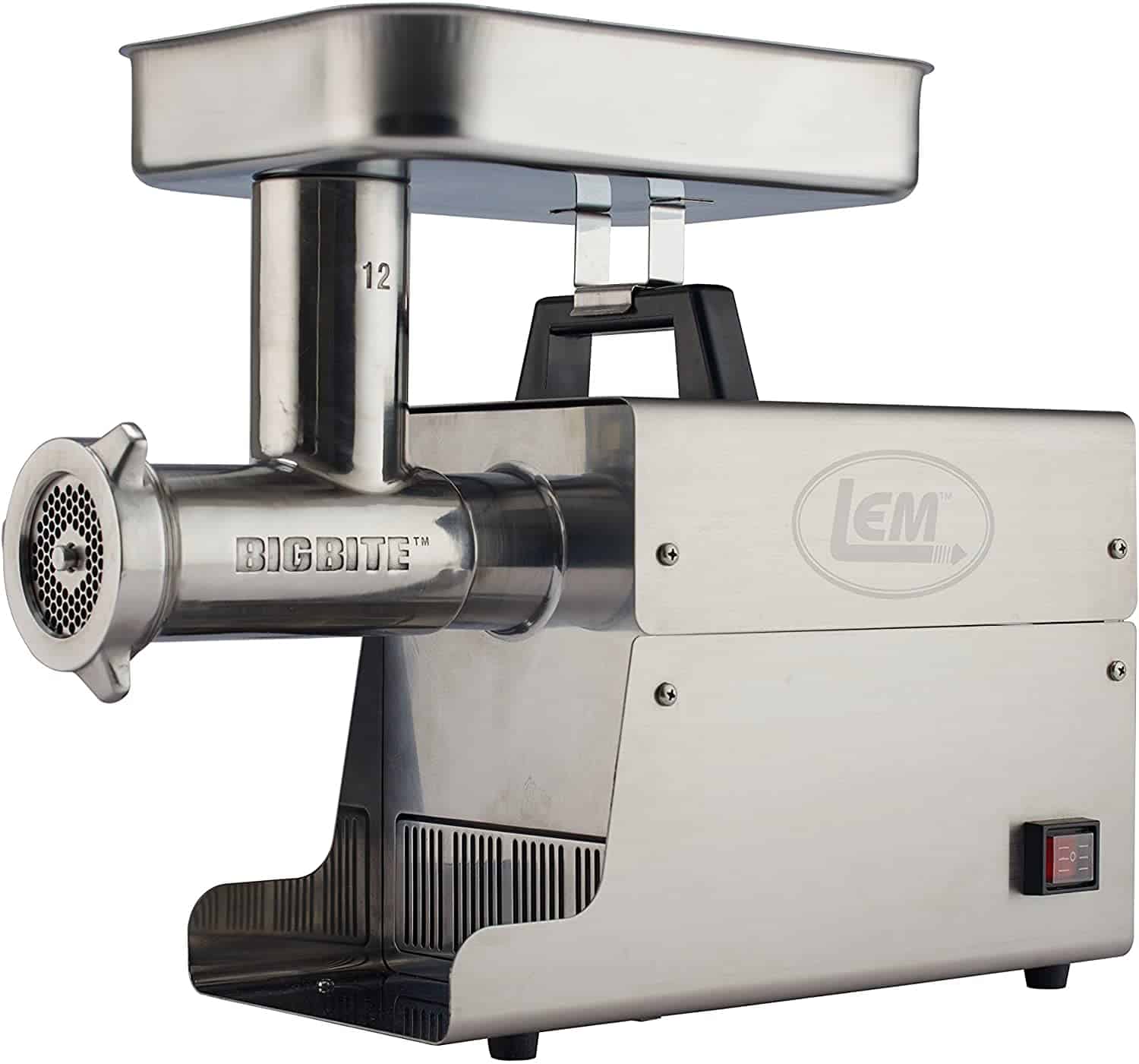 If you like to grind meat at home, feel free to check out our list of the 32 best meat grinder options to discover the best meat grinders available on the market.
Let's start by taking a look at its specifications:
Key specifications of the LEM 12 Meat Grinder
| | |
| --- | --- |
| Type of Grinder | Electric Meat Grinder |
| Grinding Plates | Fine Plate, Coarse Plate, and Sausage Stuffing Plate |
| Material | Stainless Steel |
| Accessories | Meat Stomper, 1 Steel Knife, 3 Sausage Tubes |
| Motor | 0.75HP, 550-Watt, 100 Volt |
| Speed | 360 pounds per hour |
| Dimensions | 9″ x 19.5″ x 16″, 47 pounds |
| Price | Click here for the latest price |
Core features of the LEM 12 Meat Grinder
The LEM 12 Meat Grinder is a premium meat grinder that has been designed for high output and great performance. Let's take a look at its functions and most important characteristics:
Construction and design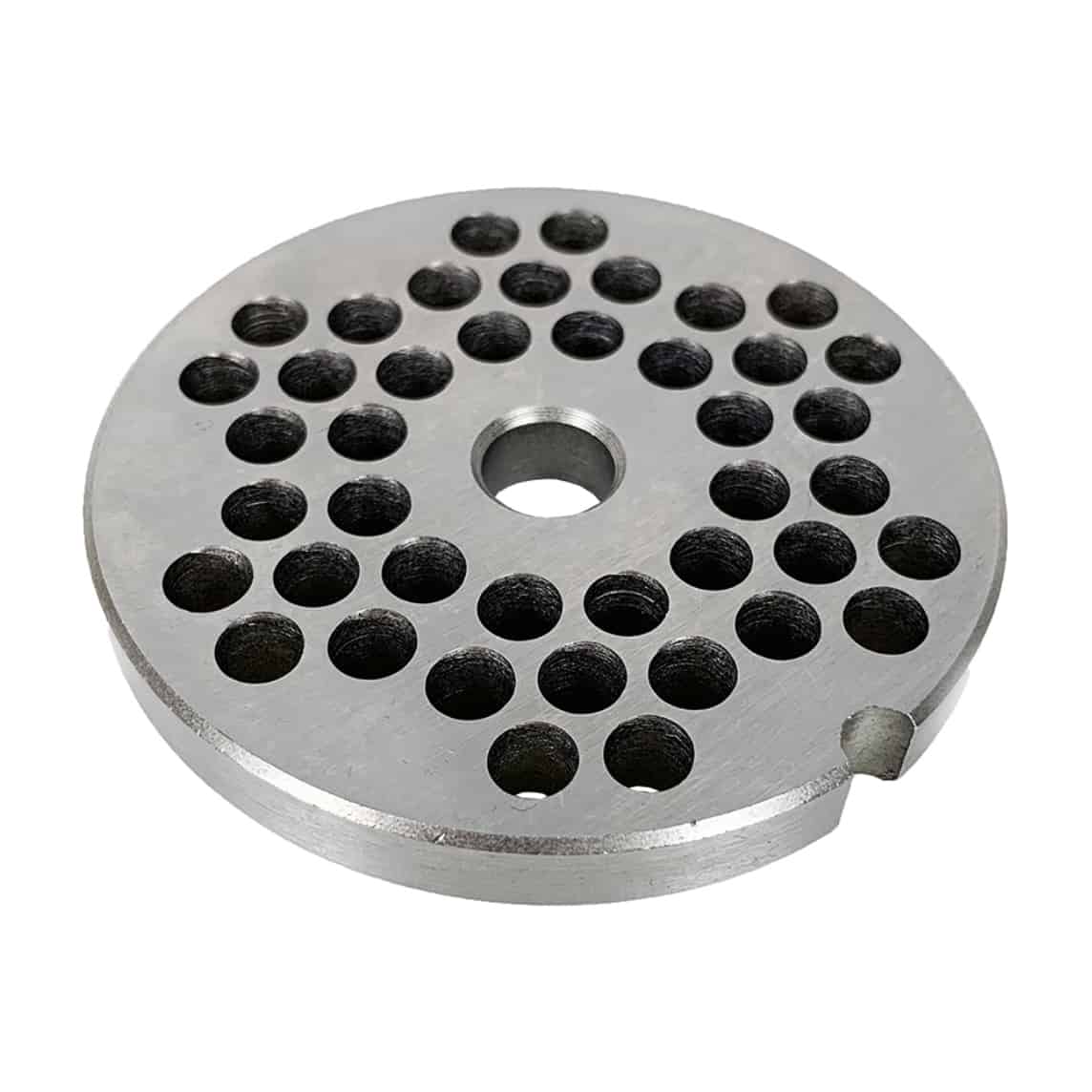 The LEM 12 Meat Grinder measures 9″ x 19.5″ x 16″. This makes it big enough to handle just about anything you would need at home without being overly big. The meat tray measures 8.5" x 11.5" x 2.25" and it can fit a lot of meat for faster processing speed.
The housing and the internal parts are made of stainless steel, a highly durable and easy to clean material. The internal gears are made of metal instead of plastic, so you don't have to worry about the motor breaking down because of heavy loads. The meat stomper and stuffing tubes are made of high-quality plastic.
The grinder comes with two grinder plates: a coarse grinding plate with 3/8-inch holes and a finer plate with 3/16-inch holes. The coarse plate is good for making stuff like salami or chorizo, while the finer plate can make hamburgers and meatballs. It also includes a sausage stuffing plate.
The LEM 12 meat grinder features "Big Bite technology," which increases grinding capacity by up to 50%. It consists of making the auger wider than normal, which allows the grinder to process bigger pieces of meat. As a result, you no longer have to cut the meat into tiny pieces before grinding it.
This device has an output of 360 lbs. per hour. This processing speed is excellent and will make your kitchen work faster and more efficiently. If you need to process a large amount of meat quickly, this could be the right grinder for you.
The LEM 12 Grinder has a powerful 0.75 HP permanently lubricated motor. The lubricated motor ensures a smooth grinding process with little noise. In addition, this heavy-duty motor is strong enough to handle even small bones.
This model comes with a circuit breaker. The circuit breaker will turn off the grinder in the case of overheating, a power disruption, or an irregular operation. This useful safety feature will protect your motor from damage.
The LEM Grinder includes several useful accessories. One of them is a plastic meat stomper used to push the meat down the grinder. This product also includes three plastic stuffing tubes measuring 3/8″, 3/4″, and 1 1/4″ and one sausage stuffing plate. These are convenient accessories to have if you like to make sausages at home.
If you enjoy making sausages at home, take a look at our Weisswurst Guide.
Functions and controls
The LEM 12 Meat Grinder is quite simple to use. It can be controlled with one simple ON/OFF switch. Follow these steps to operate the grinder:
Wash all the parts of the meat grinder thoroughly before the first use.
Place the meat grinder on a firm level surface such as your kitchen countertop.
Insert the plug into an outlet. Make sure the switch is OFF while you do it.
Place a bowl to catch the food as it exits the grinder.
Set the switch on the ON position. The grinder must be ON before you add meat to it.
Place the meat on the meat tray.
Using the meat stomper, feed the meat through the opening.
As an optional accessory, you can get a foot pedal to control the grinder. This convenient feature will let you use both hands to add meat to the grinder. In addition, it will let you work faster and keep your grinder clean since you don't have to touch the grinder while you manipulate the food.
To clean this appliance, you need to disassemble the grinder head and clean every part separately. All pieces of this device should be washed by hand. Do not put the parts in a dishwasher.
Safety
There are not a lot of safety risks associated with this grinder. You should be safe as long as you don't place your hands inside of the device while it's grinding. However, for your safety, please keep the following points in mind:
Do not use fingers to push the meat into the grinder head. Use the meat stomper instead.
Keep hair and clothing away from the feed.
Never use your hands to scrape away food from the grinder during use.
Do not operate the unit without food.
Avoid overloading the device when grinding.
Always unplug the grinder when not in use, changing parts, or cleaning.
Do not plug the grinder if it has not been completely assembled.
As a safety feature, the grinder comes with a built-in circuit breaker. This will turn off the grinder so the motor doesn't overheat if you drop the grinder or some object blocks the feed.
The LEM 12 grinder is ETL certified to UL standards, the most widely known standard in product safety certification. As a result, you can be sure that your meat grinder is safe to operate.
Reliability
LEM is a reputable manufacturer of kitchen products. Its devices are known for being highly durable and reliable. The LEM 12 Meatgrinder is made of stainless steel, which makes it extra strong and durable, and the permanently lubricated engine helps prevent motor damage. As a result, this high-quality meat grinder should function well for a long time, even under demanding work conditions.
LEM offers lifetime customer support and a five-year warranty on this product for your peace of mind.
Price
This model is very well priced for a stainless-steel grinder. For the latest price, click here.
Pros of the LEM 12 Meat Grinder
Let's summarize the biggest assets of this professional meat grinder:
Permanently Lubricated motor
The motor in this grinder is permanently lubricated, which means you don't have to oil it to keep it in good working condition.
Big Bite Auger
The extra-big auger in this grinder lets it process big pieces of meat without experiencing clogging issues.
High Processing Speed
With an output of 360 lbs. per hour, this grinder is high-speed. Its speed is even enough for low-level commercial use.
Several Accessories
This grinder includes useful accessories such as a meat stomper, 2 cutting plates, 1 sausage plate, and 3 stuffing tubes.

Stainless Steel construction
The material of the LEM 12 meat grinder is stainless steel, which is very durable and prevents rust. The internal wheels are also stainless steel, which protects the motor from being damaged by a heavy workload.
Bone Grinding
Unlike many commercial grinders, this grinder is strong enough to grind bones.
Ease of use
This grinder is quite simple to operate since it only has one control switch. You can also attach a foot pedal for convenience if you want to have both hands free.
Warranty and support
Waring offers five years of warranty on this product after your purchase, which is one of the best offers on the market.
Cons of the LEM 12 Meat Grinder
No reverse switch
Unlike other grinders available, this model does not include a reverse switch, so you have to disassemble the grinder if it becomes jammed with food.
Not dishwasher safe
The parts of this grinder cannot be put in a dishwasher. This makes the cleaning process slower since you must disassemble the grinder and wash all the pieces by hand.
Are there any alternatives?
Here are some alternatives to the LEM 12 Meat Grinder you might want to consider
LEM Meat Grinder #32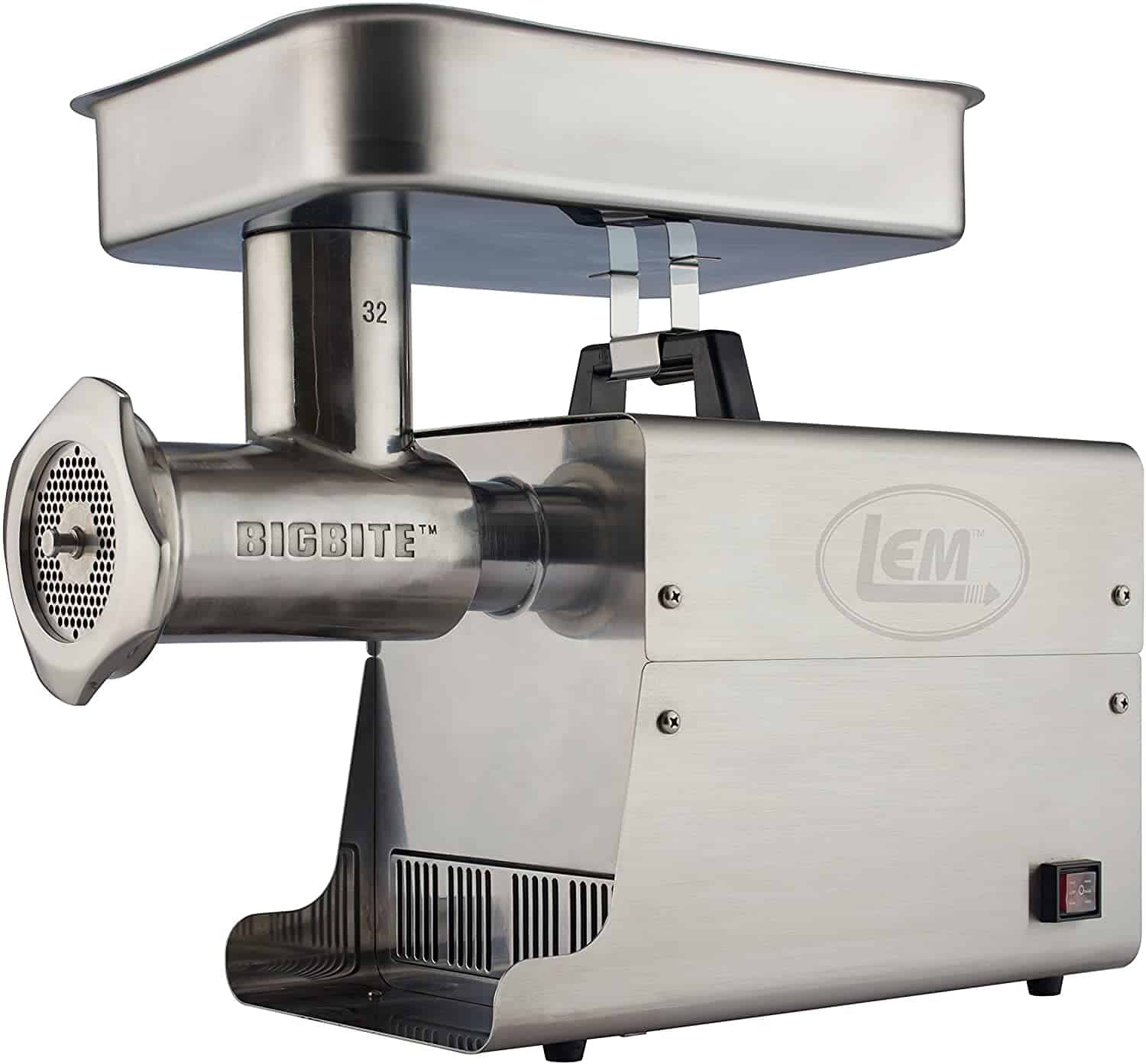 If you are interested in a bigger model from the same manufacturer, the LEM Meat Grinder #32 is a high-end commercial-grade device able to process a huge quantity of meat. This grinder comes with a powerful 1.5 HP motor that doesn't clog even when you put large pieces of frozen meat on it. In addition, it is made of stainless steel so that it will last for a long time.
The machine comes with 3 grinding plates, a steel knife, a meat stomper, stuffing tubes, and a stuffing plate. It has an extender auger to pull more meat in less time. The entire grinder measures 12.09″ W x 24.49″ L x 18.9″ and weighs almost 60 lbs. It is mostly suitable for people who will keep it on their kitchen counter all the time.
For more information on this model, please check our LEM Meat Grinder #32 review.
KitchenAid KSMMGA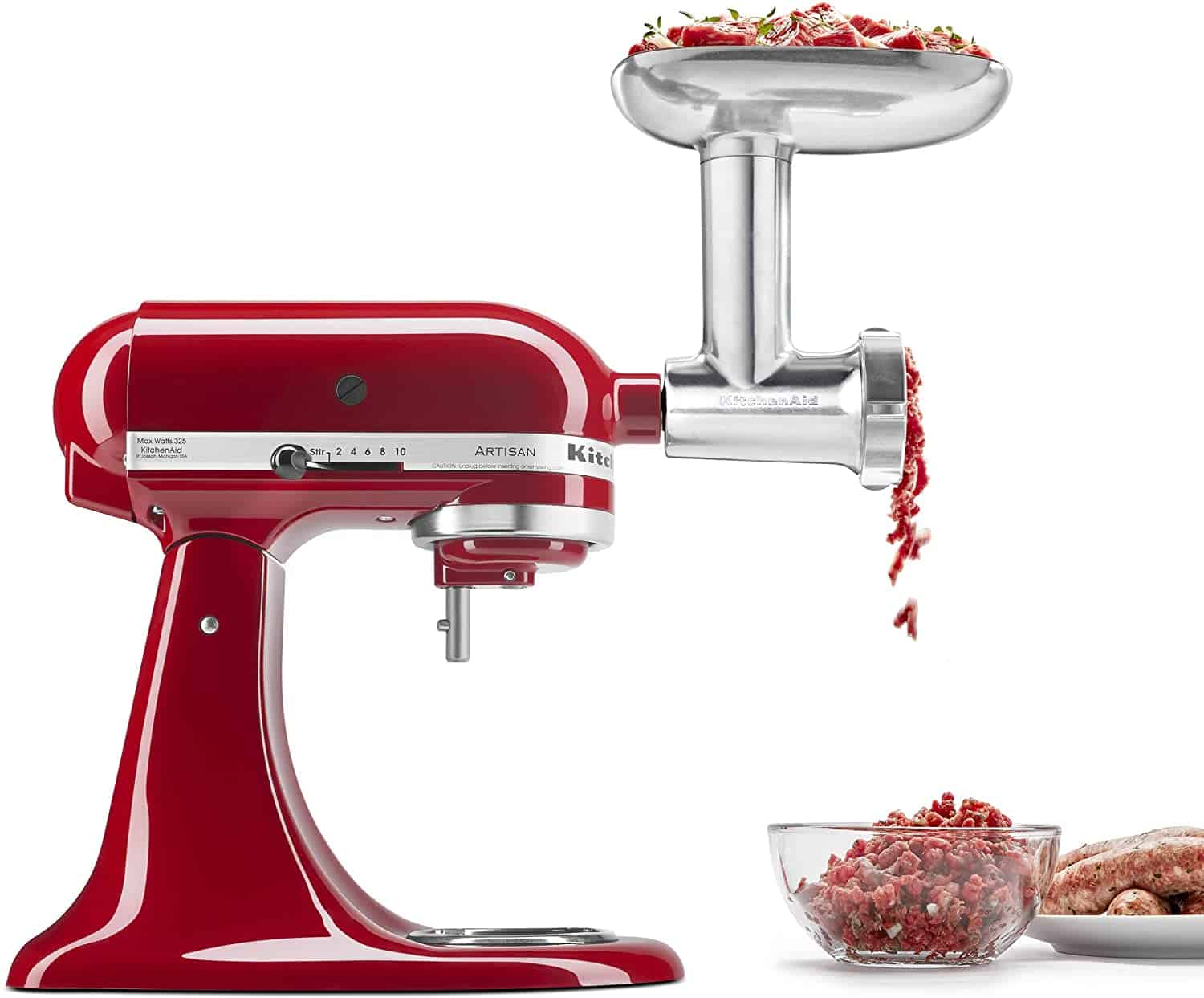 In case you want a lighter meat grinder, this option may be for you. The KitchenAid Meat Grinder is an all-metal grinder made of aluminum. This grinder measures 8.8 x 5.5 x 8.4 inches and weighs only 2.5 pounds, making it very easy to transport and move around. It has a large tray that lets it fit more food than other similar models. You can use this versatile grinder to grind meat, vegetables, hard cheese, and fresh bread crumbs.
KitchenAid products are known for being relatively simple and convenient. This device comes with three grinding plates: fine, medium, and coarse plate. These plates range from 3 to 8 mm. The extra accessories include a couple of sausage-filling tubes (9.5 mm and 19 mm) diameter and a cleaning brush to assist you in the cleaning process.
If you want more information on this grinder, feel free to read our KitchenAid Meat Grinder Review.
Frequently Asked Questions
Check out these common questions and answers for more information on the LEM 12 Meat Grinder.
Question: How do I clean the LEM 12 Meat Grinder?
Answer: First, disassemble the machine and then use warm soapy water to clean the pieces to clean the meat grinder. Next, use hot water to rinse the pieces and let them dry completely. In the end, spray the parts with food-grade silicone to prevent rust and maintain your grinder in top conditions.
Question: Where can I buy the LEM 12 Meat Grinder?
Answer: The LEM 12 Meat Grinder can be bought from Amazon. It can also be found at several stores all over the US and Canada.
Question: Which kind of food can I process with the LEM 12 Meat Grinder?
Answer: While this device is designed for grinding meat, you are not limited to it. You can also use this grinder to process fish, bread, and vegetables.
Question: How do you prepare the meat for grinding?
Answer: To prepare the meat for grinding, first cut the meat into pieces that will fit into the throat of the grinder. The meat should be colder than 40°F and free of sinew and gristle. The meat should slide smoothly into the cutting blade and go through the plates.
Question: What can I do if the motor slows down or stops?
Answer: If the motor stops, it could be due to jammed food. You may have to disassemble the grinder and clean its internal parts.
Question: How do I make Sausages with this grinder?
Answer: To make sausages, first, grind the meat with the coarse plate and do a second grind with the finer plate. Then mix the seasoning into the meat and install the stuffing plate and tubes into the grinder. Finally, feed the ground meat through the grinder into the casings.
Question: How do I make burgers with this grinder?
Answer: When making burgers, I recommend adding 10-20% pork fat to the meat. This will add some moisture to the burger and improve its consistency.
Question: Can I grind bones with this grinder?
Answer: The LEM 12 grinder is powerful enough to grind bones, useful when preparing pet food. It can handle small bones such as chicken and rabbit bones.
Final thoughts: this pro-grade grinder is great for your kitchen
The LEM 12 is a great option for those who want a robust and durable meat grinder. Featuring a big auger, powerful motor, and stainless-steel construction, this robust grinder will let you process your meat quickly and reliably for many years.
I hope this guide gave you all the information you wanted. If you want more information on other meat grinder models, you can read our guides on the  Weston 22 meat grinder and Cabela's meat grinder.