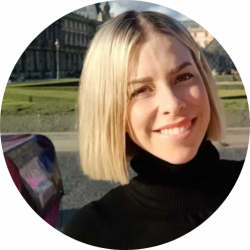 Latest posts by Jodie Chiffey
(see all)
KitchenAid is one of the most popular brands of modern kitchen tools for at-home use. One of their most popular products is currently their versatile meat grinder. But what are its greatest strengths, and does it have any major weaknesses? Our KitchenAid Meat Grinder review will help you decide whether this tool is your best option.
Whether you're a professional chef or an ambitious home cook, you've most likely already heard about KitchenAid's popular range of food processing tools.
These products work like a collectible jigsaw puzzle: First, you buy some of the universal multifunctional stand mixers, and then you start gathering various attachment tools with all types of functions: slicers, shredders, pasta rollers, grinders, etc.
Today, we will focus on the product sold as KitchenAid KSMMGA, an all-metal food grinder attachment. Although this tool is quite versatile and works well with all types of food, it is mostly preferred for meat. So, is it worth the investment? Let's find out.
Key specifications of KitchenAid Meat Grinder Attachment
| | |
| --- | --- |
| Type of grinder | KitchenAid Meat Grinder Attachment |
| Grinding plates | Fine (3 mm), medium (4.5 mm), and coarse (8 mm) |
| Other accessories | Small (9.5 mm) and large (19 mm) sausage stuffer tubes, cleaning brush |
| Material | Aluminum (note: there is an older plastic version available too) |
| Color | Silver |
| Dimensions/weight | 8.8 x 5.5 x 8.4 inches/2.5 lbs |
| Latest price | Click here for the latest price |
Important note: Before you buy this meat grinding attachment, make sure that it fits your KitchenAid stand mixer type and model (which is sold separately)! 
Core features of the KitchenAid Meat Grinder
Now let's explore KitchenAid Meat Grinder in detail:
Construction and design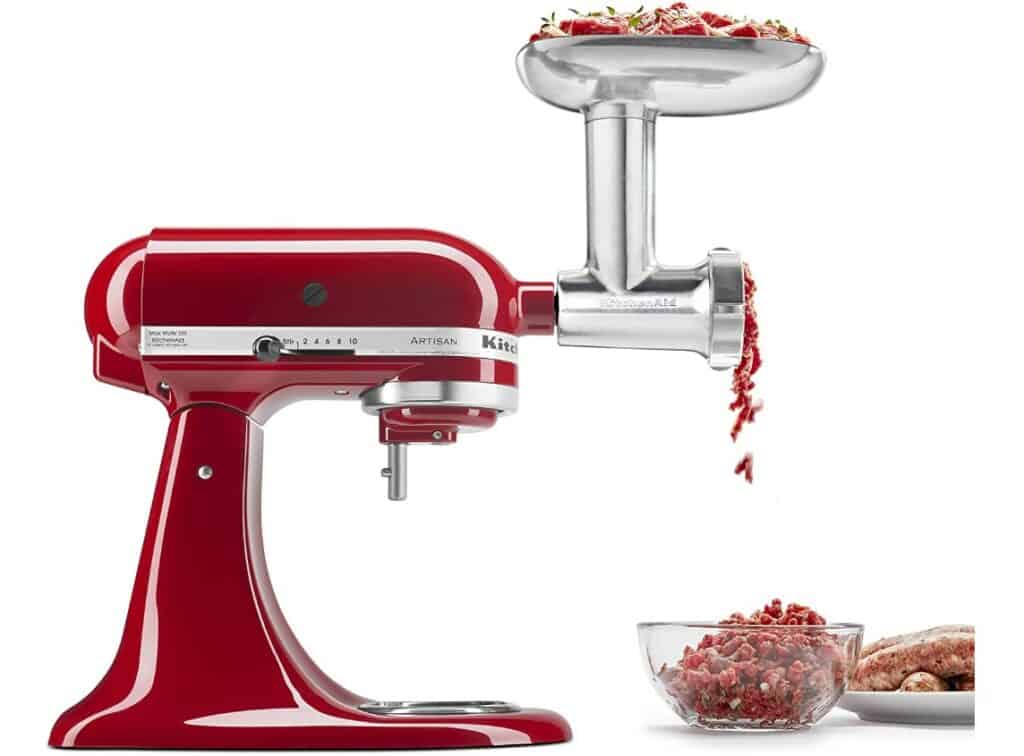 KitchenAid Meat Grinder sold under the product name KSMMGA is an all-metal grinding attachment designed to fit most of the currently sold KitchenAid stand mixers. This particular model was introduced first in 2018 to respond to the users' requests for a more reliable and durable alternative to the previously sold plastic grinder.
The all-metal alternative surely feels robust, sturdy, and durable. Nevertheless, it is made of aluminum instead of food-grade stainless steel, which means that you, for example, cannot wash it in your dishwasher, and it also can start fading over time (note: at least plastic parts of the set, including the pusher and sausage tubes, are dishwasher safe).
On the other hand, aluminum is less dense than stainless steel, which means that this grinder is very light (it weighs only 2.5 lbs).
To achieve the highest hygienic standards, the manufacturer suggests chilling this grinder in your freezer before every use – or you can store it in a freezer permanently in the provided storage case. You will also receive a practical cleaning brush with your grinder, which comes in handy when cleaning some larger debris and particles stuck inside the machine.
Functions and controls
Although we treat this product solely as a meat grinder in this review (since meat is our main concern on this website), this grinder attachment can also be used for any other food and food products, including fruit and vegetables. Any cost-conscious customer will surely appreciate this versatility since it eliminates the necessity to buy separate attachments for other types of food.
Whether you prefer fine or coarse grinding mode, your options with this grinder are extensive since it comes with three grinding plates ranging from 3 to 8 mm. The extra accessories also include two sausage-filling tubes with 9.5 mm and 19 mm in diameter.
Thanks to its large tray, this grinder can also easily accommodate a larger quantity of meat at once in comparison with some other grinders from the same class (and also in comparison with the older FGA model by KitchenAid).
When it comes to ease of use, KitchenAid products are, in general, considered to be very simple and convenient. For example, attaching the grinder to the separately sold power hub is absolutely straightforward as everything clicks in its place effortlessly. Just pick the grinding plate of your choice, put the grinding screw right into the grinder housing, and close the assembly with the blade and plate.
Finally, secure everything with the provided collar. Now you're ready to turn the mixer on and start feeding the grinder with your meat of choice.
Safety
KitchenAid products are thoughtfully designed to ensure the utmost safety of its users. The feeding tray is large and has high walls around it, so you definitely don't need to hold the meat in place with your bare hands when grinding it. All you will touch is a sturdy plastic food pusher and the main mixer with its control buttons.
If you approach this grinder with common sense and use it only as intended, you should be perfectly safe from any harm.
Reliability

KitchenAid produces versatile, user-friendly, and affordable kitchen machines intended for at-home use. Although they are made to last for a couple of years and can usually withstand even tougher tasks and manipulation, you shouldn't expect them to be as durable as their heavy-duty counterparts made for commercial kitchens.
Although I have not experienced any problems with this grinder attachment myself, I have repeatedly stumbled upon reviews from somewhat disappointed users who eventually had to return this product as it kept on clogging and wouldn't work as it should. Were they just using too large or hard chunks of meat? Didn't they assemble the machine correctly? I honestly can't tell, but I believe it is fair to mention these occasional complaints to provide you with the full picture.
Other than that, people using this grinder usually only complain about the fading color of the aluminum housing and the inability to wash it properly in a dishwasher.
The good news is that KitchenAid offers a one-year full warranty on its products valid from the date of purchase. According to those who have already taken advantage of this service, replacing faulty KitchenAid products within the warranty goes fast and smoothly.
Price
KitchenAid meat grinder attachment boasts a relatively modest price (for the latest price quote, click here). Nevertheless, don't forget that this product needs to be attached to the main power hub, which must be bought separately.
If you don't have the KitchenAid stand mixer yet and don't plan to use it for any other purpose besides the grinding itself, the value of this machine becomes a bit less attractive.
Pros of the KitchenAid Meat Grinder
Ease of use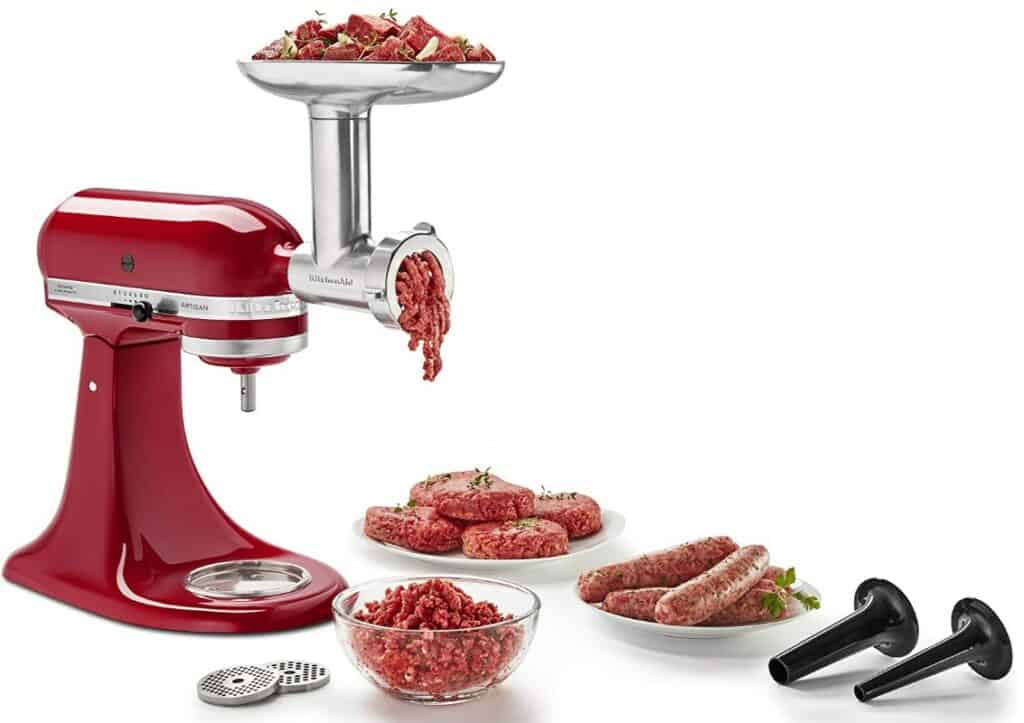 Compared with some professional-grade meat processing machines, KitchenAid products are always very thoughtful when it comes to ease of use. This meat grinder is no different – it's a perfect choice for beginners with no previous experiences. Its assembly takes only a minute or two, and everything fits well in its place. Each functional feature is also conveniently placed and shaped to fit into your hand smoothly. The main power hob is very user-friendly too, and all the controls are clearly marked and work effortlessly.
Light and easy to store
Unlike some of the robust commercial-grade meat grinders (e.g., the Weston 22 Meat Grinder we have reviewed recently), KitchenAid grinding attachment is relatively small, light, and easy to detach and store away after every use. It also comes with a nice storage case that can be put with the grinder directly into your freezer.
Durable materials
Unlike its predecessor, KitchenAid plastic grinder attachment FGA, this newer product is made of aluminum, which is much more durable. Some of the components are made of plastic (e.g., food pusher), but it seems very sturdy and reliable. In case anything breaks on your grinder within one year from the date of purchase, you are also covered by KitchenAid's comprehensive warranty policy.
Good value for money
If you already have the universal stand mixer from KitchenAid, getting this grinding attachment will not cost you much. But even if you have to buy the two together, I still believe this grinder is a good cost-conscious choice since you can use the mixer base for many other purposes in the future with minimal additional expenses.
Numerous extra accessories
This grinder comes with a full package of accessories that include three grinding plates (fine/medium/coarse), a cleaning brush, and two sausage stuffing tubes. This set of extra components allows you to use your grinder for many different purposes.
Cons of the KitchenAid Meat Grinder
It cannot be cleaned in a dishwasher
When you are working with raw meat in your kitchen, hygiene is essential, and there is probably no safer way to clean your kitchen tools than putting them in your dishwasher. Unfortunately, this meat grinder is made of non-anodized aluminum, which is not dishwasher-safe. Moreover, some users report that it tends to darken even when washed with warm water.
Potential issues with reliability
Although this grinder reportedly performs flawlessly on most occasions, some users report they could not use it properly at all because it immediately clogged and couldn't cope with the meat of their choice at all.
It needs to be paired with a KitchenAid stand mixer
Some people order this grinding attachment without realizing that it cannot be used on its own – you must buy a separate (and compatible, of course) stand mixer first and attach the grinder to it to make it work. If you already have another stand mixer and don't have any other use for a new KitchenAid power hub, this might be a dealbreaker for you.
Are there any alternatives?
Not convinced about this product? Here are some attractive KitchenAid meat grinder alternatives we recommend trying instead:
Altra Electric Meat Grinder 3-in-1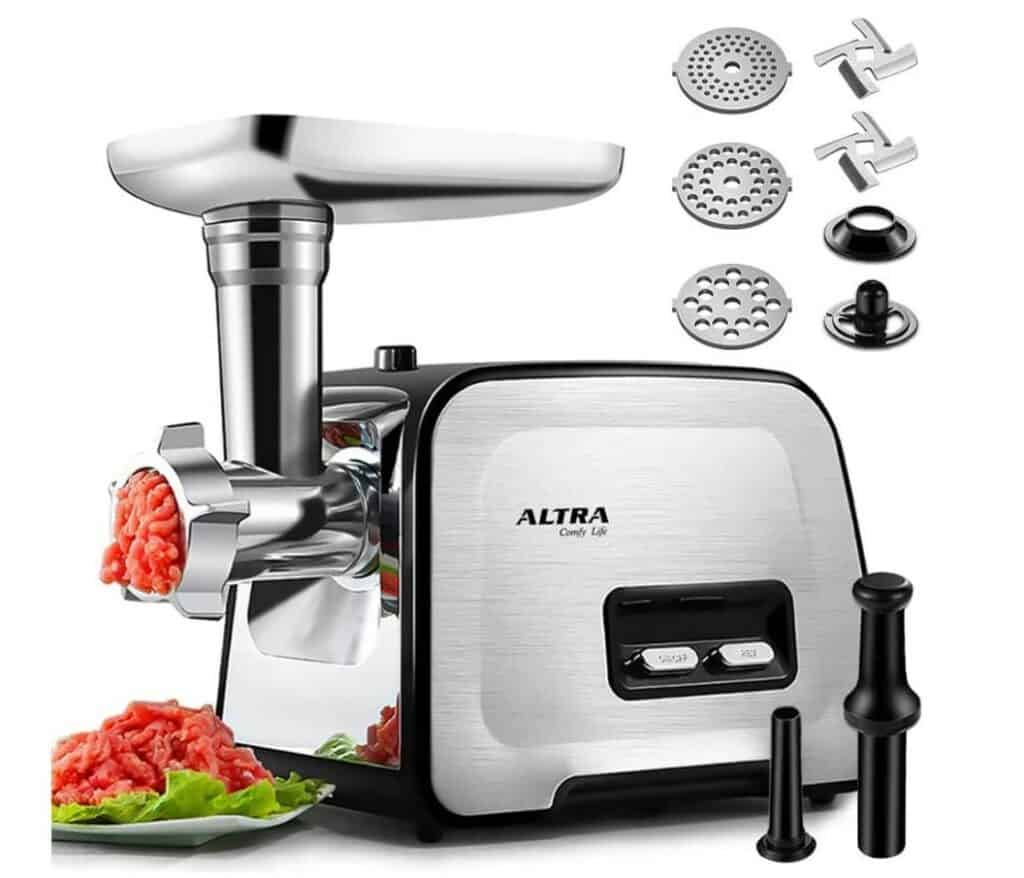 Altra Electric Meat Grinder is an affordable multifunctional meat mincer and sausage stuffer equipped with a 350 – 2000 W engine with reverse mode and numerous extra accessories. It is reportedly able to produce up to 2 pounds of ground meat in a minute.
This grinder is made of three-layer reinforced stainless steel, thick aluminum alloy, and top-quality ABS. It is recommended for at-home use or small businesses.
LEM Products Big Bite .35 HP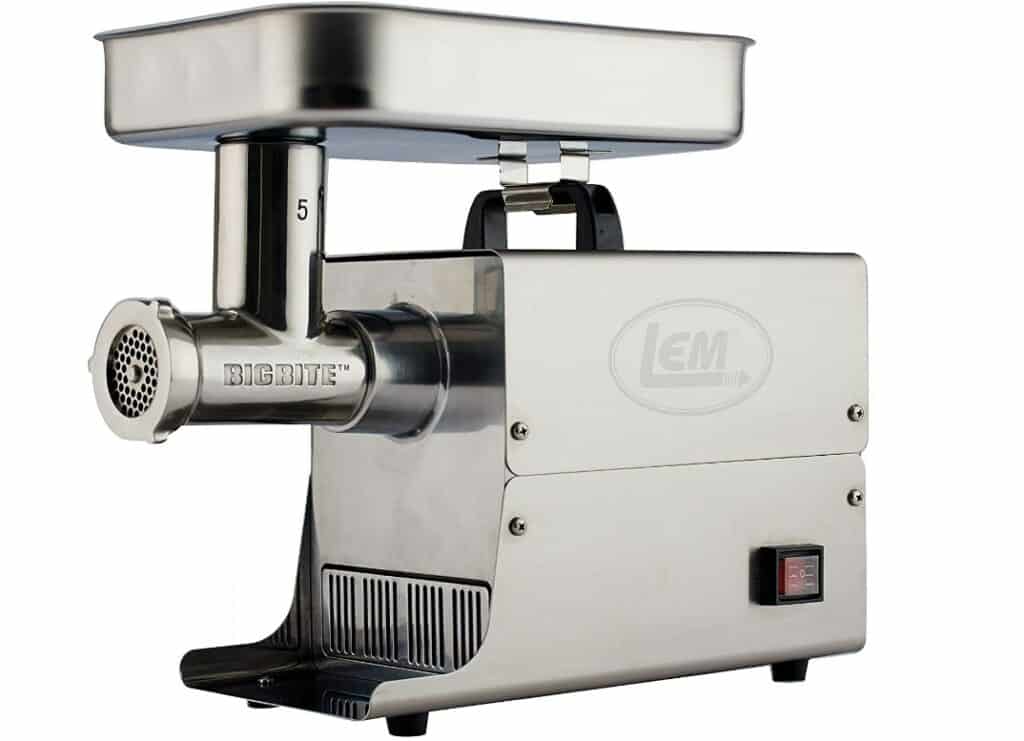 LEM Products is a reputable producer of commercial-grade kitchen machines, and their Big Bite range of meat grinders can be found in many professional kitchens worldwide. However, if you want to enjoy their quality and functionality at an affordable price, try Big Bite .35 HP electric grinder, which is perfectly suitable for occasional at-home use.
It is made of stainless steel and shipped with a wide array of practical accessories. It will cost you only slightly more than the KitchenAid stand mixer with the grinding attachment.
Frequently Asked Questions
Question: Can the KitchenAid meat grinder attachment grind bones?
Answer: KitchenAid meat grinder might have problems with larger and harder pork or beef bones, but it should work very well with softer chicken bones. The most important factor is whether the bone fits inside the grinder tube. If it doesn't, you shouldn't force it in because it might get stuck.
Question: What can I do with the KitchenAid meat grinder?
Answer: This grinding attachment is perfectly versatile and can be used for all types of meat, fruit, vegetables, hard cheeses, and many other food types and products. Thanks to its three grinding plates, you can choose fine or coarse grinding modes depending on the recipe you are following. This grinder also comes with two sausage-stuffing tubes.
Question: What size is a KitchenAid meat grinder?
Answer: KitchenAid meat grinding attachment measures 8.8 x 5.5 x 8.4 inches and weighs 2.5 lbs. It comes with three grinding plates ranging from 3 to 8 mm.
Final Thoughts: A good choice for cost-conscious at-home cooks
Grinding your meat at home is a perfect way to prepare your own burgers, sausages, meatballs, or even top-quality food for your pet dog. The good news is that thanks to affordable machines like KitchenAid Meat Grinder, you don't have to spend hundreds of dollars on a top-class meat grinder to achieve great results. This machine (when combined with the KitchenAid stand mixer) offers great value for money and versatile functionality.
On the other hand, it also has some less desirable aspects. For example, many customers will probably be put off because it cannot be washed in a dishwasher. Some might also worry about its reliability.
All in all, I believe that this grinder is still worth it, especially if you already own some other KitchenAid equipment that can be paired with it. In any case, you will be covered by KitchenAid's warranty for the whole first year after the purchase.
Need more advice on finding the best meat-processing equipment? Check out our guide to finding the best smoker!