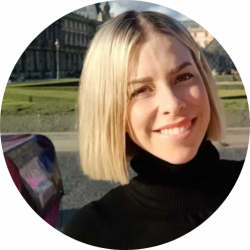 Latest posts by Jodie Chiffey
(see all)
If you're on the hunt to find the best meat cuber, this article will help.
Have you ever dug into a steak that gently gives way to your knife and fork, glides through your teeth, and softly slides down your throat? Eating good meat is an experience that one does not soon forget. Any good cook will tell you the secret to such kind of meat is the cubing process.
Since meat is literally the muscle of an animal, it can be quite tough. This is especially so if the animal you are consuming is active, for example, game meat. Cooking it as it is, leads to tough meat that is chewy at best and inedible at the other end of the spectrum. As a matter of fact, this kind of meat can choke you on the way down.
Cubing is a process that involves passing a cut of meat through blades. This massages the meat, gently softening it. Meat that has gone through this process is a joy to cook and eat. There is a wide selection of cubers that can produce this effect. We have selected 7 of the best meat cubers and outlined their features for you, including their pros and cons.
At a Glance: 7 Best Meat Cubers
| | | | | |
| --- | --- | --- | --- | --- |
| Name | Dimensions | Best for | Weight | More Info |
| Weston Heavy-Duty Cuber | 6.75" x 13.5" x 13.75" | Heavy-duty, commercial cubing | 10lbs | Find out more |
| Buffalo Tools SM07492 Meat Cuber | 8" x 3.5" x 10" | Cubing different types of meat | 3.84lbs | Find out more |
| Bold XL Meat Tenderizer | 6.69" x 2.09" x 4.92" | Dishwasher cleaning | 7.2oz | Find out more |
| Killer's Instinct Meat Cuber | 11.57" x 7.91" x 3.5" | Home use | 4.8lbs | Find out more |
| Colibrox Commercial Meat Cuber | 10.08" x 8.78" x 3.35" | Cubing thin meat cuts | 5.84lbs | Find out more |
| LEM Products Meat Tenderizer | 10.1" x 8.4" x 3.7" | Professional-level cubing | 6.05lbs | Find out more |
| Hakka Brother Meat Tenderizer | 11" x 9.2" x 6.6" | Cubing larger meat cuts | 12lbs | Find out more |
Meat Cuber Selection Criteria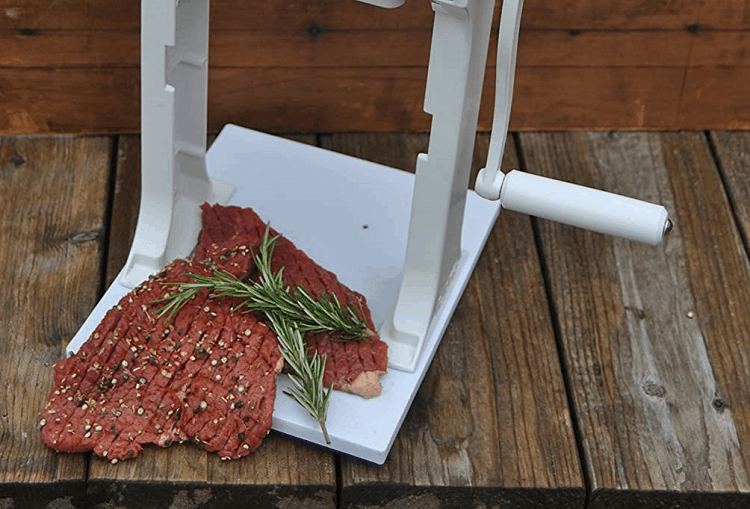 For any meat lover, a meat cuber is a must-have in the kitchen. The benefits of this equipment make choosing it one of the most important things you can do. Check out our guide on the Best Butcher Tools and Meat Processing Equipment for more.
Regardless of your tastes and preferences, there are certain boxes that any good meat cuber should check. It is with that in mind that we made a list of 7 of the best meat cubers with the following characteristics:
Quality Construction
Food-safe design is essential for your meat cuber. All parts that come into contact with meat have to be up to food safety standards. Additionally, you should be able to comfortably cube all types of meat without the cuber coming apart. It is with these considerations that we picked the meat cubers on our list.
Easy to Operate
Whether it is operated manually or electrically, it is necessary that the operation of a meat cuber is simple. We have picked cubers that do not require too much assembly before you can use them. The ones that have a crank handle can be easily turned so that you do not spend too much effort cubing your meat.
Ease of Cleaning
Like everything else in the kitchen, a meat cuber should be easy to clean. Our selection is made up of cubers that are easy to dismantle and clean. Many can be cleaned in a dishwasher.
However, if hand washing is your preferred method, you can rest assured that you will reach all the parts, so your meat cubing is hygienic all the time.
Reasons to Buy a Meat Cuber
Better Taste
Cubing meat is a great way of tenderizing it. Tender meat is less resistant to penetration of flavor. By cubing, you break down the muscles in the meat. This way, when you marinate it, the different flavors can truly enter and truly seep into the food.
Faster Cooking
Since cubing breaks down the muscle in the meat, its resistance to heat is reduced. Tender meat is more accepting of heat penetration. This significantly reduces what could be hours of cooking or smoking meat while still giving you soft, juicy, flavorful meat.
Easier Digestion
Cubing softens the muscle fibers of the meat, making it easier to chew. In addition, cubed meat passes through the digestive tract easier, making it possible to absorb all the nutrients you need from your food.
Tips for Using a Meat Cuber
Dedicate a Cubing Area
Meat is a delicate type of food, and it is important that its preparation happens in a properly sanitized area. Cubing can get messy because juices and blood can spatter on the objects closest to the machine. Creating a lot of space on your countertop or work area for cubing will reduce cross-contamination and make the cleanup process easy.
Mind the Size
Cubers do not accommodate limitless sizes of meat cuts. Home cubers often take a certain thickness and width of cut. Read the manual to understand what your cuber can handle, and make sure you adhere to it. Forcing larger pieces through the cuber will get you nowhere and might end up damaging the machine.
However, you do not have to cut your meat to a particular shape to cube it. Cubers will accept any type of meat cut as long as they are in the correct size.
Clean After Use
Cubing is among the first steps in cooking meat, so it is easy to forget about the cuber once you are done. Before you move on to other aspects of cooking, dismantle your cuber and soak it in warm water. This ensures that any pieces stuck in the blades of the cuber are loosened and dislodged.
Never put off properly cleaning your cuber because meat pieces can get stuck in hard-to-reach areas, decay, and contaminate any future food you cube.
7 Best Meat Cubers
Weston Heavy-Duty Cuber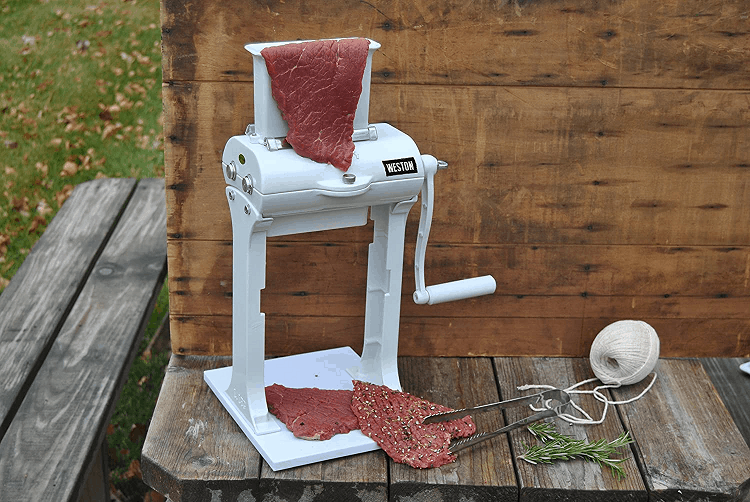 We kick off our list with this combination of meat tenderizer and cuber from Weston. The Weston Heavy Duty Meat Cuber is made from cast aluminum.
This is a strong metal that ensures the longevity of the cuber. It is also coated with a food-grade material to enhance its durability. A crank handle that can handle the intense operation of the cuber is attached.
This cuber is designed to stand on a counter or workbench. For this purpose, it has a strong base that can withstand heavy-duty use. It comes with 2 C-clamps that attach to the edge of a counter that is up to 1.5 inches thick. This provides you with the extra support needed for safe operation.
The Weston Meat Cuber earns its heavy-duty reputation. It features 31 tenderizing blades, all made from stainless steel. This makes it easy to soften even tough game meat. Passing cuts through the blade twice gives you cubed pieces. The cuber comes apart so you can properly clean the parts to maintain food hygiene. Check out our Weston 22 meat grinder review for more options.
Pros
It is made from durable, food-safe aluminum.
It is covered in powder coating to enhance strength.
It features a flat base with C-clamps for sturdy operation.
It has two pairs of 31 stainless steel blades for fast action.
It is easy to dismantle and clean.
Cons
Disassembling it for cleaning and putting it back together can be difficult.
Buffalo Tools SM07492 Meat Cuber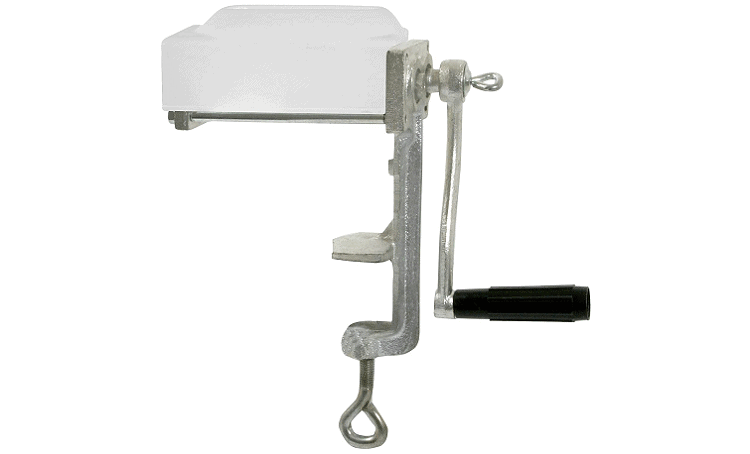 This Buffalo Tools Meat Cuber promises to save you the effort of cutting and pounding on your meat to get it how you like it to be. With hundreds of rave reviews, it seems this cuber manages to do just that.
The Buffalo Tools SM07492 Meat Cuber is made from food-grade cast iron. This is a strong material that can withstand a lot of use without breaking down.
The blades of this meat cuber are designed to cube meat that is up to half an inch thick. This can accommodate cuts from different types of meat, from beef to pork to venison. The width is around 4 inches, which is great for most meat cuts. The strong metal blades can cut through even tough meats without little problem.
This is a clamp-on meat cuber that attaches to a counter or tabletop. You can operate it using the attached metal crankshaft that has an ergonomic plastic handle. There is also a safety guard at the top that protects your fingers from the blades while the cuber is in operation.
Pros
It is constructed from durable, food-safe cast iron.
Metallic blades can tenderize even the toughest of meats.
Can handle meat cuts that are up to 4 inches in width.
It is covered with a plastic guard to protect finger slippage.
A clamping base offers stability when the cuber is in use.
Cons
It does not work for thicker meat cuts.
Bold XL Meat Cuber and Tenderizer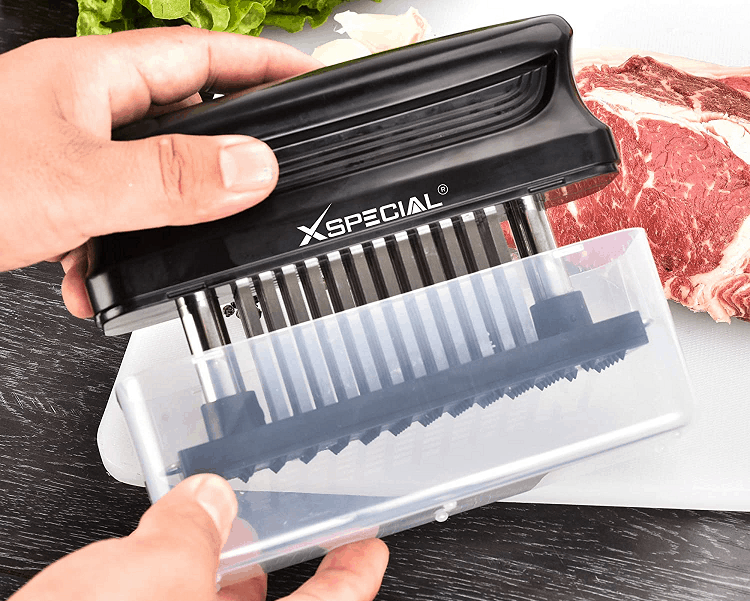 The Bold XL Meat Tenderizer features a unique design that is unlike others on our list. It is a handheld meat cuber whose body is made from sturdy plastic material. This is a food-grade material that keeps your food protected from harmful chemicals.
This cuber has a simple grip with an ergonomic design. This allows you to have full control over the tenderizing and cubing process. Its ergonomic design reduces strain on your palm and wrist. It can be easily used by people with joint pain due to injuries or arthritis.
The Bold XL is equipped with 60 stainless steel blades. It can easily pass through cuts of different sizes so you can tenderize and cube meat to your liking.
This cuber is easy to dismantle and wash. It fits nicely into the top rack of your dishwasher for proper cleaning. And when not in use, there is a safety cover to keep the blades away to prevent accidental cuts.
Pros
It is ergonomically designed to enhance comfortable handling.
Features multiple layers of stainless steel blades for efficient cubing.
It is made from food-safe, BPA-free durable plastic.
Dishwasher safe for proper cleaning.
It comes with a tough cover that protects from accidental cuts.
Cons
The middle row of blades can be hard to clean manually.
Killer's Instinct Meat Cuber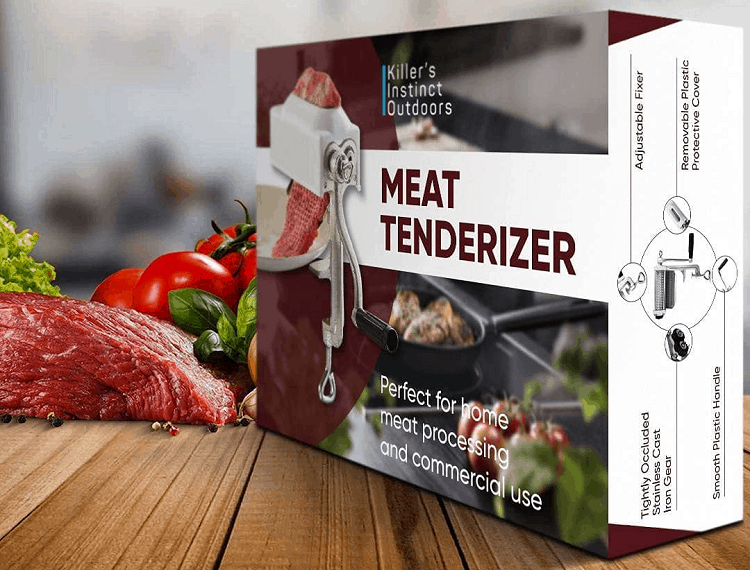 This meat cuber promises to enhance the flavor of your meats, making it easier to marinate and cook them. Killer's Instinct Commercial Meat Cuber is made from quality aluminum. It also has a thick ABS protector that protects your fingers from the blades when in operation.
You can fit meat that is up to half an inch thick through the blades of the tenderizer. This allows you to cube different types of meat, whether it is poultry, beef, or even game meat. It also has a crankshaft handle so you can easily operate the cuber. The ergonomic handle protects your hand as you work.
The meat cuber from Killer's Instinct has a clamping design. The bottom section is a C-clamp that easily attaches to a kitchen countertop or table. The heavy-duty construction gives this cuber the ability to withstand heavy-duty use. It is also easy to hand wash so you can keep your food hygienic.
Pros
It is made from high-quality, durable aluminum.
Uses an ergonomic crankshaft handle to cube meat.
Blades are covered by heavy-duty plastic to prevent accidents.
Features a clamping base design to enhance stability when in use.
It is easy to clean up.
Cons
Its height makes it difficult to collect meat in a bowl as it goes through the cuber.
Colibrox Commercial Meat Cuber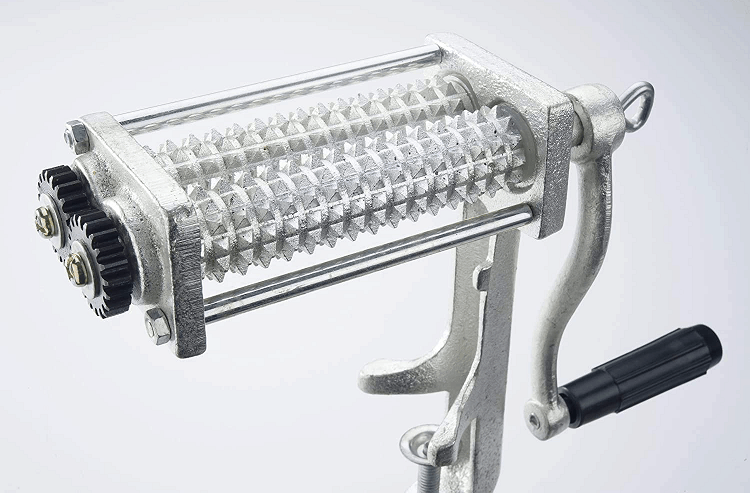 The Colibrox Meat Cuber is optimized for commercial operation. It is a clamping cuber that attaches to the average counter or tabletop. This holds the machine steady so you can tenderize as much meat as you need without it tipping over.
This meat cuber is made from aluminum. This makes it strong and durable, suitable for commercial use. A crankshaft handle with an ergonomic handle makes it easier to operate at your own speed. All the parts that come into direct contact with food are made from food-safe material that does not imprint or leach onto your meat.
There is a plastic cover above the blades of the cuber. This is strong and protects your fingers from going through the blades as you work. You can work at your own pace to make your meat cuts tender and stripped the way you like them.
Pros
It is constructed from high-quality, durable aluminum.
The manual crankshaft handle is optimized for heavy-duty meat cubing.
All-round food-safe construction guarantees food hygiene.
Heavy-duty blades are designed for both domestic and commercial use.
Strong plastic cover protects fingers from blades.
Cons
It does not work well on chicken meat.
LEM Products Meat Cuber and Tenderizer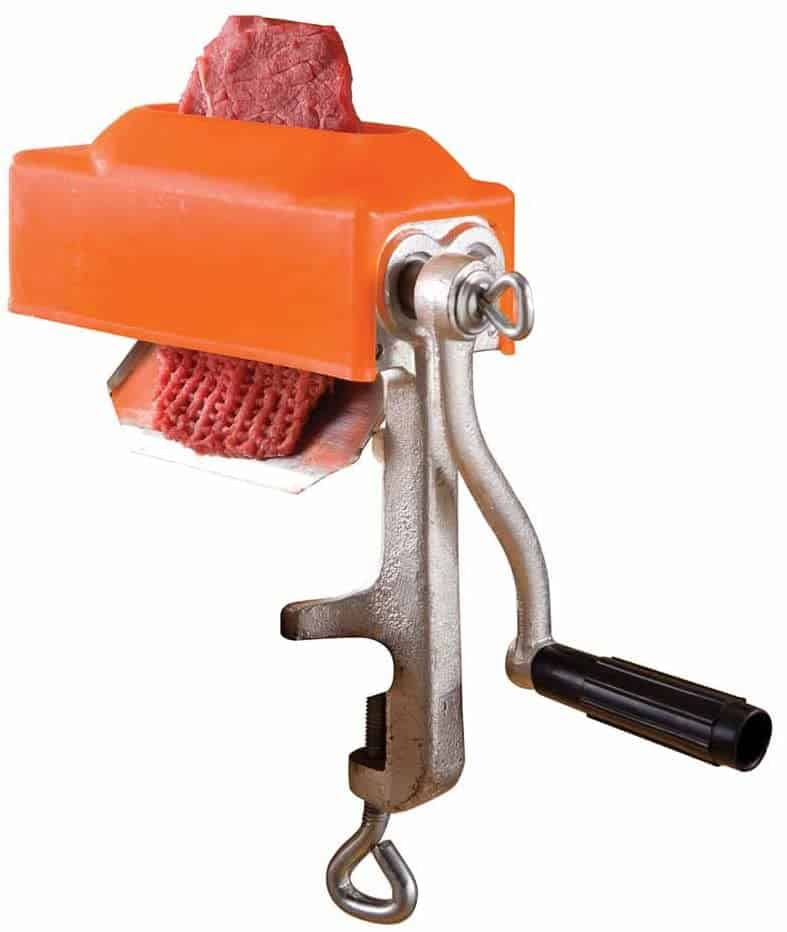 We all know about the strength and durability of cast iron cookware. Meat cubers constructed from this metal are no different. The 656 Meat Tenderizer from LEM Products features two rollers lying side by side, both made from cast iron.
They are each lined with teeth at short intervals so they can swiftly handle the toughest of meats without a problem. Metallic gears hold everything together so that the cuber does not break mid-operation.
To make it easier for you to work the machine, this LEM Meat Cuber features a crankshaft handle made from the same material. The grip of the handle is made from ergonomic plastic so you can comfortably work the equipment. A top cover made from food-safe plastic keeps your digits safe from the cuber while you work.
This meat cuber takes meat cuts that are up to half an inch thick and up to 4 inches wide. It is a clamp meat cuber that can be easily adjusted to suit a countertop or tabletop. It acts as both cuber and tenderizer so you can enjoy soft, juicy meat. Check out our review on the LEM 12 Meat Grinder here.
Pros
It is made from highly durable, food-safe cast iron.
Two rows of interlocking blades make for swift meat cubing.
The clamping base eliminates cuber movement when in use.
An ergonomic handle protects the hand from injury when cubing.
Easy to clean.
Cons
It cannot handle large meat cuts.
Hakka Brothers Meat Tenderizer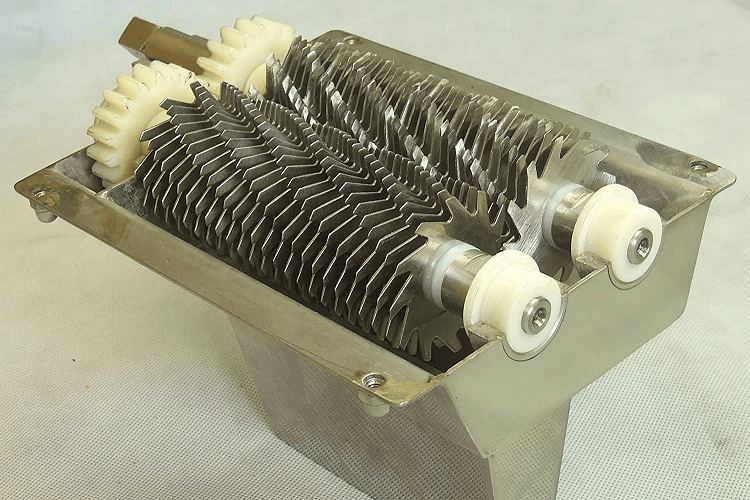 Hakka Brothers have a reputation for making some of the best meat handling equipment. This meat cuber and tenderizer are no different. It is made entirely from stainless steel, so you can comfortably cube all your meat without breaking any of its parts.
All parts of the Hakka Brothers Meat Tenderizer that directly contact food meet SGS food safety standards. To increase the swiftness of cubing, there are two rows of 27 blades made from stainless steel. The rotating arrangement of these blades makes it possible to cube cuts up to 5 inches in width.
This meat tenderizer is optimized for ease of operation. It has a metal crankshaft so you can tenderize and cube meat at your own pace. A plastic handle keeps your hand comfortable as you work. It has a U-shaped base that helps it sit sturdily on a surface so you can operate it safely.
Pros
It is constructed from heavy-duty stainless steel.
It meets SGS food safety standards.
A total of 54 stainless steel blades effectively cube the meat.
It can hold meat cuts that are up to 5" wide.
A unique U-shaped base enables safe, sturdy operation.
Cons
Cleaning food from between the teeth is difficult.
Frequently Asked Questions
Question: When is the Best Time to Cube Meat?
Answer: The goal of cubing is to make the meat soft enough so it cooks quickly and adequately. Cube your cuts before broiling, frying, or grilling. This helps loosen the fibers so that your meat can properly absorb heat and cook evenly.
Question: Should I Marinate the Meat Before Cubing It?
Answer: You can cube meat before and after marinating it. Marinating after cubing helps flavor penetrate deeper into the meat for a tastier meal. However, marinating meat in salt and lemon juice beforehand helps tenderize it before you start cubing. This makes the cubing process easier and infuses the salt and citrus flavor deeper into the meat.
Question: How do I Properly Clean My Meat Cuber?
Answer: Once you are done cubing your meat, dismantle the parts of your cuber and soak them in soapy water. This helps loosen any stuck pieces of meat to make them easy to dislodge. You should then use dishwashing soap with a soft brush to clean the cuber. Ensure it is completely dry before storing it, ready for the next use.
Which is the Best Meat Cuber?
The Weston Heavy Duty Meat Cuber takes the cake when it comes to the best meat cubers. It is constructed so that it makes quick work of cubing your meat. A heavy-duty handle, sturdy base, and sharp blades make it a joy to use when tenderizing meat. Hundreds of users have loved it over the years, and you are sure to love it too.
Further Read:
How to Find the Best Meat Slicer
7 Best Commercial Meat Tenderizer Tools: Pros and Cons