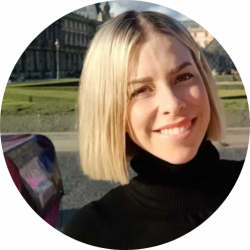 Latest posts by Jodie Chiffey
(see all)
What are the best commercial meat tenderizers?
Whenever you're cooking something at home there's sure to be lots of tools you need to help you make your meal. If you're cooking with meat chances are you might need a meat tenderizer to help you work with it. However, there are all kinds of tenderizers out there for you to choose from. Some of them are simple hammers, others might be more complicated machines, while others still might be electric. It can be a complicated process to decide which tenderizer is right for you. If you want some help with that decision process, go ahead and read on.
How to decide on the best tenderizer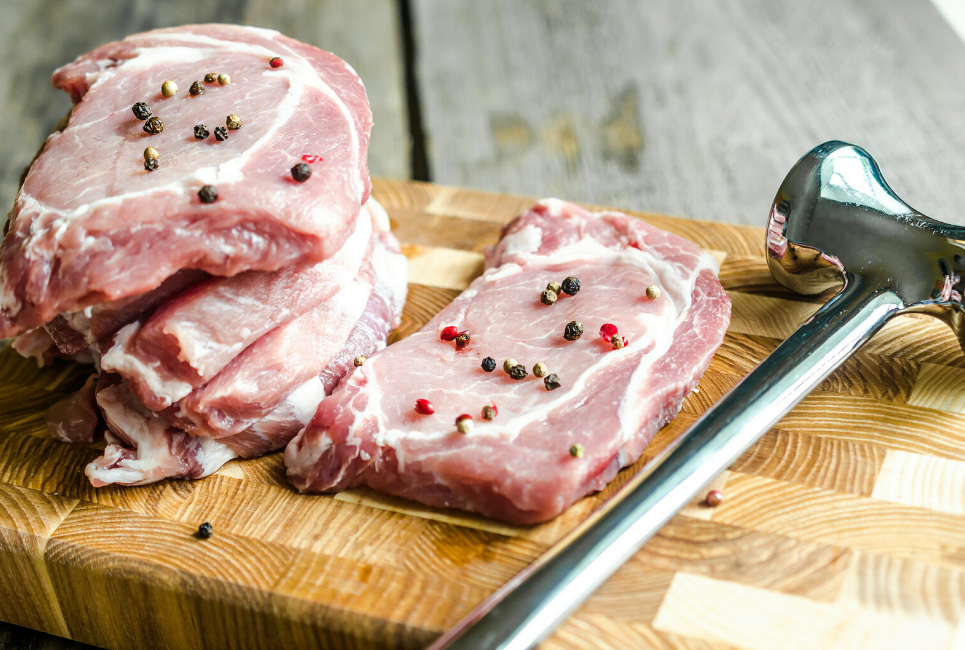 Ultimately, the right tenderizer depends on your own needs, abilities, and budget. The good news in this is that, no matter what you're looking for, there's sure to be a good tenderizer out there that can suit your needs. In general though, there are three basic criteria you can use to judge whether or not a tenderizer is a good fit:
Price
As with any product you want to buy, make sure it's affordable above anything.
Durability
Make sure the tenderizer has the ability to last a long time.
Effectiveness
Naturally, you'll also want to make sure that your tenderizer is actually good at tenderizing.
Be sure to keep these three things in mind whenever you decide to buy your tenderizer.
The Different Types of Meat Tenderizer
As mentioned before, there are several types of meat tenderizer out there that you can choose from. In order to make it easier for you to decide which type would work best, here is a listing of those types and the differences between them:
Mallet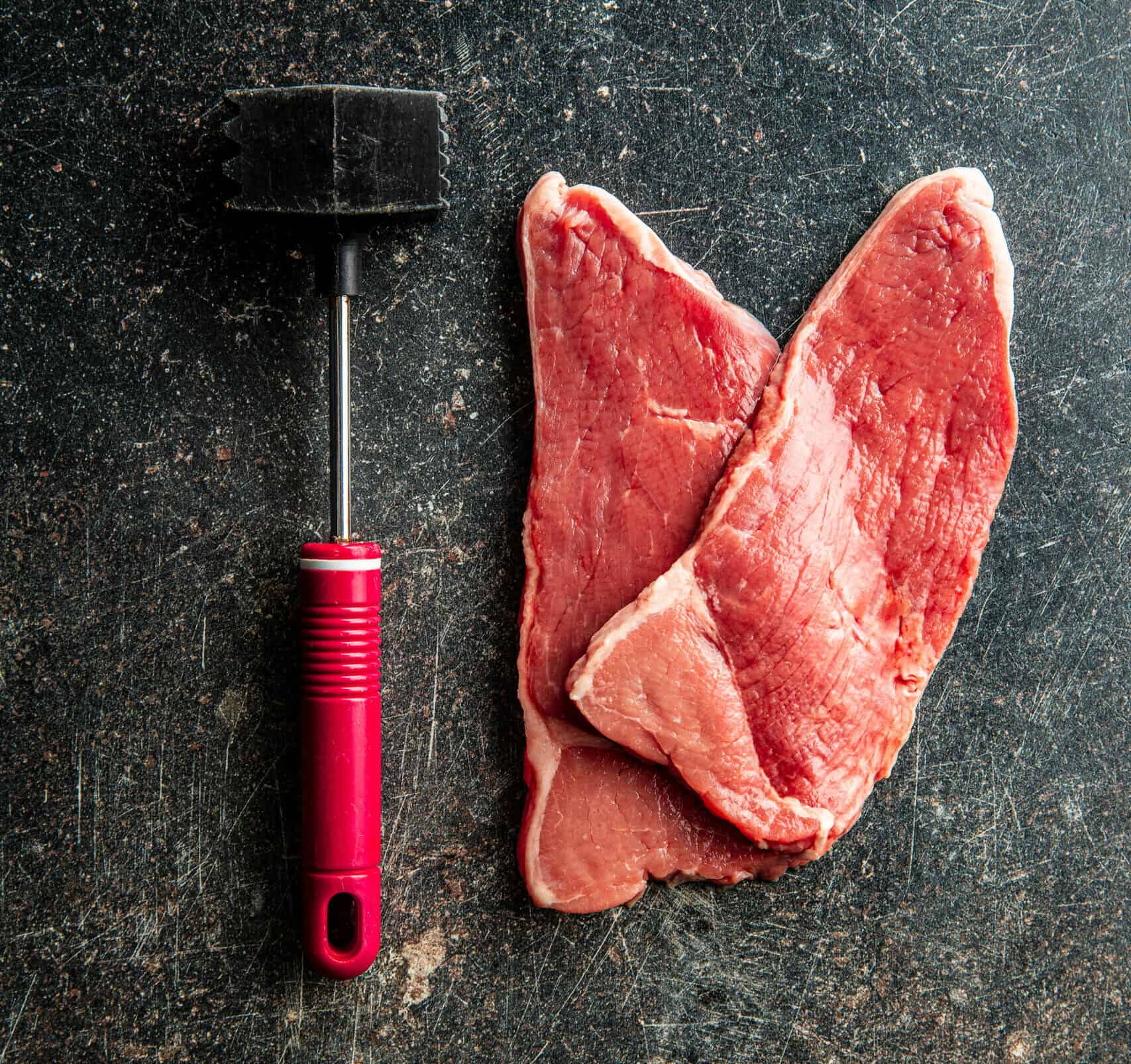 This is the most basic and most common type of meat tenderizer you can buy. It is generally made of a simple metal or wooden pole with a cubic head. Often times it will come with a side that is flat and a side that is spiked so you can use either depending on your preference. Using it is simple as you only need to hammer the meat repeatedly until it's at the level of tenderness you want. In addition to being the most common, mallets are also the cheapest type of tenderizer.
Blade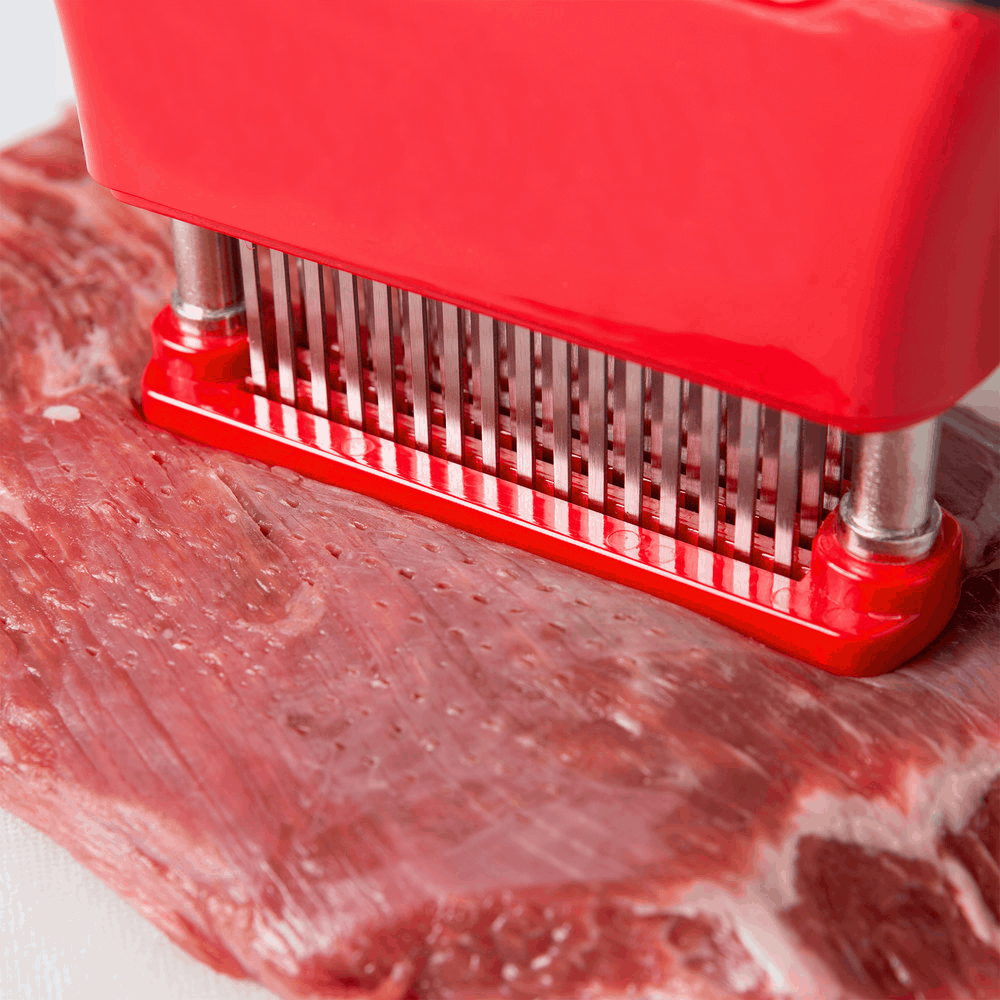 After the mallet, the blade is the second most common type of tenderizer. Also like the mallet, a blade tenderizer is often times fairly cheap. This tenderizer consists of two simple parts. The first is the grip, similar to how you might hold a clothes iron. The second part is the blade itself, or rather, blades. Rather than simply flattening the meat, these elongated spikes are pressed down into and pierce it instead.
Hand Crank

These tenderizers are a bit harder to come by compared to the previous two. However, many major retailers should carry them. Working it may take a bit more time to adapt to compare to a blade or mallet but is ultimately simple to use as well. Normally it will consist of two steel cylinders pressed together with the attached hand crank. Some models may have spikes attached to the cylinders. In order to use it, simply stick a piece of meat in between the two cylinders and use the crank to pull it through the other side.
Electric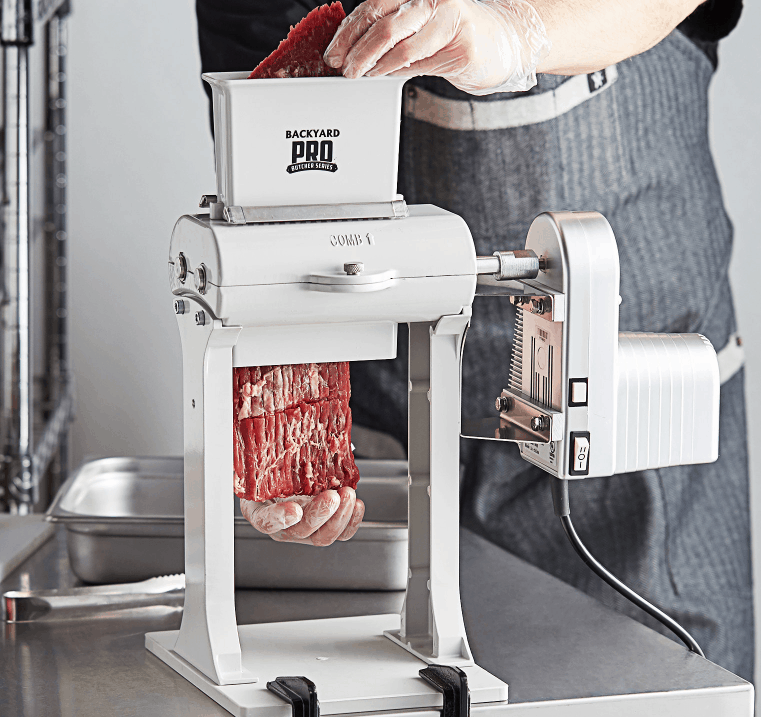 This is the most expensive type of meat tenderizer. How it looks and operates depends on the specific make and model you buy. However, many of them operate in a manner similar to the hand crank model of tenderizer. That is, putting the meat through a pair of crushing instruments which flatten it. The electric model is a good idea if you are buying a tenderizer for professional purposes.
Best Commercial Meat Tenderizer Tools: Top Picks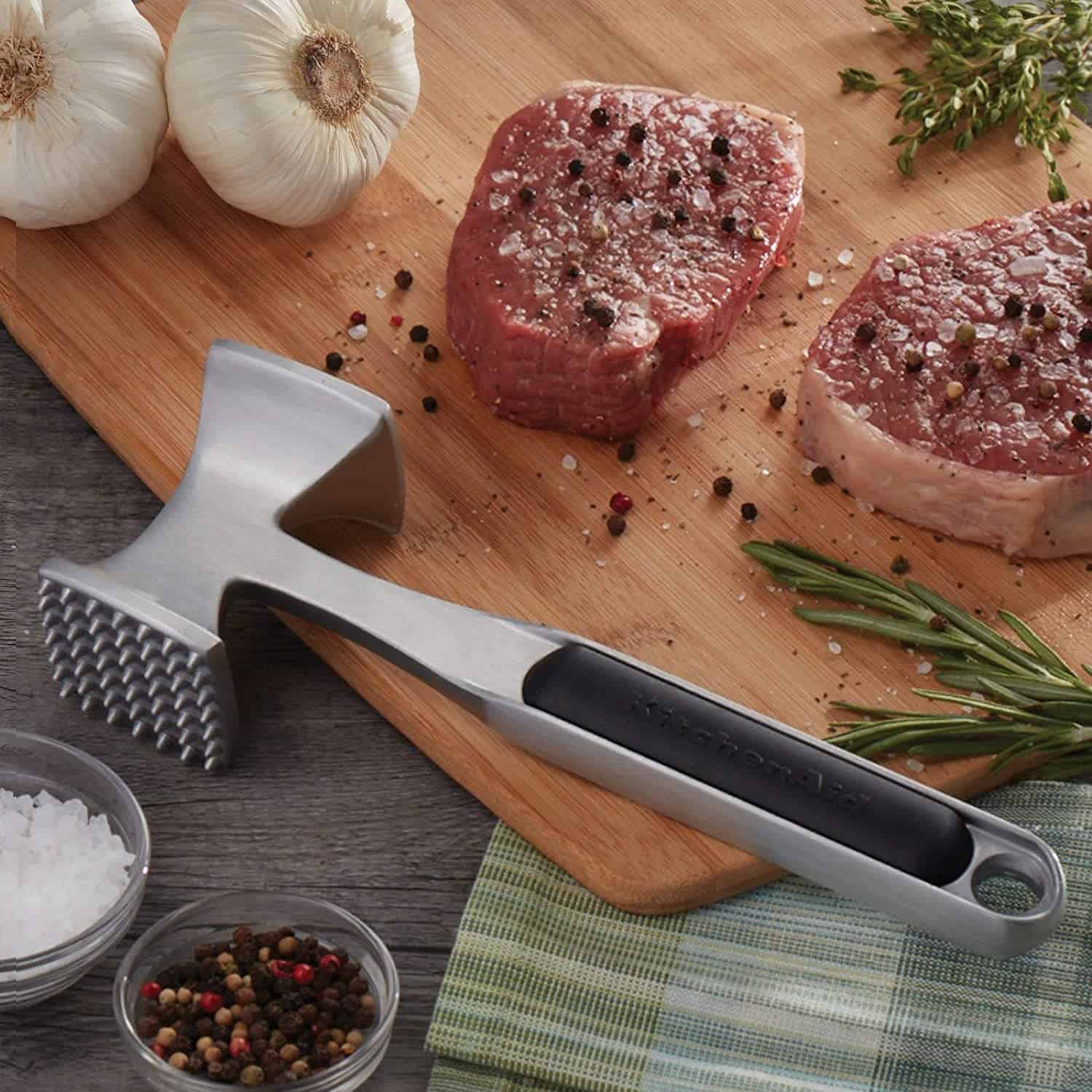 When it comes to the best choice for a mallet type tenderizer, you ideally want to go for the KitchenAid Gourmet Meat Tenderizer. This classic aluminum-made mallet is ideal for any kind of meat you want to tenderize.
Like many of the best mallet tenderizers, this mallet comes with two different sides: one that is flat and another that's spiked. It's best to use the flat end for flattening the meat in addition to simply tenderizing it. With a 3.42 inch head width, it provides plenty of covering space during use.
The KitchenAid also comes built with an easy-to-grip handle with a hole in the bottom end that you can use to hang it up on a rack rather than store in a drawer or cupboard. At only $15.99 this easy to use mallet can be essential for any home kitchen tool kit.
Pros
Sturdy
Cheap
Easy to store
Comes with 1-year warranty
Cons
Cannot be used in the dishwasher

If you can't find a KitchenAid mallet in stock anywhere, or you would prefer to buy a different mallet instead, you can also try out the OXO Good Grips Meat Tenderizer. In many ways, it's just as good at the KitchenAid.
Just like the KitchenAid, it has a classic steel mallet design with a flat surface side and another that's spiked so you can choose which way you'd prefer to tenderize your meat. Unlike the KitchenAid, however, the OXO is made from plastic with a steel core.
It also shares with the kitchen aid an ergonomic handle with a hole for storing. What's more, is that the OXO can be used in the dishwasher which makes it a bit easier to clean. Unfortunately, this model does not come with a warranty which means you will have to buy a new one if it gets damaged or misplaced.
Pros
Environmentally friendly
Dishwasher safe
Cons
No warranty
Angled surface may make pounding harder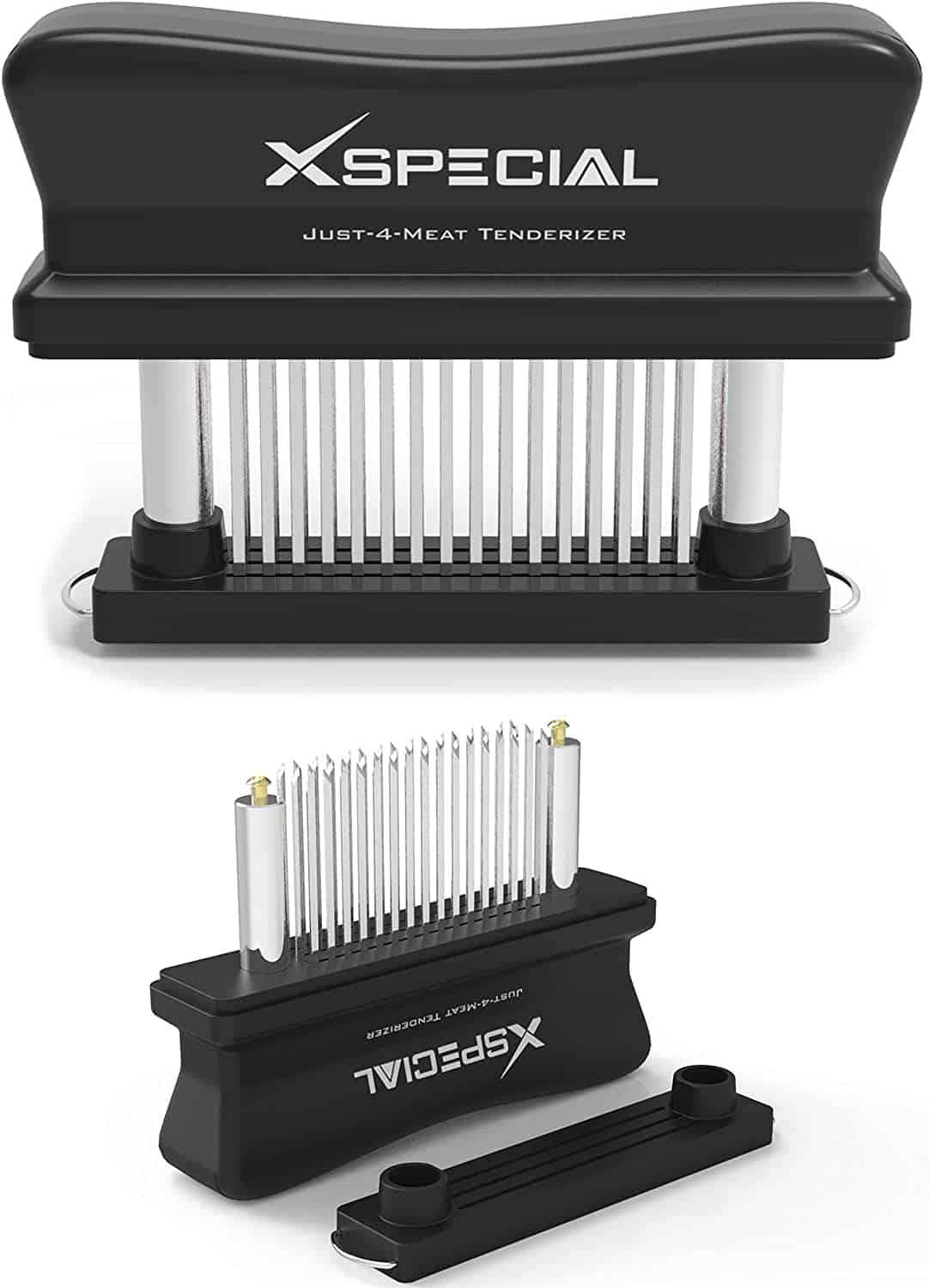 There is a bit more variety in terms of size and functionality of blade tenderizers but overall the best one to buy right now is the XSpecial Meat Tenderizer Tool. With a set of 48 puncture blades equipped, the XSpecial can easily tenderize your meat in seconds.
Since the blades are made of stainless steel, it's a tool sure to last you a good length of time before any kind of noticeable rust or damage. In addition to this, the purely plastic handle is also sturdy and able to hold up for a long time.
Not only is the XSpecial easy to use, it's also been made easy to clean. The detachable handle can be taken off from the blades so you can either do a deep clean by hand or put them both in the dishwasher.
At $22.99 it's a bit more expensive than other models of blade tenderizer but those extra few dollars are worth it in exchange for one of the best products on the market.
Pros
Ease of use
Easy to clean
Sturdy design
Cons
Costlier than other models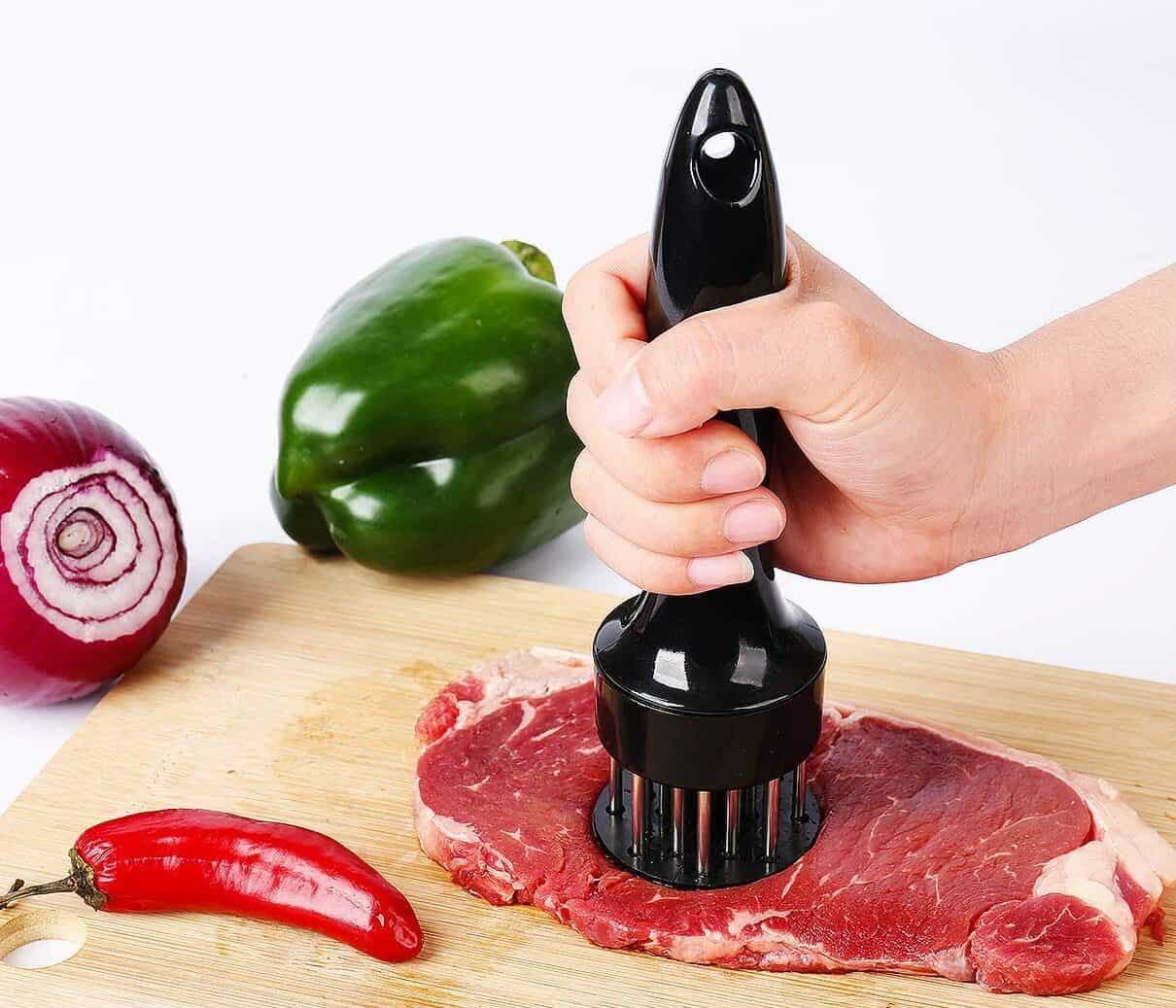 While the XSpecial is overall a pretty good item, others may want to opt for a smaller and easier-to-grip type of blade tenderizer. For those who think this type of blade sounds appealing, the best option is definitely the Vovoly Meat Tenderizer Tool.
At only 24 blades the Vovoly has half the size of the XSpecial but that doesn't mean it lacks the cutting power. While the XSpecial is long and oblong shaped, the Vovoly has an easy to grasp hammer-like handle with a flat circular head.
Like the XSpecial though, the Vovoly is also very easy to clean and is also dish washer friendly. Its plastic handle and stainless steel blades are extremely durable in water.
What might be the nicest thing about the Vovoly is that it is extremely cheap at only $6.99. So, if it ever gets lost or damaged, it shouldn't be too much to get another one.
Pros
Very cheap
Easy to clean
Comfortable grip
Cons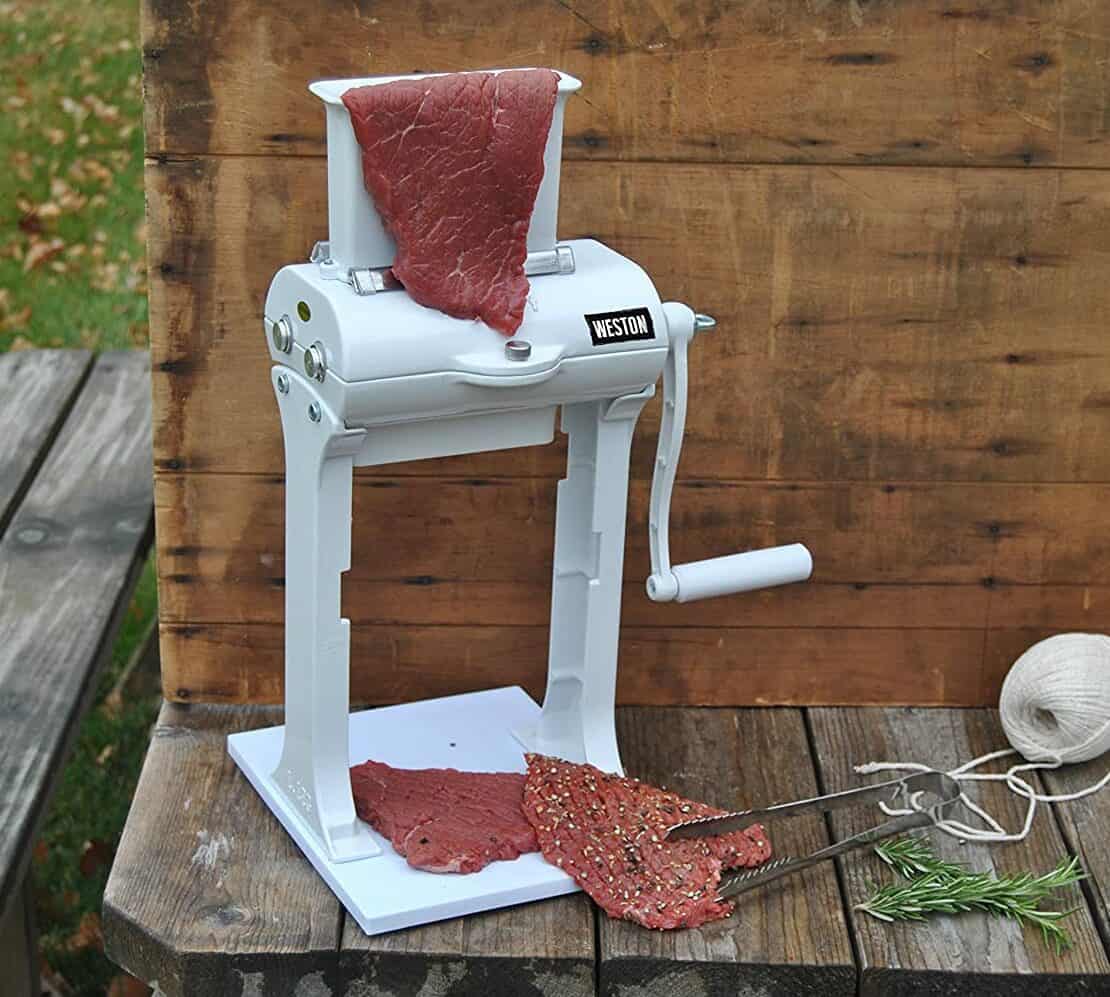 For hand crank tenderizers, there may be several different models to choose from but there are more things to take into account compared to mallets and blades. Overall though, the best hand crank is the Weston Manual Heavy Duty Meat Cuber Tenderizer.
First, this model is a great choice because its all metal design means the parts are very durable and not susceptible to easy damage. Plus, since it's only 10 pounds, it shouldn't be too hard to move to or find a good place to store. That's not to mention that it comes with a set of clamps to ensure it stays steady while in use.
At $124.99 it's much more expensive than any blade or mallet tenderizer but for hand cranks it's a bit on the cheaper side. One other thing you get when purchasing the Weston crank too is a one year warranty in the event that yours somehow gets damaged.
Pros
Durable design
1 year warranty
Cheaper compared to other cranks
Cons
Can take time to clean properly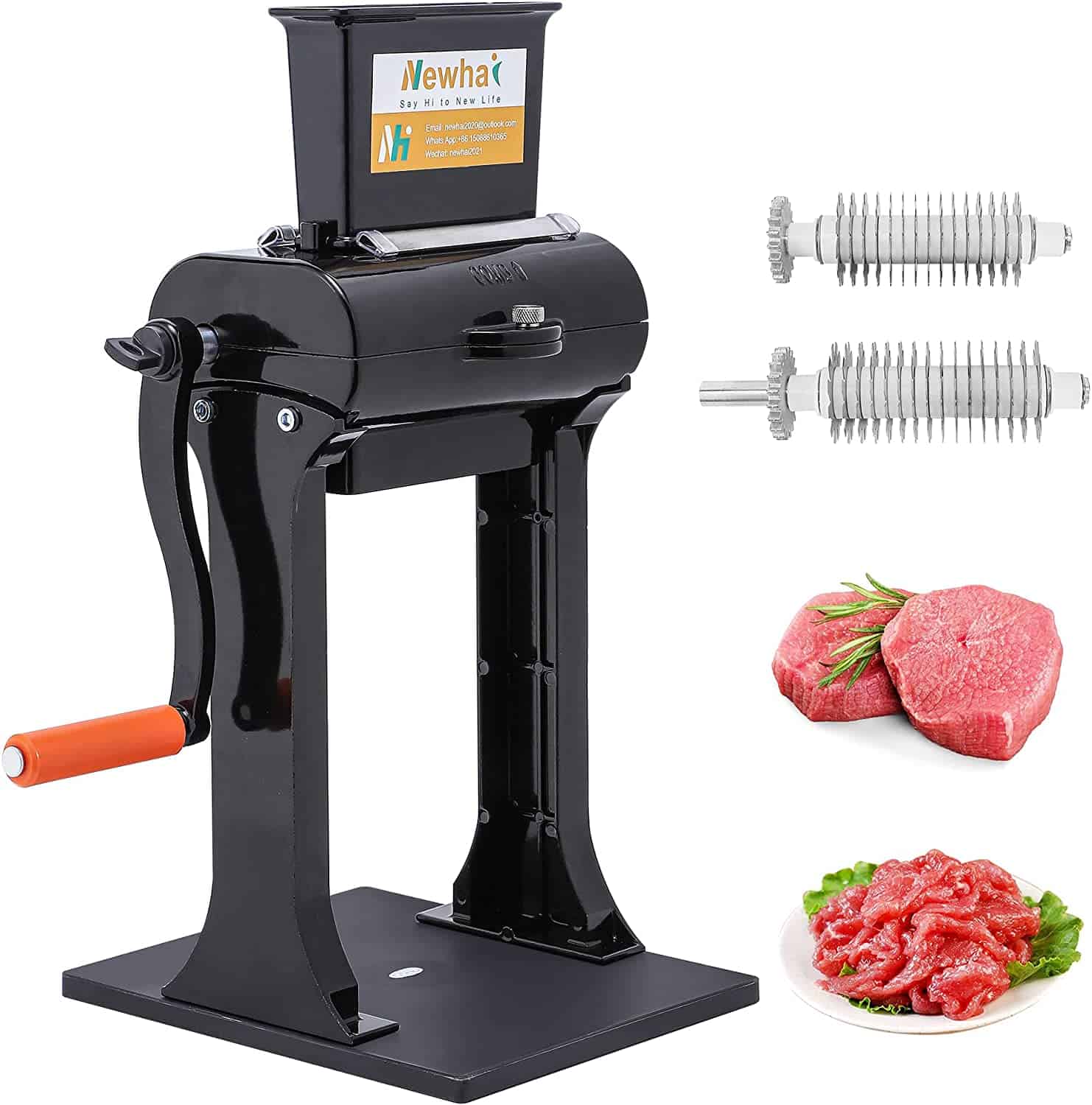 But if you want to look for something besides the Weston Tenderizer, the one you probably want to get instead is the Newhai Manual Meat Tenderizer.
At $196.00 it is a bit more expensive than the Weston but in many ways works just as well. Its aluminum build is also very durable and long lasting. While this model does not come with a clamp to attach it to your counter it is very stable and unlikely to wobble.
One other nice thing about the Newhai is that it is a very adaptable model and able to work in both a professional or private kitchen and can be used on a variety of meats.
Pros
Cons
More expensive
Not dishwasher safe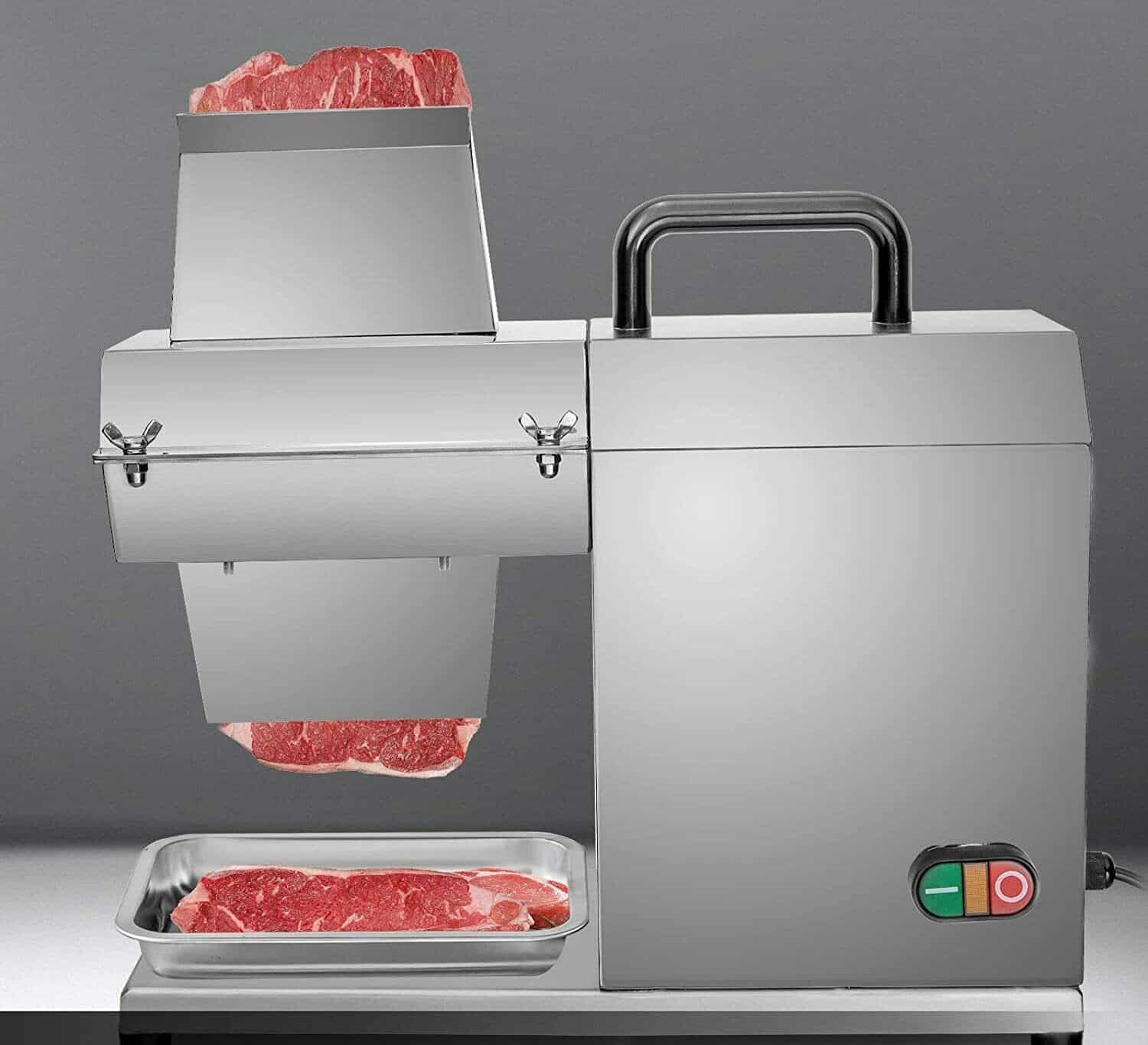 For those needing a tenderizer specifically for professional purposes, the best electric model is the VBENLEM Commercial Meat Tenderizer.
This top-of-the-line electric tenderizer will work on any kind of meat you have and is built with a powerful motor for making the tenderizing process quick and easy. In addition to this its double layered blade action is quite powerful while keeping its noise levels fairly low.
Plus, its conveniently located handle makes it easy to carry and place anywhere you want it.
Pros
Easy to tenderize quickly
Quiet
Easy to grasp
Cons
At $429.99, the VBENLEM is much more expensive than any non-electric model. However, considering there are far fewer choices to pick from for electric models and many of them can cost $1,000 or more, the VBENLEM is by far the best option.
Frequently Asked Questions
Question: Are meat tenderizers safe?
Answer: In general, yes meat tenderizers are perfectly safe to use. The main thing you should do while using them is to take precautions and safety measures to ensure you don't hurt yourself. Among the things you could do are put on protective gloves to protect your skin from any sharp points. You can also wear goggles to ensure no meat juices get into your eye.
Question: Are there alternatives to using a tenderizer tool?
Answer: Yes, if you do not want to use a physical tool, there are a variety of rubs, liquids, and compounds you can use to tenderize the meat before cooking as well. However, it is best to consult other sources if you would like to use them instead.
Question: Can a tenderizer also cut meat?
Answer: Some of the more expensive electric models can also work as a meat cutter in addition to a tenderizer. In most cases though, the machine will only do one job or the other. Depending on the type of meat, it might be easier to simply cut it with a knife instead.
Question: Can I use my tenderizer for things besides meat?
Answer: Of course, if there's any other kind of food product besides meat you want to make tender, flatten, or poke holes in your meat tenderizer should work perfectly well.
Which one should you choose?
There's a lot of information to go over in this article. It can be overwhelming when making any buying decision no matter what product you plan on getting.
Ultimately, which tenderizer you should buy depends on whether you're getting it for personal or professional use. If you're getting a tenderizer for your home kitchen, the KitchenAid mallet will work great for most any occasion. If you need one for a restaurant or butcher shop, get the VBENLEM electric tenderizer to make your tenderizing process goes fast and easy.