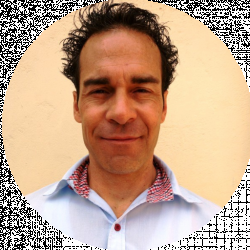 Latest posts by Douglas Bloom
(see all)
Weston is a renowned company when it comes to meat grinders. They have high user ratings across several platforms in the meat space. If you are looking for one of their products, there are several things you need to know. Check out the information below to make a sound purchasing decision.
Weston Meat Grinders Products Guide
The number of meat grinders manufactured by Weston is staggering. This means it's not easy to find a product that will suit your needs. With this in mind, we researched through the company's catalog of meat grinders.
Additionally, we compared the information with the highest rated products according to users and experts alike. 
The following is a list of the meat-grinding products and a summary of each. Check it out to determine the best product that will meet your needs.  
Weston 36-0801-W Meat Grinder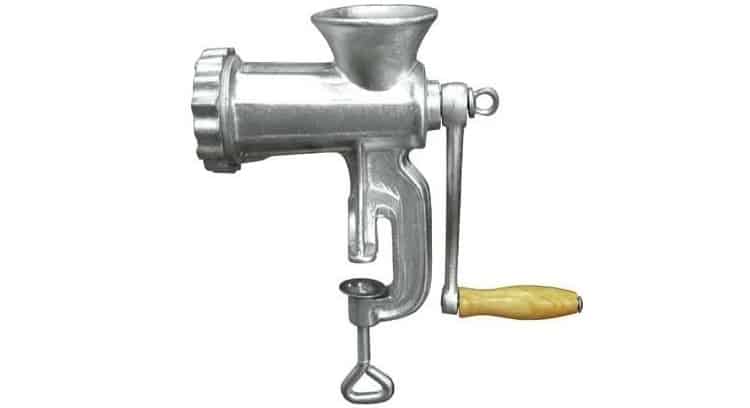 The Weston 36-0801-W meat grinder is a hand grinder that is tinned. It means the product comes with an electroplated tin covering that keeps food safe. This manual grinder's C-clamp mount easily attaches to your countertop or table. The Weston 36-0801 uses less effort and has a strong durable cranking handle that is easy to turn.
Specs
Warranty:1 year

Color: Silver

Material: Steel

Suit for: Home
Pros
Strong crank handle

Effortless manual grind

Cleans and assembles easily

Easy attachment on the table
Cons
Weston 36-1001-W Meat Grinder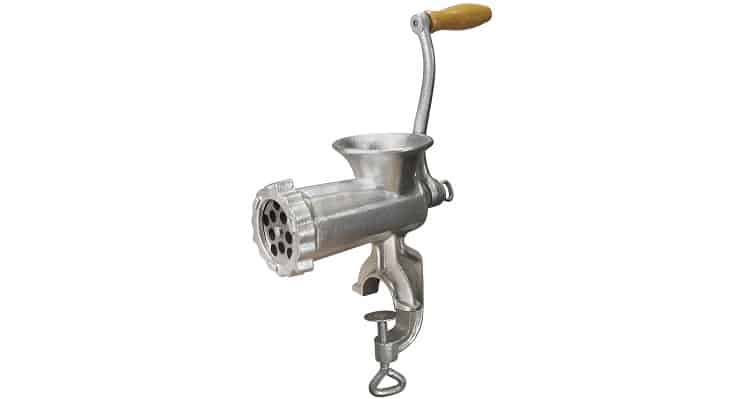 The Weston 36-1001-W is a manual meat grinder that is tinned. It is a high-quality grinder machine that has a tinned cast iron to ensure food safety. It's a piece of efficient and affordable equipment that you need in your kitchen.
You can use it to grind approximately 2 – 3 pounds of meat without breaking a sweat. For stability, the mounting clamp is designed to be safe and reliable.
Specs
Knife: Steel

Grinds: 2 – 3 lbs. per minute

Material: Nylon or iron

1-year warranty
Pros
Minimal effort when grinding

Provides food safety

Easy to clean

Easy to use
Cons
Weston 36-3201-W Meat Grinder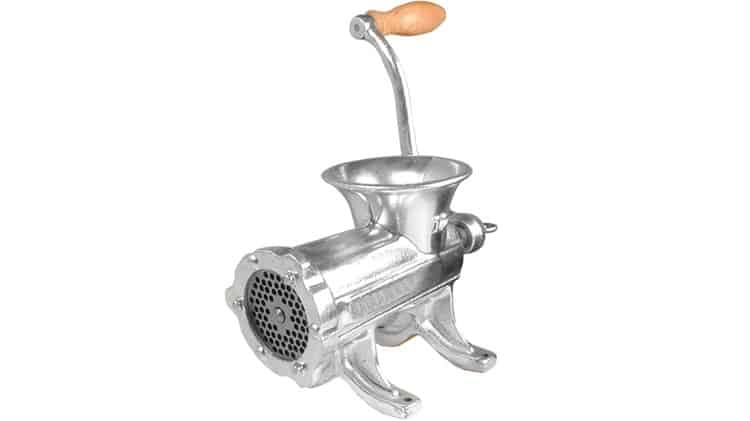 This is a heavy-duty meat grinder for those looking for a heavier and bigger appliance. The product is made of a hot tinned coating plate and cast iron. It also comes with high-grade steel plates with knives.
You can easily take it apart to clean without causing any damage. A wooden handle on the product helps you to grind meat with minimal effort.
Specs
Made of cast iron

Grinds: 2 lbs. in every minute

1 – year warranty

High grade
Pros
Made of strong metal

Easy to use storage

Has a beautiful stand

Unique design
Cons
Tiresome because of the pressure you have to put on the handle
Weston 36-2201-W Meat Grinder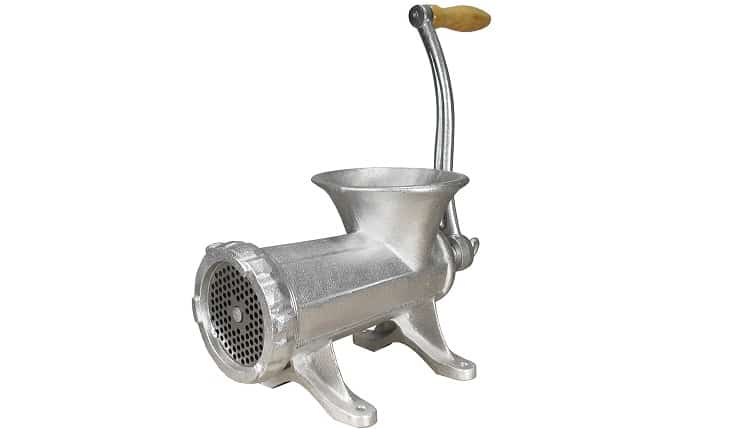 The Weston 36-2201-W grinder has a tin coating that promotes food safety. This manual grinder has a durable cranking handle that uses less effort to be turned. Like the rest of Weston tinned manual meat grinders, it comes with a total of eight accessories. This grinder is the perfect device to process bulk meat at home.
Specs
Grinding knife: Steel

Best for: Light duty

4 – 5 inches hopper opening
Pros
Has stuffing accessories kits

Heavy duty (nylon auger) to ensure extended life span

Food safe tin

Removable grinding plates
Cons
More exclusive than other manual grinders
Butcher Series Electric Meat Grinder
In this category, we are going to look at Weston meat grinder products that are designed for the butcher or regular user. They are:
Weston 10-2201-W Pro Meat Grinder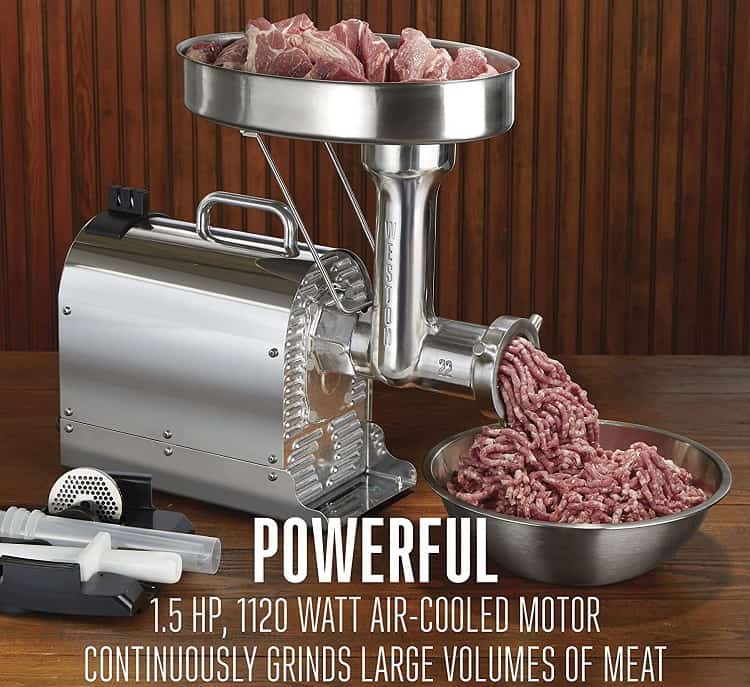 The Weston Pro 22 meat grinder is a model used commercially to facilitate the grinding of meat by using a strong motor. It's designed beautifully with steel gears that are not noisy. The motor is lubricated and air-cooled.
Specs
Color – Silver

Weight 5 kg

1 HP & 750 watts

120 volts

Grinds 9 – 12 lbs. per minute
Pros
Hassle-free and comfortable to store

Lightweight and portable

The body is stainless steel hence more durable and stronger

Sleek, smart, and stylish

Easy to operate and manipulate the speed
Cons
Weston 09-0801W Meat Grinder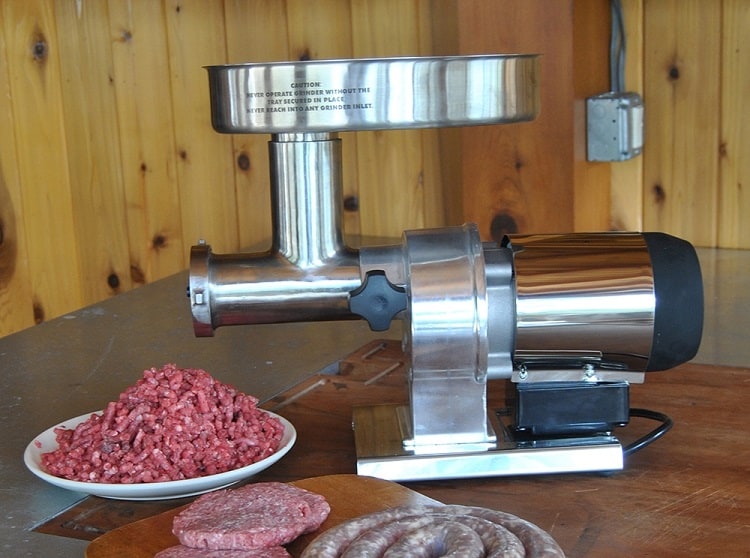 The Weston 09-0801W is a new commercially styled meat grinder. This machine can be used for a long time without causing experiencing any faults.
The head design results in high speeds of the steel gears with smooth performance and durability. It is a pro-series meat grinder for the butcher. It can be used at home or commercially to grind various types of meat. 
Specs
Set of three funnel stuffers

Grinds: 4 – 6 lbs. per minute

5-year limited warranty

120 volts

Power: 5 HP & 350 watts
Pros
Stainless steel grind knife

A motor that is air-cooled runs smoothly, therefore, increases durability 

Easy to disassemble to clean up

Offset head design

Non-slip rubber feet for additional stability
Cons
Not suitable for grinding bones
Weston 09-0501-W Meat Grinder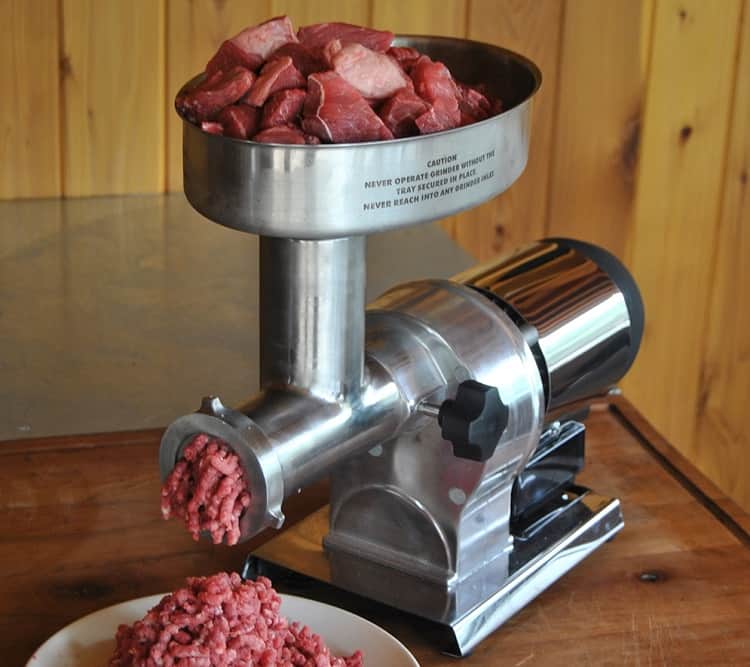 This Weston 09-0501-W is a commercially styled new butcher series grinder device. It comes with a motor with precision-engineered gears that are permanently lubricated and air-cooled. It has three funnels, a stuffing start adapter, and two stainless steel grinding plates.
Specs
Color: Silver

Grinds: 3 – 5 lbs.

Power: 2.5 HP & 250 watts

120 volts

Warranty: 5 years

Material: Steel
Pros
Great performance and design

Includes sausage stuffer kit

Non-slip rubber feet for added stability

Precision engineered steel gears

Easy to clean and disassemble
Cons
Pro-Series Electric Meat Grinder
Weston offers a category known as pro-series. These are meat grinders specifically designed for professionals. They are commonly used in restaurants or by chefs and sous-chefs. Take a look!
Weston 10-3201-W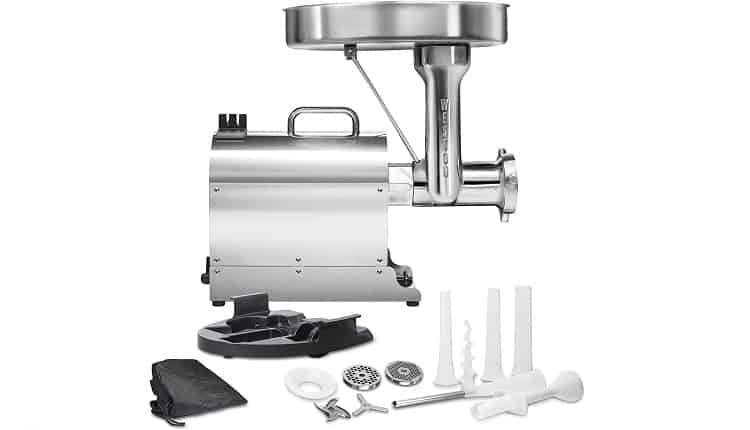 Are you considering purchasing Weston's heavy-duty meat grinder? Think of this improved new pro-series grinder. Because it comes with bonus features, you are assured that the prep, assemble, disassemble, storage is on point while cleanup is easy. It is ideal for making a variety of homemade sausages, just like breakfast links or snack sticks. 
Specs
Body: Stainless steel

Color: Silver

Grinds: 12 – 18 lbs. per minute

120 volts

Power: 2HP & 1,500 watts
Pros
Easy to clean

High-speed offset head design

Stylish look

The grinder is safe and durable

Strong motor with no noise
Cons
There are concerns from consumers that the blades are not sharp enough 
Weston 10-0801-W Electric Grinder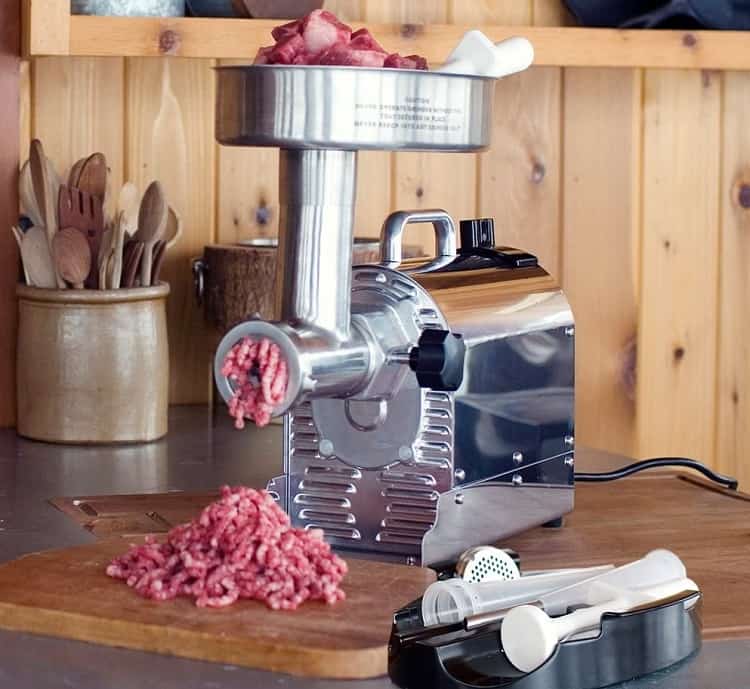 This 10-0801-W is the new, pro-series grinder model that makes sure quality is the number one thing in the ground meat in your home kitchen. This machine comes with Weston parts like stuffing funnels, three grinder plates, and other attachments. It also makes burgers, meatballs, and sausages or snack sticks all in the comfort of your home.
Specs
Type: Meat chopper

Color: Silver

Power: 0.75Hp & 550 watts

Grind: 4 – 6 lbs. per minute
Pros
Offset throat head 

Highest grinder speeds

New and upgraded version

Durable and affordable

Compact design
Cons
Weston 33-1201W Meat Grinder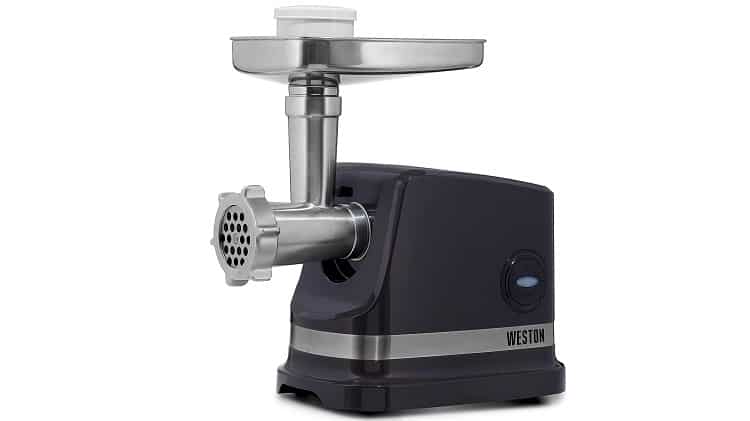 This Weston 33-1201W meat grinder is good for your kitchen at home, but not the best for commercial use. It's time-saving with a grinding knife that lets you grind big chunks of any meat perfectly.
It is made of a stainless-steel body meaning durability is guaranteed. It has a comprehensive operating system like coarse, medium, and fine grinds. It can safely be used and stored without causing any bodily harm.
Specs
Grinds: 2 – 3 lbs. per minute

Usage: Light-duty

Power: ¾ HP & 575 watts

120 volts
Pros
Safe use and storage

Versatile operation

Easy to carry and transport

Solid build
Cons
Weston 10-1201-W Meat Grinder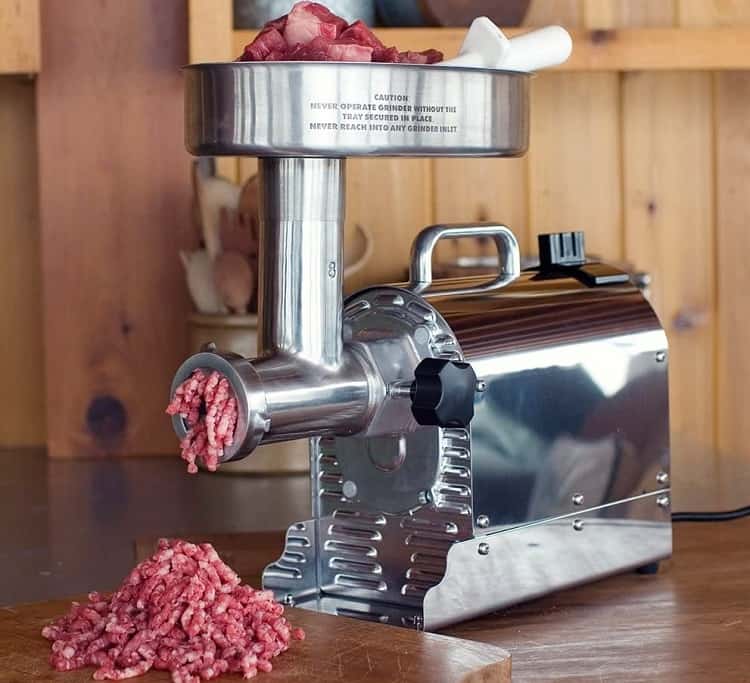 This is an upgraded pro-series Weston 10-1201-W meat grinder with features designed for commercial use. Take note since it can grind upwards of 6 pounds, it's not recommended for home use. It has a strong motor that is certified for commercial use. There are additional features listed on the specs below. Check them out.
Specs
Color: Silver

Grinds: 6 – 9 lbs. per minute

Power: 1HP & 750 watts
Pros
Fine grinds

Rugged and durable 

Quick grinding process

High speed
Cons
 Not designed for home use
Weston 82-0103-W Meat Grinder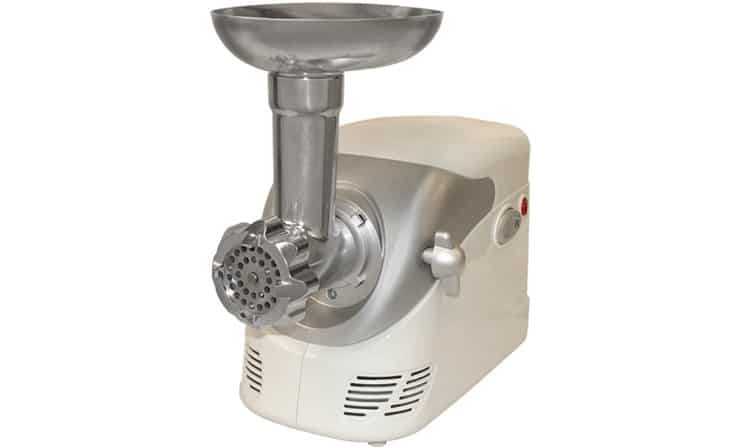 This Weston 82-0103-W is a grinder designed for preparing recipes that you can easily make at home. For instance, it's easy for you to make fresh burgers, meatballs, and sausage for your family and friends.
This universal Weston meat grinder has a slicer attachment with three blades to slice any vegetables. It has a compact design for easy and quick storage.
Specs
Material: Stainless steel &aluminum-plastic

1-year warranty

Power: 200 W & 120 V

Color: White
Pros
Easy storage

Has a larger grinding tray

You can attach a vegetable slicer or shredder

Compact design and convenient storage
Cons
Cannot handle heavy-duty jobs
Weston Realtree Heavy-Duty Grinder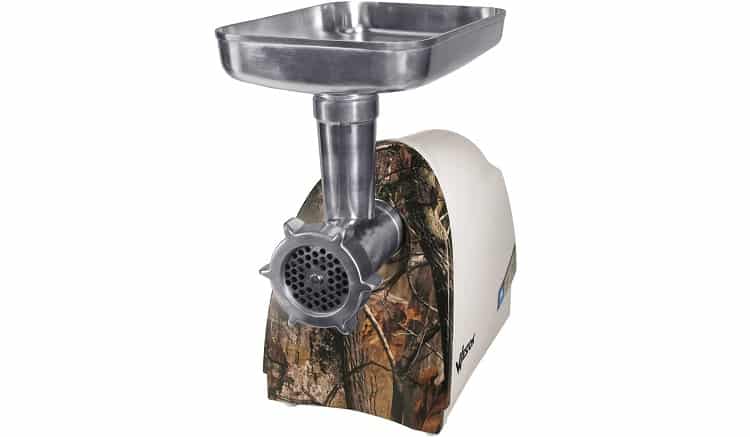 The Weston Realtree is perfect for any heavy-duty job. It's a professional-grade product for grinding meat at your home. Users have stated that the product is a great choice for your kitchen. Storage is easy and it comes with a comprehensive design. Apart from grinding meat, it's a great aesthetic addition to your kitchen. 
Specs
Grind: 2 – 3 lbs. per minute

Power: ¾ HP & 575 watts

1-year warranty

120 volts
Pros
Safe and easy to use

A unique tool for any meat cooking step

Maintains nutritional value

Affordable

Safety and healthy grinder machine
Cons
It is not a heavyweight grinder
Weston 82-0301-W Meat Grinder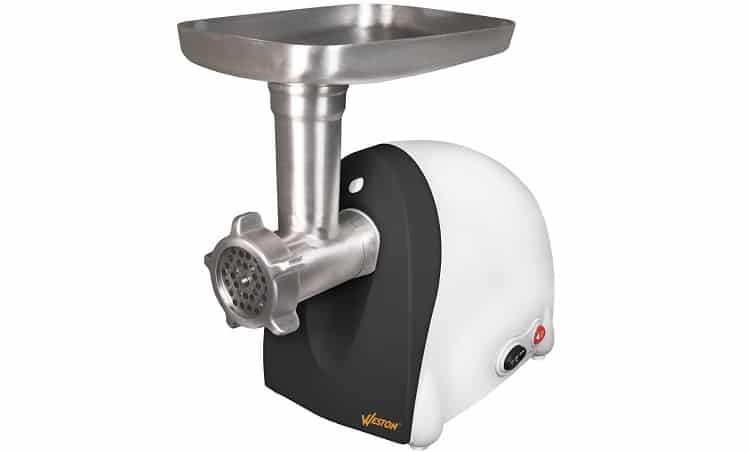 Apart from having a solid design, the Weston 500-watt meat grinder comes with a powerful motor. With two grinding plates and a sausage stuffing funnel, you will find it's a worthy investment. The product is a useful kitchen gadget. It will fit in your kitchen even when you have limited space.
Specs
Color: White

Grinds: 2 lbs. per minute

120 volts

Power: 5HP & 500watts
Pros
Portable and long-lasting

Extremely lightweight

Reverse operating system

Stainless steel grinding plates
Cons
Does not grind bones

Not for industrial use
Weston 33-0201-W H/D Meat Grinder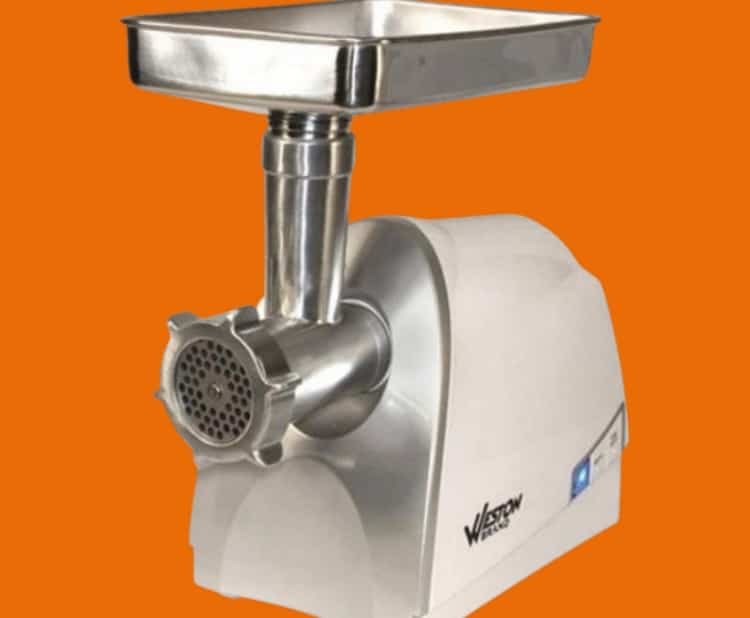 The Weston 33-0201-W H/D is an electric grinder gadget that is best for game meat. This means it is a good option for people who attend hunting events. Consider it if you are fun of hunting game and grinding the meat at home.
 It has a compact design that easily stores and declutters the countertop. The circuit breaker and the thermostat prevent burnouts and the motor from overheating.
Specs
Grinding plate: 3

20mm stuffing funnel

Power: 400 watts and ½ HP

120 volts

Grinds: 2 – 3 lbs. per minute
Pros
Extra-large and deep tray

Easy storage

Compact design

Fast processing

Powerful and heavy-duty
Cons
Weston 575 Heavy-Duty Grinder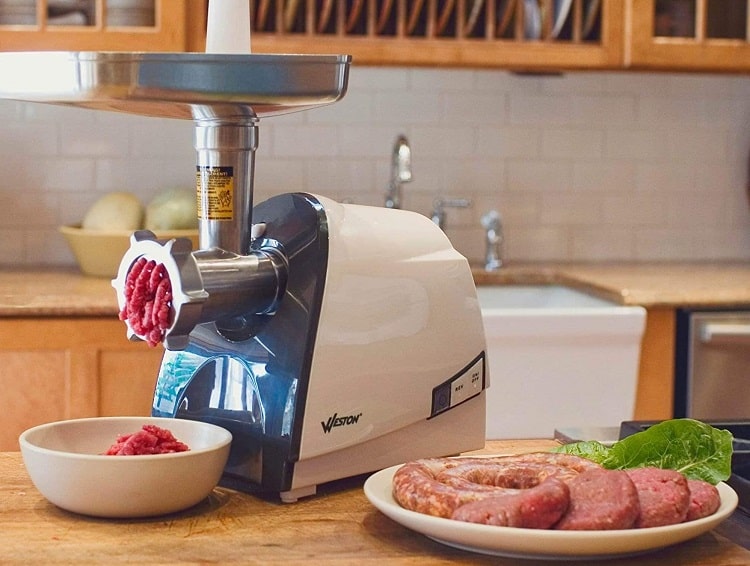 This Weston 575 Heavy-Duty Grinder comes with a compact design for serious chefs who wish to get professional-grade meat at home. The product has three grinding plates and a chopper knife. All these items are stainless steel. Are you a hunter or chef who loves grinding their meat? If so, this should be on your shortlist.
Specs
Color: Silver

Grinds: 2 – 3 lbs. per minute

Materials: Stainless steel

Power: 575 watts & 110 volts
Pros
Good for stuffing sausages

Portable and affordable

Forward plus reverse operation

Compact design

A larger stomper to push the meat in the grinder
Cons
Weston 33-1101-W Electric Grinder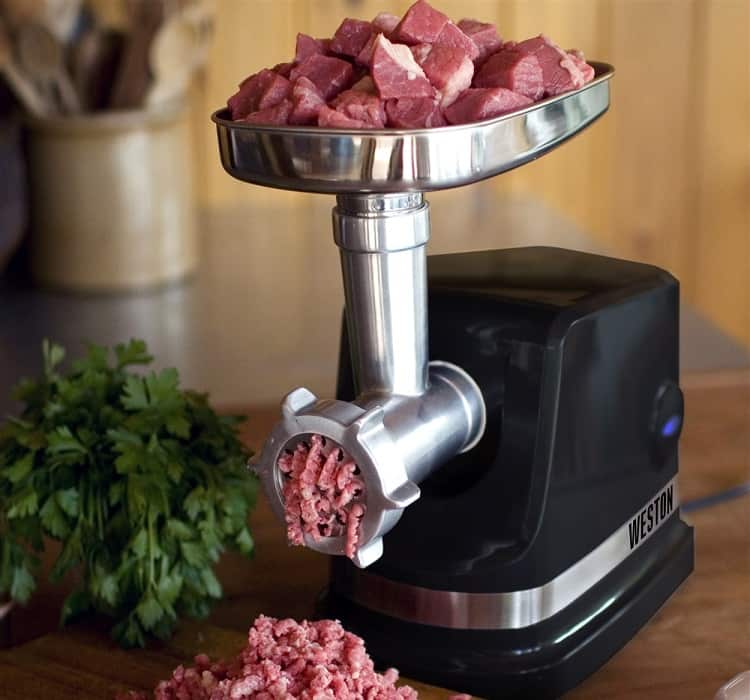 The Weston meat grinder 33-1101-W enables you to grind farm-raised or market fresh ground meats. You can use it for making meatloaf or meatballs, sausage, burgers, and similar foods. A sausage stuffer is also included to make it easy to make sausages in your kitchen.
The large-sized tray gives you a chance to sort out your meat before you start the grinding process. Removable stainless-steel plates come with different measurements to enable you to choose what suits your needs during preparation.
Specs
Grinds: 2 lbs. per minute

1-year warranty

Power: 5/8 HP & 500 watts

120 volts
Pros
Easy to clean

Safe and easy to storage

Powerful motor

Larger grinding tray

Durable and stainless-steel body
Cons
Washing in the sink is not recommended 
Meat Grinder Buying Guide
Meat grinders are not a common gadget to find in a kitchen. However, they are very useful in preparing a variety of foods. This means that many people have no idea what to look for in a quality and reliable meat grinder. They may not know how to differentiate one unit from another. 
This guide is designed to give you a clear overview of meat grinders. It also gives you answers to your questions and provides you with helpful yet clear advice. This ensures you can purchase a product that suits your needs.
Power Source
The power supply is the most important part of your journey to find the best home meat grinder. It's going to influence many factors as well as eliminate certain potential candidates from your list of potential products. 
These gadgets are either manual (it means you have to use your hands to turn a crank) or electric (where all you have to do is flip a switch to get the job done). Keep in mind both have their unique advantages and disadvantages. 
This simply comes down to deciding either to save space and money or to save effort and time. Manual or hand grinders are cheaper and smaller but need you to do all the work. On the other hand, electric grinders are bigger and more expensive. On the upside, they do all the work for you. 
After you pick what gadget you feel suits your needs, you can start looking at the specific details and specifications of various models in the market.
Focus on Durability
Just like any kitchen appliance, always consider choosing a model that lasts you as long as possible. It should withstand the amount of workload you plan to put it through.
When it comes to hand meat grinders, they are mostly made of plastic molded bodies. It is one of the reasons why they are less expensive. Take note they are durable and able not susceptible to damage as you may assume. 
Some electric models might also have plastic molded bodies. All the same, the majority are built with metal frames. This means they are typically going to be stronger.
However, an aluminum-bodied grinder has the ultimate level of strength than the two above. It's because aluminum is a commercial-grade metal designed to stand a lot of heavy use.
Stainless Steel All the Way
The cutting blade is the next most important aspect to look for in a meat grinder. This is the tool that is responsible for actually cutting up the meat and allowing you to create your ground meats and vegetables. Always look for a model with stainless steel cutting blades simply because they are very reliable and strong. 
Additionally, they have the capability of maintaining sharpness for a longer duration compared to the rest. Stainless steel is also rust-free which is a very important aspect of food handling. Rust-free products provide easy cleaning of the item. The result is proper food sanitation with no contaminations.
Prioritize Ease of Use
Personal comfort with any meat grinder is very important rather than only relying on its specific functions. Choosing a meat grinder that is easy for you to operate comfortably is very important yet ignored or mostly overlooked. It's the case if you plan to use it frequently. 
While looking at hand meat grinders ease of use is very important. It's because they require more effort to operate compared to electric grinders. Check how the output is positioned and how it affects the handle (or power switch on electric models) as well as the size and location of the feed tube. 
These show how easy or difficult it is to use the grinder. If it's difficult to use or position in your kitchen, then you're less likely to enjoy using it. You may end up wasting your time, money, and effort.
Remember the Importance of Cleaning
Cleaning up the kitchen after use might be tiresome, but proper sanitation when handling food is a must! Meat grinders are among the appliances that require a lot of attention during cleaning. You mostly work with raw meat meaning there is a probability of some being left in the grinder.
Leftover meat on the gadget can cause mold and bacteria to build up. This is then transferred to your food when you grind next. It's a health hazard that may cause serious food poisoning. Again, stainless steel is easy to clean, especially if the blades and plates are removable. Some models are dishwasher friendly making cleaning easier.
Check for Accessories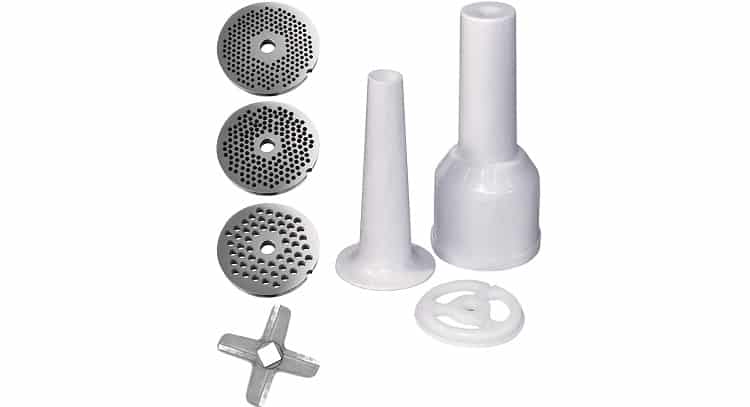 Who doesn't love getting a few extra goodies with a purchase? The most useful and fascinating accessories come with kitchen appliances. When looking at a meat grinder, the first accessory on your mind is additional grinding plates. These will allow you to adjust the coarseness of the meat you grind.
Most models will only feature two plates (for coarse or fine grains) so anything more than that is a dream come true.
Sausage-making attachments are the most common to come with meat grinders. They allow you to grind the meat and feed it to the casing of your choice.
Sausage attachments may also come in different sizes and diameters to make different sizes of sausages. Some models will offer such an option, so check the number and sizes of these tools for easier use. 
A pasta maker attachment or a kubbe attachment are some of the accessories you might find. Some may also include additional cutting blades.
Consider Your Space
Do you have enough free space in your kitchen? This is the first question you should always ask yourself before purchasing any new appliance. It ensures you can fit a new meat grinder in your kitchen comfortably. 
For some, this is simply about the availability of space on the countertop. Keep in mind you can easily store it out in the open if you plan on using it frequently.
If you don't want it being seen when not in use, then you will need to put it in a cabinet or a pantry. Hand or manual grinders are significantly smaller than electric models. They make a great choice if space is limited in your kitchen.
Making the Final Call
Finally, choosing the best meat grinder should simply be about getting a tool that will make your life easier. On one hand, you can go for a simple, small device to help you make a few hamburger patties and the occasional pot of pasta. On the other hand, go for powerful appliances that will give you a dream come true for your bulk food preparation. 
The choice is entirely up to you. Either way, the choice is easier when you follow the steps and guidelines listed above.
Weston Meat Grinder FAQs
Question: Can I Grind Bones Using a Weston Manual Meat Grinder?
Answer: Yes, some Weston products can grind bones. However, the company recommends that you stick to grinding soft bones. Animals with bones you can grind include rabbits, chickens, ducks, and small fowl. 
Question: Can You Make Pasta Using a Weston Meat Grinder?
Answer: Yes, you can. However, make sure you consult with your user manual before doing so. Some Weston models may not give the size and texture of pasta you wanted. Feel free to inquire with their customer support if you are in doubt. 
Question: Do I Get Healthier Meat by Grinding My Meat?
Answer: Of course, it's healthier! For starters, you get to choose the type of meat you want to grind. Secondly, ground meat at the local butcher or grocery store may have stayed there for long. You can only find fresh ground meat by doing it yourself. 
Question: How Do I Clean a Weston Hand Meat Grinder?
Answer: Most people believe that cleaning a meat grinder is a daunting task. The majority can be washed by hand using warm soapy water. You don't need to use fancy cleaning agents and cleaning cloths. 
Ideally, clean the product after use. Begin by taking it apart if possible. Soak the parts in water and scrub gently with a soft brush. Dry it with a clean cloth and you are done!
Conclusion
Finding a Weston meat grinder is not an easy task. This is why we compiled a list of the highest-rated products and a summary of each. When you look at the list above, you find each category has several recommended grinders. 
If you feel like Weston is not the way to go, you can look at other products in the market. This is why we compiled a checklist that helps you find a meat grinder that suits your needs. Either way, the above information ensures you get the information required to make the right choice. Here's our complete guide on how to find the best meat grinder for you.
Further Read: