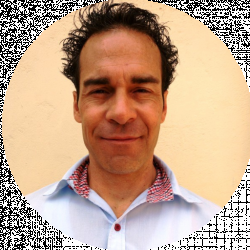 Latest posts by Douglas Bloom
(see all)
Southern Pride commercial smokers began in the 1970s when Michael Roberson joined his father, B.B. Robertson. Together they built an oven to improve efficiency at BBQ and produce commercial ovens that are less labor-intensive, simple, and automatic smokers. Since then Southern Pride smokers have produced many different models.
To operate southern pride is simple as you just need to turn on the smoker, set the temperature and time, load what you want to cook, and you're good to go. Southern Pride smokers are used in smoking, roasting, and also as holding cabinets.
All Southern Pride Smokers are ETL Safety and Sanitation certified. The products are guaranteed for not less than one year provided the equipment is installed in the Continental United States, Alaska, or Hawaii, and operated according to the owner's manual. All Southern Pride smokers are fit for weekend barbecues or large restaurants and are made of stainless steel. These smokers are divided into three categories: electric, gas, and mobile.
Southern Pride Electric Smoker
Southern Pride electric smokers use electricity as the main source of heat and woodchips as the source of smoke. Unlike gas smokers that used wood logs, electric smokers use woodchips that cannot be used for additional heat. Electric smokers have water pans that are filled with water that is converted into steam when heated. The water can be added flavor. The smokers are of three models: DH- 65, SC-200, and SC-300.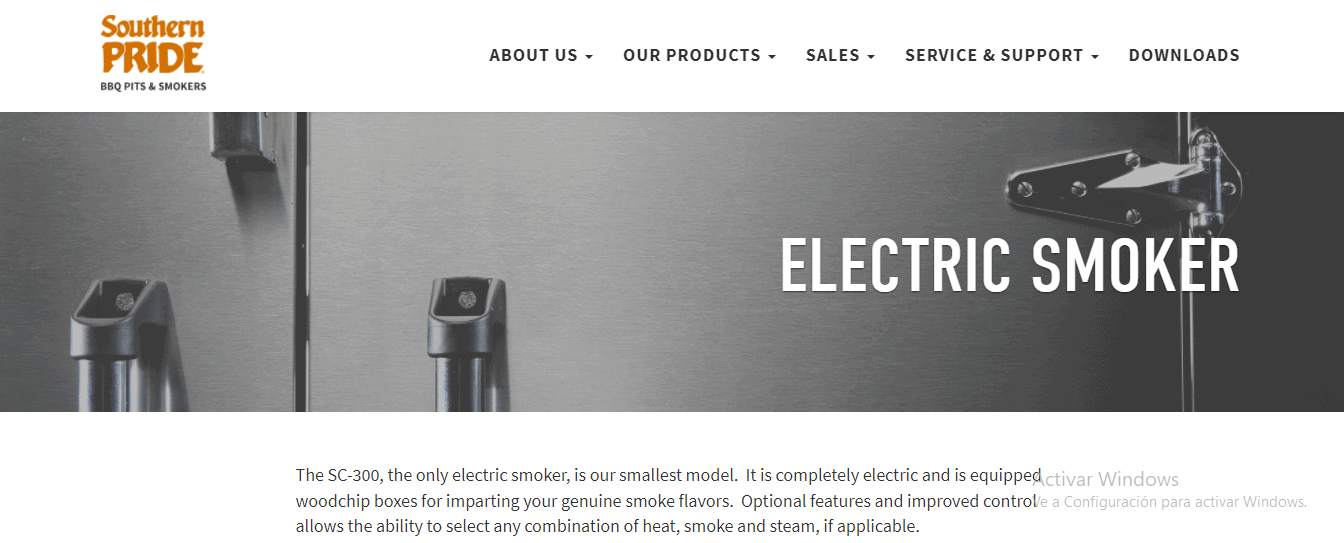 How Southern Pride Electric Smokers Work
As compared to a gas smoker, an electric appliance has a lot of technology involved. These smokers are powered by electricity. There is a microprocessor control board used for regulating the burn time of the woodchips. The heat is generated by a glowing metal rod and the convectional air system helps to recirculate the smoke and heat throughout the chamber for even cooking.
Their rotisseries are driven by a pre-stressed chain which allows meat to self-basting as drippings are recirculated to the racks. The food does not require food turning during the cooking process. The electric smoker has three settings namely high, medium, and smoke.
These smokers have controls to change the flow of electricity and internal temperature. The smoke is created by woodchips that are placed in a woodchip tray above the heating element. An electric smoker uses woodchips instead of wood logs.
Pros and Cons of Southern Pride Electric Smoker
Like other products, Southern Pride electric smokers have their advantages and disadvantages.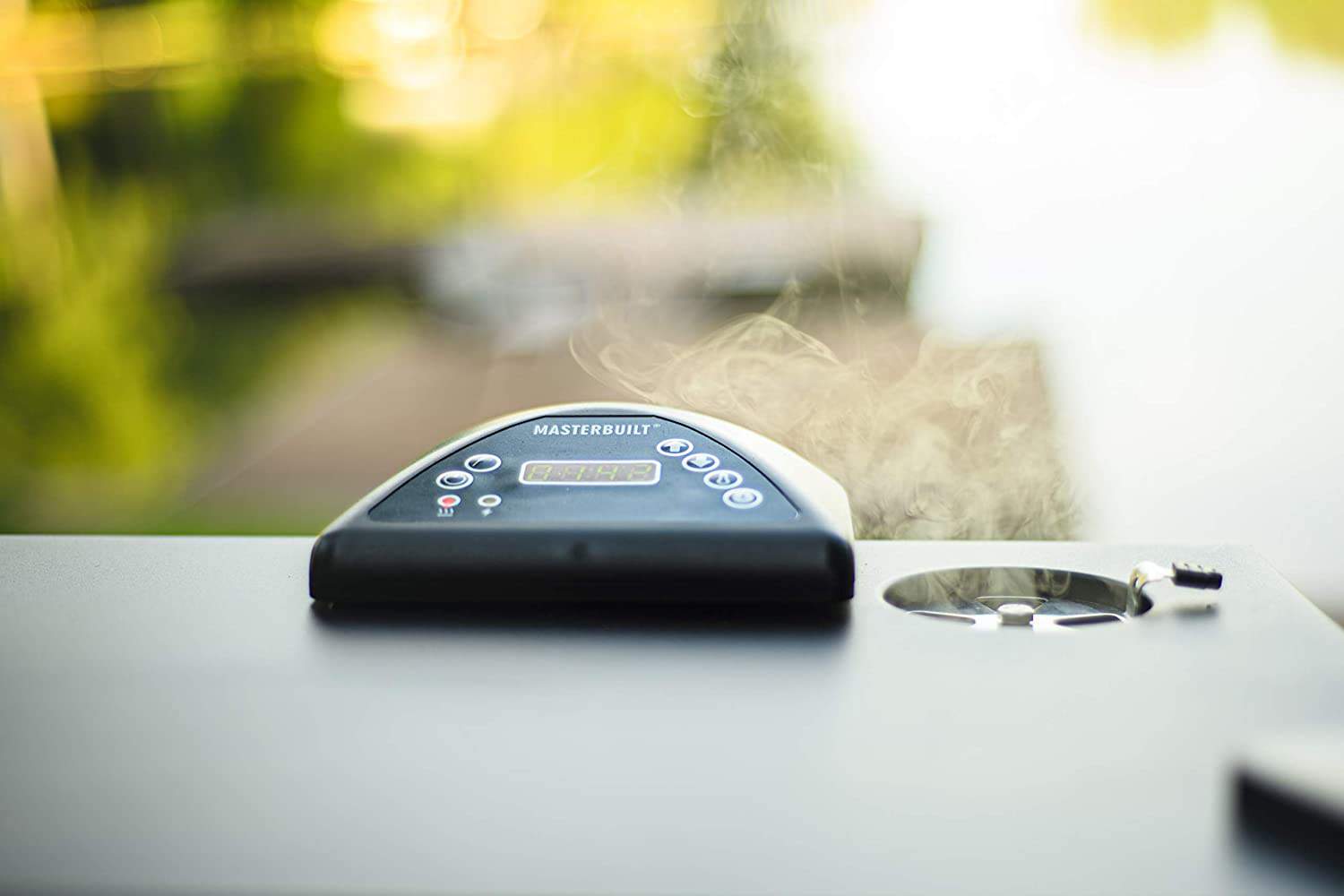 Pros
With electric smokers, you can smoke a variety of food as it can be converted into a cold smoker for making bacon and cheese
An electric smoker is less harmful to the environment as it does not emit CO and CO2 like charcoal
If you're looking for an easy and simple smoker that does not require a lot of labor, an electric smoker is what you need as you set and forget. There is no need to keep turning your food
Electric smokers are best for indoors or condos in apartments that are prohibited from using live fire grills or charcoal as they don't produce CO and CO2.
Electric smokers are cheap to run as compared to propane.
Cons
Electric smoker needs readily available power outlet or weatherproof extension cord to use in case you are using it outdoors
Electric smokers come with a lot of parts making them delicate and susceptible to failures
Repairing electric smokers can be costly
Electric smokers don't produce the best gas combustion and don't have a smoking ring that ensures the meat can be smoked to an attractive pink hue
SC-300 Electric Smoker
This smoker replaces the DH-65 and SC-200 making it the only Southern Pride electric smoker model that uses electricity instead of gas. The smoker is 61.25" tall, 24.75" wide, and 32.5" in length. It is designed to allow you to select a combination of heat, smoke, and steam.
The smoker interior and exterior are both made of stainless steel. SC-, unlike DH and SC-200, has an unlimited access panel for all wiring connections, blower wheel, and convection fan motor.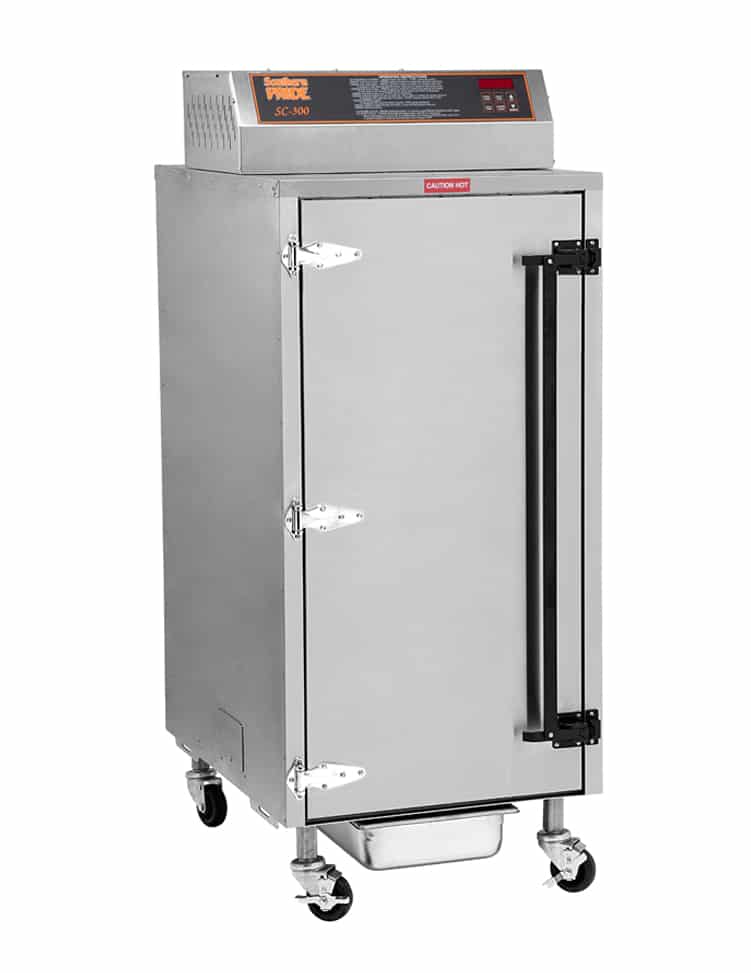 Features of SC-300
Every smoker has its distinct features. Knowing these features helps you make an informed decision.
Wood Chip Boxes
Because Southern Pride electric smokers use woodchips instead of wood logs, SC-300 has dual woodchip boxes. The woodchips are used for imparting smoke flavor and not for heating the smoker.
The woodchip boxes should be installed on the left and the right side of the product every time you use the smoker to prevent damaging the smoker. After every cook ensure the ashes are removed from the woodchip boxes.
Racks
There are five, 18" x 26" nickel chrome-plated racks. The rack slides can be adjusted to 20 different positions. The racks can be replaced with stainless steel products.
This smoker uses 208 to240 volts. It is equipped with a 1 – ¾ inches by 1 – ¾ inches flue outlet on top. The size of the flue outlet is adjustable as each smoker has two flue dampers. The flue should be calibrated correctly to ensure the smoke does not emit from the drain hole.
Standard Control
SC-300 has a digital thermostat with a cooking temperature of between 80° to 325°F. Such a temperature range allows for the selection of cook temperature, cook time, hold temperature, and independent control of each smoke element. The thermostat maintains a consistent temperature during a cooking session.
The smoker can end the cook cycle when the time set is reached. This smoker allows you to use hot smoke or cold smoke according to your desire. The standard control gives you the option of selecting any combination of heat, smoke, and steam.
Smoker Capacity
The smoker can load 30 pieces of pork butts of up to 4.5kg each, 25 pieces of St. Louis ribs of 1.2kg each, 40 pieces of whole chicken of between 3 – 4 lbs. each, or 10 pieces of beef brisket weighing between 5.4 to 6.8 kg each.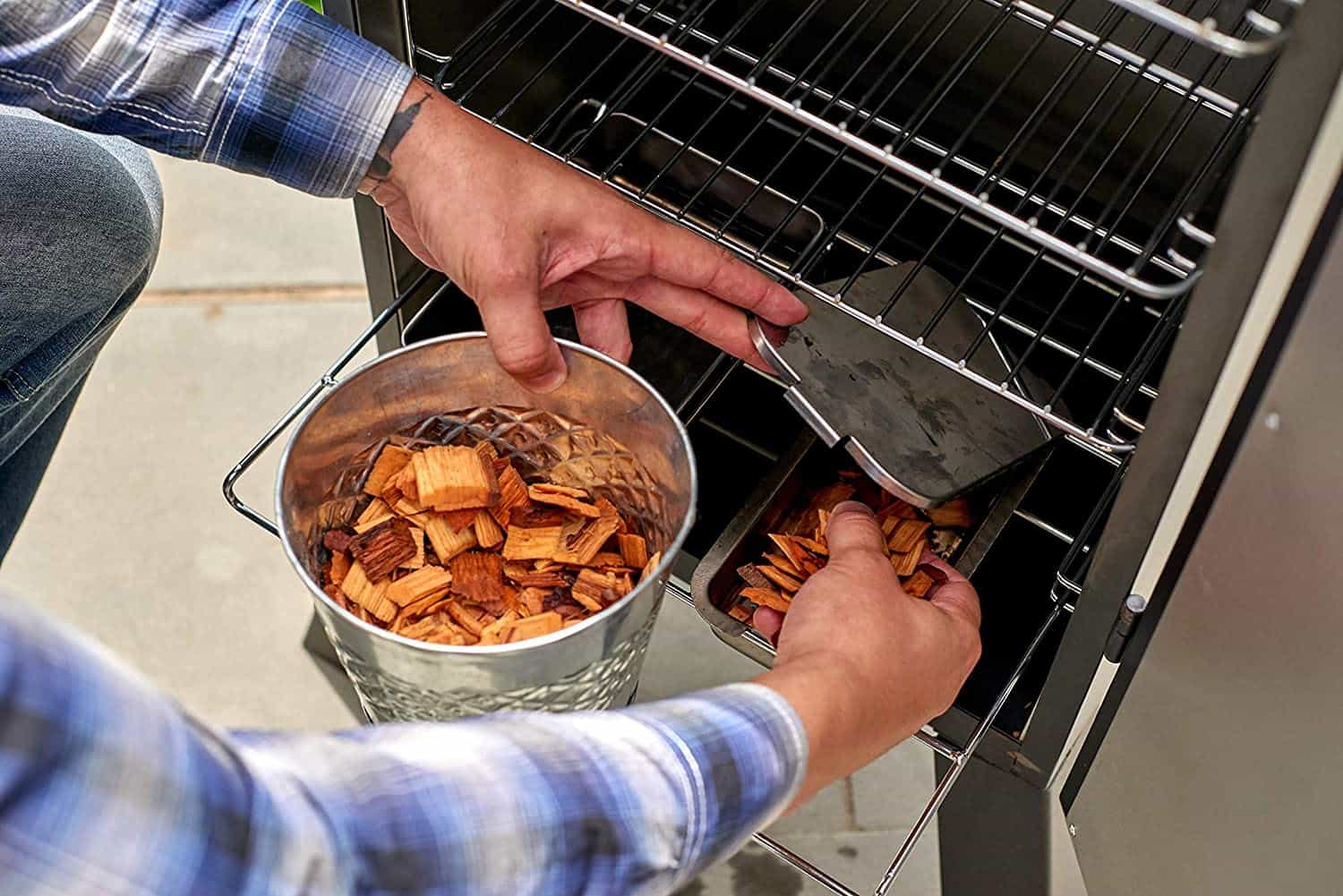 Steam Element
SC-300 has an optional steam element that replaces the right smoke element. Both steam and smoke elements can be turned on or off. The water pan holds 64mm of water.
When the water in the pan is heated it turns into steam which is used to prevent your meat from drying out while maintaining the right moisture. The steam element can also be used to add flavor when the flavor of choice is added to the water.
Convectional System
SC-300 has a convectional fan with a 203mm blower wheel that operates a vortex convection air system. The food is evenly cooked because the temperature is evenly distributed as you cook. In case of power failure, there is a wood-burning feature that allows the cooking process to continue. An additional grease drain pan, made of stainless steel, is located under the smoker.
Optional Features of SC-300
The smoker has an internal meat probe system that allows you to cook until the internal temperature of the product attains the set temperature. SC-300 has stainless steel vertical rib racks that can hold 13 slabs of ribs on each rack or a total of 65 average-sized ribs. The smoker has a glass door and interior light that allows for visibility of the food being cooked.
Pros
SC-300 can end a cook cycle when the desired internal temperature is attained. The heat is evenly distributed ensuring even cooking
SC-300 maximizes smoker capacity as it holds 13 slabs of ribs per rack making it the best for commercial purposes.
The smoker is easy to light up and allows for programming of cook temperature, cook time, and hold time
The product's exterior is made of stainless steel making it easy to clean and decades of trouble-free use
Additional flavors can be added to the water in the steam element. The steam element also helps to ensure the meat has enough moisture
SC3-300 is affordable as compared to other Southern Pride Smokers.
Cons
The smoker can be a hassle to assemble
It cannot be used outside if electrical outlets are unavailable
DH-65 Southern Pride Electric Smoker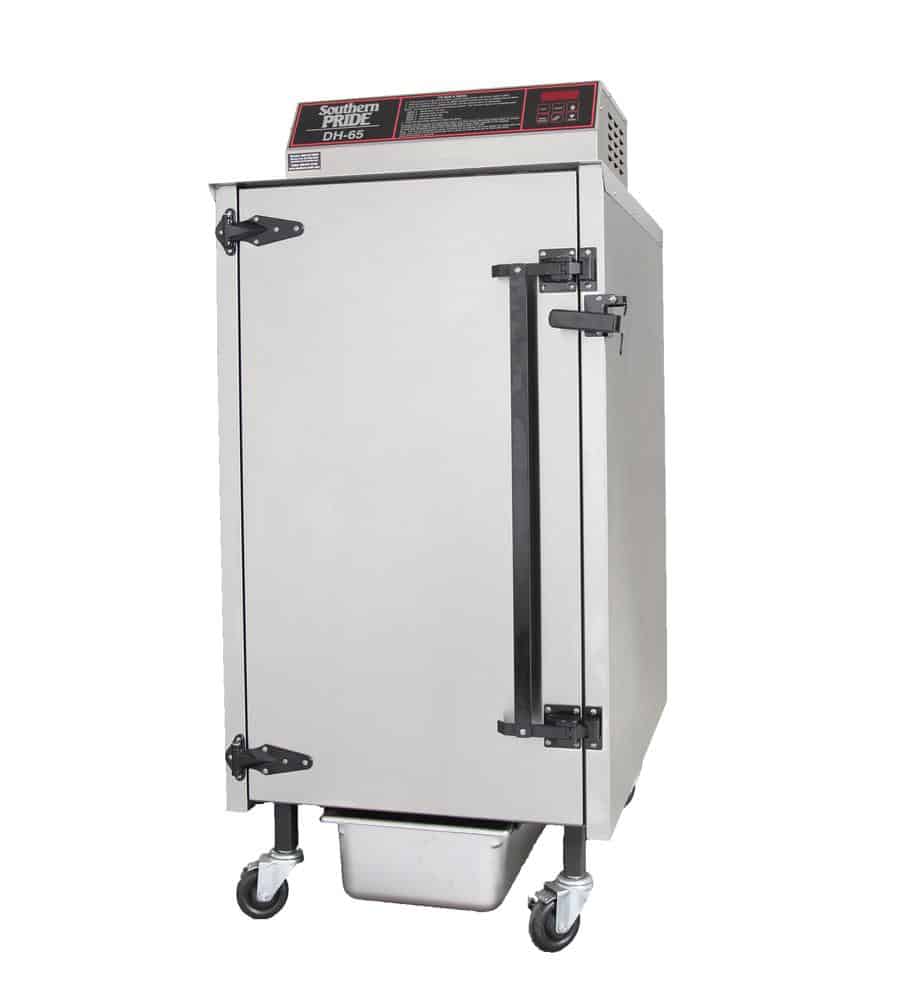 DH-65 operates similarly to a gas smoker. The smoker uses a two-stage menu system. In the first stage, all elements (fan, main element, steam element, and smoke element) are all on. In the second stage, the main element goes off to allow for a soft finish and correct moisture.
The smoker's main heating element has 4,500 watts. The internal steam element has 750 watts and the internal smoker element has 300 watts. Steam and smoke elements cannot be turned on or off individually. The digital thermostat allows for cook temperature selection of between 80° to 325° F.
DH-65 has one woodchip box and does not have a hold feature. This smoker has five non-adjustable vertical rib racks that cannot accommodate sheet pans.
Pros
Made of stainless steel
Easy to clean
It's simple to operate
5 non-adjustable vertical rib racks
2-stage menu system
Cons
Lack of a power cord
Doesn't have a hold feature
SC-200 Electric Smoker
Unlike DH-65, SC-200 has a hold feature and allows both the smoke element and steam element to be turned on or off simultaneously. SC-200 is thermostatically controlled with high limit safety. There are five, non-adjustable nickel-chrome racks. The cabinets are fully insulated making them safe for use. The smoker has dual woodchips and no steam element.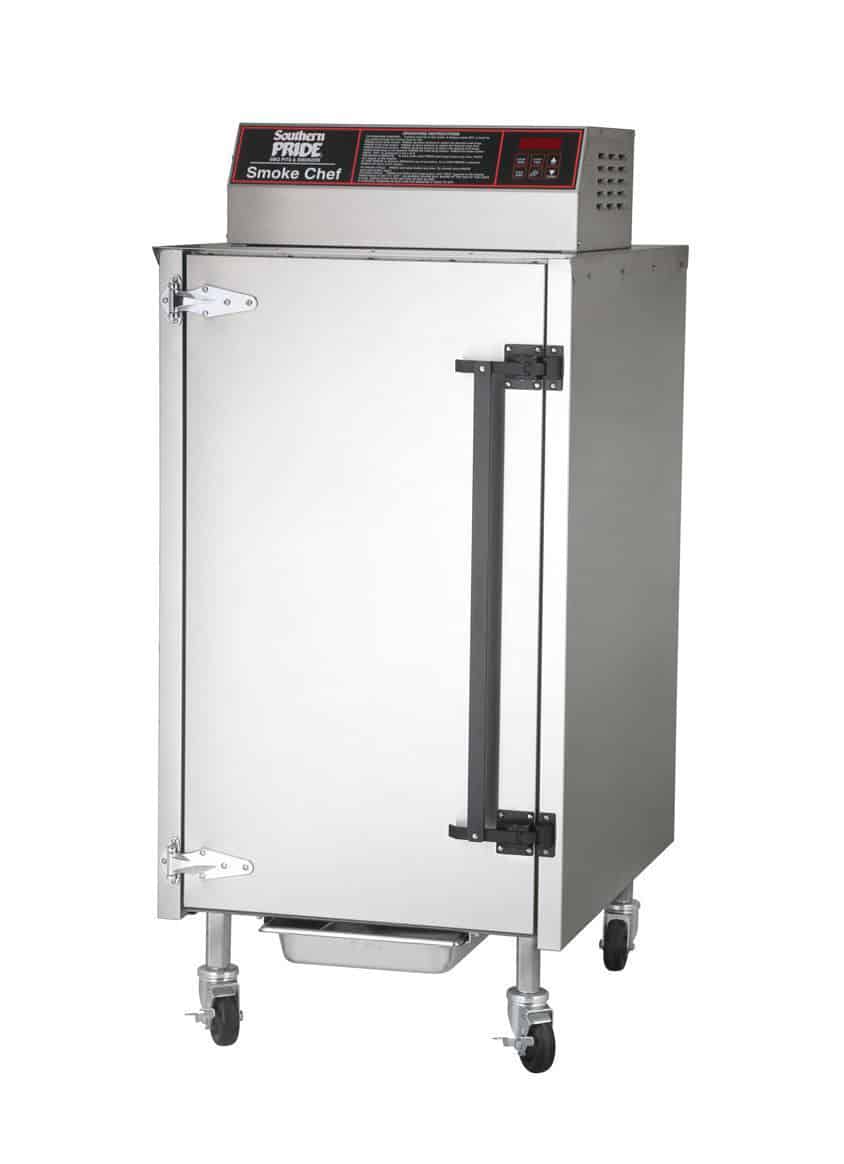 Pros
Easy to load sliding racks
It can be used with or without sheet pans
Hold feature
Simultaneous turning off and on of the steam and smoke element
5 nickel-chrome racks
Cons
Racks cannot be adjusted to accommodate more racks
Other Types of Southern Pride Smokers
Apart from the electric smokers, Southern Pride also has mobile and gas smokers. We compiled a list of the most popular of these from reviews of people who used them. If you are looking for their products that do not use electricity, check out the options below.
Southern Pride Mobile Smokers
A mobile smoker is ideal for on-site catering and competition BBQ. Mobile smokers are fit for weekend barbecues or large restaurants. Take note that gas smokers can be mounted on a cart and act as mobile smokers. Southern Pride mobile smokers include; MLR-150, SPK-500, SP-700, and SPK-1400. A little summary of each is provided below.
SRG-400
It was released in 2014 after MLR-300. This SC has a single door and a two-speed convection fan. The removable rack slides are made of nickel chrome. Its wall is two inches insulated and removable. SRG-400 also has an adjustable moisture infusion system.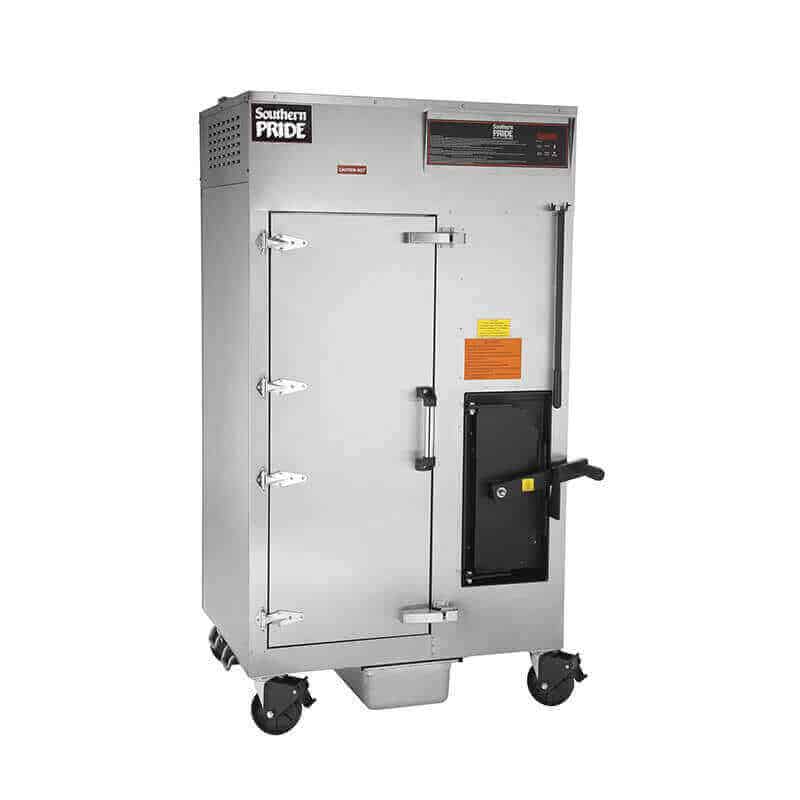 MLR-150
This is best for BBQ catering, competition, and tailgating because of its small size. MLR is stainless still both inside and outside. The burner produces 19KW that ignites the firebox size logs to obtain the desired flavor, aroma, and texture.
It has a convection fan that helps to circulate the smoke throughout the cooking cabinet. The rotisserie has four hangers with three cooking racks per hanger. The racks rotate slowly as the fan circulates heat and smoke. It has a fan door that is easy to access to remove built-up creosote.
SPK-500
The smoker has gained popularity because of its large capacity. The product is one of the most popular smokers because of its combined features, footprint, capacity, and price. SPK-500 has a gas burner, a rotisserie, and a fan system with digital thermostatic control. An optional feature of the device is integrated venting options for indoor use.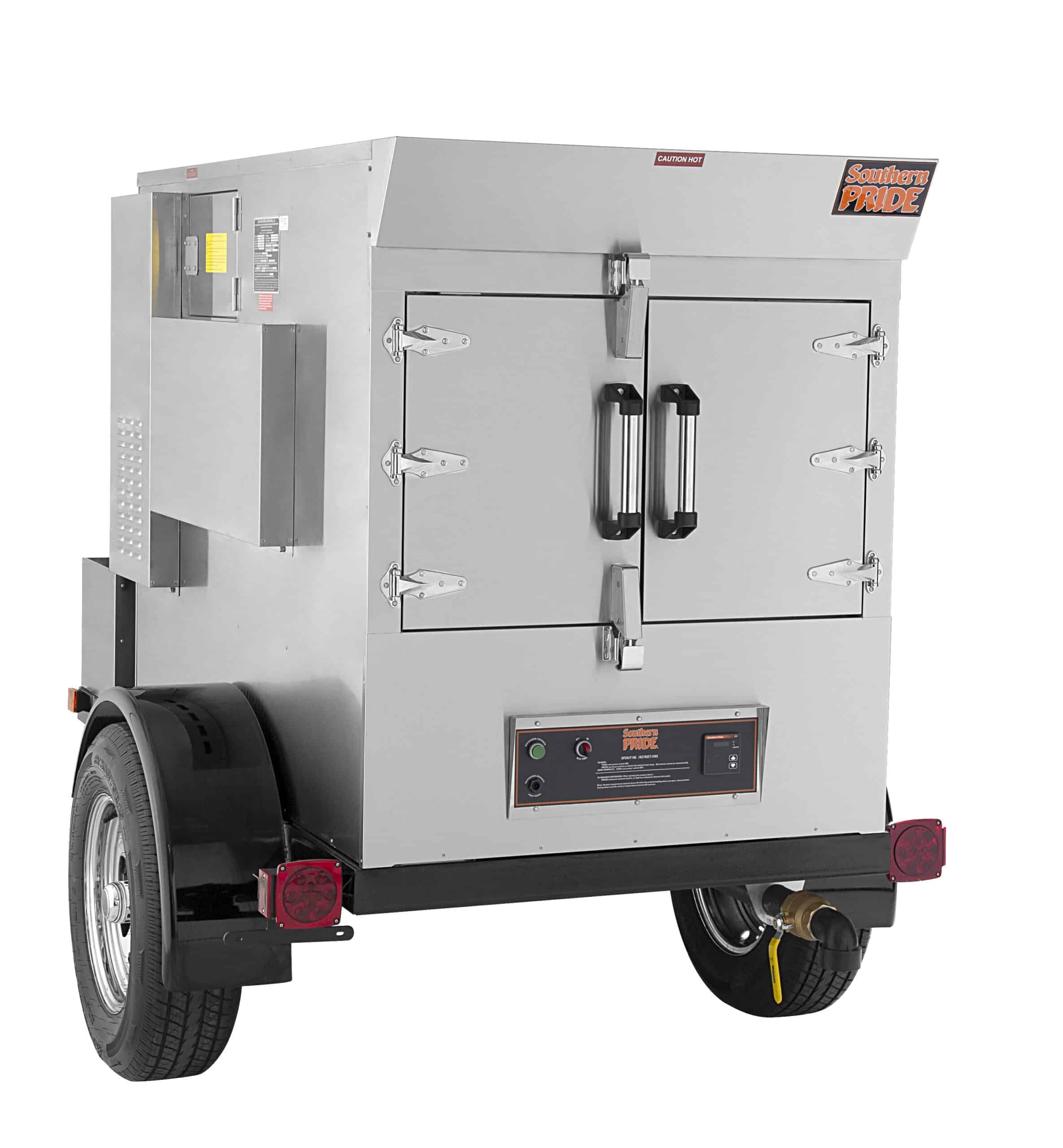 The rotary motion of the rotary carousel stops automatically when the door is opened. The fan is easy to access for the removal of inbuilt creosote.
Pros
These smokers are best for competition as they don't require a lot of settings to operate
Easy to assemble
Easy access to the fan for removal of creosote
Compatible with competitions that do not allow gas
Cons
They are expensive
Mostly use gas instead of electricity
The gas smoker uses natural gas or liquefied propane as a primary source of heat. The heat is produced through combustion. In a gas smoker, wood can be used to supply additional heat and to increase smoke flavor.
These products use wood logs instead of woodchips. Southern Pride gas smokers are of seven models: MLR-150, SPX-300, SRG-400, SPK-500, SP-700, MLR-850, and SPK-1400.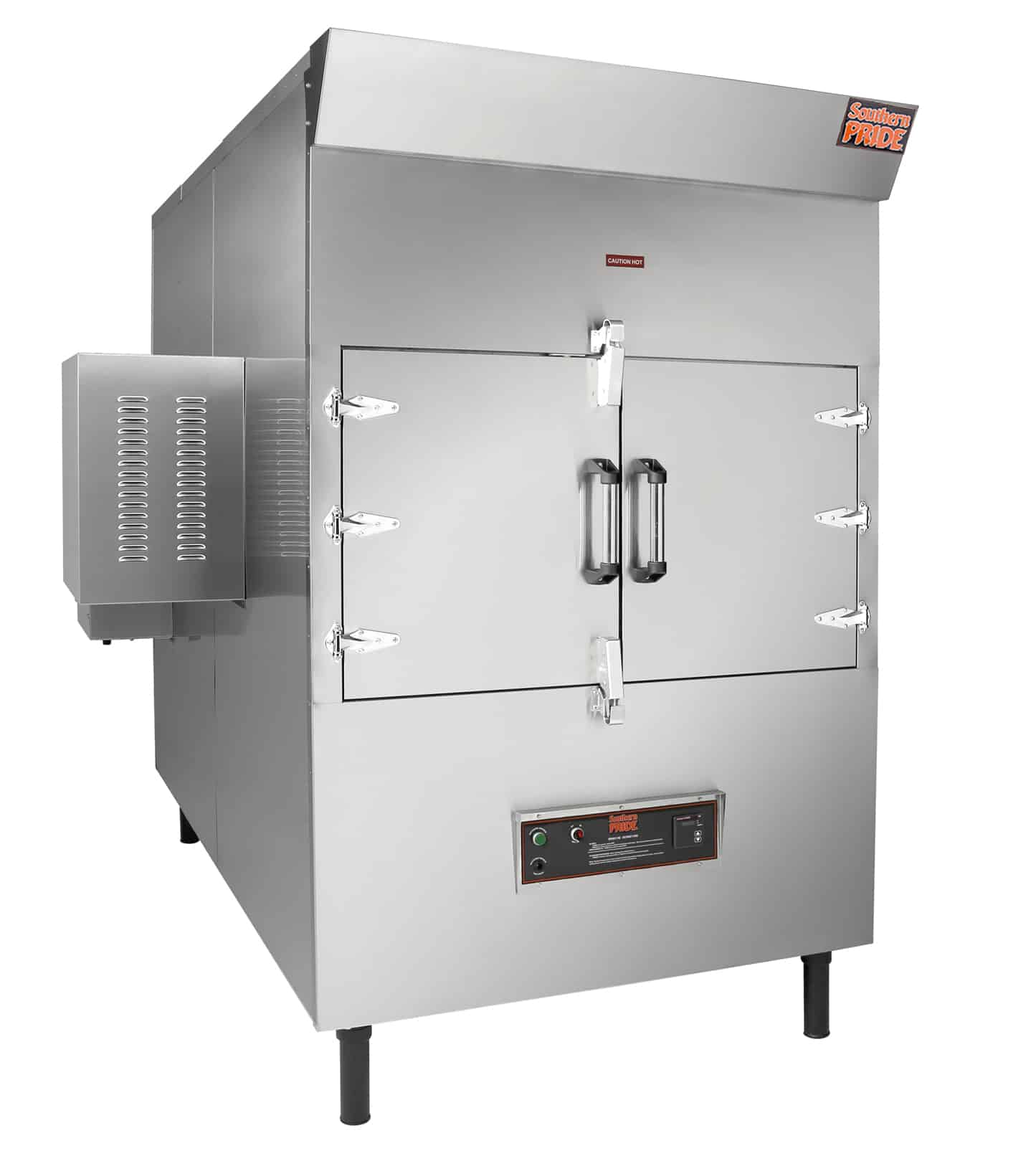 All Southern Pride gas smokers have a rotisserie system apart from SRG-400, which has stationary racks.
SPX-300 is perfect for beginners and it comes in a small package. MLR-150 is the smallest gas smoker and is greatest for batch cooks. SPK-1400 is the largest Southern Pride gas smoker making it the best solution for commercial uses. MLR-850 is designed deep and narrow making it easy to install in any kitchen and other areas.
Pros
A distinctive smoke ring that helps in flavoring
Wood logs can also be used as a source of heat
Can be converted to mobile smokes
Most have a rotisserie system
Various options to suit different needs
Cons
It's expensive to use propane as compared to electricity
Electric Smoker Buying Guide
There are plenty of features to be considered when you are looking for an electric smoker. This is why we came up with this checklist. One of the major factors that determine the electric smoker you buy is your smoking experience. Read on to get an insight into the factors you need to consider.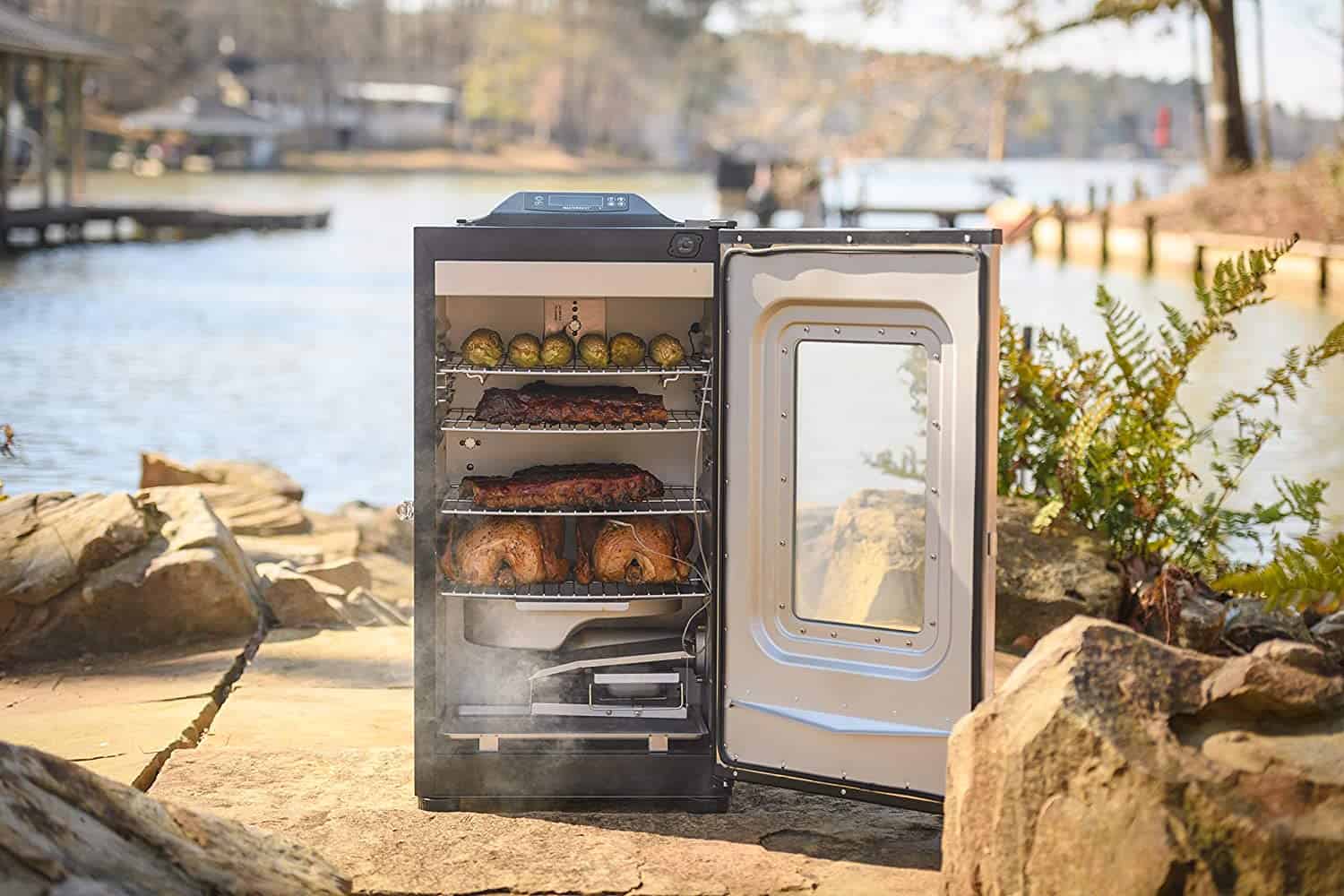 Total Capacity
This is one of the factors you should seriously consider. Even if the smoker comes with amazing features, the capacity is the first thing you need to consider. If the capacity doesn't meet your smoking needs, the product is not for you.
If you often cook for a family gathering or a crowd, you need a sizeable electric smoker. The product needs to handle all the foods you plan on smoking. Additionally, it needs an ample grease tray and wood tray.
Ease of Use
A user-friendly design ensures you get a make and model that is a breeze to operate. Check the digital thermometer and time-temperature control where applicable. They should give you enough options that you can follow easily. A "set and forget" option should be available to give you time to attend to other chores.
A glass window is another feature to consider. It lets you monitor the progress of your food. Other features to look for are removable wood chip trays, drip pans, and grill racks. Remote control or Bluetooth digital panel are a plus.
Keep in mind some analog electric smokers are manually controlled. These are mainly used by experienced smokers. Once you know what you are doing, you can easily set up such products and undertake other tasks. Lastly, you should also consider portability especially if you plan on smoking at different locations.
Temperature Range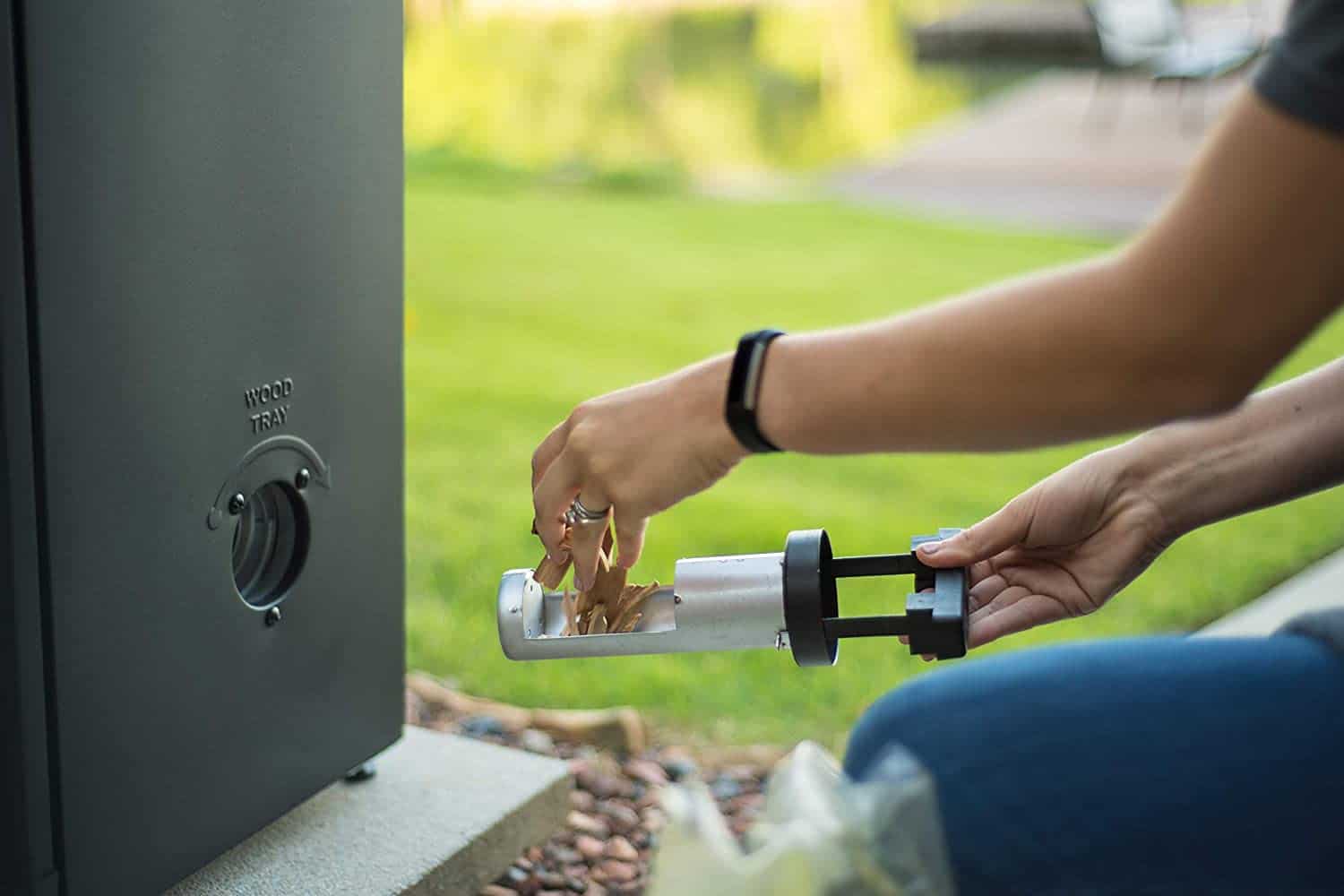 A good electric smoker comes with good smoke levels and heating elements. Anything that ranges from 100 to 400 degrees Fahrenheit is a good choice. Apart from being easy to control, look for a powerful heating element.
The mentioned temperature range has the right temperatures for smoking meat or grilling different types of food to get the best results. If you get one with a digital temperature setting, go for it! They are the easiest to use. A temperature probe is also a plus as it makes the smoking process easier and more efficient.
Portability
It may not be a priority for everyone, but it's crucial for those who plan on smoking at different places. For such situations, you need something easy to move and lightweight. A long enough power cord is required. Look for wheels and good construction quality.
Easy Maintenance
Easy and quick maintenance is another factor to consider. Things to look for are easily removable water pan, grease pan, wood chip trays, panels, racks, and cooking grids. Make sure you consult with the manufacturer to find out if replaceable parts are easily available. These features ensure you can easily use and maintain your smoker.
Remote Controls
Such a feature ensures you can control the smoker without staying near it all day. All you need is to input the required settings and you are good to go. Some have a temperature display on the remote control to ensure you monitor the temperature at a distance.
Affordability
This doesn't mean the product is cheap and of poor quality. There are plenty of electric smokers in the market that won't break the bank. At the same time, they are high-quality products that have similar features of pricier makes and models. Check your budget and go for something that is within your means. Make sure you don't compromise on quality as you do so.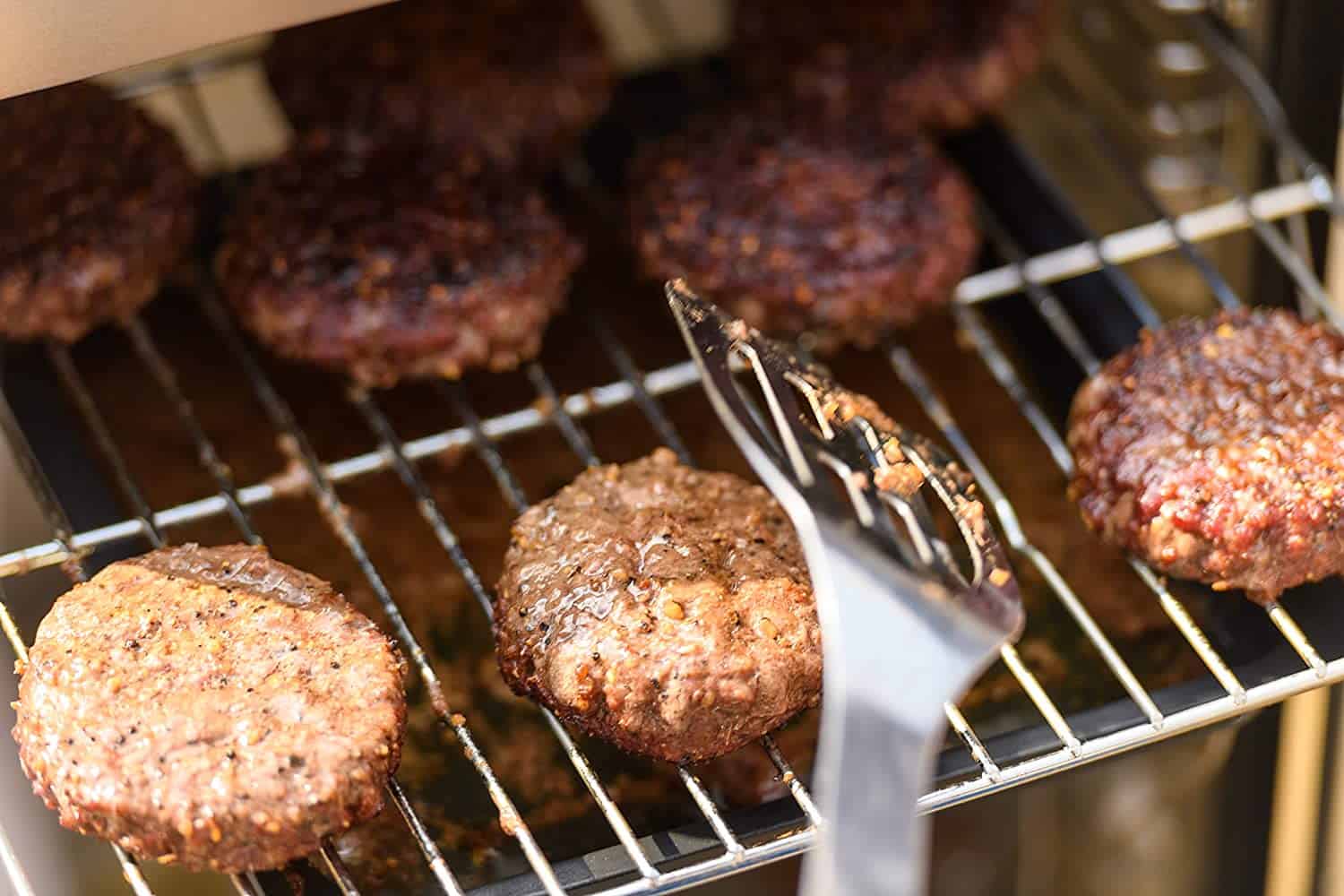 Warranty
For any item you buy, a warranty is a must. Most electric smokers come with a warranty range of one year to five years. For obvious reasons, try getting the longest warranty duration possible.
Southern Pride Electric Smoker FAQs
Question: Where Are Southern Pride Smokers Built?
Answer: Southern Pride smokers are made in the USA. Every Southern Pride smoker is manufactured in their 117,000 square foot facility in Alamo, Tennessee. Their products are sold through their worldwide network of independent distributors.
Question: Do You Need to Flip Meat in An Electric Smoker?
Answer: As a good practice, it won't hurt to flip or rotate your meat. Some smokers with a side firebox will produce more heat on one side. Rotating or flipping the meat gets rid of this problem. So yes, it's a good idea.
Question: Can You Overcook Meat In An Electric Smoker?
Answer: It's impossible if you know what you are doing. If you are using a recipe, make sure you follow the instructions for the letter. It is easier to undercook than overcook. Avoid undercooking by allowing the full cooking time and checking the meat at least an hour before its supposed cooking time.
Question: Is There a Temperature that Meat Stops Absorbing Smoke?
Answer: There is no time limit on smoke absorption. The ring will not expand when the food is approximately 170°F and myoglobin loses its oxygen retaining ability.
Question: Do You Put Meat Directly on the Rack in an Electric Smoker?
Answer: It's recommended. The design of electric smokers is to ensure you cook the meat directly on the racks. A smoker has hours of thick, direct, and intense heat and smoke. All these could cause cookie sheets or the pieces of cookware to warp or become permanently discolored.
Conclusion
Southern Pride electric smokers are one of the most popular electric smokers you can find in the market. The good news is they have a variety for you to choose from. Check out our list of the most popular and highly-rated models above. You can also take a peep at the summary of other types of smokers they have summarized above.
If Southern Pride doesn't have something for you, we got you covered. The electric smoker buying above has everything you need to know to make a sound purchase decision. With all this information, you should be able to get a good electric smoker. Happy shopping!
Recommended Reads: