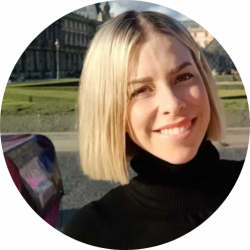 Latest posts by Jodie Chiffey
(see all)
Today, we will take a look at the Gateway Drum Smoker, a drum smoker designed to cook your meals faster than most regular smokers while keeping the moist and smoky flavor of the meat.
Gateway is one of the most acclaimed brands of drum smokers you can find on the market. Their smokers are used in competitions all around the United States, and they can be bought alongside extras such as sauces and marinades. Gateway products can be found on many grilling and BBQ across the country.
This Gateway Drum Smoker review will mostly focus on the Gateway Drum Smoker, which is one of the most popular devices of its type in the United States. We will show you its core features and main functions and mention some alternatives if you are interested in more options.
Finding the right smoker can be a challenging task because of all the different options available. If you are interested in delving deeper into the topic, check our guide on how to find the best smoker.
First, let us have a look at its main specifications:
Key Specifications of the Gateway Drum Smoker
| | |
| --- | --- |
| Type of Smoker | Drum Smoker |
| Dimensions/weight | 48 x 40 x 48 inches, 100 pounds |
| Capacity | 30 gallons |
| Power Source | Charcoal |
| Thermometer | 50°-500°F |
| Cooking Area | 380 square inches |
| Price | Click here for the latest price |
Core Features of the Gateway Drum Smoker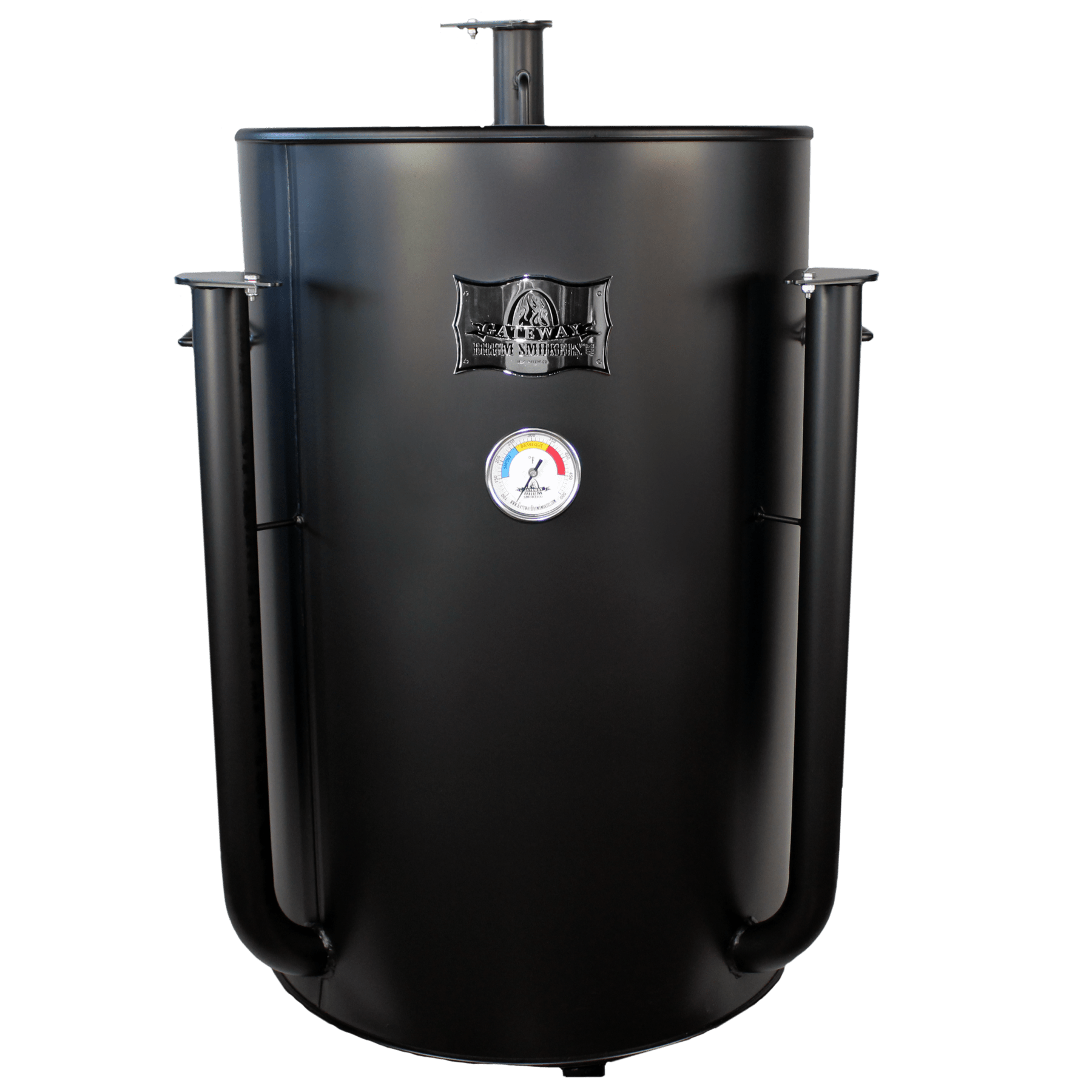 The Gateway Drum Smoker is an innovative device that offers great cooking speed and good performance. Let's take a closer look at the main features included:
Construction and Design
As its name implies, the Gateway Drum smoker is constructed in the shape of a drum. The body basically consists of a large cylinder with two pipes that go from the bottom to the top of the smoker.
There are two side handles attached to the body. This smoker comes in different colors. Traditional black color is the most popular one, but you can also get it in blue, charcoal, and red.
Some interesting features included in this smoker are:
Removable, High-Capacity Fire Basket

Air Adjusting Intake Pipes

Air Adjusting Exhaust on Lid

Side Handles
The innovative part about this smoker is that it provides full control over your pit temperature, so you can go low and slow or hot and fast. Traditional smokers, in contrast, are designed exclusively for the low and slow method.
This will let you cook a brisket in less than 6 hours, where a traditional smoker would take 10 hours to cook the same food.
The air control system consists of a couple of pipes welded to the bottom of the drum. These pipes are designed to feed air into the firebox. Each pipe curves upwards and has an adjustable damper at the top. These long pipes create a vortex inside the drum, which improves the distribution of heat and smoke.
You can adjust the temperature of the chamber by using the dampers. Opening and closing these dampers allow more or less airflow inside the drum, therefore controlling the temperature. I recommend keeping the vents about a quarter of an inch open at 275°F and half an inch open at 300°F.
The Gateway smoker includes a charcoal bin located on the bottom to place your charcoal on. The bin is removable, which facilitates ignition and loading. It has a capacity for about 8-10 lbs. of charcoal, which should last for up to 14 hours of cooking.
This device comes with a couple of 22 inches cooking grates to place your food on. This gives you a total area of ​​​​​​​​about 390 square inches. The 50-gal model comes with three cooking grates and offers even more space for food. It can also include a rib hanging kit with hooks to hang meat on.
The temperature can be read by using the custom dial thermometer that is mounted in the center. The thermometer has a temperature range from 50° to 500°F.
The smoker also comes with a hook on the lid that lets you hang it on the side after you open the smoker. There is also a small chimney on top of the lid with an adjustable damper.
As an optional feature, this smoker includes a heat diffuser plate. This is basically a round metal plate with holes cut into it. The plate is designed to reduce the direct heat of the drum that hits your food. This plate is placed below the cooking grates.
All in all, this is a well-built and sturdy device that will be very attractive to those who want to save time smoking their meals.
Smoked fish can be a delicious meal to prepare. If you want information on preparing smoked halibut, feel free to check our smoked cod guide .
Functions and Controls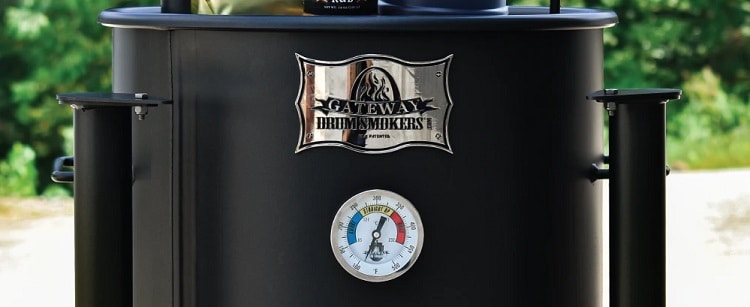 The Gateway Drum Smoker has a basic design which makes it relatively easy to assemble and use. First, start by assembling and curing the smoker according to the instructions on the manual. Then, to operate the Gateway Drum smoker, follow these steps:
Place the smoker on a level, heatproof surface.

Remove the lid, the fire basket, and the cooking grates and set them aside.

Spray the inside walls of the smoker with cooking spray.

I recommend you start at the bottom of the drum and spray in a circular motion as you work your way up the inside walls.

Load around 8 pounds of charcoal in the fire basket (it should be about 2/3 full)

Place the fire basket back in the smoker using a handle.

Place the paraffin wax cube on top of the charcoal and light it.

You can use an electric lighter for this.

Adjust the air vents to a fully open position and leave the lid off.

Allow approximately 15 minutes for the charcoal to catch fire.

Place a great cooking on the inside of the smoker.

 Place the meat on the cooking grate.

Make sure to leave some space between each space to allow smoke and heat to circulate.

Place the lid on the smoker and allow food to cook.

Dial down the air vents to adjust the temperature.

After the desired cooking time has passed, remove the food from the smoker and let it cool.
This smoker is designed to cook meals hot and fast instead of low and slow. Cooking on this smoker requires less time because cooking the meat over a direct fire without using a water pan.
This could involve a little learning at first since you are using a new cooking method. Just remember to keep an eye on the temperature by using the built-in thermometer.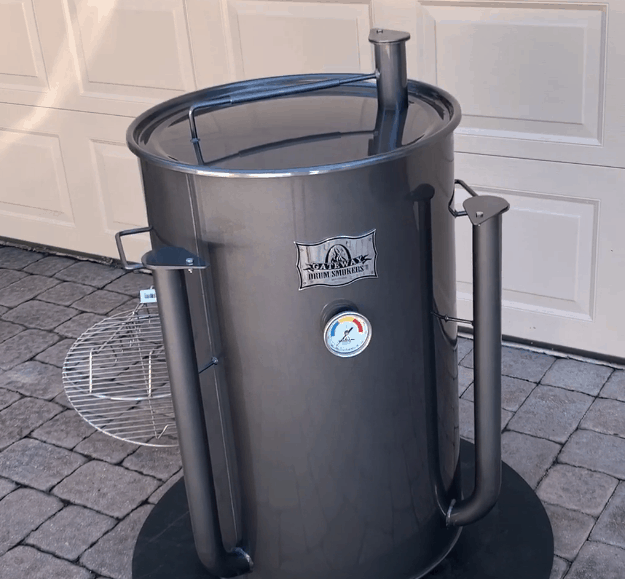 Safety
Staying safe while using the smoker is relatively easy. However, here are a few things that you should keep in mind while using this unit:
This smoker is intended for outdoor use only.

Do not use inside closed spaces.

Make sure to operate it away from open windows to prevent smoke from entering your house.

The device must be placed on a non-combustible hard surface such as concrete.

Avoid wooden surfaces and floors.

Do not use gasoline or other flammable liquids or vapors within 25 feet (8m) of the smoker.

Do not place combustible materials within 24 inches of the smoker.

Never leave this smoker unattended when in operation.

Do not touch hot surfaces directly.

Instead, use heat-resistant gloves or mitts when operating this smoker.

Keep the smoker in a level position at all times.

If a grease fire occurs, leave the smoker's lid closed until the fire is out.

Make sure the smoker is cooled before loading into a vehicle.
Reliability
The Gateway Drum smoker is straightforward. It does not have a lot of moving parts or electronics components that could break down. The material of this smoker is durable and retards rust. With proper care and maintenance, you can expect to get a device that will perform correctly for many years after you get it.
Price
This smoker has a decent price, and it represents a good investment for a BBQ aficionado. The larger model costs more, but it can be a more reasonable option if you want to cook a large amount of food on it.
For the latest price, click here .
Pros of the Gateway Drum Smoker
Let's summarize the main assets of this drum smoker:
Faster Cooking
This smoker's innovative design allows for faster cooking. For example, you can cook a chicken in 30 minutes, ribs in 2 hours, and a brisket in about 6 hours.
Adequate Cooking Space
With a size of 30-gal, this smoker offers plenty of space for your food. You can place the food in cooking grates or hang them in hooks.
Air Vents
The Drum smoker includes adjustable air vents that can precisely control the temperature inside the chamber.
High-quality Thermometer
The device includes a premium thermometer with a wide temperature range (50°F to 500°F)
Ease of Use
This smoker is relatively easy to light and operate. It is also easy to clean.
Cons of the Gateway Drum Smoker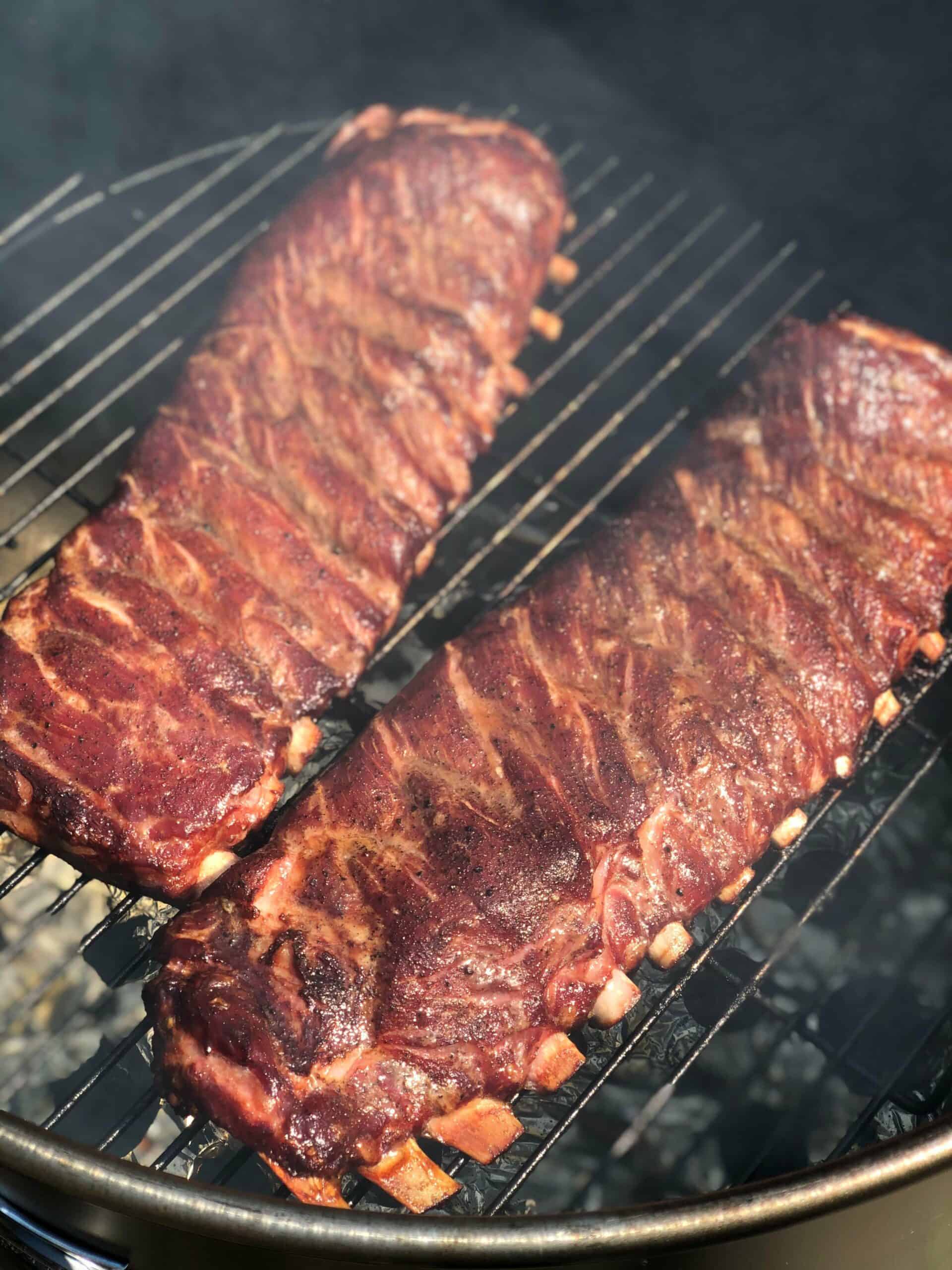 No Separate Door to Add Charcoal
There is no separate door to add more charcoal, so you have to remove the grates if you need to refill charcoal during the cooking session.
In the Glass Door to See Inside the Smoker
There is no way to look inside the smoker without opening the door, so you have to take off the lid to check the food in the chamber. This can change the temperature of the smoker.
Are There Any Alternatives?
If you are interested in other options, here are some alternatives to the gateway smoker that you might want to consider
Realcook Charcoal BBQ Smoker Grill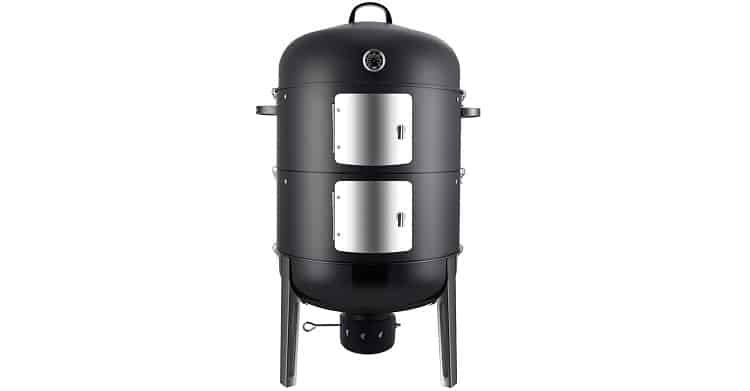 The Realcook Charcoal BBQ Smoker Grill is a sturdy device used for grilling, baking, and smoking. This smoker includes 2 access doors you can use to check the status of foods and add charcoal. In addition, it comes with two chrome-plated cooking racks with a total of 636 square inches of cooking surface.
This smoker includes controllable air dampers and a multi-layer design that allows you to suit it to the best type of cooking according to what you need. It offers huge flexibility since you can use it both for charcoal hot smoking or wood pellet cold smoking. It can be separated into three parts to store in your car or backyard.
Camp Chef Smoke Vault 24″ Vertical Smoker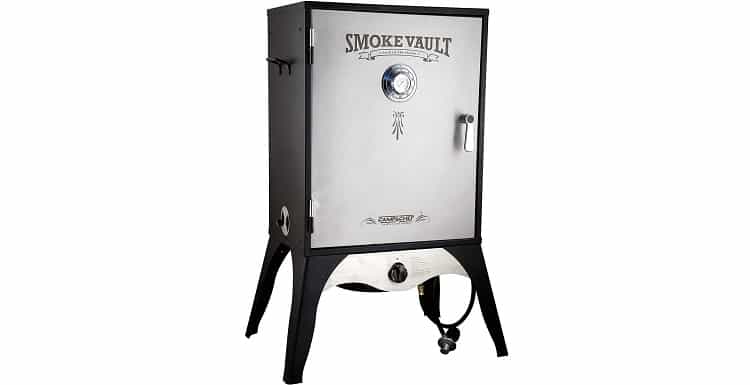 If you are looking for a device you can use outdoors; the  Camp Chef Smoke Vault may be the right choice. This smoker is a compact and portable machine with a simple design.
This smoker includes three damper valves, fully adjustable heat-control dials, and an easy-to-read thermometer that will let you adjust the temperature inside the smoker.
The smoking can reach cooking temperature from 160°F to 350°F. It has a protected burner drum for optimum heat control and a convenient matchless snap-ignition. The device comes with a heavy-gauge steel wood chip tray and a water pan that infuses the meat with a delicious flavor.
Frequently Asked Questions
Check out these common questions and answers for more information on the Gateway Drum Smoker:
Question: How Can I Adjust the Temperature Using the Air Dampers?
Answer: Open and close the air dampers to regulate the airflow inside the smoker. Open the vent about one-quarter of an inch for 275°F and about half an inch for 300°F.
Question: Can You Still Cook Low and Slow?
Answer: Yes. While the Gateway Drum Smokers are designed to cook hot and fast, you can cook your meat low and slow if you dial the intakes down and use a water pan.
Question: How Much Charcoal Can I Use for the Gateway Drum Smoker?
Answer: I recommend that you place around eight to ten pounds of high-quality charcoal in the charcoal pan. The charcoal pan should be around half to two-thirds full.
Question: How Can I Light the Charcoal in This Smoker?
Answer: You can light the charcoal with the help of paraffin wax. You should avoid using gasoline, kerosene, or alcohol for lighting charcoal. After you lit the charcoal, leave the lid off and the vents open for about 15 minutes.
Question: How Do I Dispose of the Charcoal After Smoking?
Answer: Once you are done cooking, the remaining coals and ashes must be removed from the device and safely extinguished. Place remaining coals and ashes in a non-combustible metal container and pour water on them.
Question: Which Kind of Food Can I Put in the Smoker?
Answer: The smoker is usually designed for meat, but you can put other food there, such as pizza or vegetables.
Question: How do I Clean the Gateway Drum Smoker?
Answer: Before cleaning, make sure the smoker is cool, and charcoal is fully extinguished. Then scrape the sides and bottom with a scrapper lid. Next, you can clean the outside surfaces using mild soap and water. Do not use an oven or abrasive cleaner on the outside surfaces, as it could damage the painting.
Final Thoughts: Convenient Smoker for Faster Cooking
Gateway Drum Smokers is an award-winning company known for producing high-quality smokers and accessories. Its smokers are known for their fast cooking.
The Gateway Drum Smoker is an innovative device that implements a hot and fast method for smoking. This smoker will be very attractive to you if you like saving time while preparing your meals. The adjustable air vents and pipes will give you very good control over the temperature inside the chamber.
Hopefully, this review has given you all the information you need to decide if the Gateway Drum smoker is the right fit for you. For guides on smoked food, feel free to take a look at our smoked halibut guide and smoked chuck guide.
Further Read: