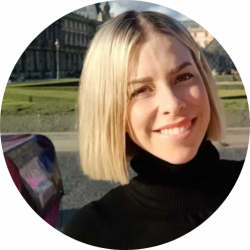 Latest posts by Jodie Chiffey
(see all)
We can all agree that nothing beats a nice, hot sausage straight off the grill. It is no wonder, then, that there are many varieties of sausages all over the world.
Making your own is the one sure way to ensure you always eat high-quality sausages. Additionally, sausages are a great way to preserve the game. You can encase your meat and store it until hunting season rolls around again.
Whether you are dealing with a lot of meat at one go or only have enough meat for an afternoon barbecue, sausage stuffers make it easy to create your own sausages. You can easily transfer your meat from the grinder to your stuffer to your smoker or grill. In no time, you will be enjoying your own sausages and getting praise for how good they taste.
Let us look at the best sausage stuffers available on the market so you can take your sausage-making game to the next level.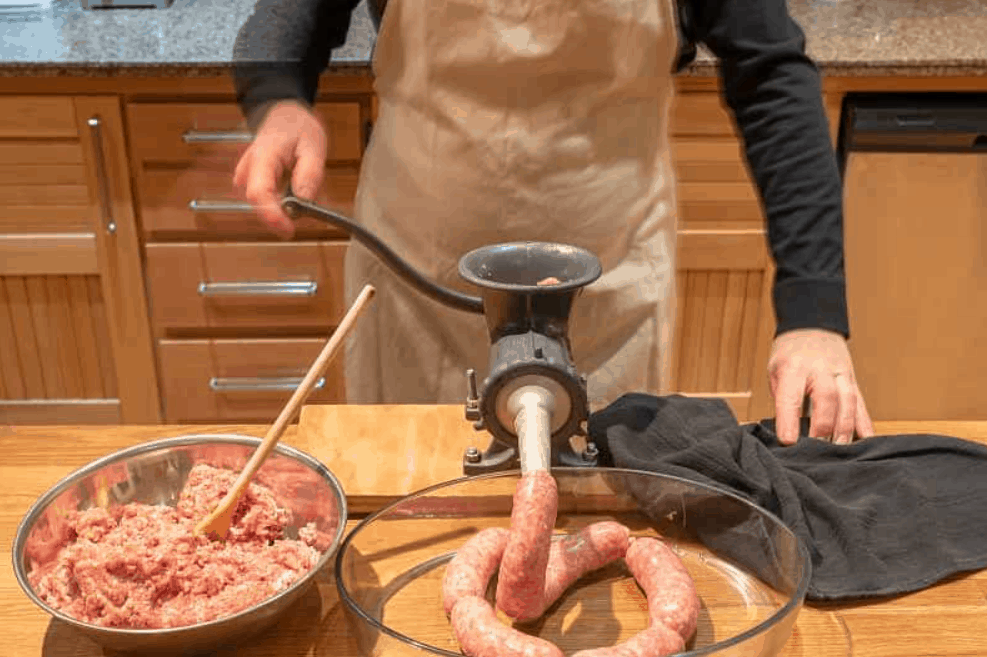 At A Glance: 7 Best Sausage Stuffers
| | | | | |
| --- | --- | --- | --- | --- |
| Name | Dimensions | Best for | Weight | More Info |
| Hakka Brothers 7Lb Sausage Stuffer | 22.05" x 9.84" x 12.99" | Fast loading and stuffing | 19.8lbs | Find out more |
| STX Turboforce II Sausage Stuffer | 17" x 8" x 12" | Multipurpose use | 13lbs | Find out more |
| LEM 30-Pound Motorized Sausage Stuffer | 17.75" x 45" x 14.72" | Large-scale use | 43lbs | Find out more |
| Master Feng 2.5Lb Sausage Stuffer | 15.51" x 5.75" x 5.67" | One-person operation | 4.93lbs | Find out more |
| LiebHome Manual Sausage Maker | 6.6" x 2" x 3.9" | BPA-free sausage making | 8.2oz | Find out more |
| Fantes 2.2Lb Sausage Maker | 16" x 4" x 5" | Horizontal stuffing | 2.2lbs | Find out more |
| Weston 7-Pound Manual Sausage Stuffer | 13.75" x 13.75" x 22.5" | Heavy-duty operation | 16.75lbs | Find out more |
Selection Criteria
Sausage stuffers are an important purchase. They are great helpers in the kitchen, whether personal or professional. Since they come into direct contact with your food, it is important that you get the highest quality possible. Our list features stuffers that fit the following criteria:
Heavy-duty construction: A good sausage stuffer should be able to last you more than a few years. Heavy-duty construction ensures you can make sausage out of any meat without the parts of the stuffer breaking off. All the sausage stuffers in our selection are made from high-quality, durable materials. The parts will not break apart when you use them, making these sausage machines worth the money.
Ease of operation: Our selection features sausage stuffers that one person can easily operate. There are multiple that even beginners can use right off the bat without training. Features like clamps, foot pedals, and table stand ease of operation. We also have both manually and electrically operated stuffers on our list, so you can pick what is best suited to your needs.
Hygiene: All equipment that comes into contact with your food must be food-safe. Several factors go into ensuring this in a sausage stuffer. These include construction from non-toxic, food-grade material. Quality parts also need to be used to ensure that the parts do not chip and get into your sausage casings. A sausage stuffer should also be easy to clean to maintain the hygiene of your food. The stuffers on our list check all these boxes.
Reasons to Buy a Sausage Stuffer
Faster Operations
Sure, you can physically stuff ground meat into sausage casings. However, this will be a slow process that will definitely not give you good-looking sausages. A sausage stuffer allows you to churn out the perfect sausages. The full control you have when stuffing also lets you set your own speed so you can make as many sausages as you need.
Customized Sausages
There is nothing better than having full control over what you eat. A sausage stuffer allows you to cater your food to your own taste. You can add all the spices you like to your ground meat to produce the best-tasting sausages. You can play around with ingredients to create your own recipes, even your own new type of sausages! With enough practice, you can even make sausages that are good enough to sell.
Healthier Food
When you buy sausages from the supermarket, you can never be sure what chemicals and ingredients the meat has come into contact with. A sausage stuffer lets you handle your meat your own way from start to finish. It is a must-have piece of equipment if you want high-quality, healthy food. In addition, if you are vegan or have food allergies, you can personally ensure that you enjoy sausages made from the best, hygienic ingredients that suit your food preferences.
Multipurpose Use
Sausage stuffers can make a variety of encased meats. Bratwursts, hot dogs, and boerewors are just some of the meat products you can get from a sausage maker. Since many come with multiple nozzles, you can easily vary the sizes of your sausages without a hassle.
Tips for Using a Sausage Stuffer
Conduct Safety Checks
Whether using a manual or electric sausage stuffer, make sure that all parts are in place before you put your meat into the cylinder. Follow the instruction manual for your particular brand of sausage stuffer to ensure that all the bits and pieces are properly fitted together. This protects your food from any flyway bits that can be a choking hazard as you eat.
If your stuffer has a stand, place it on a steady surface, so it does not shift around while you work. Taking safety checks before you start using your stuffer will make it easy to get good-quality sausages all the time.
Spray Nonstick Coating
Stainless steel and plastic are common materials used to make sausage stuffers. These materials are food-safe, but they are not non-stick. Spray the inside of your stuffer with non-stick liquid before each use. This ensures you do not have to periodically remove stuck meat from the inside of your cylinder or nozzles as you stuff your casings. It also makes for an easy cleanup process once you are done making your sausages.
Clean Your Sausage Stuffer
It might be tempting to leave your sausage stuffer be as you enjoy the fruits of your labor. However, cleaning the sausage stuffer will ensure its durability. Once you get all the meat into the casings, dismantle your stuffer and soak the parts in warm water. Afterward, go over each part carefully with a scrub and dishwashing soap. Finally, dry the parts before storing them, ready for the next use.
7 Best Sausage Stuffers
1. Hakka Brothers 7LB Sausage Stuffer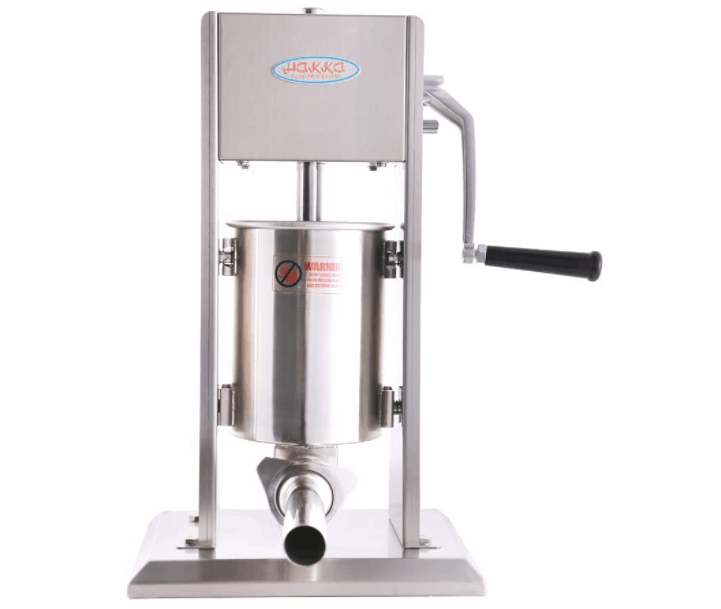 To start us off is the Hakka Brothers 7-pound Sausage Stuffer. Hundreds of users sing this stuffer's praises, and for good reason. This stuffer is made entirely out of stainless steel. This means it can endure heavy-duty use without bending or breaking.
The cylinder of this sausage stuffer has a 7-pound capacity. It can take a lot of meat at one go, reducing the hassle of loading the stuffer. The parts that come into contact with your food are SGS-certified. This means they are food-safe and will not harm your health over time.
The 7lb sausage stuffer from Hakka Brothers comes with 4 nozzles. These measure 16mm, 22mm, 32mm, and 38mm. This makes it possible for you to make different sizes of sausages using the same machine. It also has 2 fill-rate systems: one is easy to use, and the other is quick. This makes it possible for you to operate at your own ease and expertise.
Pros
Food-grade, stainless steel construction.
Comes with differently-sized funnels for sausage customization.
2 fill rate systems for ease of operation.
Large canister for both home and professional use.
Easy to dismantle and clean.
Cons
It has rough edges that might cut if you are not careful.
2. STX Turboforce II Sausage Stuffer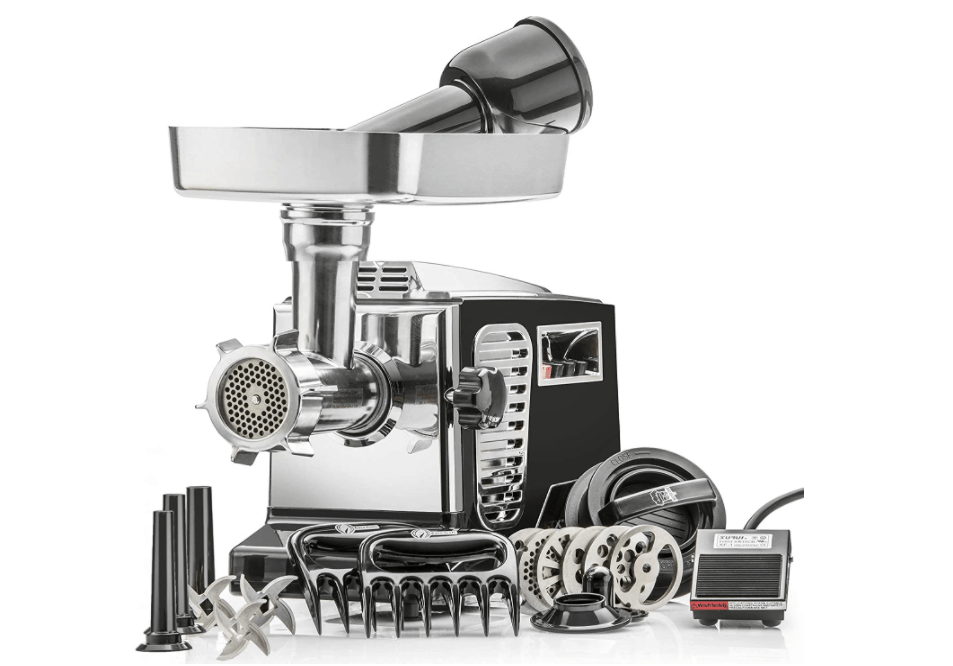 The Turboforce II Sausage Stuffer from STX is an electric, multipurpose machine that will invigorate your operations. It packs 2000 watts of power to grind even the toughest of bones. It has 3 operational speeds, including a reverse function. A circuit breaker ensures that you are safe all the time.
This sausage stuffer comes with a variety of tools. There are 5 different sizes of grinding plates and 3 different sizes of sausage stuffing tubes. If you want to make burger patties, there is a press for it. A kubbe attachment gives you more options for your meat.
You can simply operate the machine with a button. However, there is a foot pedal for hands-free sausage making. The fully stainless steel construction means you get a heavy-duty sausage maker for both home and professional use.
Pros
Electric operation for easy heavy-duty use.
Comes with multiple attachments for multipurpose meat processing.
Features food-safe steel construction.
It has a cooling system to ensure durability.
Allows for hands-free operation.
Cons
Loud operation when using the grinding function.
3. LEM 30-Pound Motorized Sausage Stuffer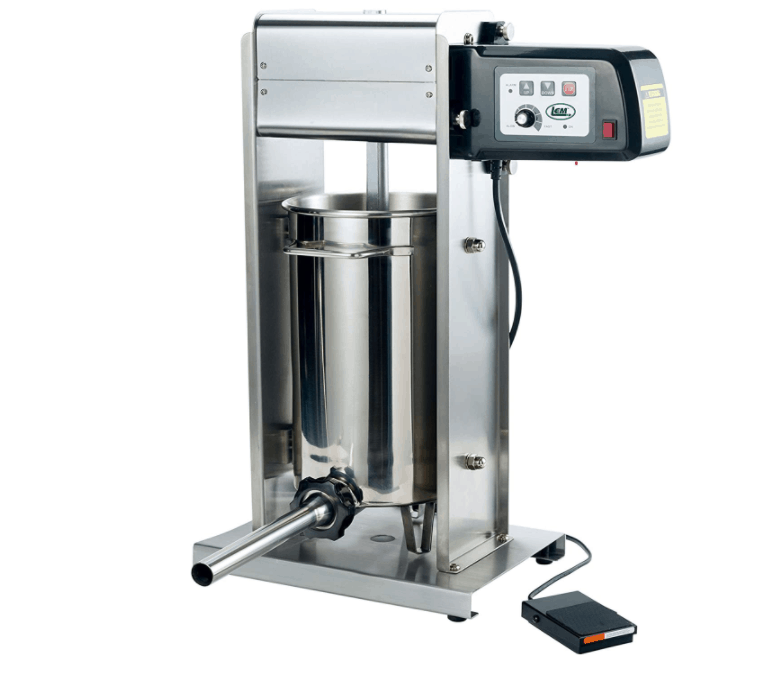 The LEM Motorized Sausage Stuffer is definitely one for the books. This is a stuffer designed for professional use, so if you make enough sausages to last you throughout the year or for sale, this should be the one you pick.
This is a motorized sausage stuffer. This means you do not need to control the movement of the piston by hand. The motor can operate at 8 different speeds, so you can decide which pace is the best for you. The 30-pound cylinder means you can go as fast as you like because there is less loading needed.
Multiple attachments come with the LEM Motorized Stuffer. 4 stainless steel stuffing tubes let you make different sizes of sausages. Aside from the handle, there is also a foot pedal that lets you operate the stuffer hands-free.
Pros
Constructed from sturdy, food-grade stainless steel.
Large enough for professional use.
The 8-speed motor allows for slow or fast operation.
Multiple stuffing tubes give a range of sausage sizes.
Removable cylinder and parts for easy washing.
Cons
Requires clamping to a surface for steady operation.
4. Master Feng 2.5 Lb Sausage Stuffer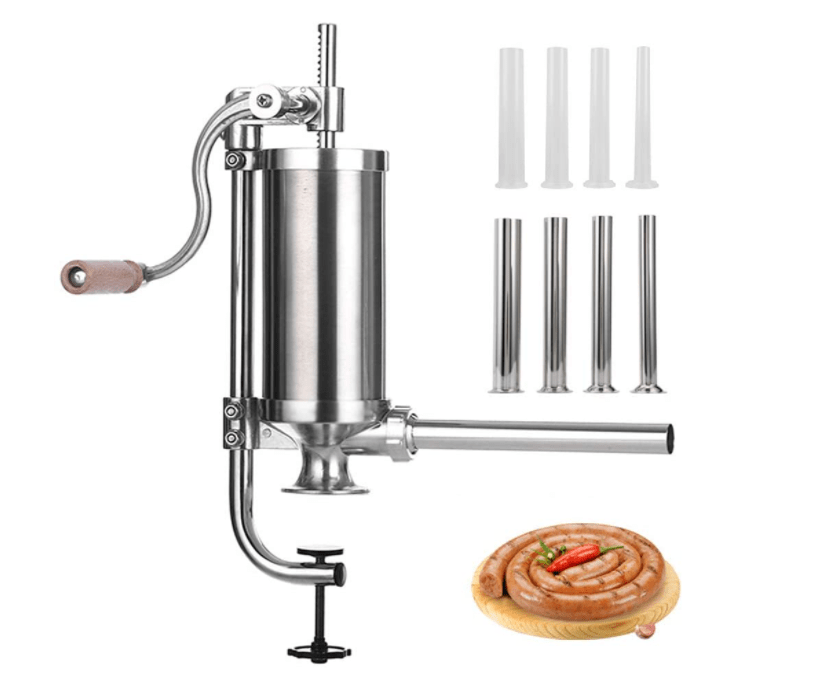 The Master Feng Sausage Stuffer is optimized for making sausages at home. This is a stainless steel stuffer that promises high-quality operations without breaking. An ergonomic handle makes it easy to operate without assistance.
The cylinder of this sausage stuffer can fit up to 2.5 pounds of meat at one go. So you can make enough sausages or hot dogs for an afternoon of barbecue. The stuffer comes with 4 steel tubes so you can make different sizes of sausages to your liking.
To ensure you make great sausages, the silicone piston of this stuffer has an air-release valve. This removes any air bubbles as you stuff your sausages without breaking the casing. It is easy to dismantle so you can clean and keep your food hygienic.
Pros
All parts are made from food-grade stainless steel.
It features an ergonomic handle for comfortable operation.
An air-release valve gives you greatly stuffed sausages.
Comes with 4 pairs of tubes for differently sized sausages.
Easy to keep hygienic.
Cons
Some of the parts are prone to breaking with heavy use.
5. LiebHome Manual Sausage Maker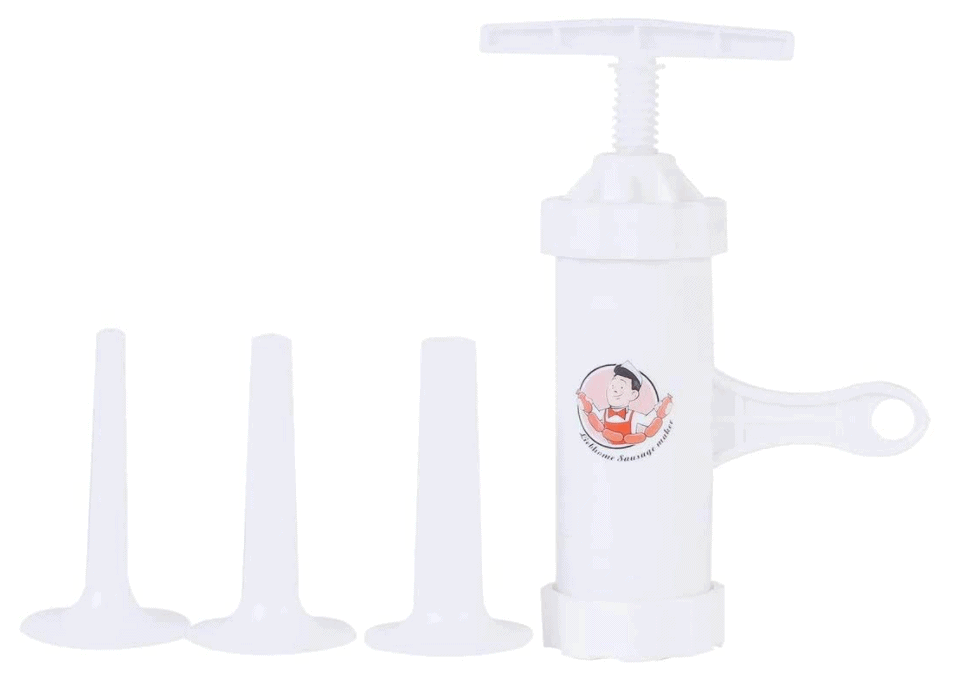 The Manual Sausage Maker from LiebHome makes it onto the list because of the quality of its operations. It is made from food-grade, high-quality plastic that is BPA-free. As a result, you can be sure of healthy sausages with each squeeze of the piston.
LiebHome's Manual Sausage Maker has a cylinder that can hold around 12 ounces of sausage stuffing. This is enough to make two 8-inch sausages at once. The compactness of the sausage stuffer means even a child can use it without hurting themselves.
This stuffer comes with 3 funnels so that you can make 3 different sizes of sausages. You can use it to make sausages from any type of meat, including game meat. The plastic is easy to clean so that you can make hygienic sausages for the whole family.
Pros
Made from durable BPA-free plastic.
Holds enough material for multiple sausages at once.
Compact enough for one-hand operation.
Easy to clean.
Cons
Not great for heavy-duty use.
6. Fantes 2.2Lb Sausage Maker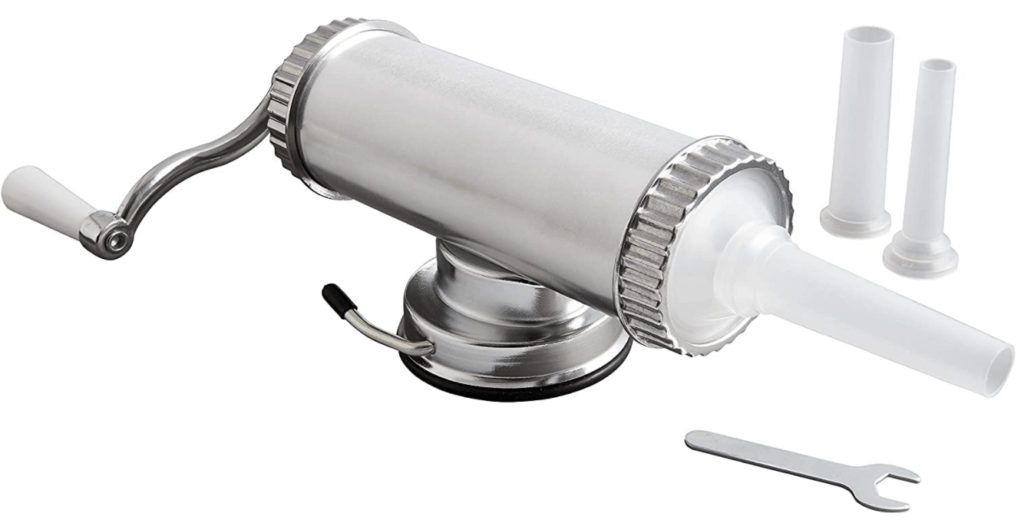 Fantes sausage stuffers are known for their long history of making healthy sausages. This sausage stuffer is made from aluminum and food-grade plastic. It is a horizontal sausage stuffer so that you can operate it easily.
The Fantes 2.2Lb Sausage Maker has a suction base that keeps it steady. This way, you can easily stuff meat without making a mess. It has an ergonomic handle that protects your hand while you stuff your casings.
You get 3 differently-sized nozzles with this sausage maker. Then, when you want to wash, you can dismantle both the metal and plastic parts. This way, you get hygienic sausages each time.
Pros
Simple and fuss-free to use.
Horizontal orientation makes it easy to load.
A soft plastic handle allows for ergonomic operation.
Good for making small batches of sausages.
Food-grade construction ensures hygienic food.
Cons
The suction cup does not provide long-term anchoring.
7. Weston 7-Pound Manual Sausage Stuffer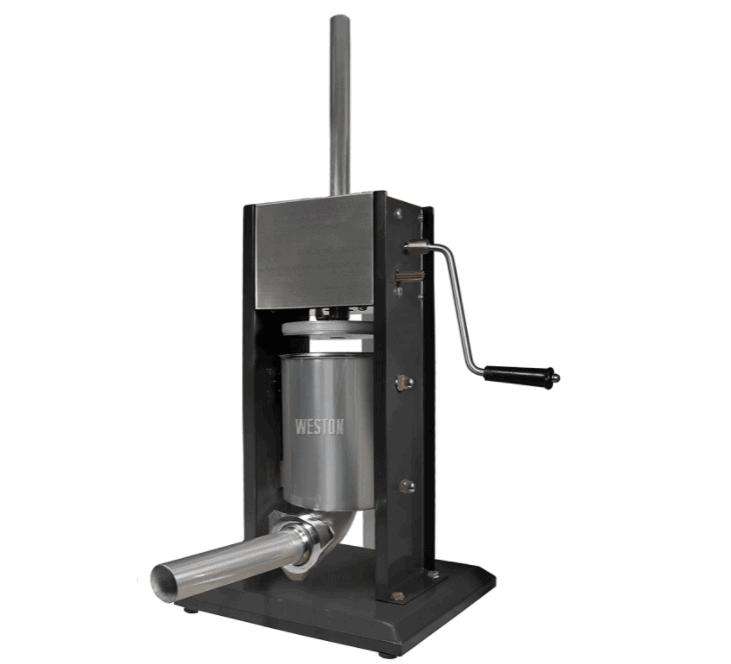 The Weston 7-Pound Manual Sausage Stuffer is a heavy-duty sausage maker. With a 7-pounds worth of cylinder space, you can easily make enough sausages even for small-scale professional use, for example, for a small restaurant. It comes with funnels that are up to 40mm in diameter so you can make tasty, fat sausages.
This sausage stuffer is made from stainless steel. It is coated on the inside so that meat does not stick to the sides. It has two different grinding speeds. Together with the heavy-duty gears, you can grind large quantities of meat all at once.
A pressure valve allows you to make sausages without air bubbles. The stuffer's cylinder tilts to the side so you can efficiently load and empty the cylinder. This also makes it easy to wash this sausage stuffer. Rubber feet at the bottom keep the stuffer steady when you use it.
Pros
Has two gears for speedy operation.
Features a pressure valve that stops your casings from bursting.
Optimized for easy loading and stuffing.
Suitable for small-scale professional operations.
Made from heavy-duty materials that can handle long-term use.
Cons
The pressure release valve is not easy to clean.
Frequently Asked Questions
Question: Can I make vegan sausages using a sausage stuffer?
Answer: Yes, you can. A sausage maker can handle any food material that can be ground to have the texture of ground meat. For example, you can fill the cylinder with ground seitan, beans, or chickpeas.
Question: How do I get stuck meat out of the stuffer?
Answer: Most stuck meat can be pushed out of the sausage stuffer using a finger. If this does not work, you can use a thin metal or plastic rod to remove stuck food material from the bottom of the cylinder or the nozzle.
Question: Can I use a dishwasher to clean my sausage stuffer?
Answer: Whether or not a sausage stuffer can be cleaned using a dishwasher depends on the materials it is made from. Once you dismantle the pieces, most will be properly cleaned in a dishwasher. However, confirm this with the user manual, so you do not destroy your stuffer.
Which Is The Best Sausage Stuffer?
The Hakka Brothers 7 Lb Sausage Stuffer takes the cake on our best sausage stuffer list. It is constructed from heavy-duty stainless steel and a large cylinder that allows you to make multiple sausages at one go. It also has 2 fill-rate systems so you can make sausages at your own pace. So whether you are making sausages for your personal use or your small food business, this sausage maker will suit you perfectly.
STX's Turboforce II is a close second because it has an electric motor. It is also very heavy-duty, so you can comfortably use it for commercial purposes. Finally, LEM Products' 30-Pound Sausage Stuffer is another one to consider if you make sausages commercially.