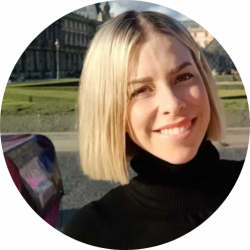 Latest posts by Jodie Chiffey
(see all)
In this review, we will look at the Waring Pro Meat Grinder, one of the most popular professional-grade meat grinders you can find.
Waring is one of today's leading producers of commercial kitchen appliances. The company has over 80 years of manufacturing experience in a wide variety of products. Their portfolio includes large-volume food processors, blenders, and heavy-duty heating devices such as grills and toasters.
Today, we will focus on the Waring Pro MG855 Meat Grinder, which is one of the top professional-level grinders. We will take a look at its most important traits and functions. We will also mention several other grinders to give you a few more options if you are interested in other products.
If you like to grind meat at home, feel free to check out our list of the 32 best meat grinders to discover the best options available on the market.
Let's start by taking a look at its specifications:
Key specifications of the Waring Pro Meat Grinder
| | |
| --- | --- |
| Type of Grinder | Electric Meat Grinder |
| Grinding Plates | Three Cutting Plates: Fine, Medium, Coarse |
| Blade Material | Carbon Steel |
| Accessories | Meat Pusher and 2 sausage stuffers |
| Motor | 350 Watt |
| Dimensions | 8.63 x 11.88 x 15.63 inches, 12 pounds |
| Price | Click here for the latest price |
Core features of the Waring Pro Meat Grinder
The Waring Pro Meat Grinder is a high-quality meat grinder that has been designed to satisfy the needs of the average home chef. But, first, let's take a look at its performance and most important characteristics: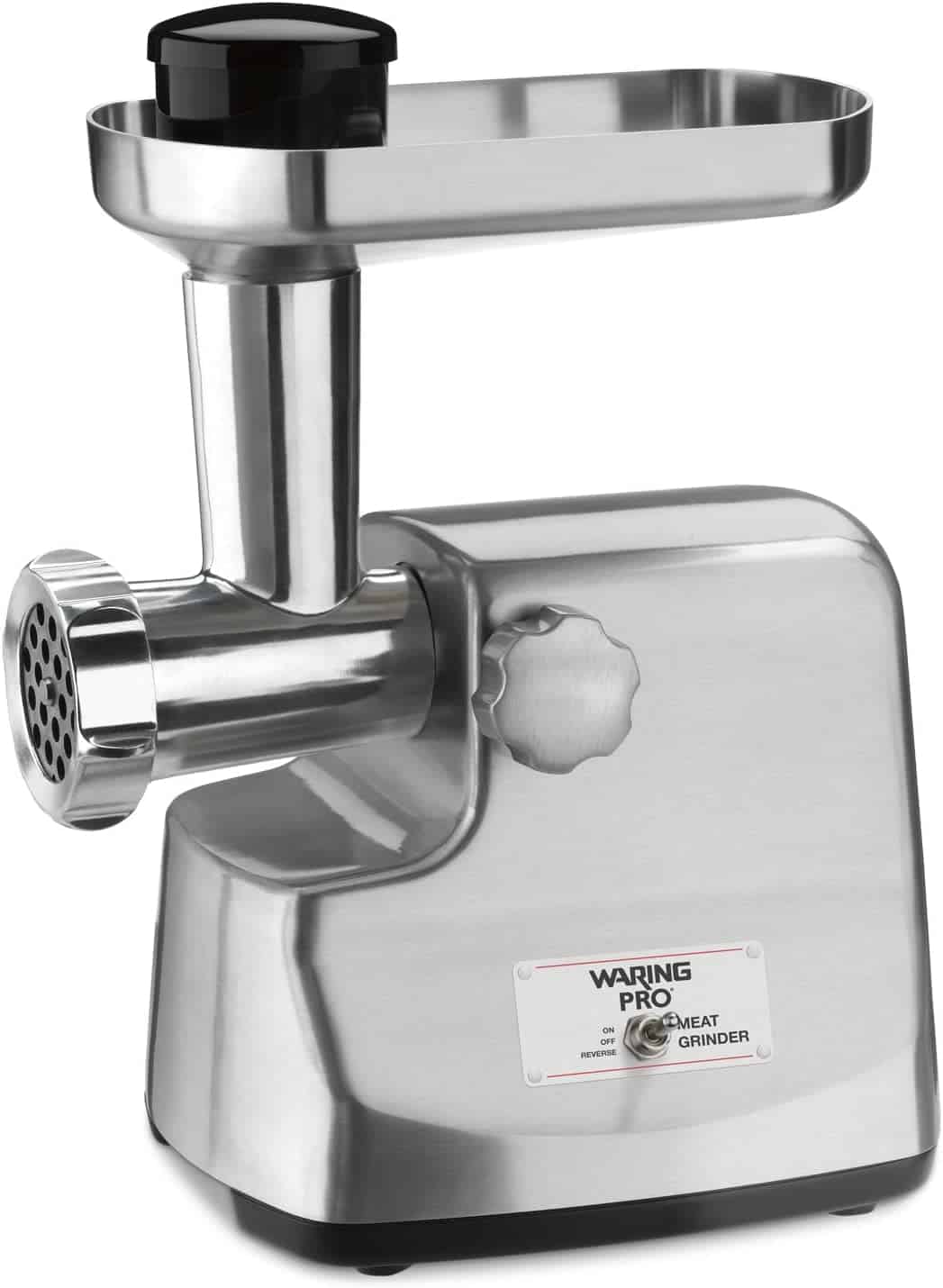 Construction and design
The Waring Pro Meat Grinder is a great fit for those looking for a compact and portable grinder for occasional at-home use. This model is a small meat grinder, measuring 8.63 x 11.88 x 15.63 inches and weighing 12.47 Pounds. It will not take a lot of space on your kitchen counter, and its lightweight makes it easy to lift and move around.
This device has a beautiful and elegant design. The body is made out of brushed stainless steel, which gives it a shiny metallic appearance. This material is considered to be very durable and easy to clean. However, the inner components are made of aluminum, which cannot be cleaned in a dishwasher.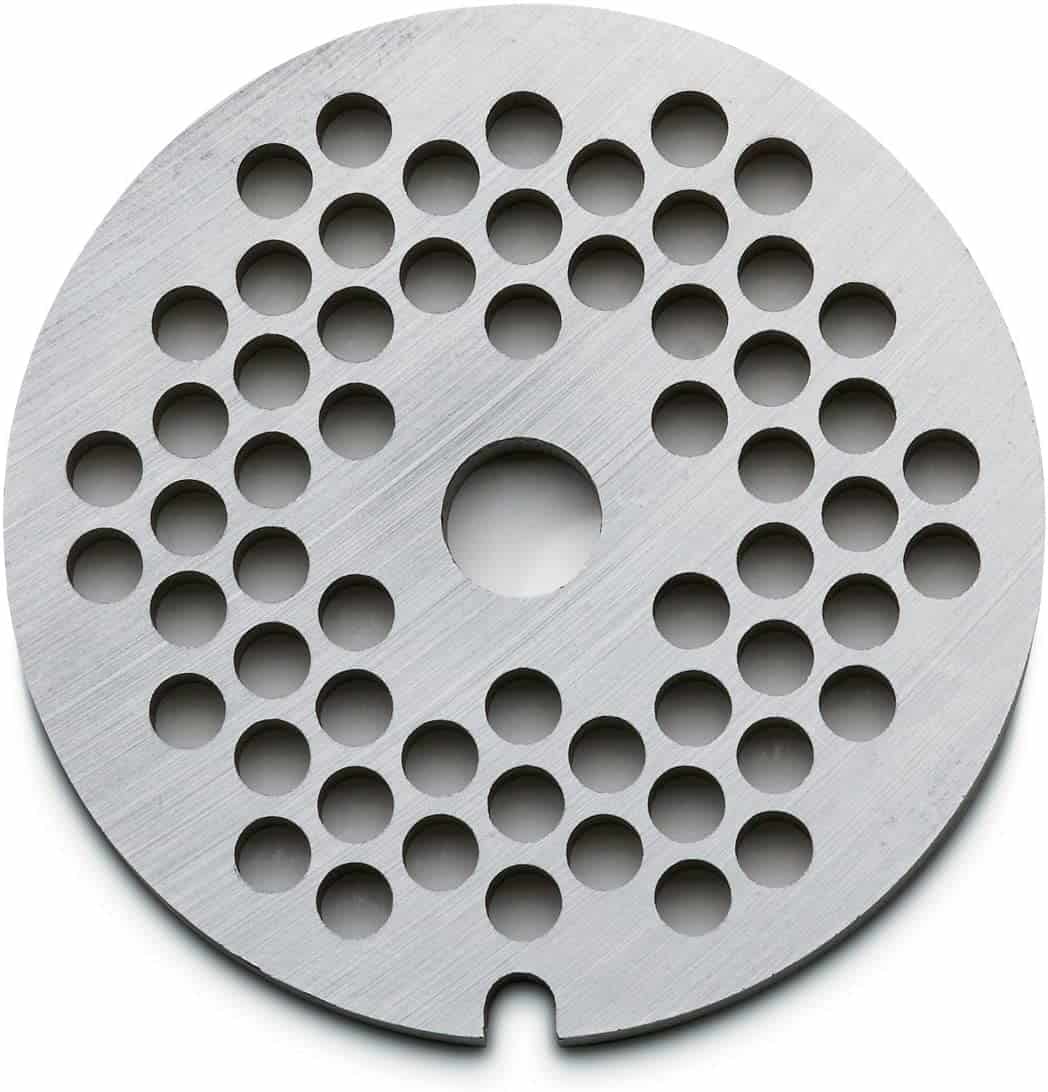 The Waring Pro Meat Grinder comes with all the accessories you require to get started with meat grinding. These include three cutting plates, one meat pusher, two sausage stuffing tubes, and a sausage stuffing plate. In addition, the manual comes with several sausage recipes you can prepare at home.
Each of the three different plates can be used to achieve different meat textures. These are fine, medium, and coarse plates. These useful plates will allow you to grind foods for a wide variety of meals. The plates are made from carbon steel, which makes them very durable and strong.
Which grinding plate to use depends on what type of food you want to make. For example, the fine plate makes hamburgers, spreads, meatballs, and baby food. The medium plate is good for making sausages or meat for soups, and the coarse plate is used to make chili and grind vegetables.
This grinder has an extra-large meat hopper or meat tray that can hold a lot of food at once. This will help you work more efficiently since you will spend less time refilling the hopper and more time grinding the food. The hopper, auger, and feeding tube are made of aluminum.
The meat pusher is made of black plastic and has a removable lid. It is meant to be used as a place to store the sausage accessories. This is an interesting feature that will help you save storage space in your kitchen and organize your items. However, there is a downside to this: some people report that the top of the pusher can pop off when you are pushing the meat down the feeding tube.
Functions and Controls
The Waring Pro Meat Grinder is relatively simple to use. You don't need to be an expert chef to get great value out of this device. To operate the grinder, follow these steps:
Wash all the parts of the meat grinder thoroughly before the first use.
Put the meat grinder on a stable surface such as your kitchen countertop.
Set the On/Off/Reverse switch in the Off position.
Insert the plug into an outlet.
Place a bowl or plate beneath the grinder tube to catch the food.
Switch the meat grinder to the On position. Make sure that the grinder ALWAYS is on before you add food to it.
Place the meat on the hopper and use the pusher to feed the meat through the opening.
This device comes with a reverse switch that can be used if some food gets jammed in the grinder. If this happens, place the switch in the OFF position and pulse the meat grinder in the reverse direction by pressing down the reverse switch and quickly releasing it three times. Then turn the grinder back on. This should resolve the jamming problem.
To clean this appliance, you need to disassemble the machine and clean everything separately. All parts of this device should be washed by hand. It is essential that the carbon steel pieces are completely dried after washing. If you don't do this, it could cause rust to appear over time.
Safety
The most important thing to keep in mind to remain safe while using the grinder is to use a meat pusher instead of your bare hands when you push the meat down the grinder. Never feed the meat by hand.
In addition to this, you must always keep your hair, clothing, and other utensils away from moving discs during use. This will reduce the risk of injury and damage to the grinder.
Never use your fingers to scrape food away from the grinder while this device is in operation. Also, do not plug in the device if it has not been completely assembled.
It is a good idea to sanitize the grinder after each use to avoid the possibility of bacterial contamination. Disassembling the grinder for cleaning is easy and not complicated.
Reliability
Waring is one of the most reputable manufacturers of grinders there are. Their devices are famous for being durable and reliable. This model, in particular, is a professional-grade meat grinder, which means it is even more durable and robust than the average grinder. The body and plates are made out of stainless steel and carbon steel and will last even after many years of frequent use.
The Waring Pro meat grinder has a powerful 350W motor with enough power for most home-kitchen uses. From burgers to chili, this meat grinder can handle most types of meat with ease. The device can grind up to 4 pounds of meat per minute.
For your peace of mind, Waring offers a 5-year warranty on this product.
Price
Despite being a professional grinder, this product is relatively economical. For the latest price, click here.
Pros of the Waring Pro Meat Grinder
Let's summarize the biggest assets of this professional meat grinder:
Compact and sturdy design
With a compact and portable design, this grinder is easy to store and transport. Despite its low weight, it is sturdy and doesn't move around when you are grinding.
Accessories
This model comes with many extra accessories, including items for sausage making. The meat pusher can conveniently store the accessories so you don't misplace or lose them.
Reverse switch
The Waring Pro Grinder includes a reverse switch that can be used to solve jamming problems. This is a great feature as many models lack this useful reverse switch.
Ease of use
This device is very simple to use. You just basically need to turn on the machine and push the meat down the grinder.
Warranty and support
For your peace of mind, Waring offers five years of warranty on this product after your purchase, which is one of the best offers on the market.
Cons of the Waring Pro Meat Grinder
Not dishwasher safe
The parts of this device cannot be washed in a dishwasher. This will make the cleaning process take longer since the pieces must be disassembled and washed by hand. However, disassembling the machine is a straightforward process, so it should not be a big downside.
The cap on the pusher can come off during use.
The meat pusher has a plastic cap that sometimes comes off while pushing the meat down the grinder.
Are there any alternatives?
Here are some alternatives to the Waring Pro Meat Grinder you might want to consider
Weston 22 Meat Grinder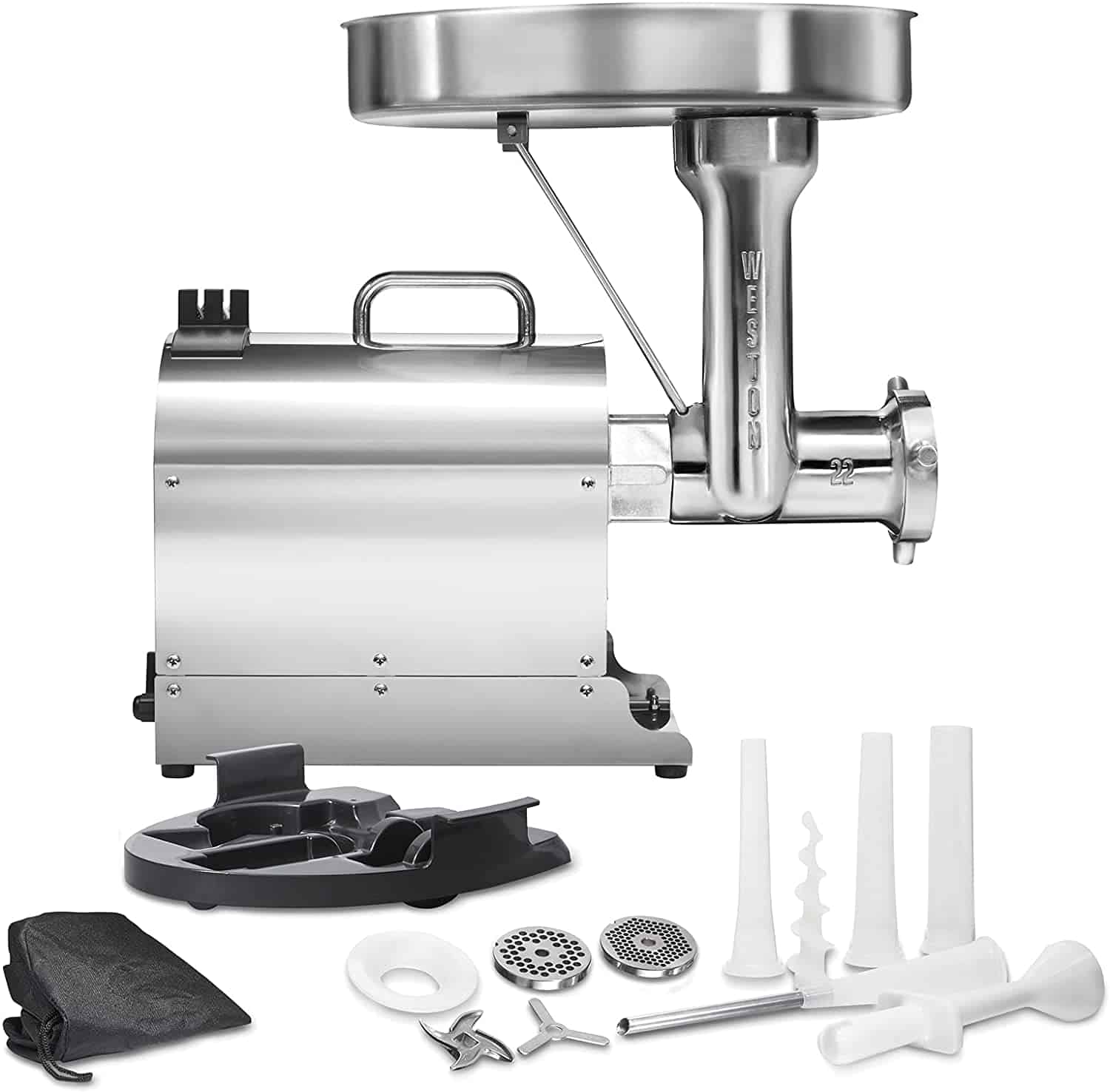 For those who prefer a big meat grinder, the Weston 22 Meat Grinder is a heavy and robust commercial-grade machine that can withstand nearly anything you put in it. It comes with a powerful, air-cooled, and permanently lubed engine. This strong 1.5HP/1125 W engine will allow you to process a large quantity of meat for a long time period.
The machine comes with two grinding plates (coarse and fine), some sausage-making funnels, and a built-in knife sharpener. Its wide feeding tube and big tray will let it handle bigger pieces of meat without clogging or jamming.
The entire grinder measures 17 x 24.75 x 15.5 inches and weighs 60 pounds. You probably want to keep it on the counter and don't move it around too much. However, it may not be the right option for you if you have little space in your kitchen.
For more information on this model, please check our Weston 22 Meat Grinder review.
Weston Butcher Series #32 Electric Meat Grinder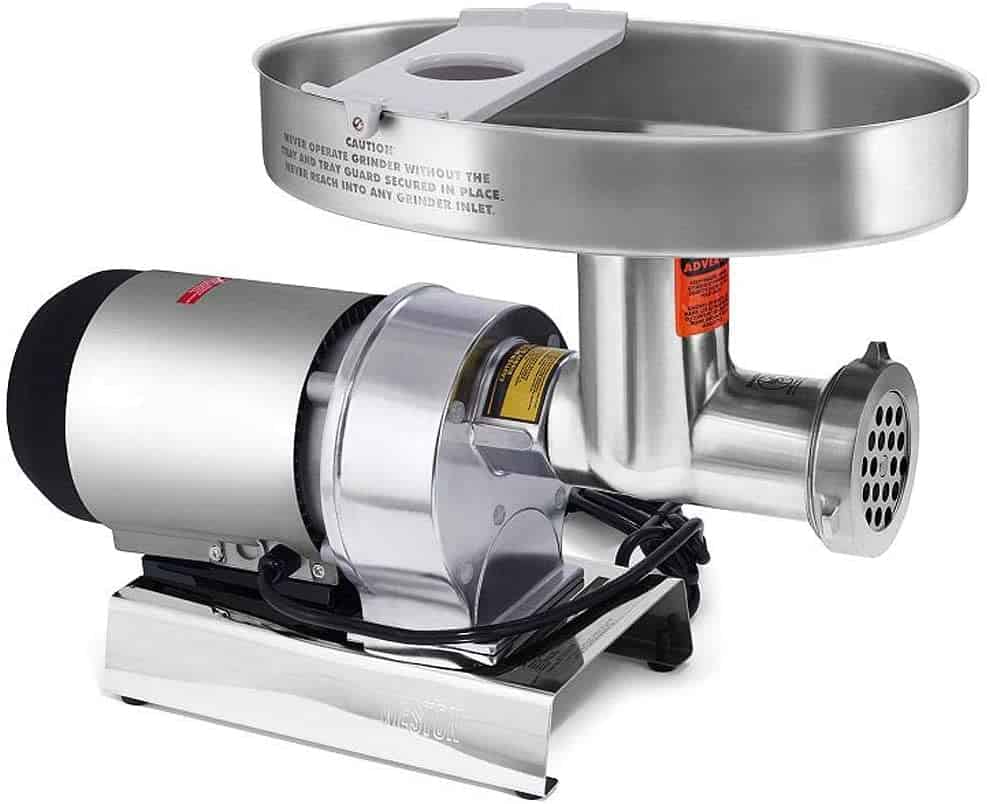 This is probably one of the best electric meat grinders you can find. If you don't mind investing more money in a more expensive but high-quality option, this could be the right meat grinder for you. It features a powerful 1.5 HP motor that can grind from 12 to 18 pounds of meat per minute. This makes it fitting for commercial and business purposes.
The Weston Butcher Series #32 Electric Meat Grinder includes two grinding plates (7mm and 4.5mm) and a sausage stuffing kit (20mm, 30mm, and 40mm funnels), an auger grabbing stomper, and a stainless-steel grinding knife.
LEM Products Stainless Steel Big Bite Electric Meat Grinder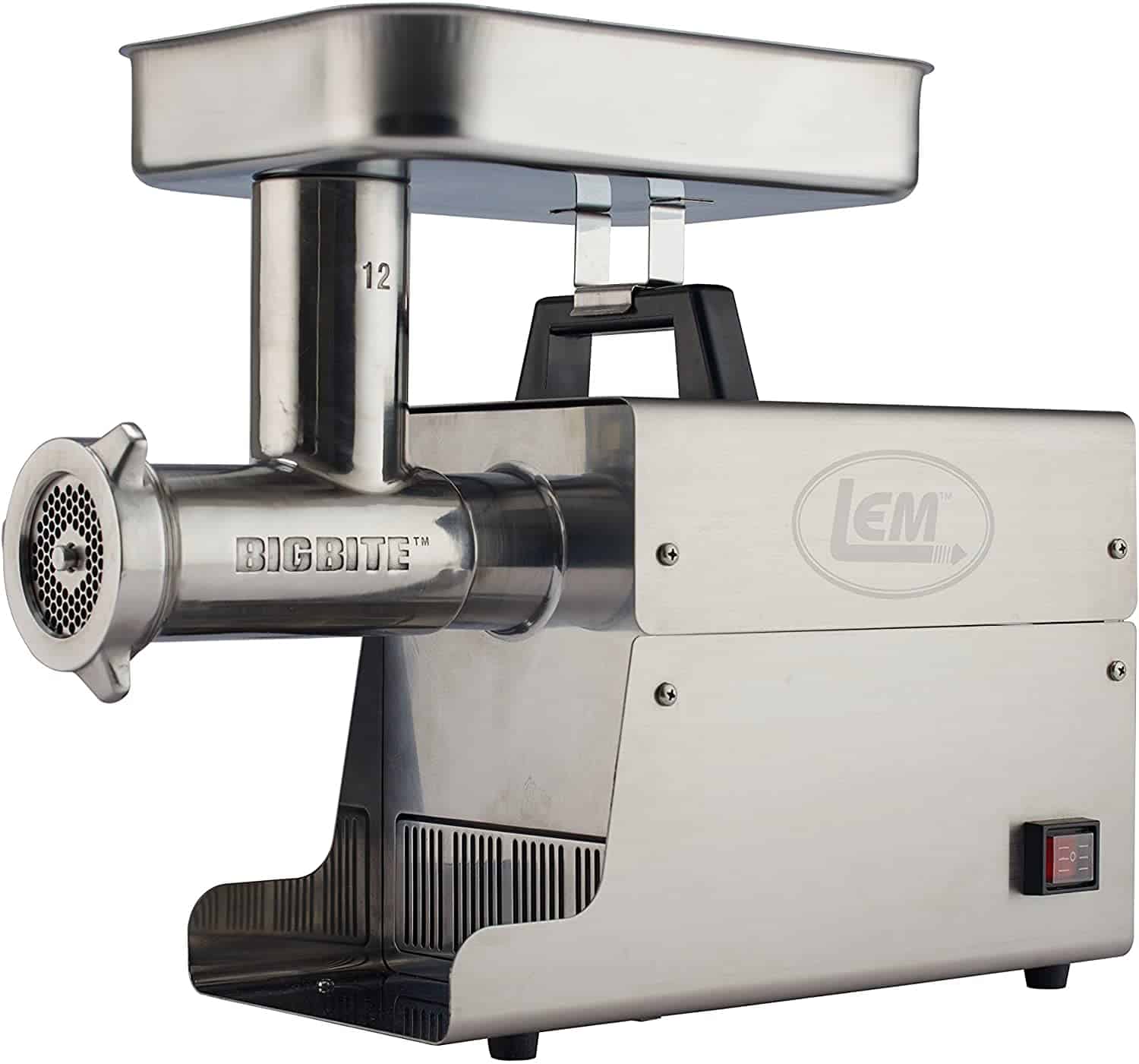 If you are looking for a meat grinder made completely out of stainless steel, the LEM Products Stainless Steel Big Bite Electric Meat Grinder #12 could be the right choice for you. The material makes it far more durable and robust than aluminum-made grinders. However, keep in mind that it also makes it more expensive.
Its 0.75HP motor is very quiet while in use and will keep your ears safe from noise. This grinder comes with an integrated circuit breaker, a steel knife, a stuffing plate, a fine plate (3/16″), a coarse plate (3/8″), 3 tubes, a meat pan, and a plate extractor.
Frequently Asked Questions
Check out these common questions and answers for more information on the Waring Pro Meat Grinder.
Question: How do I clean the Waring Pro Meat Grinder?
Answer: First, disassemble the machine and then use warm soapy water to clean the pieces to clean the meat grinder. Let dry completely. A trick to make the cleaning process easier is to start by running some bread through the device. This will remove any residual meat that has gotten stuck in there.
Question: Where can I buy the Waring Pro Meat Grinder?
Answer: The Waring Pro Meat Grinder can be bought from Amazon. It can also be found at Walmart and several online resellers.
Question: Which kind of food can I process with the Waring Pro Meat Grinder?
Answer: While this device is designed for grinding meat, you're not limited to just meat grinding. You can also grind fish and vegetables with it. However, the Waring Pro meat grinder cannot be used to grind bones.
Question: How do you prepare the food for grinding?
Answer: To prepare the food for grinding, first cut the food into smaller pieces than the opening on the die-cast hopper. You should make sure that the food is free of bone and tough tendon before you grind it. Raw meat should be thoroughly chilled before you process it. As long as the pieces are not too big, the food slides smoothly into the cutting blade and go through the plates.
Question: What can I do if the motor slows down or stops?
Answer: If the motor stops, it could be due to jammed food. First, turn the grinder off and use the reverse switch to clear the jamming. If the problem persists, you may have to disassemble the grinder and clean its internal parts.
Final thoughts: This pro-grade grinder is great for your kitchen!
The Waring Pro Grinder is one of the best grinder options available in the market. The shiny metallic surface will make it look very elegant on your kitchen counter. You can use it to prepare hamburgers, sausages, meats for chili, and fish for soups.
All in all, this machine is quite robust and reliable. After evaluating its features and qualities, I would say that this professional-grade grinder should satisfy any ambitious home cooker or even many professional chefs.
I hope this guide has given you all the information that you needed. If you want more information on other meat grinder models, you can read our guides on the Kitchenaid Meat Grinder and Cabela's meat grinder.