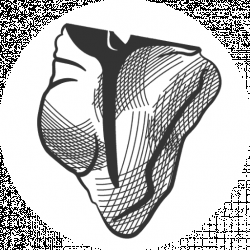 Latest posts by Meat 'n Marrow Team
(see all)
When we were kids we all had a knife, mostly a small pocket knife. we used to cut branches, carve our names into school desks and cut ourselves, and suddenly it was not working anymore, yes it was blunt. You tried to sharpen it, but alas never did you manage to get that razor-sharp edge back.
Today what are you doing to help your kitchen knives? when last did you sharpen any of them?  are you presently ripping your prime steak and veggies with a blunt miniature saw? Or are you using one of the many different Chef's Choice Knife Sharpeners? If you do, congratulations on your choice.
First, let us look at some facts about Knife sharpening and what is happening to the knife if you do sharpen.
 Not true, a sharp knife is much safer than a blunt knife. A blunt or dull knife can slip off when food cutting and the user can lose control of the blade. A sharp knife requires little force when you cut, so it's easier to control and cuts where you intended. Also if you know the knife is sharp you will be more careful and will treat the knife with respect.

The edge of a quality knife does not wear away; it folds over on itself. A knife-edge is microscopically thin, a sharp edge of a knife is much thinner than a human hair. It gets blunt through the impact of cutting which causes the edge to fold over on itself. Pieces of the edge may even break off and leave you with a miniature saw.

Tough roots, animal bones, and even your cutting board are some of the things that lead to bluntness. Knives work at their finest when they have a razor-sharp edge. You might have invested so much in knives over the years and bringing them back to life should be the top priority. Fortunately, electric knife sharpeners came into existence to help with this task.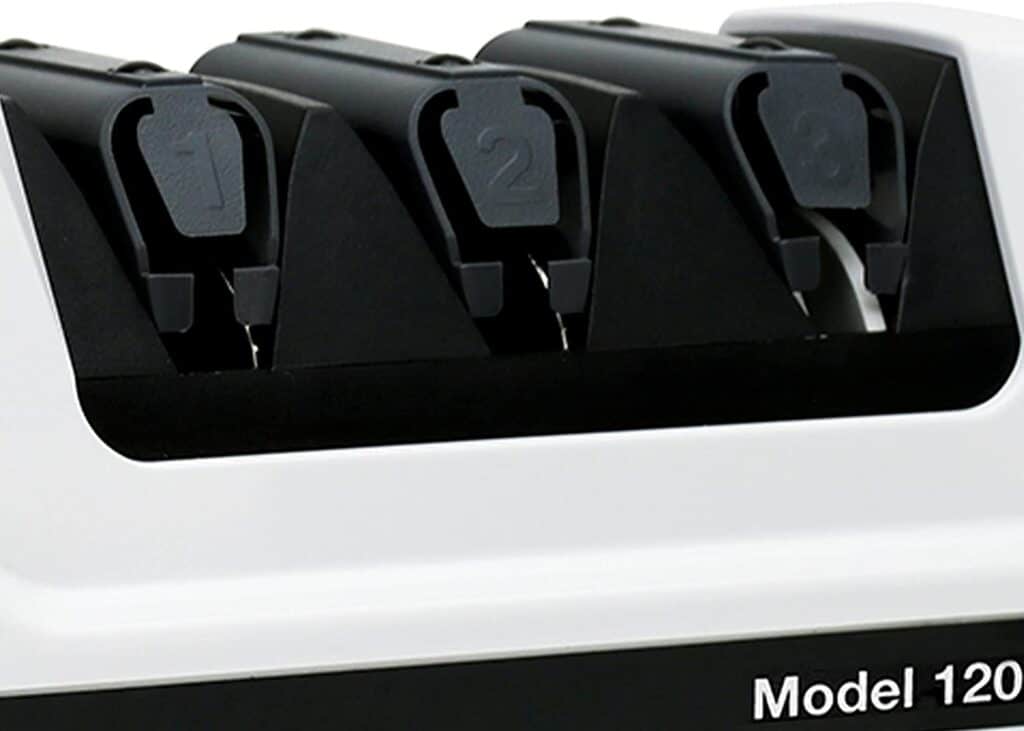 You know that a sharp knife always beats a blunt one. A razor-edged blade is easy to work with when it cuts effortless most daily meat or vegetables. Additionally, if you are using a blunt knife more force is being used, you are more frustrated and there is the chance of cutting yourself seriously.
Growing up in the woods I was convinced the only way to sharpen a knife was to use a wet stone to get a perfect 15-degree edge.
But again when I was nearly finished with the edge and now I messed up with only 2 or 3 strokes, the knife was duller than before I started. There should be a better and safer solution and there is. I discovered the Chef's Choice 120 Diamond Hone 3-Stage Professional Electric Knife Sharpener, a sharpening device that will give you a perfect, ultra-sharp 15-degree edge.
What makes this countertop device so special is its patented flexible spring guides, which automatically adjust the knife's blade to the right angle. It is virtually impossible to do anything wrong.  Just pull the blade through each of the machine's three slots for not more than 60 seconds, and voila a perfectly sharp knife.
There are two types of knives the Western Knives which have a 20-degree angle and the Asian Knife which are typically sharpened to 15-degrees. You can use this sharpener to sharpen a Western knife to 15-degrees but if you have mostly Western knives you can get another model which is built to maintain a 20-degree edge.
Knives work at their finest when they have a razor-sharp edge. You might have invested much in knives over the years and bringing them back to life should be the top priority. Fortunately, electric knife sharpeners are available to help you keep your knives in perfect sharp condition.
Looking for a cheap and high-quality sharpener is always a daunting task. But that doesn't mean it's impossible. Some sharpeners do work better than others.
The reason why  I recommend the Chef's Choice 120 model is that it can perform all the benefits of a sharpening tool in one gadget.
Let's have a close look at Chef's Choice 120
What Makes Chef's Choice 120 Professional Knife Sharpener so Outstanding?
The Chef's Choice 120 is a type of countertop appliance that has an outline of 9 1/2" by 4 by 4 inches. However, if you are irritated with a device that normally comes with several gauges, dials, buttons, and switches are difficult to clean, then this knife sharpener is for you. When it comes to design, the Chef's Choice 120 Professional Knife Sharpener sports a modern and compact design. In fact, it will perfectly match your other appliances. Not only that, it is easy on the hands and the eyes. Its simple design makes this machine easy to use. Even though it has no handle, there is a recognizable spot for you to grip the body. In addition, the rubber stoppers at the bottom of the sharpener will ensure its stability while using it.
The Chef's Choice 120 has only the on-off power switch which can be found in front. The 3 stages of sharpening slots will help you restore dull knives in no time. This professional sharpener allows you to sharpen serrated as well as straight knives.
This three-stage knife sharpener makes use of two precision conical honing/sharpening stages that have 100 percent diamond-coated disks to reshape the knife. The stropping/polishing stage is the final stage to clean up the burr and delivers hair-splitting sharpness that you'll love cutting with it.
Either way, each stage has a right and left slot which positions the knife's blade in the perfect honing angle. No guesswork.
Now, let's have a closer look at the three stages of Chef's Choice 120.
Stage 1 – This stage is used for extremely damaged or blunt knives. However, you will not use this stage regularly if your knives are not very badly damaged.
Stage 2 – this stage is commonly used for routine sharpening or re-sharpening.
Stage 3 – This stage is used to polish the knives and for serrated knives as well.
As with other Chef's Choice knife sharpeners, the user's manual comes with it. Make sure you read and understand how to handle this sharpener before using it. A lot of users made this mistake by not reading it and start operating the unit and not getting 100% perfect results.
Remember, the safety rules will ensure your safety while operating the machine. And the tips will help you optimize the sharpening results and not ruining your knives.
Some users may take a little practice to get excellent results. But rest assured, you'll be able to pick up the sharpening skills easily. That's the aim of the electric knife sharpener as opposed to manual sharpening stones.
Using This Sharpener
Using this knife sharpener is a piece of cake, proven by hundreds of users. All you have to do is plug it in and flip the power switch. After which grab a knife then place it in the correct stage. Then you need to pull the blade towards you evenly and smoothly.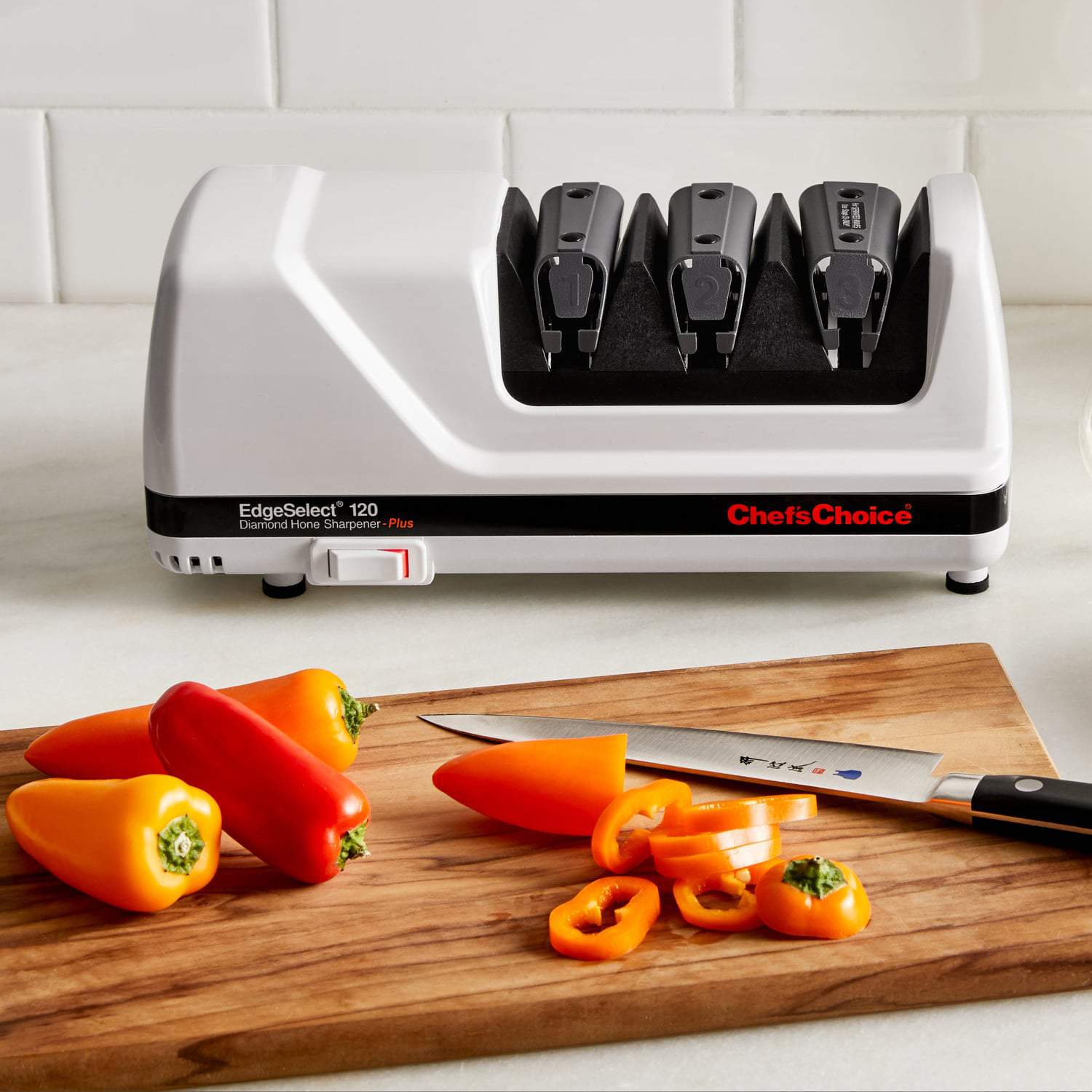 However, it should only take about 4 seconds to pull an 8 inches blade through the left slot. As you do, the angle guides will hold the knife's blade securely, assuring an accurately sharpened knife and reducing the guesswork.
To sharpen the other side, pull the knife over the right slot and make sure it is on the same stage.
Stage one restores dull and damaged knives to the sharp-razor edge through diamond abrasives. In this stage, you will definitely know that you are sharpening the blades since you can overhear it crashing while it is in the slot. At times, you will be able to see small metal shavings fall out from the slots as you tweak the knife over.
Stage two uses finer-grit diamonds to hone it to a sharper edge.
Stage three uses the polished micro-flute cutter along the edge to finish off and polish off its results.
To sharpen a dull knife, make sure to complete all stages. Once a knife is sharpened, you'll use the second and third stages more frequently to maintain its sharpness. Serrated knives can only be used in the third stage.
The number of pulls one each stage will depend on how dull your knife is. Start with a few pairs of pulls to test the result first. Very often, you'll only need one try to restore its dullness.
By the way, you don't need to use any water or honing oils while you are sharpening.
Pros – What We Liked
1. Easy to Use
The Chef's Choice 120 can be described as an easy-to-use knife sharpener. Depending on individuals, the ease of use can be a bit biased at times.
2. Design
This unit sports a compact, modern, and simple design.
3. Abrasives
With the 100% diamond abrasives, you'll only need a few passes to get good results. Diamonds are the best material for sharpeners to quickly restore dull knives.
4. Warranty
The Chef's Choice 120 comes with a three years warranty, which is a bit longer compared to other brands. As a matter of fact, some makers only offer a one-year warranty. So as a customer, for sure you'll find three years warranty is a good investment on top of its performance.
Cons – What We Do Not Like
1. Not versatile
It's only for conventional American and European-style knives with a 20-degree angle edge. If you have a Japanese-style blade that is 15-degree, this knife sharpener isn't for you. What we mean is, the Chef's Choice 120 is not constructed for knives that have thinner edges. Though, you can consider other Chef's Choice knife sharpeners like the Chef's Choice 1520 or the Trizor XV.
Verdict
The Chef's Choice 120 is very easy to use and fast that you do not even have to think about it. It impressed many customers how it rapidly turned blunt knives into extremely sharp ones. In fact, even the serrated knives were strikingly sharper.
As compared to other cheaper models, this knife sharpener is a bit expensive. However, it is still worth considering because it is loaded with impressive features that everybody will surely love.
Nevertheless, if you are looking for a knife sharpener, we highly recommend Chef's Choice 120. But if you're a bit hesitant about this product there are still lots of options waiting for you. You may want to check out the 2-stage knife sharpener – Chef's Choice 320 Diamond Hone Electric Knife Sharpener. We hope this Chef's Choice 120 review will help you make the best of your buying decision.
Whatever your sharpening needs, you will find a suitable sharpener under the brand and at a price that you can afford for that matter. There is something for everyone!
Out of numerous brands on the market, the   Chef's Choice 120 Diamond Hone 3-Stage Professional Knife Sharpener is one of the best models in the mid-range category.
Are There Any Other Options?
Yes, there is a multitude of different sharpeners available, from the back of a teacup to oil stones,  different steels or ceramic rods highly to precise electric models so what to choose? It really depends on the individual what do you prefer and what feels right in your hand, so let's have a quick look at some of the other possibilities.
Manual Sharpener: Chef's Choice
Sharpening Stone: Sharp Pebble
One downside of using a whetstone, though, is that you have to practice a bit to know what you're doing. Its time consuming because the stone has to be soaked for roughly ten minutes before use and periodically re-wet during the sharpening process. It also takes much more time (depending on your skill anywhere from five to ten minutes per side)
If you do choose to try out a whetstone, however, you'll be rewarded with a super-sharp blade. Whetstones are also more versatile than most other sharpeners. In addition to knives, you can sharpen scissors, gardening tools, and bigger blades like axes.
For Quick Fixes: Accusharp Knife Sharpener
Standard Professional Ceramic Rod
A honing rod is
not
a standalone knife sharpener. Instead, the long rod, which typically comes in metal, carbon steel, or ceramic, keeps knives in shape in between more intensive sharpening sessions. It takes a few practices to get the hang of the honing motion, in which you run the blade of the knife alongside the rod at an angle.  Hone your knives once every week or even during difficult work to make sure they stay at their sharpest, as well as to extend the amount of time between sharpenings.
I prefer ceramic honing steels because they're harder than metal counterparts but softer than diamond carbon steel. That means they do work on harder knives, like Japanese ones, but are also gentle enough to give your blade a super fine edge.
FAQ
Question: How Do the Chef's Choice Sharpeners Work?
Answer: Model 120 uses 100% diamond coated disks in the first two sharpening stages and a patented stropping/polishing disk for stage 3. Model 320 uses 100% diamond coated disks in the first stage and a patented stropping/polishing disk for stage 2. Model 130 uses 100% diamond coated disks in the first stage, steel in Stage 2, and a patented stropping/polishing disk for stage 3.
Question: Are the Chef's Choice Sharpeners Easy to Use?
Answer: Yes, the built-in elastomeric springs precisely hold the knife blade securely against the angle guides, eliminating all guesswork.
Question: How Often Should I Use my Chef's Choice Sharpener?
Answer: It really depends on how frequently and for what purpose you use your knives. Most often, you can use just the polishing/stropping stage for resharpening whenever your knives lose that razor-sharp, ultra-fine cutting edge. It takes approximately 15-30 seconds to resharpen a knife.
Question: Will the Chef's Choice Electric Sharpeners Sharpen Serrated Knives?
Answer: Yes. All three models are designed to sharpen the straight edge and serrated knives. Model 120 and Model 130 straighten, re-align and sharpen serrated knives in stage 3 and Model 320 does so in stage 2.
Question: Will the Chef's Choice Sharpeners Cause Excessive Wear to my Knives?
Answer: No. In fact, most of the re-sharpening takes place during the stropping/polishing stage, which removes only microscopic amounts of metal.
Question: Do I Need to Use Oil, Water, or Any Other Lubricant With the Chef's Choice Sharpeners?
Answer: No. Do not use any honing oils, water, or any other lubricant. The addition of any of these could cause electrical hazards.
Question: Will the Chef's Choice Sharpener Sharpen Scissors?
Answer: No. It is designed to sharpen kitchen knives, pocket knives, and most hunting/sporting knives.
Question: Does the Knife Sharpener Need to Be "Emptied"?
Answer: Once a year or so (depending on usage), you can remove metal dust that will accumulate inside the sharpener by removing the small rectangular clean-out cover.
Final Thoughts
Whichever method you choose, be it a whetstone, or a pull-through (either a manual or electric V-shaped or ceramic wheels) it's important to regularly hone your knife with whatever practice you prefer honing steel.
The basic concept of sharpening is simple – you're using an abrasive edge to remove metal – but the knife you buy may alter the method you should use.