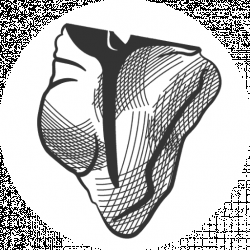 Latest posts by Meat 'n Marrow Team
(see all)
There is nothing better than to possess a thick juicy steak straight from the grill to your plate, you're salivating in anticipation and then, disaster strikes, the steak is as nice as it looks, it is as tough as your old leather walking boots. You truly feel pity for yourself for why you did not get a better cut and hopefully, the meat would have been better. But maybe also not, so what's the important answer to a way to turn cheap and sometimes even nasty cuts into a juicy, tender, and flavorful meal?
Three vital steps go into the creation of any meal. First, you have to collect your ingredients, second, you prepare them.  And if you're cooking meat, particularly a choice cut of steak, you may find a tenderizer an incredibly useful gizmo for preparation.
Let us start thinking of Meat Tenderizers the varied seasoning blends or marinades but rather the normal mallet-style or a blade-style tenderizer. All of them serve one purpose only: to break down tough tissue, making meat softer to chew, and be ready to better soak up marinades or seasoned rubs.
There are basically three main varieties of meat tenderizers. One resembles a mallet with dual heads, another a potato masher, and also the third a hand-held instrument with tiny blades. The first two soften the meat, while the third punctures it and cuts into its fibers. Whichever style you decide on, the overall purpose is the same: to break down a tough piece of meat so that it's easier to cook, flavor, and eat. Each style goes about this differently, so you'll want to get one that feels the foremost effective, comfortable, and safe to you.
How can a Meat Tenderizer Tool help you?
You know the cut is only excellent for a steak or stew until it,s soft enough. Sometimes even the best cuts of meat from your local butcher aren't soft enough. This is the right time that the meat tenderizing tool will come to your rescue.
Meat mallets tear the connective tissue within the meat. Less connection eventually does soften the meat for any kind of cooking.
Steak or other tough meat does require quite a bit of pounding with the meat mallet. Otherwise, your steak will remain tough, even when cooked for a lengthy time.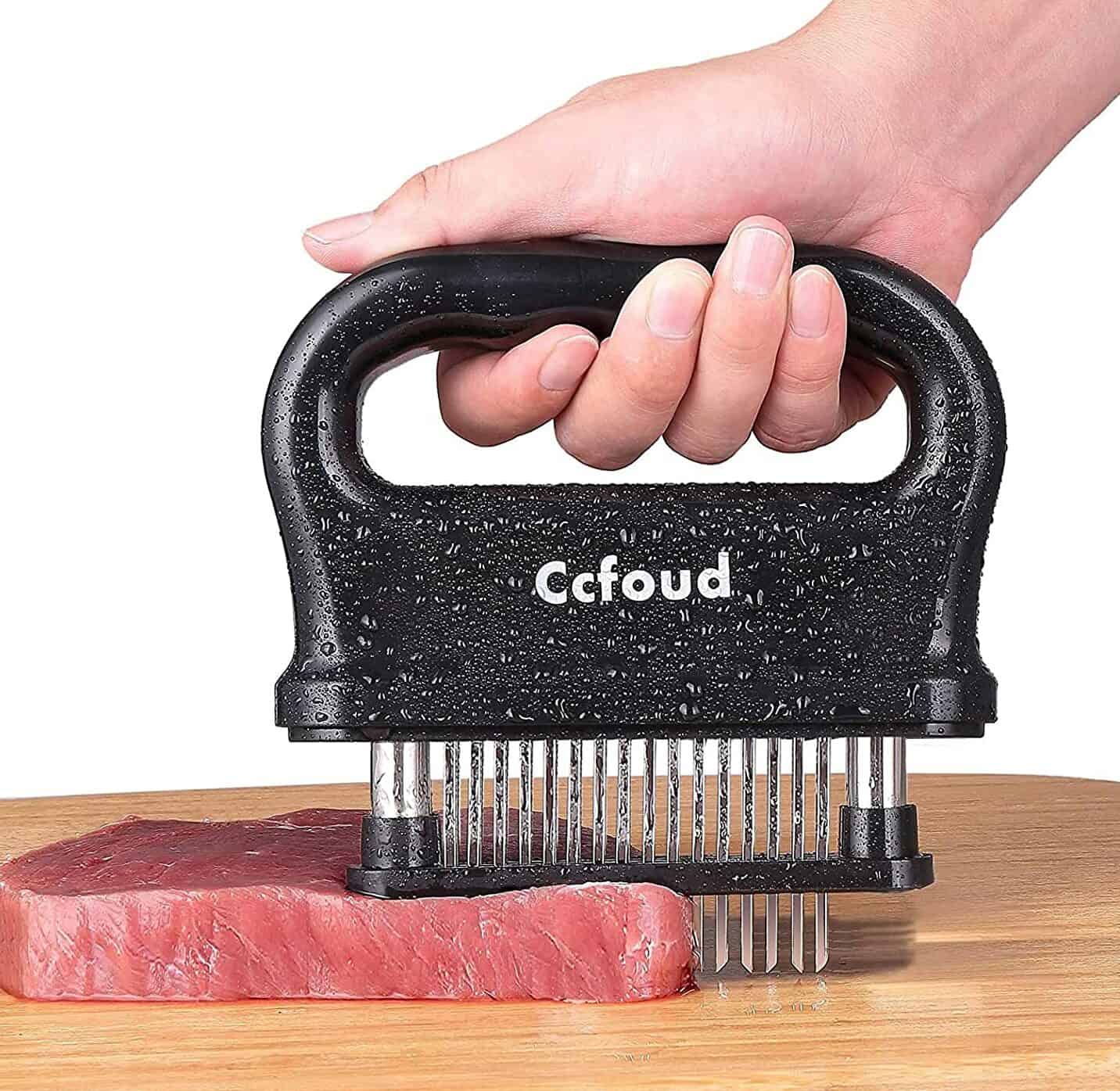 It saves on cooking time
Soft meat does need less time to cook. It does not matter if you are cooking on a gas grill or in a pan on a stove, it will finish earlier. Meat tenderizing tools make the meat vulnerable to hot water and oil by breaking down the muscle.
It does taste better and looks more appetizing
It is true that thick and uneven cuts of meat don't look pleasant and not only that the meat also does lack taste. A chicken breast might look meaty. However, it will taste bland if you do not flatten it with the flat side of a meat mallet.
Do you know the key of meat tenderizing to have a great result? Always start from the center of the cut and move to the edges.
Tenderizing meat is a delicate job. However, if you have got the proper tools and know-how to use meat tenderizer tools, you can create miracles. It will unlock the flavor and softness of the meat
So whenever you handle a different cut of meat, pick the correct tenderizing tool.
Now here is the important question: which one in all the numerous styles and makes shall I invest in?
To help you decide on the proper one, we tested a number of the best meat tenderizers on the market, including meat hammers and blade tenderizers — these are the ones you ought to buy:
Ready to up your steak game? Then it's time to invest in a dedicated tenderizer. Here are seven of the very best available on Amazon.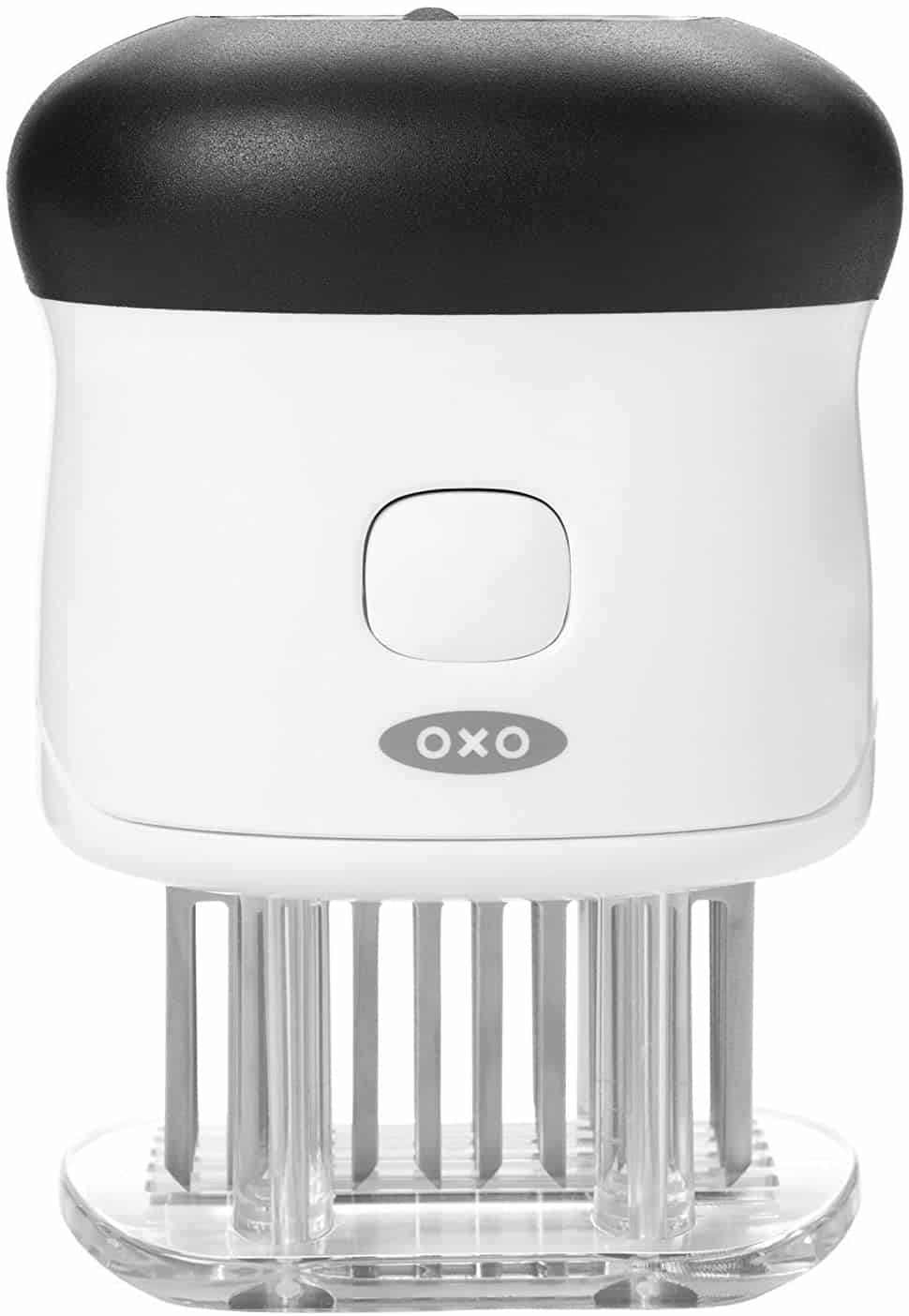 Take your steak from tough and chewy to tender and juicy with the help of a tenderizer like this bladed version from OXO. It has 50 sharp blades that slice through the meat's tough fibers to create channels for marinades to penetrate easily. The rounded top fits comfortably in the palm so it's easy to tackle enough steaks for a whole dinner party. A clear base makes it easy to control the placement of the blades for even tenderizing. When it's time to store the tenderizer, a toggle lock keeps the blades covered, and because the lock is recessed, it won't unlock accidentally. It's dishwasher safe and comes apart for more thorough cleaning.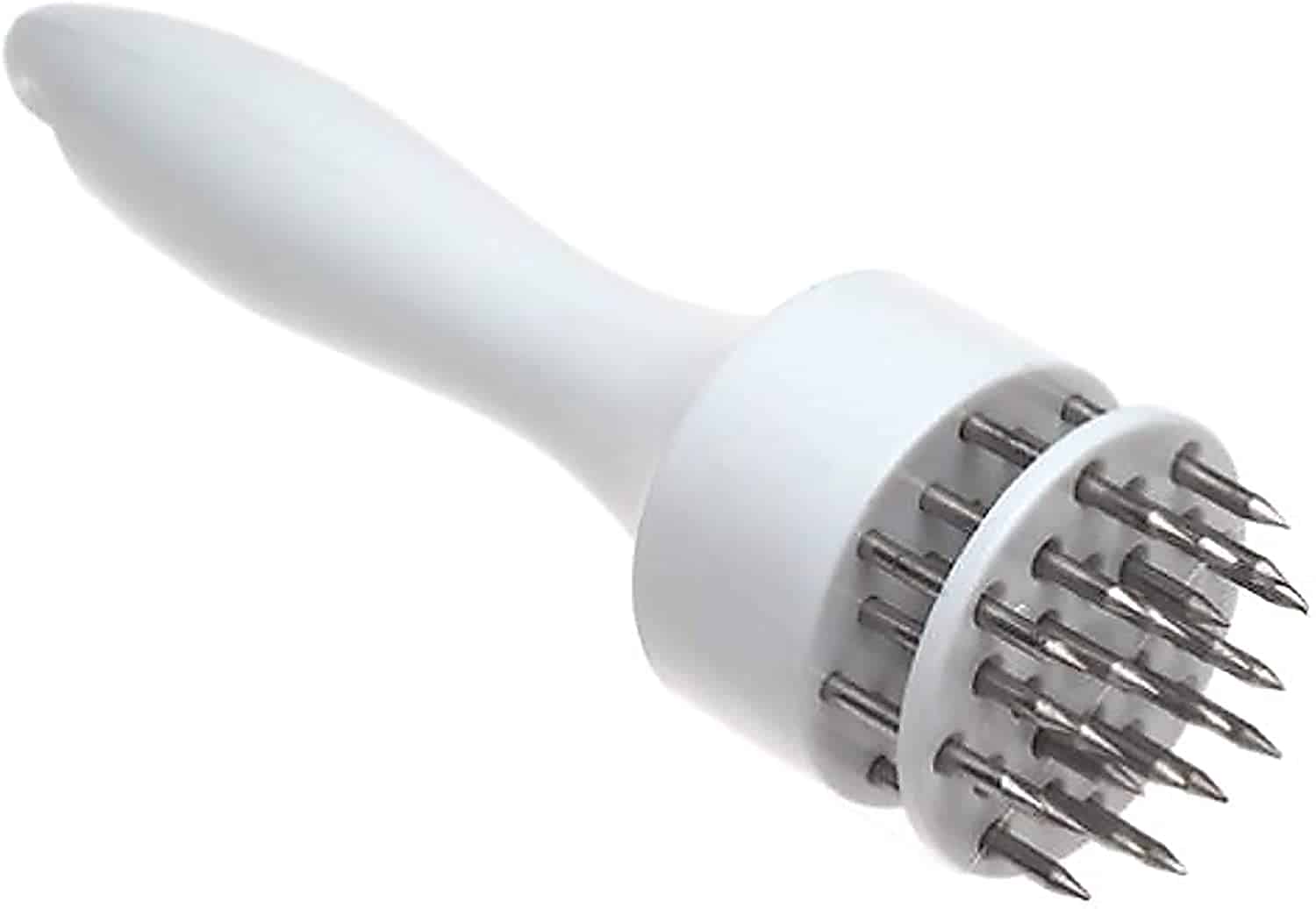 Made from plastic with no moving parts, this budget tenderizer can still get the job done. Rather than thin blades, it has spikes that leave larger holes to hold marinades and spices. Since the spikes aren't as hard or sharp as metal blades, this tenderizer can be left loose in the kitchen gadget drawer without worrying about accidental cuts. The top handle is comfortable to hold when pressing the tenderizer into the meat, and it's safe enough for kids to use. When it's not being used for steaks, this tenderizer can poke holes in potatoes or dock dough before baking. It should be washed by hand.
Best Hammer: OXO Meat Tenderizer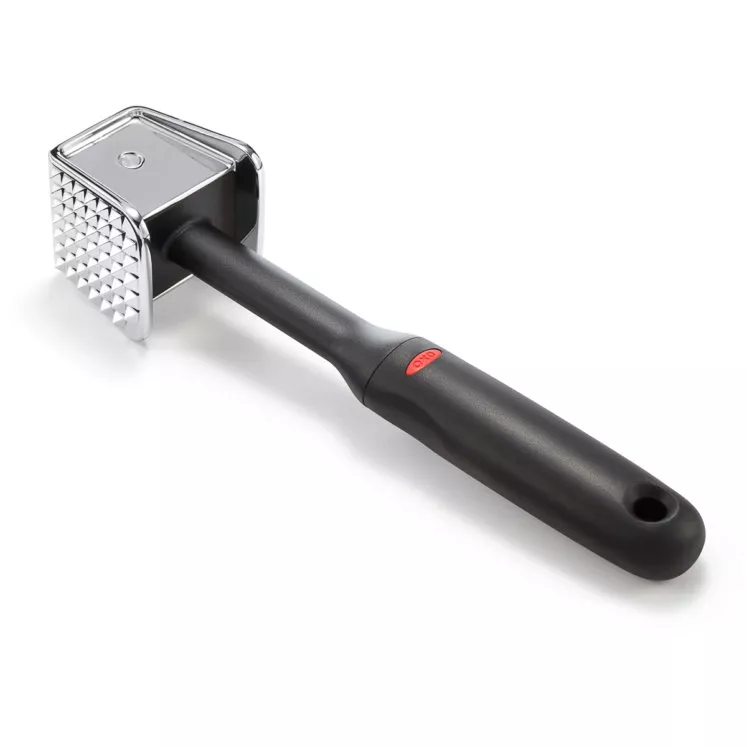 Mallet-style meat tenderizers are quite popular and easy to use. Wield one-handed or with one hand over the other for a bit more power or control. There's a smooth side for flattening meat without creating any holes and a side with pyramid-shaped teeth for tenderizing. The head is angled so it hits the meat flatly while using a normal hammering motion. Like other OXO products, this tenderizer has a comfortable, soft-touch handle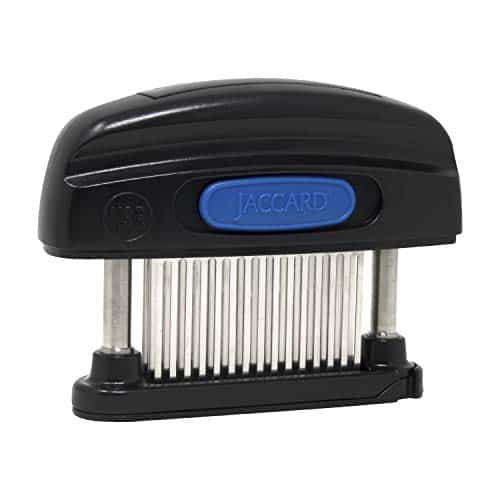 One of the original bladed meat tenderizers for home use, this updated model has 45 blades that plunge all the way through a steak, chop, or boneless chicken breast for more tender, easy-to-marinate meat. Since it has so many blades, this tool makes short, easy work of tenderizing: Just press down to send the blades out, and they retract automatically as the tenderizer is lifted away from the meat. While this doesn't flatten meat like a mallet-style tenderizer, the meat can get a little thinner as the meat relaxes and spreads out. This can be washed in the top rack of the dishwasher, and for a more thorough cleaning, the blade assembly can be removed to be cleaned separately.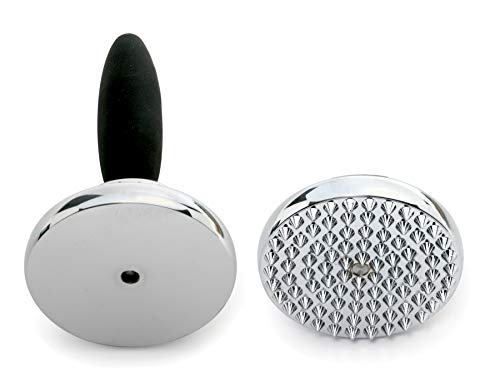 Similar to a hammer-style tenderizer but perhaps easier on the wrists, this tool has a dual-sided round base that screws onto the handle. The flat side of the base pounds and flattens meat, and the other side has spikes to tenderize. To use, you simply hold it by the Santoprene handle and pound straight down, a motion that's a bit more precise than swinging a hammer. The base is wider than most mallet-style tenderizers, so less pounding is needed before you're breading your pork for your favorite schnitzel recipe. The Norpro should be hand washed.

This stainless steel tenderizer works similarly to a meat mallet, but its base is wide and flat like a spatula. This allows the tool to hit a wider portion of the meat with each blow for even results—great when working with uneven cuts like chicken breasts. The heavyweight provides extra power so fewer hits are needed to flatten the meat for breading or for quick pan-frying. There's a loop at the end of the handle for hanging, but it also fits easily into a drawer alongside spatulas. The joint between the base and handle is seamless, so food won't get stuck, and it's dishwasher safe for easy cleaning.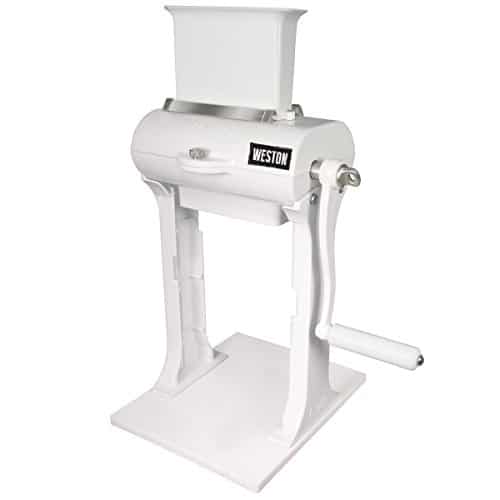 Perfect for making cube steaks at home, this manual cuber is easy to operate and handy for cube steaks, Swiss steaks, chicken-fried steaks, and more. There will be no need to look for cube steaks at the grocer or to ask the butcher to run a steak through his machine—you can do it at home with any meat you have, whether steak, pork, chicken, or game meat. It works like a pasta roller: Just feed the meat in at the top, crank the handle, and the meat meets 31 stainless steel blades that pierce and tenderize it. This cuber can handle meats up to 5 inches wide and 1 1 /4 inch thick, and it disassembles easily for cleanup with the work is done.
FAQs
Question: How do meat tenderizers work?
Answer: This tool breaks the tough muscle tissue of the meat for a tenderized and soft result.
Question: What is the best way to tenderize meat?
Answer: There are several to achieve this, and using a tenderizer tool is one of the fastest and easiest ways.
Question: Do you wash off the meat tenderizer?
Answer: Soak in warm soapy water for a while before washing thoroughly under running water.
Final Words
The stubborn meats will no longer hinder you as you use a good meat tenderizer. This tool softens the meat for you and allows the condiments and sauces to penetrate faster. What could be better than delicious steaks?