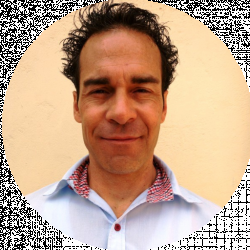 Latest posts by Douglas Bloom
(see all)
Richard N.Cabela founded Cabela's Inc in I961. Cabela's Inc is situated in Sydney, Nebraska, and is a subsidiary of Bass Pro Shops, an American direct marketer as well as a specialty retailer of recreation merchandise. This company makes various products including Cabela's Smokers.
If you are looking to get a new smoker, then Cabela's is a brand worthy to choose from. They have various high-quality smokers to suit individual needs. We researched through them to come up with seven top-rated smokers for you to check out.
The research is involved checking out testimonials, ratings, and reviews from various platforms such as smoker forums, online stores selling smokers, and customer reviews. From the same information, we were able to include a list of alternatives should you decide to go for something else. Read on to know more about Cabela's smokers.
Our Top 7 Cabela's Smoker Picks
Our top 7 Cabela's smoker picks are highly rated and popular among users. Check the details below on each to find one that may suit your specific needs.
Masterbuilt 40" Bluetooth Digital Electric Smoker: MB20074719
The Masterbuilt® 40″ Bluetooth® Digital Electric Smoker is an awesome choice for both the beginner and the master backyard smoker. This smoker delivers delicious smoked food with minimal supervision.
To give you excellent results, it comes with a precise digital thermostat and a built-in meat thermometer probe. Also, the patented side wood chip loading system allows you to easily add the wood of your choice for delicious smoked flavor and aroma. This is done without having to worry about opening the smoker and losing precious heat.
The 4 chrome-plated cooking rack gives you enough space for your favorite dishes. An interior light allows for easy loading and unloading in low light conditions. There is a rear-mounted handle and integrated wheels to ensure easy movement for this digital smoker.
The design makes it easy to use and it comes with an air damper for moisture and smoke control. Additionally, you get a removable water pan to enhance flavor and moisture as well as a slide-out wood chip tray for easy ash clean up.
Pros
Awesome for both the beginning smoker or the seasoned pro

Need digital control for thermostat control

An integrated temperature probe

4 chrome-plated cooking racks provide ample room

Side wood-chip loading system lets you load without opening the door
Cons
Not for those who don't like tech

Pricier than similar models
Masterbuilt 30" Two-Door Propane Smoker: MB20051311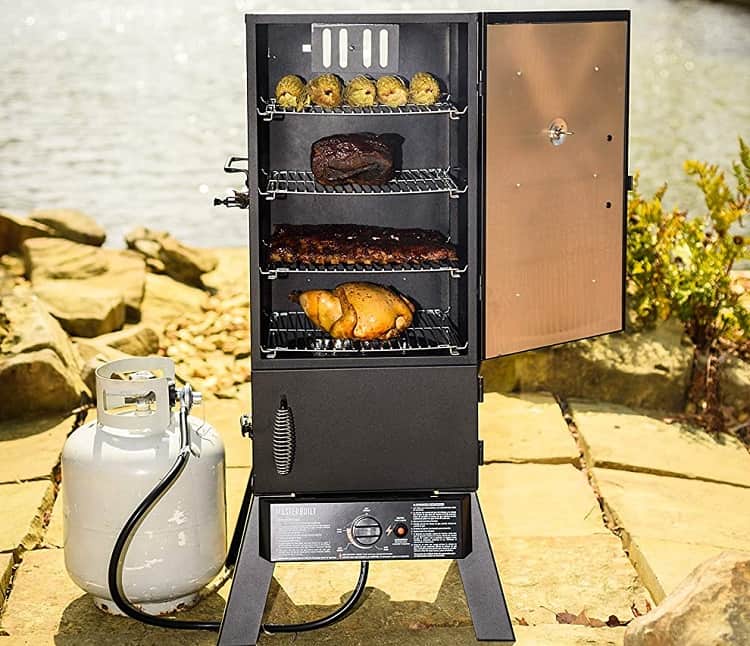 The Masterbuilt® 30″ Two-Door Propane Smoker is a durable stainless steel smoker built with an efficient two-door design.
A separate space with a separate door for wood and water beneath the smoking chamber keeps the temperature at a constant. Keep in mind you can add your wood and water without opening the chamber.
You are assured of good temperature control from the smoker's long-lasting 15,400-BTU stainless steel burner, precision burner control, rear-mounted adjustable damper, and built-in temperature gauge.
The adjustable door latch and inner door liner allow for more heat absorption for efficient cooking. Other features include porcelain-coated water pan, flame disk bowl, cool touch, wire wrapped steel wire handles on the 2 doors, heavy-duty side carrying handles, wide stance legs for stability as well as push-button ignition for an easy start .
Pros
Efficient 2-door propane smoker design

15,400 BTU stainless steel burner

735 sq.

in.

of cooking space

4 chrome-plated cooking racks

Adjustable door latch and inner door liner to hold in heat
Cons
Masterbuilt Analog Electric Smoker: MB20077618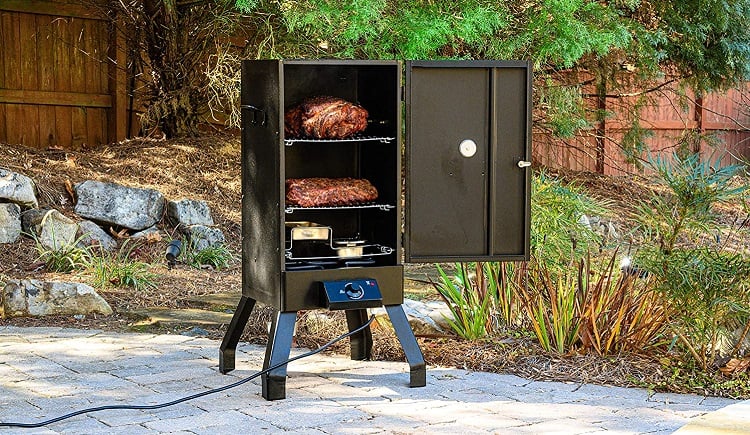 The Masterbuilt® Analog Electric Smoker is a smoker that you should consider when preparing your favorite smoked foods. With a cooking space of 354 sq. inches over 2 chrome-plated racks, it allows you to have all delicious foods from full-flavored beef or even powerfully flavored vegetables.
This smoker delivers consistently once the cooking temperature is set. It also ensures even cooking with its built-in temperature gauge and dial-type thermostat temperature control. A lot of the heating power is provided by the 1800W heating element. This means there is no need to use charcoal or propane.
The removable wood chip tray makes it possible for you to control the amount of smoke you need. You can also monitor the temperature inside the smoker using the built-in temperature gauge in the door. It also has a cool touch door handle, a removable drip water pan, and side handles for easy moving and.
Pros
Easy-to-use backyard electric smoker

354 sq.

inch cooking space

1,800W heating element

Thermostat temperature control

Removable wood chip tray
Cons
Not energy efficient

Only uses electricity
Masterbuilt 40" Digital Charcoal Smoker: MB20060321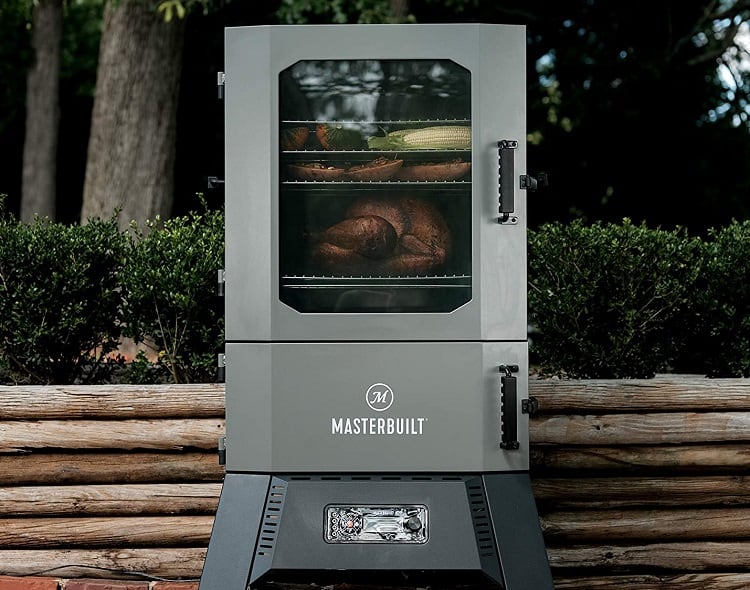 The Masterbuilt® 40″ Digital Charcoal Smoker is a simple and adaptable charcoal smoker that will help you master the art of charcoal smoking.
The product allows you to digitally control the temperature as it employs an innovative DigitalFan™ airflow system. To precisely maintain your set cooking temperature, the digital thermostat control adjusts the DigitalFan system. It's designed to move air from the hopper to the cooking chamber.
The air chamber is designed to allow you to cook quickly by smoking at temperatures of 225°F in just 20 minutes or 400°F in 17 minutes. The precision digital controls come with WiFi and Bluetooth connection for remote control from your smartphone or tablet.
This is possible thanks to the Masterbuilt app. The cooking progress is kept in check by the built-in probe thermometer for perfect results.
A cooking space of 1,320 sq.m. inches over 4 cooking grates is enough for 8 racks of ribs, 4 turkeys, 16 pork butts, or even 20 chickens. The smoker's charcoal tray holds enough fuel for up to 13 hours of smoking.
The reason is it can carry 12 lbs. of lump charcoal or 16 lbs. of briquettes. You can also put wood chunks in the tray with the charcoal for a unique smoke flavor.
This smoker also comes with a special partition for smoking at 275°F or below. Other features include a separate water bowl to keep the food moist and 4 swivel casters for ease of movement.
Pros
Advanced, easy-to-use digital controls

WiFi and Bluetooth connection

Built-in meat probe for precise monitoring

DigitalFan airflow system

fast start design
Cons
No options for cooking with propane or electricity
Smoke Canyon Vertical Smoker with Offset Firebox: SC2219701-SC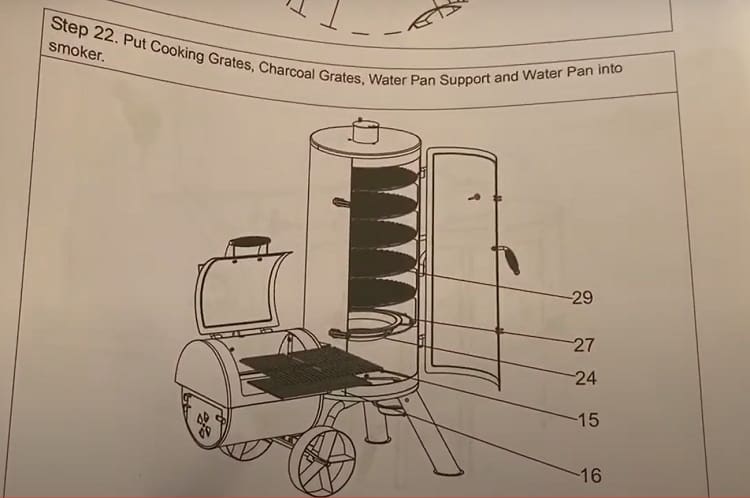 The Smoke Canyon Vertical Smoker with Offset Firebox offers you a pro-style performance experience. This vertical designed smoker has 6 chrome-plated hooks on the top of the smoking chamber.
They allow you to hang sausages, hams, racks of ribs, and other large items. It comes with a cooking space of 1100 sq. inches with 5 cooking grates that are chrome-plated placed on the main vertical smoking chamber.
It's built with a heavy gauge, cold-rolled steel with heavy-duty latches to hold the smoke and heat inside the smoker. The 3" temperature gauge built into the smoking chamber is large and easy to read.
This makes it easy for you to monitor and maintain consistent cooking heat from the smoker's offset firebox. Take note of it doubles as a charcoal grill with its 2-Piece, porcelain-coated cooking grate.
A handy back door on the smoking chamber allows it to be easily accessible. Other features include a smoker's porcelain-coated water pan that delivers flavor-boosting steam tenderizing in the smoking chamber. There are also strong 10" steel wheels and a built-in steel handle on the smoking chamber for easy movement.
The coil handles on the smoking chamber and firebox doors stay cool while cooking. Take note there is a porcelain-coated oil drip pan. Lastly, there is a side door firebox access and adjustable smokestack to help control the cooking temperature.
Pros
Pro-style vertical smoker design

Large capacity – 1,100″ sq. in.

Offset firebox can double as a charcoal grill

5 chrome-plated cooking grates

6 integrated hooks
Cons
It may be too large for small backyards

Not for smoking meals for small groups of people
Masterbuilt Sportsman Elite 30" Two-Door Propane Smoker: MB21050813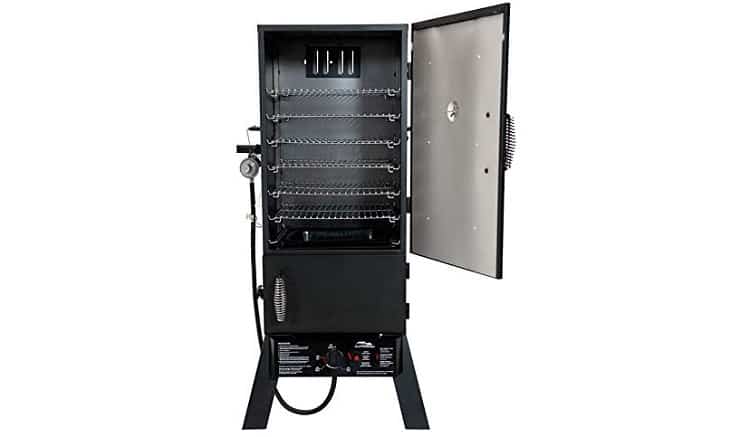 The Masterbuilt® Sportsman Elite 30″ Two-Door Propane Smoker is built with a durable stainless steel burner and heat-saving 2 door design.
It offers a cooking space of 717 sq. inches over 4 movable chrome-plated cooking racks efficient for cooking lots of food. This smoker has a separate space for wood and water beneath. They are designed to keep the temperature at a constant. This is because you can add wood and water without opening the cooking chamber.
The precision burner control, temperature gauge, rear-mounted adjustable damper, 15,400 BTU stainless steel burner, and ensure the temperature is fully controlled.
Other features include the porcelain-coated water pan and wood chip holder. The product is made from heavy-duty, powder-coated, cold-rolled steel construction. There are wire wrapped steel wire handles on the 2 doors.
Heavy-duty side carrying handles are also included. Wide stance legs for stability and push-button ignition are standard. Lastly, the product features at 2.23 cu. ft. of smoking area in the 30″H smoking cabinet.
Pros
Heat saving, 2-door propane smoker design

717 sq.

in.

of cooking space

4 movable chrome-plated cooking racks

Great temperature control

Durable 15,400 BTU stainless steel burner
Cons
Masterbuilt 30" Digital Electric Smoker with Window: MB20070619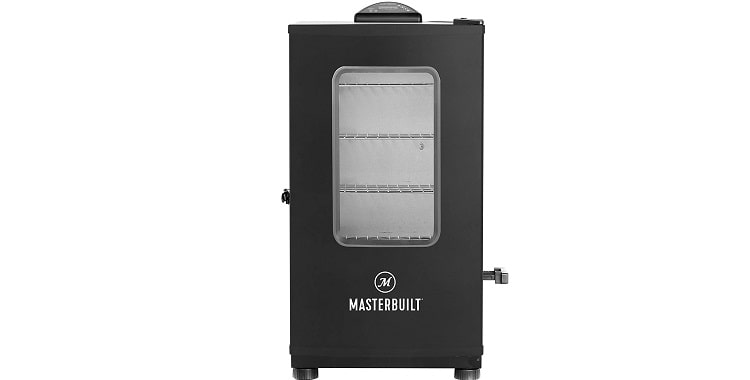 The Masterbuilt® 30″ Digital Electric Smoker with window is an awesome choice for both the beginner and the master backyard smoker. This smoker delivers delicious food without any hassle.
It is powered by an 800W heating element. It offers a consistent temperature for the best smoking experience when smoking your meats and vegetables.
You can control the cooking temperature and time using the precise digital thermostat easily. It has a patented side wood chip loading system. You can use it to easily add the wood of your choice to get a delicious smoked flavor and aroma without opening the smoker.
A cooking space of 711 sq.m. inches over 4 chrome-plated cooking racks is provided. This is big enough for you to smoke 6 chickens, 4 racks of ribs, or 4 pork butts.
The design is easy to use and comes with a fully insulated smoking chamber. It also has an air damper for smoke control, a removable water pan, a removable drip tray, and a rear grease tray.
The product has a window in the smoker door for easy monitoring of the cooking progress without opening the door. The movement of the smoker is also easy because of the integrated handle and wheels.
Pros
800W heating element

Easy-to-use, consistent electric heat

need digital control panel

711 sq.m.

in.

of cooking space over 4 chrome-plated cooking racks

Side wood-chip loading system
Cons
Low power heating element meaning longer smoking durations
Cabela's Smoker Alternatives
Above is our list of the 7 best smokers from Cabela's. You may find you didn't find something you like. If this is the case, we got you covered. We researched the best smoker alternatives within the same price point and range. They are:
Best Pellet Smoker: Traeger Tailgater 20 Pellet Grill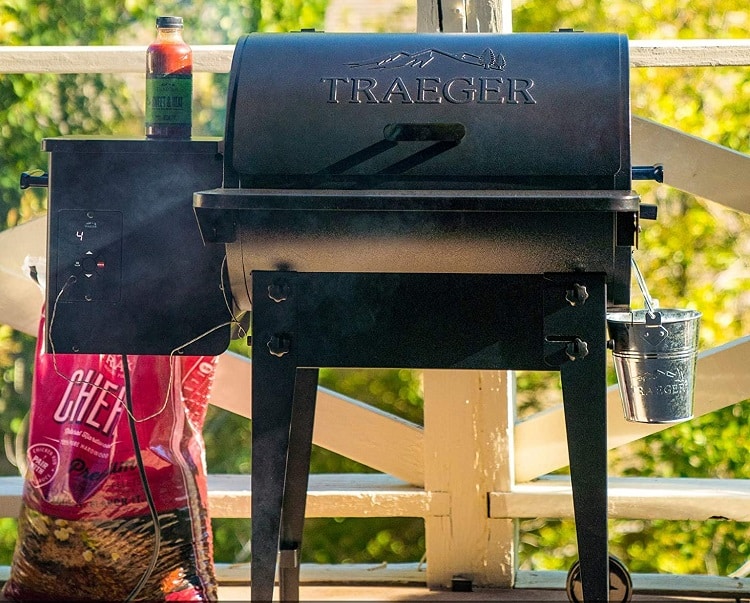 Experts will inform you that pellets are way better than charcoal. They have the advantage of being less messy as they do not leave you with black dust each time you handle them. Pellets provide the perfect wood-fired smoky flavor to foods being made from hardwood and still burns cleanly.
Features of this pellet smoker include a digital control that is easy to use, an electric auto-start ignition as well as an auger system for feeding pellets into the fire. As long as the hopper is full the grill will of the rest. Although the cooking space is not that big, 300 square inches, it's still big enough to hold 12 burgers or two whole chickens.
When you need to store the smoker indoors, you can fold the flat legs for a more compact profile. Take note this is not an outdoor smoker. You may need extra protection, like a tarp, if you plan on leaving it outdoors. Additionally, it is designed for small gatherings where you entertain 10 guests or less.
Features:
Fuel: Wood Pellets
Cooking Area: 300 sq. inches
Racks: 1
Weight: 62 lbs.
Hopper Capacity: 8 lbs.
Pros
Simple interface

Compact size

Lightweight and portable

good value
Cons
Mysterious temperature swings

Awkward to fold up for transport
Best Offset Smoker: Oklahoma Joe Highland Charcoal Horizontal Smoker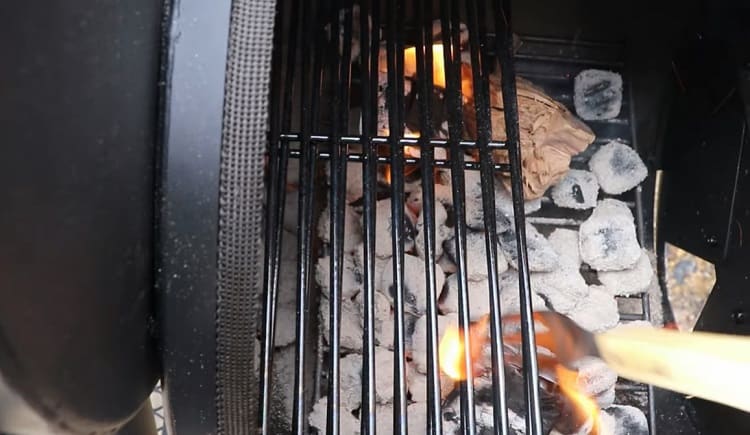 Although offset smokers are designed to look like traditional grills with a small firebox on the side, they work quite differently. The reason is heat comes from the firebox as opposed to the food below. A controlled amount of heat and smoke is allowed into the cooking chamber to smoke the meat perfectly at all times.
It's easy to control the heat and smoke as it has a thermometer mounted on the lid along with multiple dampers. This smoker is made from heavy gauge black coated steel and is long-lasting.
When the grill is hot, the stay-cool handles on the cook box and firebox lids let you open the lid safely. This product offers you a cooking space of 619 square inches in the main chamber and a rack in the firebox to give you extra space.
Features
Fuel: Charcoal
Cooking Area: 619 sq. In
Racks: 1
Weight: 178 lbs.
Pros
Integrated thermometer

Durable

Large cooking capacity

Rack in the firebox
Cons
Best Charcoal: Kamado Joe Big Joe II Charcoal Grill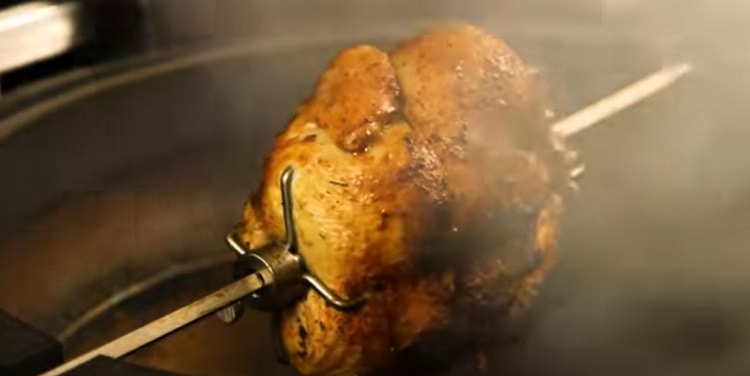 "Kamado", the common generic term for ceramic that is excellent for smoking, draws its origin from Japan to mean "stove" or "cooking range". Kamado grills are the best when it comes to barbecue. It's because it has a superior level of heat retention that traps moisture and smoke inside cousin flavor deep inside the meat.
Joe Big II Charcoal Grill is a bit expensive, it's a favorite among grillers. This red egg-shaped grill with locking wheels has an 18-inch cooktop divided among two half-moon-shaped tiers. The design makes it possible to cook different foods in different methods at different temperatures simultaneously.
You can smoke at 225 degrees or even 750 degrees as it is powered by natural lump charcoal. It is mold and water-resistant which allows you to cook in the rain!
The fiberglass mesh gasket and a self-activating stainless steel latch offer a strong, airtight seal for tender, smoke-flavored brisket, chicken, and more. Lift the top with just two fingers (it'll stay put exactly where you position it) and use the sliding ash drawer for a super easy clean.
If you are looking forward to purchasing an affordable option, you can buy the Kamado Joe Big Joe 1 as it is similar to this model in terms of cooking area and temperature range. The only difference to big Joe II is an airlift hinge, improved top vent as well as a few other premium features.
Pros
excellent heat retention

Versatile two-tier cooktop

eye-catching color and design

Up to 750 degrees of smoking
Cons
Pricey

Too heavy to transport
Cabela's Smoker FAQS
Question: Does Cabela's Make High-quality Smokers?
Answer: Yes, they do!. Most of their smokers are highly rated and popular in the food smoking world. The Cabela's® Sportsman Elite 30″ Bluetooth® Electric Smoker by Masterbuilt is an awesome pick to smoke a load of delicious meat. It's not only high-quality, but it also has remote operation capabilities.
Question: Who Makes Cabela's Wood Pellets?
Answer: Lumberjack plank makes Cabela's wood pellets using the same materials that Lumberjack uses in making their pellets. The mixes and combinations, however, remain specific to Cabela's and property to them. At most locations, they are sold at around $15 for 20 Ibs. Apple and hickory is the best blend.
Question: Is a Smoker Better than a Grill?
Answer: Grilling is often a healthier option. When foods are grilled, they tend to retain more moisture and flavor compared to smoking them. Also, it burns off fats and vegetables and meats tend to retain more vitamins through grilling compared to smoking.
Question: Are Smoker BBQs Bad for You?
Answer: Although outdoor grilling is famous among many people, it has its downsides. BBQ smoke contains a high level of polycyclic aromatic hydrocarbons (PAHs), which are known to cause DNA mutations, respiratory disease, and even lung cancer.
Conclusion
Smoking is a favorite way to cook food among some people. If you are a fan, consider getting one of the Cabela's smokers mentioned above. You have the option of choosing your fuel type and other features. They range from electric to gas, and charcoal to wood pellets.
If you didn't find one from the list above, you can visit the official  Cabela's website  for more options. Alternatively, check out the three alternatives provided. These are high-quality options with great reviews and testimonials from food-smoking fans and users.