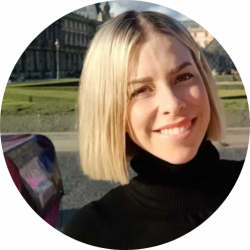 Latest posts by Jodie Chiffey
(see all)
Are you looking for a high-quality vertical electric smoker? Today, we will look at the Pit Boss Electric Smoker, which are some of the most reliable smokers available on the market.
Pit Boss is a leading manufacturer of wood grills, pellet smokers, and portable grills. Its products are available across multiple retailers and stores in nearly 30 countries worldwide. When it comes to smokers, Pit Boss offers a great variety of options: from simple wood smokers to high-end digital smokers.
This guide will focus mostly on the PIT BOSS 77220 2.2 Analog Smoker. We will show you its core features, main functions, pros, and cons and mention some alternatives if you're looking for some other options.
Finding the right smoker can be a challenging task. If you are just starting, you might want to check our guide to finding the best smoker.
First, let us have a look at its main specifications:
Key Specifications of the Pit Boss Electric Smoker
| | |
| --- | --- |
| Type of Smoker | Electric |
| Dimensions/weight | 21.5 x 23 x 41 inches; 58 Pounds |
| Power Source | Wood |
| Cooking Area | 593 inches |
| Heating Element | 1650 Watt |
| Control | Analog |
| Temperature | 100°F to 350°F |
| Price | Click here for the latest price |
Core Features of the Pit Boss Electric Smoker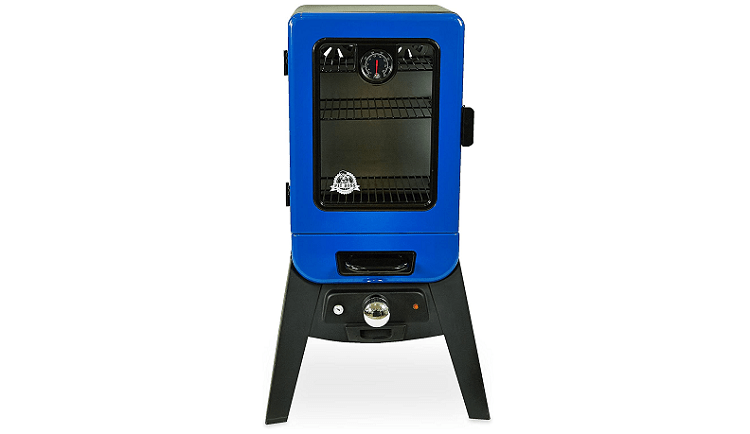 The Pit Boss electric smoker is a reliable machine that can easily satisfy the needs of the average home cooker. Let's take a closer look at its performance and the features it offers:
Construction and Design
The Pit Boss electric smoker measures 21.5 x 23 x 41 inches and weighs 58 pounds. Compared to other electric smokers, it is a relatively small unit, making it easy to carry and store.
The cabinet is made of steel, which makes it durable and sturdy. In addition, this smoker comes in a beautiful shiny blue color, unlike most smokers in the market, black or silver.
The smoker has three adjustable cooking racks for you to place your food on. The inside has a total cooking area of 593 square inches, which provides enough space even if you want to cook a larger meal such as brisket.
The interior is heated by a 1650-Watt heating element, appropriate for many different kinds of food. This smoker can achieve temperatures from 100°F to 350°F.
The cabinet is made of a double-walled, well-insulated material, which ensures the smoke will stay inside the device. The doors are covered in tempered glass and allow you to see what happens inside the smoker.
There is a water tray and a wood chip tray below the cooking space. You have to change the chips every two hours. The chip tray has its opening below the doors, which means you don't have to open the door to load new chips. This keeps the heat inside the device.
The smoker comes with air dampers in the back that regulate the smoke and achieve optimum results. I recommend that you fully open the dampers during the first 20 minutes to get the wood chips smoking. Close the dampers after 20 minutes if you want to smoke at a high temperature.
In addition to the smoker, Pit Boss offers several attractive accessories that are sold separately. These include a polyester cover, a barbecue floor mat, a grilling apron, and some spices and sauces. I personally recommend that you buy the cover to protect the smoker. The cover is weather-proof and will protect the smoker if you leave it outdoors.
All in all, this is a high-quality model and could be very well suited for you if you are planning to cook for your family at home.
Smoked fish can be a delicious meal to prepare. If you want information on preparing smoked halibut, feel free to check our smoked halibut guide.
Functions and Controls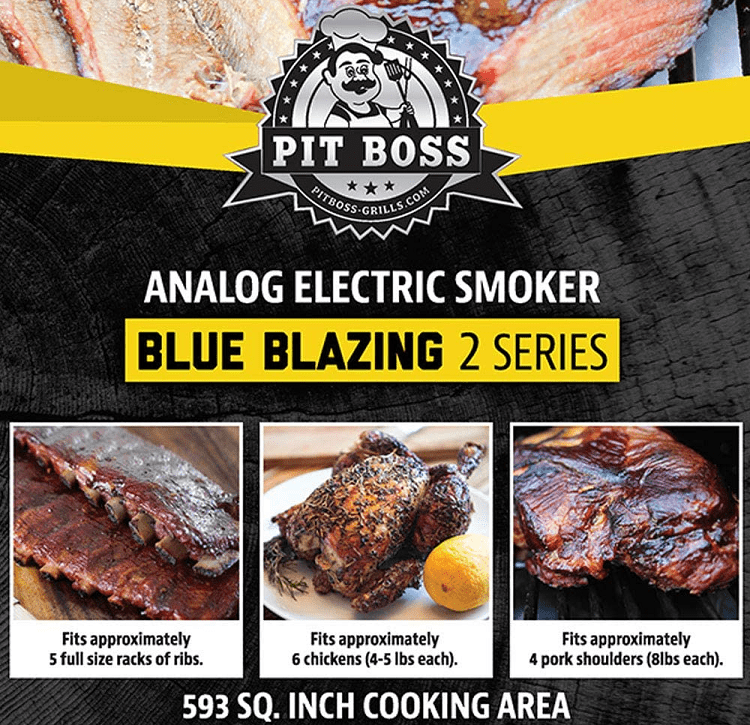 This smoker is very easy to assemble and use and does not require great expertise or technical knowledge. You will start by assembling the smoker, which should be easy if you follow the instructions in the manual. You will need a screwdriver and a wrench to assemble this smoker. These tools are not included.
To operate the Pit Boss electric smoker, follow these steps:
First, open the door and remove the wire rack supporting the wood chip pan and water pan.
Remove the lid from the wood chip pan and add wood chips. I recommend the use of wood chips instead of wood chunks. Next, replace the wood chip pan lid and slide it back into the smoker.
Fill the water pan with water to three-quarters full. Do not fill, or the water may overflow during operation.
Remove the cooking grids and adjust the wire cooking grid support brackets to the fitting height for the food you smoke.
Place food on the cooking grid in a single layer. Make sure to leave room between food items to allow smoke to circulate evenly.
Close the door and plug your smoker into the electric outlet.
Place the electric controller in the high position and allow the smoker to begin heating. A good temperature range for smoking is between 220°F and 250°F.
Allow food to cook for approximately three hours. Check the water level regularly and add water if necessary. If required, add additional wood chips in the same way.
Once you are finished smoking, place the controller knob to the off position and unplug the smoker from the electric outlet. Remove the food from the smoker and allow the smoker to cool.
This product comes with an analog meat probe that can be used to check the temperature. While the unit has an external heat indicator, I recommend that you use a meat thermometer to control the temperature of your food and ensure that it is fully cooked.
After each use, allow the smoke cabinet and the cooking grids to self-clean by running the smoker at a high temperature for 5 to 10 minutes.
Safety
Staying safe while using the smoker is relatively easy. Here are a few things that you should keep in mind:
This smoker is intended to be used outdoors. Do not use it in a closed space such as your garage. Make sure to place it on a hard, flat surface. Do not place it on any surface that could burn, such as wood. Keep the smoker away from windows to prevent smoke from entering your house.
Keep in mind that all the surfaces are hot while the smoker is in use, and they remain hot shortly after use. Do not touch surfaces directly. Instead, use handles or knobs to operate the smoker, and be careful when removing food or wood from the device. I recommend the use of gloves or long cooking tools during operation.
To protect against electrical shock, do not plug in the smoker until it is completely assembled and ready for use. Make sure that the controller is set off before plugging in. Do not let the cord touch the hot surface.
Reliability
Pit Boss is a famous company known for its high-quality products. You can expect to get a durable and sturdy machine that will reliably smoke your food for years after use. The materials used on this smoker are strong and designed to slow down rusting.
For your peace of mind, Pit Boss offers a warranty of one year on your smoker. This is comparable to what other companies offer for similar devices.
Price
This particular model is relatively cheap, making it a great option if you have a smaller budget. The price can be paid in full or in 4 interest-free installments.
For the latest price, click here.
Pros of the Pit Boss Electric Smoker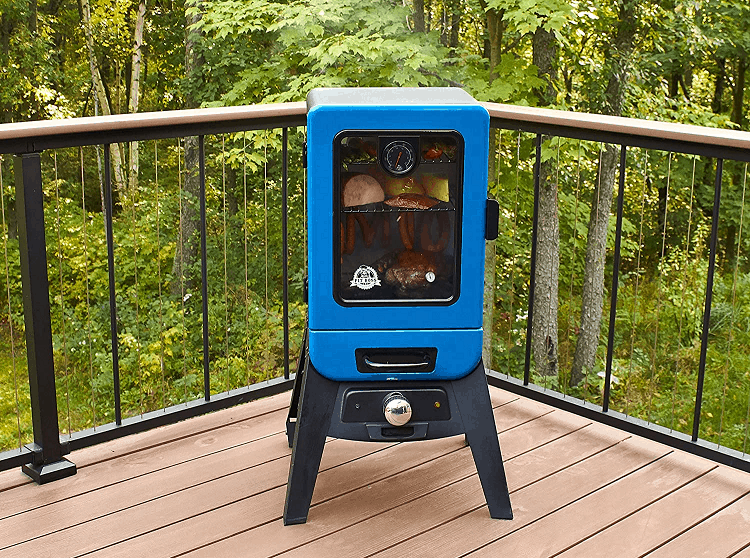 Let's summarize the main assets of this electric smoker:
Compact and Portable Design
The smaller dimensions of this smoker make it easy to assemble, move around, and store at home. It is a great fit if you don't have a lot of space in your balcony or garage. It also comes with wheels and a handle for transportation.
Adequate Cooking Space
This device has a volume of 2.2 cubic feet and an area of 593 square inches for cooking. It has three porcelain-coated cooking racks to place food on. This is enough space for your regular home chef, and it will likely fulfill the needs of your average family.
Versatile Temperature Control
The Pit Boss Smoker has an analog temperature control feature that ranges from 100°F to 350°F. This makes it suitable for both fast and slow smoking.
Separated Door for Wood Load
The tray used to load the wood is separated from the main compartment, which means that you can renew the chips without releasing smoke and losing heat.
Ease of Use
The design of this smoker makes it relatively easy to use. The analog temperature control is simple and a good option for beginners. The glass door lets you see inside the device so you can keep an eye on the food as you smoke it.
Warranty and Support
Pit Boss offers customer support and a 1-year warranty.
Cons of the Pit Boss Electric Smoker
Need to refill wood pellets after 2 hours.
The tray storing the wood pellet is not very big, so you need to manually refill the pellets after 2 hours of constant use.
Doesn't come with a cover.
The Pit Boss electric smoker comes without a cover. A cover can be very useful to protect the device if you are going to keep your smoker outside.
 Are There Any Alternatives?
If the Pit Boss electric smoker is not what you are looking for, here are some alternatives that you might want to consider
Camp Chef Smoke Vault 24″ Vertical Smoker, Body Dimensions 24 in W x 16 in D x 30 in
The Camp Chef Smoke Vault is a portable and powerful device made for outdoor smoking. It has a simple and durable design suitable for a BBQ at home. This device comes with a heavy-gauge steel wood chip tray and a water pan to infuse the meat with a tasty flavor.
This smoker includes features such as adjustable heat-control dials, three damper valves, and an easy-to-read door thermometer that can help you control the temperature during the smoking process. The cooking temperature varies from 160°F to 350°F.
Masterbuilt Bluetooth Digital Electric Smoker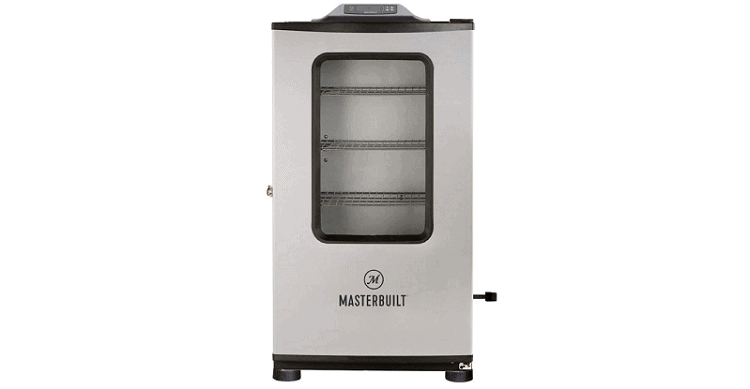 The Masterbuilt Digital Electric Smoker option might be a great fit for you if you prefer a high-tech device. This smoker offers a built-in Bluetooth feature that lets you monitor and control your device right from your smartphone.
This smoker has plenty of space, so you can use it for cooking up to four turkeys or eight racks of ribs. It has a side wood chip loading system that allows the user to renew wood chips without opening the door. It also comes with an interior light that illuminates the food when you open it.
Frequently Asked Questions
Check out these common questions and answers for more information on the Pit Boss Electric Smoker:
Question: What kind of Wood Can I Use for the Pit Boss Electric Smoker?
Answer: You should use hardwood that has been seasoned for at least 6 months. I recommend using Hickory, White Oak, Apple, or Alder. Don't use resin woods like Pine. It is not necessary to soak the wood prior to smoking because the wood contains moisture that gets released as it heats up.
Question: How do you Prepare the Food for Smoking?
Answer: For poultry, I recommend that you soak it in a marinade before smoking. This is done to make sure that you get the meat infused before you smoke it. For beef and pork, you can use a dry or wet rub.
Question: Where Can I buy the Pit Boss Vertical Electric Smoker?
Answer: The Pit Boss Electric smoker can be bought from amazon. Additionally, these smokers can be bought at many retail stores in the U.S, such as Walmart and Lowe's.
Question: What Kind of Food Can I Put in a Smoker?
Answer: The smoker is usually designed for meat, but you can put other kinds of food there, such as pizza or vegetables.
Question: How do I clean the Vertical Electric Pit Boss Smoker?
Answer: You can use a long-handled grill cleaning brush to remove any food or build-up from the cooking grids. I recommend that you do this while they are still warm from the previous cook.
You can clean the outside surfaces using a wet cloth. Do not use oven cleaner or abrasive cleaner on the outside grill surfaces. The inside of the smoker should be cleaned on a consistent basis.
Final Thoughts: This Smoker is Great for Home Use
Pit Boss is a reputable manufacturer of diverse grills and smokers. Their products offer great quality at decent prices, which make them ideal for those who want to cook meat at home to enjoy with friends and family.
The Pit Boss Analog Electric model is among the best smokers on the market. It has a compact design, which makes it easy to transport and store.
It offers several attractive features, such as a separate wood chip tray for easy loading and a glass door that lets you see inside the smoker as you use it. This smoker will take your BBQ game to the next level.
We hope that this review has provided you with all the information you need in order to decide if the Pit Boss smoker is the right fit for you. For guides on smoked food, feel free to take a look at our smoked cod guide and smoked chuck guide.