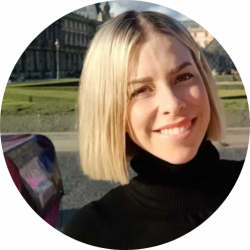 Latest posts by Jodie Chiffey
(see all)
Anyone who has ever had a barbecue knows how tasty meals cooked on the grill are. There is nothing better than grilled meat infused with the deep smoke of a charcoal or firewood grill. When you go out camping, you definitely want to replicate that experience. However, carrying your backyard grill in the back of your truck is simply not practical.
Enter the portable smoker. As the name suggests, this is a machine that you can take anywhere. It makes it easy to cook tasty meals when on the move. Its smoking feature guarantees you smoky-flavored meat and veggies for scrumptious outdoor meals.
A portable smoker is a must-have for anyone with great taste. We have gone through the ones available on the market and picked 7 of the best-priced and best-reviewed portable smokers. We have also provided a buying guide so you know which one will be best suited to your needs.
At a Glance: 7 Best Portable Smokers in 2022
| | | | | |
| --- | --- | --- | --- | --- |
| Name  | Weight | Best for | Dimensions  | More info |
| Weber Smokey Mountain Cooker | 23 pounds | Best overall portable smoker | 31.4 x 14.75 x 14.75 inches | Find out more |
| Masterbuilt Portable Gas Smoker | 17.8 pounds | Best portable propane gas smoker grill | 17.24 x 27.36 x 12.08 inches | Find out more |
| Kamado Joe Jr. Portable Grill | 75.58 pounds | Best portable kamado smoker | 50.2 x 52.7 x 68.6 Inches | Find out more |
| Camerons Stovetop Smoker | 3 pounds | Best lightweight, portable smoker | 11 x 7 x 3.5 inches | Find out more |
| Green Mountain Davy Crockett Pellet Grill | 57.32 pounds | Best price value portable smoker | 29.92 x 14.6 x 21.65 inches | Find out more |
| Char Griller Akorn Kamado Grill | 90 pounds | Best outdoors kamado grill | 26.6 x 24.8 x 21.65 inches | Find out more |
| Traeger Grills Ranger Portable Wood Pellet Grill and Smoker | 60 pounds | Best portable pellet grill | 20 x 21 x 13 inches | Find out more |
Portable Smoker Selection Criteria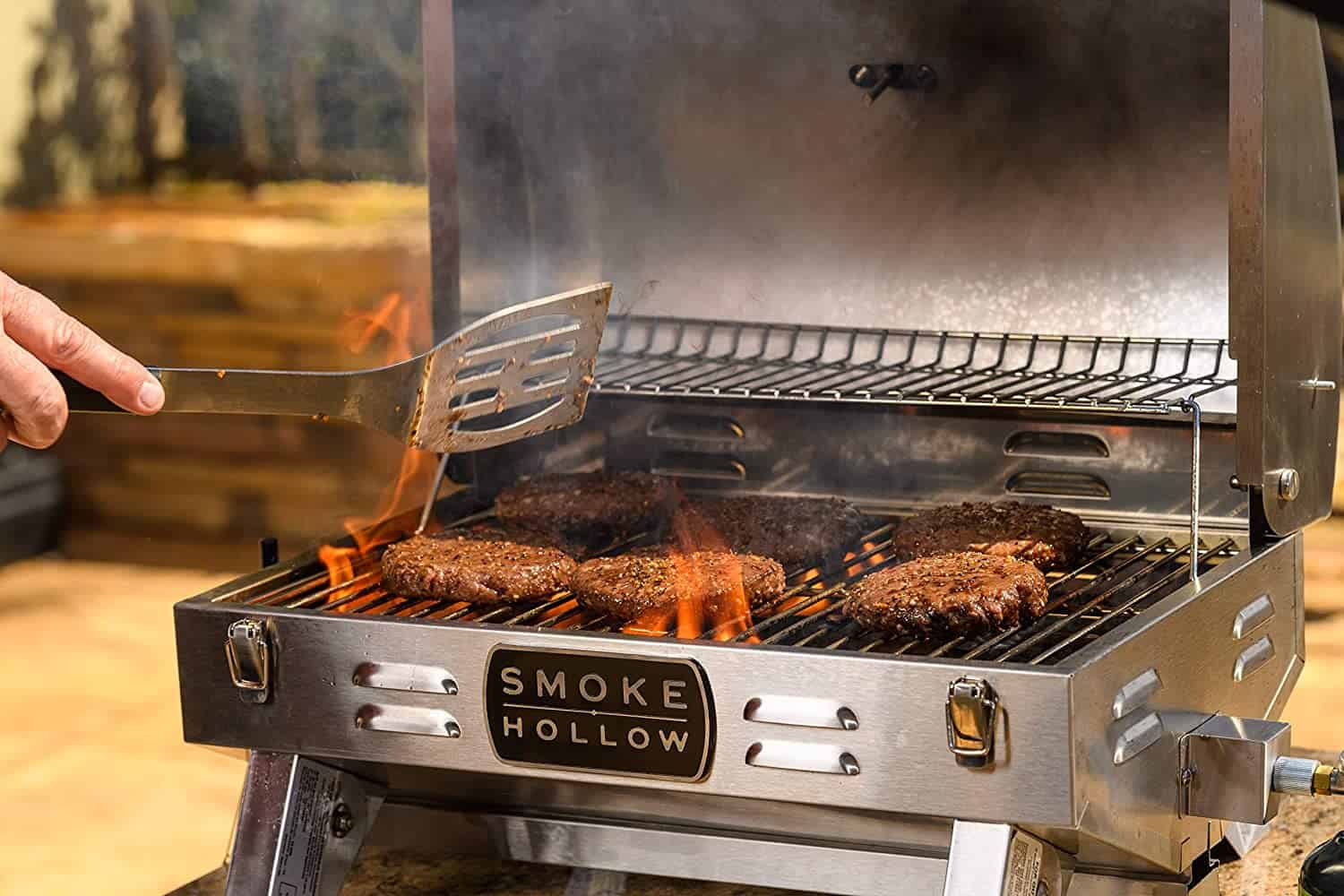 Choosing a portable smoker is an important decision. This is equipment that can make or break your meat-eating experience. To make sure you pick the best portable smoker, we have gone through hundreds of products and selected 7 of the best. Our suggestions are based on the following criteria:
Construction Quality: your portable smoker is supposed to withstand all terrains and types of use. Sturdy, durable construction is thus essential. We have picked multiple portable smokers made from stainless steel. These will handle all the ups and downs without breaking down. Enamel or powder coating is also a feature in many smokers in our selection. This feature helps your portable smoker be water- and rust-resistant.
Temperature Control: a good portable smoker gives you control over the temperature to maintain a steady temperature that is best for your meat. All the smokers in our selection feature temperature control features like air vents and inbuilt thermometers. We even have one that allows you to control the temperature over WiFi to cook at your comfort.
Price: as much as a portable smoker is essential, purchasing one should not break the bank. All our portable smokers listed are priced below $500, and several high-quality ones are priced below $300.
Reasons to Buy a Portable Smoker
Portable smokers are not just for campers: they are a must-have for anyone who loves to cook great food. Here are some reasons why you should cop one:
Compactness
A portable smoker will fit anywhere, whether in the trunk of a small car or on the tiniest balcony. Most portable smokers are made from highly durable materials. Some even have wheels to make it easier to move from place to place. A portable smoker is something you can carry with you in all terrains and enjoy your food in all environments.
Cooking Control
When you get a portable smoker, you get control over variables like temperature. This way you can set the best possible cooker depending on your food. The insulation provided ensures the best use of fuel when cooking. This is not easy to come by when cooking outdoors.
Better Food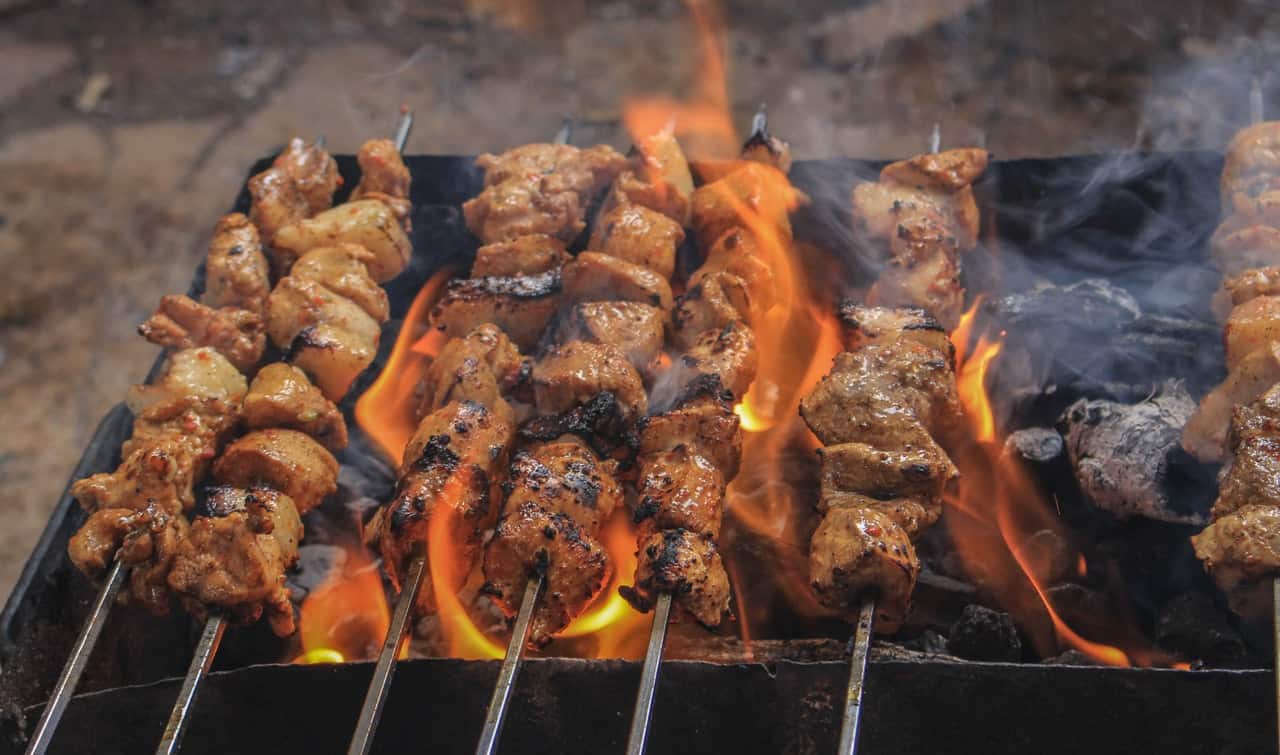 With a portable smoker, you eat food the way it is meant to be eaten. You get to slow-cook your meat for that extra tender, natural taste, and smokiness. If you want to deodorize your fresh salads with a smoky scent lightly, you can do this too.
Tips for Using a Portable Smoker
One thing that might keep you from getting a portable smoker is not knowing how to use it. Here is a short guide on how you can get the best from this machine when cooking meat or fish:
Brine and Season
The first step to getting good smoked meat is brining it. Mix 5 grams of salt into a quart of water and submerge your meat in it. If you want a bit more zing, add seasonings like bay leaves, black pepper, garlic, and onion powder.
Refrigerate
The key to getting maximum flavor out of your meat is leaving it to form the pellicle. This is a sticky surface on top of the meat that helps the smoke and seasoning adhere better. Refrigerating your meat uncovered for a few hours helps the pellicle form.
Take Your Time
While a portable smoker is great for a quick meal, preparing your food in advance is essential if you want to extract maximum taste from it. Brine your meat for around 6 hours, or overnight if possible. Refrigerating for 6 or more hours will allow the pellicle to form. Place it in the smoker for 2 or more hours, depending on what meat it is. Taking your time will give you the best-tasting meat.
7 Best Portable Smokers
1. Weber Smokey Mountain Cooker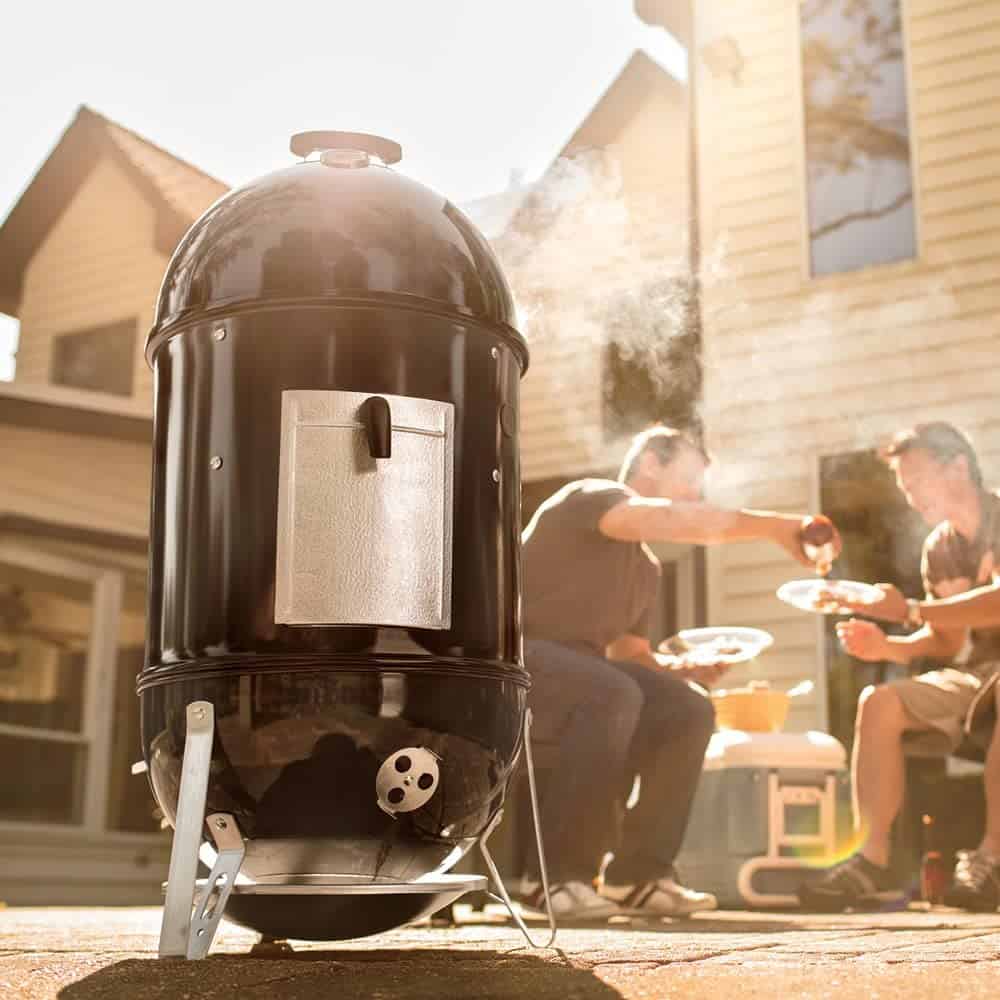 The Weber Smokey Mountain cooker is your best bet if you are going camping or out for a barbeque night. It is fueled by charcoal and, despite its size, can hold its own compared to larger commercial smokers. Its portability is one of the best factors about it, and the fact that it can compete with the larger models and still win makes it even better.
The smoker can hold a lot of food on its cooking surface despite its small size. That is because of its dual 14-in grates and its impressive height. It also has a sturdy construction that makes it able to handle the harsh outdoor environment. The cooker can cook for long hours at a steady temperature, and you can control the temperature by opening and closing the vents.
Cleaning and maintaining the smoker is also an easy process. All you have to do is scrub the grates using a grill brush, clean the water, and properly dispose of ashes and unburned charcoal. You can also prevent the interior from flaking by regularly cleaning the smoke that accumulates on the inside, paying extra attention to the lid's underside.
The smoker is made of high-quality material and delivers top-notch performance. It is highly durable, has a long lifespan, and is easy to master, even for beginner smokers.
Pros
Made with quality materials
It has a silicone grommet that holds a thermometer and two cooking grates
Can convert into a traditional grill
It has a side door for reloading wood and charcoal
Has excellent grilling performance
Cons
The integrated thermometer is not precise
2. Masterbuilt Portable Gas Smoker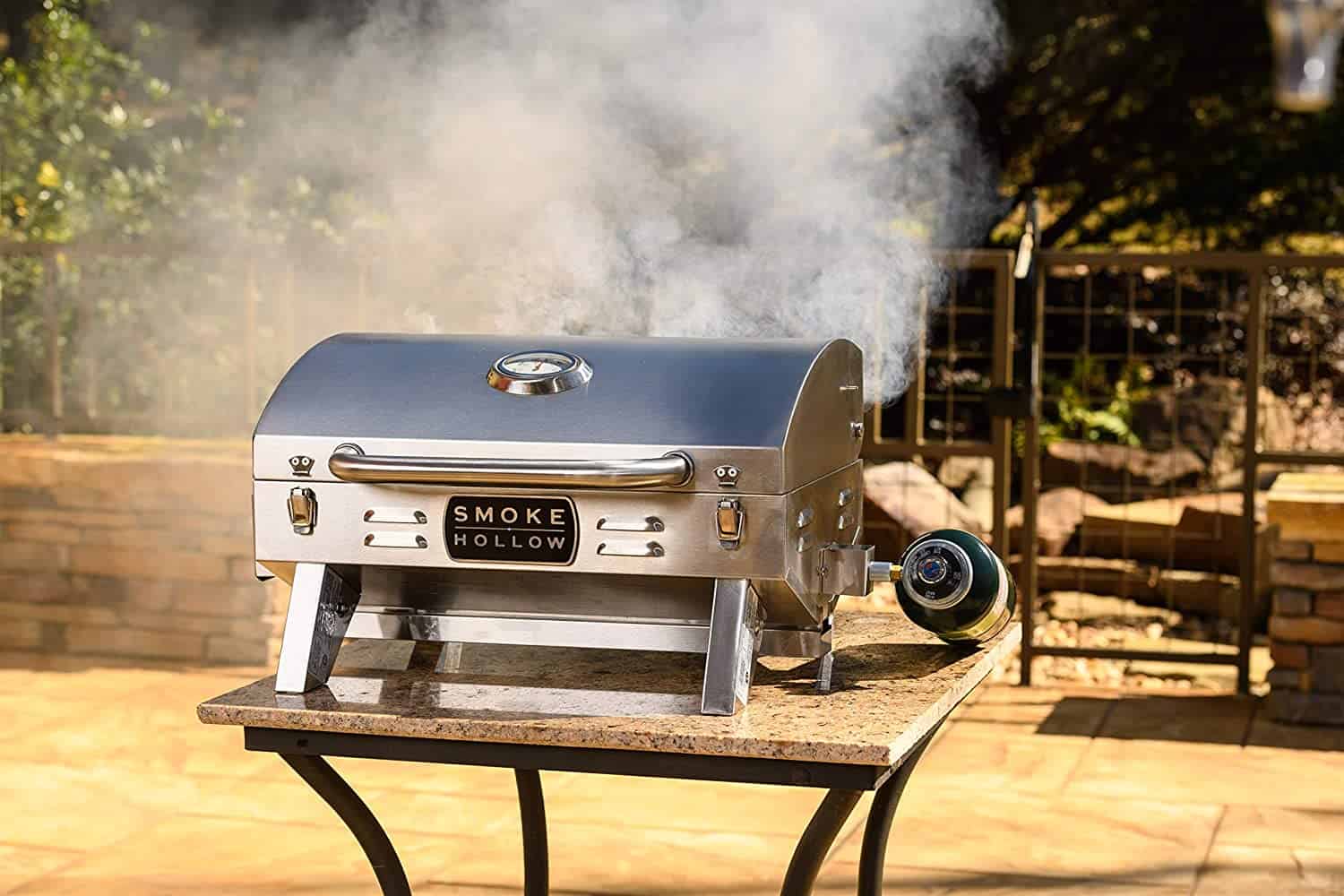 Say goodbye to using charcoal and electricity to power your smoker, and hello to the Masterbuilt propane smoker. While it is small in size, the smoker has all the quality materials you could ask for when looking for a portable smoker. It has a heavy-duty body and more than adequate amount of space for cooking, delivering on performance and durability.
The smoker's size and lightweight build make it easy to transport it from place to place. It also has foldable legs, which helps make it stable when you put it down on a surface. Its grill heats up fairly quickly and can get to 275 degrees in a few minutes. You can smoke all your beef or wursts on this smoker, and you won't be disappointed.
Unlike most smokers that sacrifice the cooking space to make the other units compact, this smoker has two cooking racks on which you can cook four chickens, a turkey, two pork butts all at once and still have space left for something else.
The smoker includes a temperature gauge that is easy to keep track of and ensures you cook your meat to perfection. Its legs can also easily fold for easier storage and transportation. This small but fierce smoker is a perfect companion for road trips or camping without losing out on the more important functions.
Pros
It has two cooking racks that provide space for cooking
It has a consistent temperature that allows you to cook food evenly
It is compact and lightweight, easy to move around
It comes at an affordable price
Cons
3. Kamado Joe Jr. Charcoal Grill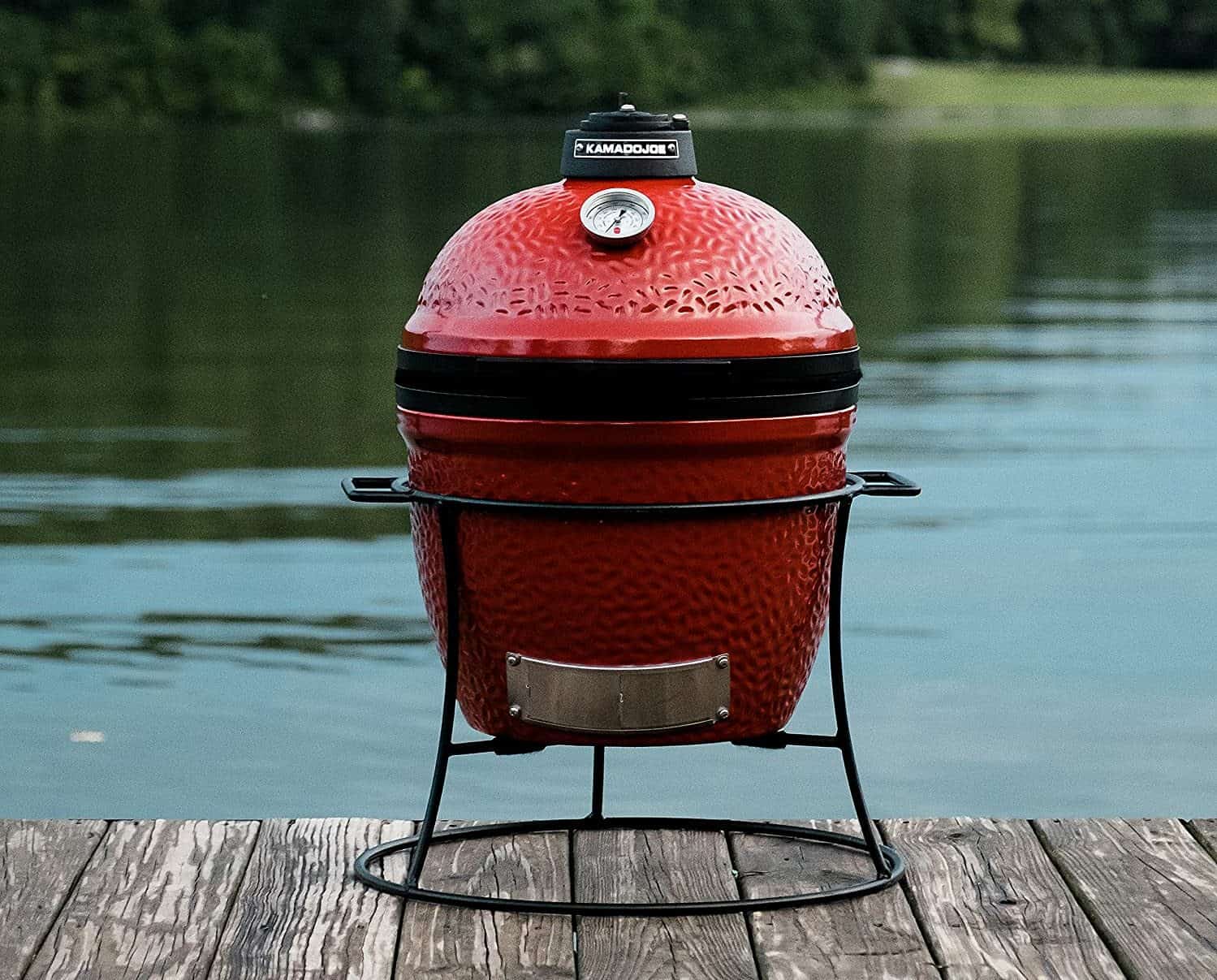 If you are looking for one of the most durable portable smokers in the market, the Kamado Joe Jr. is the answer for you. It is a versatile, durable, and easy-to-use smoker that can handle anything you throw its way.
The smoker has a small compact design that makes it easy to transport. Despite the small size, you get 148 square inches free for cooking. You can make three large steaks and four burgers over this space at one time and still leave room for a pork butt.
It is made from high-quality ceramic but still is lightweight, with the smallest one weighing only 68 pounds. Despite its size, however, you get the best heat retention you could ask for. Its cool-to-the-touch design also ensures that you will not burn your hands no matter how hot the smoker gets.
The smoker is equipped with an inbuilt temperature gauge, a sturdy stand, an ash cleaning tool, and rust-resistant cooking racks. It is easy to use even if you are a beginner and is a favorite of most advanced smokers. With this small, compact, high-quality grill, you can use its size to your advantage and enjoy yourself out in the wild.
Pros
High-quality construction that makes it highly durable
Small, compact, and lightweight for easy transportation
It has a heat-resistant shell that doesn't let smoke and moisture out
It has a sturdy stand that you can use on the ground or on a tabletop.
Cons
It takes a long time to heat up and cool down
4. Camerons Stovetop Smoker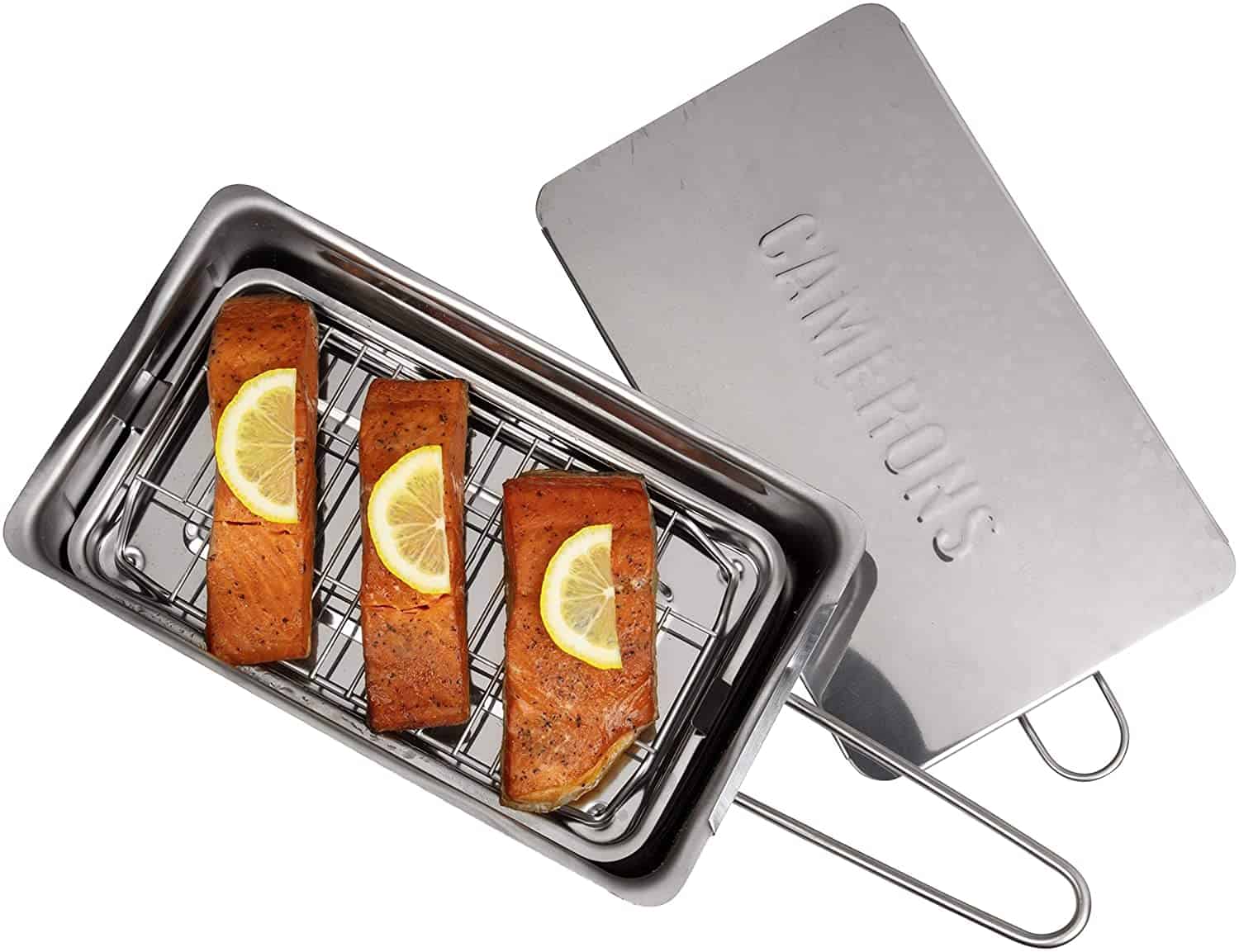 Suitable as both an indoor and outdoor smoker, the Camerons Stovetop Smoker is one to keep an eye on. It is only 3.5″ high x 11″ wide x 15″ long, and it still packs quite the punch. It is easy to use, and you can have your meat done in no time.
If you are going for an outdoor adventure and would like to hunt or smoke some meat, you can easily fit this smoker, your slicer of choice, and whatever other gear you have in your backpack. It only weighs seven pounds so you will barely feel the weight, even during a whole day of moving from campsite to campsite.
Cleaning is easy; all you have to do is put it in a dishwasher. You need to remember that it can warp when exposed to too much heat. You can use it to smoke anything, but its major downside is that you cannot cook large cuts of food on it. It does not leak any smoke and should not cause a problem when you use it outdoors.
It is a multipurpose smoker, and you can use it to smoke anything from meat, fish to vegetables. You can also use it to steam, roast, or poach food, and it works with all heat sources, from electric to gas, to a regular campfire. It also comes with an instruction manual and a recipe booklet.
Pros
Works with any heat source
It is compact and easily portable
Easy to clean and maintain
Has excellent cooking performance
Made of durable, high-quality stainless steel
Cons
It has a small cooking space
The inside can discolor with frequent use.
5. Green Mountain Grills Davy Crockett Sense Grill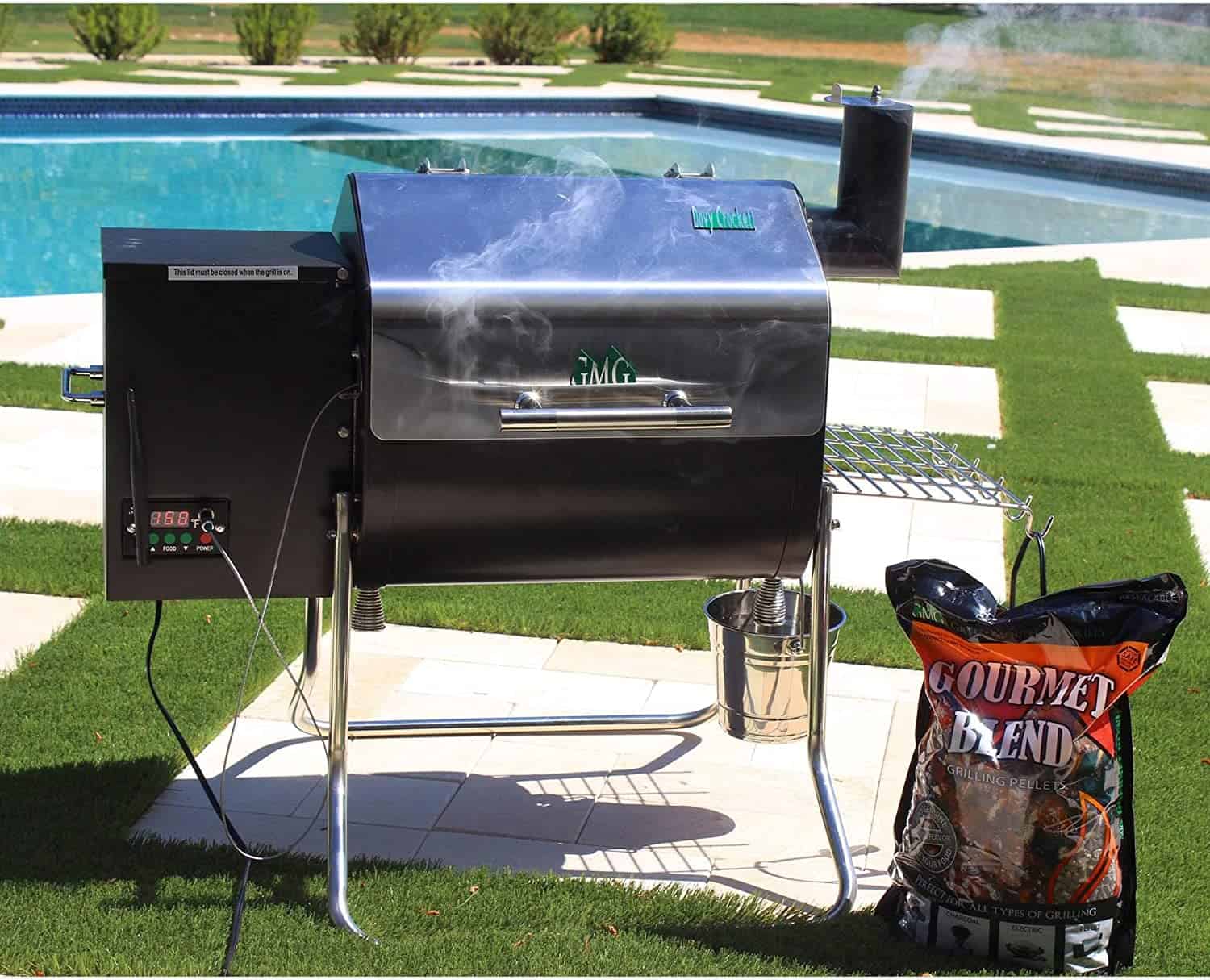 The Davy Crockett Pellet Grill is the best smoker for a good day out, one of the most affordable and highest reviewed smokers on the market. It has a stainless steel construction that makes it rust-resistant and durable. It is also a portable pellet smoker that you can comfortably use in your backyard.
It holds around 220 square inches of food, which can grill two racks of ribs at the same time. The grill is WiFi-enabled, meaning you can control its temperature on your smartphone. This means you can leave your food on the smoker and relax elsewhere, no need to stress over the temperatures or how the food is coming along.
The smoker also comes with a Sense-Mate and a meat probe that do an incredible job of automatically controlling the grill's temperature. It has a 9-pound pellet hopper that holds a lot of fuel for smoking and has a waterproof cover that protects the grill in case of rain.
The smoker also has folding legs that you can use as handles when transporting it. It can fit neatly in most trunks, making it the perfect companion for any tailgating trip.
Pros
Stainless steel construction that is rust-resistant
Has folding legs that make it easy to store and transport
WiFi-enabled; lets you control the temperature on your smartphone
Has automatic temperature auto-regulation
Cons
It has a small cooking capacity
You will need to add more fuel even when in the middle of cooking.
6. Char-Griller Akorn Kamado Grill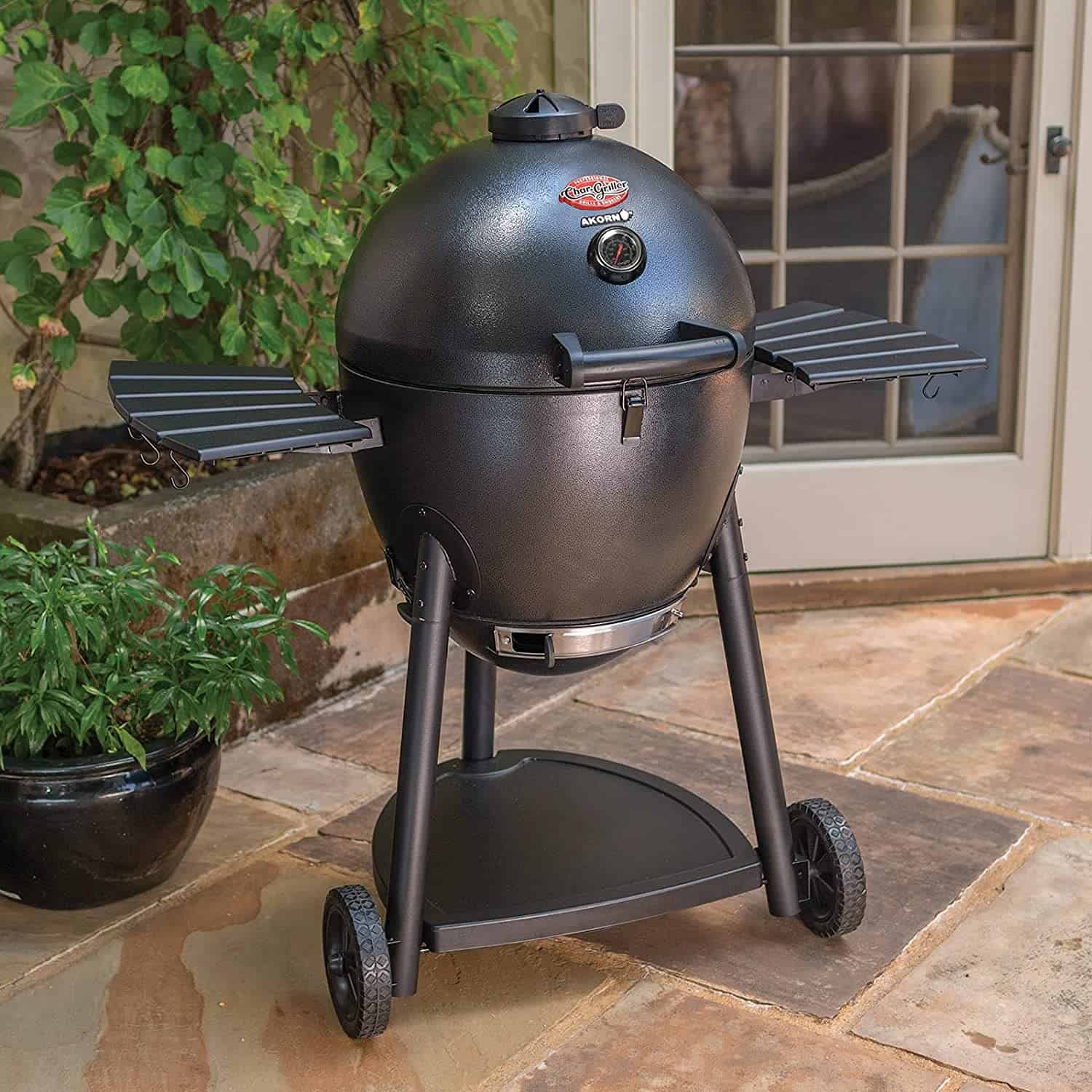 The Char-Griller Akorn Kamado grill is one of the best to have when tailgating. It has wheels that make it easy to move around. It makes incredible smoked meat that you can enjoy when waiting for your game to start. It has a locking caster that makes it easy for you to keep in place while smoking your meat.
The grill has 314 square inches of cooking space, way more than other smokers do. It also has a warming rack that is 133 square inches. It has a compact build that makes it easy to store and transport. The smoker has an insulated design that utilizes the heat produced, leading to less charcoal being used. It also has folding shelves at the side that help with insulation, giving you the best and juiciest meat.
Its body is made of 22 gauge steel, making it strong enough to handle any atmosphere. You can smoke, cook, and grill anything you want on the grill with no problem; it has enough space to spare. It also has a removable ash drawer that makes cleaning easy and a heat gauge that enables you to keep track of the temperature.
The smoker also contains two top and bottom adjustable dampers designed to maintain the airflow when smoking or cooking, helping you save on charcoal when in use. The powder-coated exterior and porcelain interior finish help it to last longer.
Pros
It contains two dampers that help you save on charcoal use
Suitable for cooking, roasting, smoking, and grilling
Removable ash drawer for easier cleaning
Strong and durable design
Cons
It takes some time to heat up and cool down
7. Traeger Grills Ranger Wood Pellet Smoker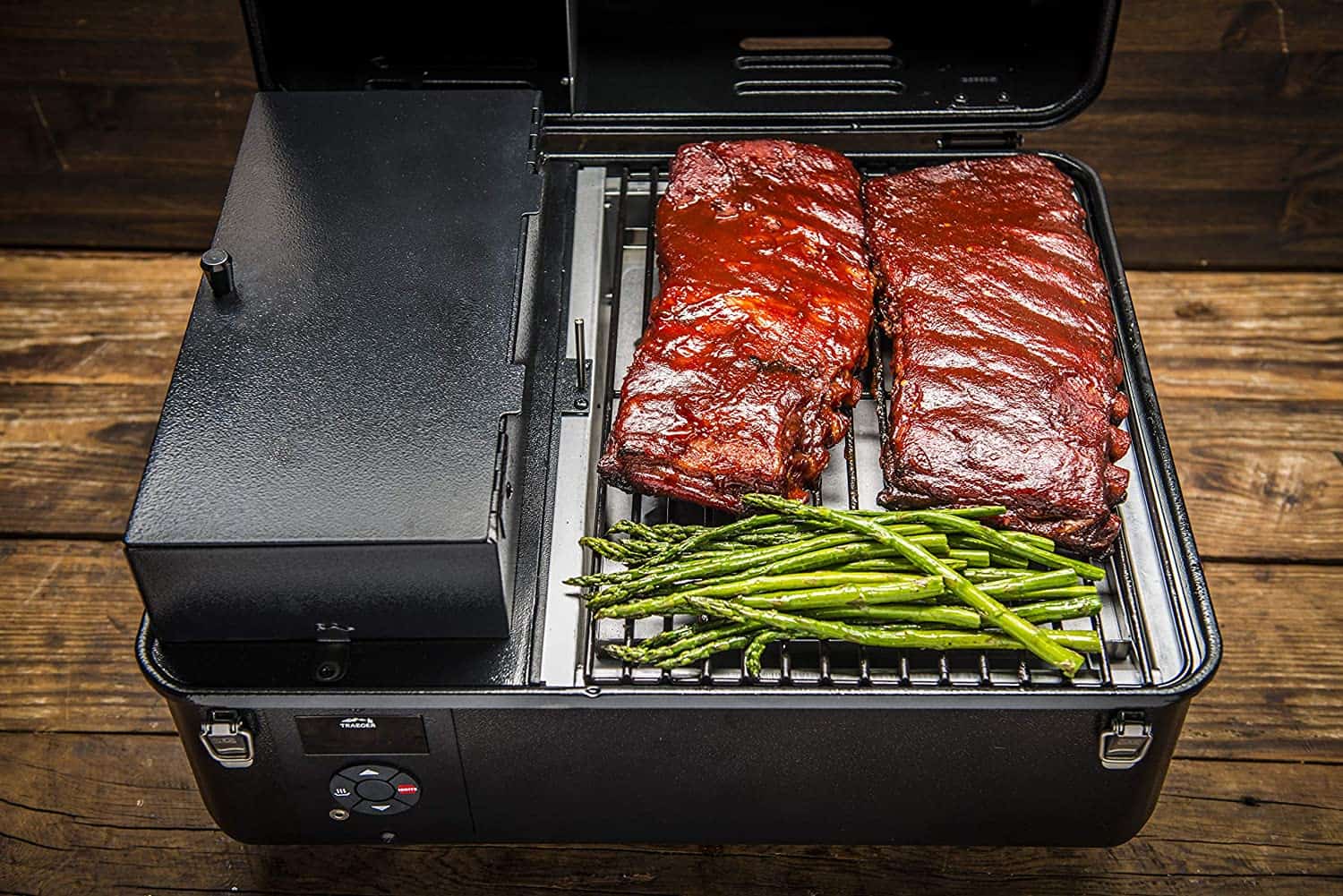 A suitcase-style smoker, the Traeger Ranger Grill is one of the smallest portable smokers you can find. Coming in at just 21 inches by 20 inches by 13 inches, this pellet smoker is easy to transport and store neatly. It is one of the easiest to move around with, and you can easily store it in your car or RV.
The smoker is made from high-quality materials and delivers top-notch performance. It heats up quickly and has 5-degree increments all the way to 450 degrees Fahrenheit. It can hold its heat well in all temperatures, even in cool weather.
It has 184 square inches of cooking space that can make six burgers or four steaks at once. It holds 8 pounds of pellets, a reasonable feat for a smoker this size. The Ranger is not only good for smoking, but it also contains a cast iron griddle which can let you grill to your heart's content. It also has a meat probe that lets you know when your meat is ready without opening the lid.
Pros
High-quality and durable build
It has a locking lid for easy transportation
Compact and easily portable design
It has a meat probe that lets you monitor your meat
Suitable for smoking and grilling
Cons
A little on the heavy side
Frequently Asked Questions
Question: What types of meat can I cook on the smoker?
Answer: You can cook any meat on a portable smoker, whether it depends on wood, charcoal, or electricity to function. Different meats have different smoking points. Keep this in mind to ensure that you do not overcook or undercook your meat.
Question: How much meat can I fit on the smoker?
Answer: This depends on the size of your portable smoker. A smoker with a 10" to 15" griddle can make enough food for two or three people. Keep in mind the number of people you are likely to constantly feed before purchasing your smoker.
Question: How do I clean the smoker?
Answer: Cleaning the griddle will depend on the material it is made from. Season a cast-iron top like you would a regular cooking pan. Stainless steel can handle more scrubbing than nonstick graphite or porcelain. If you want to clean the fuel chamber, unlatch it and remove the ashtray to empty it.
Which is the Best Portable Smoker?
If we had to choose, we'd say the Weber Charcoal Smoker is the best portable smoker overall when it comes to construction and functionality. It is the perfect size for cooking for a small family and provides high-quality smoke to ensure your meat is perfectly cooked.