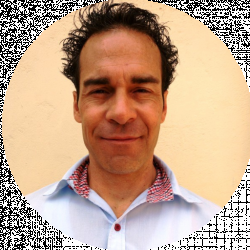 Latest posts by Douglas Bloom
(see all)
Whenever you think of a good barbeque, think of rustic and delicious, homemade food, but incredibly satisfying. On the same note, a good smoker doesn't have to be fancy. However, presently, most of them have pretty cool and decent features.
One of the reasons why Dyna Glo smokers have become so popular on an international level is because they focus on the durability and efficiency of their products.
There is a wide variety of smokers. This means choosing the best smoker one can be pretty challenging. Predominantly, Dyna Glo smokers range from gas to charcoal and digital to analog. Take note there are other options to choose from.
It's not easy to wade through all the products and make an informed decision. Luckily, after carrying out a ton of research, we were able to make the decision easier.
We used Dyna Glo forums, fan pages, products pages, and other sources. After carefully sifting through this information, we broke it down in a way you can easily understand and make the right decision. Here we go!
Our Top 5 Dyna Glo Smoker Picks
There are five most popular Dyna Glo smokers according to fans and users. Below are the top picks and details about each. This should help you make an informed decision before choosing any Dyna Glo Smoker. Keep in mind they are classified according to the best in each category.
Best Offset Charcoal Smoker: DG01176BDC-D Dyna Glo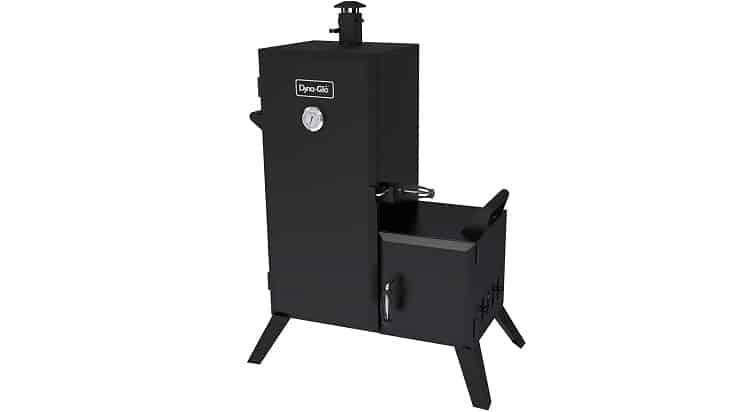 Do you want a smoker that uses precise and indirect heat to produce a top-notch meal with a vast depth of robust and smoky flavor? DG01176BDC-D is the product to check out. It's a classic charcoal-fueled smoker which showcases offset heat. The heat source is separate from where your food is being cooked.
One mantra you need to know about smoking food is that it's "low and slow." Temperature control is one of the keys to achieving success with low and slow cooking. This smoker model comes with a ton of features to offer you total control.
With a dual door, you can add as many wood chips as you prefer without heat loss. For better heat precision and control, this smoker features an adjustable steel smokestack. It also has a smoke zone to inform you when your food is getting the most flavor.
DG01176BDC-D is available in a standard or wide version. You can get up to a maximum of 1,890 square inches of cooking space. It's designed and built to last you a lifetime. An efficient ash and charcoal system help get rid of the smoking by-products and maintain cleanliness.
Luckily, you can make custom premium covers for this Dyna Glo smoker to prolong its lifespan. Note that they are sold separately. Keep in mind this smoker is not as versatile as others with a grill All the same, we loved it because of its durability, excellent cooking space, and efficient temperature control.
It comes with numerous features, which include:
1176 square inch cooking area
6 grates
20.2 x 34.52 x 47.03 inches in size
57 lbs
Ash and charcoal management system
Built-in temperature gauge with a Smoke Zone adjustable flue
15000 BTU heavy-duty cast iron burner
Pros
Awesome temperature control
Available in different sizes (standard and wide)
Large cooking space
Budget-friendly
Efficient
Cons
Lacks grill function
Only for offset smoking
Best Feast Smoker: DGSS1382VCS-D Dyna Glo Signature Series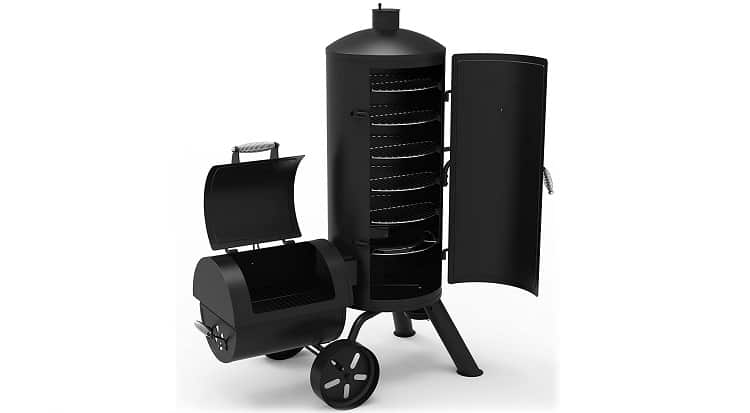 Are you looking for a perfect one-stop charcoal and grill smoker for all your barbecue and grilling needs? DGSS1382VCS-D series offers almost every kind of cooking surface that you can hope for. To start with, it has a 5-grate main smoking chamber. This is offset from the heat source making it ideal for classic smoking.
The chamber comes with everything you may need. They include cool-touch handles, pre-installed sausage hooks, and a visual analog temperature guide. A combination of such features gets you the best ranges for grilling and smoking.
It doesn't end there! The heat source is used as a traditional grill. This allows you to put your burgers, vegetables, brats, and other foods over the direct heat during the final phases of smoking. With this smoker, you get an advantage of 1382 square inches of cooking space to enjoy.
You can spend the whole day cooking with a DGSS1382VCS-D smoker. At the same time, you can grill all your accompaniments right over the heat source. That is why we call it the ultimate feast-making device. That said, it also comes with large steel wheels that make it relatively mobile.
It's a fantastic device for summer parties, tailgates, and simply massive feasts. You can also get custom-fitted covers to increase the durability of your smoker. On the downside, these are sold separately. Even though this unit is a bit pricey, its cooking space and versatility make it one of the best choices for a stellar smoke flavor in your meal.
DGSS1382VCS-D Dyna Glo comes with various features like:
1382 square inch cooking area
5 grates
45.5 x 24.9 x 58.8 inches in size
124.3 lbs.
Pros
Large cooking space
Direct and offset heat allows for both grilling and smoking
Wheels provide mobility
It comes with a 5 grate main smoking chamber
Has a visual analog temperature guide
Cons
Not budget-friendly
Lacks digital features
Best 2-Door Digital Bluetooth Smoker: DGU951SDE-D Dyna Glo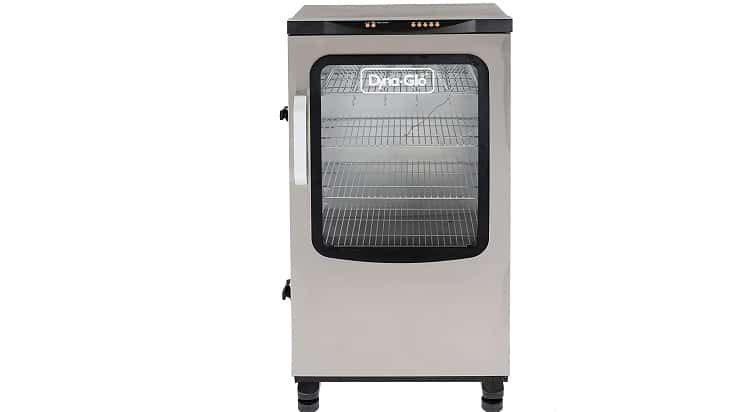 At times, it may seem like some appliances are made "smart" for the sake of saying that they are more technologically advanced.
When done right, these additional enhancements, however, offer a new and improved experience. This is the case with the electric DGU951SDE-D Dyna Glo smoker. It has a classic smoking setup that brings it to the 21st century.
You can monitor every aspect of your cooking by pressing a button. This includes external temperature control, cooking time, and meat temperature, all of this is done using an integrated and digitally controlled thermometer. The good thing with this smoker is that it has Bluetooth capability making your cooking hassle-free.
By now you have realized this is one of the best smokers from Dyna Glo. You can set it to automatically turn off once your meal hits the set temperature. This allows you to enjoy classic conveniences such as sausage hooks and removable rib racks.
The only setback with this unit is the tiny cooking space. The smallest version of DGU951SDE-D is 30-inch with 732 square inches of cooking space. The largest is 40-inches with a cooking space of 951 square inches.
This series of Dyna Glo is best for compact setups. It's an excellent option with incredible ease of use. It's a product that is always ready to produce an outstanding meal for you.
Other features include:
951 square inch cooking area
4 grates
98.4 lbs.
Integrated meat thermometer
Digital thermostat
Sausage hook and a removable rib rack
Pros
It comes with a built-in digital meat thermometer
Best for a compact setup
Features an automatic shutoff option
Has an external temperature control
Easy to use
Has Bluetooth capability
Cons
Not budget-friendly
Small cooking space
Best Budget-Friendly Smoker: DGX780BDC-D Dyna Glo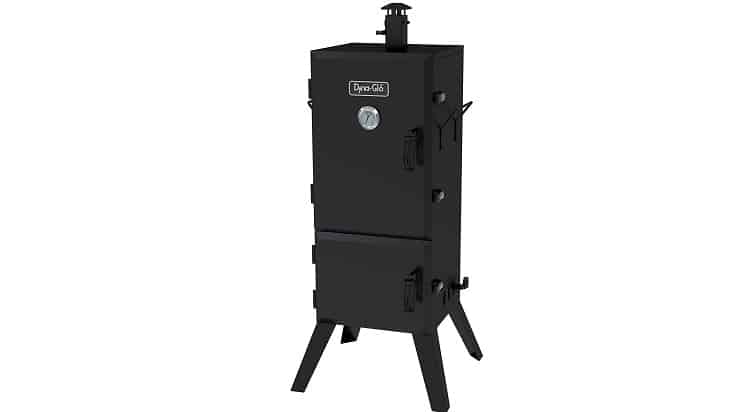 Are you looking for a budget-friendly Dyna Glo smoker that won't break your bank? Then the DGX780BDC-D smoker comes in as your budget pick. It doesn't have the bells and whistles you normally find in high-end smokers. However, it still offers a top-notch charcoal smoking experience at an affordable price.
This unit comes with 4 adjustable steel racks and 784 square inches of cooking space. It has an efficient user area with a vertical, stacked design that makes it more compact than other models. This makes it the best fit for smaller smoking setups.
With this product, you don't get many fancy features. All the same, it's still an excellent smoker with numerous heat control options.
The dual doors help minimize heat loss when loading wood chips during the smoking process. The top and side dampers are all adjustable and "slide able". The result is quick and easy heat adjustments as you cook.
There is a high-capacity water bowl for keeping your meat moist and tender while still offering you the best smoke flavor. DGX780BDC-D features a cast-iron burner, 15,000 BTUs, electric ignition, and a push-button to make operating it easier.
One of the interesting features of this smoker is the relatively large and high-capacity wood chip box. It enables you to prepare your meals without any maintenance for hours with minimal heat loss. Need to get the smoker to stay outdoors safe and simple? There are customizable covers (sold separately) for this purpose.
This charcoal smoker has numerous features, which include:
784 square inch cooking area
4 grates
20.83 x 21.45 x 49.73 inches in size
56 lbs.
Ash and charcoal management system
Temperature gauge
Pros
Affordable
Easy electric ignition
Great for compact setups
Large wood chip capacity
Numerous heat control options
Features 4 adjustable steel racks
Cons
Lacks grilling space
Minimal modern features
Best Versatile Charcoal Smoker: DGSS730CBO-D Dyna Glo Signature Series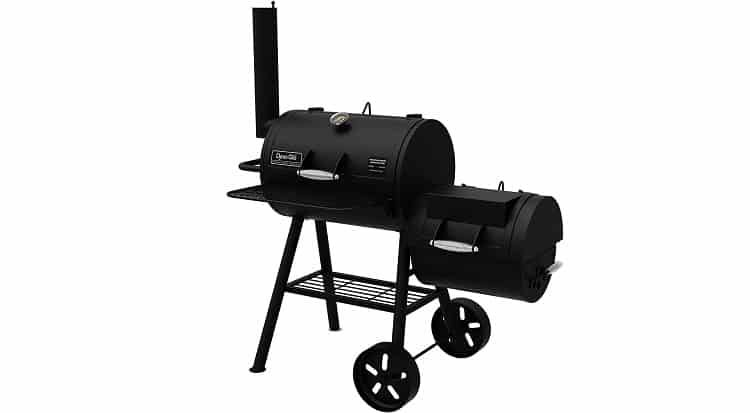 Despite being relatively compact, the DGSS730CBO-D series is rated as the most versatile Dyna Glo smoker. It can do quite a lot compared to other smokers at this price point. It has a 730 square inch cooking space that spreads over both offset smoker and charcoal grill.
The offset area utilizes 287 inches, while the primary heat cooking area takes up the remainder. This device offers more than what you would expect for a family or small gathering setup.
Take note its size is comparable to the average backyard grill. However, the additional smoking feature provides a whole new dimension to cooking.
DGSS730CBO-D comes with numerous features for effective cooking. The cool-touch spring handles make it safe and easy for you to open the smoker during the cooking process.
It also features dual cooking surfaces. These have a handy analog temperature gauge that shows off the "Smoke Zone" and the "Grill Zone."
As a result, it doesn't matter which cooking method you use. All you need is to hit the right temperatures to get you the flavors you want. Additionally, the porcelain-enameled steel grates are good at retaining heat.
Cleanup and maintenance is a walk in the park considering it has an easily removable ash pan and charcoal grate in the offset heating unit. A customized cover is also available to protect the unit from the elements.
Additional features include:
730 square inch cooking area
2 grates
123.2 lbs.
2 independent cooking areas
Easy side access
Fold-down shelf
52 x 33.9 x 59.8 inches in size
Pros
Has primary and offset heating sources
Compact design
Best for family use
Wheels make it portable
Durable steel body
It comes with cool-touch spring handles
Budget-friendly
Cons
Lacks digital features
Small cooking area
Dyna Glo Smoker Buying Guide
Generally, getting a smoker can significantly elevate your cooking game to an unimaginable level. The addition of a delicious smoke flavor to a host of dishes, not just the classic BBQ, can add deep layers of flavor. Fortunately, smoking is currently more manageable and more accessible with some of the best smokers in the market.
However, that doesn't mean that choosing the best one is easy. There are a lot of brands and features that you have to consider before purchasing one.
Why Opt for a Dyna Glo Smoker?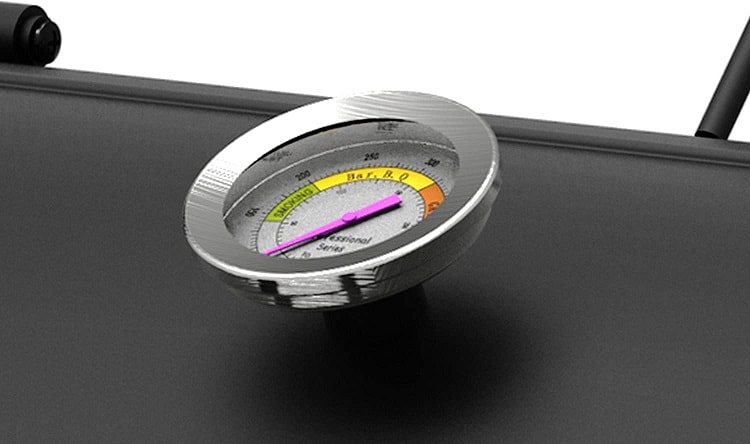 Dyna Glo as a brand has a famous reputation when it comes to the production of high-quality appliances. They carry out an internal series of thorough and rigorous tests on their products. These tests emphasize quality, functionality, and durability with a goal of not only meeting industry standards but also exceeding them.
Apart from Dyna Glo's commitment to quality, you get a high level of customer service. In addition to this, this brand of smokers features different sizes, types, and setups with top-notch performance.
To ensure that you have confidence as you buy, every product comes with a warranty. Lastly, the main reason why many people opt for a Dyna Glo smoker is that they are of high quality and last long.
Factors to Consider When Choosing a Smoker
It's not easy to find the best Dyna Glo smoker. This is because the company has a wide range of options. There are numerous variables to consider since smokers have massive differences in size and cooking space. What matters most is that you get a product that meets your needs without going beyond your budget.
You will have to choose a very different smoker than someone who intends to use his smoker for a family of 4. For example, you may like making big feasts for groups with a long history of smoking. Small family setups will mostly go for products that have all the bells and whistles to make smoking an easy and hassle-free task.
When selecting a smoker, some of the essential things to look at include type, coating and number of grates, cooking area, weight, dimensions, warranty, and the other extra features they offer.
Type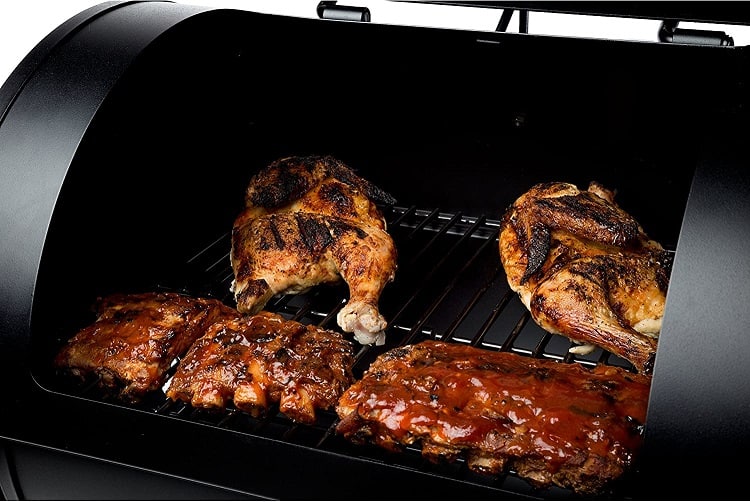 When speaking about smokers, we generally refer to the fuel used to generate heat and smoke. You can either have charcoal, electric, or a gas Dyna Glo smoker. Most people usually consider charcoal as the purist's choice for grilling and smoking. Why? Because it gives food a massive amount of distinctive flavor.
Besides the ability to move the charcoal around, you also get excellent temperature control. However, it requires the most maintenance with more ash clean-up and lighting time.
Gas smokers are some of the convenient options in terms of start-up time. The commonly used gas is propane, which is easy to ignite. It's stored in propane tanks. There is a small challenge in using gas because it's costly to refill. This means that before you buy a gas smoker, you need to know how you'll refill it.
Gas smokers are good and fast, as long as you don't run out of propane. If this happens, it leaves you in a bad spot, especially if you are in the middle of making dinner for guests or family.
Lastly, in hot weather, propane tanks are a flammable risk. Meaning you can't leave them outside on hot days. This means you have to consider the setup of a gas smoker if you live in hot areas.
For beginners, we recommend electric smokers. They are excellent and exceptionally easy to operate. This is because they are entirely operated electrically.
Most of them come with digital features, which include built-in thermometers, timers, and Bluetooth capability. Fueling them is easy and affordable because electricity is cheaper and more convenient than the other fueling options.
These electric smokers, unfortunately, don't infuse as much wood smoke flavor as the other choices. Heat generation can also take longer for larger cooking loads. Finally, choosing the ideal smoker comes down to your preference. Whichever choice you opt for, Dyna Glo has some of the best options in the market.
Cooking Area
Smokers feature a variety of sizes. Some offer as small as 400 square inches of cooking space, while others have around 2,000 square inches. The ones in our review span from about 730 square inches to around 1890 square inches.
Our top pick (DGO1176BDC-D Dyna Glo) can smoke up to 100 pounds of food at once. This is great when smoking for commercial purposes or a feast.
It would be best if you remembered that the larger the smoker, the more fuel you'll need.
Coating and Number of Grates
Apart from space, the number of grates in your smoker also determines the total cooking area. The coating of the grates is also very important. It helps retain and redistribute heat, making your smoking efficient.
One of the challenges facing Dyna Glo smokers is cleaning the grates. However, this is something you can easily get used to.
Weight and Dimensions
Smokers are available in various sizes and dimensions. There are compact ones that can fit in small spaces and behemoth units that stand nearly 5 feet tall, weighing over 120 pounds when they are empty.
If you have a small space, you need to shop for a space-efficient smoker. Another factor that you also have to consider is the mobility of the setup. It's a bit difficult to set up a big smoker temporarily and then take it down because of its weight.
However, buying a big and heavy wheel-less smoker makes sense if you have a permanent zone for a smoker. For a temporary zone, get a small or a mobile smoker.
Extra Features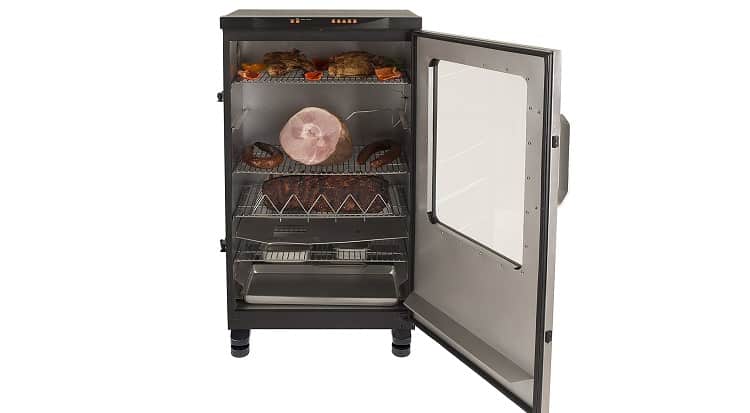 Dyna Glo smokers come with numerous extra features that you need to consider before choosing the best. First, you need to identify whether it's a combo grill and offset smoker or it's just a dedicated smoker.
The low and slow cooking method and the ability to cook on direct heat increase the variety and amount of food that this device can prepare. The only drawback is that some cooking space might be split, leaving you with smaller smoking sections.
Most of the decent optional features come with electric Dyna Glo smokers, such as the DGU951SDE-D 2 door digital Bluetooth smoker. These options include:
Bluetooth compatibility enables you to connect your smoker to your smartphone for easy use
A built-in meat thermometer that allows you to check the internal temperature as you cook
An automatic shutoff feature
Don't expect all these features to make your food better. Instead, they make your cooking process easier and more accessible, especially if you are a beginner.
Warranty
You should ensure that you get a bang for your buck when investing in a cooking appliance, and that means that you want it to last for a long period. Dyna Glo performs rigorous, extensive tests on their smokers before releasing them into the market. They come with a warranty of at least one year.
Dyna Glo Smoker FAQs
Question: Are Dyna Glo Smokers Good Smoking Devices?
Answer: Yes, they are. The vertical Offset Dyna Glo smoker is a 'good value for money' traditional charcoal smoker. Unlike many cheap offset smokers, it helps maximize heat and smoke distribution even though the steel quality isn't at par with the other expensive alternatives.
Question: Is Dyna Glo an American Brand?
Answer: Dyna Glo is owned and ran by the GHP Group. Their headquarters is based in Niles, Illinois. The brand has been in the smoker's industry for over a century now. Dyna Glo grills are made in China, and they have a star rating of 4.4 out of 5 from reviewers and users.
Question: Is It Possible To Use Wood In A Dyna Glo Smoker?
Answer: Yes. With a vertical offset Dyna Glo smoker, you can smoke your food using wood chips as well as charcoal. It comes with a porcelain-enameled charcoal chamber that is designed to increase burning efficiency.
Question: Can Grilling and Smoking Be Done At The Same Time?
Answer: Yes. However, it can only be done using smokers with both a direct cooking surface and an indirect smoking surface. When you open the lid on the grilling surface, it may let out heat, making the temperature in your smoking chamber drop. Anyway, with proper heat management, this problem is easily solved.
Conclusion
Any Dyna Glo smoker is a worthy investment. Check out our top picks above to help you make the best decision. We have classified them differently to make your decision easier.
If you feel you can't find one you need, check out our buying guide. It covers everything you need to know to find the best Dyna Glo smoker for your needs.
Further Reads: