If you are a meat enthusiast and you like spending your weekend standing by the grill then smoking meat might be your next step in your meat lover's journey. Smoking uses particularly fragrant wood chips to gently cook the meat using smoke and steam to create a layered, smoky flavor that is totally unique to this style of cooking.
Cooking like this is very different from your average grilling so it takes a whole new set of skills to get right. Due to this fact often those new to smoking will start with an electric version just like this Smoke Hollow smoker at the beginning of their smoking journey because it has fewer variables and makes this easier to control when you are new.
Smoke Hollow is a Missouri-based brand established in 2005 that specializes in budget-friendly but quality outdoor products. They make reliable and varied products for any kind of outdoor pursuit from camping to smoking in your back yard.
The reason that electric smokers are good for beginners is that you don't have to tend to the fire and you have far more control over the amount of smoke and the temperature that is maintained within the chamber. Basically, it acts like an oven where the chips sit on top of the heating element and smolder rather than igniting and burning. The smoke produced by the smoldering chips is sufficient to flavor and cook the meat to create that distinctive smokey flavor.
So is the Smoke Hollow smoker the best buy for beginners? Let's take a closer look to find out.
Key Features of the Smoke Hollow Smoker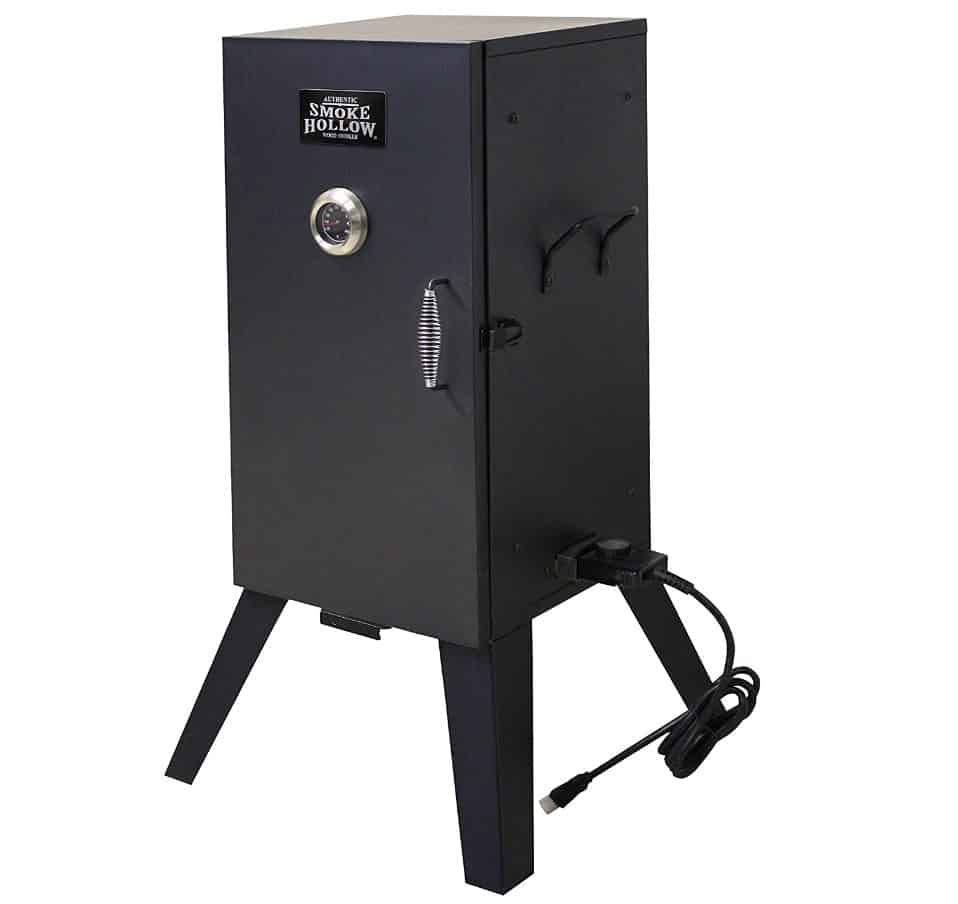 The smoker itself consists of a welded steel cabinet with legs that you will need to attach when it arrives but this process is pretty straightforward. It is small and compact and the little legs lift it off the ground so you can access the inside far easier than if it was sitting directly on the ground. Inside it is fitted with two chrome-plated cooking grids that you can adjust within the container depending on what you are cooking and the size of the cuts in question.
The smoker also comes with a heat indicator, a water pan, and a wood chip pan; both of which are porcelain coated. The handle to the cabinet has a special cool touch finish so you can open it without any fear of burning yourself, which is a nice touch but the rest of the chamber will be hot to the touch so be careful when it is on and keep small children away from it as much as possible. It is also fitted with a sure lock system that closes it firmly and doesn't allow any smoke to escape.
On the technical side of things, the Smoke Hollow smoker comes with a 1500w heating element with adjustable and removable temperature control. It is a 110-volt corded electric machine with a sleek but simple black steel design. The chamber is 35.5″ by 19″ and has a minimum 175 F and a maximum of 325 F.
One of the main features of this smoker is the adjustable temperature control that allows you to have greater control over smoking endeavors. Another adjustable factor is the draught control which you can change to allow more air to flow into your smoker if the logs seem to be going out. These elements make a real difference when you are learning so you know you can complete control over what's happening inside the chamber while you learn.
The water pan holds 2-3 liters of water and it is essential for keeping your meat moist while it smokes. The water can also be replaced by beer or wine to infuse aromatic flavors into the meat. The chip pan holds whatever wood chips you choose and holds them over the heating elements.
Pros:
Great for beginners
Easy to control
Small
Cons:
No view window
Not very attractive
No digital display
How to Use the Smoke Hollow Smoker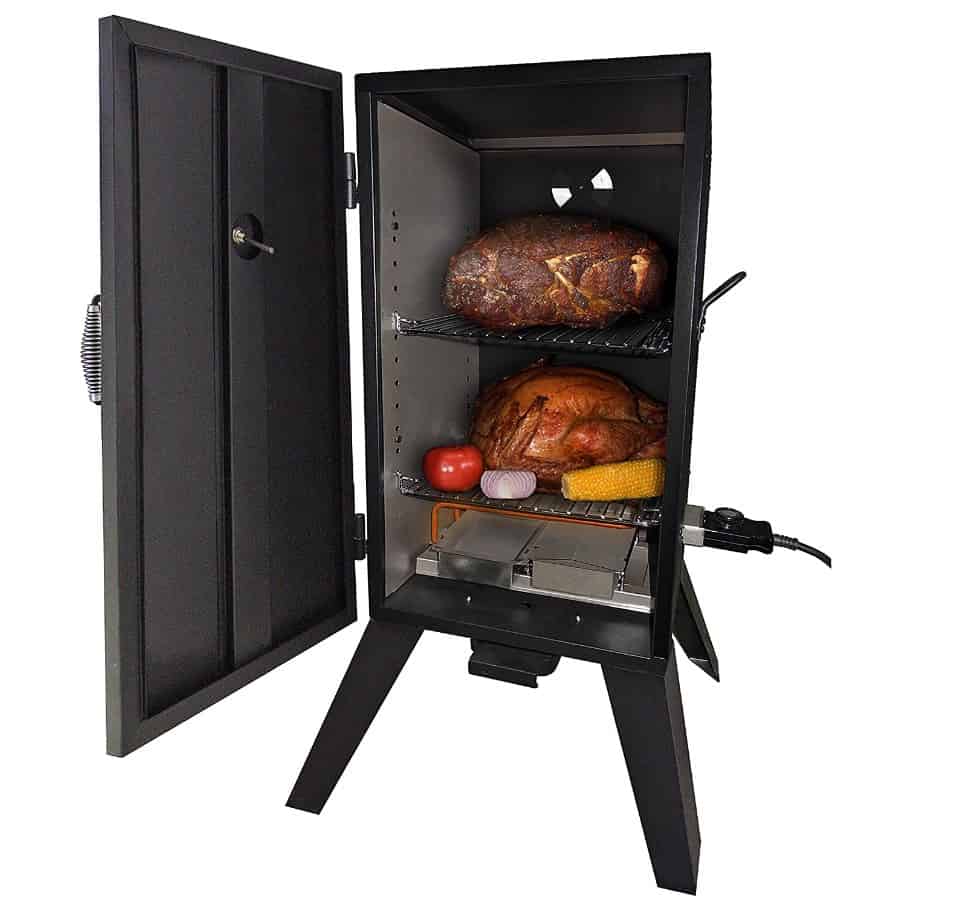 The first time you use your smoker you're going to need to season it. This involves rubbing the entire interior with oil and running the smoker with the door open. This will rid it of any solvents leftover from manufacturing as well as any dust or residual odors. You should run the smoker for 2-3 hours at 250 – 275 F to thoroughly season it. After the first use, your smoker will season itself naturally so there is no need to repeat this process.
Step 2- Prepping
Turn the machine on to put it on standby. Add your wood chips to the tray in the quantities indicated by the manual, slide the draw in and turn the handle to drop the chips onto the heating element. Fill the water tray with 2-3 liters of water, beer, or wine.
Step 3- Preheating
Preheat the smoker to 200-225 F for 30-45 minutes. The temperature will vary from recipe to recipe so heat according to instructions. Make sure that it is fully preheated before placing any meat inside as this will mess with your cooking times.
Step 4- Smoking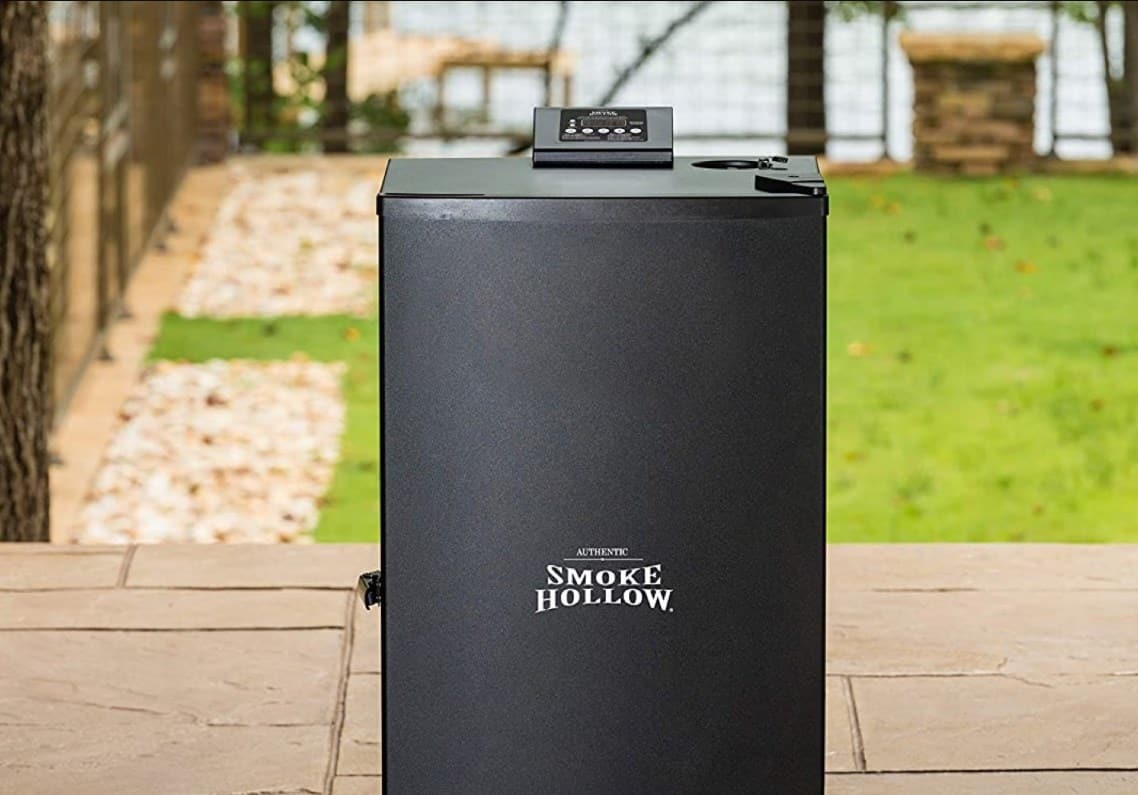 Before placing it in the smoker you need to season your meat. This can be done using a dry rub for your larger cuts like a pork butt or an overnight marinade for more delicate cuts like chicken and fish. These are both easy to make at home so you can even customize the flavors that are going to work alongside the smoke. Place the meat directly on the racks with larger items at the bottom and smaller cuts higher up and latch the door shut.
You can also put a drip tray underneath the meat at this point to catch any drippings that you can use to make gravy later. Make sure to keep the door closed throughout the duration to keep the environment at an even temperature and prevent the built-up smoke from escaping. Follow the cooking time indicated on your recipe as this will change from cut to cut and protein to protein. Once it's done rest for 20 minutes before eating to retain the juices.
Step 5- Cleaning
Unplug the machine and allow it to cool completely. Remove all the removable pieces and wash separately in hot soapy water; allow them to dry before replacing them. The most important part to clean really thoroughly is the racks as they have made direct contact with the meat so make sure you get those really spotless. Scrape out any debris and scrub with soapy water. Rinse and allow to dry with the door open. Try to avoid using abrasive products like steel wool on your smoker as this will leave scratches on the surface.
Decision Making Tips
This smoker and many others like it are available to easily order online on Amazon or their own website and only require minimal construction when it arrives.
As a chef, if I was to buy a smoker the elements that I would be focussing on would be: How much electricity does it use? How well is it made and how easy is it to use? If you have these in mind before buying you are sure to come home with something that is best suited for you.
On average an electric smoker uses 800w of electricity per hour so you can use that to calculate how much this will cost you to run per recipe. This design is well constructed if on the simple side and it is very easy to use especially when you have no experience so it really does tick a lot of boxes.
Other Alternatives to Consider
Traeger Grills Pro Series Electric Wood Pellet Grill and Smoker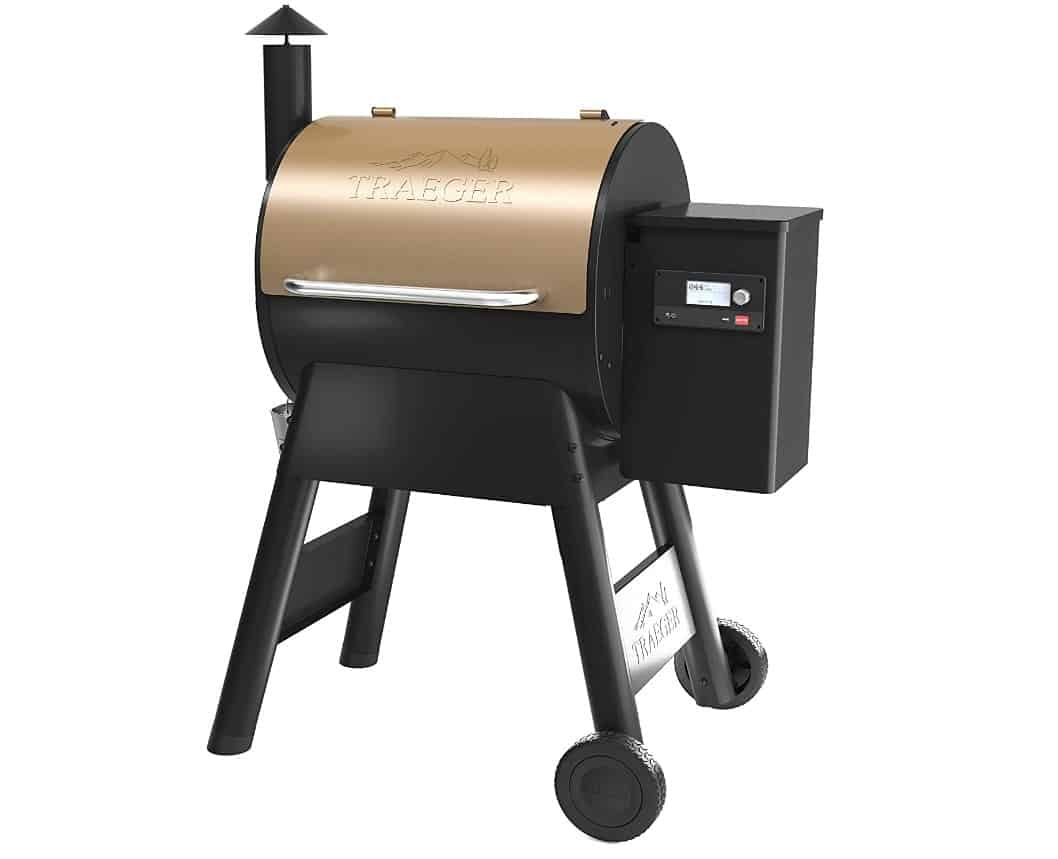 If you want a smoker that looks a little more attractive than the simple Smoke Hollow design then a Traeger Grill Pro Series could be the one for you. With its brushed metal finish and pleasing color scheme, this smoker would look good in any backyard. It has a round barrel-like design that mimics a classic barbecue, which is fitting because this design is a grill and smoker all in one.
This may be a level up in price but since it functions as a grill and a smoker you get two for the price of one so it's a great value for money if you have the budget for the initial investment. The downside to this grill is that it doesn't have as large a capacity as the Smoke Hollow smoker with a two-tiered design that is quite narrow and suited to smaller cuts. It also takes up far more space than the compact Smoke Hollow design so the space you have available is something you will need to consider.
Masterbuilt Analog Electric Smoker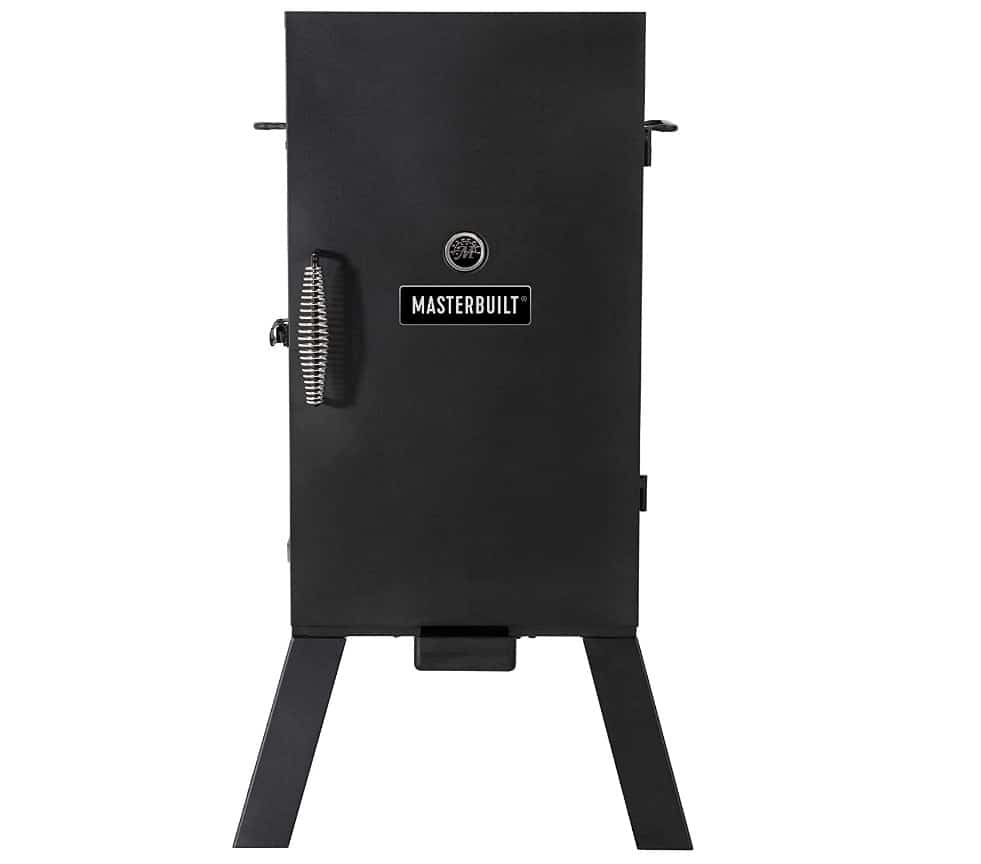 This model is the closest to the Smoke Hollow smoker in look as well as function so it really depends on what price you can get them at when it comes to deciding between the two.
This model is analog with a spring handle that is cool to the touch so you can open it safely. It also has a thermostat at the front for temperature monitoring and a slide-out chip tray for simple ash removal. Masterbuilt is a brand that has a large variety of smokers available so they are a great brand to look at for what options are available.
Masterbuilt Digital Electric Smoker with Window and Legs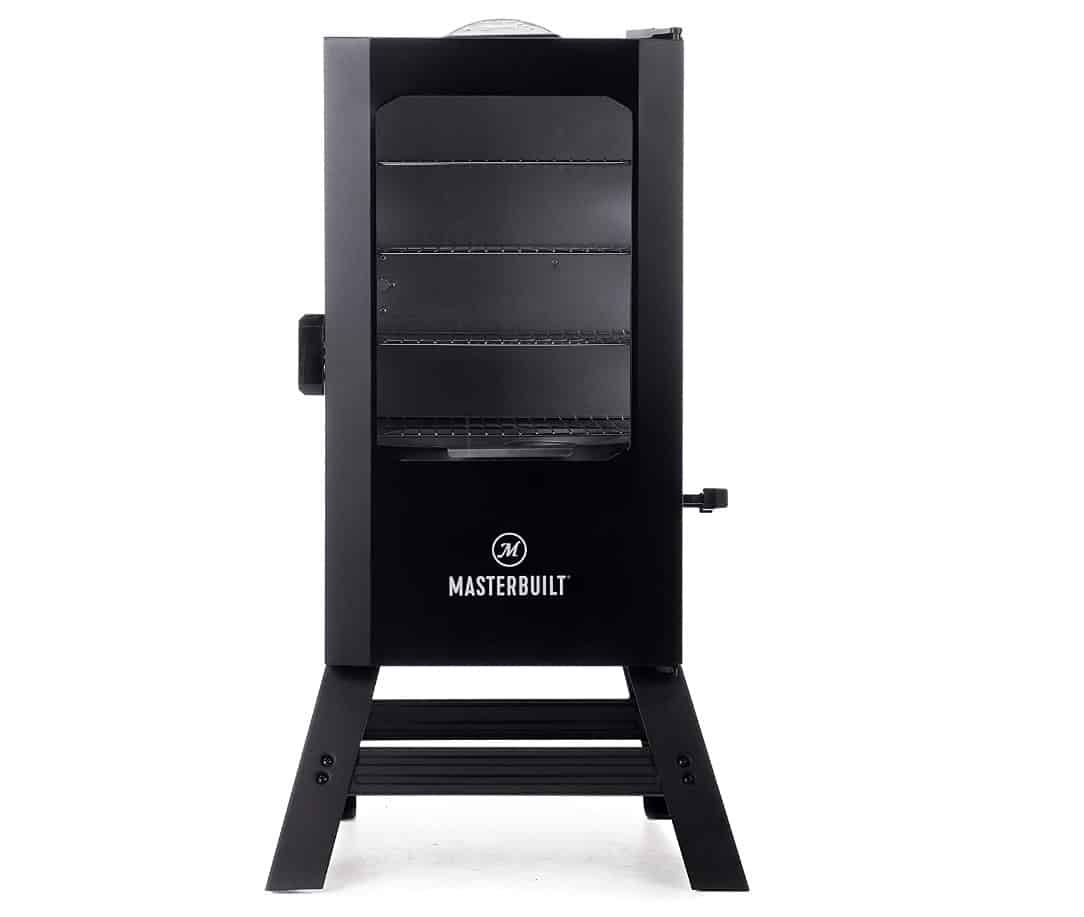 If you have a little more in your budget to invest in a new smoker then this Masterbuilt Digital smoker might be a better choice. This model has a few advantages over the Smoke Hollow version the first of which is its digital display, which makes really accurate temperature control possible. Secondly, this one has a window built into one side so you can keep an eye on your meat as it cooks without opening the door.
On top of that, the design is really well made and sturdy with three racks as opposed to the two the Smoke Hollow smoker provides. In comparison to its analog counterpart, this one comes with a set of sturdy legs like the Smoke Hollow smoker that raises the body of the cabinet off the ground and makes it easier to access.
FAQ
Question: Can I use any type of wood for smoking?
Answer: No. The best wood chips to use are hardwood as softwoods burn faster and don't taste very good. The best chips to use are fragrant woods like apple, pecan, birch, or hickory that will add their own unique flavor to the meat. Once you get used to smoking you can start playing with what chips you use to explore what flavor combinations you can come up with.
Question: What cuts are best used in a smoker?
Answer: There are so many great cuts that you can use in a smoker from whole chickens to butchered cuts. Some of the most popular cuts to smoke are whole fish and chickens, brisket, ribs, pork butt, and even sausages. It is wise to start by smoking smaller cuts and graduate to larger ones once you are used to the process.
Question: Why do you need water to smoke meat?
Answer: In a smoker the smoke and steam work hand in hand to get the smoking job done right. The heat produced will cook the meat and flavor it all at once. You don't have to put water in the tray but you do need to put 2-3 liters of liquid of some form in the water tray whether that's beer, wine, or even apple juice. The steam that this water creates helps cook the meat (and adds flavor if you've chosen not to use water) and keeps it moist during the cooking process otherwise the meat would just be dried out and bitter-tasting which is not the goal here.
Conclusion
Obviously, right off the cuff, one of the negative aspects to any electric smoker is that it uses electricity which ends up costing you more money than a traditional charcoal or wood fire smoker. This is something to take into consideration before you purchase so you can work this into your budget. A few of the other downsides of this product include that it doesn't have a digital display which could affect your temperature precision and that it doesn't have a window for you to observe your meat while cooking.
Overall this smoker is a really good option for a beginner especially if you are on a budget. It comes with its own legs, which some of its competitors don't, for easy access and the design is discrete and takes up very little space. If you have a little more to invest however it might be worth holding off on your purchase to buy a smoker with a digital display and maybe even a window so you can have as much control over your meat as you want.