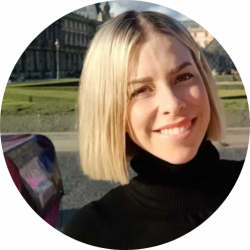 Latest posts by Jodie Chiffey
(see all)
A good meat grinder can help you effortlessly process your meat and get the professional-looking results you want every time. Today we'll take a closer look at some of the most popular choices of both professional and amateur chefs: Cabela's Meat Grinders. But are they really as good as they seem to be? And should you get one too? This in-depth guide should help you make an informed decision.
Cabela's is a popular American manufacturer of various useful tools and machines for all dedicated carnivores. Their vast portfolio of products contains everything from hunting equipment to meat processing kitchen tools – all in one place. However, this article will focus only on one particular type of product – Cabela's popular electric meat grinders.
They come in both professional and at-home versions, but their bestselling model is probably the stylish and affordable Grinder #5.
Are you considering buying this simple yet powerful electric grinder too? Let's check its features in detail first:
Key specifications of Cabela's Meat Grinder
| | |
| --- | --- |
| Type of grinder | Electric Stainless Steel Meat Grinder |
| Grinding plates | 2x (medium 4.5mm and coarse 7mm) |
| Blade material | Stainless Steel |
| Accessories | Sausage stuffing funnels, sausage stuffing ring, meat stomper |
| Motor | 400 Watt AC motor |
| Dimensions/weight | 12.25″L x 7.75″W x 14″H/8.5 lbs. |
| Latest price | Click here for the latest price |
Core features of the Cabela's Meat Grinder #5
Cabela's Meat Grinder #5 is designed for at-home chefs who prefer to grind their meat on their own. Although the brand has some commercial-grade models on offer, too (we'll discuss them briefly a bit later), this small, lightweight, and user-friendly machine is an allrounder that will surely appeal to a wide range of customers. Here are some of its most distinctive features and qualities: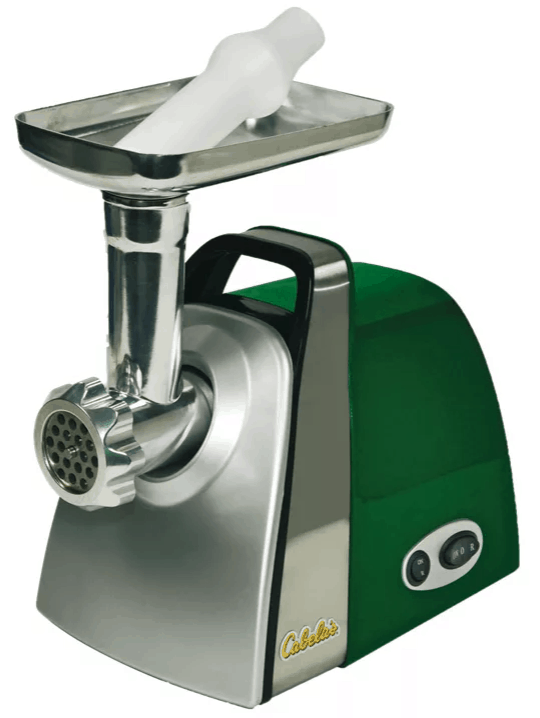 Construction and design
Compared with most professional meat grinders, which are usually large and robust, Cabela's beginner-friendly #5 is a relatively small and light piece of equipment. This convenient grinder measures just 12.25 x 7.75 x 14 inches and weighs 8.5 pounds. If you have limited space in your kitchen or plan to carry your meat grinder with you on a trip, you will surely appreciate this.
One of the greatest strengths of this grinder is, however, certainly its lovely design. The machine looks compact and has a cool vintage charm. Its stylish combination of silver and green probably tries to appeal primarily to outdoors people and hunters – Cabela's largest group of customers. Nevertheless, your wife and kids will probably adore it too, as it looks very cool.
The machine's outer housing is made of tough food-grade stainless steel, so you don't have to worry about its strength and durability. Nonetheless, like with many other budget-friendly grinders, some of the inner components of this tool are made of plastic (e.g., gears), which can be potentially problematic – especially if you use this grinder daily and test its limits with harder types of meat, bones, or excessive grinding sessions.
Functions and controls
Operating Cabela's Meat Grinder #5 is extremely easy. The machine has just two cradle-style buttons on the side, which are straightforward to understand and use.
Before you start grinding, just turn the "ON/R" button to the "ON" position and follow the same procedure with the adjacent "ON/O/R" button on the right. Next, just turn the right button to the middle ("O") position to shut the grinder. Turning the left cradle to the "R" position will change the grinder mode to "Reverse," which is very useful if it gets stuck on some harder chunk of meat.
The grinder has two grinding plates: medium 4.5mm and coarse 7mm. Although I would personally prefer having a third alternative for fine grinding too, these two options will probably be sufficient for most of the machine's users.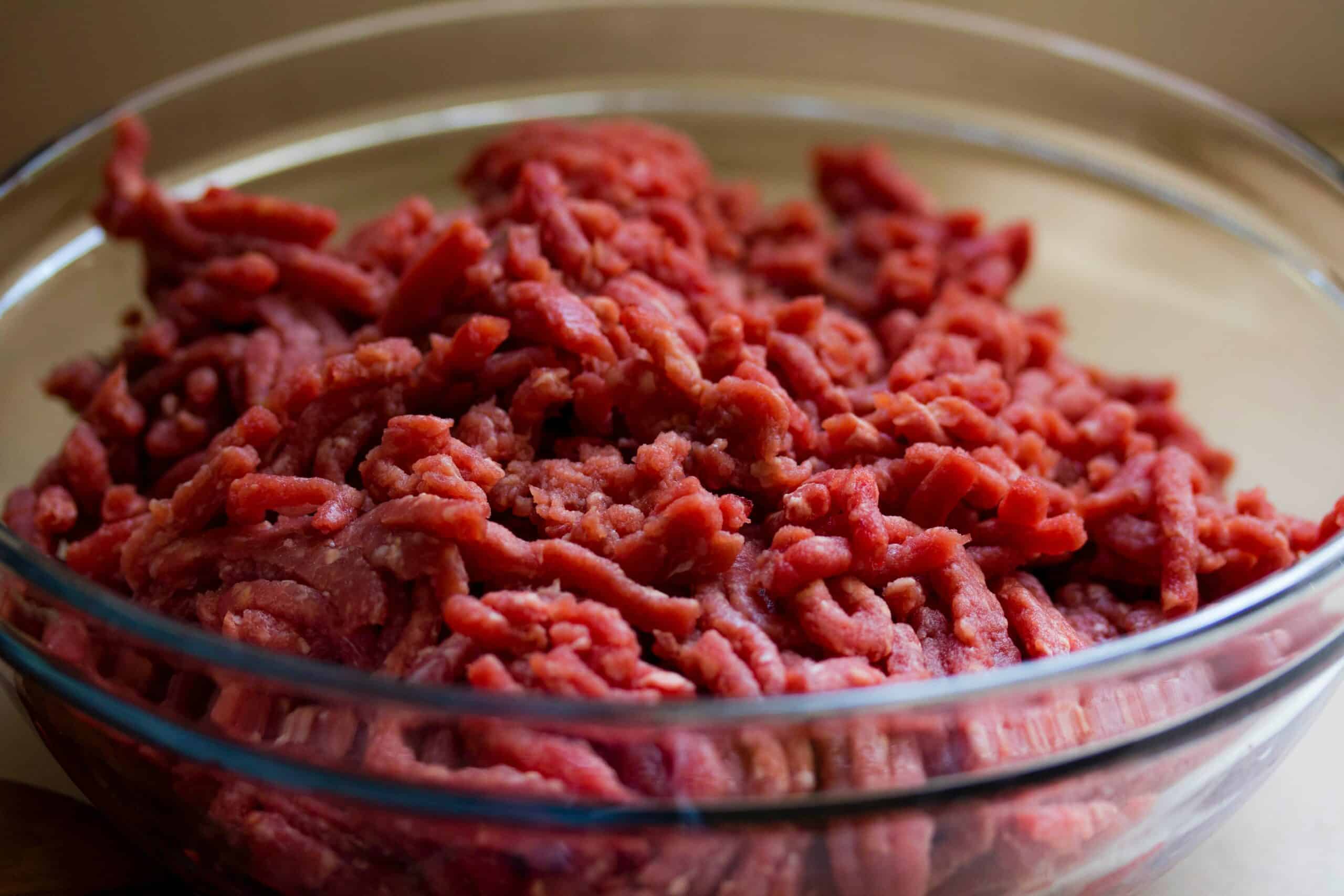 As the manufacturer claims, this small yet efficient grinder is suitable for all domestic and wild meats, from pork to beef to game. The machine can reportedly process up to 2 lbs of meat per minute.
Some users, however, occasionally report that their #5 struggled with some harder portions of meat, which might be caused either by the plastic gears inside this grinder or its somewhat mediocre 400W motor. The engine also tends to overheat and get a bit loud after a while. If this happens, just let it cool off, and it should be working great again.
As an entry-level meat grinder, Cabela's #5 should probably stick to the simple function of grinding and skip on various extras and additions. Nonetheless, the manufacturer included a nice set of accessories that will help you use this grinder for a wider range of purposes, including sausage filling. The bundle includes sausage stuffing funnels, a sausage stuffing ring, and a simple meat stomper.
Safety
Like any other electric meat grinder, Cabela's #5 can be dangerous if you don't pay attention and put your hands where they are not supposed to be. But since you get a nice long meat stomper along with the machine, you definitely shouldn't feel the urge to put your hands anywhere near the opening in the upper tray.
Otherwise, the grinder looks safe and stable. Thanks to its stainless steel design, it should also be quite easy to clean and thoroughly sanitize the machine, which is also very important if you want to keep your kitchen hygienic.
Reliability
As I've already suggested before, the main concern regarding this simplistic meat grinder is related to its plastic (nylon) components. Although most users probably won't even notice the fact, some are not so lucky and end up with damaged or broken gears that allegedly cannot even be replaced.
If you want to prevent this from happening, you should definitely follow the manufacturer's instructions closely and don't try to push this little machine beyond its limits. After all, if you don't cause the damage yourself, you should be covered by Cabela's warranty for the whole first year after the purchase.
Price
The reasonable price of this machine is definitely one of its biggest incentives. If you're curious to see its latest price quote, click here.
Pros of the Cabela's Meat Grinder
Nice design
If you like your kitchen tools to look slick and stylish, Cabela's #5 might suit you greatly. It boasts admirable rounded curves, a lovely combination of silver and green, and a nice vintage charm that immediately draws your attention. This is the type of kitchen equipment you surely don't have to hide in a drawer.
Small footprint
If you don't plan to use your meat grinder daily, you probably don't want it to occupy your whole kitchen counter. This machine is conveniently small, light, and easy to remove or transfer at any time.
Ease of use
Just two buttons and a handful of simple accessories – that's all you need to operate this meat grinder and use its full potential. You'll be surely able to master Cabela's #5 in no time, even if you never used a grinder before in your whole life.
Stainless steel housing
The main material of this grinder is food-grade stainless steel. This metal is sturdy, durable, and also very easy to clean.
Various accessories
Although this is a simple entry-level meat grinder, it comes with a nice set of useful accessories that will allow you to make your own sausages or choose your preferred grinding thickness. All of the added equipment is also very easy to use and seems to be quite durable.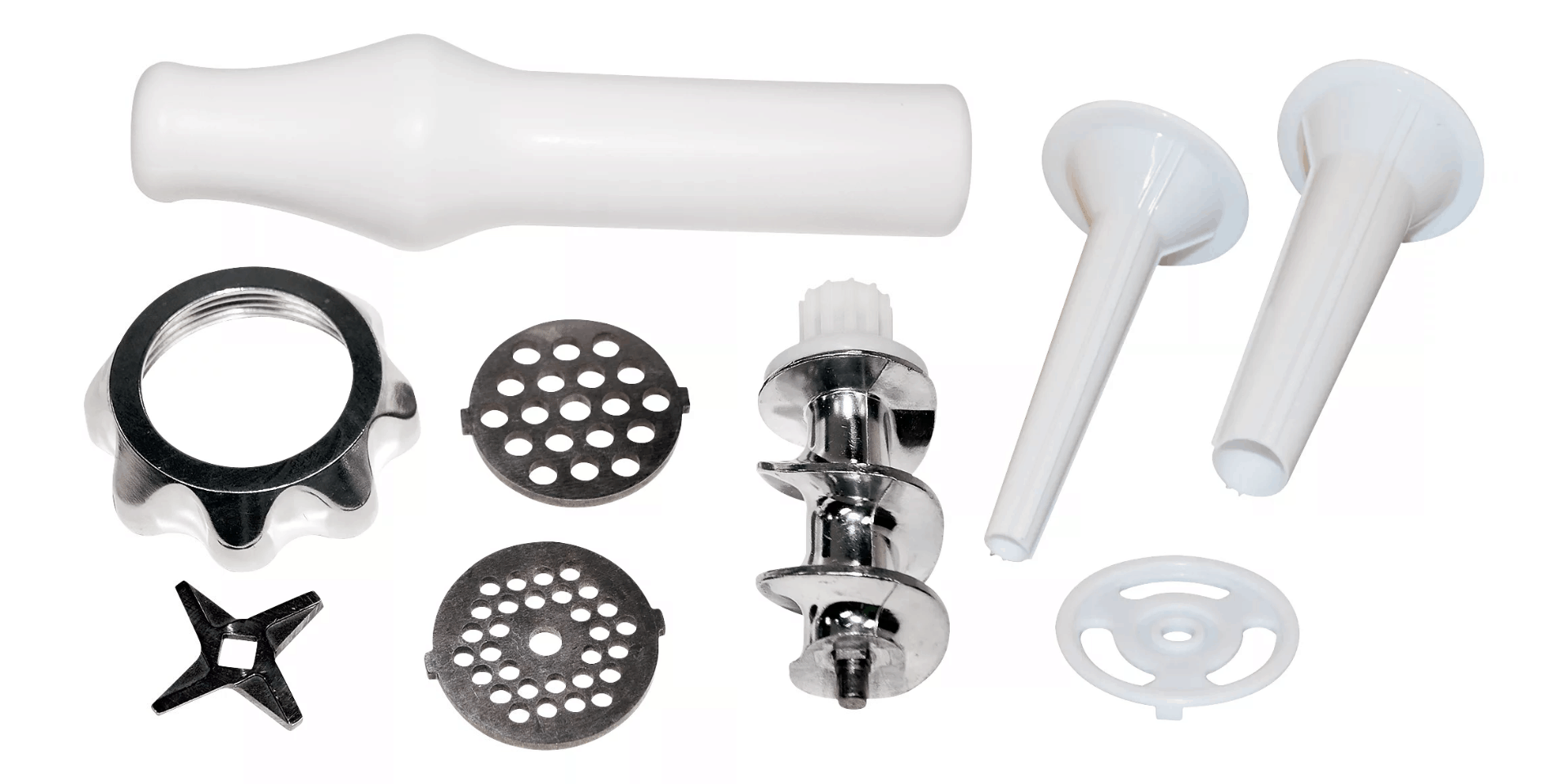 Affordability
If you're not ready to invest hundreds of dollars in your new meat grinder, this inexpensive yet efficient and versatile machine might be just what you are looking for.
Cons of the Cabela's Meat Grinder
No fine grinding plate
Although this machine lets you choose between medium and coarse grinding modes, there is no fine grinding option (approximately 3mm), which might be a drawback for those who like their ground meat super-soft.
Plastic components
Although the main part of the body of this machine is made of stainless steel, some of the important inner components are made of plastic. In some situations, these fragile components (mostly the gears) can get stuck, damaged, or even completely broken, which basically makes the whole grinder become useless.
Not-so-strong motor
Although the manufacturer claims that the 400W engine installed in this small electric meat grinder should be perfectly capable of any grinding task, in practice, it sometimes lacks the power to process the meat as fast, thoroughly, and smoothly as you would expect. Some users even report that it tends to overheat and get very loud if you use the machine for a longer period.
Are there any alternatives?
Not sure if Cabela's #5 meat grinder is the machine you were looking for? Here are some of the other Cabela's meat grinders that might suit you better:
Cabela's Commercial-Grade 1-3/4HP Carnivore Meat Grinder
Cabela's 1-¾ HP Carnivore is a commercial-grade grinder equipped with a powerful 1,320W induction motor that can effortlessly grind up to 23 lbs. of boneless meat per single minute. In addition, this mighty machine boasts a set of heavy-duty, stainless steel, permanently lubricated gears, so you don't have to worry about any fragile plastic parts. It also comes with 3 sausage-stuffing funnels, a 2-piece snack stick funnel, a meat stomper, and several different grinding plates.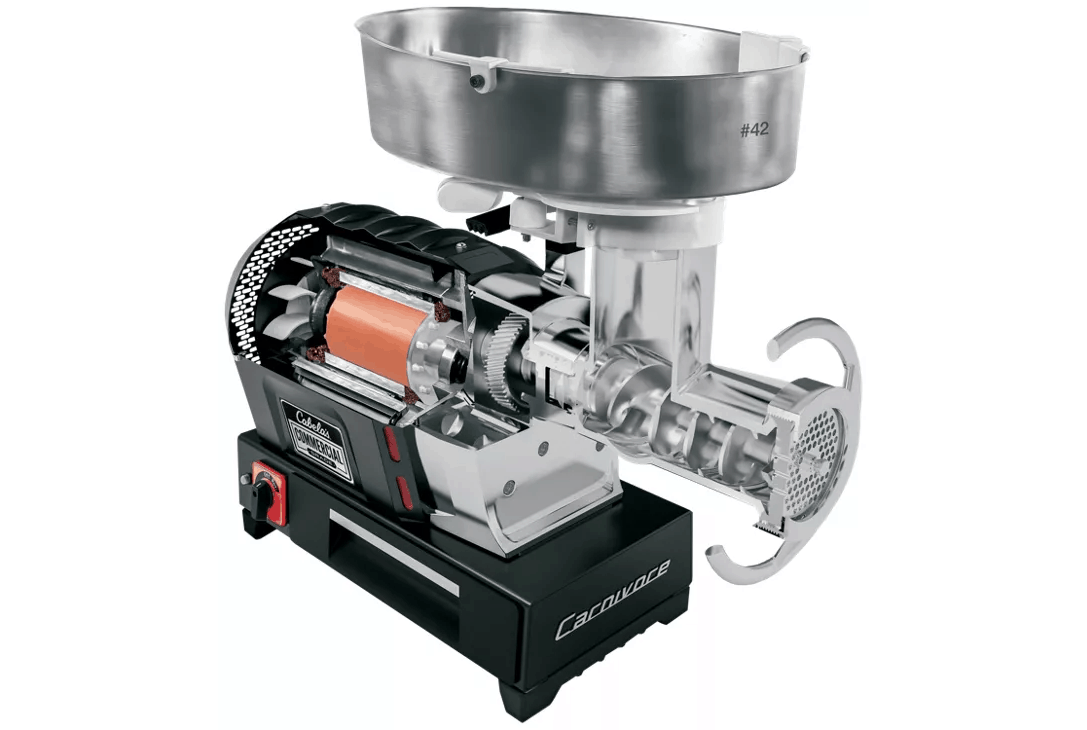 Of course, the downside of this pro-grade meat grinder is its higher price. It's also much bigger and heavier than compact #5.
Cabela's Heavy-Duty Meat Grinder
If you don't want to invest in an expensive commercial-grade meat grinder, but you need a sturdy and reliable machine, Cabela's budget-friendly Heavy-Duty grinder might be your best option. Although this machine is comparably small and light as #5, and it also uses the same 400W motor, the whole machine, including its inner gears, is made of metal (aluminum), making it significantly more reliable and durable. The price difference between these two machines is, however, minimal.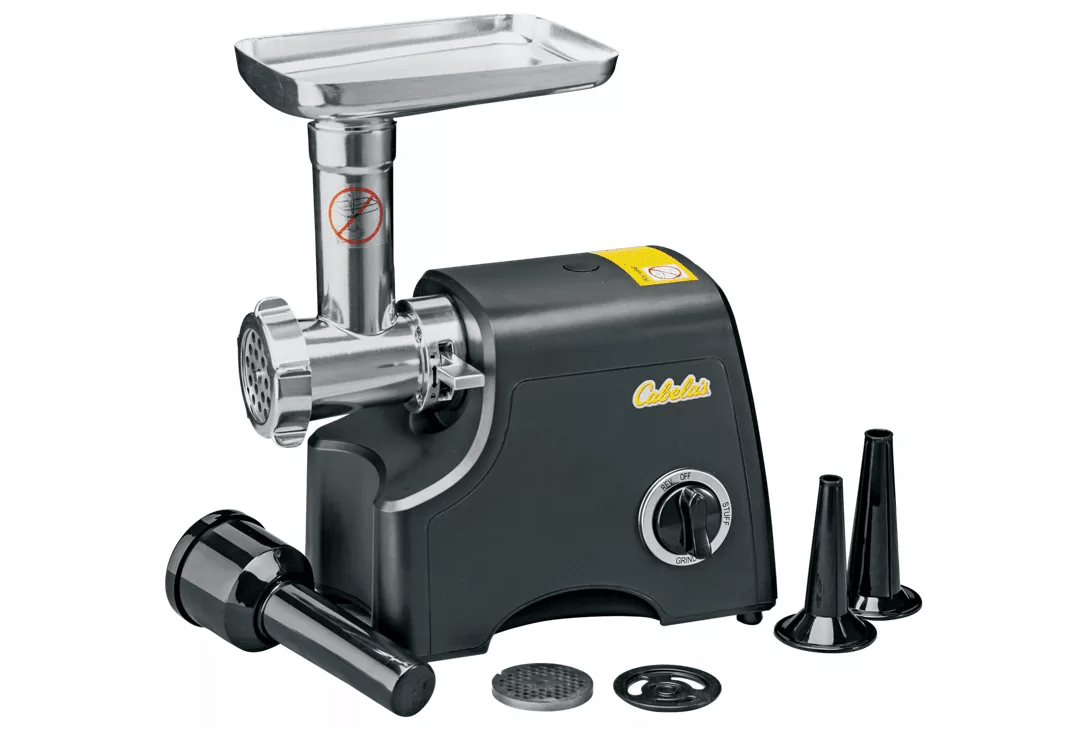 Cabela's Heavy-Duty Grinder comes with fine and medium grinding plates, a stuffing funnel, a stuffing star, and a cover.
Cabela's Pro Series DC Meat Grinder
Cabela's Pro Series DC Meat Grinder is an efficient meat processing machine equipped with a 0.5 HP DC motor and made of die-cast aluminum. The manufacturer advertises it as a perfect pro-grade solution for game meat grinding, and it should be able to process over 7 lbs. of meat per minute. The machine offers four operation modes: full-power grinding, slower grinding, sausage-stuffing, and reverse mode. Users often praise it for its quiet and reliable performance, and it's also conveniently easy to clean.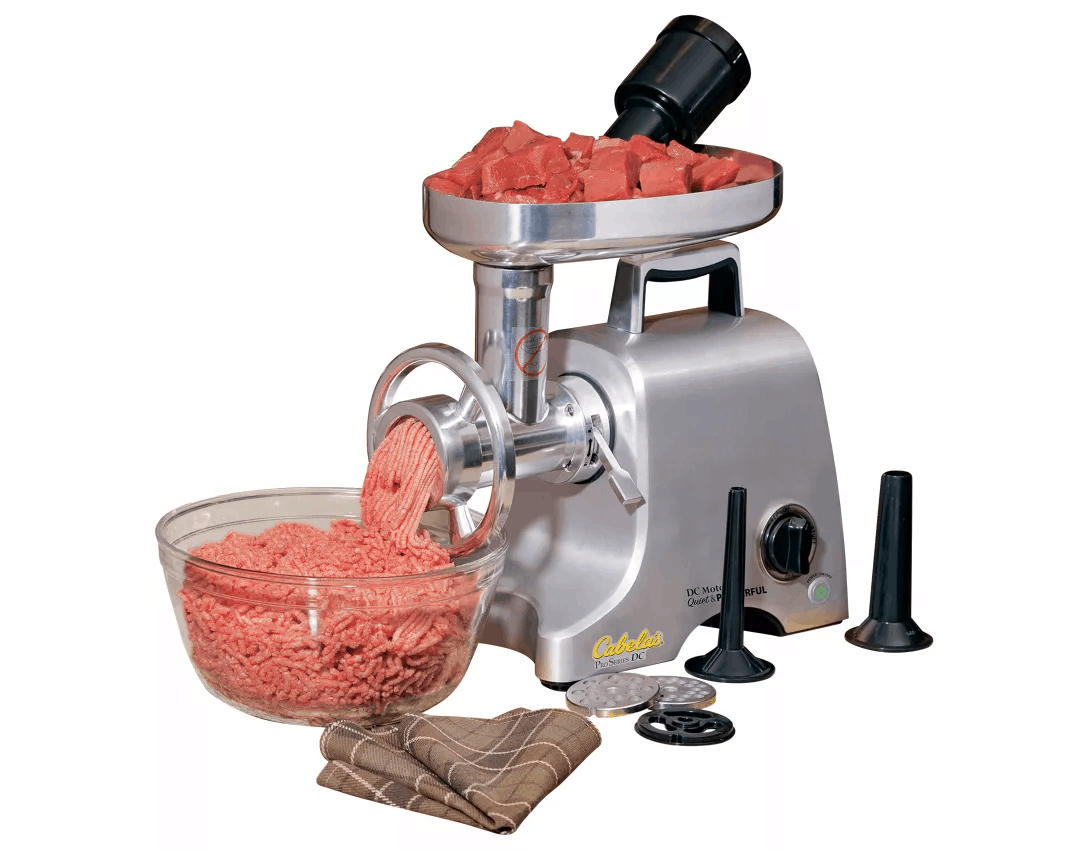 This all-metal electric meat grinder is shipped with a 1-way-fit cutting blade, two sausage attachments (large and small), 2 cutting plates (4.5/7mm), and a sturdy cover.
Frequently Asked Questions
Question: Who manufactures Cabela's meat grinders?
Answer: Weston is a reputable American manufacturer of both at-home and commercial meat grinders who collaborates with several other brands, including Cabela's. Nevertheless, some of Cabela's newer meat grinders are also manufactured by other companies and produced mostly in China.
Question: Are Cabela's meat grinders any good?
Answer: Cabela's meat grinders are considered reliable, versatile, powerful, and convenient. Nevertheless, it all depends on the model you choose and your expectations. While some of their products can certainly satisfy even the pickiest professionals, others are made for occasional at-home use and lack the power or durability of their more sophisticated counterparts.
Question: How much is a Cabela's meat grinder?
Answer: Cabela's offers a wide range of meat grinders. Some of them are simple and inexpensive – they can even cost you less than $100. However, others are efficient and reliable enough to be used commercially and cost much more – up to $1000.
Final thoughts: Should You Invest In Some of Cabela's Meat Grinders Too?
If you're truly into minced meat, finding a good meat grinder is surely a good idea. Nevertheless, you don't automatically have to invest in the most expensive machine on the market to get decent and reliable results. If you're grinding your own meat just occasionally, or you are considering the idea to make your own sausages for the first time, simple and budget-friendly meat grinders such as Cabela's Meat Grinder #5 might be all you really need.
This tiny machine looks great, doesn't occupy your whole kitchen counter, and is easy to store away after every use. Although it might not have the most powerful and fastest motor globally, it can perform efficiently and provide you with good outcomes. Moreover, it's also equipped with various additional accessories that can inspire you to experiment and master some new skills.
On the other hand, this petite machine also has some flaws. For example, its plastic components might not withstand some more demanding tasks, and its motor can also easily overheat if it's pushed too hard. So if you have high expectations, maybe you should consider getting some of the stronger Cabala's meat grinders we've suggested in the Alternatives section.
Have you decided if this meat grinder is the type of machine you were looking for? We hope that this article helps you make the best possible decision. In case you need more advice, check out our Weston 22 Meat Grinder or KitchenAid Meat Grinder reviews too.