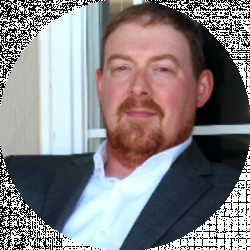 Latest posts by Justin Caldwell
(see all)
I don't know about you, but my day is jam-packed with things to do. Unfortunately, between work and raising four kids, there's rarely time to do the important things, like shop for groceries. Fortunately, there are ways to alleviate the stress of heading to the store with the rise of popular home delivery services. 
One such service, ButcherBox, will deliver meat right to your front door. Pretty cool, right? So how does this meat delivery service work? And what type of meat can you order? I'll answer those questions and more in my ButcherBox review below.
What is ButcherBox?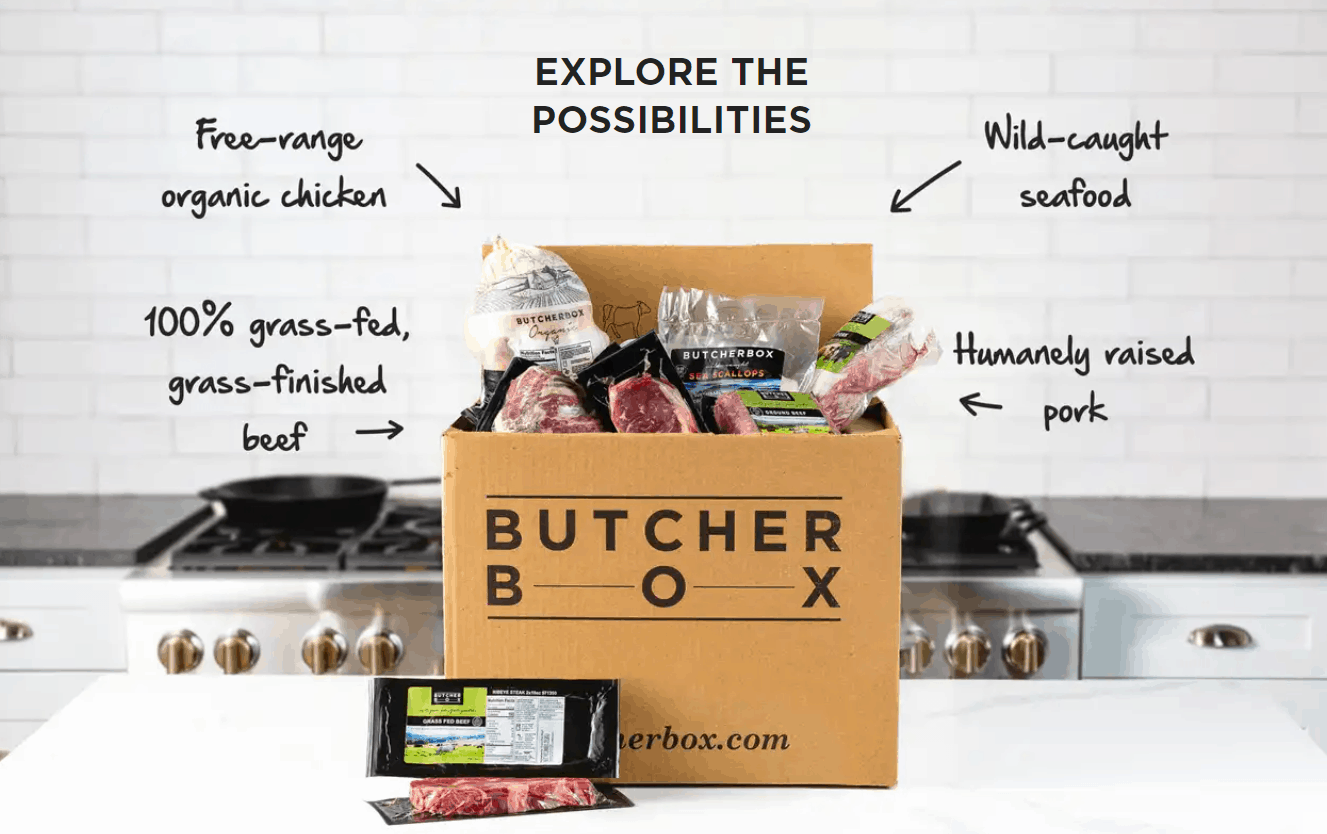 ButcherBox is a meat delivery service that offers customers the option to set up a subscription and receive their meat on a regular basis. Meats from ButcherBox come from various countries, including Australia, Canada, and the United States. These meats are curated and sent from ButcherBox to your front door.
How Does it Work?
Let's get down to brass tacks. How do you go about sending delicious meat to your home? Well, the first thing you'll do is customize your order by selecting the types of meat and the amount you want. Next, you choose how often you want your order to come, then place your order. 
Your box should arrive roughly 3-7 days later, full of delicious, high-quality meat. First, pull out the meat you want to try and let it thaw out. Now you can get to work seasoning, grilling, and eating your favorite cuts of meat until the next order arrives. That's all there is to it!
Shopping Experience
The ButcherBox website is clean and streamlined, making it easy to find the meats you want. You'll find a wide variety of choices laid out in a format that offers images, quantities, descriptions, and cooking suggestions. ButcherBox lets you explore the site while picking the meats you prefer. You can choose from different cuts of steaks, chicken, and salmon.
Delivery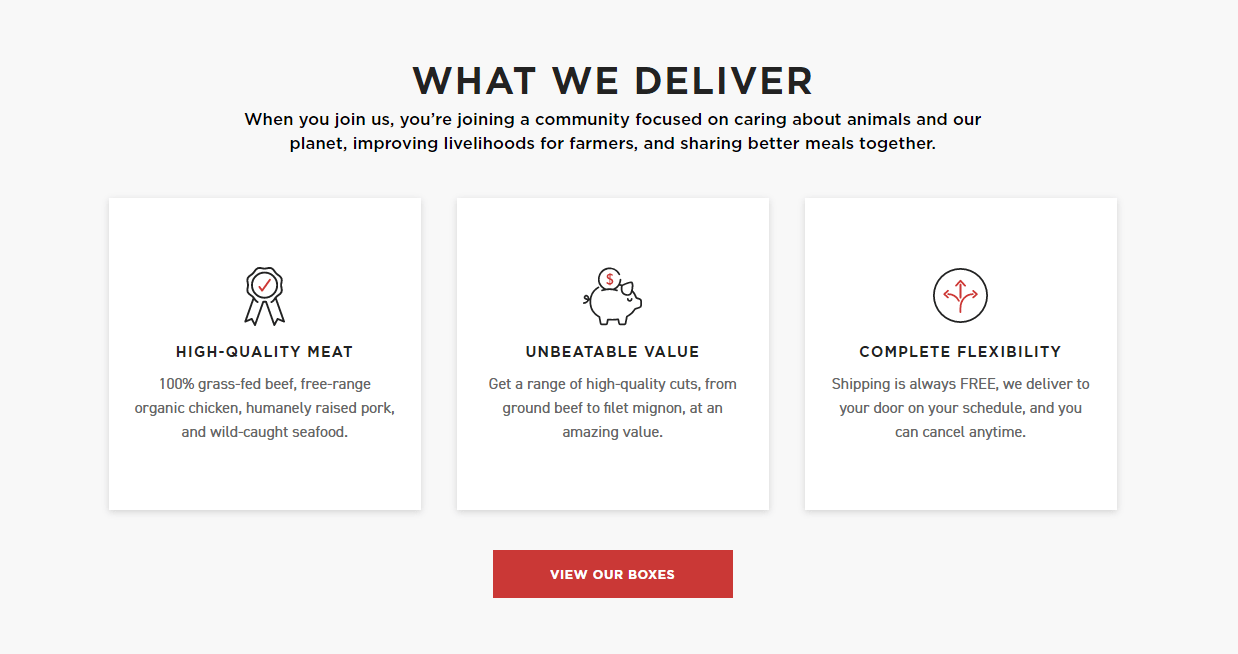 Once you place your order, ButcherBox will tell you that your package will show up in 3-7 days. Soon, you'll receive an email that provides tracking details so you can follow your package as it makes its way to your home. Included in the email are answers to additional questions, along with tips on how you should handle your meat when it arrives.
When your package arrives, you'll discover that no insulation, dry ice, or plastic is included in the box. However, included with your package are suggestions on how to take care of your order properly. Additionally, all your meat is completely frozen and vacuum-sealed. That means it's ready to go anytime you want it.
Meat Selections
Not only are there plenty of selections available with ButcherBox, but all the beef on the site is 100% organic, grass-fed, and grass-finished. Additionally, the chicken is free-range organic poultry, and the pork is pasture-raised. Of course, it helps to know that your meat comes from responsible farmers and ranchers who take the quality of their products seriously.
With that in mind, let's take a look at the types of meat ButcherBox has to offer.
Chicken
First up is the ButcherBox organic, free-range chicken breasts. These breasts are ready to go right out of the package. There's no connective tissue to mess with. Just slice it up, marinate it, then cook it the way you like best. The chicken is juicy and plump, which means you're getting high-quality meat delivered right to your doorstep. 
Bacon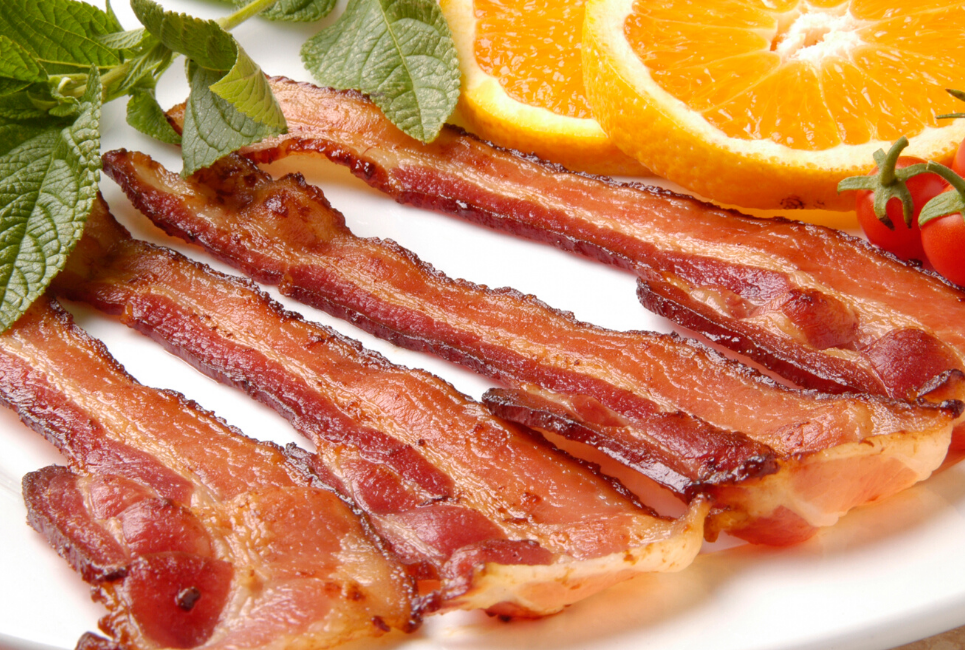 If you're looking for perfect bacon, look no further than ButcherBox. This bacon is delicious no matter how you cook it. It has an excellent fat to meat ratio, and it's not too salty. It has the perfect bacon flavor you're sure to love. Share it with your friends and family, or keep it all for yourself. No matter what you decide, just make sure you include it in your order. You won't regret it.
Ground Beef
The great thing about the ground beef ButcherBox offers is that it's much leaner than what you'll find at your local grocery store. That means you don't have to mess with draining a bunch of fat while you're in the middle preparing dinner. Ground beef from ButcherBox is delicious and tasty and is perfect for any meal.
Steak
Last but not least is Steak, which is my favorite meat for any meal. If you enjoy steak, the cuts you get from ButcherBox are sure to live up to your expectations. Most people prefer their steak cooked at no more than a medium-rare, which is how I like mine. But even at medium, ButcherBox steaks are tender and juicy.
These 100% grass-fed and grass-finished cuts are perfect no matter what you pair them with. Steak and eggs? Amazing. Steak and potatoes? Delicious. Steak and steak? Absolutely. If you're ordering steaks from ButcherBox, you're doing things the right way.
Which ButcherBox Plan is the Right One For You?
There are two ButcherBox Plan options, and each option is available in one of two sizes. You can choose either a Custom Box or a Curated Box and select Big or Classic size for each. Determining the right box will depend on several factors. 
For example, how many people are you feeding? Do you eat meat on a regular basis? How often do you want to receive a box from ButcherBox? How much space is available in your freezer? But to get a better idea of which package makes the most sense for you, let's take a more in-depth look at each one.
Curated Boxes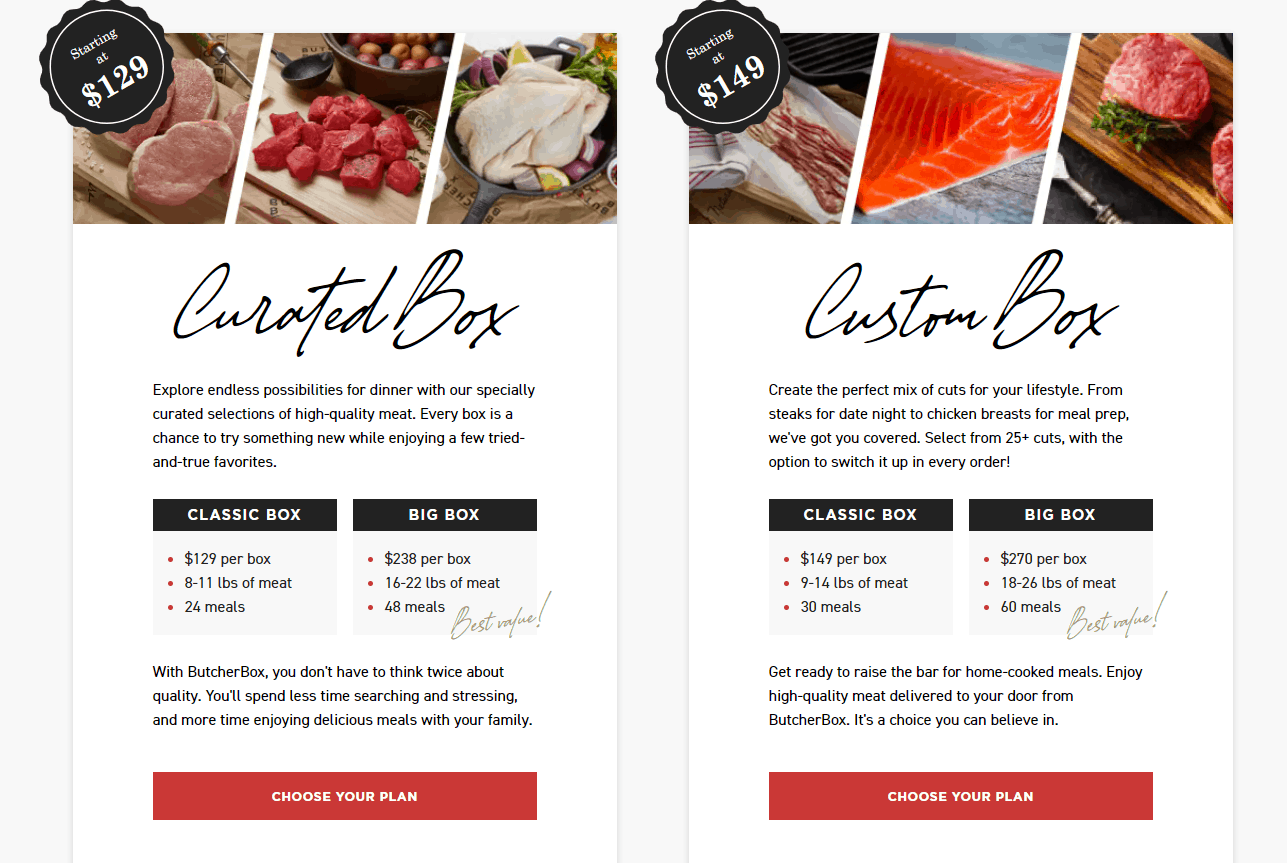 ButcherBox's Curated boxes are a mixture of meats pre-selected by the company itself. Of course, you can add other selections if you want, but the default box is already set, and you can't sub anything out. You also won't know what types of meat you're getting until the box arrives.
Choosing a Curated box is a great way to give new cuts a try or explore different ways to cook and prepare meat. One of the exciting things about getting a Curated box is discovering just what ButcherBox decided to send you. 
However, you do have some options with a Curated box. ButcherBox lets you choose:
All Beef

Beef & Chicken

Beef & Pork

Mixed Boxes – Beef, Chicken, and Pork
Classic Box
The Classic Curated box from ButcherBox includes roughly 8-10 pounds of meat, which is about 24 servings. It's a great box for smaller families, couples, individuals, or those who don't have a lot of room in their freezer.
Big Box
The Big Curated Box provides 16-22 pounds of meat, which is roughly equal to 48 servings. This is the perfect box for you if you have a larger family, a bigger freezer, or like to eat meat with every meal.
Custom Boxes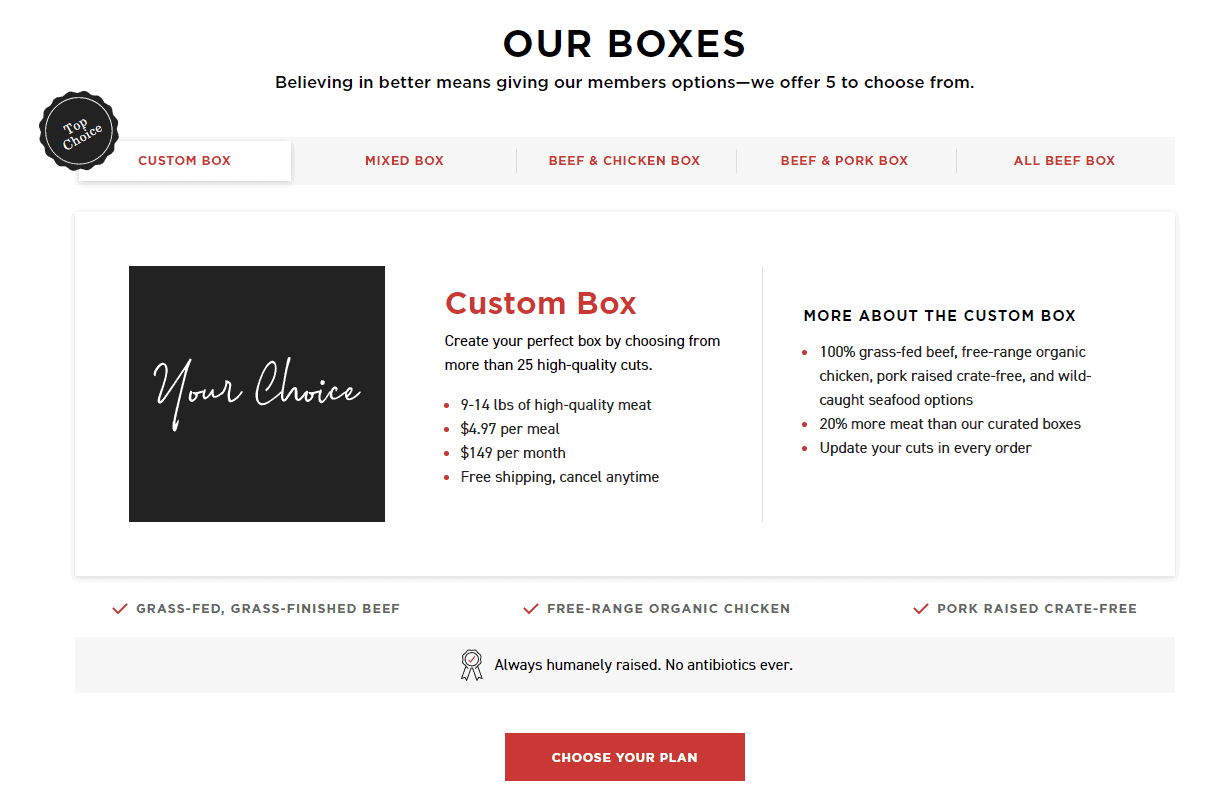 Custom Boxes from ButcherBox run about 20% larger than their Curated counterparts. However, they are also a little more expensive. With a Custom box, you can choose exactly what you want in your delivery. You can choose from over 25 high-quality cuts of chicken, beef, and pork, ensuring you get exactly what you want when you want it. 
You can include all the classics like ribeyes, chicken breast, ground beef, and of course, bacon. Plus, you can experiment a little with more sophisticated cuts like bone-in pork chops or a sirloin cap. It's entirely up to you. Be sure you mix things up. Choosing a box full of ground beef or chicken breasts might not be the best use of your money.
Custom boxes are great for you if you know exactly what you want and have a specific routine that you like to follow. For example, if you have a meal plan and follow it regularly, the Custom box is exactly what you need. Now you just have to select the right size.
Change Your Box When You Want
The nice thing about ButcherBox boxes is that you can choose the right type of box for you with each order. Or, if you prefer, you can always add more options to your box, although keep in mind that you'll pay a little more for your order. So, if you see something that looks particularly tantalizing, you always have the choice to throw it in your box.
Additionally, you can change the size or type of box you want at any time. There aren't any extra charges, so you really can make adjustments whenever you need to. Plus, you can change how often you get your box. They'll come every 2, 4, 6, or 8 weeks, but you can do so if you need to change the next delivery date.
Alternatives to ButcherBox
If ButcherBox doesn't offer the meat you want or, for one reason or another, just won't work for you, don't worry. There are plenty of other meat delivery services available. Here are a few alternatives you might consider.
Thrive Market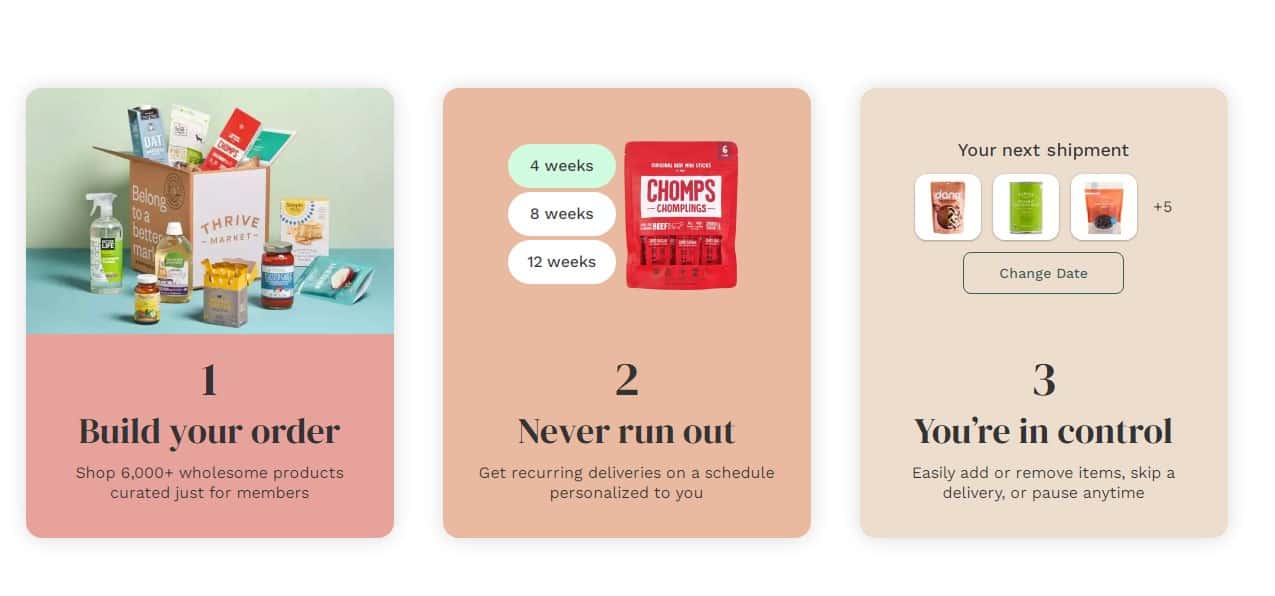 Thrive Market is an excellent choice if you like to have things delivered right to your home. You can choose from high-quality meats and seafood right from the comfort of your home. Plus, you can shop for other household items as well. Thrive Market offers the option to build your own box or choose a bundle. There are plenty of meat options available for you!
Moink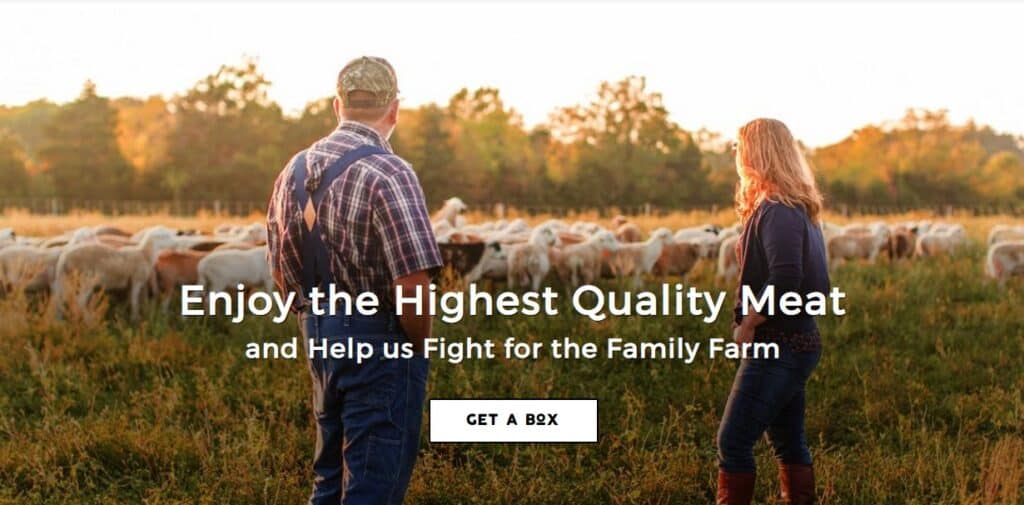 Another meat delivery service that's similar to what ButcherBox has to offer is Moink. Mink sources all of its meat right from US farmers and ranchers and ensures that all of its suppliers employ only the most ethical practices and processes. You can order the standard box from Moink or customize a box that lets you choose up to 27 different cuts of high-quality beef, pork, and chicken.
Your Local Rancher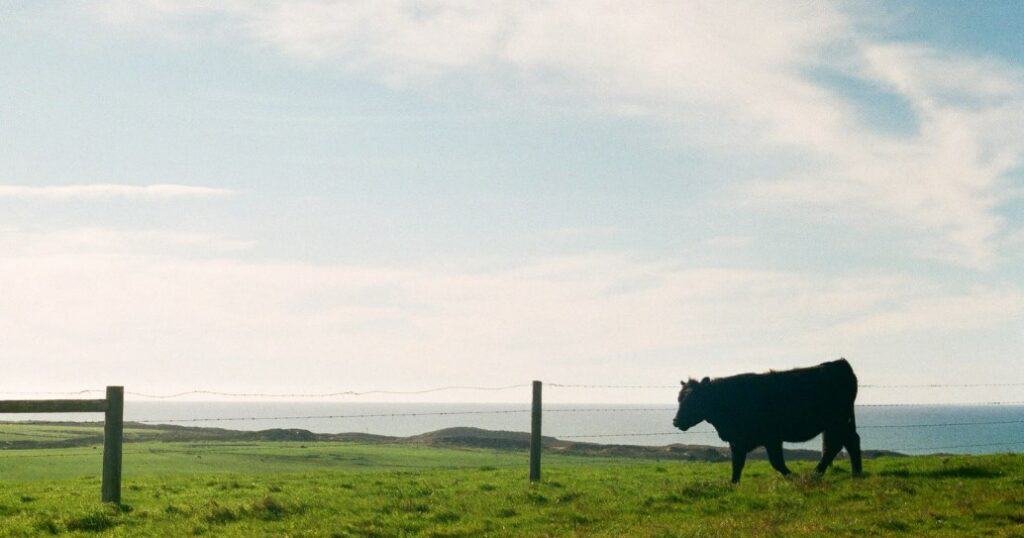 While this isn't a meat delivery service, supporting your local rancher or farmer is a great way to get high-quality meats. Visit your local farmer's market to discover amazing and delicious cuts of beef, chicken, or pork. In addition, it's a great way to integrate sustainability into your life.
Find local farmers and ranchers and talk with them. Some of them will offer a whole pig or cow that you can split up between your family and friends. It's an excellent way to save money on meat and you won't have to wait for a box to arrive. Plus, you might end up making a lifelong friend.
Pros and Cons
There is a lot to like about ButcherBox, but it has its fair share of drawbacks as well. So let's take a closer look at the pros and cons of this high-quality meat delivery service.
Pros
Ships quickly and on-time

Sustainable, grass-fed, and grass-finished meat

Customizable boxes great for any user

Excellent selections and cuts available

Amazin, high-quality meat
Cons
Have to be home within 8 hours of meat delivery to make sure your meat doesn't thaw out too much

Need to plan ahead to receive your favorite meat

Not many unique meats available
FAQs
Question: What do I get with my ButcherBox subscription?
Answer: With ButcherBox, you get access to high-quality beef, chicken, and pork anytime you want it. You'll also get an invitation to join the ButcherBox community, which connects you with ways to get updates on the platform, provides excellent customer support, and offers live events with in-house chefs.
ButcherBox members also have access to member-only bundles and deals. Past deals include lobster tails, discounts on bacon, and Game-Day bundles. 
Question: Are there restrictions on when I can cancel my subscription?
Answer: Since ButcherBox is a monthly subscription, you can cancel anytime you want. Just remember that you have to do so before your next billing date, or you'll be charged for the following month.
Question: Can I skip a month of my ButcherBox subscription?
Answer: Yes, you can. Just remember that you have to make changes before the next billing date arrives. So do that, and you can skip the box and move it to the next date of delivery.
Question: When should I expect my ButcherBox to arrive?
Answer: Your delivery will take between 3 and 7 days to arrive. Most people get their boxes well before seven days but give it at least that long before you file a complaint.
Does ButcherBox Make the Cut?
It's not always easy to make it to the grocery store, the butcher, or your local farmer's market, which is why a meat delivery service like ButcherBox is an excellent option. With a wide variety of meats to choose from and a selection of boxes, it's hard to beat what ButcherBox has to offer.
It would be nice if a few unique types of meat were available, like Bison or Elk. However, don't let that dissuade you from using ButcherBox. You'll get tasty and delicious meat no matter what you order. What more could a meat-lover ask for?