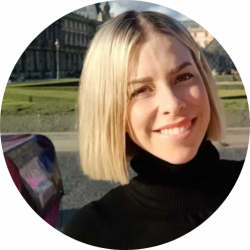 Latest posts by Jodie Chiffey
(see all)
If you're working with meat often, you'll surely know how physically demanding and time-consuming this work can be. However, meat processing machines like meat slicers can make it much easier, faster, and more enjoyable.
Today we'll focus on one particularly powerful machine: the Hobart Meat Slicer, which can be found mostly in professional kitchens.
Is this heavy-duty meat slicer worth its price? Let's find out.
If you're a professional chef, deli, bistro, or fast food restaurant owner, you have probably already heard about this reliable and versatile meat slicer before. The Hobart EDGE13-11 is a popular solution among professionals mainly due to its reliability, thoughtful features, and numerous details that can smoothly increase your productivity and kickstart your workflow.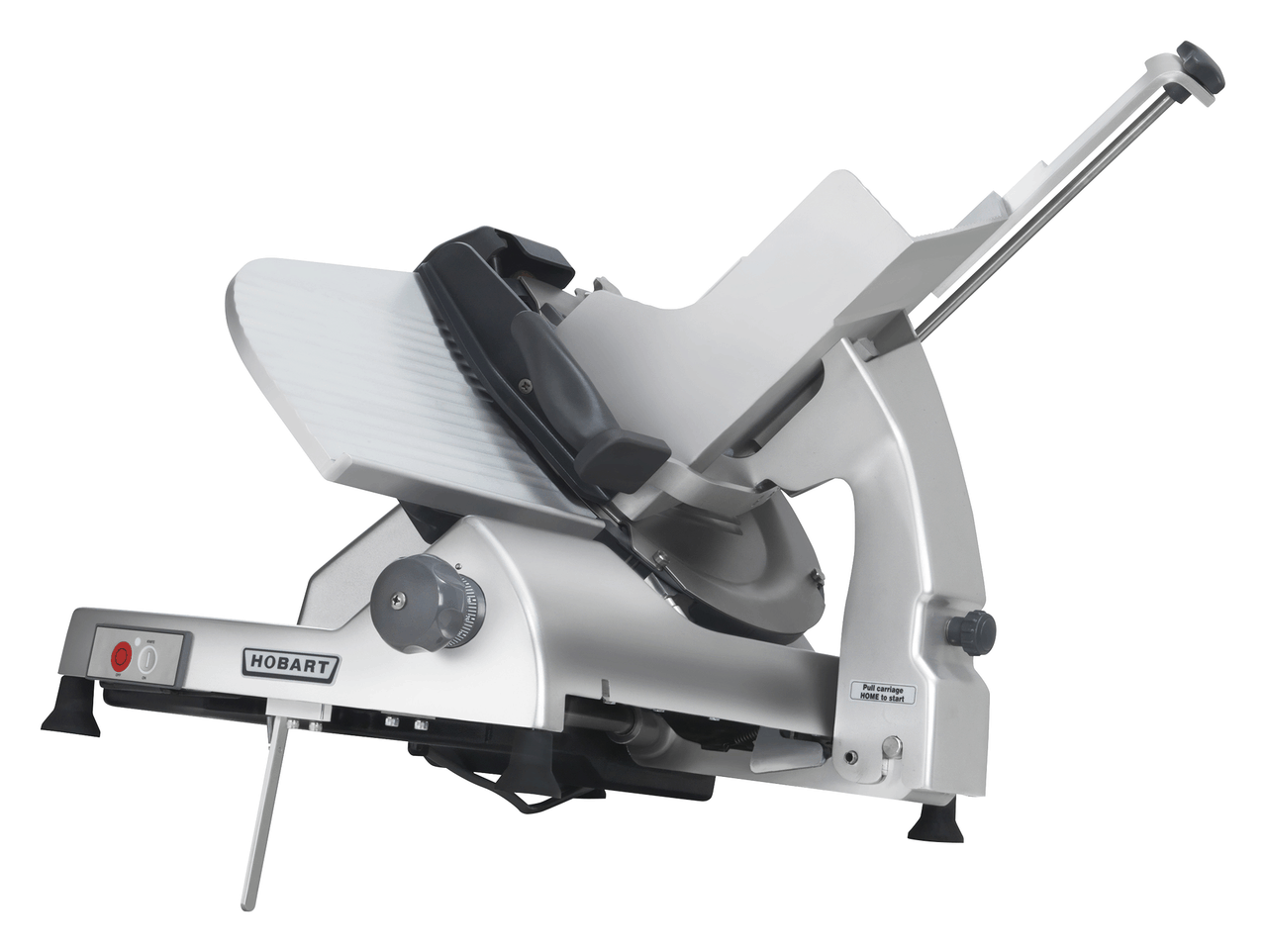 On the other hand, this certainly is an expensive machine, so you should think the investment through thoroughly before placing your order. This Hobart Meat Slicer review should help you decide whether this slicer really is what you want and need.
Let's summarize the machine's technical specifications in detail first:
Key specifications of Hobart Meat Slicer
| | |
| --- | --- |
| Type of slicer | Manually Fed Meat Slicer with Electric Engine |
| Blade size | 13 " |
| Blade material | Carbon Steel |
| Operation mode | Manual |
| Motor | 1⁄2 H.P. Knife Drive Motor/120V |
| Dimensions/weight | 23.13 x 26.31 x 21.88 inches/88 pounds |
| Latest price | Click here for the latest price |
Core features of the Hobart Meat Slicer
Hobart is a premium American manufacturer of top-class foodservice equipment. It is known to produce heavy-duty machines perfectly adapted to daily use and usually work flawlessly for many years after the purchase. Their Edge series slicers are mostly used in commercial kitchens. They are efficient, convenient to use, easy to clean, and their price is still quite reasonable compared to other pro-grade slicers on the market. Let's evaluate its qualities one by one:
Construction and design
Clearly focusing on a professional environment, this meat slicer is expected to be used in larger spaces, standing on robust metal kitchen counters and staying in one place more or less permanently. In practice, this means that Hobart's EDGE 11-13 is truly a robust and heavy piece of equipment. Measuring 23.13 x 26.31 x 21.88 inches and weighing 88 pounds, this certainly isn't your best choice for occasional at-home use.
On the other hand, this robustness also provides the slicer with great stability and exceptional durability. Its shiny all-metal body consists of a sanitary anodized aluminum base, carriage, and knife cover, while the non-removable 13 " blade is made of chrome-plated carbon steel. The machine also has an integrated ceramic simultaneous sharpener, which can be removed when needed. These materials are considered very hygienic, and they also don't corrode over time.
Do you prefer your kitchen equipment to look just as good as it performs? Well, talking about the design of this machine probably doesn't make much sense. As with most of the commercial-grade meat slicers, Hobart EDGE does not really try to look sleek or attractive. Instead, this is a simple, practical machine that does its job and serves its purpose. Expect nothing more (or less) than a simple combination of matte silver aluminum and sturdy black plastic on this machine's ergonomic handles and control features.
Functions and controls
Hobart's meat slicers are considered to be perfectly versatile. Although they are, apparently, designed mostly for meat processing, they perform just as well if you need them to slice your cheese, bread, vegetables, or any other food products. The size of the food is rarely a problem either – the carriage can easily handle any food up to 9-1/2″W x 7″ H or 8-1/2″ in diameter.
People sometimes try to avoid professionally-looking equipment just because it seems to be too complicated – as if it was only intended for someone with tons of previous experience. Nevertheless, rest assured that Hobart meat slicers can be handled easily by any beginner too.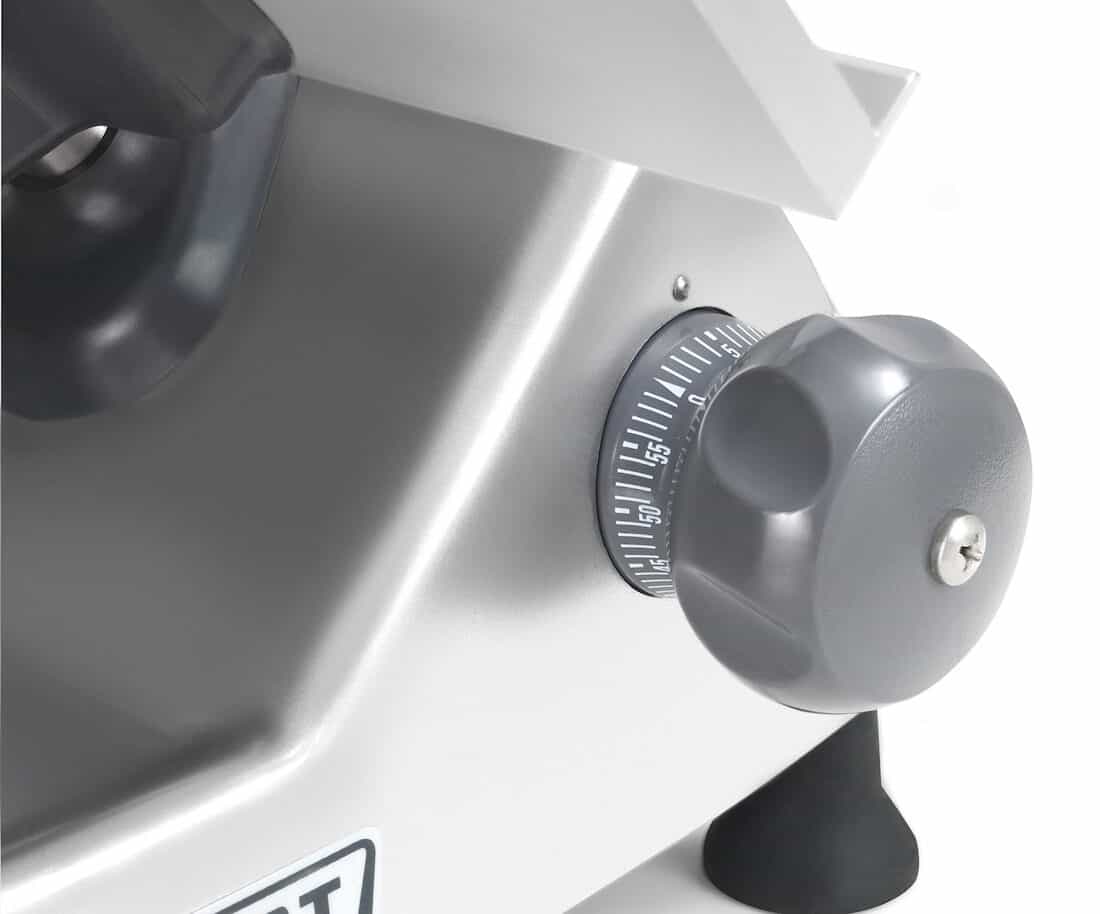 All you have to do is close the gauge plate (fully), pull the product tray forward as far as it goes, place the meat (or other food) on the tray, and set the meat grip against it (if needed). Now just turn the main switch ON. To set the preferred thickness mode, turn the index knob to the desired position (anywhere from paper-thin to 9/16 " thick). Next, hold the Carriage handle and just move it back and forth to slice the meat manually.
Of course, when we say 'manually,' this doesn't mean that this machine is not plugged into the mains. While you're feeding this slicer by hand, the powerful ½ HP motor rotates the cutting blade that does the job. The electric requirements of this machine are 120 volts, 60 hertz, and 1-phase. It comes with a 6-foot flexible 3-wire cord and plug intended for the grounded receptacle.
Safety
When working with such a large and powerful slicer, you must always concentrate and pay attention to every move you make. Nevertheless, a thoughtful ergonomic design and some basic safety measures can certainly help keep you safe from most risky situations.
Hobart's EDGE models are equipped with a knife cover that should already be secured in place with the cover knob (on the left) tightened clockwise when you start using the machine. If you need to secure the meat (or other food) in its place on the tray, use a meat grip component. This is especially practical when you're slicing short ends of the food, as this can force your hands way too close to the somewhat intimidating 13 " blade.
When you don't use the machine, make sure that the index knob is turned fully clockwise – this makes the knife covered with the gauge plate so that you won't get hurt on it accidentally. Other than that, just use your common sense, sanitize the machine properly after every use, and you should be perfectly safe.
Reliability
When you're willing to invest a bit more in a machine that could, potentially, be replaced by some much cheaper alternative, the main motivation is usually reliability. No wonder – if you're an owner of a deli or restaurant, a broken meat slicer can seriously hurt your productivity and ability to provide your customers with first-class performance.
Pro-grade slicers from Hobart are, however, fairly reliable and trustworthy. They are intended to be used intensively, so they can easily withstand, say, 4 hours long slicing sessions every day without any harm. In the unlikely scenario that it gets broken, the manufacturer offers a 1-year warranty.
Price
As we've already hinted several times throughout the article, the Hobart meat slicer is one of the more expensive machines of this type. However, if you're only planning to use your slicer occasionally and non-professionally, you can surely find many decent alternatives that can do the job at a fraction of Hobart's price.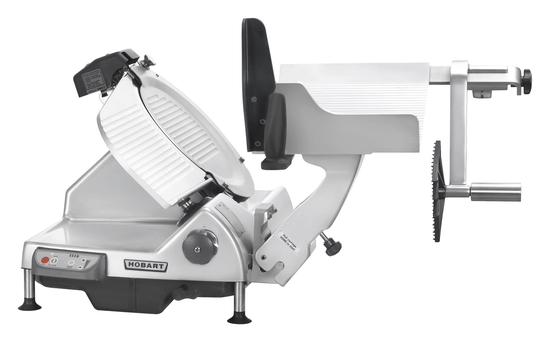 Nevertheless, if you compare this mighty slicer with some other commercial machines of similar features and qualities, the price suddenly looks quite reasonable. For its current price quote, click here.
Pros of the Hobart Meat Slicer
These are the main reasons why you might want to consider getting this meat slicer:
Reliability
If you're using your meat slicer professionally daily, you need trustworthy and reliable equipment that will not let you down when you need it the most. Based on our experience and tons of online reviews from other users, Hobart EDGE 11-13 is a machine that deserves to be trusted and relied on.
Sturdy materials
EDGE's anodized aluminum housing is very tough and sturdy – I believe it would be pretty hard to cause any serious harm to it if you use the machine as intended. The same applies to the chrome-plated carbon steel blade of the knife. Both materials are also straightforward to clean and properly sanitize.
Safe
If you follow the manufacturer's instructions and utilize all the provided safety measures, you and your fingers should always stay safe with this meat slicer. The machine is also very easy to disassemble and clean thoroughly, eliminating the potential risk of bacteria growth and contamination.
Versatility
Whether you're working with delicate bacon and salamis, or tougher cuts of game and beef, this meat slicer has many options, settings, and adjustments that can always help you achieve the best results.
Easy operation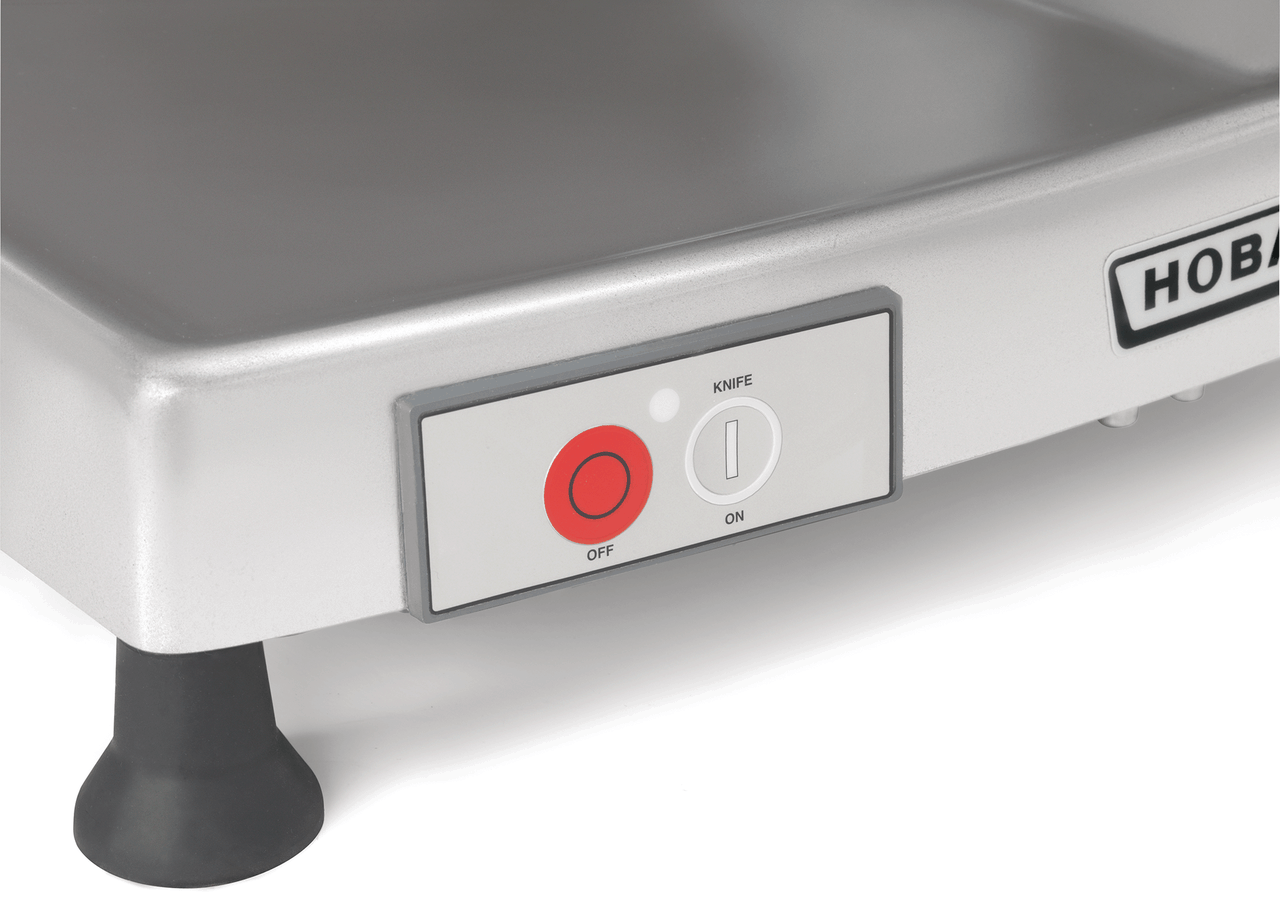 Although a machine of this size might look a bit intimidating initially, operating Hobart's meat slicer is actually perfectly straightforward in practice. Since you feed the slicer manually, you also always have perfect control over the session.
Cons of the Hobart Meat Slicer
These points might probably scare you away from this machine:
Large and heavy
Logically, if you're looking for a decent at-home meat slicer for occasional use, you're probably not going to consider this relatively expensive and robust machine at all. Nevertheless, even some business owners might struggle a bit with its great dimensions and impressive weight. Likewise, those who need to save some space on their counter might probably choose to look for something else.
Price
Unless you plan to use your meat slicer commercially, there is no justifiable reason to invest so much in it. However, there are certainly many cheaper slicers that can do the basic slicing just as well. We will suggest some of them below in the Alternatives section.
Are there any alternatives?
If you'd like to take a look at some other meat slicers before making your final decision, here are some alternatives that might interest you:
Rival 1101W Electric Meat Slicer
Rival is another popular American brand of both at-home and commercial-grade meat processing equipment. Their Rival 1101W is a sturdy, all-metal machine that stands somewhere in between – while its relatively small footprint and decent price will probably mostly attract amateur chefs. Its reliability and even performance make the machine suitable for simple commercial use.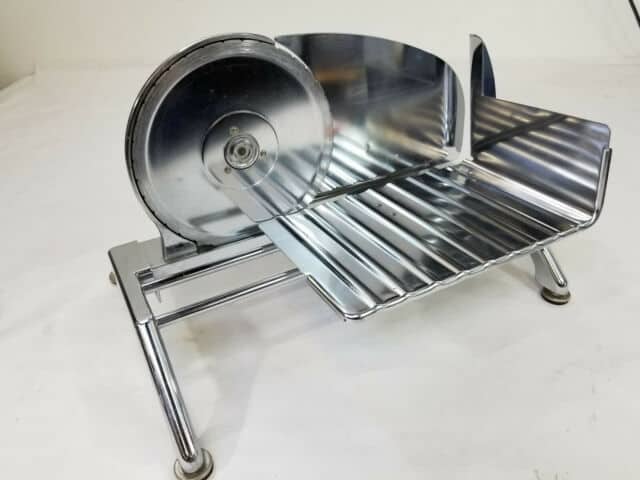 Chef's Choice 609A
Another popular solution for those who want an affordable yet trustworthy meat slicer is Chef's Choice 609A. This is a simple and perfectly user-friendly machine made of stainless steel. It is very easy to clean, sturdy, durable, and safe. Unlike some other budget-friendly meat slicers, this machine also offers a precise thickness setting with the dial control.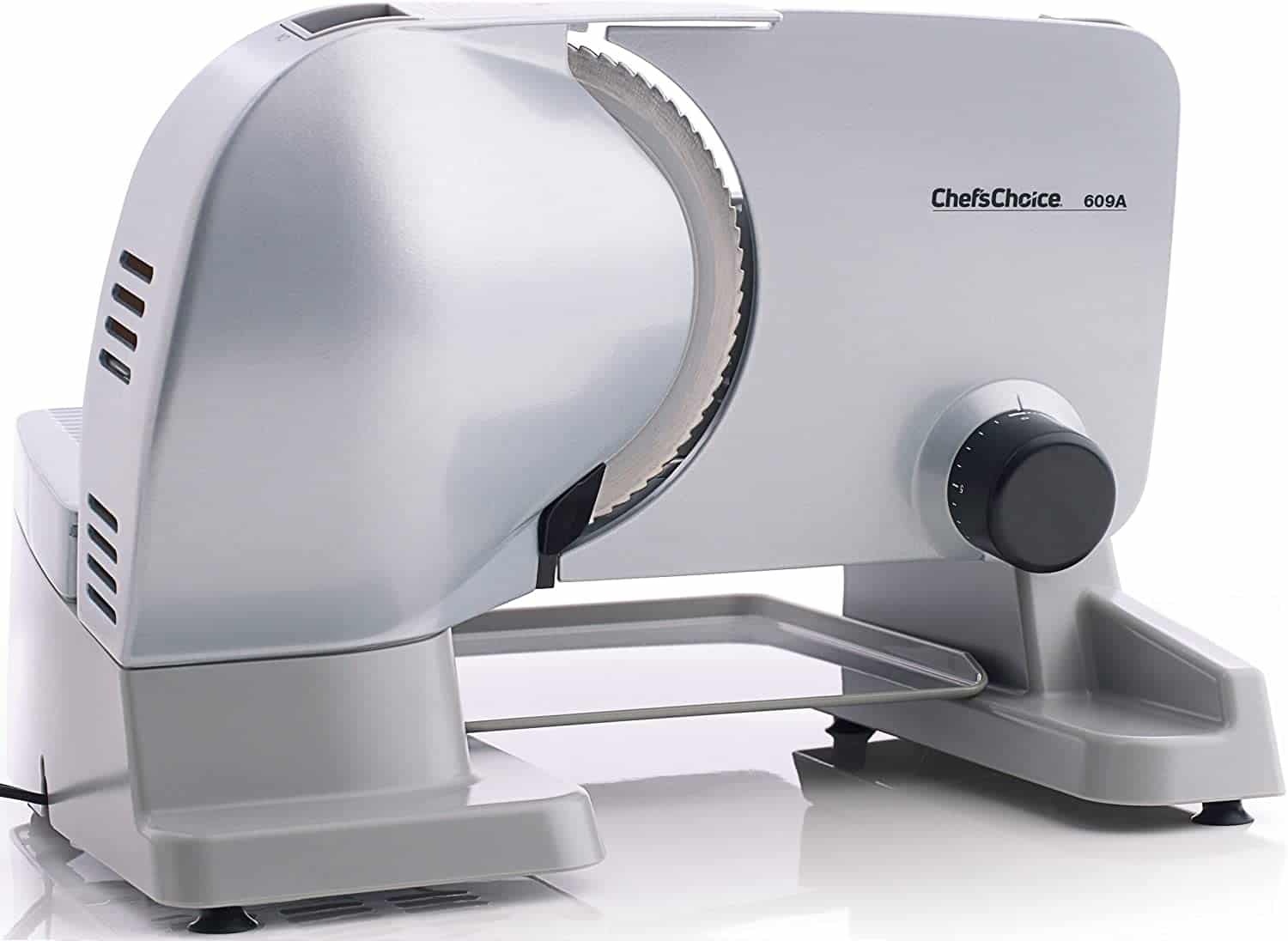 Frequently Asked Questions
Need more details on the Hobart meat slicer? Here are some of the most commonly asked questions and answers on this machine and its use:
Question: How do you clean a Hobart meat slicer?
Answer: A meat slicer should be carefully cleaned and sanitized after every use to avoid the spread of bacteria and potential health risks. Hobart meat slicer can be cleaned relatively easily. Make sure that the machine is turned off and unplugged, wear knife-proof gloves and disassemble the machine according to the manual.
First, start with wiping surfaces with warm water and mild detergent using a soft cloth. Don't forget to rinse each component with fresh water and let it dry out thoroughly. Follow with cleaning the gauge between ring guard and blade. Pull the cloth soaked in water and detergent into the gauge and remove any residues. Lastly, clean the knife, knife cover, and integrated sharpener. Always rinse the cloth carefully between each component (or use a new one) to prevent cross-contamination.
Question: Where is Hobart Meat Slicer made?
Answer: Hobart is an American brand, and all of their pro-grade meat slicers are reportedly manufactured directly in the USA.
Question: Is there any warranty on the Hobart meat slicer?
Answer: Yes, Hobart meat slicers come with a 1-year warranty on all parts and construction qualities, but the machine should be used in commercial settings to be eligible for this service. If you plan to use this machine at home, the warranty might not apply to you. We suggest checking this out with your retailer before placing an order.
Final thoughts: Professional Solution for Commercial Kitchens
A good commercial-grade food slicer can help you cut your meat, bread, cheese, or vegetables fast, efficiently, and effortlessly. It can increase your productivity significantly. However, is the Hobart Meat Slicer one of the machines that are really worth their price?
I believe it is. The premium materials, clean construction, thoughtful safe design, and various great features make this machine perfectly versatile, reliable, and efficient. If you have enough space and your budget allows for it, you probably shouldn't hesitate.
On the other hand, there are certainly many other (cheaper and smaller) meat slicers that can satisfy most meat-lovers just as well. Chef's Choice 609A and Rival 1101W are two great alternatives.
We hope this review will help you decide whether this meat slicer is what you are looking for. Need more advice on the best meat processing equipment? Read our Kitchenaid Meat Grinder review or our Guide to Finding the Best Smoker next!