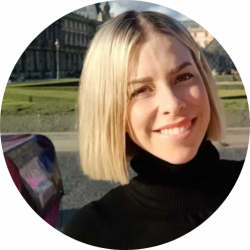 Latest posts by Jodie Chiffey
(see all)
Whether you're preparing ribs, roast, or ground beef, good seasoning is always a must. Have you considered trying the popular Excalibur Prime Rib Rub? This article will help you decide if it is exactly what you need.
Excalibur is a major American producer of all types of seasoning. Their portfolio includes many classic, exotic, and original rubs, including Nashville Hot, Ultimate Steak & Roast, Smokehouse BBQ, and many others.
Nevertheless, one of the most popular and sought-after products in Excalibur's collection is certainly their Prime Rib Rub – a basic yet comprehensive meat rub created specifically for prime ribs but perfectly suitable for other types of beef/pork roasts too.
Whether you're planning a BBQ event for your friends or you're just hoping to enjoy a new taste of your favorite roast with the family, using Excalibur Prime Rub might look like a good idea. But is it really the best you can get?
Let's take a closer look at this seasoning and evaluate it in detail.
Excalibur Prime Rib Rub: Basic Specifications
| | |
| --- | --- |
| Brand | Excalibur |
| Country of origin | USA |
| Use | Ribs, ground beef, roast |
| Texture | Small particles |
| Ingredients | Salt, Monosodium Glutamate, Sugar, Dextrose, Hydrolyzed Soy Protein, Caramel Color Powder, Spice, Corn Starch, Onion and Garlic Powder |
| Allergens | Soy |
| Latest price | Click here for the latest price |
Excalibur Prime Rib Rub: What to expect?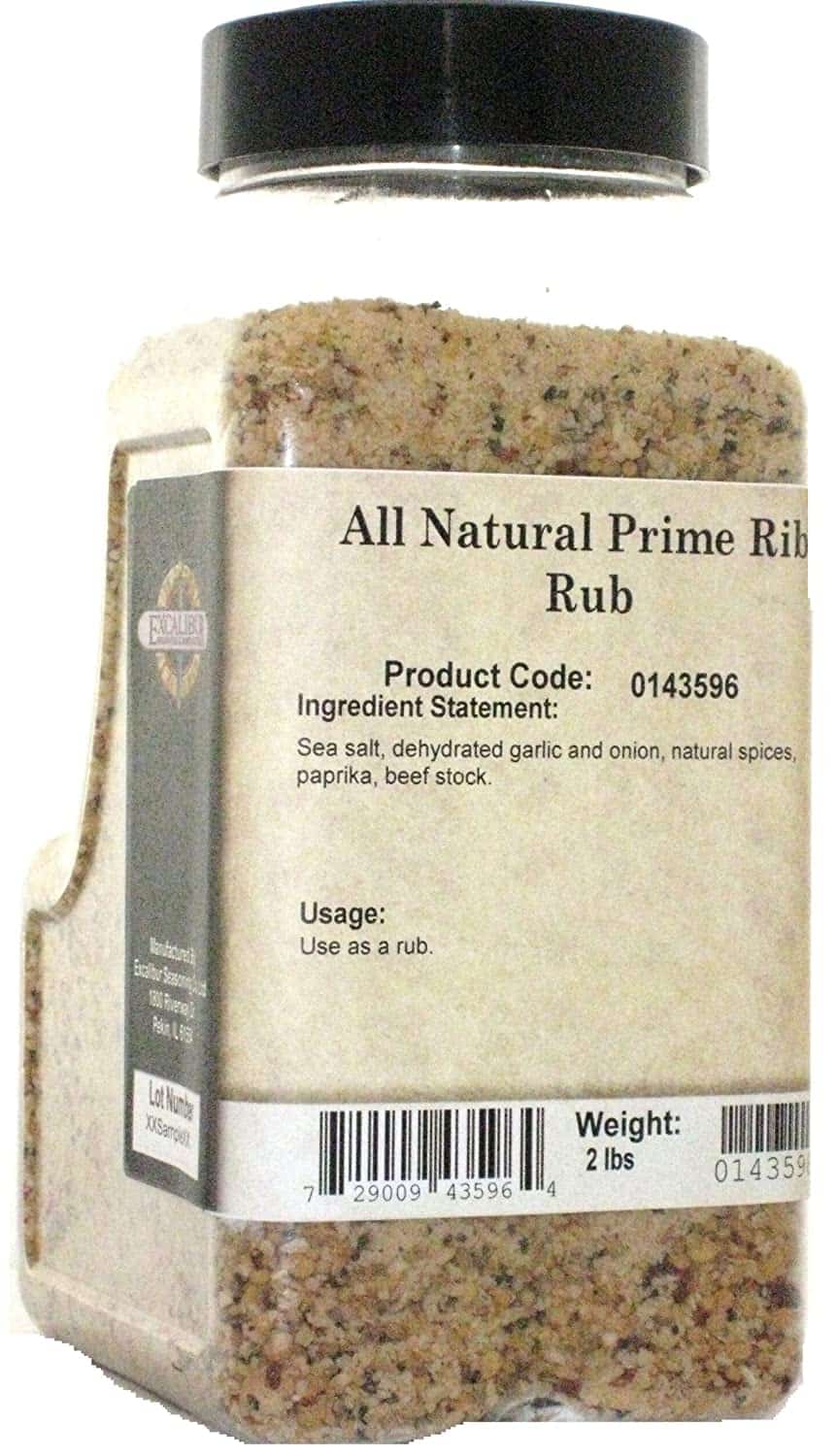 A good rub should provide you with a full range of flavors and emphasize all the qualities you love the most about the meat of your choice. It should, however, also withstand the whole process of preparation without getting too burned, dry, or bland. So, is Excalibur Prime Rib Rub the seasoning you are looking for? Let's evaluate it in detail.
Ingredients
Prime beef ribs are widely relished and sought-after thanks to their delicacy, unmistakable aroma, and characteristic juiciness. They have just the right amount of fat and tenderness, and there are certainly many great ways to season and prepare them deliciously.
But, of course, this requires the right combination and balance of ingredients that will support the meat's natural taste and enhance it with some extra layers.
Excalibur's Prime Rib Rub is approaching this task with a rather traditional and conventional set of ingredients that probably won't surprise you: it contains salt, a pinch of sugar, a soy protein, spice, onion, garlic, and a bit of starch.
Unfortunately, this rub also contains glutamate, a substance widely used to enhance the flavor of the food, which is also associated with some health issues, including Parkinson's Disease, anxiety, insomnia, and stroke.
Fortunately, the brand also recently began producing their natural version of this rub, which lacks the chemical ingredients (but beware that it also lacks some of the depth and scale of the flavor). This alternative contains just sea salt, dehydrated garlic and onion, natural spices, paprika, and beef stock.
Texture
Excalibur Prime Rub is a fine mixture. This makes it very easy to season your meat thoroughly and evenly on all sides without leaving any significant blind spots.
The fine seasoning also holds on the meat very well. Moreover, if you prefer preparing your meat au jus, this mixture blends smoothly with the liquid without the undesirable powdery aftertaste.
On the other hand, this type of texture also comes with some disadvantages. For example, such a fine seasoning is quite prone to get all sticky and hard due to the moisture it absorbs from the environment. If you want to avoid this, you can try storing the package in the freezer or fridge – many users report this trick works just fine.
Use
As the name of this product clearly suggests, it is intended mainly to be used as a prime ribs rub. Therefore, for a perfect outcome, you should rub the seasoning mixture onto the rib at least two hours before you plan to prepare it.
However, I always aim to do it in the evening the day before – this gives the seasoning plenty of time to get absorbed into the meat and transmit its full flavor.
If you like to experiment, this seasoning is perfectly compatible basically with all types of red meats, including steaks and roasts. It works great with various types of preparations too. For example, try to smoke and grill your meat covered in this mixture over wooden pellets – it is truly delicious. It is equally suitable for dry and wet preparation.
Taste
The rub perfectly complements the natural taste and aroma of the prime ribs and adds a punchy layer of spicy aftertaste, which is very easy to recognize and get used to.
Unfortunately, I must say that I was personally a bit disappointed when I tried the all-natural alternative of this rub for the very first time. I (somewhat naively) presumed that it would taste just as good and bold as the traditional version of this seasoning.
Excalibur Prime Rib Rub also comes in some more peculiar versions, including the sweetish Caramel alternative. If you like more intriguing tastes, you might really like it – I personally prefer these sweeter tastes in the wintertime and incline to the spicier flavors in the summer.
Price
It is tough to say if they're 'cheap' or 'expensive' when it comes to rubs and seasonings. It mostly depends on how often and intensely you use these types of products.
However, in comparison with some other popular rubs, Excalibur Prime Rib Rub probably stands somewhere in the middle. If you want to save some of the costs, look for the value multipacks. For their latest price quote, click here.
Pros of the Excalibur Prime Rib Rub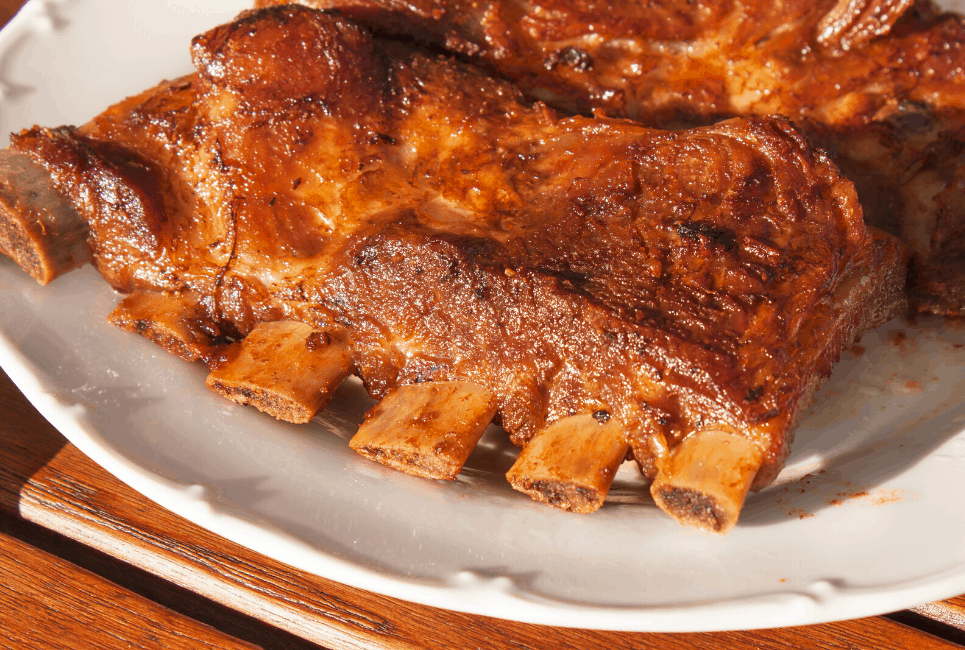 Let's summarize all the good reasons why you probably should give Excalibur's Prime Rib Rub a chance:
Fine texture
If you prefer fine to coarse seasonings and rubs, Excalibur Prime Rib Rub will suit you nicely with its extra small particles. This fine texture also makes the rub perfectly versatile – it is good for both dry and wet preparation, and it also works great for the 'au jus' style of roasting.
Great Flavor
Excalibur Prime Rib Rub definitely has what it takes to appeal to your taste buds, especially if you prefer the well-balanced combinations of sweetness, spiciness, and strengthened natural aroma of the red meat. If you're into intricate flavors, this rub also comes in an original combination with caramel.
Versatility
Although this rub is mainly intended for prime ribs, it works perfectly well with any other type of red meat too. You can also use it for all the different preparation styles, including grilling, smoking, roasting, etc.
Affordability
Compared with other similar rubs, Excalibur Prime Rib Rub is relatively affordable – especially if you buy it in larger bundles or value packs.
Cons of the Excalibur Prime Rib Rub
To provide you with a full picture, here are some downsides of this popular prime rib rub:
The Powder Tends to Harden
Excalibur Prime Rub's extra fine texture can occasionally harden into a firm homogenous rock, which can be quite inconvenient. Experienced users avoid this by storing the rub in their fridge or freezer.
The Natural Version Has a Weak Flavor
If you prefer natural ingredients and try to avoid glutamate, you might be glad to hear that Excalibur's Prime Rub is also available in an all-natural version. Unfortunately, this variation doesn't taste nearly as rich as the original.
Are there any alternatives?
Excalibur Prime Rib Rub might be one of the most popular products of its type on the market. Nevertheless, it is certainly not the only one. Here are some interesting alternatives you might like too:
Miners Mix Roast and Prime Rib Herbed Seasoning Dry Rub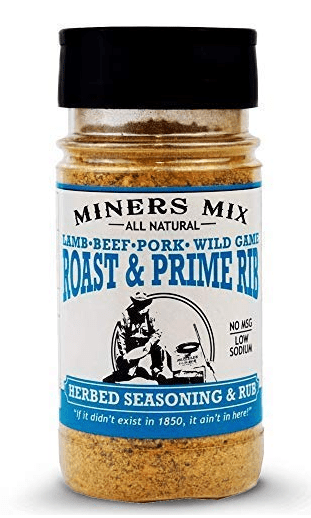 Miners Mix Roast and Prime Rib Herbed Seasoning Dry Rub is a great solution for anyone who prefers their meats with aromatic herb flavors. This mixture contains rosemary, garlic, black pepper, oregano, and thyme.
It is relatively low on salt and free from MSG. It's recommended for all sorts of meat, including beef, pork, chicken, or lamb. In addition, the rub creates a lovely herby crust that you're most likely going to love.
Traeger Grills SPC173 Prime Rib Rub with Rosemary and Garlic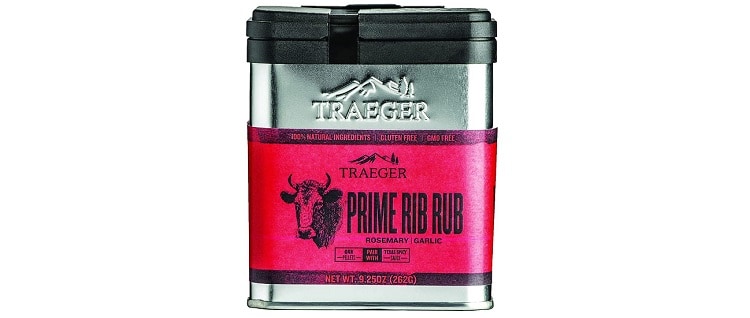 Traeger Grills SPC173 Prime Rib Rub with Rosemary and Garlic is a relatively simple, but for many prime rib fans, truly unbeatable rub.
Its delicate yet instantly recognizable taste is built around the two main ingredients – aromatic rosemary and punchy garlic. The rub is MSG-free and Kosher, and it comes in a practical stackable aluminum tin container.
Frequently Asked Questions
Here is some additional information you might be looking for:
Question: Does Excalibur Prime Rib Rub Contain Any MSG?
Answer: Yes, the standard original version of Excalibur Prime Rib Rub does contain glutamate. However, if you want to stay away from this ingredient, you can choose the all-natural version of this rub instead. Just beware that it tastes different and lacks intensity.
Question: What Types of Meat is Excalibur Prime Rib Rub Good For?
Answer: Excalibur Prime Rib Rub is mostly recommended for prime ribs, but it can be used basically for any other red meat, including butt, roast, steaks, etc.
Question: Where is Excalibur Prime Rib Rub Being Made?
Answer: Excalibur Seasoning is an American family-run company based in Pekin, Illinois. Their products are being made in the USA.
Question: Does Excalibur Prime Rib Rub contain any allergens?
Answer: The producer indicates that this seasoning mixture contains soy.
Final Thoughts: A Tasty Prime Rib Rub That's Easy to Love
If you like rich and versatile flavors, Excalibur Prime Rub is a seasoning you should certainly try. Although it is, apparently, recommended mostly for prime ribs, it is also perfectly suitable for many other popular types of meat and styles of preparation.
Nevertheless, it has some downsides too. For example, if you want to avoid glutamate, you are forced to settle with a rather bland MSG-free alternative that lacks the richness of its less-healthy counterpart.
Moreover, the fine texture of this rub also contributes to its hardening into a homogenous brick, which can probably discourage some users from future purchases.
We hope this review will help you decide whether Excalibur Prime Rub is worth your time and money. Need advice on cured meats? How about reading our recent Cotto Salami Guide or our Erbswurst Guide and History?