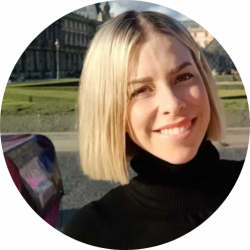 Latest posts by Jodie Chiffey
(see all)
If you're in urgent need of a robust and reliable meat grinder, the Weston 22 Meat Grinder might seem like a great solution. But the price tag on this mighty kitchen tool might easily discourage you. Is this grinder really worth the investment? Our Weston 22 Meat Grinder review will hopefully help you make the best decision.
When I was looking for a meat grinder for the very first time, I didn't know what to expect and ask for. How big should it be? How powerful? What safety features should I require it to have? Somehow instinctively, I've ended up evaluating the Weston 22 since I repeatedly stumbled upon its name in various discussions and comparisons. When I explored its specifications, I was immediately hooked on it. But the price tag was nothing to be sneezed at.
Are you ready to find out if you should invest in this machine? Let's start with a summary of its specifications.
Key specifications of Weston 22 Meat Grinder
| | |
| --- | --- |
| Type of grinder | Electric Stainless Steel Meat Grinder |
| Grinding plates | Coarse (7 mm) / Fine (4.5 mm) |
| Blade material | Stainless Steel |
| Performance | Up to 14 lbs. of meat per minute (up to 840 lbs. per hour) |
| Motor | 1. 5 HP, 1125 W, air-cooled & permanently lubricated motor, front/reverse modes |
| Dimensions/weight | 17 x 24.75 x 15.5 inches/60 pounds |
| Latest price | Click here for the latest price |
Core features of the Weston 22 Meat Grinder
Regardless of your level of professionalism, personal preferences, or actual needs, there is a specific set of attributes and qualities we all should be looking for when it comes to our kitchen equipment. How does Weston 22 Meat Grinder stand when you look at each of its features in detail?
Construction and design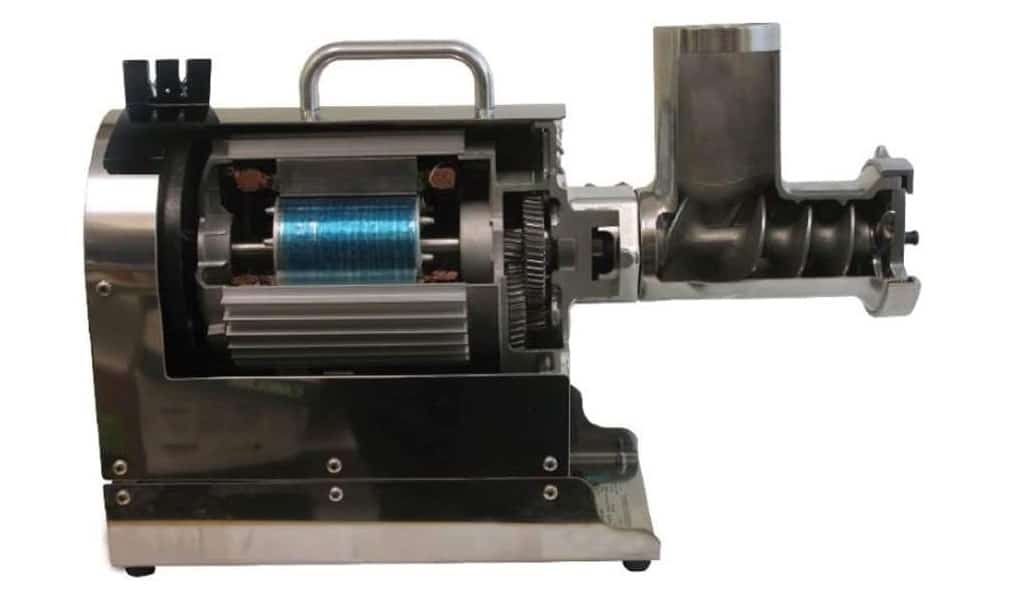 Weston 22 Meat Grinder is a robust and sturdy commercial-grade machine that is designed to withstand almost anything. Its body is made of massive stainless steel, whereas some functional details are durable black plastic.
At very first sight, it is pretty evident that this is a simple old-school machine that gets the job done and doesn't bother you with any unnecessary extras and additions. Nevertheless, it still has a practical inbuilt knife sharpener and a small set of useful accessories like sausage funnels.
Weston's design's most important characteristic is its robustness, which makes working with large quantities of meat very simple and straightforward. The feeding pan measures 13.5" x 9.25" x 3.5", which allows you to load it with a nice amount of meat chunks at once and shorten your workflow effectively. The feeding tube is quite wide, too – it boasts a diameter of 2.5 inches.
The whole grinder measures 17 x 24.75 x 15.5 inches and weighs 60 pounds. Thanks to its generous dimensions and stability, the machine is highly versatile, reliable, and durable. On the other hand, if you're dealing with limited space in your kitchen, buying such a large machine might not be a good idea.
Moreover, the weight of this grinder won't allow you to replace it easily after every use. This machine is meant to be permanently installed in its place.
Functions and Controls
A meat grinder is designed for a single purpose – meat grinding. And that is precisely what the Weston 22 Meat Grinder does. But can it deal with any task you need it to accomplish?
After using this beast for some five to six months, I am pretty confident that it can. Whether you use it to grind beef, pork, or poultry, this grinder is powerful enough to process any meat evenly, fast, and conveniently. You don't even have to cut the meat into small pieces – thanks to its wide feeding tube and large tray, the grinder can deal with larger chunks of meat without issues.
Of course, the main component behind this ability is Weston's powerful 1.5 HP / 1125 W permanently lubed and air-cooled engine. This really is a professional solution that will not disappoint even the pickiest chefs or butchers. The motor has a standard and reverses functionality, so if you eventually get stuck, the grinder will smoothly move in the opposite direction to release any stuck material.
The machine includes coarse and fine steel grinding plates (7/4.5 mm) and 10, 20, 30 & 40 mm sausage-making funnels, giving you even more options and versatility.
When it comes to the general convenience of use, this machine is perfectly user-friendly and straightforward. Whether you're an experienced chef or you are grinding your own meat for the first time, this machine is going to make it easy and painless for you.
Safety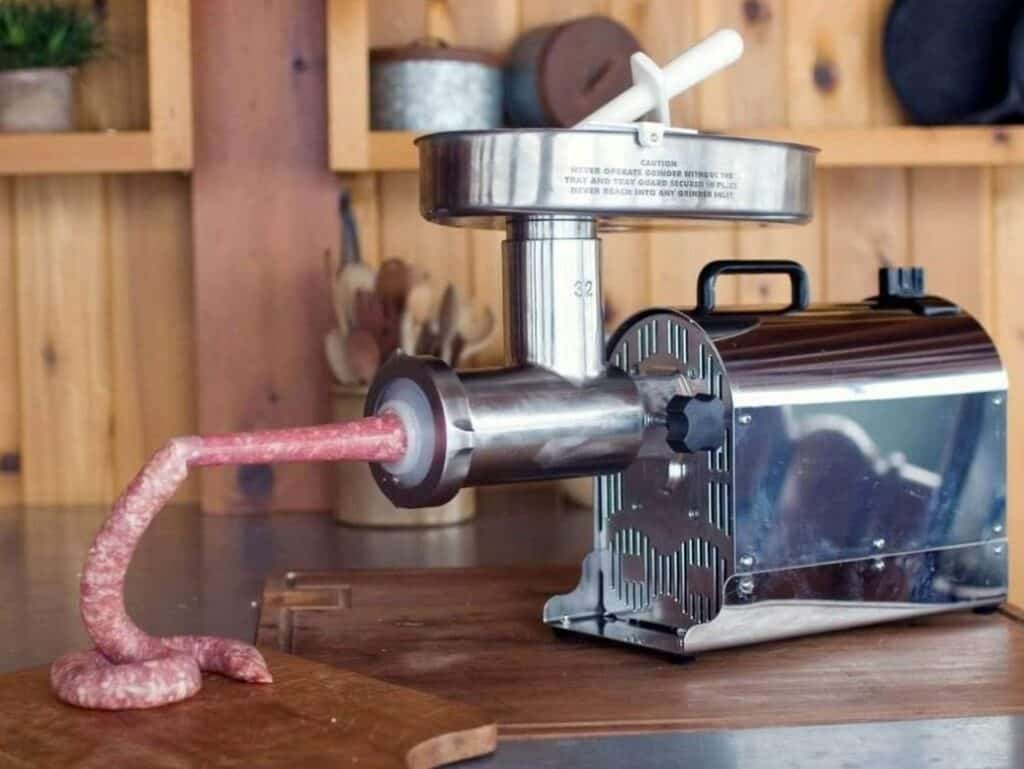 Unless you stick your fingers where you shouldn't, there are not many safety risks associated with this type of meat grinder. To eliminate this potential threat, the Weston 22 has an excellent safeguard on the tray. The machine is robust enough to stay in its place almost effortlessly, so I wouldn't fear it moving or falling off the counter in the middle of your grinding session at all.
Another risk related to any meat processing machinery is the potential bacterial contamination. This mostly happens when you don't (or cannot) clean your tools thoroughly after every use. Thankfully, the Weston 22 Meat Grinder can be easily disassembled for this purpose, so you can access all of its components and clean them thoroughly.
Moreover, the grinder is made of food-grade stainless steel, which is considered very hygienic and easy to clean. The meat literally peels off from it without leaving any residues, and there are no hidden pores and grooves to accumulate the debris.
Reliability
The Weston 22 Meat Grinder is a large and durable, heavy-duty all-metal machine. It also has a powerful permanently lubed and air-cooled engine. If you use it properly, it is very unlikely to break or malfunction. Besides that, Weston also provides a 5-year warranty on its grinders for your complete peace of mind.
Price
The price of this machine is definitely its greatest drawback since there are numerous cheaper (and still very good) electric meat grinders on the market. For its latest price, click here.
Pros of the Weston 22 Meat Grinder
Versatility
If you don't want to accumulate piles of useless kitchen equipment, you should always be aiming to get as versatile tools as possible. In this regard, Weston 22 is a perfect solution since this powerful meat grinder can be used for pretty much any type of meat.
Moreover, although the manufacturer advises that it shouldn't be used to grind meat with bones, users often mention in their reviews that they could use it for this purpose, too, without causing any damage to the machine.
Easy to use and clean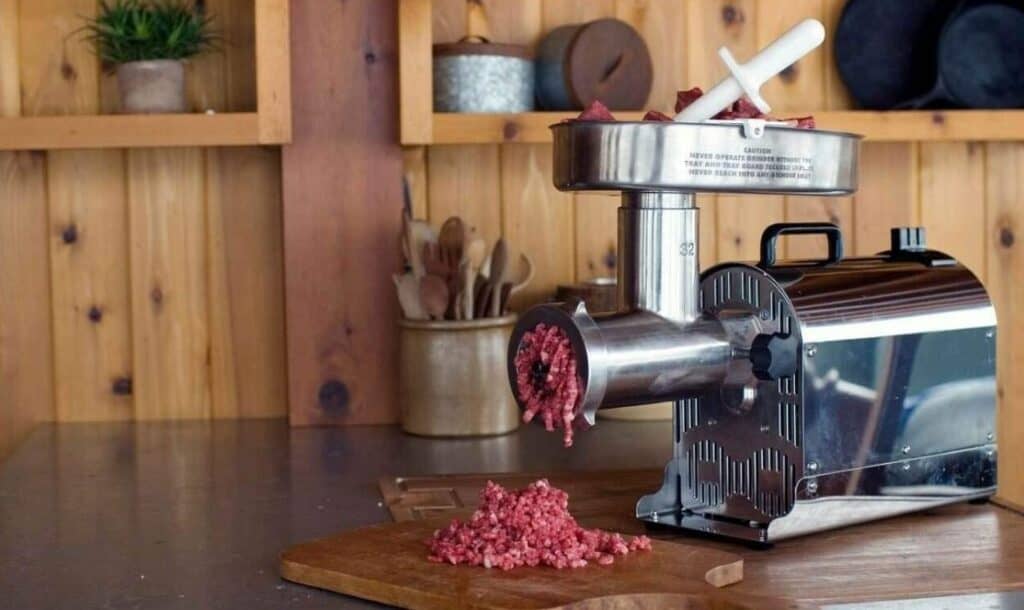 Whether you are a professional butcher or a busy home chef, this machine makes meat processing very fast and simple. It is also super-easy to disassemble all the main components when you need to clean the machine properly.
Durable materials and a generous warranty
If you invest several hundreds of dollars in a meat grinder, you will surely expect it to last for many years to come. Thanks to its sturdy construction, thoughtful design, and powerful engine, the Weston 22 is most likely not going to disappoint you. In any case, Weston provides a 5-year warranty on all of its electric meat grinders.
Safety and hygiene
The design of this meat grinder won't let you stick your fingers anywhere where they shouldn't be. The tray is protected with a safeguard and ergonomic handles to hold on to it safely and properly. Moreover, the grinder is made of hygienic stainless steel, and it is effortless to clean, which minimizes the risk of bacterial contamination.
In-built sharpener and added components
The Weston 22 meat grinder comes with two grinding plates that allow you to choose between coarse and fine grinding patterns. Additionally, it also comes with a variety of sausage-making funnels, which are very easy to use. There is also an integrated knife sharpener.
Cons of the Weston 22 Meat Grinder
Large and heavy
As with most professional-grade kitchen tools, Weston 22 Meat Grinder is a massive machine that will easily occupy most of your kitchen counter. Logically, it is also quite heavy, so manipulating it on your own might be truly inconvenient. If you're looking for a grinder for occasional use and plan to store it in a box between individual uses, this is not the best solution for you.
High-priced machine
Investing several hundred dollars in a meat grinder is surely not for everyone. If you're looking for a budget-friendly tool, many other options on the market will suit you better.
Are there any alternatives?
Not sure if Weston 22 is perfect for you? Looking for a grinder that would suit your current needs better? Here are some interesting alternatives we recommend trying:
Gourmia GMG525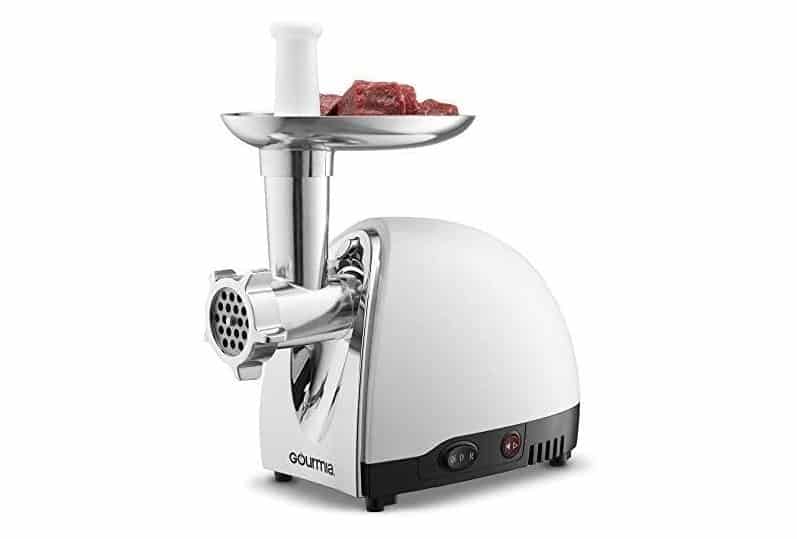 Gourmia is often referred to as one of the best manufacturers of meat grinders for at-home use. Its GMG 525 grinder with 500/1000 Watt engine, three optionable grinder plates, and very affordable price is a perfect example of what this brand has to offer.
This nice little grinder is ETL certified, and it comes with various useful extras, including a sausage funnel. The machine measures only 5.5 x 13.5 x 11.75 inches and weighs less than 7 pounds, which means that this is also a perfect solution for those dealing with limited space.
LEM Products W780A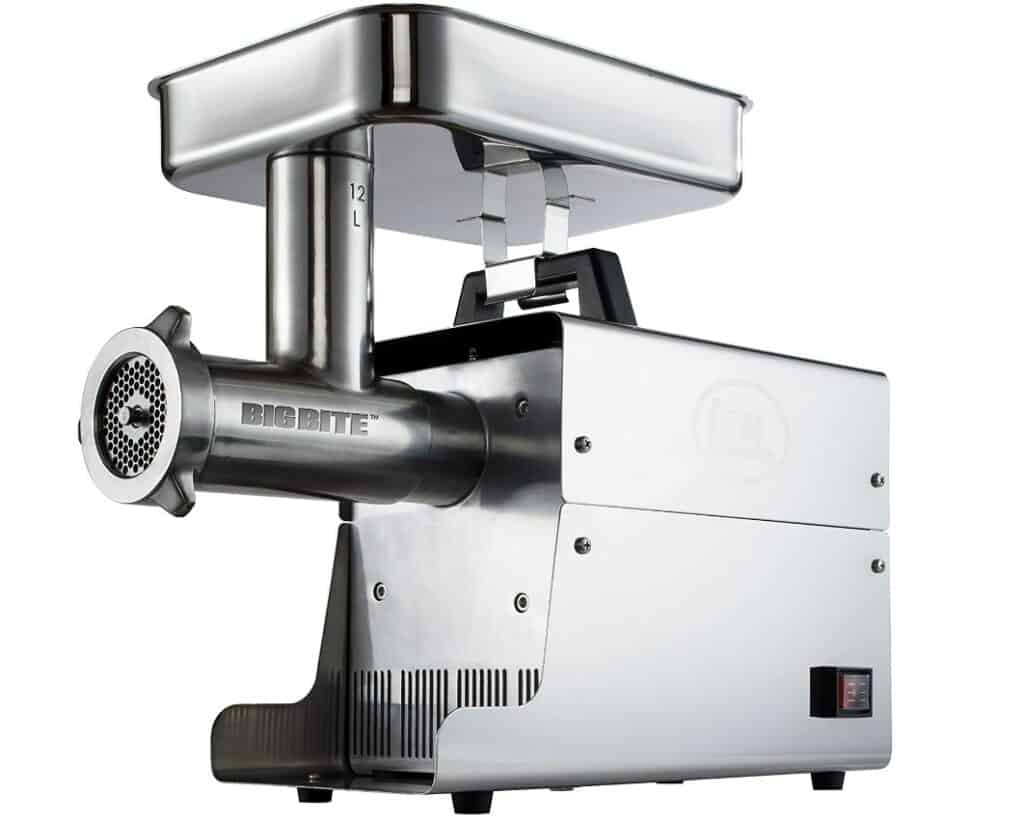 If you are not too limited by your budget or space on your kitchen counter, LEM Products W780A Big Bite Electric Meat Grinder might be a good choice for you to consider. This machine has a permanently lubricated 110V motor with 550 watts, and it is ETL certified and able to cope with pretty much anything you ask it to grind for you.
The package includes a meat stomper, a stainless steel knife, a stuffing plate and tube, and two stainless steel plates for coarse and fine grinding. This acclaimed machine also comes with a five-year factory warranty.
Frequently Asked Questions
Question: Are Weston 22 meat grinders made in the USA?
Answer: Weston is a reputable American manufacturer of meat grinders, fry cutters, burger presses, butcher saws, and other types of tools and equipment for both at-home and commercial kitchens. Nevertheless, most of its products are only designed in the US and manufactured in China.
Question: Are Weston meat grinders any good?
Answer: Weston Meat Grinders, such as the Pro series Weston 22, are considered among the best meat processing tools currently available. If you check the reviews on their products, you will see that the vast majority of the users are delighted with the quality and abilities of Weston products.
Question: Why is Weston 22 meat grinder so expensive?
Answer: Weston 22 is an electric meat grinder designed and constructed for commercial use, which means that it is a powerful, heavy-duty piece of equipment that should last for ages and provide even and reliable results time after time. Compared with many cheaper grinders, this tool is much more versatile, it is fully certified, and it also comes with a 5-year warranty.
Final thoughts: Should You Invest In Weston 22 Meat Grinder?
If you ask me about my personal experience with this machine, I must say that the Weston 22 is probably one of the best meat-processing devices I have ever invested in. It is reliable, versatile, powerful – in short, it is exactly the kind of a machine you want to have at hand when you need to do some serious grinding. Evaluating all of its qualities and features, I believe this grinder can satisfy any professional chef or highly ambitious at-home culinarian.
On the other hand, do I think that this is the best grinder for everyone? I must admit that it probably isn't. If you're looking for a decent grinder for occasional private use, you will certainly find many great alternatives which are not only reliable and fully functional but also much more affordable.
Moreover, if you choose one of the smaller devices, you will pack it up and store it away, which is not possible with the heavy and robust Weston 22. Some of the options I have provided in the alternatives section might surely work great in this regard.
We hope this review will help you make the best decision for you and determine whether the Weston 22 meat grinder is just what you want and need. Need more guidance on finding the right equipment for your meat-processing passion? Our guide to finding the best smoker might interest you!