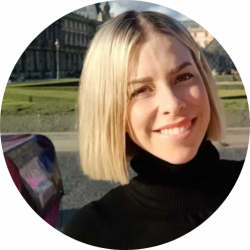 Latest posts by Jodie Chiffey
(see all)
Few things in the world compare to the taste of well-smoked meat. Whether you prefer prime rib, fish, or sausages, you will agree that the best-tasting meat takes its time on the grill, soaking up all that delicious smoke. And for this to happen, a good smoker is needed.
Now, you can walk into your nearest Walmart and pick one without fully knowing what you are getting. However, you can also rely on us to give you an in-depth review of the best Walmart smoker options available. This way, you know exactly what to expect from the smokers available and which one will best suit your needs.
We have gone through the smokers available in the Walmart catalog and picked 7 of the best options you can find on the market. Read on to find out more!
At a Glance: 7 Best Walmart Smoker Options
| | | | | |
| --- | --- | --- | --- | --- |
| Name | Dimensions | Best for | Weight | More Info |
| Masterbuilt 30" Electric Outdoor Smoker Grill | 20.5" x 19.9" x 33.3" | Cooking in large quantities | 39.34lbs | Find out more |
| Kamado Joe Jr. Charcoal Grill | 19.75" x 27" 20.75" | Portability | 68lbs | Find out more |
| Char-Griller Akorn Jr. Kamado Charcoal Grill | 20" x 20" x 25" | Operating in small spaces | 40lbs | Find out more |
| Camp Chef Smoke Pro SE Grill | 40.5" x 25" x 22" | Cooking outdoors | 110oz | Find out more |
| Cuisinart Gas Smoker | 22" x 22.5" x 38.6" | Cooking with gas | 69.5lbs | Find out more |
| Bradley Original Smoker | 14.2" x 16.9" 31.1" | Cooking with electricity | 55lbs | Find out more |
| Z Grills Wood Pellet Smoker | 47" x 20" x 45" | Cooking with wood | 84 pounds | Find out more |
Selection Criteria
Choosing the right smoker can make all the difference to those Sunday afternoon barbecue sessions. It is important that you choose a smoker that serves you right from the word go and lasts you for years. To ensure that you get this from your Walmart smoker, the ones we list below all have the following important features:
Temperature Balance
A smoker should have a wide range of temperatures that its thermostat can reach. This makes it possible for you to cook different types of meals at the right temperatures. For example, you do not want your medium-rare steak to come out well done, or even worse, scorched. We have picked smokers with stable thermostats that can maintain the temperature you set for hours until you switch the smoker off.
Fuel Efficiency
Whether you pick a gas, wood, or electric one, your smoker should make maximum use of the fuel. Fuel efficiency is enhanced by the heat distribution and insulation properties of a smoker. That is why all the smokers on our list are made from quality, heat distributing materials. Some even have multiple walls of insulation to keep the heat intact and waste less fuel.
Ease of Cleaning
Smokers that need to be dismantled each time you need to clean out ash and grease are not ideal. All the smokers on this list have an easy clean feature, whether it is a twist-out mechanism to dump out ash or an accessible back door so you can manually reach all levels of the smoker for cleanup.
Reasons to Buy a Walmart Smoker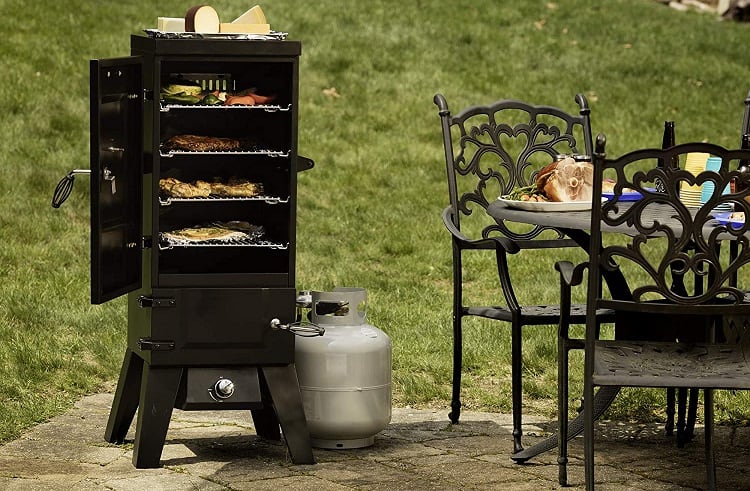 Smoker Variety
We all love Walmart for the numerous product options they provide us with. Fortunately, this extends to smokers. With Walmart smokers, you get the option between different brands, materials, fuels, and capabilities. The best thing is that you can walk into any Walmart store and interact firsthand with the different options so you can pick the best option for you.
Long-Term Food Storage
Smoking is a great food storage technique that has been in use for millennia since we discovered fire. It is a healthy storage option that is great for storing seasonal meat, for example, game. Salting, smoking, and vacuum-sealing your meat will give you at least 4 months in the freezer without spoilage.
Sturdy Construction
Walmart smoker options give you a wide variety and designs of smokers to choose from. Materials like stainless steel, cast iron, and aluminum combine durability with proper heat distribution and utilization. Depending on your tastes, you get to pick among the various smoker shapes, whether it is oval-shaped or square types or those that look like traditional backyard grills.
Tips for Using a Walmart Smoker
Smoker Setup
While most smokers are suited to an outdoor cooking space, some are small enough for indoor cooking. Regardless of the place, ensure you set up your smoker in a space that is protected from too much sun, rain, and snow. The space should get enough airflow, so your fuel properly combusts to release healthy smoke.
You should also have enough space to facilitate easy cleanup of your smoker.
Use Correct Wood Pellets
Most smokers rely on wood pellets for that smoky aroma you expect from a smoker. Smoker-specialized wood pellets are your best bet for this. These are hardwoods that have been properly dried to release dry smoke that will not contaminate your food. Experiment with the different types of wood chunks to get the flavor most appealing to you, even blending some flavors for a better taste experience.
Aim for Blue Smoke
Have you ever eaten smoked meat that just tastes like charcoal? That is what happens when you smoke your food with thick smoke plumes. Proper smoking technique relies on great airflow for combustion of the fuel. The result of this is a properly aerated smoke that is so thin; you might not even see it.
With proper practice, you will get rave reviews for your smoked meat every time.
7 Best Walmart Smoker Options
Masterbuilt 30" Electric Outdoor Smoker Grill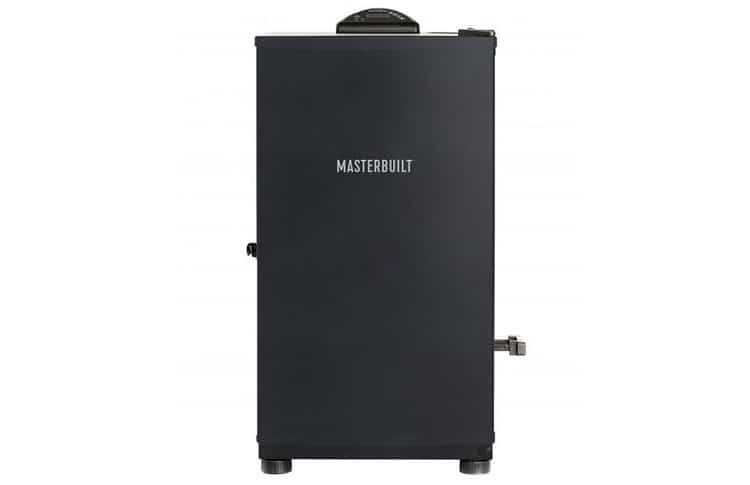 We kick off our list of the best Walmart Smokers with the 30" Outdoor Electric Smoker from Masterbuilt. This smoker brings exactly what you need from a smoker and adds a dash of technology to make its operation easier. It has an in-built thermostat and a digital temperature gauge so you can easily control the internal temperature. Its 800 Watts of power produces temperatures of between 100F to 275F.
The 30" Smoker is built for quality and durability. The body is fully insulated, which keeps the internal temperatures steady regardless of outside temperatures. Since this is an outdoor smoker, this feature is essential as your meat will cook well in the smoker even when it is freezing outside. In addition, this smoker uses wood chips as fuel, and has Masterbuilt's patented loading system makes it easy to add fuel even when the smoker is fully operational.
This 30" smoker can hold up to 80 pounds of meat inside. It has 4 racks coated with chrome. This makes them durable and heat-resistant. You can slowly smoke your back ribs, chicken, or fish for hours without the fear that things will fall apart. A removable pan at the bottom catches all the excess fats so you can easily keep your smoker clean.
Pros
800-watts of power produce high temperatures for cooking.
Features a digital gauge for easy temperature control.
Fully insulated walls keep internal temperatures steady.
Easy to keep clean with the removable drip pan at the bottom.
Big enough with 4 full racks so you can make meals for the entire family at one go.
Cons
Produces smoke only at the highest temperatures, which is inconvenient for cooking some types of meat.
Kamado Joe Jr. Charcoal Grill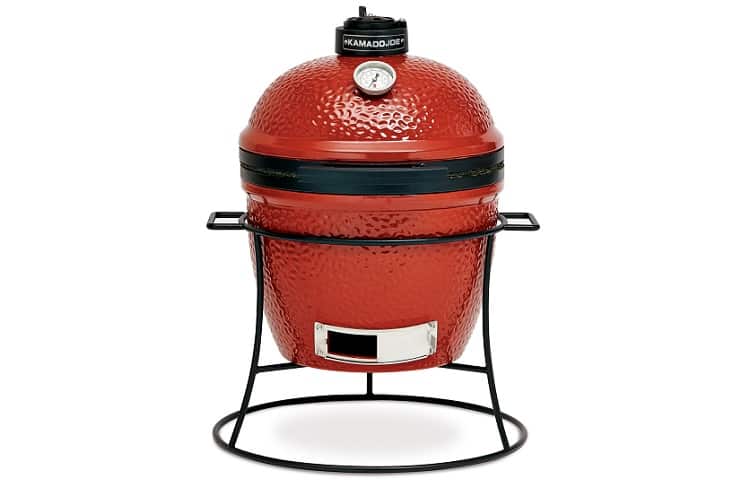 The 13.5" Charcoal Grill from Kamado Joe Jr. makes for a great all-round smoker. It is sturdy enough for outdoor grilling but small enough to be portable. Weighing in at 68 pounds, the Kamado Joe Jr. Charcoal Grill is great for tailgating or cooking your meat when out camping.
At 13.5 inches, this charcoal grill offers you around 148 square inches of cooking space. This is enough for a whole chicken, a rack of ribs, or a steak. You will remain with extra space to smoke your vegetables or corn on. The cooking grate is made from high-quality, heat-resistant 304 Stainless Steel. This food-grade material will ensure you get the best nutrients from any meal you cook in the smoker.
This smoker is made from thick ceramic. This material holds in heat and moisture so that your meat comes out evenly cooked, tender, and juicy. There is a temperature gauge at the top that lets you control the fuel you put into the chamber.
An air vent allows you to release smoke as a means of temperature control. A heat deflector also gives you the leeway to use indirect heating based on the meat you are smoking. With a minimum temperature of 225F, you are assured of smoke production, which gives meat that essential flavor.
Pros
Small enough to be portable.
Features thick ceramic walls that provide insulation.
Has an air vent for temperature control.
Comes with a food-safe stainless steel grate for grilling.
In-built heat deflector provides indirect heating capabilities.
Cons
There is a learning curve in understanding the temperature gauge.
Char-Griller Akorn Jr. Kamado Grill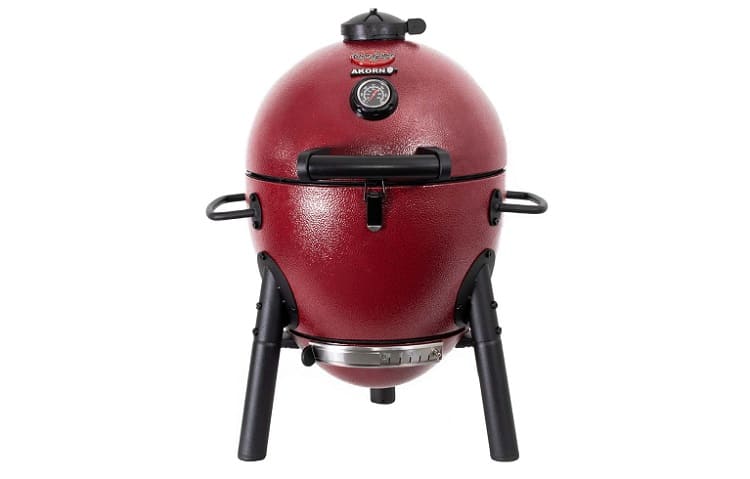 This is another Kamado Grill designed for the outdoors and small open indoor spaces. The Char-Griller Akorn Jr. Kamado Grill weighs only 40 pounds. This makes it great for small balconies and can easily fit into the trunk of your car for picnics or camping trips.
The Kamado Charcoal Grill features triple-walled steel. These walls provide great heat distribution so that all parts of the smoker are evenly heated. They also provide insulation so that the inside air remains steady. As a result, you are assured of evenly-cooked ribs, steaks, and other meals in this smoker. This smoker has enough space for 7 full burgers or a rack of ribs.
More features make Char-Griller's Charcoal Grill ideal for smoking your meats. The cast-iron cooking grates are not only great for even heat distribution but are also non-stick. This means you will not have to scrape part of your meals from the surface of the grates, making it easy to keep clean. You get a temperature gauge that allows you to monitor internal temperatures. Dual dampers allow you to release heat as needed to ensure that your food is not scorched.
Pros
Small and portable.
Large internal space for cooking enough food at a go.
Features triple walls for proper heat insulation.
Has non-stick cast iron cooking grates.
Unique dual dampers for enhanced temperature control.
Cons
Assembling can be difficult.
Camp Chef Smoke Pro SE Grill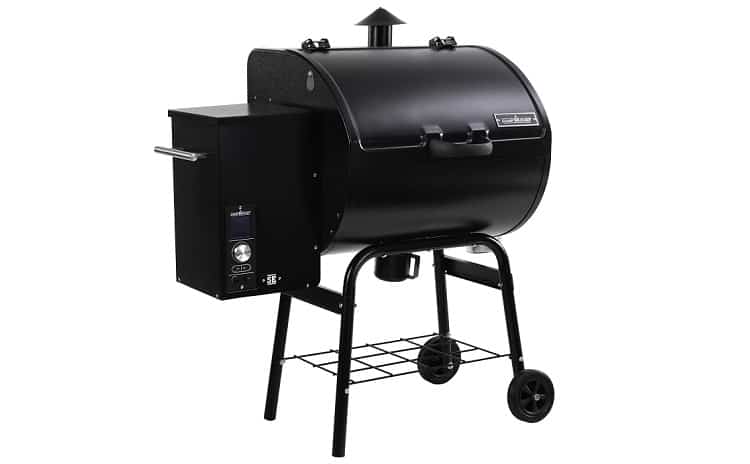 There is probably no other smoker grill on our list more suited to outdoor use than the Camp Chef Smoke Pro SE Pellet Grill. This is a sturdy smoker that will take its rightful place in your backyard, waiting for those barbecue afternoons. However, it has two wheels that make it easy to wheel it to a shed or your patio when it rains or snows. It is made from high-quality steel, making it durable enough to last you a lifetime.
This smoker uses wood pellets as fuel. It has an electric ignition for easy lighting up. With a temperature range of between 160F to 500F, you can set and monitor the temperature changes using the temperature gauge. And to ensure that temperatures in the middle are the same as those at the end, this pellet grill comes with 2 temperature probes. This way, you are assured of a thoroughly cooked meal.
The Smoke Pro SE Pellet Grill comes with 10 different smoke settings. You can set the smoke level depending on how you want your food to come out. The ash collects at the bottom in a tray that can be emptied using a lever. Grease also collects in one place, making the cleanup process easy. The ease of ash and grease cleanup elongates the lifespan of your smoker.
Pros
Wide temperature range for different ways of cooking.
Features double wheels for easy moving and storage.
Different smoke levels for proper cooking.
It comes with two temperature probes to ensure even cooking.
Has ash and grease tray to facilitate easy cleanup.
Cons
Lower temperature settings have higher fluctuations which are unsuitable for proper smoking.
Cuisinart Gas Smoker
The Cuisinart COS-244 Gas Smoker is the first of our kind on this list. It comes with a 40" gas hose that connects to a regular gas tank. The smoker is designed to efficiently use energy so you can slowly smoke any type of meat without depleting the propane gas fuel.
The gas the smoker uses for cooking can be controlled with a valve. The smoker has an in-built thermostat and a temperature gauge at the front door so you can easily monitor the heat levels. Further temperature control is enabled by a rear vent which helps release heat and smoke.
At 36", you get just over 5-square feet of cooking surface in the smoker. This gives you enough space to make meals for the whole family in one go. There are 4 racks that you can remove to fit larger meats like a turkey or a leg of lamb. There are also water and wood trays that you can easily empty to keep the smoker clean.
Pros
Efficiently uses propane gas for cooking and smoking.
Allows easy monitoring of temperature using a display.
Features an air vent for proper temperature control.
Spacious enough for cooking large meat types.
Comes with a water tray for moisture and temperature control.
Cons
It can be hard to get temperatures above 200F.
Bradley Original Smoker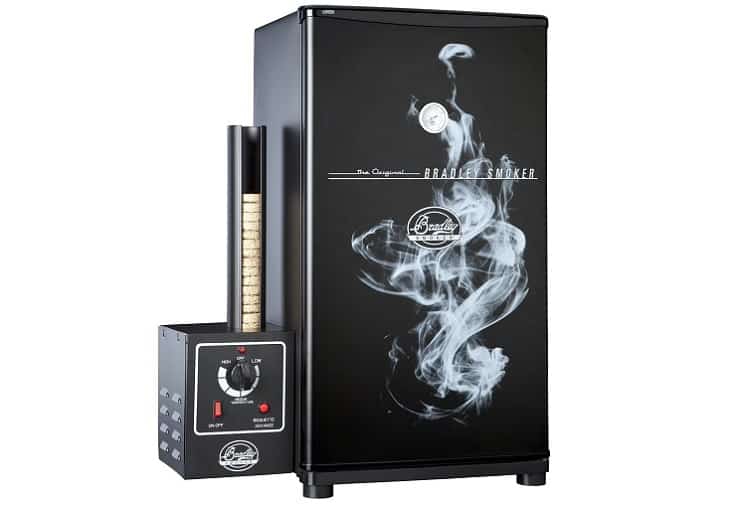 This Bradley Original Smoker is quite the looker, with its sleek design and cool graphics on the front door. However, it is more than that. It is made from stainless steel both inside and outside, making it highly durable and sturdy. Its walls are fully insulated to maintain the internal temperatures just how you set them.
It is an electric smoker with up to 120 volts of power. It has both cooking and smoking coil so you can decide just how you want your food. The smoker can reach up to 250F, and you have complete control over what temperature it cooks at.
You get four cooking racks, big enough to make enough food for the family. These racks are adjustable so that you can fit bigger meals inside the smoker. A side panel allows you to clean out any fuel and grease and carry out maintenance.
Pros
Made from sturdy, durable stainless steel.
Thick insulation allows for all-season cooking.
Features an electrical smoking mechanism.
Has 4 movable cooking racks for spacious cooking.
A side panel allows easy cleanup.
Cons
Its heating element is not stable, so temperatures can often fluctuate.
Z Grills Wood Pellet Smoker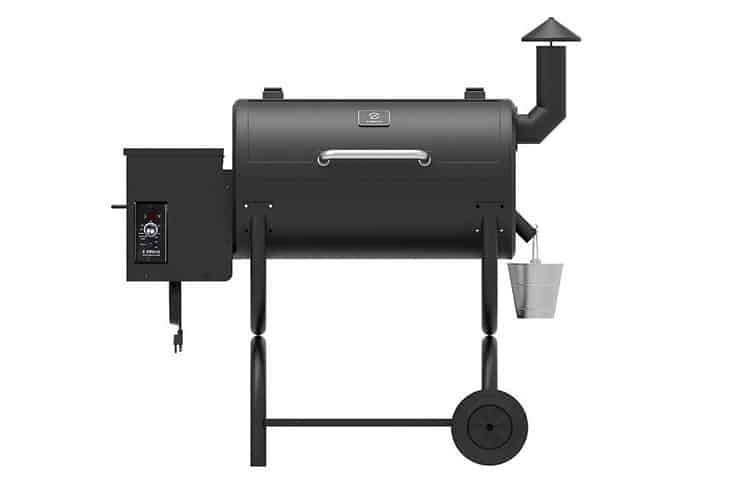 The Wood Pellet Smoker from Z Grills promises 7 functionalities: barbecuing, roasting, grilling, smoking, braising, searing, and baking. It uses organic wood pellets as fuel, and the temperatures can rise to 450F. An internal fan provides convection heating that allows you to cook various foods and meats in this smoker.
This smoker gives you 590 square inches of cooking space. This is enough to make food for the whole family. The fuel hopper has around 20 pounds of space for wood pellets. Combusting these can release smoke for up to 20 hours. This will give you multiple chances to slow-smoke your meat just how you like it.
Z Grills' Smoker is ideal for use outside. It has a sturdy metal leg to keep it anchored to the ground. There are locking wheels that make it easy to put away the smoker for storage after use. The smoker is also equipped with an oil collector that you can easily empty to keep it clean, ready for the barbecue session.
Pros
Features up to 7 cooking options for different types of foods.
Spacious enough for cooking in large quantities.
It has a wide temperature range.
Equipped with fuel-efficient combustion techniques.
Optimized for outdoor use and proper storage.
Cons
Temperatures fluctuate at higher temperatures.
Frequently Asked Questions
Question: How do I Get Juicy Meat When Using a Smoker?
Answer: To ensure that smoking your meat for hours does not dry it out, keep water close by. Spritz your meat before it starts cooking, and repeat the procedure once every hour. This moistens your meat and increases the humidity in the smoker so that the meat does not dry out. Putting a water pan below the meat will provide extra moisture while reducing temperature fluctuations, giving you tender, juicy meat.
Question: How Do I Properly Clean My Smoker?
Answer: It is necessary that you clean out your smoker after every use. The parts that come into contact with food should be washed and dried after each use. Check the manual to see if the parts are dishwasher safe or not. Dump out the ashes and scrub down the inner walls to get rid of grease and spattered sauces before storing your smoker. Steel wool can do a good job of this. Ensure that your electric smoker is disconnected from the outlet if you use water to clean to prevent electric shock.
Question: How Should I Store My Smoker?
Answer: Your outdoor smoker should always be kept inside a shed when not in use. This protects it from the elements and keeps the heating parts intact, ready for your next barbecue session.
Verdict: Which is the Best Walmart Smoker?
The Masterbuilt 30" Electric Outdoor Smoker Grill has emerged as the best Walmart smoker. It is an all-round smoker that gives you enough space for 80 pounds of food. It has enough power to properly smoke your meat for hours without exhausting your fuel while giving you maximum control over the temperature.
If you are interested in a more portable option that can fit in tight spaces, then the Kamado Joe Jr. 13.5-inch Grill is ideal. And for an environmentally friendly fuel option, the Bradley Original Smoker with its full electric capability is your best bet.