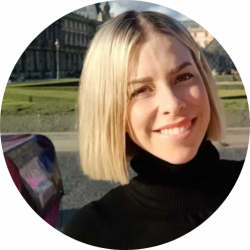 Latest posts by Jodie Chiffey
(see all)
A good meat slicer is a priceless addition to any kitchen. If you are looking for a useful meat processing tool to simplify your kitchen routines, look no further. Today, we will look at seemingly one of the most popular options for home chefs, the Weston Meat and Food Slicer.
Weston Products manufactures and sells meat grinders and accessories, meat processing equipment, and sausage making equipment. The brand is very popular across the United States, and it earned a place on Inc Magazine's 5000 Fastest Growing Companies List.
In this Weston Meat Slicer review, we will concentrate on one specific model: the Weston 9-inch 61-0901-W Heavy Duty Meat and Food Slicer.
This high-quality model is among the top electric food slicers that can be found on the market, so does it fulfill the needs of your average home kitchen? That's what we'll find out.
We will also cover some alternatives if you feel the Weston Meat slicer is not the right option.
If you work with meat often, you may want to consider investing in a professional tool. Check out our Hobart Meat Slicer Review to decide if this is the right meat slicer for you.
Key Specifications of Weston 9-inch Meat and Food Slicer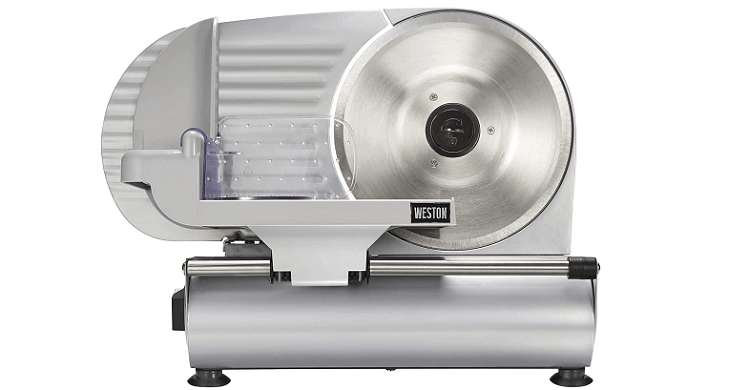 First, let us have a look at its specs:
| | |
| --- | --- |
| Type of Slicer | Electric Meat and Food Slicer |
| Blade Size | 6 inches |
| Blade Material | Stainless Steel |
| Operation mode | Manual |
| Motor | 150 Watts, 120 Volts, 60 Hz |
| Dimensions/weight | 10 x 17 x 12 inches 12.47 Pounds |
| Latest Price | Click here for the latest price |
Core Features of the Weston 9-inch Meat and Food Slicer
The Weston 9 inches Meat and Food slicer is a heavy-duty slicer that can be used for slicing a wide variety of foods, such as meat, vegetables, cheese, and more. First, let's take a look at its most important features:
Construction and Design
The Weston 9-inches meat slicer is relatively small and light, measuring 10 x 17 x 12 inches and weighing 12.47 Pounds. This makes it perfectly designed for the home kitchen. It is a good option if you have limited space in your kitchen and cannot fit larger tools in it.
This device comes equipped with a round, 6 inches blade. This high-performance blade can cut through nearly any kind of food you feed through it. The blade itself is made of stainless steel. This material makes it durable, easy to clean and prevents rusting.
The Weston 9-inches meat slicer comes with an adjustable thickness setting control that lets the user choose from "deli-thin" to a thickness of over half an inch. This feature will allow you to slice deli meats and bigger steaks – and everything in between.
A belt-driven 150-watt motor powers the machine. In addition to this, this product also comes with suction cup feet that keep it in place while you use it.
This product comes with a food pusher with teeth that are used for controlled slicing. It also has a removable tilt-out food tray for easy cleaning. All in all, this is a very efficient and durable machine great for your home kitchen.
Functions and Controls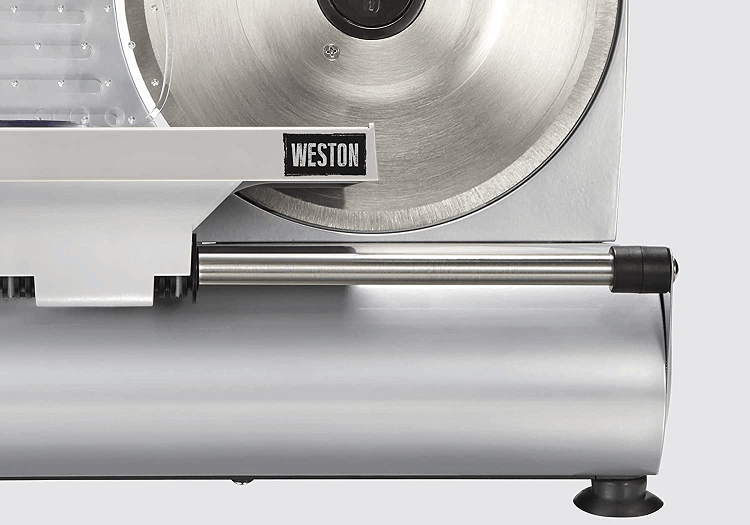 Its smaller dimensions and relative simplicity make the Weston 9-inches a very user-friendly device for your home. This electric food slicer is quite easy to use and does not require advanced technical knowledge.
The Weston 9-inch meat slicer has two basic controls you need to operate: the main switch that turns the blade rotation on and off and a thickness adjustment knob that you can use to set the gauge plate to the desired cutting thickness.
Before you begin operating the machine, place a tray or a plate behind the meat slicer and below the blade to collect the sliced food exiting the blade area. Then place the food you want to cut onto the sliding food carriage between the gauge plate and the food presser.
To slice the food, simply start the meat slicer by pressing the green "ON" button on the power switch.
Then push food in toward the gauge plate with the food presser and slide it over with the sliding food carriage until it reaches the end of its trajectory. Next, slide the sliding food carriage back and repeat until you have finished slicing the food.
It is recommended that you do not use excessive force while slicing the food. People sometimes make the mistake of pushing the carriage across the blade with too much force.
It should smoothly glide right through it. By forcing the slicer, you can wear down the motor and slow down the blade, which will negatively affect the performance of your machine.
You should not operate this machine continuously for more than 15 minutes. After you use the slicer for around 15 minutes, make sure to allow the device to cool down for 30-60 minutes before you start using it again to avoid damage.
Safety
You should take all the necessary precautions to avoid injury while using the slicer. The most crucial thing to keep in mind is always using the food carriage and food presser instead of your bare hands while slicing food with this device.
The Weston 9-inch meat slicer is equipped with a very sharp blade that can cut through many items. You should follow a couple of precautions regarding the blade: You should never try to stop the blade manually after the device has been turned off. You should also never try to remove food pieces from the blade while it is rotating.
This product also comes with a quiet, belt-driving running motor, which will keep your ears safe from excessive noise. The user is advised to wear cut-resistant gloves while operating this machine.
One last thing worth mentioning about this tool is the lack of a safety button. Like most electric food slicers, it merely has an on/off switch, so you need to be careful while using this product.
Reliability
Weston Products is a famous brand for electric food slicers, and their products are well known for being high quality and competitive. According to the many reviews available on the internet, the slicer will work properly for many years after your purchase.
This device is very sturdy, with parts made of corrosion-resistant coated steel and a base made of aluminum. The stainless-steel food tray glides effortlessly and tilts outward, which facilitates the cleaning process. The blade is also made of stainless steel, which prevents rusting and increases its durability.
Weston offers customer support a 1-year warranty on this slicer model, which is similar to what other manufacturers offer for these devices.
Price
This model has a relatively cheap price. If you enjoy slicing your meat at home, it represents a very good investment that should keep you satisfied for years.
For the latest price, click here.
Pros of the Weston 9-inch Meat and Food Slicer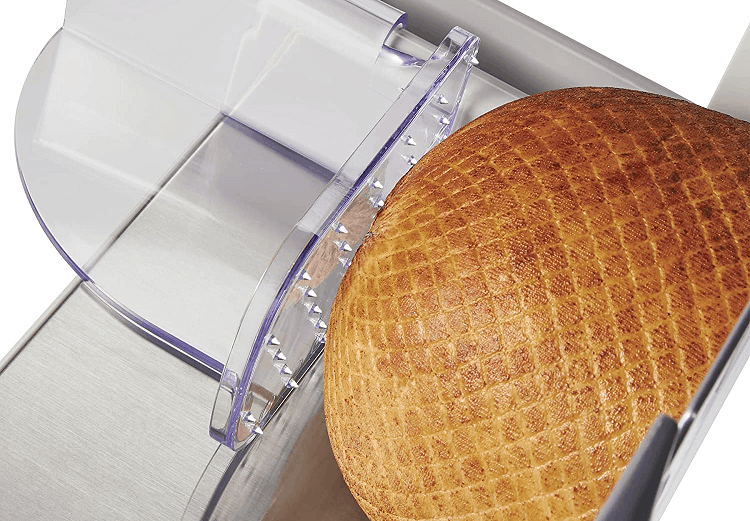 Let's summarize the biggest assets of this home-kitchen meat slicer:
Compact and Portable Design
The Weston 9-inches meat slicer features a compact design that makes it very easy to store and transport. Unlike bigger and heavier slicers, this product can be easily carried around without much effort.
Perfectly Versatile
This slicer can handle not just any type of meat but also many other food products. The stainless-steel blade can cut a wide variety of items such as fish, beef, pork, cheese, vegetables, or bread.
Thickness Control
This machine features an adjustable thickness setting control that lets the user choose the thickness of the cuts. For example, you can choose from "deli-thin" to a thickness of over half an inch.
Ease of Use
The Weston 9 inches slicer is very easy to use. It doesn't have any complex controls, which makes it simple to operate. It is also easy to disassembly when you need to clean it.
Warranty and Support
Weston Products offers repair services and spare parts on order. It also offers a 1-year warranty for this product.
Decent Price
The price for this machine is relatively cheap compared to some professional-grade devices. This makes it a perfect option if you have a limited budget.
Cons of the Weston 9-inch Meat and Food Slicer
It needs to Cool Down after 15 Minutes of Constant Use
The motor will overheat if it is used continuously for more than 15 minutes. If you operate this device for 15 minutes straight, you have to turn it off and let it cool for 30-60 minutes before using it again. This makes this slicer a poor fit if you need to slice food for long time periods.
Lack of a Blade Sharpener
Unlike other models, the Weston 9-inches meat slicer doesn't include a blade sharpener. However, you can buy replacement blades if you need them.
Are There Any Alternatives?
Here are some alternatives to the Weston 9-inches meat slicer you might want to consider
Chef'sChoice 615A Electric Meat Slicer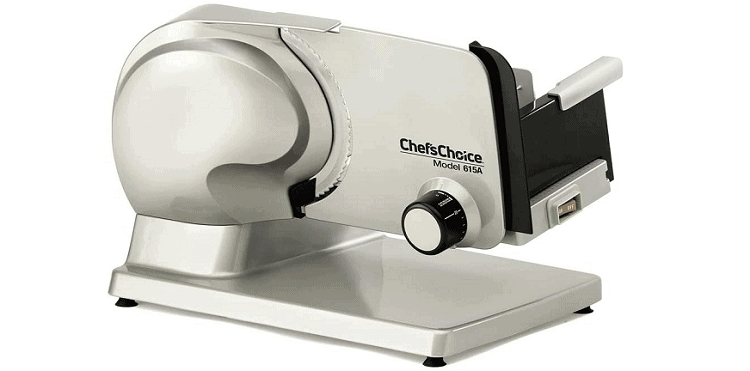 The Chef's Choice 615A is a handsomely styled machine that has been designed mostly for home cooking. Measuring 15.5 x 10.4 x 11 inches and weighing 10.61 pounds is perfect for those who want a smaller option.
This device is made of cast aluminum and stainless steel. It features a very powerful 120 watts engine which can operate continuously. Unlike the Weston 9-inches slicer, it doesn't need to cool down after using it for extended periods.
If you want more information on this meat slicer, please read our chef's Choice Meat Slicer Review and Guide.
KWS 320W Electric Meat Slicer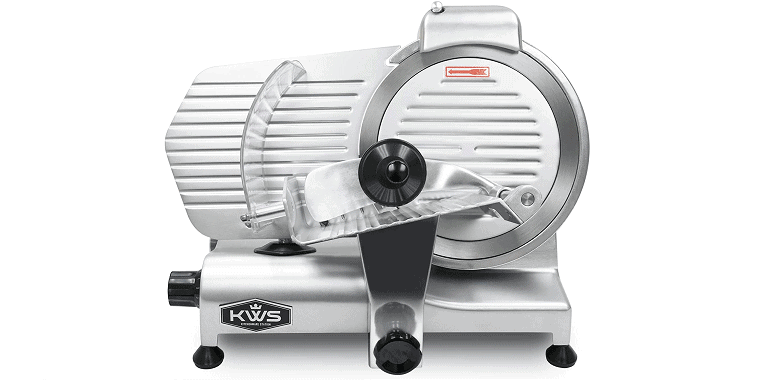 This machine is suitable for those of you who are willing to invest a bit more. It is a commercial-grade meat slicer, which should guarantee you professional performance for years to come.
The KWS 320W Electric Meat Slicer features a larger, 10-inches blade that can cut even frozen food. Its 320-Watt motor is surprisingly quiet considering its power. It also comes with a built-in sharpener that hones and sharpens the blade.
Berkel 827A Meat Slicer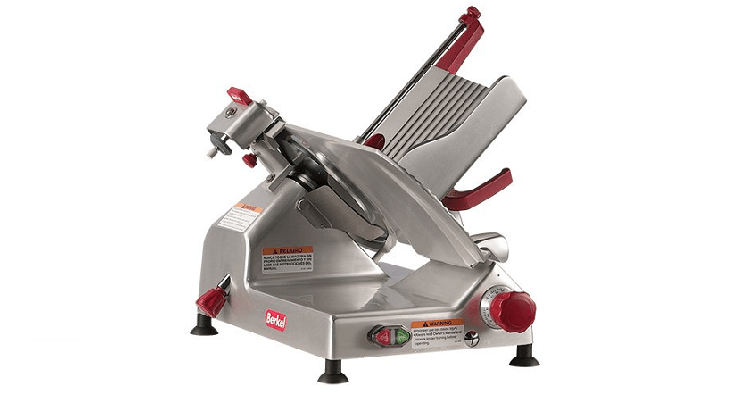 If you are looking for a bigger and more powerful machine, the Berkel 827A is a good option for you. With a size of 21.25 x 24 x 21.5 inches and a weight of 74 pounds, this is certainly a robust and heavy meat slicer.
Its powerful 0.5 HP motor and 12-inch carbon steel cutting blade can handle nearly anything you throw at it.
The Berkel 827A Meat Slicer has interesting features, such as an inbuilt sharpener, an ergonomic push handle, and a metal bottom enclosure that protects its components from food and debris. It can be quickly disassembled for cleaning without using any special tools.
Frequently Asked Questions
Check out these common questions and answers for more information on the Weston 9-inch food slicer:
Question: What is the Ideal Temperature for Slicing Food With the Weston 9-inch Meat and Food Slicer?
Answer: Cold temperatures are better for slicing, but the food should not be fully frozen. Fully frozen food contains ice crystals, which are too hard and will dull your blade as you operate the slicer.
The ideal temperature is very cold and somewhat frozen. I recommend that you place meat in the freezer for 30 minutes before you slice it.
Question: How do You Prepare the Food for Slicing?
Answer: I recommend that you cut food items in half before slicing in order to produce a flat surface. Cut them with the flat surface facing against the blade. This will significantly improve the slicing process. If you begin with an oddly shaped piece of food, you will have a hard time slicing uniform pieces.
Question: Where Can I Buy the Weston 9-inch Meat and Food Slicer?
Answer: The Weston 9-inch Meat Slicer can be bought on Amazon. This item can be shipped within the U.S and to certain countries outside of it. This slicer is a staple kitchen tool and can be bought in many supermarkets and food stores.
Question: What Kind of Food Can I Process With the Weston 9-inch Meat and Food Slicer?
Answer: This heavy-duty food slicer is capable of cutting a wide variety of food, whether it is meat, vegetables, cheese, bread, and more. Its thickness control function makes it fit for anything from thin turkey slices for sandwiches to thicker beef pieces for a steak.
Question: How do I Clean the Weston 9-inch Meat and Food Slicer?
Answer: I recommend that you clean the outer surface of the Meat slicer with a damp cloth. You can use a mild detergent with water to dampen the cloth. The blade can be removed for easy cleaning.
Just detach the blade and clean it using hot soapy water. When you do this, make sure to wipe away from the blade. Never wipe towards the blade.
Final Thoughts: This Slicer is Great for Home Use
The Weston 9-inch Food slicer is currently among the best models of meat slicers available on the market. This tool strikes a great balance between performance, power, and versatility. The high-quality stainless steel blade has been designed to cut a wide variety of foods, such as meat, cheese, and vegetables.
The design of this product makes it perfect for home use. Its smaller size and lightweight make it easy to store and move around the kitchen. It also has several interesting characteristics, such as a relatively quiet motor and a thickness control feature.
Hopefully, this guide has provided you with all the information you need on the Weston meat slicer. If you want to read more about meat slicers, check out our Hobart Meat Slicer review and Rival Meat Slicer review for further alternatives.