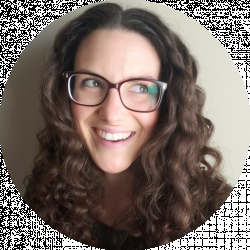 Latest posts by Sarah Caldwell
(see all)
The popularity of meat delivery services continues to grow and more people are signing up to receive meat at their door. With all of the options, it's tough to know which might be right for you, where they source their meat, and what kind of processes they use.
I'm here to help you decide if Farm Foods Market is the right choice for you. They're a popular meal delivery service so I'll talk about everything they have to offer and discuss things you may want to know before you place your first order.
But first, let's talk about how Farm Foods Market is.
Who is Farm Foods Market?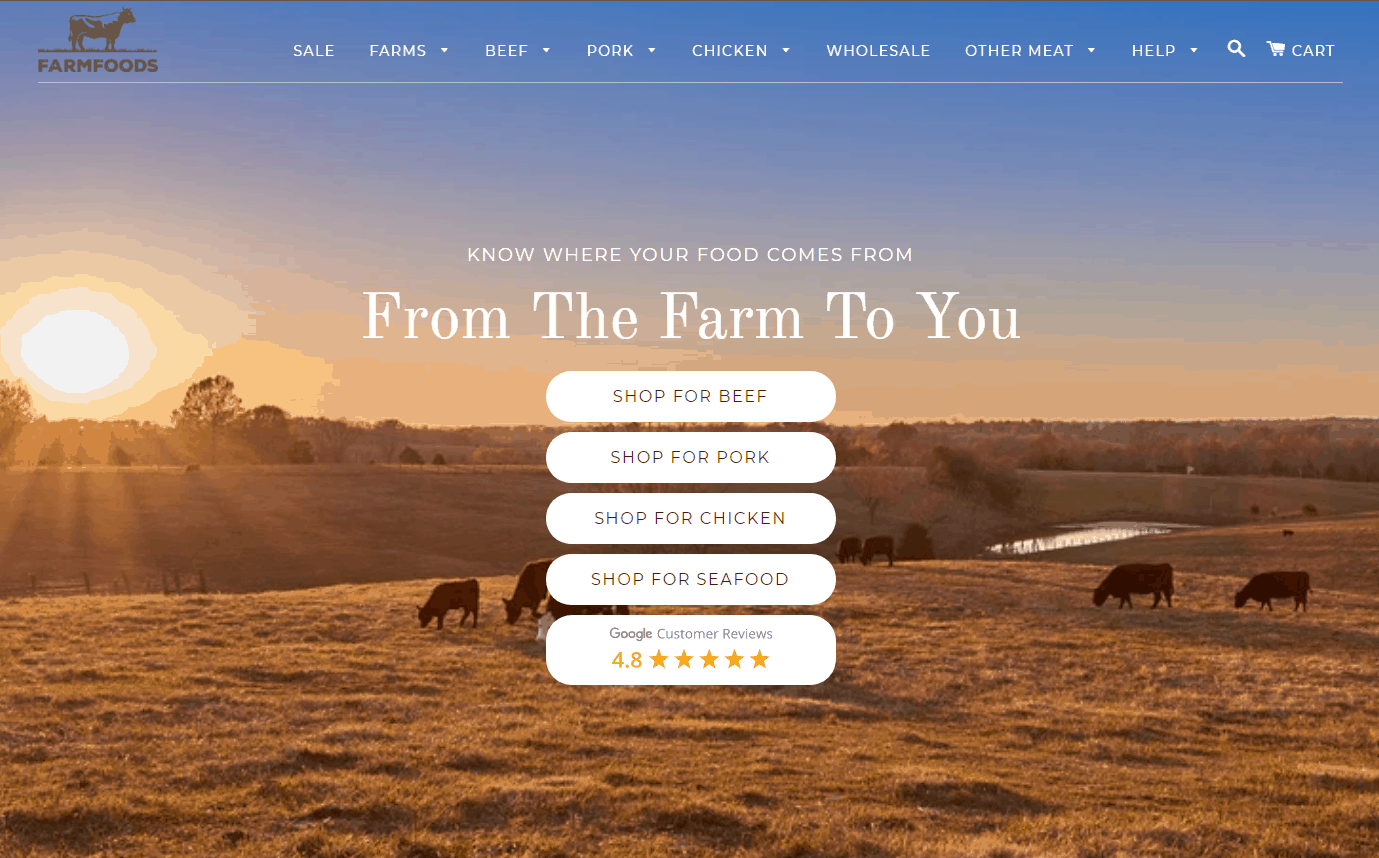 Farm Foods Market is located in Los Altos, California. They're a meat delivery service that specializes in fresh, high-quality meat. The company may be new to the market, but it's still competing with the big dogs like Crowd Cow, ButcherBox, and Omaha Steaks.
You may notice the Farm Foods Market mission statement. They take that pretty seriously. They aim to provide customers with access to farm-to-table meat and authentic flavors that set them apart from the rest of the market.
Key Features
Farm Food focuses on delivering the best quality meats at reasonable prices, and they do in a number of ways.
Meat Sourcing
This is the top of our list because it's a top priority. Most people will pay a little more if they know their meat is sourced from a reliable ranch using sustainable practices. Farm Foods Market only works with these types of farms, and because of that, you get the best quality meat no matter what you order.
Affordable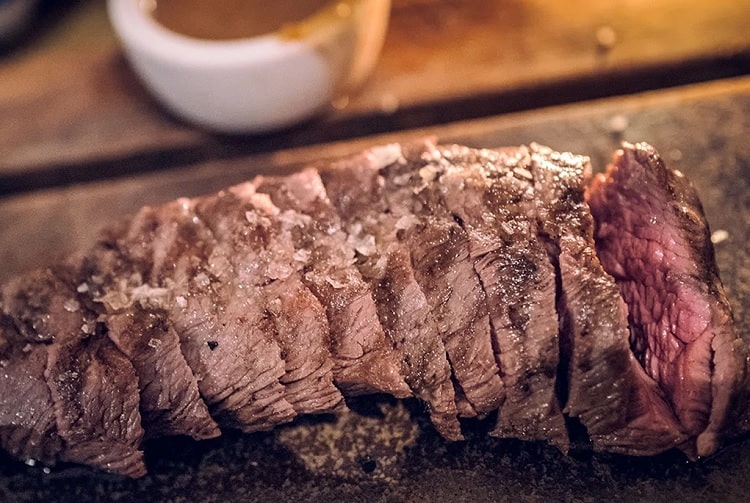 Not every meat delivery service is affordable, but here's where Farm Foods Market is different. They claim to offer high-quality meat at affordable prices, which means you get the best of both worlds. With Farm Foods, you're getting an affordable option for other pricey meat delivery services.
Packaging
Farm Foods Market also aims to promote sustainable practices by minimizing their packaging. It lowers their cost, helping them to keep costs low for you, too. Instead of using all of the fancy packaging that others use, they use the most basic package they can get your meat to you safely.
What Meats Can You Order?
Great question! There's a lot! You can order staples like beef, chicken, or pork and get it delivered right to your door. You can also get seafood, duck, sausages, and some game meats.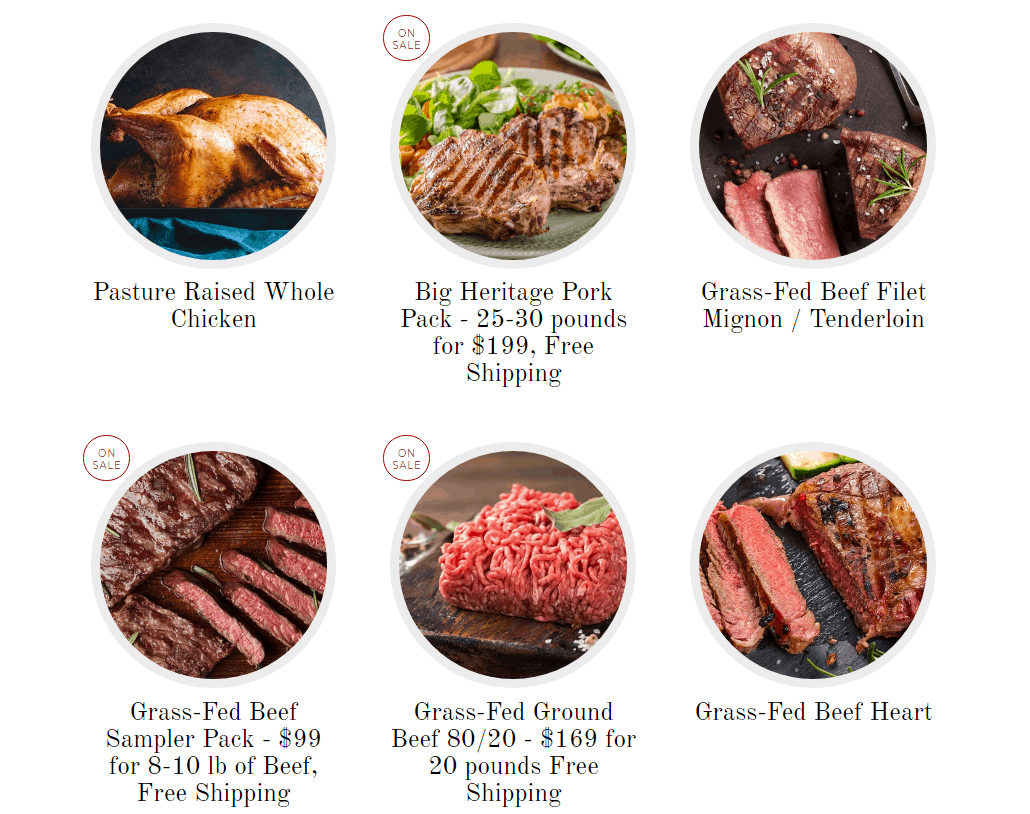 Beef
Beef comes in individual packages or value packs and Farm Foods has a generous selection of cuts, so you are bound to find your favorite. It's a great way to order a meal for two or stock the freezer for your family. Check out the best online beef delivery services you can try!
If you want to buy meat in bulk, the value pack is a great option. You can buy up to 40 pounds of ground beef at a time and the Farm Foods website will let you sort by price or features.
There are more than 5 pages of selections. For the more sophisticated palette, Farm Foods also offers grass-fed Wagyu, a Beef Bone Mixer, whole grass-fed beef, and a Premium Steak Sampler.
If you'd rather not buy in bulk, there's still plenty of opportunity to get what you love. They offer ribs, steak, beef jerky, sausages, and hamburger patties.
Pork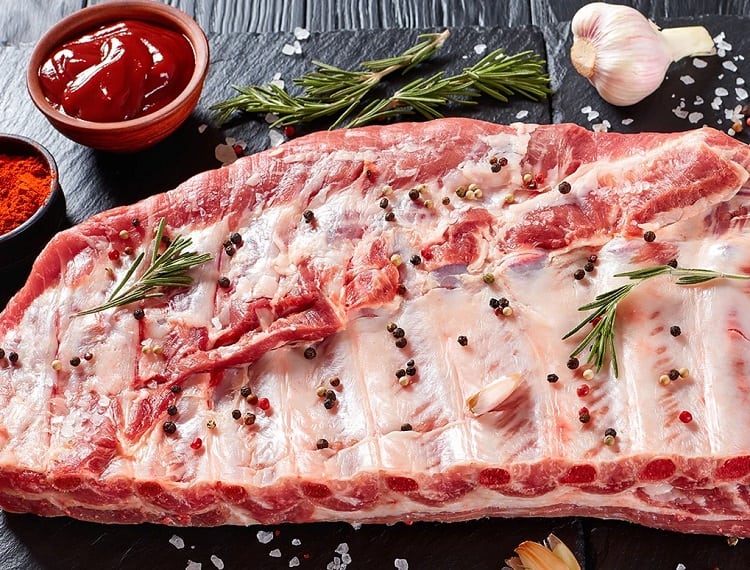 There are more than 6 pages of Heritage pork you can scroll through. It doesn't matter if you're buying it for yourself or a large family, because there's a wide selection of large and small packages here.
There are options like bacon, sausage, ham, pork chops, sausage, pork belly, pork tenderloin, and more. You can also get unique items like pig tongue, ears, tail, or kidney for those who are feeling adventurous.
Chicken
While Farm Foods Market doesn't have as wide a selection of chicken as other sites might, the options are simple, straightforward, and packed with just the same amount of quality as everything else. You can get drumsticks, wings, thighs, or a whole chicken. You can also order a 10-pound value pack.
Additional Meat and Seafood
Those aren't the only meat options at Farm Foods Market. They have a few other unique selections like duck, pheasant, lamb, elk, bison, and plenty of different kinds of sausage links. If you're partial to one of these or you've been dying to try something different, you're in for a treat.
If you love seafood, Farm Foods offers Pacific cod, halibut, tuna scallops, salmon, and a few other options. This selection is like the chicken. It's not as diverse as the beef or pork offerings, but you're still getting some quality meat.
Where is the Meat Sourced?
This is an important question that many people want answered before they order meat online. It only makes sense to learn as much as you can about where your food is coming from. It's important to understand how they get the quality they do, especially if you're concerned about humane practices.
Farms and Ranches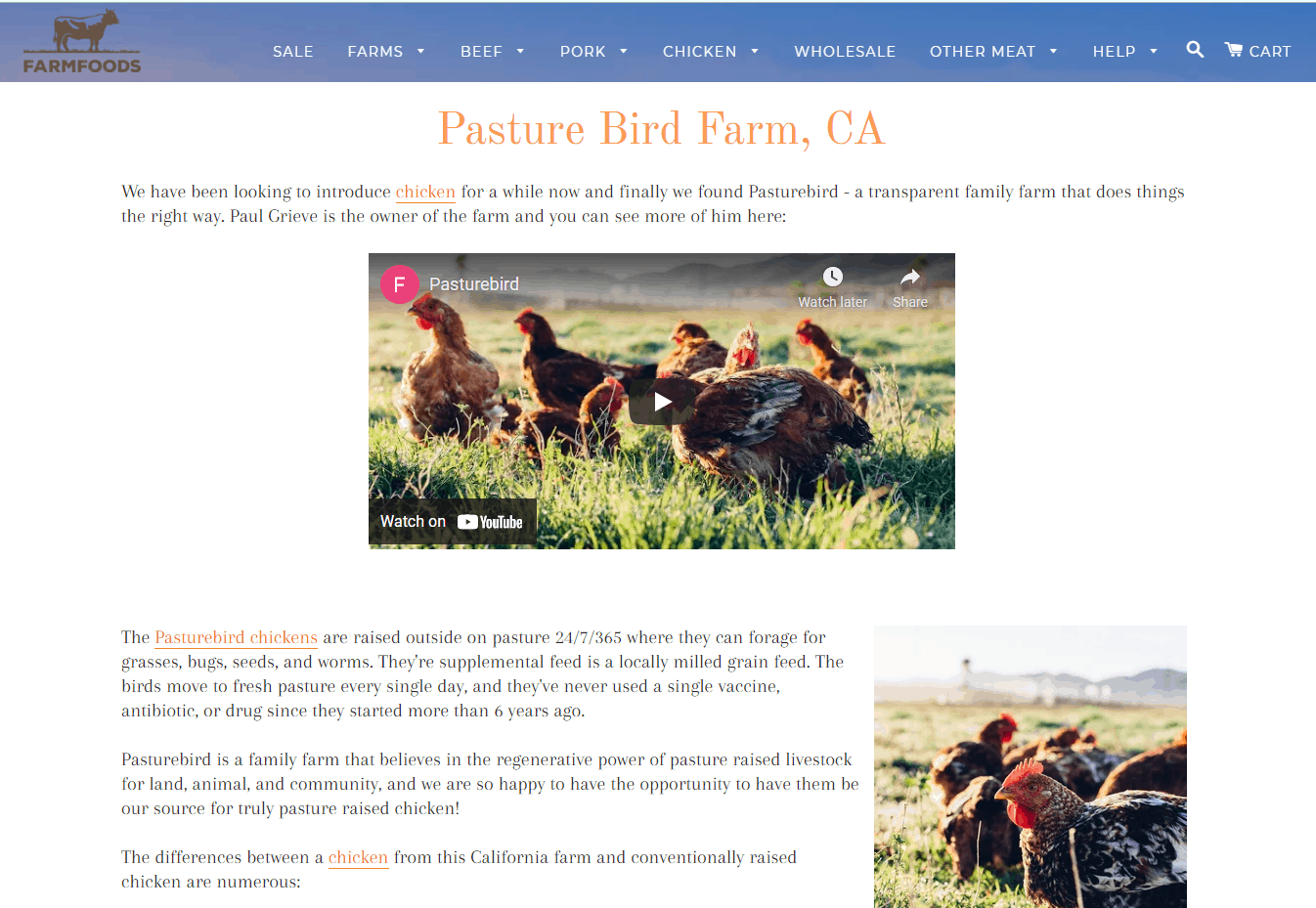 Farm Foods Market lists which farms and ranches they work with, so you can learn a little more about how they raise the animals and their partnership with the company. Every farm on the site has a short profile about their business, its processes, and their beliefs.
This is a great way to find out where your meat comes from. You can click through to the farm or ranch website to learn even more.
Unfortunately, they don't list the fisheries or fishermen they work with, so if you order seafood, you won't know where it's coming from. That may bother some people while others don't care.
Individual Items
Farm Foods says they source their seafood items from local fishermen, but they're not very specific about who those fishermen are or where the fish are coming from. However, some options do give a bit more detail, like the wild Alaskan salmon, that links to a specific fishery. You'll know exactly where this one comes from if you choose to order it.
You can find out more information about the specific beef, pork, or chicken you're ordering by clicking on it and reading more about it. For some things, like the New York steak cuts, you won't get as much information. With others, like the grass-fed beef sampler, you'll find everything you need to know about which farm supplied the cuts.
Ordering from Farm Foods Market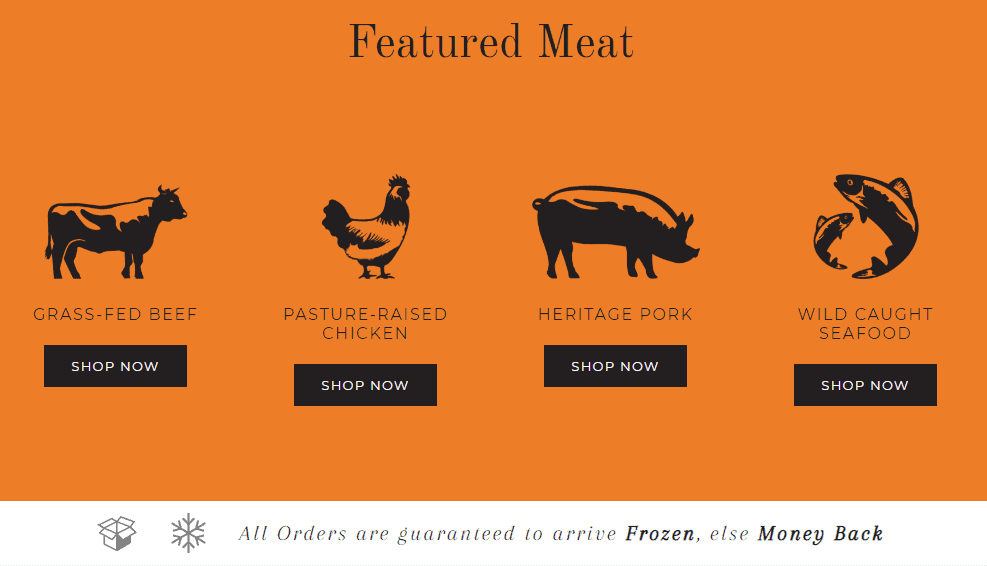 Ordering from Farm Foods is quick and painless. One thing to keep in mind as you're perusing the site is that it's not a food subscription service. You're picking the things you want delivered to you now.
You can order from Farm Foods whenever you want and have new items shipped to you when you need them, but they do also allow you to select items that you want delivered monthly.
Click on the product you want to order and add it to the cart. You can search for recommendations or sort by price. Farm Foods requires a minimum of 10 pounds in order to deliver, so keep that in mind. You can pay with Visa, Mastercard, Shop Pay, PayPal, Amazon Pay, or Apple Pay.
Shipping
Once you meet the minimum requirements for delivery, delivery will come with FedEx or UPS, and it's free. They will pack your items on dry ice so everything will stay cold as it ships. Most items are shipped on Monday and Thursday and should only take 2-3 business days to arrive.
Key Features
Offers beef, pork, chicken, game meats, and seafood

Available as a one-time purchase or on a monthly basis

Free delivery

Includes detailed sourcing information on most items

Fresh, high-quality meat at an affordable price

Sustainable packaging
Pros
More affordable than other alternatives

Offers a variety of meats

Shipping is always free

Sustainable packaging helps keep costs low
Cons
Sourcing information isn't available on every item

Not 100% organic

Selection is more limited than some other competitors
Alternatives
If you don't think Farm Foods is right for you, that's not a problem. There are plenty of other meat delivery services out there, and one of them is bound to meet your needs. Here are just a few other options for you to consider.
ButcherBox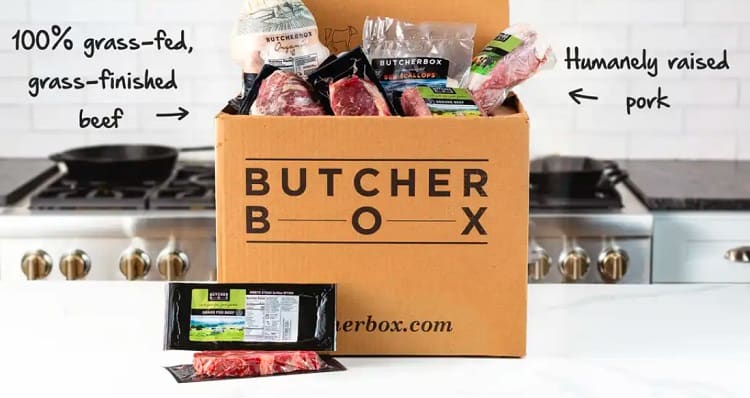 If you're looking for a subscription service, ButcherBox is one of the best options. They're the best alternative for ordering grass-fed beef, and everything is 100% pasture-raised. Grass-fed is better for the environment, it's higher in healthy fats and vitamins, and most people agree it tastes better. Check out our ButcherBox review for an honest verdict!
All ButcherBox beef comes from Australia, which is one of the most highly regulated beef markets in the world. You can also get Heritage pork fed with a healthy, vegetarian diet. All chickens are free range and organic. Every type of meat you order here is very high quality.
When you sign up for ButcherBox, you can choose from a wide variety of beef, chicken, or pork, but unlike some other options, they don't have seafood. You can also customize the box yourself and choose between 2 different sizes, each perfect for a variety of appetites.
Everything comes frozen in vacuum-sealed packaging and shipping is free, so there are no additional costs for living further away. You'll also enjoy plenty of promotions and opportunities to order more meat at a discount. They often offer free bacon and other tasty incentives.
Omaha Steaks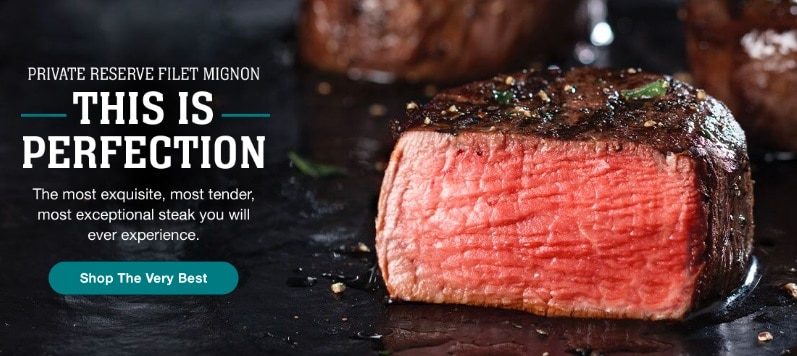 Omaha Steaks calls themselves America's Original Butcher, and it's not far from the truth. The company has been in business for more than 100 years, and they were the first company ever to ship their meats across the country. They offer high-quality, hand-trimmed, premium-aged beef and a 100% satisfaction guarantee.
You can choose between grain and grass-fed beef, but they don't have an organic option, which will turn some people away. They simply aren't competing in this market yet, which means you may or may not be receiving steroid or antibiotic-free beef.
For those who aren't bothered by that, you'll be pleasantly surprised by the immense selection here. They have beef and steaks, chicken, pork, veal, bison, and so much more. While they don't offer a subscription, they have appetizers, sides, desserts, and even wine.
Omaha Steaks also has a unique butcher service. You can speak with a butcher and custom order exactly what you want. They're confident in their products and the ability to please.
Thrive Market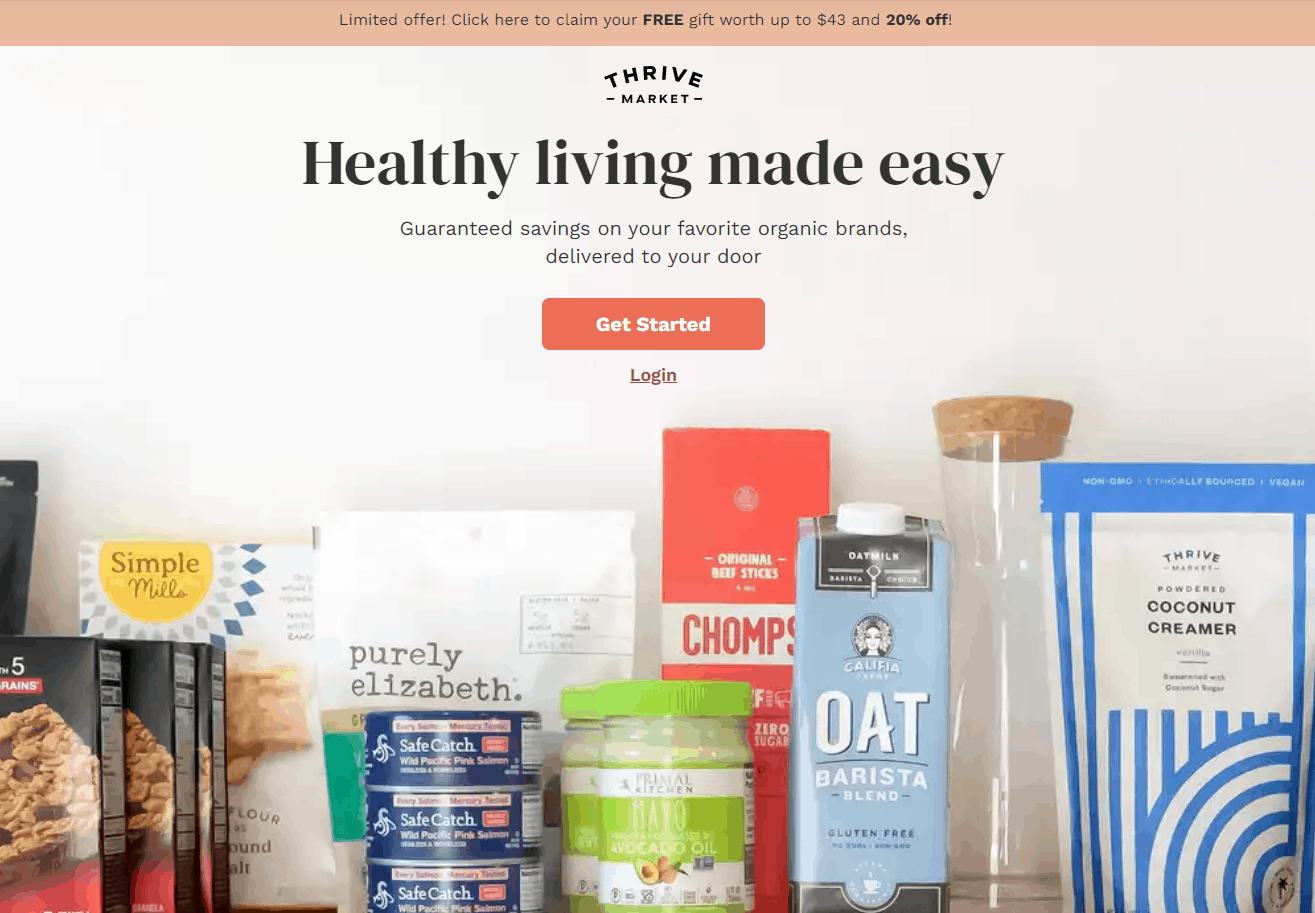 This alternative offers a full online grocery store. If you're shopping for meat and you want everything else delivered, too, this is the place to go. They have organic, non-GMO meats as well as paper towels, snack, and vegetables. While you have to pay an annual membership fee for access to this service, you can start out with a 30-day trial to see if you like it.
Thrive Market offers grass-fed, free-range, 100% organic beef. You can also purchase pasture-raised pork or free-range chicken from a local farm in Georgia. They also have seafood like fish, shrimp, and scallops.
Question: Why is Farm Foods Affordable?
Answer: Farm Foods focuses on cutting back their advertising and packaging. In fact, many people haven't heard of them because they don't advertise at all. But that's what helps keep their cost low so you can enjoy affordable meat delivery. For products that aren't certified organic, they can charge less than other meat delivery services that are.
Question: Can You Get Eggs from Farm Foods?
Answer: At this time, Farm Foods does not sell eggs. They focus on beef, pork, chicken, and seafood. If you want to order eggs online, try another service like Thrive Market.
Question: Where will Farm Foods Ship its Products to?
Answer: While some delivery services only ship to 48 states, Farm Foods will ship to all 50. However, if you're in Alaska or Hawaii, you will pay additional shipping.