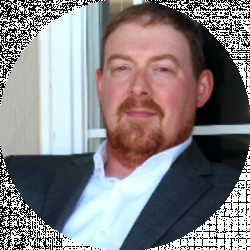 Latest posts by Justin Caldwell
(see all)
Quality beef at the grocery store is hard to come by. Stocking up on premium steaks and other meat requires a special trip to the butcher. Or at least that used to be the case. Now you don't even have to leave home. You can get all the meat you want from online retailers just by clicking a button.
Not only do these online shops have beef, but they have chicken, pork, seafood, and a wide range of other exotic meats for you to try. And they deliver them all straight to your door. You can get monthly subscription boxes, order a la carte, or stock up on favorites for the whole family.
When evaluating the best online beef delivery services, I looked at quality, variety, and business model. Everyone is different, but they're all great.
What to Look For When Ordering Meat Online
If you're ordering meat online, there are some things you need to think about first. You can't just order anything and expect it to be the best. This is also the criteria we used when making our selections to include in this guide.
Transparency
While most online meat delivery services commit to offering high-quality meats, not all of them have what it takes and not all of them disclose their sources. If you care about where your meat comes from or how it's raised, you need to look for services that support sustainable practices and avoid the use of hormones or antibiotics.
You may also find services that provide the name and location of the ranches or farms that they partner with to provide their meats.
There are plenty of great options that don't provide this information, and some people are less picky about it than others. If you're fine not knowing, then you don't need to worry too much about it.
Fresh vs Frozen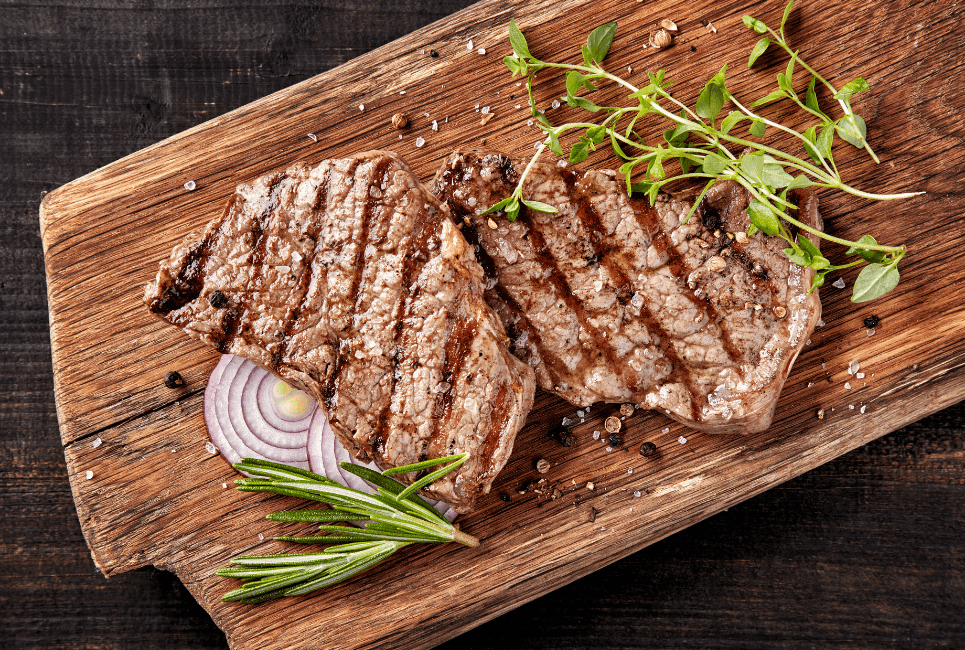 This is a debate that's been going on for a long time. Some people care that their meat is never frozen. However, most retailers who freeze their meat flash freeze it before they ship it so it doesn't lose nutrients or flavor.
Frozen meat is convenient if you buy your meat in bulk and save it for later, but fresh meat is ideal if you're ordering small amounts and want to enjoy it right away. It eliminates the need to thaw it.
This is a matter of personal preference, but something to look for if it matters to you.
Shipping
You should be able to find shipping procedures on the website of most of these retailers. Most have a cutoff day if you want your meat to ship in the same week because these perishable items are highly controlled.
You can expect your delivery to take 2-4 days, but some only ship once a month, so you'll have to wait. Always purchase from someone who provides tracking information so you can plan to get your meat into the fridge or freezer ASAP once it's delivered.
Best Online Beef Delivery Services – Top Picks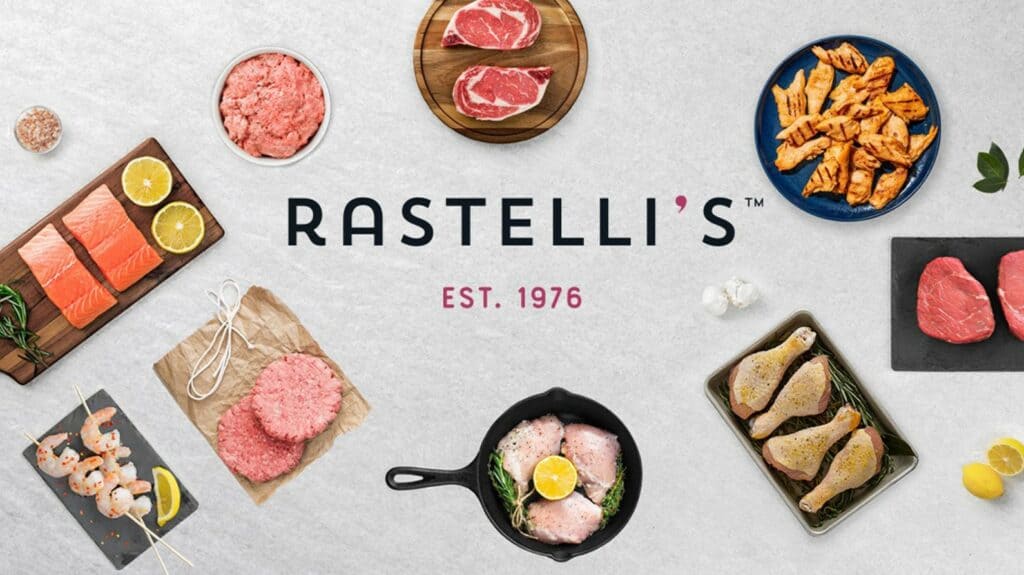 Rastelli's offers quality and variety, but they also allow you to order in bulk and save meat in the freezer for up to a year. It's easy to save money when you're ordering in bulk or signing up for a subscription.
This service started out as a small butcher shop in New Jersey. They're still a family operation today, but they've grown enough to offer their antibiotic, steroid, and hormone-free meats to most of the United States.
They offer more than just ground beef and quality steaks. They have pork chops, chicken, sausage, and seafood. You can subscribe to craft boxes or order a la carte. It's also easy to gift Rastelli's. Check out our full review on Rastelli's here.
Pros:
Protein variety
Bulk options
Subscriptions
Gift options
Cons:
Only ships to the lower 48
Porter Road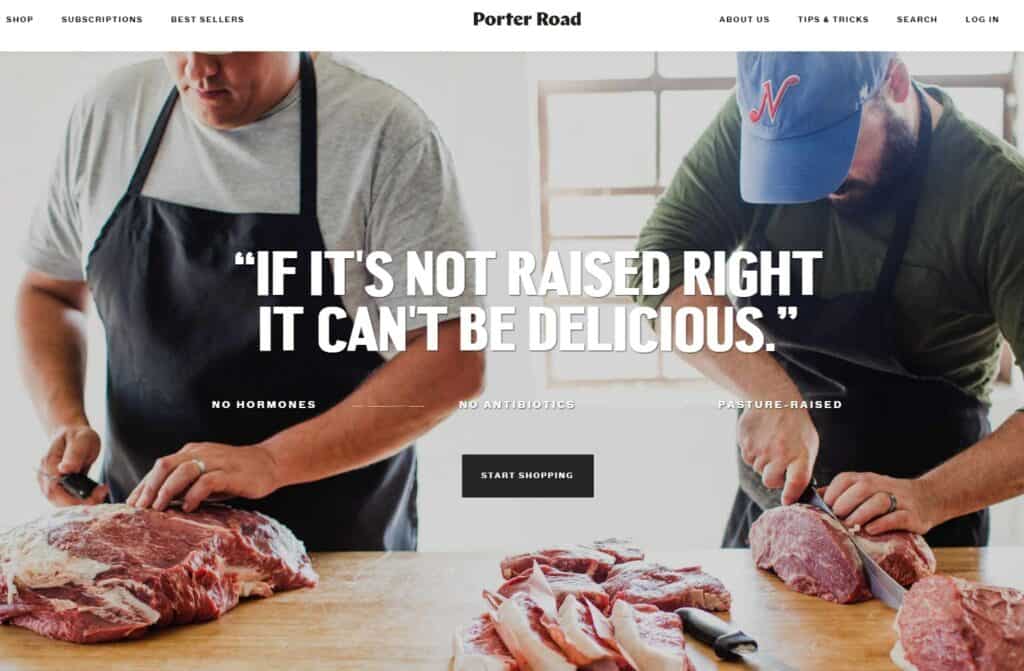 This brick-and-mortar butcher shop in Nashville expanded their online business to ship their pasture-raised cuts to 48 states. All of their meat is GMO-free from Tennessee and Kentucky.
Their site is intuitive and the ordering process is easy. You can search by cooking time or type of meat and you can select whether you want your subscription to ship every 2, 4, or 8 weeks, making it an affordable choice for everyone.
Not only is this the best option for pasture-raised meat, but they offer eco-friendly packaging that you can recycle. You can also order a la carte from options like pork, lamb, chicken, and sausage.
Pros:
100% pasture-raised meat
Eco-friendly packaging
Flexible subscriptions
Gift options available
Cons:
Chicago Steak Company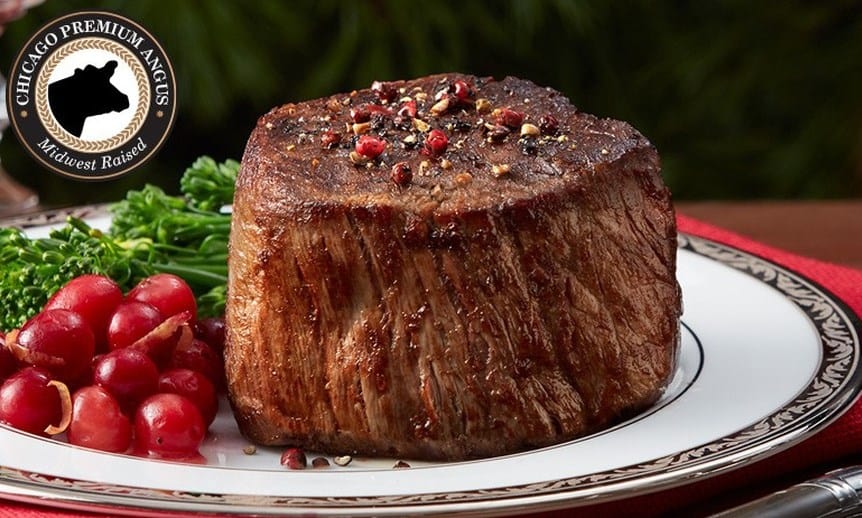 Chicago Steak Company offers premium Midwestern wet or dry-aged beef as well as Angus beef and American Wagyu. The variety of cuts from which you can choose is impressive. They have everything from gourmet filet mignon to huge cowboy steaks. You can also choose from steak assortments, which are great for special occasions or for gifting.
When it comes to pairing your steak with some seafood, Chicago Steak Company also offers some of the best surf and turf selection you can find online. Their Fresh Fish Market has options like lobster tails, crab cakes, shrimp, salmon, scallops, mahi mahi, Chilean sea bass, and yellowfin tuna.
You can also visit the Maine Lobster House to order live Maine lobsters, making your meal extraordinary, no matter if you're sharing it with your whole family or having a quiet meal with someone special.
Pros:
Wide selection of beef and seafood
Grass-fed cuts available
Cons:
Shipping can be expensive
Sourcing and farming information isn't provided
ButcherBox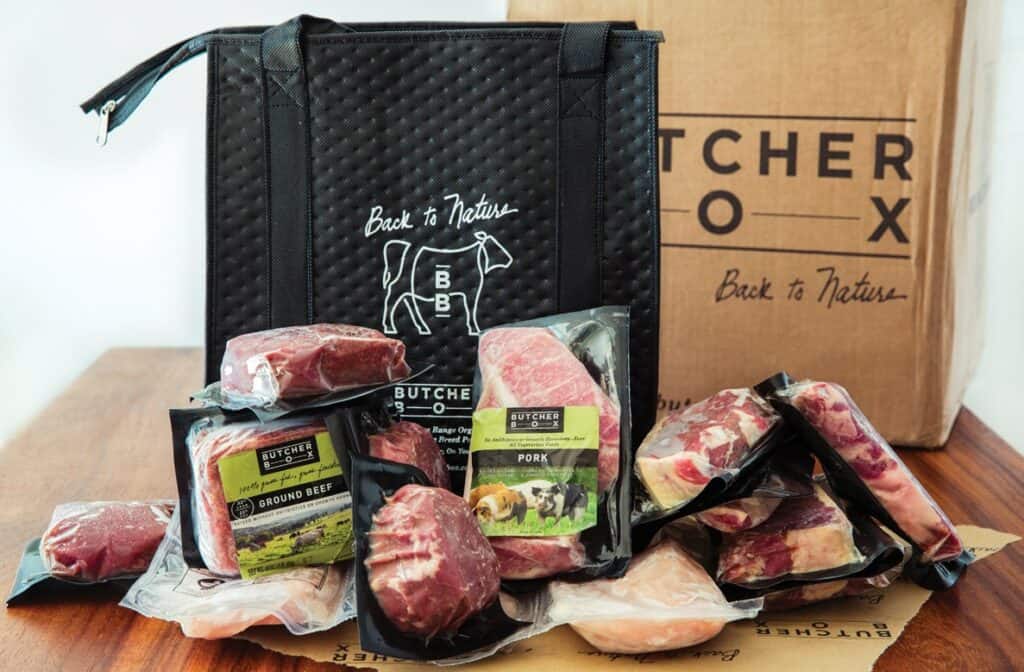 ButcherBox offers some of the best subscription options if you're looking for beef online. You can choose a box curated by ButcherBox with all beef, beef, and chicken, beef and pork, or a mix. If you don't like any of these options, you can customize your own box and choose from a variety of all three.
You'll also get more than your fair share of meat with each shipment because they pack in 24-48 servings of meat per box in their monthly subscriptions. That's more than enough to feed even a large family for a week or two.
Choose between classic and large boxes to suit your needs, and you can change them whenever you like. This makes it easy to customize your monthly selection based on what you need in your freezer now.
Pros:
Customizable shipping dates
Curated and custom boxes
Eco-friendly packaging
Uses sustainable fishing and farming
Cons:
Only ships to 48 states
Can't choose exact cuts
Thrive Market
The great thing about Thrive Market is that it's a one-stop-shop for everything on your grocery list. Not only do they have beef, but they have other types of meat like chicken, pork, and seafood. Plus, you can also get wine, bath and beauty products, vitamins and supplements, and apparel. This makes it an easy way to do your shopping and get your meal planning done.
The user-friendly website allows you to search the site by category or refine your search by the diet you're following this week. If you prefer, filter for items that are sustainably caught and preservative-free.
Pros:
Choose exact cuts by building your own box
Supports sustainable fishing and farming
Cons:
Requires a membership
Only ships to 48 states
DeBragga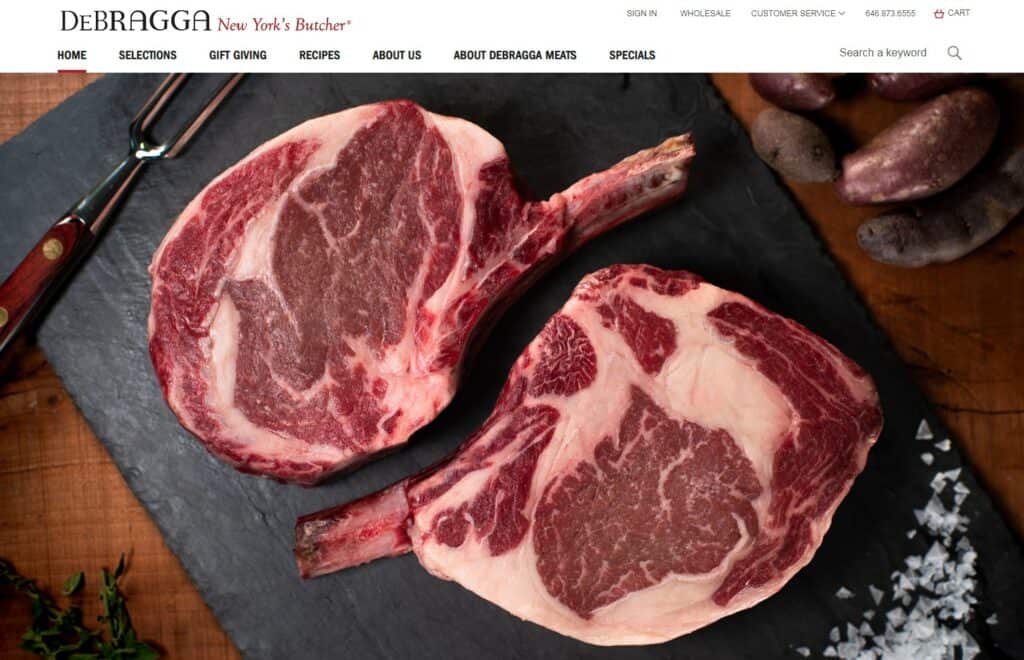 If you like the feel of your local butcher shop, but you don't want to leave the house, DeBragga offers the same experience online, with a lot more variety. Their beef is dry-aged, naturally raised, and grass-fed. You can even choose from prime cuts and Wagyu beef.
Debragga started out supplying some of New York's top steakhouses with their meat, so you can count on them for quality. When they realized there was a demand for this type of product at home, they started an online shop.
They also offer lamb from Colorado, New York, and Australia. You can also get sausage, poultry, veal, venison, duck, and pre-smoked meats. If you use marrow bones in soups and stews, you can get those here, too.
Pros:
Wide selection
Butcher shop feel
Cons:
Snake River Farms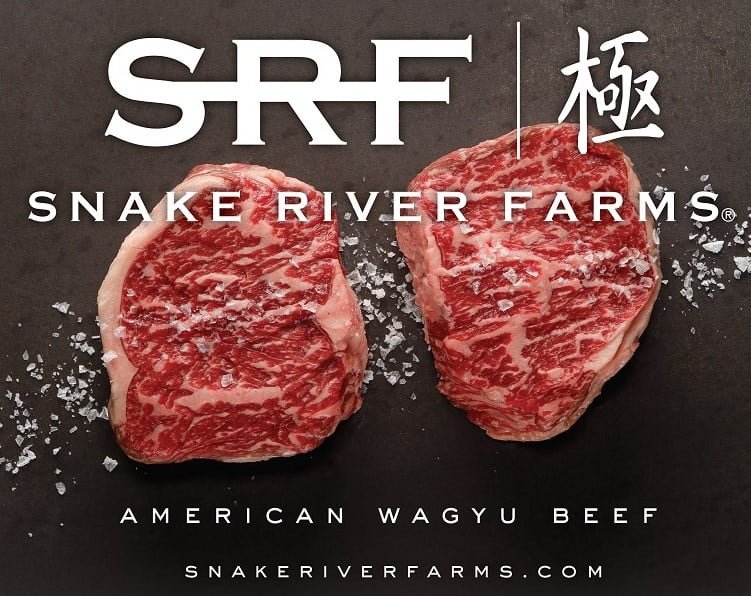 The specialty at Snake River Farms is American Wagyu, but you can also get Berkshire pork and Northwest beef. They offer burgers, roasts, steaks, ribs, and more. They also have gift boxes so you can share them with your friends.
You can order dry-aged beef for a special treat, or you can do something different like bacon and smoked ham. While they don't have a ton of extras, you can get seasonings and salt to enhance your cooking experience.
If you want your meat delivered monthly, choose a subscription box. Snake River Farms offers 3 different options with beef, beef and pork, or dry-aged beef. Everything is shipped in 2 days so it arrives fresh on the first Thursday of the month.
Pros:
Very high-quality beef
Meat grade guide helps you shop
Subscriptions available
Cons:
D'Artagnan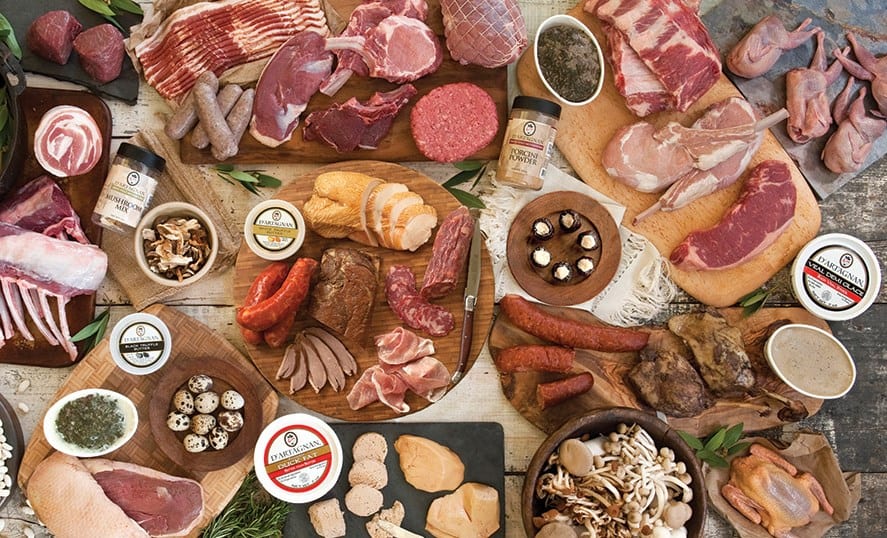 D'Artagnan spends a lot of time advertising their antibiotic and hormone-free meat. These animals live with plenty of space to graze and live stress-free life. D'Artagnan offers beef, pork, lamb, and poultry. They even have four different duck breeds, venison, wild boar, and rabbit.
You may also want to take a look at their charcuterie items like cured meats, rillettes, sausages, bacon, and mousses. And they have gift boxes if you want to send some of it to your friends.
Upgrade your order with fresh truffles, duck foie gras, caviar, ramps, and fiddlehead ferns. Check out the pantry section for duck fat, fancy olive oils, or a demi-glace.
Pros:
Antibiotic and hormone-free
Humane animal treatment
Wide variety of beef and seafood
Cons:
Fossil Farms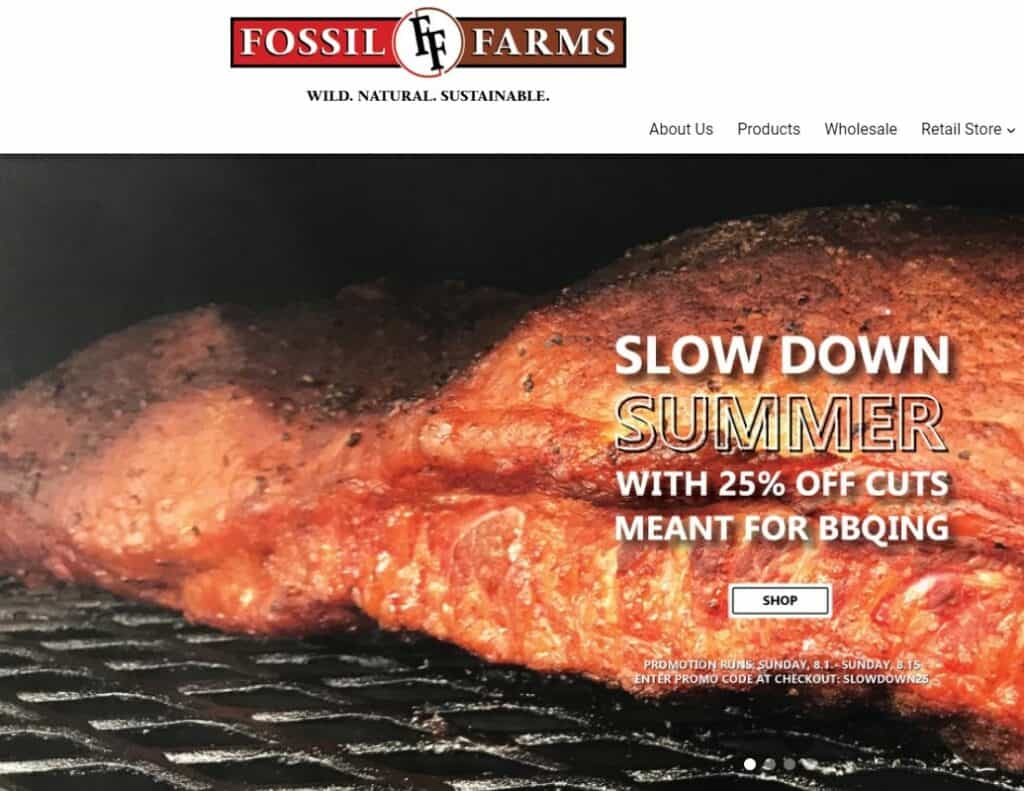 You know you're in for something good when you see the tagline "Wild. Natural. Sustainable." Fossil Farms is committed to something very unique. Not only do they bring you beef from cows, but you can get meat from more unique and exotic animals than any other place online.
They have python, kangaroo, ostrich, rabbit, yak, emu, goose, alligator, and antelope, as well as many other unique choices. However, if you're simply looking for beef, chicken, bison, or pork, you'll find it here as well.
Fossil Farms meat is sustainable, hormone and antibiotic-free. You can also order sausages from many different types of meat along with whole cuts.
Pros:
Wide variety of exotic meats
Antibiotic and hormone-free
Sustainable
Cons:
Mountain Primal Meat Co.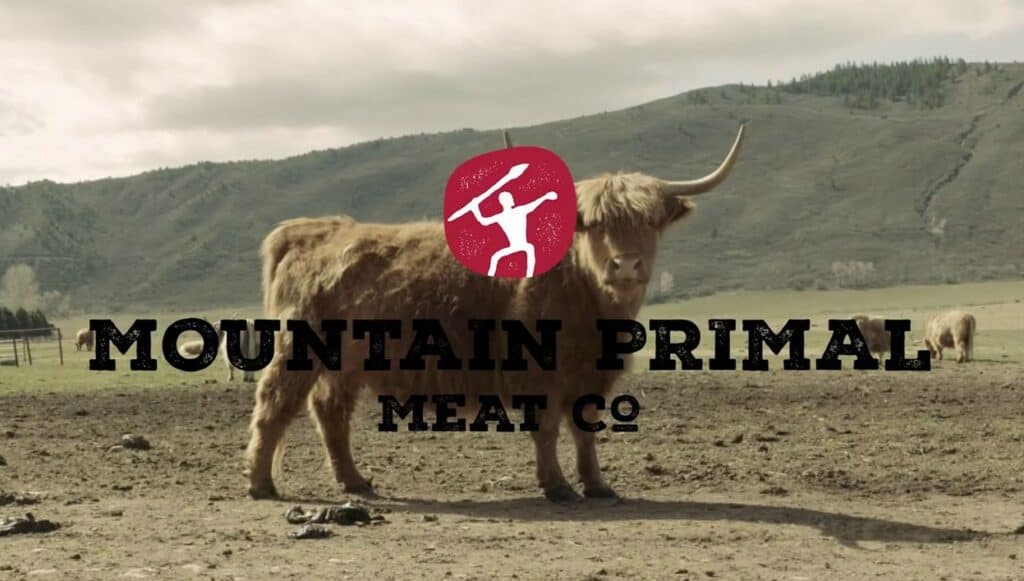 This company, nestled in the Roaring Fork Valley of Colorado, sells grass-fed and humanely-raised American Highland beef and American Berkshire pork. You'll also find elk and bison sourced from local farms.
The best thing about Mountain Primal Meat Co. is that they offer some of the best-curated meat boxes you'll find of any subscription. It's a great way to stock up and freeze meat for later, although they also offer a la carte purchasing as well.
Their Basic Stockpile Package has 2 pounds of ground beef, 4 pounds of pork sausage, 2 pounds of ground pork, and 6 fuel sticks made from American Highland beef. You can also order barbecue sauces to try with your meat.
Pros:
Awesome curated boxes
Dog food, merchandise, and gifts
Cons:
Not much variety other than beef and pork
Williams Sonoma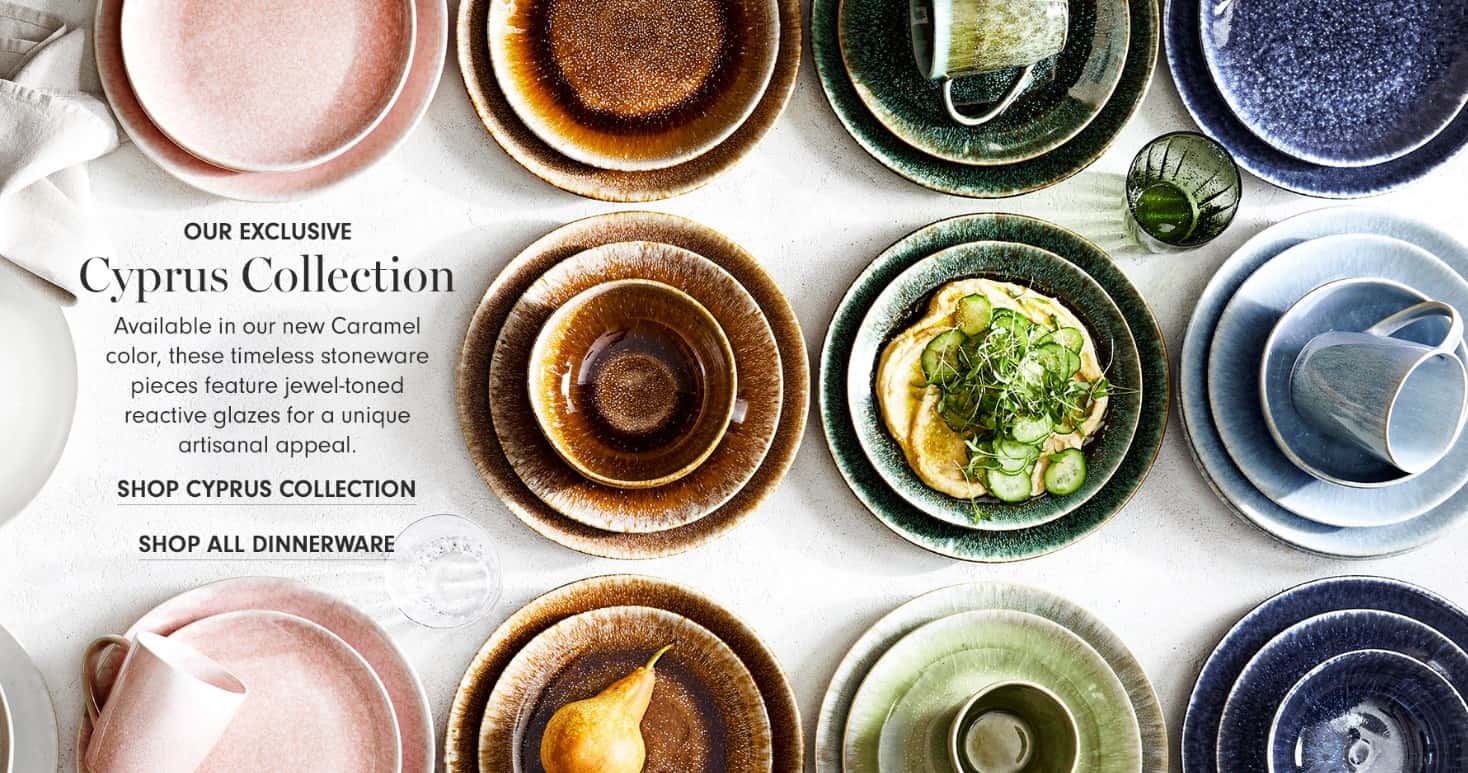 Williams Sonoma may not be the first place you think to order meat online. Instead, you might think of them for all of your cooking needs, utensils, appliances, table settings, and other fun accessories.
However, they do offer meats through their partners, including bacon-wrapped filet mignon and organic turkey. While some of their offerings are holiday-only specials, you can order them in advance to ensure you reserve what you want. Select the delivery time that works with your holiday schedule and then heat it up and serve.
If you're not ordering for the holidays, you can choose from 3 or 5-day entrees. This is a great option for when you're too busy to cook. You can just order dinners in advance and then heat them up to eat.
You can also choose from a wide variety of coffee beans, cocktail mixes, and garnishes, so you always have something to drink with your dinner.
Pros:
A great option for heat and eat entrees
Holiday delivery offerings
Drink add-ons
Cons:
No subscription
No meat beyond beef, pork, and turkey
Crowd Cow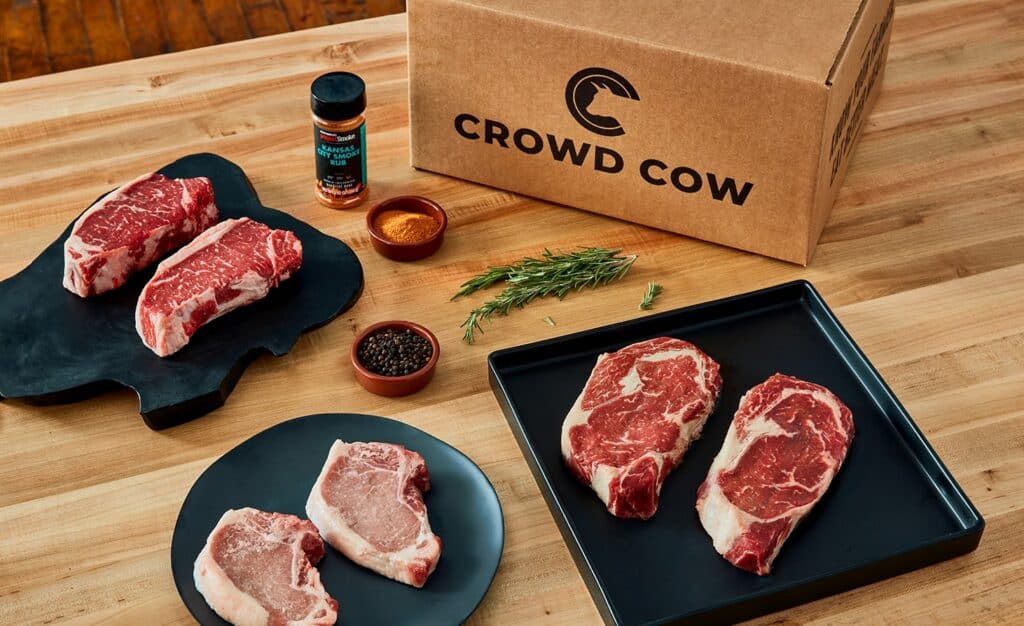 If you're familiar with the concept of crowdfunding, this website will make sense to you. Rather than purchase an entire cow yourself, you're going in on the purchase with several other people. It would be like finding your 5-6 closest friends and sharing the meat between all of you.
You can choose from specific cuts of meat or shop independent ranchers that follow the practices you believe in. Everything is either 100% grass-fed or pasture-raised grain-fed. You can also choose from Japanese Wagyu, pork, lamb, chicken, bison, duck, or seafood.
Crowd Cow offers butcher's specials in the spring and if you subscribe, you get free shipping and 5% off every order. Don't forget to order sides and desserts or seasonings and spices to go along with your meat.
Pros:
Choose meat based on source
Japanese Wagyu available
Subscribers get a discount and free shipping
Cons:
Shipping is expensive for non-subscribers
Carnivore Club

If you're looking for beef online, Carnivore Club offers something a little different. They don't have fresh-cut steaks. Instead, they offer cured meats, jerky, and meat sticks. You can use these to eat plain as a snack or you can build charcuterie trays with them for your next party.
They offer unique selections on a subscription basis, but you can also make one-time purchases. They also stock gift boxes, bouquets, and samplers in the marketplace.
This is a great option if you like surprises because if you're signing up for the subscription, you can't choose what's in your box.
Pros:
Fun and surprising subscription box
A la carte options
Cons:
Stock Yards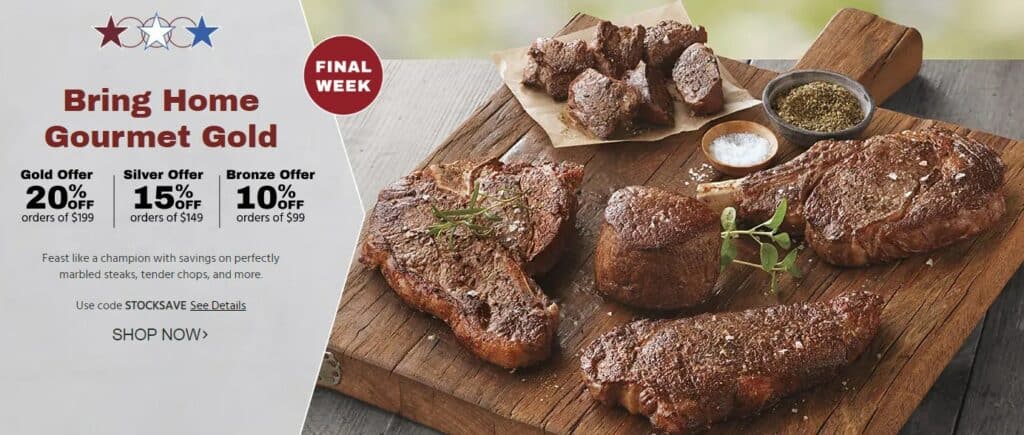 This company has been around for more than 120 years and started out as a family-owned butcher shop in Chicago. Now they ship USDA Choice and Prime steaks all over the country and they're owned by US Foods.
For a long time, they only supplied restaurants and hotels with their excellent steaks, but they started delivering to homes in the 1950s. Today, you can get subscription boxes, gift sets, and individual cuts.
Aside from beef, they also offer lamb, pork, veal, poultry, appetizers, sides, and desserts. This makes meal planning easy. You can even order hot dogs and burgers for your summertime cookouts.
Pros:
Lots of variety
Great for meal planning
Cons:
USDA Choice and Prime are the only steak options
Omaha Steaks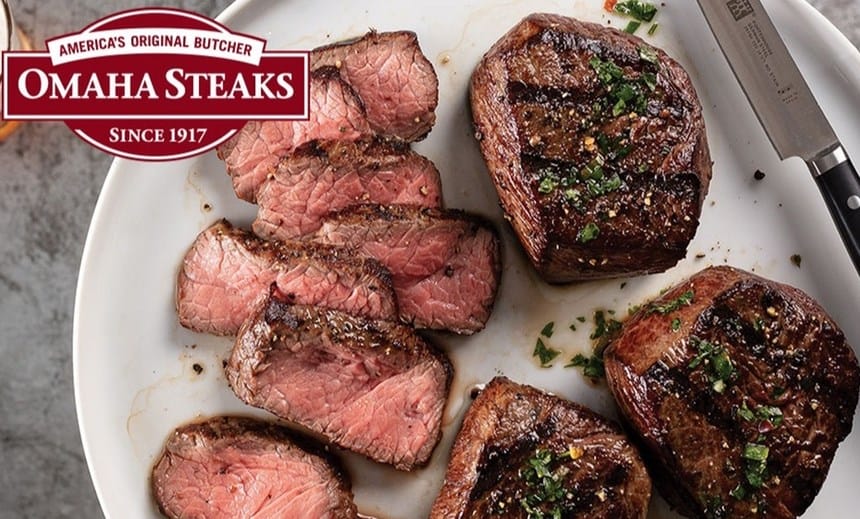 Omaha Steaks offers more than just steak. They started out as a family company about 100 years ago, and they still are today. They have been offering to mail-order meat for longer than any other service, and they stand by their commitment to the customer.
You can also get pork, poultry, bison, lamb, and seafood as well as appetizers, sides, desserts, and even wine. They're best known for the packages that have a variety of cuts, and they offer discounts for these over buying them a la carte.
You can also purchase full meals to make meal planning easy, and they have skillet and slow cooker meals. Choose from subscriptions or gift boxes and enjoy the huge selection of foods that Omaha Steaks has to offer.
Pros:
Huge variety
Great for meal planning
Subscriptions, gift boxes, and a la carte
Cons:
Sourcing information is unclear
Market House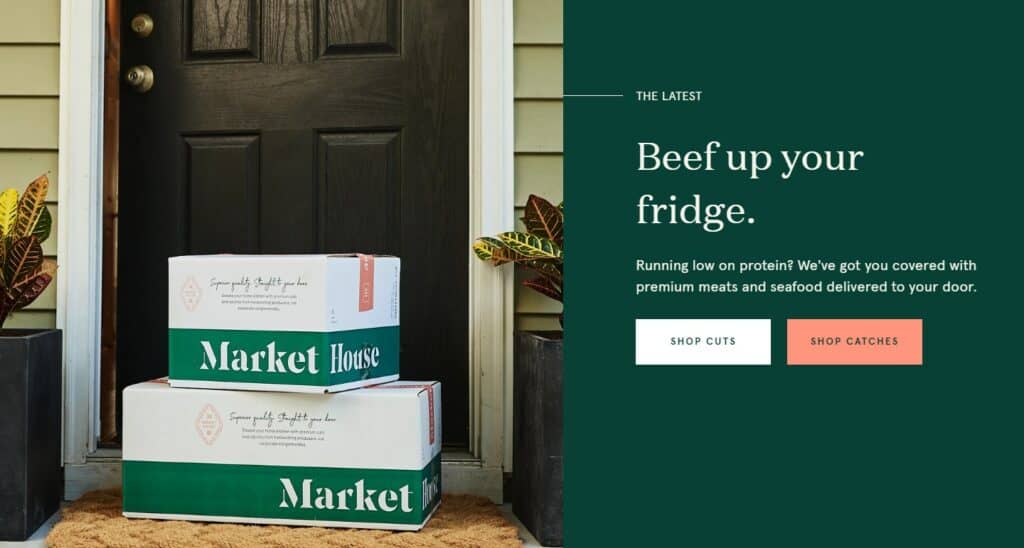 While Market House offers meats that are non-GMO, grass-fed, and organic, the most spectacular thing about them is that you can shop for tomorrow night's dinner today. They offer overnight shipping on nearly everything they carry, including pork, chicken, lamb, and seafood. Shipping is free if you order more than $99.
They also have curated dinner packages, seasonings and spices, hot sauce, and craft cocktail ice packs.
Market House prides itself on sustainable food production practices and they only partner with farms and fisheries that follow the strictest standards.
Pros:
Grass-fed, non-GMO, and organic
Partners with farms and fisheries that use sustainable practices
Overnight delivery
Cons:
Must spend $99 to get free shipping
FAQ
If you're looking for the best online beef delivery, you already know there are a lot of options. Rather than decide which is the best for you right now, try them all to see what you like best. And read these frequently asked questions that may help.
Question: Is ordering meat online worth it?
Answer: Ordering meat online can definitely be worth it, but you have to do your research. You want to make sure they provide good food from a safe culture and offer transparency in their sourcing. It can be tedious to find the right option for you, but it's worth it if you want to continue to order online.
Question: Is it safe to order meat online?
Answer: As long as you order your meat from a reputable company and store it properly when you receive it, you shouldn't have any problem ordering meat online. The primary concern is whether the service you're ordering from offers the kind of meat you want.
Question: Why is online meat so expensive?
Answer: Typically, the meat you order online from a delivery service is of better quality than what you'll get at the grocery store. In some cases, it's even better than what you might get at the local butcher.
Refrigerated shipping is also quite pricey, so even if you're getting "free shipping," you're probably paying for it in the cost of the meat. If you're looking for meat in bulk, your local butcher can probably cut you a better deal, but if you want something specific, ordering online is a better option.