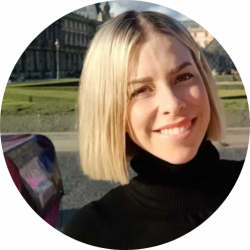 Latest posts by Jodie Chiffey
(see all)
Rival meat slicers might not be as big and renowned as some of their competition, but their popularity seems to grow year by year. These products usually offer an attractive combination of value and versatility. Nevertheless, there are certain things you should know before deciding on the purchase. Our Rival Meat Slicer review and guide will help you make an informed choice.
Today we're going to focus on Rival's 1042W electric food slicer, which seems to be one of the most sought-after products in the brand's portfolio. This machine is designed to cut many different types of food, including cheeses, fruits, vegetables, and bread, but we will mainly focus on its meat processing abilities.
Let's find out if you should get this machine.
Key specifications of Rival Meat Slicer
| | |
| --- | --- |
| Type of slicer | Electric Food Slicer |
| Blade size | 6.5 " |
| Blade material | Stainless Steel |
| Operation mode | Automatic |
| Motor | 75W |
| Dimensions/weight | 17.03 x 10.38 x 5.05 inches/4.5 pounds |
| Latest price | Click here for the latest price |
Core features of the Rival Meat Slicer
If you're planning to upgrade your kitchen setup with a practical food slicer, you will probably look for something versatile, compact, affordable, and reliable. Is Rival meat slicer what you are looking for? Let's assess its qualities one by one:
Construction and design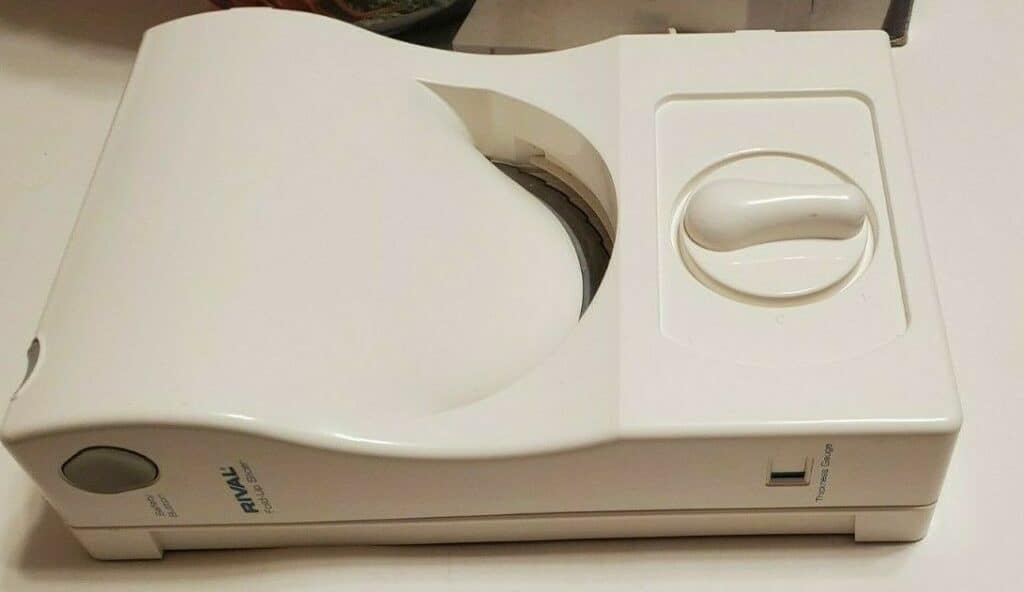 If you are used to professional-grade meat slicers that can be found in large commercial kitchens, you might be a bit surprised at how small, light, and delicate the Rival 1042W meat slicer appears. This machine is clearly designed for occasional at-home use, so it doesn't focus on sturdiness and robustness as much as some of its counterparts. As a result, the housing of this slicer is made of (white) plastic instead of aluminum, stainless steel, or some other metal materials.
Is it something to be worried about? Well, it definitely should be taken into account if you plan to move this machine often from place to place or use it for some demanding tasks. According to the online reviews, users do report broken plastic components on this slicer from time to time, and repair is often not very economical.
The main component of any food slicer is, however, its blade. In this case, the blade measures 6.5 inches and is made of stainless steel. In comparison with some larger slicers (e.g., the commercial-grade Berkel meat slicer), which can have blades measuring 10 or even 12" inches, this smaller cutter can be a bit limiting when it comes to the versatility of the slicer. Nevertheless, it is still certainly enough for most standard at-home purposes.
The smaller footprint of this machine (17.03 x 10.38 x 5.05 inches) allows you to place it almost anywhere and/or store it away after every use conveniently. If you already feel like your kitchen counter is crammed with tools and equipment, this might be a huge advantage for you.
Functions and controls
Using this simple food slicer is extremely easy – you'll probably be able to do it right on the first attempt, even without any previous experience. Just follow the included manual to assemble and set the machine correctly – it should be ready for its first slicing session in just a few minutes. However, in order to achieve perfect results, you should be aware of several functional downsides of this machine and pay attention to them in some specific situations.
The machine has a simple dial control for presetting your preferred thickness – it should allow you to cut your meat to almost paper-thin slices or thick steaks, just like you wish. Nevertheless, some users report that the machine tends to preset the thickness slightly on its own during the cutting, so if you need to get perfectly even slices, you should be checking on it regularly.
Moreover, the all-plastic housing of this slicer and its not-so-strong 75W motor can experience some difficulties when you try using the machine for harder and denser types of food (e.g., hard cheese). Based on my experience, with this type of food, you are probably going to get much better results when you cut thicker slices.
Safety
At first sight, this simple food slicer might look a bit intimidating – it seems like the rotating blade is uncovered, and it must be quite easy to put your fingers where they are not supposed to be. But in practice, this machine has several thoughtful details that will not let this happen.
First, there is a safety switch that has to be pushed constantly to enable blade rotation. Although it might be a bit annoying to have one of your hands occupied by this switch at all times, it is a safe way to prevent the machine from starting unintentionally. Besides this switch, the Rival meat slicer also has convenient safety handles.
What this slicer misses, on the other hand, are stable legs that would keep it firmly in its place. Given how light this machine is, pushing harder pieces of food against the blade while using one hand just to hold the buttons can result in unwanted movement of the whole slicer. This is not only frustrating, but it can be potentially dangerous. I would highly suggest placing this machine on a slip-proof mat and keeping it well away from the edges of your counter or table.
Reliability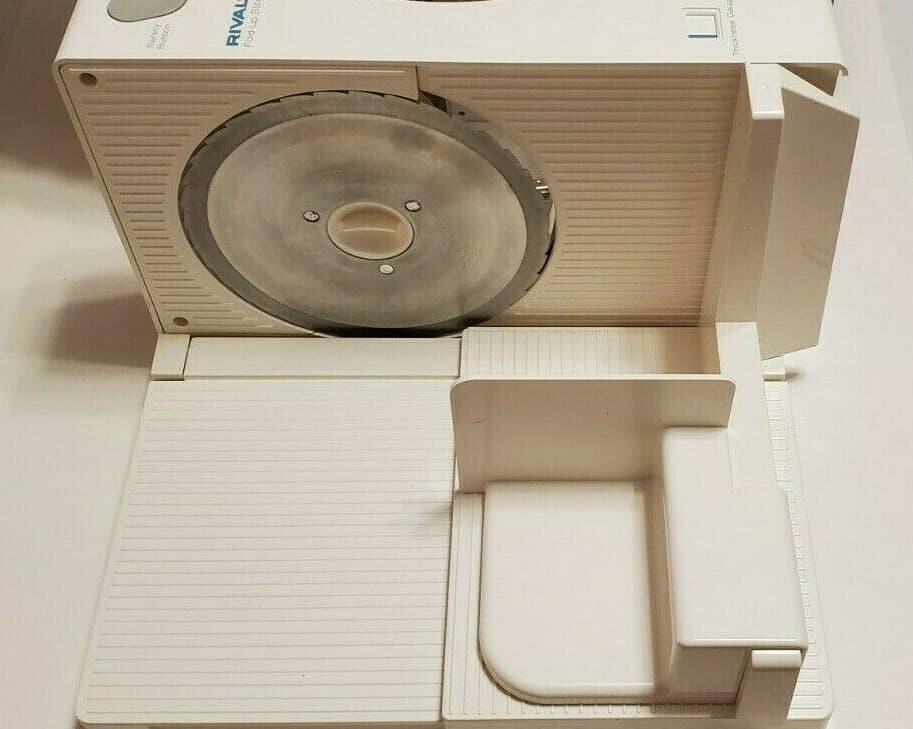 Professional meat slicers and their alternatives adjusted for private use surely have many similarities. The main difference between pro and budget-friendly options usually shows when you try to push the machine a bit further: try slicing frozen beef, for example, or work on the slicer for a long time continuously. According to numerous users of Rival 1042W, similar situations can trigger some difficulties with this slicer.
Users of this machine mostly complain about its weak stability. The plastic housing is reportedly prone to unwanted movement and bending. The whole machine dances a bit when you need it to process some harder food, and it sometimes lacks the finesse when it comes to more delicate food like fresh bread, which tends to crumble and deform.
On the other hand, I must admit that I have personally not encountered any similar issues when I used this machine for simple deli-style cutting of hams, grill meat, or vegetables. In my opinion, this simple food slicer is often expected to accomplish more than what it actually is intended to do. If you have realistic expectations, you are much less likely to be disappointed.
Price
Rival meat slicers are all quite budget-friendly. Model 1042W is no different, although when I compare its features, materials, and functions with some other similar slicers on the market, it could probably still be a little bit cheaper. For its current price quote, click here.
Pros of the Rival Meat Slicer
These are the main reasons why you might want to get this meat slicer:
Small footprint
If you're dealing with a small kitchen or kitchen counter, this machine will surely appeal to you due to its modest dimensions and lightweight design. In comparison with professional-grade meat slicers that can easily occupy half of your table or countertop, Rival's 1042W is truly a compact solution.
Efficient
If you don't expect this meat slicer to perform just as well as some of its expensive counterparts intended for commercial use, you should be quite satisfied with its features and qualities. This machine is also quite versatile: Rival 1042W can be used for all standard types of meat (pork, poultry, etc.), cheeses, bread, fruit, and vegetables.
Focus on safety
Although this slicer might not be perfect, it certainly takes some important precautions to keep its users safe. Its thoughtful features, such as a safety switch and safety handles, should keep you away from any harm.
Fair price
If you do not plan to use your meat slicer daily or for commercial purposes, you will probably want it to be inexpensive. In this regard, the Rival 1042 electric food slicer looks like a great choice.
Straightforward operation
Many of us are too busy to spend hours learning how to properly assemble and use kitchen equipment that should, paradoxically, save our time and energy. Rival seems to be fully aware of this fact – their meat slicers are extremely simple to use, operate, and maintain.
Cons of the Rival Meat Slicer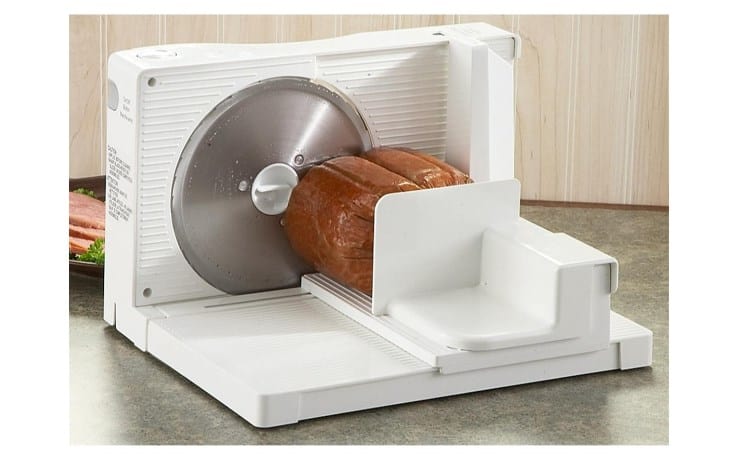 These weaker points might discourage you from the purchase:
Plastic housing
Most professional meat slicers are constructed of metal (aluminum, stainless steel, etc.). It is not a coincidence – these materials are usually pretty durable, highly hygienic, and stable, which are all essential qualities when you're processing raw meat.
Unfortunately, the whole housing (and even some internal components) of Rival meat slicer 1042W is made of plastic. Besides being less hygienic, this can also be problematic when you try to cut some harder and more demanding food on it.
Slices are often uneven
If you like your meat slices perfectly even, this machine can occasionally cause you a bit of anxiety. Since the whole body of the machine tends to slightly move and bend during use, thicker slices are often cut unevenly, while thin slices can even end up deformed. If you're planning to use your slicer for party catering or some small gastronomic business, think it over.
The safety switch can be frustrating
Rival definitely deserves some credit for trying to improve the safety of its machines with a thoughtful safety switch. On the other hand, this switch literally occupies one of your hands constantly during the cutting, which can be quite impractical. Users often complain that they would need a third hand to use this slicer properly.
The blade is quite small
This food slicer has a fairly small blade measuring just 6.5-inches in diameter. While it is surely enough for most of the meats and food products you are going to slice, from time to time, you will probably come across a situation when it turns out to be insufficient.
Are there any alternatives?
Not sure if this meat slicer is your best option? Here are some alternatives similar to Rival 1042W you might be interested in:
Chef's Choice 609A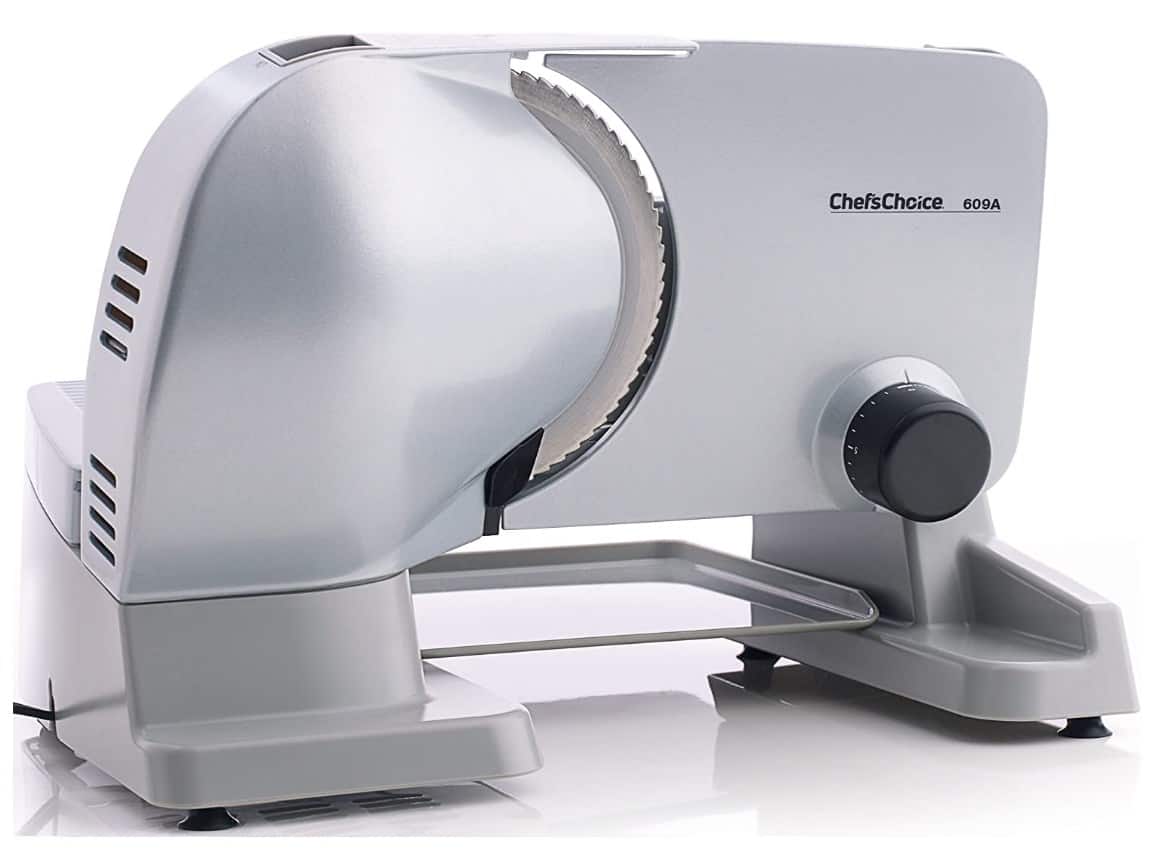 Chef's Choice 609A is a simple yet very popular meat slicer designed particularly for home chefs. Unlike Rival 1042W, this machine is made of stainless steel, so it is more durable, stable, and easier to sanitize properly. It offers a precise thickness control dial and various safety features. On the other hand, it is a bit larger, heavier, and more expensive than Rival's model 1042W.
Rival 1101W Electric Meat Slicer
Besides the simplistic 1042W we have reviewed in this article, Rival also produces several other popular meat slicers, including the robust all-metal Rival 1101W. This stainless steel electric slicer looks (and performs) almost like a professional tool. Nevertheless, it is still small and affordable enough to attract ambitious amateur chefs.
Frequently Asked Questions
Question: How do you clean a Rival electric meat slicer?
Answer: First, make sure that the slicer is unplugged before you start cleaning it. Then detach the food pusher and foldable tray from the machine. Now you can carefully remove the panel covering the blade and the blade itself, as well as the panel on the opposite side of the machine. You will probably find some food residues that need to be removed on both panels.
Now you can manually clean the machine with a cloth/sponge and mild detergent. Keep in mind that the machine cannot be submerged in the water. It is not dishwasher-safe either.
Question: Is it worth it to buy a Rival meat slicer?
Answer: If you don't expect this budget-friendly machine to be as powerful, reliable, and precise as some of the professional-grade slicers, Rival 1042W is a decent food slicer that can save you a lot of time and energy in the kitchen.
Question: Where is Rival meat slicer made?
Answer: Rival is now part of the Newell Brands group, a worldwide network of manufacturers with headquarters in Georgia, US. Nevertheless, the products of this brand are produced in different parts of the world depending on the exact model. Rival Food Slicer 1042W is reportedly produced in China.
Final thoughts: An affordable machine for occasional use
If you like to cut your meat, cheese, bread, veggies, or any other food on your own, an electric meat slicer can help you save both time and energy. On the other hand, if you need to stay on budget or have limited space, you probably won't be able to buy a first-class slicer packed with thoughtful features, made to last for years, and precise enough to provide you with professional results.
Buying an affordable alternative such as Rival Food Slicer 1042W might seem like a great solution – and if you don't have unrealistic expectations, you probably will be quite happy with your choice. It is effortless and straightforward, it works fine with most common types of sliceable food, and it fits well even in limited spaces.
Nevertheless, if your budget allows it, I would probably suggest looking for a similar machine made of metal. In my opinion, plastic housing makes this meat slicer too vulnerable and unstable for long-term regular use. Sooner or later, you most likely will experience situations when this gets in the way of achieving the results you need.
We hope this Rival meat slicer review and guide provides you with all the information you need to make the right decision. If you need more advice on useful meat-processing equipment, we recommend you to continue reading our recent Kitchenaid Meat Grinder review or our comprehensive Guide to Finding the Best Smoker.