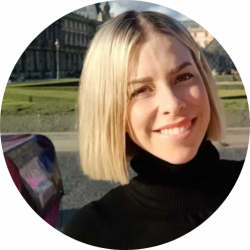 Latest posts by Jodie Chiffey
(see all)
A good meat slicer is truly priceless – but it can also be costly. Today, we will explore one of the most popular choices for both enthusiast home chefs and professionals. Our Berkel Meat Slicer review will help you decide if this is the best meat slicer for you too.
Modern meat slicers come in various shapes, types, designs, mechanisms, and price ranges. Some are good just for certain types of meat products (e.g., cold cuts and hams). Others will cope with any possible task and challenge.
Today we'll take a closer look at one particularly universal and powerful machine – the commercial-grade manual gravity meat slicer Berkel 827A. Is this tool worth the investment?
Let's start by exploring its most important features and qualities.
Key specifications of Berkel Meat Slicer
| | |
| --- | --- |
| Type of slicer | Manual Gravity Feed Slicer |
| Blade size | 12 " |
| Blade material | Carbon Steel |
| Operation mode | Manual |
| Motor | ½ HP |
| Dimensions/weight | 21.25 x 24 x 21.5 inches/74 pounds |
| Latest price | Click here for the latest price |
Core features of the Berkel Meat Slicer
The Berkel 827A is a manually operated meat slicer with a powerful engine, versatile design. It has various thoughtful details, such as the inbuilt sharpener, conveniently ergonomic push handle, and easy-to-clean stainless/aluminum construction.
Not sure if you really need it? Check out the following summary of its key features for all the information you might need:
Construction and design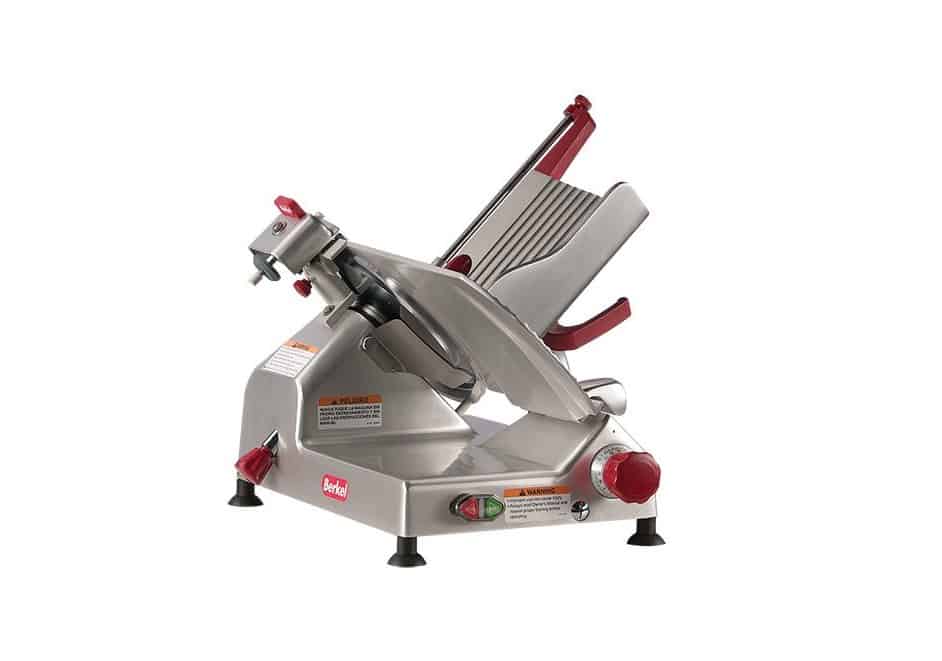 The Berkel Meat Slicer 827A is a sturdy commercial-grade meat slicer that can be used for pretty much any meat-cutting-related task you can imagine.
However, this "toy" is also quite demanding when it comes to space. Measuring 21.25 x 24 x 21.5 inches and weighing 74 pounds, this tool is certainly not suitable for tiny countertops and miniature kitchenettes. It boasts a 45-degree feed tray and a built-in 2-stone sharpener, eliminating the necessity to replace the blades/knives in the device for many years to come.
This Berkel meat slicer is made of stainless/carbon steel and has an anodized aluminum base frame. These materials are highly hygienic and super-easy to clean and maintain. You can rest assured that your slicer will not accumulate any bacteria (if cleaned properly after every use, of course). It will also look shiny as new even after several years of intensive use.
I personally really like the red-accented details on the machine too – it looks sleek and elegant. I was also very pleased to learn that this machine can be disassembled without any special tools. If you need to clean it thoroughly or check some of its components in detail, nothing stands in your way.
Functions and controls
The Berkel Meat Slicer might be robust and heavy, but once you successfully manage to fit it in its place, its operation will be almost effortless. Its ergonomic push handle is very convenient and fits into your hand perfectly. The tray and all other functional components are thoughtful angles that ensure smooth and painless operation even if you have to stand behind this machine for a long time.
Although the market currently offers all sorts of technologies and gadgets for processing your meat more or less automatically, I still prefer these traditional old-school models of gravity-feeding manual slicers.
The Berkel 827A is very user-friendly and simple to comprehend, especially compared to some of the other commercial-grade machines that often assume you already have some knowledge and experience. There's also a detailed and clearly understandable manual included in the box, which makes the use of this slicer totally straightforward.
What can you cut with this slicer once you know how to use it? The short answer would be nearly anything. Its powerful ½ HP motor is almost unstoppable. The super-sharp 12-inch carbon steel cutting blade with a cutting height of 7.6 inches and width of 10.75 inches can cope with all types of products – soft, hard, extra hard, etc.
Of course, you don't have to stick to meat products only – this slicer can be used to cut bread, cheese, and numerous other products too. The optional thickness ranges from 0 to 0.56 inches – you are allowed to set your preferred thickness very precisely, which helps you achieve professional-looking and perfectly even results.
Safety
When working with a 12-inch super-sharp steel blade, you certainly can appreciate some thoughtful safety measures. Fortunately, this meat slicer is one of those products that go above and beyond to ensure that the user will be safe from any harm. After all, ensuring safety here is no rocket science. It's all about smart ergonomic design that will not let your fingers cross paths with the knife in any reasonably imaginable situation.
The safety push handle, well-angled feeding tray, and thoughtful location of all the controls on this slicer won't let you touch any of the dangerous parts of the machine. The main switch is also protected from moisture, which is certainly useful in the kitchen environment. Moreover, thanks to its robustness, large weight, and slip-proof rubber legs, this slicer will not move at all regardless of the surface it stands on.
If you are worried about the used materials, rest assured that each one of them is ETL and NSF certified and achieves a food-grade quality.
Reliability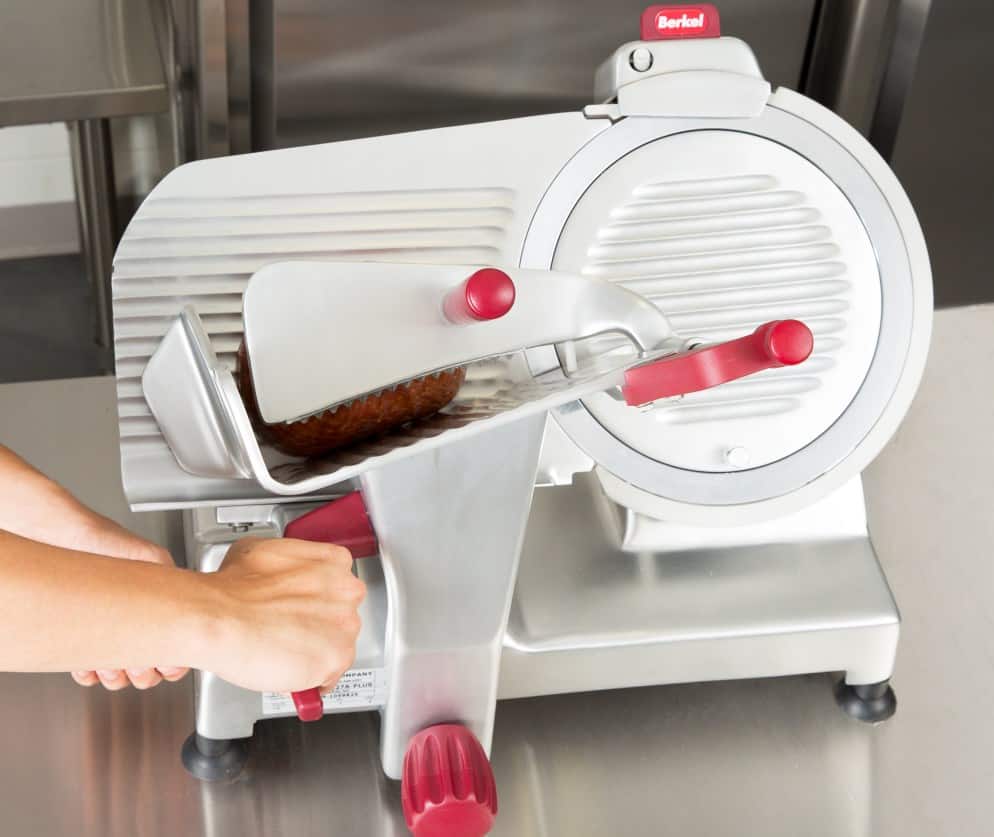 A quality meat slicer such as Berkel 827A is quite expensive. Therefore you will surely expect it to be perfectly reliable and last for ages. Although I have been using my machine only for several months now, based on how sturdy and reliable it feels, I cannot really imagine what could go wrong with it. According to the dozens of reviews scattered all over the internet, other users are usually delighted with the quality, reliability, and durability.
If anything does eventually break, the company also offers replacement components at reasonable prices, so you won't have to throw the expensive machine away just for some minor defect. The manufacturer also offers a limited warranty for the period of one year, beginning with the date of the machine's initial installation.
Price
If you're looking for just any functional meat slicer, the market is full of decent machines at favorable prices that can do the job relatively well. However, if you need a professional solution (whether you're an owner of a deli or you simply take your meat cutting at home very seriously), you must prepare for a larger investment.
Berkel Meat Slicer definitely belongs to the latter category. For its latest price quote, click here.
Pros of the Berkel Meat Slicer
Now let's summarize the key reasons why we believe that investing in this meat slicer is a good idea:
Perfect versatility
This slicer can deal with any type of meat or other food product. Soft, hard, fragile, beef, pork, chicken, cheese, or bread – the 12 " super-sharp blade made of carbon steel will cope with literally anything you throw at it. You can also set your thickness precisely and achieve professional-looking results regardless of the type of food you are cutting.
Robust, durable, and hygienic materials
This meat slicer is made of stainless steel and anodized aluminum, which is really made to last ages. These materials are also hygienic (food-grade quality) and easy to clean and maintain shiny almost effortlessly.
Safe and ergonomic
The design of this meat slicer is very thoughtful and ergonomic, so you will feel comfortable operating it for longer periods of time. Moreover, the design ensures that your fingers will never come into direct contact with the blade, making this slicer very safe. It also has rubbery legs to prevent unwanted movement on the surface and a water-resistant main switch.
Spare parts and warranty
Berkel is a reputable company that offers repair centers, spare parts on order, and even a limited warranty with all of its meat processors.
Simple operation
Whether you're a professional butcher or you're going to use this type of machine for the very first time, Berkel Meat Slicer is perfectly user-friendly, so you will understand how it works very fast. Moreover, you don't even need any special tools for assembling/disassembling the machine.
Built-in sharpener
Sharpening your blade has never been easier and more convenient since this meat slicer now has a built-in 2-stone sharpener.
Cons of the Berkel Meat Slicer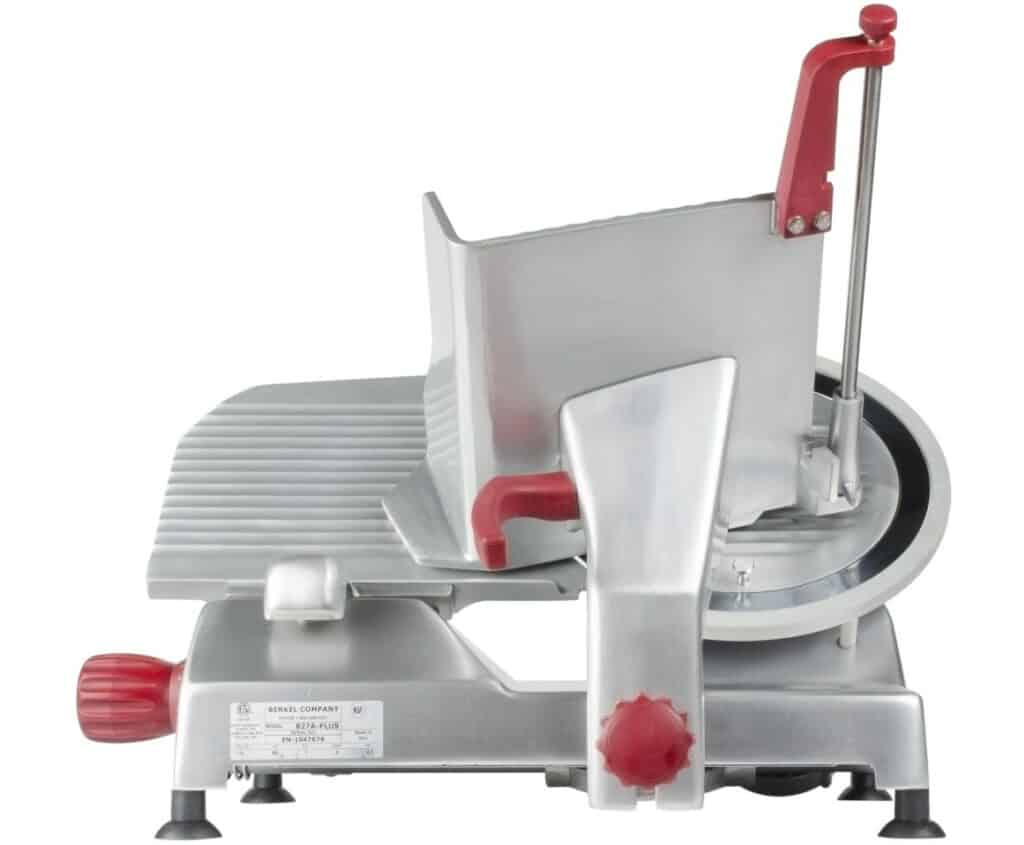 The manual type of Berkel Meat Slicer we discuss today is truly great, but some customers should probably reconsider the purchase and look for something else. Here are some possible dealbreakers of this product:
Heavy and large
Berkel 827A is a commercial-grade meat slicer, so the producer automatically assumes it will be mostly placed in larger kitchens and on spacious professional counters. In case you have limited space in your kitchen, this huge machine might not fit in it at all. Not to mention how difficult it is to manipulate it on your own if you need to replace it or move it somewhere else…
Expensive
If you want but don't really need a professional meat slicer, Berkel's price might be a bit too much for your budget. Nevertheless, if you can catch some deals or discounts, the machine is definitely worth the investment.
Are there any alternatives?
If you're not overly impressed with Berkel Meat Slice, these alternative machines might work much better for you:
Primo PS-12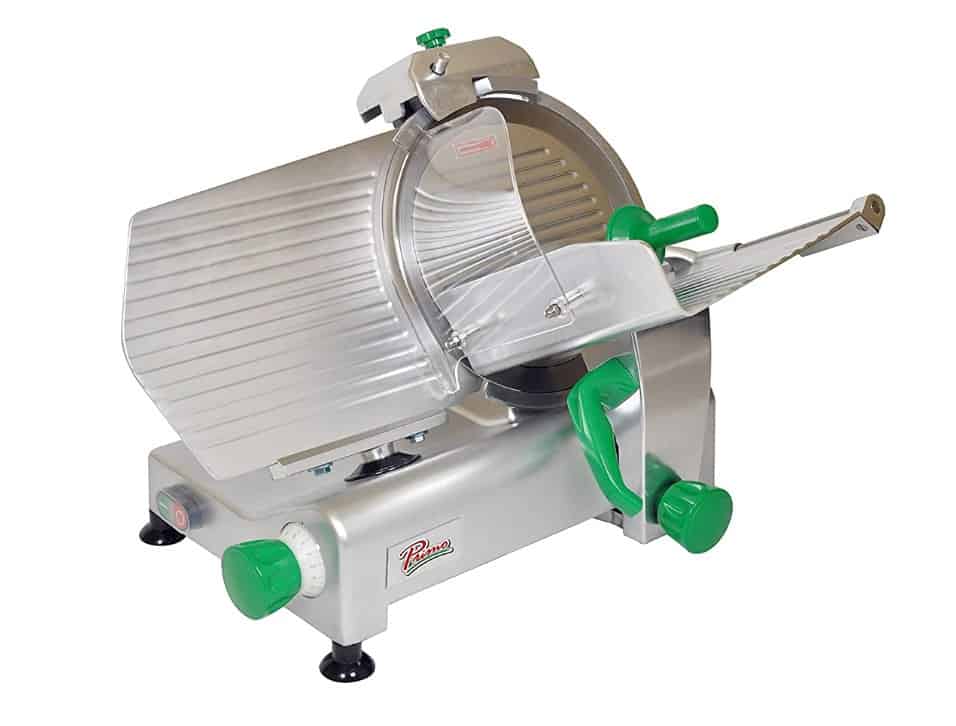 Primo PS-12 is an anodized aluminum meat slicer with a belt-drive transmission and a 12 " blade. If you want to avoid manual-fed slicers altogether, this might be your preferred choice. This slicer is 25-inches high, 28-inches long, and it weighs 54 pounds, so it is also slightly less demanding on space compared to the Berkel slicer we discuss today in detail. Moreover, the Prismo meat slicer is also less expensive.
VEVOR 10 " Commercial Meat Slicer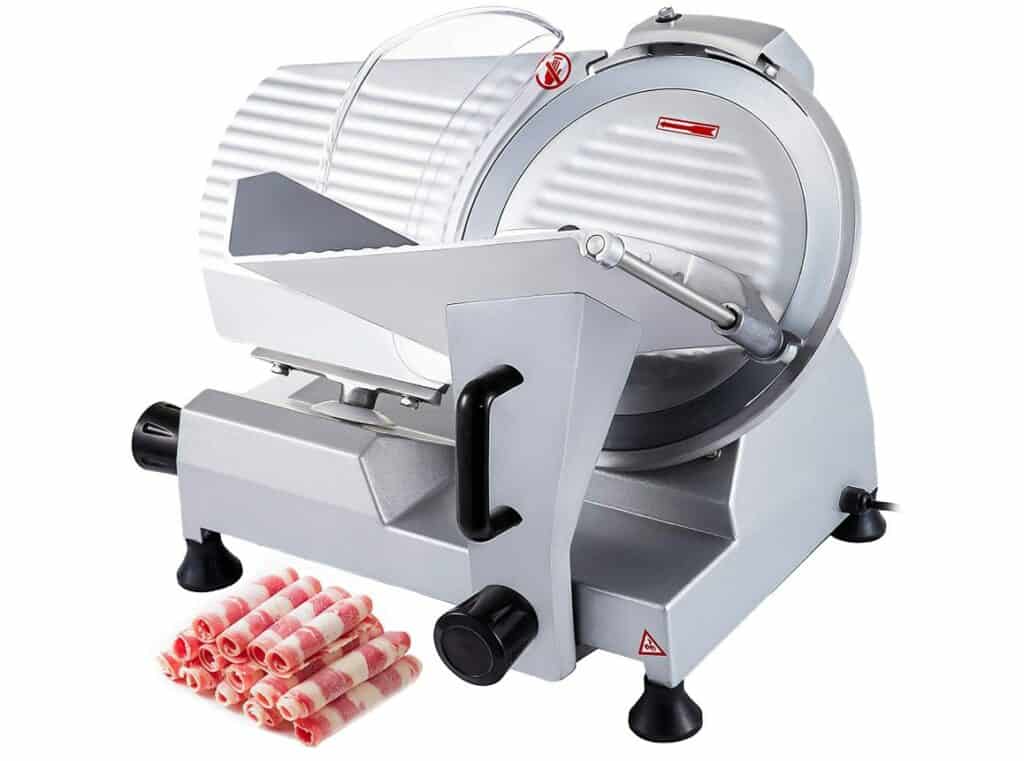 VEVOR Commercial Meat Slicer with a 10 " blade is a great budget-friendly choice for any enthusiastic home chef, perfectionistic grill master, or even a small deli/bistro. This electric semi-automatic meat slicer is made of cast aluminum and carbon steel, and it is durable, sturdy, and easy to clean. The slicer allows you to adjust the thickness of the meat from 0.01 to 0.47 inches, and it can reportedly cope with frozen meat.
Of course, the biggest asset of this slicer is its price – it will only cost you a fraction of the Berkel machine.
Frequently Asked Questions
Need more details? These commonly asked questions about Berkel meat slicer might interest you:
Question: How do you sanitize a Berkel meat slicer?
Answer: Berkel meat slicers are made of anodized aluminum and food-grade steel, so it is highly hygienic and straightforward to clean. To maintain the highest hygienic standards in your kitchen, you should, however, sanitize your meat slicer (and any other food processor) after every use.
To do this safely and thoroughly, you should first unplug your machine from the mains and set the blade to zero. Large remains of food can be wiped away with a cloth or paper towel. Now clean the blade, chute, pusher, tray, and other components and areas that come into contact with food with a new cloth, warm water, and food-grade cleaner. Rinse the cleaned areas with fresh water and wipe them dry.
Question: Where are Berkel meat slicers made?
Answer: One of the main reasons why Berkel meat slicers maintain their high price is their traditional top-quality production. With 100+ years of history, the brand used to have factories all over the world, including England, Czechoslovakia, and Belgium. Currently, it produces most of its commercial slicers in the U.S.
Question: Is it worth it to buy a Berkel meat slicer?
Answer: Berkel meat slicers are significantly more expensive than the vast majority of its competition. Nevertheless, these machines are commercial-grade, very reliable, exceptionally safe, and full of thoughtful details that definitely justify their higher price. If you are looking for true quality, this investment is surely reasonable.
Question: How do you lubricate a Berkel Meat Slicer?
Answer: Berkel's 827A meat slicer boasts a permanently lubricated ½ HP engine, so you don't have to worry about this issue at all. If you suspect that your machine should be lubricated anyway, you are encouraged to consult the issue with a specialist before making any attempts on your own.
Final thoughts: The Berkel Meat Slicer is a great choice for the pickiest customers
The Berkel Meat Slicer is not just any meat processing tool. It is a thoughtful, beautiful, reliable, and perfectly versatile machine that will most likely satisfy even the pickiest customers. I really love how sturdy and durable it feels.
You are surely going to like how easy it is to use and operate, too. Everything is straightforward and logical, each component is placed exactly where it should be, and the design is also ergonomic, so it feels very natural to use. Regardless of the meat, you need to cut, this slicer will always provide you with perfect results and masterfully even slices. The Berkel Meat Slicer will help you show off your skills if you need to make the best impression.
On the other hand, I totally understand that not everyone really needs such a precise, durable, and versatile machine in their own kitchen.
If you are not planning to use your new slicer professionally, you have plenty of other options on the market that can save you some money and space on the countertop since the Berkel 827A is certainly a large, heavy, and expensive machine. Alternative slicers such as VEVOR or Primo PS-12 can easily cope with most of the at-home kitchen challenges, too, while being much lighter, smaller, and cheaper.
We hope this review will help you understand all the qualities and drawbacks of this popular slicer and make the best decision for you. Need more advice on professional meat-processing equipment? Read our new guide to finding the best smoker!