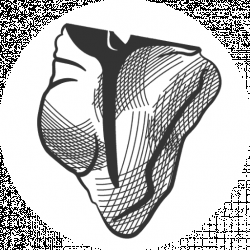 Latest posts by Meat 'n Marrow Team
(see all)
Calabrese salami is a type of sausage that comes from the Calabria Italy region. It is made of pork meat and seasoning. It is described as a dry spicy sausage and sometimes uses some beef. The recipes come from Italy but the salami is made by some companies in the United States. I have included calabrese salami and soppressata in this guide. Soppressata is a dry salami or sausage that was made in Calabria and other regions of Italy. It can be mild or spicy but is flatter than Calabrese salami. This article includes a history of the Calabrese salami, how it is made, suggestions on how to use it in recipes, and places where it can be purchased.
History of the Calabrese Salami
The smoking and curing of this dried sausage are credited to Italians. In the year, 2,500 there were settlements that smoked and salted meats and sold them at the market. In Calabria Italy, they had an advanced civilization the cured and smoked meats. Many families raised pigs and slaughtered them and made their own dried smoked sausage or salami. The recipe varied from family to family. After World War II, it was made by butcher shops and manufacturing companies following old recipes using modern equipment. Many companies and butcher shops have preserved the authentic flavor of Calabrese salami.
What is Calabrese Salami?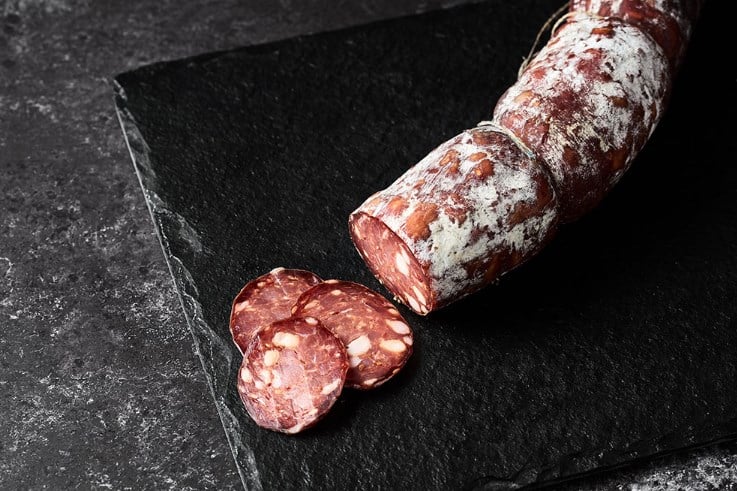 It is a spicy dried sausage made with pork and spices. It is a  spicy dried salami due to the use of hot peppers. Sometimes, beef is added to some brands. It sometimes uses crushed red pepper flakes with the pork. It often comes in two flavors mild and hot. The mild salami is made with ground pork, red wine, salt, and peppers. Some recipes for mild salami use fennel seeds and paprika and exclude the wine. These recipes use simple ingredients and good-quality pork. Each maker may vary the recipe.
Spicy calabrese salami is often called sopressata. It is spicy and made with Calabrian pepper flakes or powder from an Italian grocery store. This dried sausage or salami is fermented to add to its unique flavor. It is a smoky, spicy, type of dried sausage. Other spices used are black pepper, garlic powder, red wine, and a culture starter for fermentation.  This type of salami is fermented and aged for several days. It is a product of Italy but made in the United States by some companies.
Sopressata can be included in this category but it is made differently and has a different shape and texture. The casing must be wider than that used in calabrese salami. It has a more flattened shape but still is a member of the Calabrese dried sausage group.
How Is Calabrese Salami Made?
The ratio of pork to fat used is generally 75% pork to 25% fat. The pork used comes from the shoulder, ham, loin, or neck of the animal. Neck fat or belly fat is often used in the making of calabrese salami. Manufacturers of this salami use the best quality pork and some use heritage pork. The pork is ground in meat grinders and often cut using knives too. The spices are added to the sausage and ingredients to help with curing and fermenting.
The sausage is aged using culture and it is stuffed into a natural casing. Thin salamis take one or two months and thicker ones 3 months or more. Many salamis are dry-cured or they use a process called Italy dripping. This process drys the salami in six days and keeps the casing from drying out. Salami is often smoked using natural wood smoking. After drying it goes into a meat curing chamber to let it cure for the amount of time needed.
It is fermented with lactic acid to keep it from getting worse and keeping it safe to eat for long periods of time. It should be kept in a dry cool place or in the refrigerator. Uncured salami should be kept in the refrigerator.
This salami can be used in appetizers, sandwiches, pasta dishes, sauces, pizza, salads, add to vegetables,  and cooked with eggs. You can purchase calabrese salami in some supermarkets, Italian markets, from foodservice companies in the United States, and overseas, online on company sites, and Amazon.com.
How To Use Calabrese Salami In Recipes

This salami type is described as versatile for cooking as bacon. You can slice it and add it to your omelet or cook on the side to serve with eggs. It can be added to tomato sauce to serve with pasta dishes. Dice it very fine and add it to sour cream or yogurt dip for chips and vegetable platters. Add to vegetables like spinach, Swiss chard, and cabbage when you saute it. It makes a great topping added to homemade pizza as it is similar to pepperoni.
Fry some up or warm in the oven and add to grilled cheese or other hot sandwiches. It can be added to macaroni and cheese recipes as a side dish. When you have a cheese platter it makes a great addition. It goes well in salads and antipasti. Add it to potato salad for a delicious flavor. Add it to beans or vegetable soups. It goes well on crackers or in sandwiches.
Recommended Companies That Make Calabrese Salami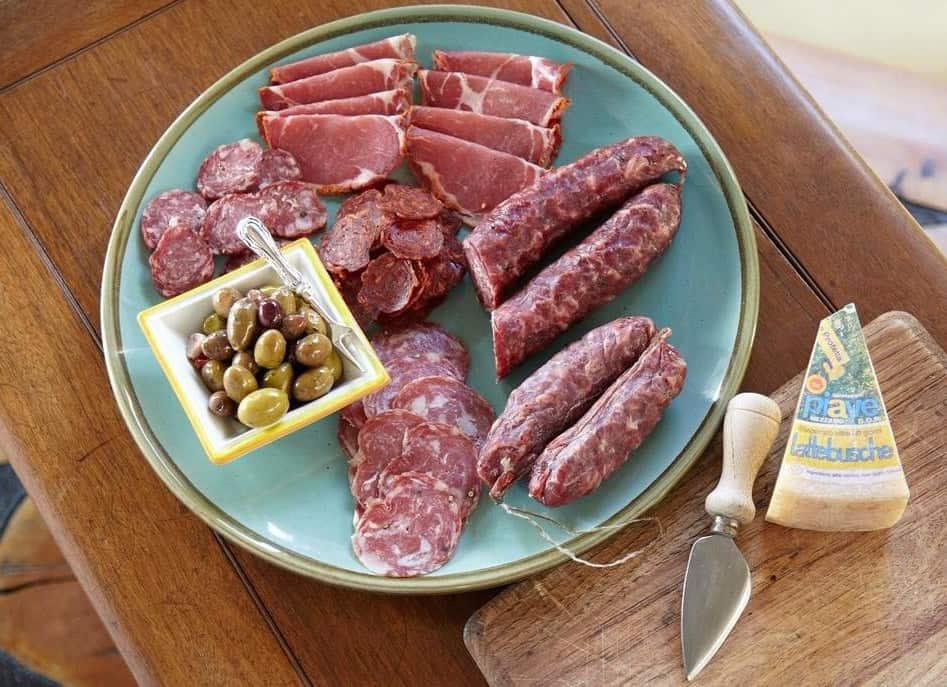 Located in Sandgate, VT makes a variety of different types of Calabrese Salami.  They sell Calabrese Salami extra dry and lean that uses Calabri hot and sweet pepper flakes. It is all-natural and does not contain nitrates. They are packed in animal casings after the sausage is cured. One salami may weigh 12 oz to  14 oz. You can order one or 10-pound packages for restaurants, delis, or supermarkets.
Another product they sell is Ndjua Calabrese Spreadable Salami. It is a spreadable salami that you can spread on bread or crackers comes in 8 oz to 10 sticks or 10-pound packages. The spreadable salami is delicious on pizzas, appetizers, sauces, and bread. They sell soppressata another type of dried calabrese salami with a coarser grind that uses red pepper flakes, whole peppercorn, and a hint of garlic. It is sold in hot and sweet. It comes in 12 – 14 oz sticks or a full case of  10.
You can order online on the company website or call. The products have good reviews from customers. Some of these products are sold on Amazon.com. Once the product is opened it should be refrigerated. Customer service works to resolve problems
Pros
Sell a few varieties of Calabrese salami
They ship all over the world
They have recipes on the website on how to use
Customer service resolve product and shipping issues
Cons:
Problems arise occasionally with shipping
For replacements must save the product and have  it returned
Company has damaged product picked up by the carrier for quality control purpose when damaged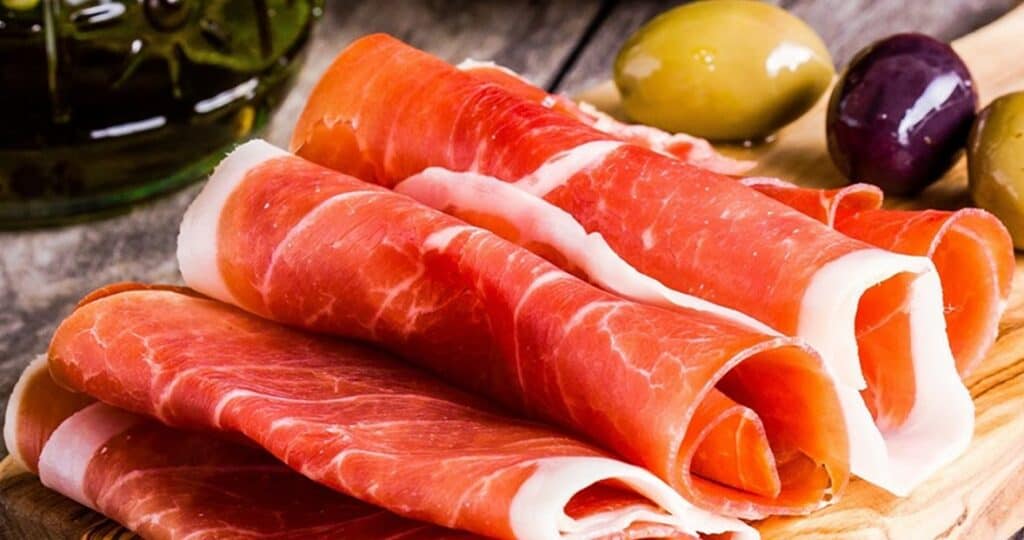 Citterio USA is located in Freeland, Pennslyvania sells organic calabrese dry hot salami, regular calabrese dry hot salami also called sausage, and soppressata hot and sweet. The organic calabrese salami is all-natural, dairy, gluten-free, and has no fat. It is sold in a 7 oz size. Calabrese dry hot sausage is made the traditional way and is gluten and dairy-free. The soppressata is sold in hot and sweet flavors made with garlic, black pepper, and salt. They are sold in 9 oz and 6-7 lb sizes.
The products may be sold locally at specialty stores and supermarkets in your area. Their website has a section on Where to Buy. You can look up your area to find a store near you. For larger orders for restaurant and foodservice venues call the main number to inquire about their products or email them.  Amazon.com sells some of the smaller-sized salamis. They receive good reviews from customers. Their salami should be refrigerated after it is opened.
Pros:
Sell a few different types of calabrese salami
Product locater and recipes on the website
Good reviews from customers
Ship all over the world
Cons:
Do not sell products online on the company website
Call, fill out online form  or email about larger orders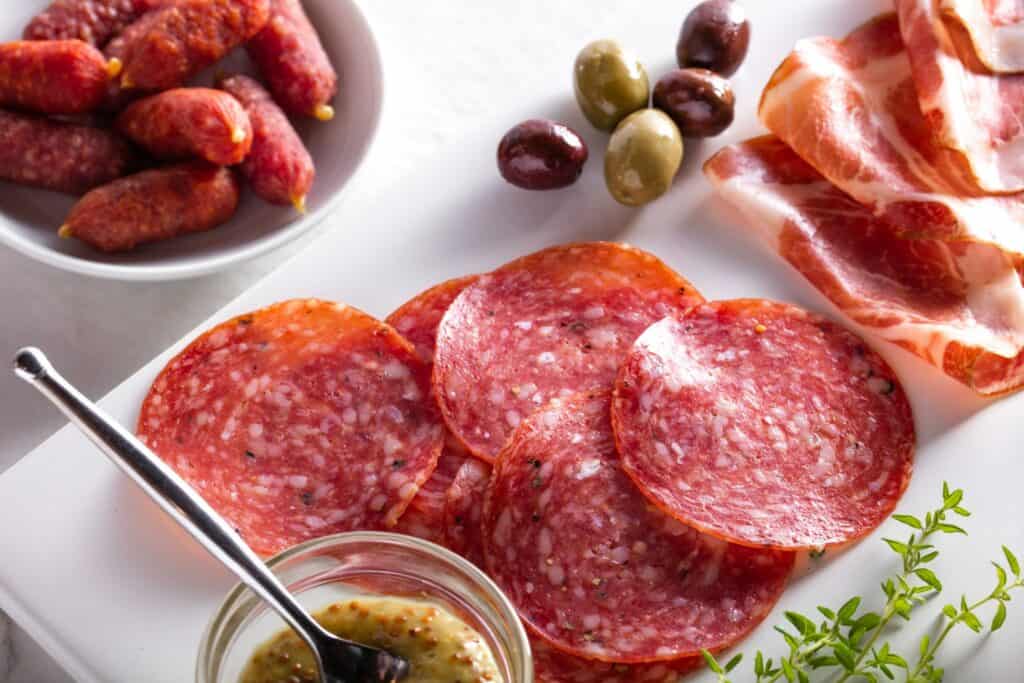 Veroni located in New Jersey makes Salame Calabrese with pork and spices in 6 oz and larger sizes of 3 lbs or more. It has hot chili pepper in the recipe. The website has recipes on how to use the product. Restaurants and food service venues should call the number on the website or email them to inquire about ordering. They sell the calabrese salami sliced and soppressata packed for supermarkets and delis. They use recyclable packaging on many of their products.
The product is sold on Alma Gourmet and can be ordered online it is a 3 lb size and Amazon.com sells various sizes of this product. The product receives good reviews from customers. It is sometimes carried at local supermarkets and specialty stores. The product should be refrigerated.
Pros:
Good quality Calabrese salami
Receives good reviews
Sold online at Alma Gourmet and Amazon
Recipes on site
Cons:
You have to call the company or email for larger orders
No mention of the type of shipping used and locations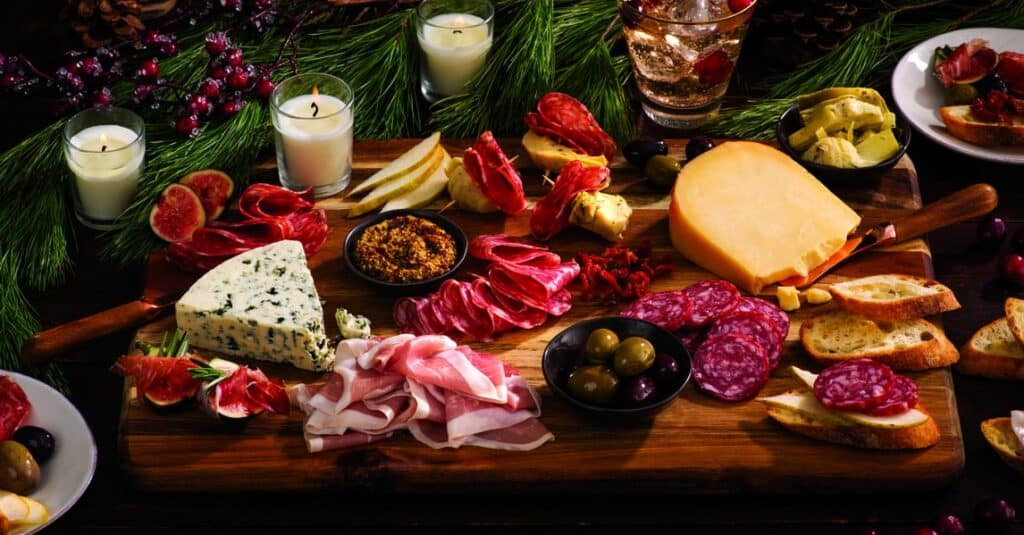 Mastro /San Danielle located in Ontario Canada sells Mastro sliced hot calabrese salami. It is sliced, packaged, and sold by the pound. Their product has spices with hot peppers that are pressed to provide great flavor. It is lactose and gluten-free. They make soppressata salami that is pressed to give that flat look. It has spices and garlic and tastes delicious in salads and sandwiches. Their product is sold in supermarket delis and specialty stores. It is sliced and packaged or sold by the pound in sticks.
Restaurants and food service businesses can inquire about ordering by filling out their online contact forms on the website under the contact us page or by calling the company. Its product is sold online at Supermarket Italy and received good reviews from customers. Their salami is sold in varying sizes. You will find the products in some local supermarkets and delis. The company has recipes on the website. It should be refrigerated after opening.
Pros:
Good quality sliced Calabrese salami and sopressata
Sold online at Supermarket Italy
Good reviews from customers
Recipes on website
Cons:
Cannot order online  on the website fill out an online form, call or email about orders
No reviews or info about shipping and location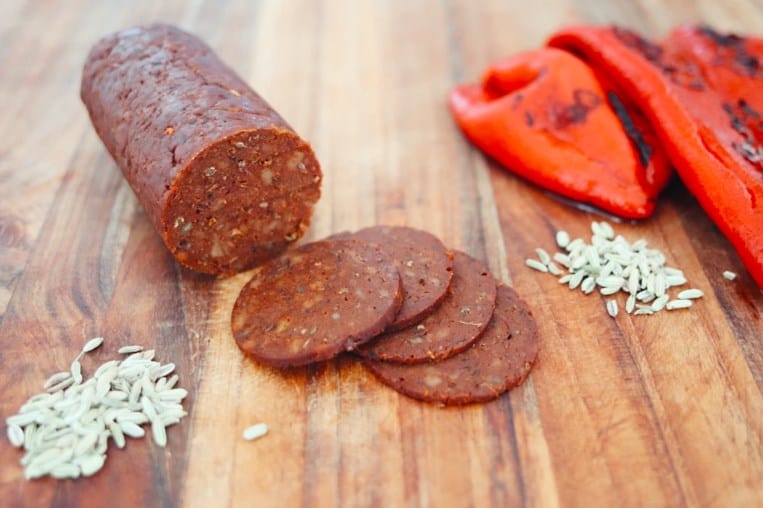 Renegade Food located in Soma California makes vegan-based Calabrian soppressata salami that is plant-based. It has the flavor of smoke and hot peppers made with wheat, olive oil, garlic powder, onion powder, tomato paste, smoked paprika, and other spices.  It is sold in the 7.5-ounce package at health food stores and some grocery stores. They sell the product online on the website in a 3 pack. It can be ordered once or you can join the Renegade Nation.
Orders take two weeks to ship and are sent out on Monday, Tuesday, and Wednesday. You will receive an email confirmation with a shipping date. The website has recipes and pages that list restaurants and stores where the products are sold. It has received good reviews suited to small vegan restaurants and those with some vegan items on the menu. The product should be refrigerated. It is shipped out using ice packs.
Pros:
Unique good quality vegetarian salami
The company sends out an email on shipping and delivery date
Can order online
They have recipes on the website.
Good reviews from vegan sites
Cons:
The limited market may not appeal to some customers
Delivery takes a few weeks
 You have to join a subscription service to order more than once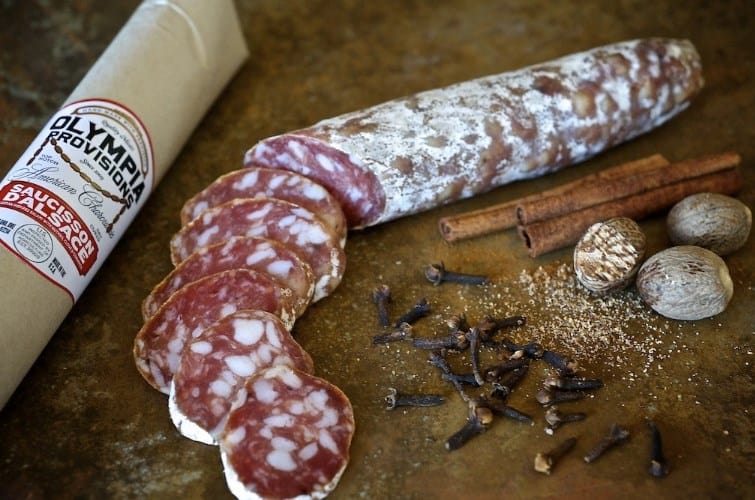 Olympia Provision in Portland Oregon sells soppressata salami a type of calabrese salami that uses cloves, garlic, chili flakes, and oregano.  It is gluten and dairy-free sold in packages that weigh several ounces. It can be ordered on their website and they have free shipping on order over $50 dollars. For wholesale orders, you can call the company headquarters or email the company. They offer an Olympian Postal Provision Subscription too.
Their product ship in 3 to 7 days and may arrive using different carriers. They have recipes on their website on how to use their products. They source pork from local farms in their region. They receive good reviews about their salami from retail and restaurant clients. It should be refrigerated. They sell other types of salami. They do not ship locally because they have a store. They sell wholesale customers must email or call to get applications. They ship only to the United States. Some products are sold online on Goldbelly and gourmet.
Pros:
Good quality classic soppressata
Can order online on the website
Positive reviews from customer
Cons:
Must join subscription service
Shipping to Alaska and Hawaii for orders over $50
Delivery can take 3-7 days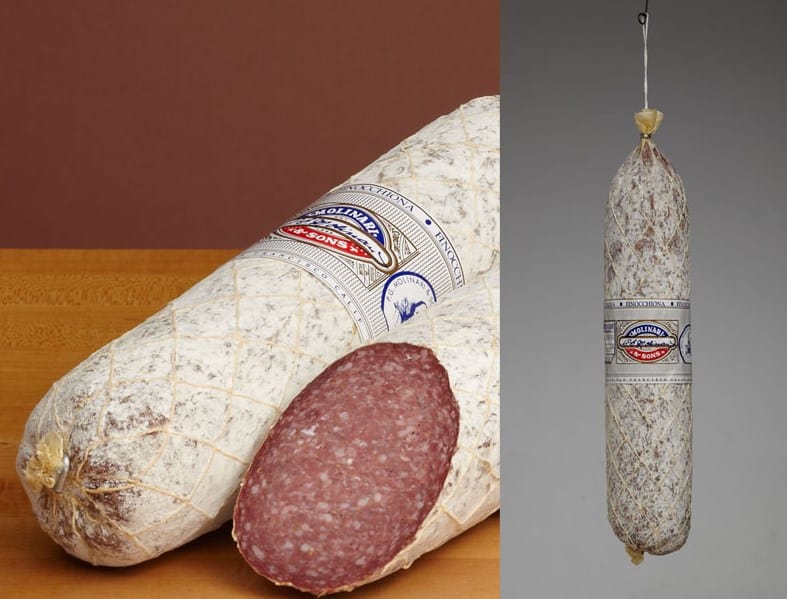 located in San Francisco California sells Calabrese salami and sopresseta.They sell hot spicy calabrese salami about 2 lbs in size and soppressata. It is made of all pork salami with burgundy wine and dry-cured. It comes in 4 to 5-pound sizes. It is made with easy-peel casing and naturally dried casings. You can order their product online or call if you cannot find what you are looking for. They do not accept international orders or ship in the Greater San Francisco Bay area.
In their new shopping cart, you have to create a new account as old ones were not transferred over. Your order may take 5-7 days with regular ground delivery. They accept payments only through PayPal at this time They offer different UPS delivery options. They do not ship outside the US. Customers give them good reviews, some problems with shipping may arise, and customer service work to resolve issues. The products should be refrigerated after opening. For large orders call the company directly to inquire. It is gluten-free and contains no msg.
Pros:
Sells a few varieties of quality calabrese salami
Sold on the website
Ship UPS and takes 2 days after order received
Mostly good customer reviews
Cons:
Some problems with shipping and product quality
Recommend to use UPS next day or second-day delivery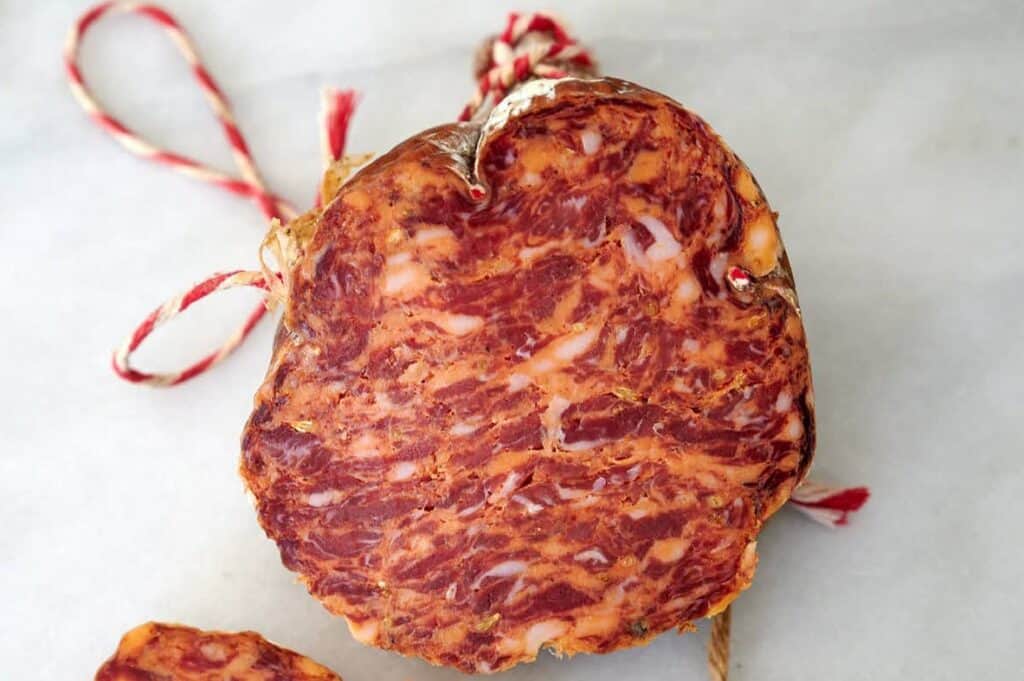 located in Buffalo New York make artisan calabrese hot salami in 8-ounce sizes and artisan soppressata salami in 8 oz. Their products are all-natural, gluten-free, no artificial colors, msg, or nitrates. They sell soppressata in 4 lb sizes You can order the products online and shipping is free for orders over $100. They ship USPS five days a week. You can call them to discuss products and orders or email them.
There web page list several stores where the product is sold in some states. They sell wholesale to the public. Overall good reviews from customers. They do not ship with dry ice. They ship UPS Priority Mail and it should be refrigerated on receipt. For foodservice orders, you should call the company number listed on the website.
Pros:
Sell good quality calabrese salami and sopresseta
Ships USPS Priority Mail
Mostly good reviews of the product
List of  stores and distributors  on the website in some states where you can buy the product
Cons:
Do not use ice when shipping
Some complaints about shipping and product  quality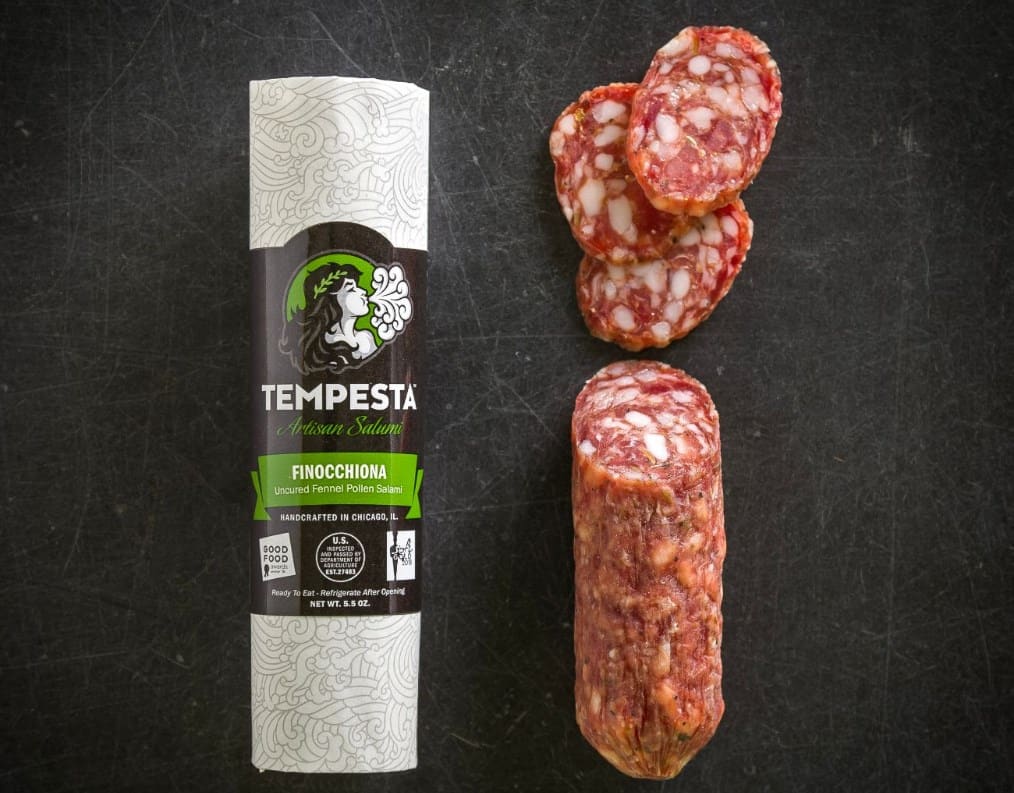 Tempesta Artisian Salumi in Chicago makes Nduja a spicy spreadable salami that is of Calabrese origin. It is made with pork, peppers, and sea salt. This salami comes with  3 6 oz sticks in a package or a 1 pound stick. It is fermented using lactic acid. This is a great spread on crackers, bread, or cut vegetables. It is gluten-free and has no antibiotics. They sell this in the traditional casing of 3 to 4 pounds. They make Sopressata Uncured Black Pepper salami that is gluten-free with no antibiotics. It is sold in packages of three  5.5  sticks. Soppressata Picante Salami is an uncured spicy salami with a sweet and spicy flavor.  It is sold in packages with 3 5.5.
All are sold 12 to the case. You can order online or call the office to inquire about larger orders listed on the website. They ship using USPS with ice packs to customers. It is recommended because the product is not cured. They use pork from local farms in their products. They own a small restaurant deli that receives good reviews from local customers. No reviews were available on salami and shipping. They recommend shipping the product via USPS second day because it uses ice packs. Products should be refrigerated. For large orders call the company or email.
Pros:
Good quality all natural calabrese salami and sopresseta.
Good reviews from customers
Sold online on the website
Cons:
Sends order without ice when you do not order USPS second day
No reviews on order shipping or how product problems are resolved
FAQs
Question: What is calabrese salami?
Answer: They use pork that comes from recipes from Calabria Italy and it is dry and spicy.  Some are mild and other kinds hot and spicy. Soppressata is another type of Calabrese salami a flatter type of salami and generally spicy. These types of salami are made in the United States and sold to restaurants, food service businesses, and supermarkets.
Question: Where can you buy calabrese salami?
Answer: It is sold online, in specialty markets, at some supermarkets, and by online food companies in the United States. Check the listing mentioned here for some of the best companies to order from. Many companies sell to the foodservice industry but you must call or email them for more information.
Question: What can you use calabrese salami for?
Answer: It can be used on crackers, sandwiches, appetizers, pasta sauces, on pizza,  in cheese platters, salads, and soups. Many sites have recipes and ways to use this delicious salami.
Conclusion
Calabrese salami is a good item to add to all types of restaurant menus and of course those that specialize in Italian food. There are many good companies out there that foodservice companies can try and order these and other products from. Most are located in the United State and Canada.