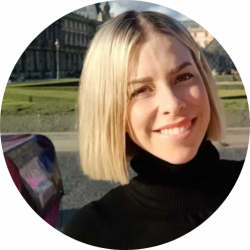 Latest posts by Jodie Chiffey
(see all)
Are you looking for a practical meat processing tool to make your kitchen routines easier and more enjoyable? If I had to invest in just a single tool, it would probably be a slicer. Although it is mostly designed for cutting meat, it can actually do much more, making a good slicer truly priceless.
Today we're going to focus on a popular product from this category – Chef's Choice Meat Slicer, and in particular Chef's Choice aluminum electric meat slicer 615A, which is a versatile machine used for cutting all types of meats, cold cuts, cheeses, and other food products mostly in at-home kitchens.
So, should you get one too? That's what we'll find out.
Let's start by examining its prominent features and technical parameters.
Key Specifications of Chef's Choice Meat Slicer
| | |
| --- | --- |
| Type of slicer | Electric Meat Slicer |
| Blade size | 7″ |
| material blade | Stainless Steel |
| operation mode | Automatic |
| Motor | High Torque with Fuse and Fan, 120W |
| Dimensions/weight | 15.5 x 10.4 x 11 inches/10.61 pounds |
| Latest price | Click here for the latest price |
Core Features of the Chef's Choice Meat Slicer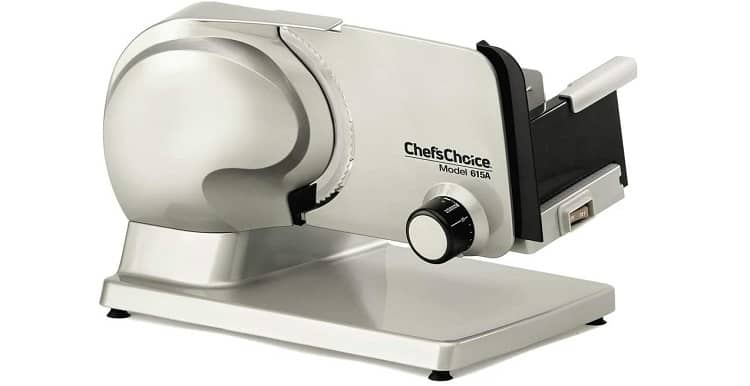 While meat slicers are usually a must when it comes to delis, fast foods, restaurants, and other gastronomic businesses, at-home chefs are often in doubt whether they really need it at all.
Small, user-friendly, and affordable alternatives such as the Chef's Choice 615A we're discussing today make this decision-making much easier. Let's analyze its core features one by one and see if it suits your needs too:
Construction and Design
Chef's Choice 615A aims mostly at at-home cooks, and its design and construction are clearly adjusted to this environment and purpose.
In addition, many of Unlike its counterparts professional (such as the Berkel meat slicer ), this slicer is Relatively small and light, measuring just 11 x 15.5 x 10.4 inches and weighing 10.61 pounds.
If you're struggling to fit larger appliances into your kitchen due to the limited space, this is a good alternative. Moreover, Chef's Choice also seems very compact, smooth on the surface with little-to-no sharp edges and points where one can hurt while cleaning or manipulating it.
It is also effortless to clean, and it probably looks great, so you will be happy to keep it sitting on the top of your kitchen counter permanently.
Chef's Choice currently produces several quite similar meat slicers that mostly differ in their materials.
The 615 A ​​model is one of the most expensive options in the brand's portfolio (although, as we will discuss shortly, it is still very affordable), mainly due to being made of high-quality cast aluminum. Its 7" blade is made of stainless steel.
These materials are considered to be highly durable and hygienic. Nevertheless, you should know that this slicer also has some internal plastic components, which can be problematic.
Also, beware that the manufacturer does not recommend cleaning any components of this slicer in a dishwasher, which might be a dealbreaker for some potential users. One more downside – unlike many other slicers, this machine doesn't have any onboard sharpener.
Functions and Controls
Chef's Choice Meat Slicer is designed mostly for non-commercial use, so you probably shouldn't expect it to have sophisticated, precise, and varied features as some of its pricier alternatives.
Nevertheless, most of its users are reportedly very pleased with the versatility and wide array of options this slicer offers. Furthermore, this automatic machine is also straightforward to use.
The 615 basically has two major controls you need to handle: there is a main switch that turns the blade rotation on and off (simple ON/OFF cradle located on the front panel) and a dial knob (on the side) that enables you to set your preferred thickness of slicing.
Then, to start slicing, just put the food on an integrated food carriage and slide it towards the blade with the pusher.
The slicer can be preset to numerous thickness levels up to 3/4-inch. This makes it theoretically suitable for many different purposes, from prosciutto to cheese to bread to steaks, etc.
Nevertheless, the pickiest users can argue that the thinnest option is still not thin enough for the first-class deli-style slices. Furthermore, the slicing of some harder food can also be limited by the slicer's weaker engine, as I'll explain later.
Safety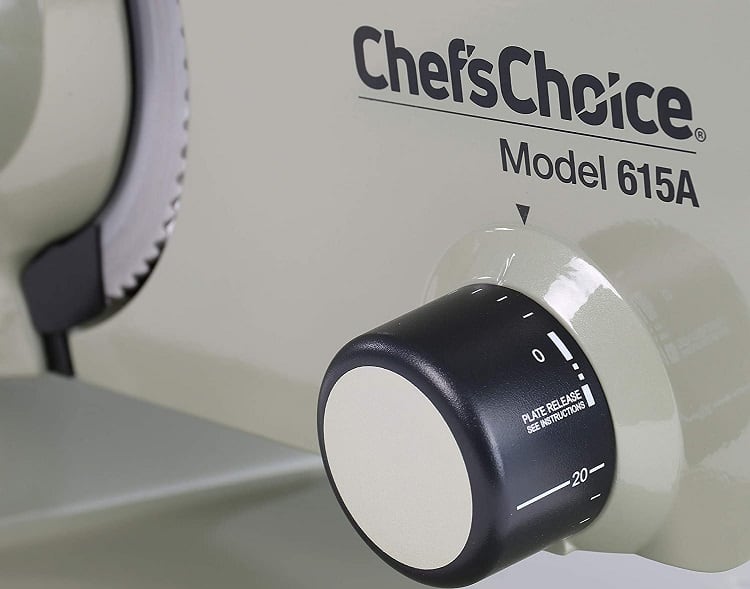 This meat slicer comes with more than a few safety measures. First, it has an excessive cord storage compartment that eliminates the potential risk of getting tangled into the slicer and pulling it off the counter.
This is very useful, especially if you have small kids or curious pets at home. As a standard precaution, there is also a basic thumb guard plate to protect your fingers, but I would suggest using knife-resistant gloves when cutting your meat to be truly protected.
The Chef's Choice slicer also has rubber legs that should keep the machine securely in its place. However, I have experienced some issues with them on a smooth granite surface, which is evidently too slippery for them. Suction cups would probably work much better here.
The manufacturer also paid a lot of attention to the safety of this slicer's engine. Although you won't find many technical details on it in the documentation provided along with the machine, the 120W engine (although promoted as extraordinarily powerful) reportedly tends to overheat quite easily.
However, this should be resolved by the added cooling fan.
If this is not sufficient, there is a fuse that will turn the machine off before it causes any damage. There is also a spare replacement fuse included in the package.
Reliability
When your Chef's Choice 615A meat slicer works, it usually works well. Unfortunately, sometimes it apparently doesn't. Users often report that their machine went off in the middle of the session and refused to restart, which is rather disappointing if you're not finished yet.
This can usually be resolved by replacing the fuse that went out, which can be done quickly and easily.
Nevertheless, if you already used the single spare fuse included in the package, it can be quite problematic to find a suitable replacement in standard shops.
Some users also report that plastic gears inside this slicer are unsuitable for more demanding tasks such as slicing hard cheese (eg, parmesan).
As a result, the plastic teeth of the gears might be eaten away by the adjacent metal components, which make the whole slicer quite useless. If this happens to you, your only option is returning the product (if eligible) or searching for the replacement parts, which are often out of stock (and quite expensive).
Price
A professional-grade meat slicer can cost you a fortune. If you don't plan to use it commercially, there's really no point in investing. On the other hand, Chef's Choice Meat Slicer offers an affordable alternative that can suit even those on budget.
For its latest price quote, click here .
Pros of the Chef's Choice Meat Slicer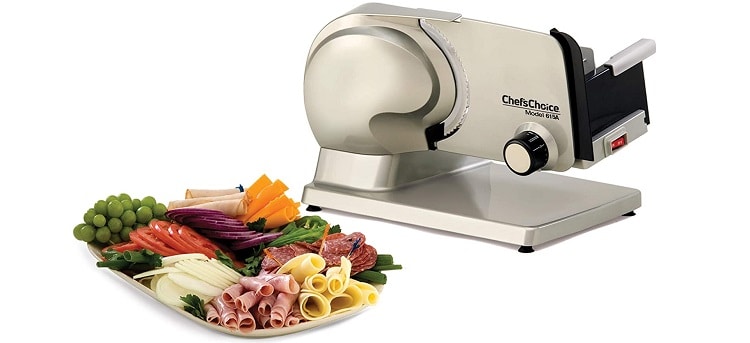 Now let's summarize the main reasons why you might want to consider buying this meat slicer:
Compact Design
This slicer has a small footprint, and it is also relatively light. So if you're struggling with limited space in your kitchen, this machine might suit you very well. It is also conveniently portable and easy to store away after each use.
Good Looking and Durable Housing
Chef's Choice 615A is made of cast aluminum. Sporting smooth curves and round edges with a nice matte finish, the machine looks very slick and elegant. It also feels robust and durable.
Safety Measures
Although this slicer has some flaws, the manufacturer did a great job of incorporating various safety measures. For example, the slicer comes with a cord storage compartment, spare fuse, cooling fan, thumb guard plate, rubber legs, etc.
Decent Price
In comparison with professional-grade machines, Chef's Choice slicers are very affordable. So whether you have a limited budget or plan to use the slicer only occasionally, this is a good cost-conscious choice.
Simple and User-friendly Operation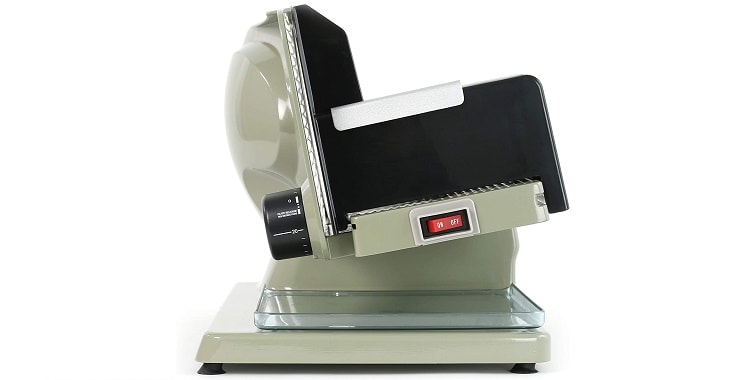 Some professional-grade kitchen tools scare away amateur users with a rather steep learning curve. On the other hand, Chef's Choice seems to understand the needs and abilities of inexperienced users very well. This meat slicer basically has just two controls, and its maintenance and use are both very straightforward.
Cons of the Chef's Choice Meat Slicer
There's no denying that this budget-friendly automatic meat slicer has some weaker points too. So before you purchase it, I advise you to consider these downsides:
Plastic Components
Although Chef's Choice 615A meat slicer is mostly durable cast aluminum, some of its important inner components (like gears) are plastic.
Although many users don't report any issues related to this fact, some complain that the gears can easily break if you try using the slicer for some harder types of food. Moreover, getting a replacement for these components can reportedly be quite difficult too.
Engine Prone to Breakdowns
Although this meat slicer claims to have a powerful high-torque motor capable of pretty much any slicing-related task, the mere fact that it needs to be constantly cooled down by an integrated fan and there's an extra replacement fuse included in the package tells a different story.
Customers, unfortunately, report issues with the engine in this slicer quite often.
It Cannot be Washed in a Dishwasher
Washing your meat-processing tools (or at least their key components) in a dishwasher is not only convenient but also hygienic and safe. Unfortunately, the manufacturer warns in the manual that no components of this slicer are dishwasher-safe.
No Integrated Sharpener
If you are used to meat slicers with inbuilt sharpeners, beware that Chef's Choice 615A does not provide this practical feature. Just consider how much you need it before you hit the "Order" button.
Not a Professional Tool
If you plan to use this slicer for a commercial purpose (eg, in a small food stand, deli, catering agency, etc.), you should probably reconsider this idea.
Although in many regards this machine can work just as well as its much more expensive pro-grade counterparts, it is not 100% reliable, and it also lacks some of the finesse of the pro slicers like ultra-thin cutting mode suitable for prosciutto, etc.
Are there any Alternatives?
Here are some alternative slicers similar to Chef's Choice 615A you might want to consider instead:
Chef's Choice 609A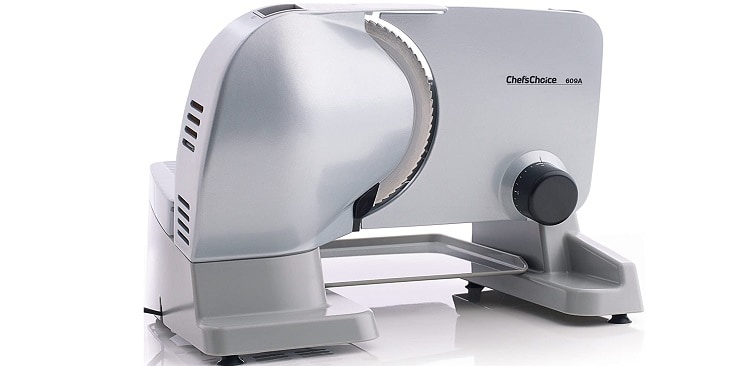 Chef's Choice 609A is another popular meat slicer for at-home use from the same manufacturer. Being made of stainless steel instead of aluminum, this machine is slightly cheaper.
It is also a little bit lighter – it weighs just 8.53 pounds. Besides these differences, 609A is very similar to 615A. Many customers consider it just an even more affordable version of the same model.
KWS 320W Electric Meat Slicer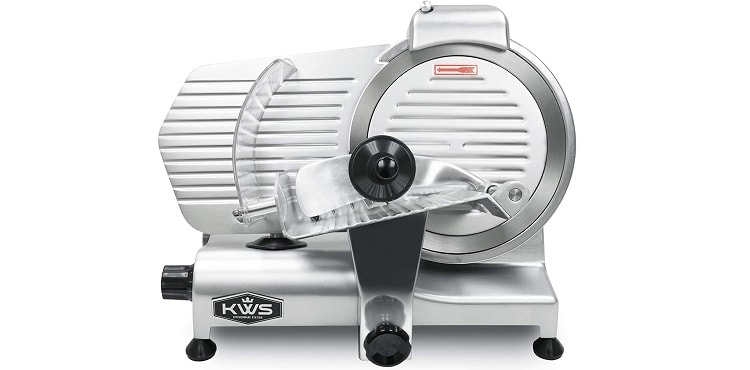 If you're willing to invest a bit more, I suggest considering a KWS 320W commercial-grade meat slicer , which offers professional performance at a very decent price.
It has a large 10" blade that can smoothly cut even through large frozen food, and it is also very quiet (at least in comparison with many other meat slicers). As a result, this machine is great for both home and commercial use.
Frequently Asked Questions
If you need more details, there frequently asked questions on Chef's Choice meat slicer that might interest you:
Question: How do You Clean a Chef's Choice Meat Slicer?
Answer: Chef's Choice meat slicer is not dishwasher safe. You can, however, clean it easily using a soft cloth, warm water, and some mild detergent. Sanitizing your meat processing tools after every use is highly advisable to keep your kitchen safe and hygienic.
Question: Does Chef's Choice Meat Slicer Cut Through Bone?
Question: Where is Chef's Choice Meat Slicer Made?
Answer: Chef's Choice is an American company, but its meat slicers are currently being produced in China.
Final Thoughts: A Budget-friendly Option with Some Flaws
Chef's Choice 615The electric meat slicer is a popular budget-conscious option for those who would like to cut their own meat, cheese, bread, wursts , cold cuts, and many other types of food at home effortlessly. It looks great, it is very easy to use, and it has many thoughtful safety features.
If you use a meat slicer only occasionally and don't want to invest in some of the more sophisticated commercial-class alternatives, this might be a reasonable purchase. After all, most of its users seem to be quite happy with their purchase and praise the machine for its versatility, ease of use, and relatively small footprint.
On the other hand, this meat slicer also has some flaws you should know about before ordering. While some of them (like the missing sharpener or not-so-stable rubber legs) can probably be resolved quite easily, issues with the slicer's reliability and durability can pose a bigger problem.
My suggestion is to try and test this machine immediately after you receive it. This will allow you to return it right away in case you've received a faulty piece.
We hope this Chefs Choice meat slicer review will help you decide whether this slicer is your best option. If you need more advice, check out our guides to finding the best smoker or the best grill!