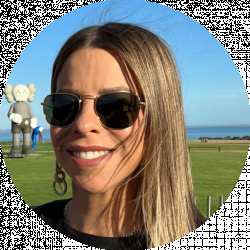 Latest posts by Maddy Chiffey
(see all)
Commercial kitchens require many different prep tables and surfaces to prepare different types of foods. There are plenty of butcher cutting table options, but which is the right one for your professional kitchen?
This guide should help you find the right kind of butcher cutting table and show you my chosen eight of the best around.
It is always advisable to go for the highest quality level that you can afford. But, when it comes to installed tables just for meat preparation, some things can't be compromised to save a few bucks.
Firstly, the table must be heavy duty. It should also have an easy-clean, hygienic surface, and it would be helpful if it were of generous size.
There are some additional features that many chefs find are a great benefit, such as the table being adjustable height, coming with wheels to aid moving, or having under counter storage.
However, these are not essential features and do hike the price up somewhat.
If you're in a hurry, here's a glance of the top 8 butcher cutting tables.
At a Glance: 8 Best butcher Cutting Tables
John Boos Block Stainless Steel Kitchen Cart – Top #1 Overall Pick
Finnhomy Rolling Kitchen Cart – Top #1 Budget Pick
John Boos JNS09 Maple Top Work Table
Hally Stainless Steel Table for Prep & Work
Linon Kitchen Island Granite Top
Benjara 2 Drawers Wooden Frame Kitchen Cart with Metal Top
FirsTime & Co. Navy Aurora Farmhouse Kitchen Cart
DuraSteel Stainless Steel Work Table
What a Butcher Cutting Table Adds to a Professional Kitchen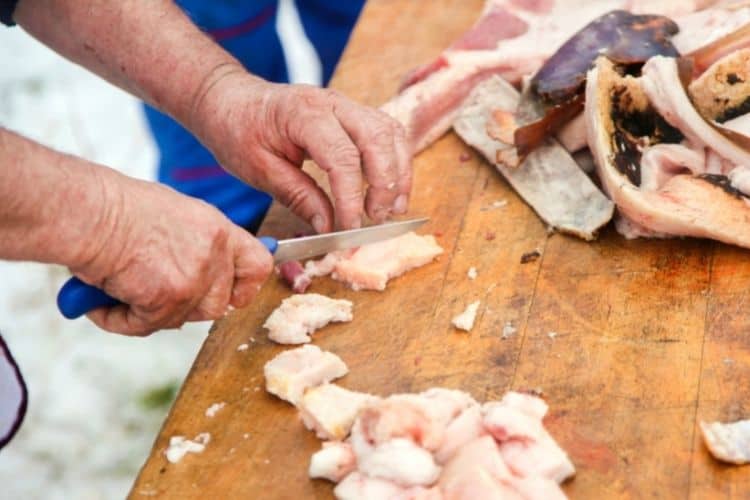 Some butcher cutting tables are naturally warm and beautiful, which can upgrade the aesthetics of a professional kitchen, but more than this, they all will improve the productivity there. A butcher cutting table is the best piece of equipment you can have for when serious cutting, slicing, tenderizing, and chopping needs to be done.
The surface of some wooden butcher cutting tables is made from millions of minute wooden fibers, which absorb sharp blades to prevent kitchen knives from blunting easily. Furthermore, they make the process of preparing meat a much safer venture, as there's less slip and much more security.
Things to Consider When Purchasing a Butcher Cutting Table
Every chef and every kitchen is different. The right butcher cutting table for a steakhouse may be too big of an investment for a roadside diner, and what suits a higher-end eatery could look out of place in a fast-food restaurant.
Here are some things to consider that will hopefully help with your choice of the right butcher cutting table for your commercial kitchen.
Design
If you are the daring type, you may want to consider creating a contrast between the cutting table and its surroundings. For example, you may add some vibrancy to a light and airy kitchen by introducing an island made from dark wood. Conversely, if you have a darker kitchen, then a white cutting island would be sure to stand out.
It may be that you'd prefer a consistent, seamless look in your commercial kitchen and that the design you choose will be plain, possibly stainless steel or another lighter metal.
For those who opt for wood, the type of wood you choose can profoundly impact the overall aesthetics of the kitchen. For example, Walnut adds richness and depth. Maple is subtle and adds warmth. Cherry wood can bring a touch of color.
Top Surface
You will find that most butcher cutting tables have a surface made from either metal or wood, and both are great options.
Wood is a renewable resource and so pretty environmentally friendly, especially as many boards will be constructed from waste wood. Furthermore, wooden surfaces are kinder on knives and prolong their longevity and sharpness.
Wood is more difficult to mark too, so it is a highly durable choice that will retain its new look for longer.
Stainless steel is a sure sign of a workhorse kitchen, and as most chefs will attest, it is a pretty much indestructible material that will withstand the harshest treatment. Butcher cutting tables that have stainless steel tops resist burning, rusting, and staining.
If you're worried about your carbon footprint, stainless steel is a 100% recyclable metal too.
Size
Butcher cutting tables, like all commercial prep tables, come in a range of sizes. Some are small and compact; others can run pretty much wall-to-wall of the kitchen.
The size of table you choose should fit into your already established kitchen, and this is really the biggest consideration – even if you think that you need an extra-large one, if you only have a small space, then you're pretty limited.
Some butcher cutting tables can be multi-use, which may help justify a larger size for a smaller space, and I have included some of these in this guide.
8 Best Butcher Cutting Tables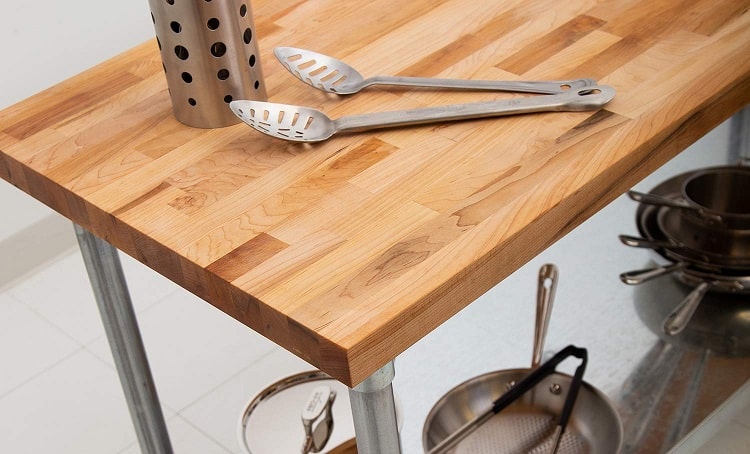 John Boos Block Stainless Steel Kitchen Cart – Top #1 Pick

Removable Maple Cutting Board

X4 Lockable, Swivel Wheels

Find Here
Finnhomy Rolling Kitchen Cart – Top #1 Budget Pick

4 Heavy-duty Commercial Grade Wheels

Find Here
John Boos JNS09 Maple Top Work Table

8 Different Sizes to Choose From

Find Here
Hally Stainless Steel Table for Prep & Work

NSF Commercial Heavy Duty Table

Find Here
Linon Kitchen Island Granite Top

Storage Drawer & Bottle Rack

Heavy-Duty Locking Rubber Casters

Find Here
Benjara 2 Drawers Wooden Frame Kitchen Cart with Metal Top

Find Here
FirsTime & Co. Navy Aurora Farmhouse Kitchen Cart

Distinct Wooden Frame – 6 Color Choices

X2 Drawers and x2 Shelves

Find Here
DuraSteel Stainless Steel Work Table

Food Prep Commercial Grade Worktable

Find Here
John Boos Block Stainless Steel Kitchen Cart – Our #1 Top Pick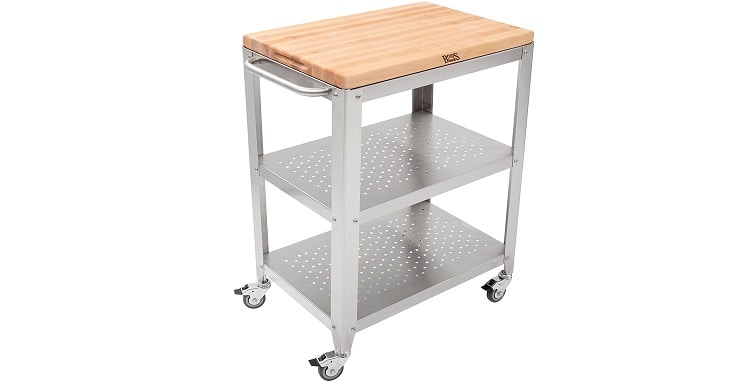 John Boos are a brand to be trusted with 125-years of experience in this business, and there is little to dislike about any of their butcher tables (In fact, I've featured another, further down). Still, the John Boos Block Stainless Steel Kitchen Cart is my overall favorite.
I'm aware it is expensive, but in this instance, I feel that it is justified; the level of quality in craftsmanship and materials is outstanding!
This table is a compact design, at 20-in x 30-in, so great for commercial kitchens of all sizes. A great feature is the removable wooden cutting board, which is 1.5-in thick and made from 100% Maple wood, and as it is removable, it can be used independently.
In addition, there are integrated, indented handles on each end of the cutting board, and the finish feels exceptionally smooth.
Underneath, there are two perforated storage shelves made from stainless steel and a towel bar made from stainless steel. The towel bar is also helpful to push or pull when wanting to move the table, and as it is on wheels (commercial grade), this is sublimely simple. The table is made entirely in the USA, and the brand offers a one-year warranty.
Pros
Cons
Surface may be too Small for Some
Finnhomy Rolling Kitchen Cart – Top #1 Budget Pick!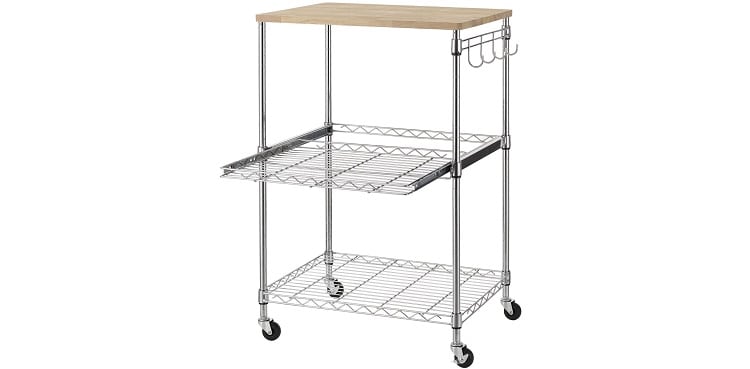 The Finnhomy Rolling Kitchen Cart is an excellent choice for those limited to smaller budgets; it is highly affordable and with some surprisingly impressive features for its price point. For example, it has three under-counter shelves that are all adjustable and make for great bespoke storage solutions for ingredients, seasonings, or oils.
There are four chrome metal towel hooks conveniently placed on one side. They're sturdy enough to hold pots and pans, as well as towels and utensils. I feel that this feature increases the buying value by providing additional functions that will go down well in any busy, commercial kitchen.
The shelves and hooks are anti-rust and easy-clean, they don't feel as sturdy as stainless steel, but they're more than adequate. The top of the table is thickened oak, which is a great wood to use for professional chopping boards, and it is fully removable for washing or to use independently.
Pros
Cons
Chrome Metal, Not Stainless Steel
Shelves Could Feel Sturdier
John Boos JNS09 Maple Top Work Table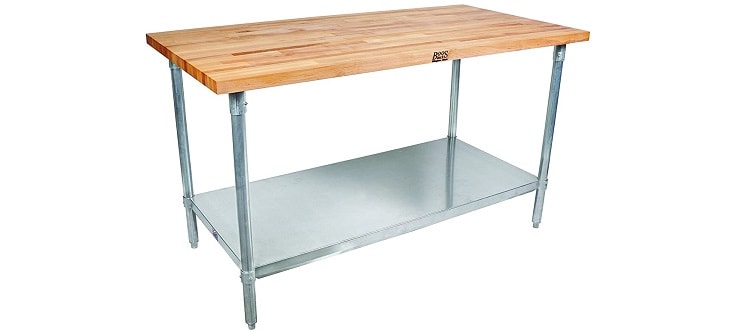 For fairness, I whittled it down to just two from this brand, and my second product of theirs to feature is the John Boos JNS09 Maple Top Work Table. This is another impressive cutting table; with a 1.½-in thick Maple top, galvanized steel base, bullet feet, undershelf, expert stability, and guaranteed longevity.
The cutting board top is made from North American hard-rock Maple wood, which is one of the longest-lasting and most durable materials for food preparation. It doesn't blunt knives, is difficult to stain, it won't rust or corrode, plus, it looks great.
The surface feels exceptionally smooth to the touch and doesn't produce the loud rattle when chopping on that metal tops or cheaper wooden tops do. It is pre-treated with John Boos food-safe penetrating oil.
This table is relatively large at 48-in long, 30-in wide, and 35-high, but there are eight different size options if this table is not the right one for your kitchen.
Sizes range from the smallest at 48-in long x 24-in wide to the largest, 96-in long x 36-in wide, and there are slight color changes too to the undershelf. All of the undershelves are adjustable, as are the bullet feet.
Pros
Adjustable Shelves and Feet
Cons
Finger Marks on the Legs Can be an Issue
Packaging for Delivery Could be More Robust
Hally Stainless Steel Table for Prep & Work
An online best seller at a competitive price, the Hally Stainless Steel Table for Prep & Work is an excellent choice for those who want a simple table that is budget-friendly.
The table is adjustable to guarantee comfortable working for various kitchen staff members of differing heights; the undershelf is also adjustable and made from galvanized steel for outstanding longevity.
The feet are impressive; again, adjustable and with the added benefit of non-slip matting for extra security and stability. The table is strong and has a 450 lb capacity; it is also incredibly spacious and offers excellent storage.
The dimensions are 24-in x 36-in, which isn't the largest table featured but has ample room to hold kitchen equipment such as microwaves, blenders, or small fridges underneath, as well as some conveniently placed ingredients.
The steel is 18-gauge and highly polished, it offers great resistance against rust and corrosion, and I found the 1.½-in backsplash an easy to clean and highly convenient addition. There is a 30-day refund policy for this table and three different sizes to choose from.
Pros
Cons
Feels Flimsy When Heavy Items are Placed on Top
Some Consumers Cite Table Arrived Damaged
Linon Kitchen Island Granite Top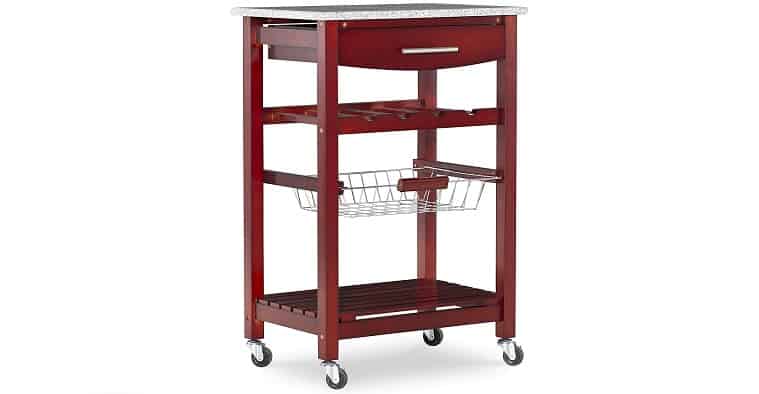 The square Linon Kitchen Island Granite Top, which also has a lighter natural wood option, is a stunning design and a fine example of a butcher's cutting table with some great features that help make a kitchen run more seamlessly.
The storage is impressive; a pull-out drawer, pull-out wire basket, bottle rack, and lower shelf, all of which are of excellent quality. This table is compact and would make a great addition to a small commercial kitchen which requires a designated area to prepare meat.
The package is well protected with more rigid cardboard, and the assembly is pretty simple for a real hardwood construction. It is a tool assembly that requires a drill and some amount of patience, but once it is up, it looks set to last the test of time.
The granite top feels smooth and looks good, but for heavy use, I would protect it with the addition of a chopping board.
Pros
Granite Top Looks and Feels Great
Assembly Relatively Simple
Cons
Less Weight-Bearing Capacity Than Most
Dark Wood Coloring Not to Everyone's Preference
Benjara 2 Drawers Wooden Frame Kitchen Cart with Metal Top
Benjara 2 Drawers Wooden Frame Kitchen Cart with Metal Top is currently unavailable on Amazon, but you can buy directly from the manufacturer here, where shipping can take slightly longer.
This table is a stunning choice for those who like the rustic look but need industrial style. It is of generous size at 20.5-in long x 44-in wide x 36-in high and has some great storage features.
Underneath, two deep drawers pull out and in effortlessly, two bottom shelves and an adjustable middle shelf. The table is supported by casters which help when transporting; there is also a handrail to aid with this that can also hold utensils, towels, or other kitchen equipment. There is an overall load capacity of 200lb.
The top of the table looks stunning but is highly durable. However, I would protect it with a butcher's block rather than chopping directly onto it.
I like that the middle shelf is slated, which would provide good breathability if used to store food ingredients such as fruits or vegetables. There is a warning for California residents of Proposition 65; please see here.
Pros
Cons
Warning for California Residents
Additional Butchers Block Purchase Recommended
Currently Unavailable on Amazon
FirsTime & Co. Navy Aurora Farmhouse Kitchen Cart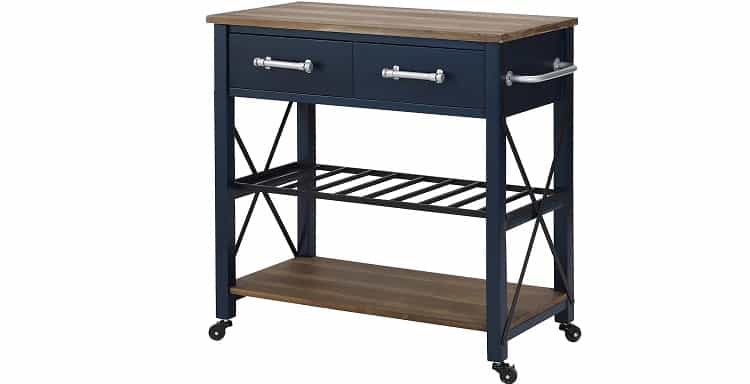 With six different color options, the FirsTime & Co. Navy Aurora Farmhouse Kitchen Cart can add a touch of class or splash of color to any professional kitchen. I am reviewing the navy color, which looks truly stunning in a lighter contrasting room. But, if aesthetics aren't your thing, then this table still has a lot to offer.
At 31.5-in high, 31.5-in wide, and 16-in deep, there is lots of storage in this versatile table. The distinct navy wood frame, rustic brown shelves, and top of this item are simply beautiful, but more than this, the storage is fantastic.
You can easily store an abundance of kitchen utensils, equipment, or ingredients in the two pull-out drawers and bottom shelf.
There is an additional middle shelf, designed to hold ten wine bottles, but could also hold condiment and oil bottles in place of alcohol. Finally, there are two side handles, made from galvanized silver metal, which can hold utensils such as meat tenderizers or mallets and be used in addition to the four metal wheels for simple moving.
Pros
Beautiful Design and Finish
Complete Wooden Construction
Cons
Top Marks Easily Without Protection
Middle Shelf Could be Pointless for Some
Many Reviews of Damages on Delivery
DuraSteel Stainless Steel Work Table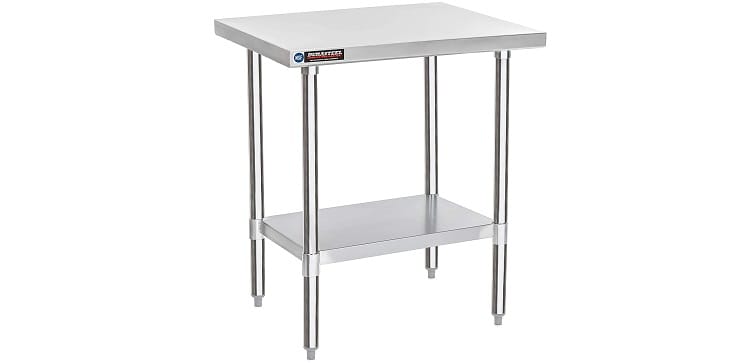 The DuraSteel Stainless Steel Work Table is cited to last over 20 years in a commercial kitchen, and I am on board with this concept.
The premium commercial 18 gauge stainless steel, solid legs, and galvanized undershelf have great anti-rust and corrosion abilities; there is no reason that this table shouldn't remain in excellent condition for the next couple of decades – or more.
The table measures 24-in x 30-in, but there are 17 different size options, and each table is adjustable so chefs can work comfortably at their desired table height. The undershelf is also easily adjustable and highly secure, with a heavy weight-bearing. The table, overall, can hold over 300 lbs – which is a lot of meat!
This prep table has been NSF certified for commercial use and is a hardy unit that would benefit any busy kitchen that requires an additional durable surface.
Pros
High-Grade Stainless Steel
Cons
Quality of Table Disputed by Some
Fairly Difficult Assemble
Frequently Asked Questions
Question: How Do I Protect a Stainless Steel Top?
Answer: If you opt for a butcher cutting table with stainless steel, granite, or another metal top, it would be unwise to cut directly onto it. Instead, I would advise purchasing a plastic chopping board or a specifically designed butcher block such as this one here by John Boos.
Plastic chopping boards are widely considered the better option for raw meat, as they're dishwasher safe and have a nonporous surface. Wooden chopping boards are better for knife longevity, but they can be more challenging to sanitize properly.
Question: How Sanitary are Butchers Tables?
Answer: How sanitary anything is depends on how well and how regularly it is cleaned.
Butcher cutting tables with a wooden countertop can harbor more bacteria and germs than we'd like to think. To successfully combat germs, grime, and dirt, it is essential to clean down the top after every use. Even for butcher tables with a stainless steel top, although this can be more sanitary, it still requires a thorough clean.
Question: Should I Oil My Butcher Cutting Table?
Answer: If you have opted for a wooden top or use a wooden butcher's block chopping board, it will require oiling. It is recommended to do so once a month, even if the product is pre-treated, to provide extra durability.
Best Butcher Cutting Table – My Verdict
The best butcher cutting table in one person's eyes may not be so in another. For me, I love our top choice, the John Boos Block Stainless Steel Kitchen Cart, for several reasons. The storage of this table is good, the top (Maple wood) is removable, it's on wheels, and it performs well. However, it is expensive to buy and isn't the largest one out there.
Our budget pick, Finnhomy Rolling Kitchen Cart, has some great features for an incredible price, it may not be the most durable, but it is certainly of outstanding value. The Linon Kitchen Island Granite Top is a sturdier, more expensive version, and the granite top is a unique feature that can look striking in a plain kitchen.
For those who like something a little more contemporary, I recommend either the Benjara 2 Drawers Wooden Frame Kitchen Cart with Metal Top or the FirsTime & Co. Navy Aurora Farmhouse Kitchen Cart. Both have great storage solutions and can really upgrade the aesthetics of a tired commercial kitchen.
Another great choice from John Boos is the John Boos JNS09 Maple Top Work Table; with eight different sizes to choose from and an adjustable lower shelf, everyone can be sure to find convenience with this table.
As with any commercial table from the brand, there is a higher cost than most, but it is easily justifiable when you factor in the level of quality and craftsmanship.
Although not traditional butcher tables, the two stainless steel products featured, DuraSteel Stainless Steel Work Table and the Hally Stainless Steel Table for Prep & Work, are excellent choices for those who want optimum hygiene durability, and low maintenance in the commercial kitchen.