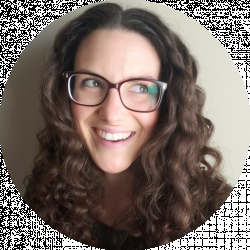 Latest posts by Sarah Caldwell
(see all)
A good meat delivery service that doesn't cost a fortune is hard to find. Sometimes you may want to splurge and other times you may just want a regular delivery of staples to keep your refrigerator stocked.
If you're looking for the best chicken delivery services, there are a lot of options out there, and they're all unique in their own way. You can get quality cuts of chicken as well as other meat like beef, pork, and seafood.
It's a great way to support sustainable farming and ensure that you support family-owned businesses, free-range ranchers, and local farms. Read on to find the right option for you and your needs.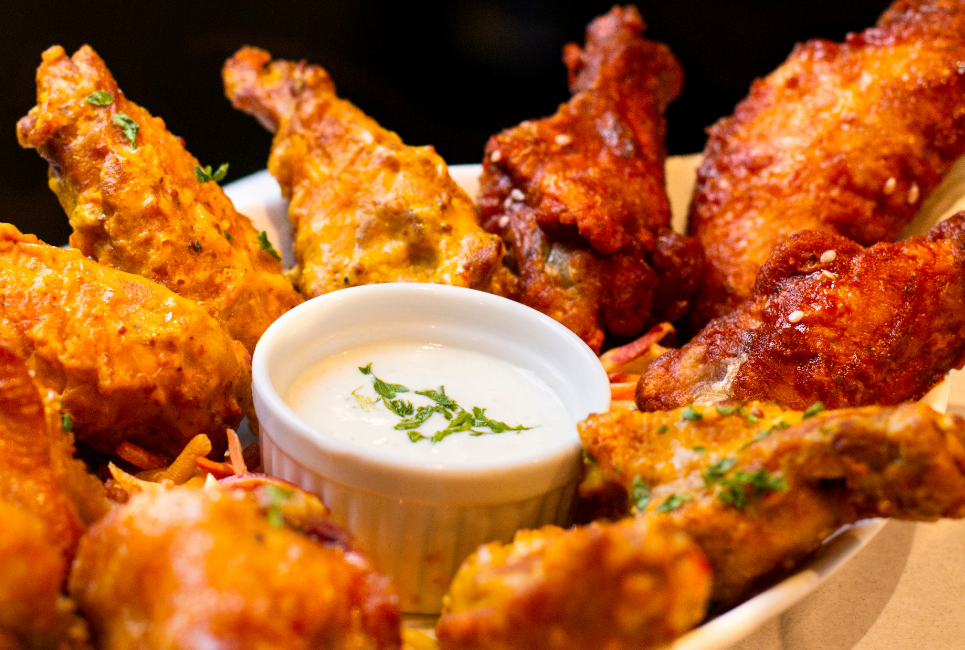 Our Criteria
Before we dive into our list of the best online chicken delivery services, we want to highlight the criteria we used to make these selections. All of the recommendations we made in this guide aren't chosen randomly. Instead, we have a careful vetting process we use to ensure all of the chicken delivery services we recommend are high-quality.
Each of the chicken delivery services we've included had to have:
Affordability: We chose chicken delivery services of a variety of price ranges. That way, we can ensure that every option on our list is affordable to you, no matter what type of budget you're working with.
Positive customer reviews: Besides the hundreds of hours of research we put into trying out and testing these chicken delivery services, we also looked into other customer reviews. We made sure the majority of the customers who use these chicken delivery services have a positive experience.
Available to a large group of people: Also, we made sure all of the subscriptions in this list are readily available to a large group of people.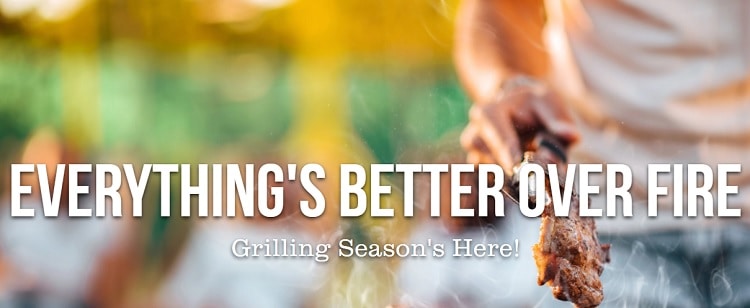 Rastelli's is based in New Jersey and has been delivering meat for a few decades. They specialize in proteins from US sources and everything is free of steroids, hormones, and antibiotics.
It's a family-owned business that streamlined their operation as they grew and now have plenty of products to accommodate the basic needs. They're a great place to get your staples, including chicken. Check out our full review on Rastelli's here.
If you're looking for a great chicken delivery service, Rastelli's offers the following options:
Boneless skinless chicken thighs
Organic chicken breasts
Organic chicken drumsticks
Organic chicken wings
Organic chicken breast strips
Organic whole chicken
Chicken drumsticks
3 cheese stuffed and breaded chicken breast
Bacon and cheddar stuffed and breaded chicken breast
Chicken and broccoli rabe sausage
Chicken, feta and spinach sausage
Chicken, roasted red pepper and garlic sausage
Chicken sampler
There are plenty of options from which you can choose when it comes to their chicken options, whether you want something precooked or something you can prepare yourself. However, they have more than just chicken. If you want all of your meat to come from the same place, you can choose from some other options at Rastelli's.
They have beef, seafood, pork, and sides. That includes a variety of burgers, like wagyu burgers, strip steaks, ribeyes, filet mignon, salmon, yellowfin, shrimp, tilapia, sausage, bacon, pork chops, ribs, and a variety of precooked options.
Prices vary based on what you order, but you can get free shipping on orders over $200. You can also set up a subscription for 5% off your orders and you'll receive regular deliveries that are based on your preferences.
Porter Road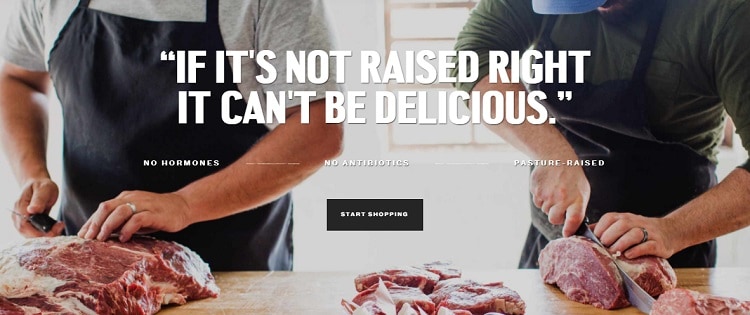 It's often best to pick your meat up from a local butcher because you're getting the freshest options and the best variety. If you want that same quality but you don't want to leave home, Porter Road is one of the best options.
These former restaurant chefs opened an online butcher shop to offer hand-selected cuts. They get their meat from partner farms with established relationships to ensure that every animal is given the proper nutrition at every stage. They're all raised outside and fed non-GMO vegetarian feed.
All meat is hand-cut in Kentucky and shipped fresh, not frozen. The only products that come frozen are large roasts, ground beef, and sausages.
If you want a la carte chicken, you can choose from the following options:
Whole chicken
Bone-in skin-on breast
Boneless skinless chicken breast
Chicken drumsticks
Bone-in skin-on thighs
Wing party pack
Chicken soup bones
Chicken stock
Porter Road also offers a variety of beef, pork, and lamb, but they lack a seafood option. They offer a variety of dry aged beef options like steaks, hamburger patties, and ribs. They also have pork chops, ground pork, sausage, and ham.
They're a great source for lamb if you're looking for leg of lamb, lamb chops, lamb shoulder, or lamb t-bones.
They also have subscription boxes that you can schedule at two, four, or eight-week intervals. You can also choose one-time add-ons at any time to make your box exactly what you need.
While pricing depends on what you order, you can expect prices to be reasonable per serving. However, it's not the cheapest option out there.
Pros
 Plenty of chicken options
Offer other meat options, besides chicken
Cons
Not the most affordable option
Don't have any seafood
FarmFoods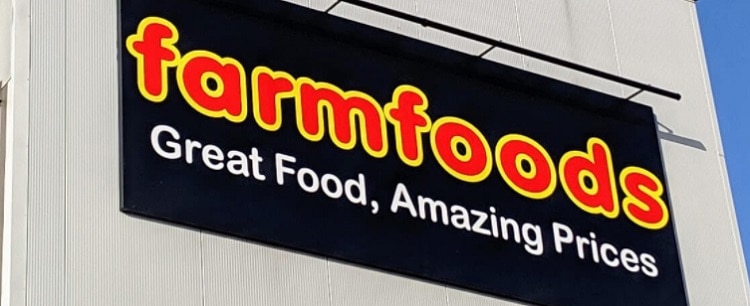 If you're looking for a better value, FarmFoods might be a good option. This collection of humane farms spans the country and produces organic meats including chicken, beef, pork, and seafood.
If you're looking for chicken shipped right to your door, they offer things like:
Whole chicken
Chicken back
Chicken wings
Chicken drumsticks
Chicken thighs
Chicken breast
Chicken feet
Chicken liver
Chicken gizzard
Chicken medallions
Chicken bone broth
Chicken heart
Chicken legs
Chicken bones
They also have unique cuts like heart, tongue, liver, and tendon. You may also want to choose from more exotic cuts like bison or elk. Shipping is free if you order more than 10 pounds, which makes it a great deal.
This company partners with farms that have a rich history in organic farming, and you can read all about every farm they partner with on their website.
Pros
Organic farming
Unique cuts, like internal organ
Free shipping offer
Cons
Cuts aren't always cleanly made
Not the highest-quality meat compared to expensive options
Crowd Cow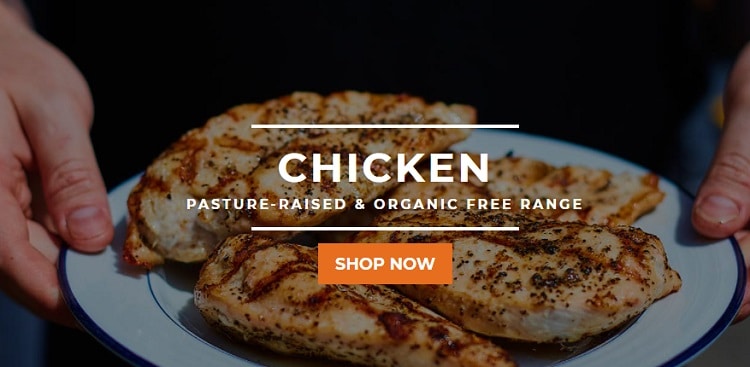 If you're looking for more than just chicken, Crowd Cow is the best option for getting a variety of different meats. The idea originally was that a group of friends could purchase a single cow together to be butchered, packaged, and shipped. It's transformed into one of the best meat delivery services.
Crowd Cow partners with independent suppliers for their chicken, beef, pork, bison, lamb, and seafood. They know each producer and they work closely to inspect every shipment. They only work with meat that was raised ethically, sustainably, and cleanly.
Their chicken options include:
Whole chicken
Chicken breast
Chicken thighs
Chicken wings
Chicken drumsticks
Ground chicken
Half chicken
Chicken strips
Chicken nuggets
Deli carved oven-roasted chicken breast
Chicken bone broth
Pre-cut whole chicken
It's easy to search their site by cut or by protein. You can also select a particular farm and shop the options that are sourced from the place you like the best. In addition to chicken, they have beef, wagyu, pork, bacon, bison, seafood, duck, lamb, turkey, sides, desserts, seasonings, and sauces.
They offer subscription boxes with 5% off every box or you can order items a la carte. Prices start very low, so it's also an affordable option.
Pros
Sustainable meat
Offer more than just meats
Discounts available
Cons
A little more expensive than other options on this list
ButcherBox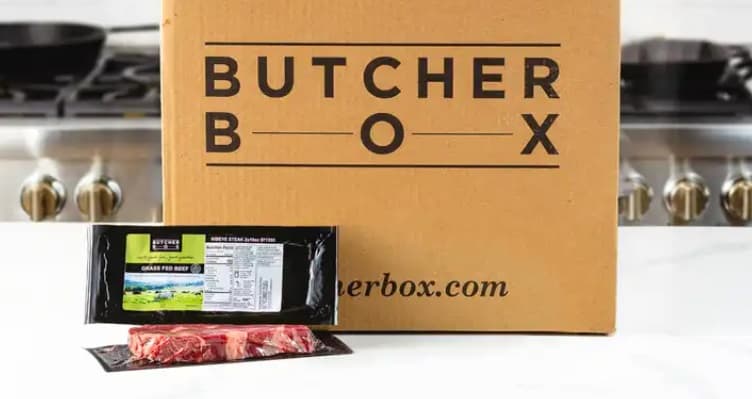 When you have a subscription service delivering regularly, it's easy to keep your refrigerator stocked. ButcherBox is one of the best meat subscription services available.
You can choose from a box curated for you every time or a custom box where you can pick which cuts get shipped. You can change your subscription at any time.
You can get monthly or bi-monthly shipments and it always ships free. Their boxes include options like beef and chicken, beef and pork, all beef, or a mixed box. Beef is grass fed, pork is heritage-bred, and organic chicken is free-range.
There are more than 25 cuts to choose from, but you aren't privy to the selection until you sign up, so for some, it may be difficult to pull the trigger on this one. However, if you like surprises, this is a great option.
Boxes come in a classic size that holds 30 meals and a big size that holds 60. The benefit here is the affordability the subscription affords, including free shipping.
Pros
Several box sizes
Packaging is environmentally friendly
High-quality meat
Cons
Expensive
Can't select specific cuts of meat without a plan
DeBragga

DeBragga specializes in dry aged steaks, but they also have chicken. In fact, DeBragga is a supplier of meats to some of New York City's best steakhouses and the butcher shop will deliver to your house.
They offer poultry, sausage, veal, lamb, venison, duck, bacon, ham, spices, and sauces. If you're on the prowl for chicken, they offer a variety of chicken breasts and thighs. However, they also offer other poultry options like duck, and even foie gras.
All of DeBragga's meats are free of hormones and antibiotics and they deliver nationwide. The best thing you can order from DeBragga is dry-aged beef, and they offer plenty of options like wagyu, steaks, chops, roasts, hamburgers, and hot dogs.
Pros
Fast delivery
Free of antibiotics and hormones
National delivery
Cons
D'Artagnan Foods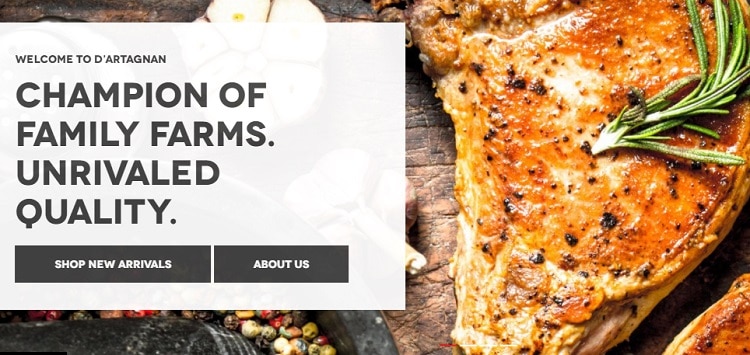 D'Artagnan Foods specializes in meats that are harder to find elsewhere, like rabbit, veal, quail, goose, pheasant, guinea hen, squab, and capon. However, they also have chicken, duck, beef, pork, seafood, turkey, truffles, and mushrooms.
You can combine your chicken order with something you've always wanted to try with D'Artagnan Foods, and everything will be hormone and antibiotic-free. Everything is humanely raised and harvested.
Their chicken options include:
Whole chicken
Boneless skinless chicken breasts
Boneless thighs
Leg quarters
Chicken sausage
Chicken wings
Chicken drumsticks
Chicken tenders
Hot wings
Their website is easy to search by cooking method, cut, or theme. They also offer a variety of prepared food and plenty of extras like charcuterie, caviar, and foie gras.
Pros
You don't need a subscription
Rare/unique foods available
Often have sales and promotions
Cons
Have a minimum order amount required
Fossil Farms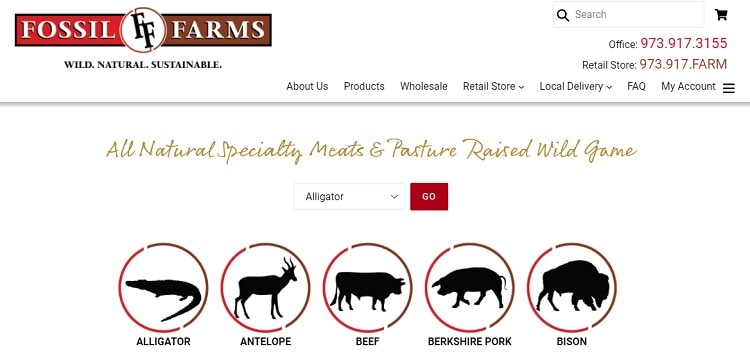 Fossil Farms has been supplying exotic meats since 1997. They offer over 200 proteins including pheasant, wild boar, bison, elk, kangaroo, camel, emu, rabbit, yak, and ostrich. They also offer a special section of items for people with an alpha-gal allergy.
Their chicken selection includes:
Chicken burgers
Chicken sausage
Chicken breast
Chicken poussin
Boneless skinless chicken thighs
Chicken legs and thighs
Whole chicken
Smoked chicken breast
The primary goal of Fossil Farms is to work with farmers and ranchers who are committed to humane and sustainable practices. All animals have open pastures, access to pure water, a diet of wholesome grass, and vegetarian grain supplements.
Pros
Exotic meats
Grass-fed and humanely raised meats
You don't have to have a subscription
Cons
You're unable to receive deliveries on Saturday
Omaha Steaks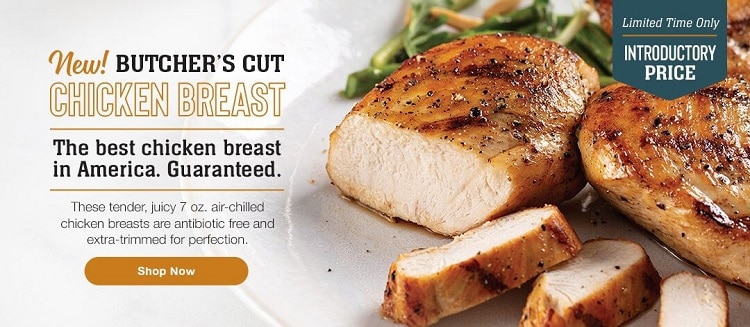 If you want to feed your family or give chicken as a gift, Omaha Steaks is one of the best places to do that. They have been shipping mail order meat for more than 100 years, and they don't plan to stop anytime soon.
While they don't tout the best quality or a 100% organic selection, what they do offer is a ton of variety at affordable prices. If you want chicken, their options include:
Spatchcook whole chicken
Cut chicken breasts
Boneless chicken breast
Chicken leg quarters
Fully cooked and sliced chicken breast
Half chicken
Chicken tenders
Philly cheesesteak chicken
Chicken skewers with vegetables
Fully cooked chicken wings
Bacon wrapped chicken wings
Breast of chicken with broccoli and cheese
Stuffed chicken parmesan
Chicken cordon bleu
Stuffed chicken with wild rice
Stuffed chicken with spinach and artichoke
Chicken fried chicken
Chicken fettuccine alfredo
Baked chicken and dumplings
Italian chicken piccata
Tempura orange chicken
Peanut butter chicken with rice
If you want to order packages, they also offer a chicken sampler. Don't miss out on their wide variety of other meats like sirloins, filet mignons, t-bones, ribeyes, veal, ham, burgers, turkey, lamb, ribs, bacon, bison, sausages, brats, pork, salmon, tuna, trout, swordfish, caviar, lobster, crab, scallops, appetizers, sides, desserts, and wine.
Omaha Steaks has some of the best variety at the best prices, but they don't offer organic options or subscription boxes.
Pros
Bundle options are available to save you more money
Offer premade sides
A lot of variety is available for their meats
Cons
Packaging isn't environmentally friendly
Inconsistent pricing
FAQ
If you're looking for chicken you can order online, there are a lot of options. Every service is different, but these frequently asked questions will help you determine which may be the best choice for you.
Question: Is ButcherBox a Good Deal?
Answer: ButcherBox is ideal for people who love the convenience and want to be surprised by their delivery every month. While you can create custom boxes, they're more expensive, and it's often more fun and more convenient to have them curated for you. ButcherBox is also of excellent quality.
Question: Is Ordering Meat Online Safe?
Answer: As long as you're using a reputable company and you store the meat correctly once it arrives, there's nothing wrong with ordering meat online. Most companies ship it packaged in dry ice, so it arrives still fresh or sometimes frozen and will be safe for consumption.
Question: Is Omaha Steaks overpriced?
Answer: Omaha Steaks can be pricey, but their meat is worth it. They have tons of variety, and you can order entire meals or gifts from them. It's a family-owned company that's been in business for a long time, and there's a reason they're still going strong.
Question: Is Omaha Steaks Good Quality?
Answer: While they do have a huge variety, they aren't very transparent about the quality of their meat, sourcing practices, or USDA grading. However, it's an excellent choice for prepared meals, parties, and gifts because you can get everything from appetizers to desserts.
Final Thoughts
Ordering chicken online is pretty easy when you have so many great options. My personal favorite is FarmFoods for raw chicken varieties and Omaha Steaks for fully prepared chicken.
However, if you like a surprise, ButcherBox is an awesome choice. FarmFoods is a cut above (see what I did there?) thanks to immense selection and their dedication to humane treatment of the animals.
Omaha Steaks stands out from the others if you are interested in supporting a long-running family company who values the customer. The strength of ButcherBox lies in their ability to keep boxes fresh and updated every month.
No matter what you choose, you'll be satisfied as long as you do the research and pick the option that works best for your budget and your needs.