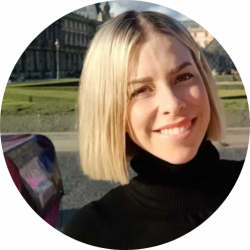 Latest posts by Jodie Chiffey
(see all)
Grinding your meat at home certainly comes with many benefits: Economical, convenient, and healthier. You always know exactly what type and quality of meat you are grinding. Are you looking for a good and reliable meat grinder? Today we'll take a closer look at LEM Meat Grinders, which are considered some of the most trustworthy and durable meat processing machines on the market. Will any of these grinders suit your needs and expectations? Let's find out!
LEM Products is a leader in meat & game processing equipment. Their top-class gear can be found in more than 3,500 retail stores all over the US and Canada and at countless online resellers. LEM's portfolio is remarkably versatile when it comes to meat grinders: from simple manual machines to sophisticated pro-grade automatic grinders.
Today we'll mostly focus on LEM Products Stainless Steel Big Bite Electric Meat Grinder #32, which is reportedly one of the best grinders from this brand, so it perfectly demonstrates these machines' overall qualities and abilities. Nevertheless, we'll also mention several other, more budget-friendly LEM grinders to provide you with more options.
Let's check LEM Products Stainless Steel Big Bite in detail first:
Key specifications of LEM Meat Grinder #32
| | |
| --- | --- |
| Type of grinder | Electric Stainless Steel Meat Grinder |
| Grinding plates | 3 Stainless Steel Plates: 4.5mm, 10mm, & stuffing plate |
| Blade material | Stainless Steel |
| Accessories | Stainless steel knife, 3 plastic stuffing tubes (5/8″, 1″, and 1 3/8″ OD) |
| Motor | 1.5 HP, 1100 Watts, 120V, 60Hz |
| Dimensions/weight | 12.09″ W x 24.49″ L x 18.9″ H/57.32 lbs |
| Latest price | Click here for the latest price |
Core features of the LEM Meat Grinder #32
LEM Products Stainless Steel Big Bite Electric Meat Grinder #32 is a high-end machine that can certainly satisfy both amateur and professional chefs. Let's see how well it performs and what features it offers:
Construction and design
If you're looking for a compact and perfectly portable grinder for occasional at-home use, LEM's #32 is clearly not what you need. This machine is robust, and you will surely prefer to keep it in its place once you install and secure it properly.
With the impressive dimensions of 12.09″ W x 24.49″ L x 18.9″, this grinder occupies quite a lot of space, and it's also pretty heavy (almost 60 lbs). Therefore, I believe it is safe to say that this machine is designed mostly for commercial kitchens or some true meat enthusiasts who will keep it on their kitchen counter at all times and use it on a (more or less) daily basis.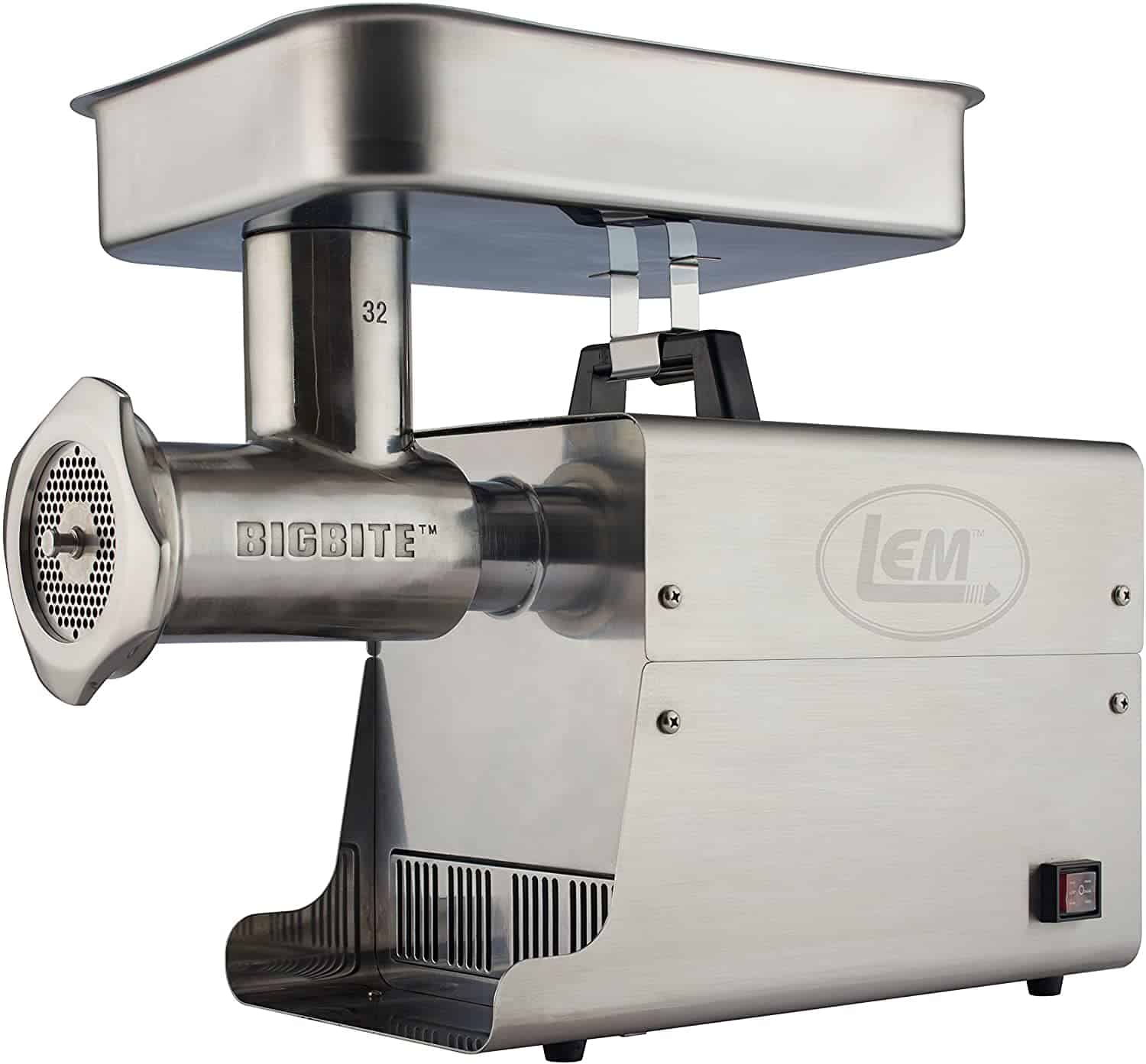 Like most heavy-duty meat grinders designed particularly for commercial use, LEM Big Bite is made of food-grade stainless steel. This material is considered exceptionally durable and easy to clean and sanitize (although note that the inner components should not be cleaned in a dishwasher). It also looks very good, at least if you prefer shiny metallic designs in your kitchen.
This grinder comes with an extra-large meat pan measuring 15-1/2″ x 11″ x 3″, which is very convenient when you need to process a huge quantity of meat as fast as possible. It is also shipped with a steel knife, several stuffing tubes, a meat stomper, a stuffing plate, and some other essential parts you need to make this grinder work properly.
All in all, the design of this machine is very thoughtful, perfectly prepared for demanding tasks, and suitable mostly for spacious commercial kitchens.
Functions and controls
Beginners might be easily scared when they see robust, somewhat intimidating machines like the #32 grinder by LEM Products. Nevertheless, this grinder is very easy to use, and it certainly doesn't require you to have any significant physical power or technical skills. After all, its purpose is quite simple, so you shouldn't expect it to have countless functions and controls that would involve some learning curve. Nevertheless, for what it's worth, it is perfectly capable of doing its job thoroughly.
To operate this grinder, just load the huge meat tray, turn the machine on with the main power switch, and feed the 3" opening with the meat. This grinder comes with several grinding plates, so it can provide you with outstanding results. Nonetheless, I advise you to always start with the coarser plate and use the finer one for the second round only (if needed, of course).
Don't worry about your workflow – since this powerful 1.5 HP grinder can process at least 17 lbs of meat per minute (my personal experience brought even better results), so this will not cost you much extra time. This machine works like a beast even with some harder chunks of a game or frozen meat, saving your time and energy even further. LEM#32 apparently does not know what clogging is, so you should be able to work on it without any disruptions as long and as intensively as you need to.
To provide you with more options and possibilities, this grinder also comes with a special stuffing plate and a set of three plastic stuffing tubes (5/8″, 1″, and 1 3/8″). So if you want to make your own sausages, this package basically provides you with everything you might need.
Safety
Staying safe while using a meat grinder is relatively easy – just keep in mind that each of these machines can be potentially dangerous, and always use a provided meat stomper instead of your bare hands when pushing the meat down the throat of the grinder.
The grinder also has an integrated circuit breaker, so you should be safe from any electrical shortcuts if you sanitize the machine properly after every grinding session (disassembling and cleaning this machine is much easier than you'd probably thought based on its dimensions and weight) you also don't have to worry about the possibility of some bacterial contamination. And last but not least, this electric meat grinder is also surprisingly quiet, so your ears will be safe from any harm too.
Reliability
LEM Products is one of the companies that really know how to put together a reliable, sturdy, and durable meat processing machine. Even their cheaper machines (we'll discuss some of them in detail in the Alternatives section below) are known to work flawlessly for many years after the purchase, whereas the professional-grade Big Bite machines are, logically, even more, durable and powerful.
In practice, it can easily withstand even some harsher and more demanding use. For example, although this machine shouldn't officially be used for grinding meat with bones, it certainly can cope with softer bones in poultry.
LEM Products offers lifetime customer support and 5 years warranty on its grinders for perfect peace of mind.
Price
As I've already mentioned, LEM Products Stainless Steel Big Bite Electric Meat Grinder #32 serves as a kind of a flagship of this brand, so you should expect it to be quite expensive (even if you stumble upon some temporary deal). However, if you're planning to use it commercially as part of equipment in your restaurant or deli, the investment in this versatile and reliable machine is certainly reasonable. For its latest price quote, click here.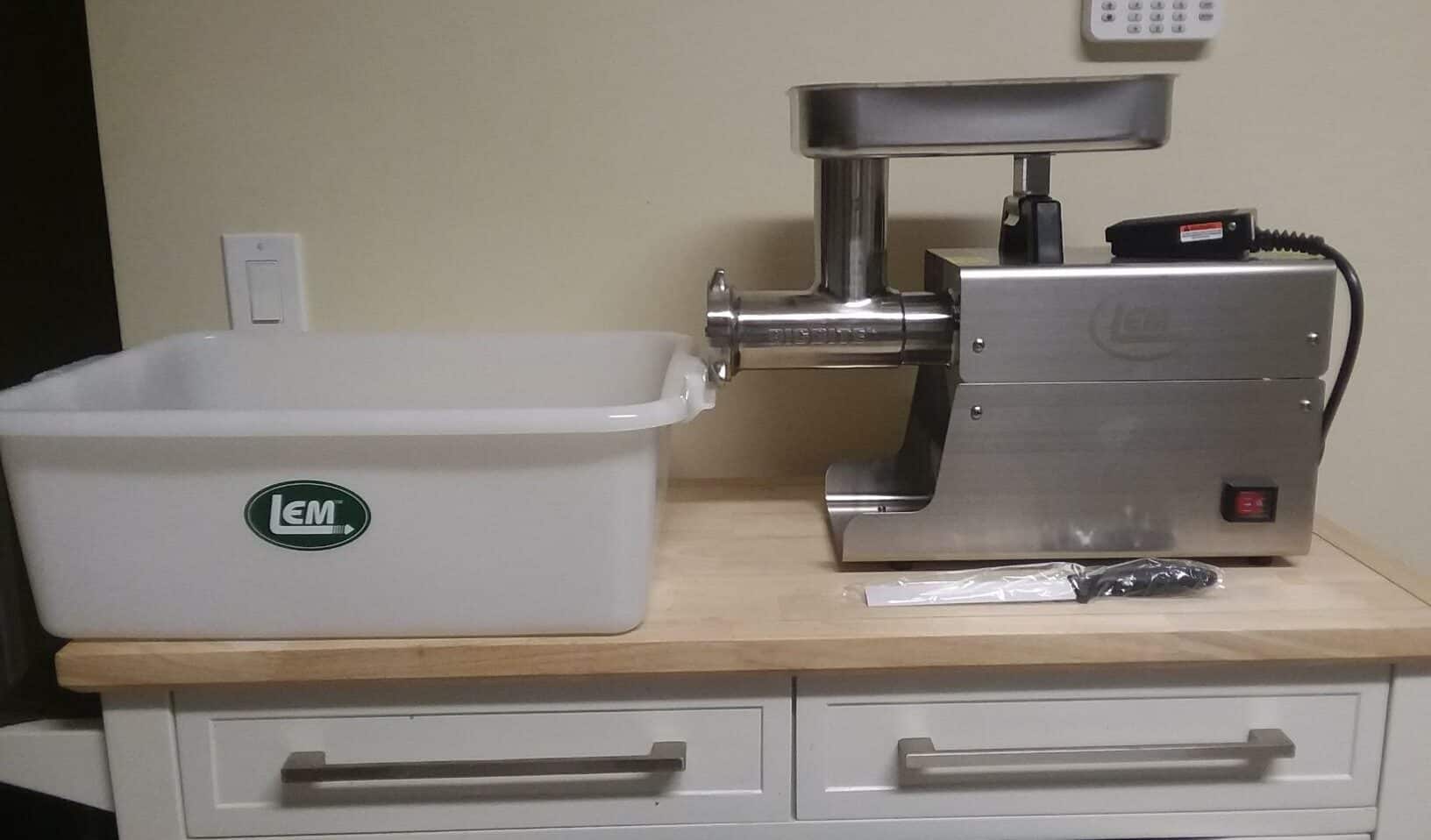 Pros of the LEM Meat Grinder #32
Let's summarize the biggest assets of this commercial-grade meat grinder:
Durable and robust design
If you are looking for a heavy-duty meat processing tool that would be capable of grinding meat in large amounts daily, you need a sturdy, robust, and powerful machine such as the LEM's #32. This is an all-metal grinder that can cope with almost anything.
Powerful and versatile
This grinder has a powerful 1.5 HP motor which doesn't seem to have any issues with clogging even when you introduce it to large chunks of frozen meat or hard pieces of the game. This power and competence make Big Bit #32 one of the most versatile meat grinders currently on the market.
Ease of use
Although the size and robustness of this machine might be a bit intimidating, it is straightforward to use and very convenient. You will also certainly appreciate how simple this machine is to disassemble when you need to clean thoroughly.
Warranty and support
Whether you plan to use this machine commercially or you're just super-serious about your at-home meat grinding, it is always good to know that someone covers your back when things don't go as well as they should. LEM Products offers lifetime support and a 5-years warranty on its grinders, which is definitely one of their great assets.
Numerous additional accessories
If you want to get the most out of your meat grinder, preparing your own sausages is surely one of the first ideas you come up with. This meat grinder will provide you with all the equipment you might need to accomplish this. It also comes with several grinding plates for both fine and coarse grinding, plus some other useful accessories.
Cons of the LEM Meat Grinder #32
Price
This electric grinding machine is definitely one of the more expensive pieces of equipment from its category. If you're on a budget, you might not be able to afford it.
Large and heavy
If you're struggling with limited space or you need to transfer your grinder from place to place quite often, this heavy and large machine might not suit your needs too well.
Not dishwasher safe
If you're used to cleaning your kitchen equipment exclusively in a dishwasher, note that this grinder needs to be cleaned manually. Although this shouldn't be overly problematic (assembling and disassembling this machine is pretty much straightforward), it still might be a considerable drawback for some users.
Are there any alternatives?
Do you find the #32 grinder too expensive? Too large? Too heavy? Here are some alternative LEM Products meat grinders you might find more interesting:
LEM 1383 Aluminum Hand Grinder
Would you prefer a simple and undemanding manual grinder? LEM 1383 Aluminum Hand Grinder is a choice you should definitely consider. This beautiful grinder boasts a vintage design that combines the silver shine of the aluminum housing with the natural warmth of its wooden handle.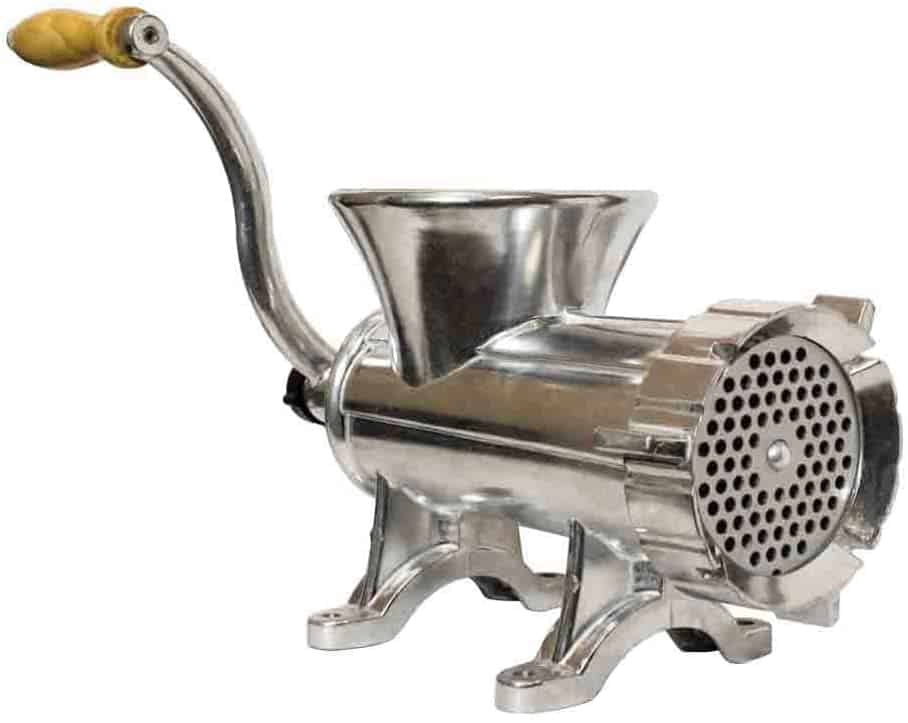 Measuring 11.57 x 8.39 x 5.94 inches and weighing just 7.72 pounds, this manual grinder is small and perfectly suitable for transport. It is absolutely budget-friendly too. On the other hand, keep in mind that it is mostly intended only for occasional at-home use.
LEM Products Stainless Steel Big Bite Electric Meat Grinder #12
LEM's Big Bite series contains many different machines for all types of customers. If you found #32 too robust, aggressive, and expensive, maybe you should be looking for something more subtle, slightly less powerful, cheaper, yet equally reliable and versatile. Something like the LEM Big Bite Electric Meat Grinder #12.
This semi-professional grinder looks almost identical to its stronger counterpart, but it only has a 0.75 HP engine. From my experience, this doesn't make much difference in practice for most regular customers. It can, however, save you more than half of the costs of the bigger and more powerful #32.
LEM Products 1158 Mighty Bite Electric Meat Grinder
LEM Products 1158 Mighty Bite Electric Meat Grinder is a great machine for any ambitious beginner or not-so-demanding professional. This machine is equipped with a 500/1000 Watt permanently lubricated engine, a spacious meat pan that can hold up to 3 pounds of meat at the same time, and various useful accessories for both meat grinding and sausage stuffing.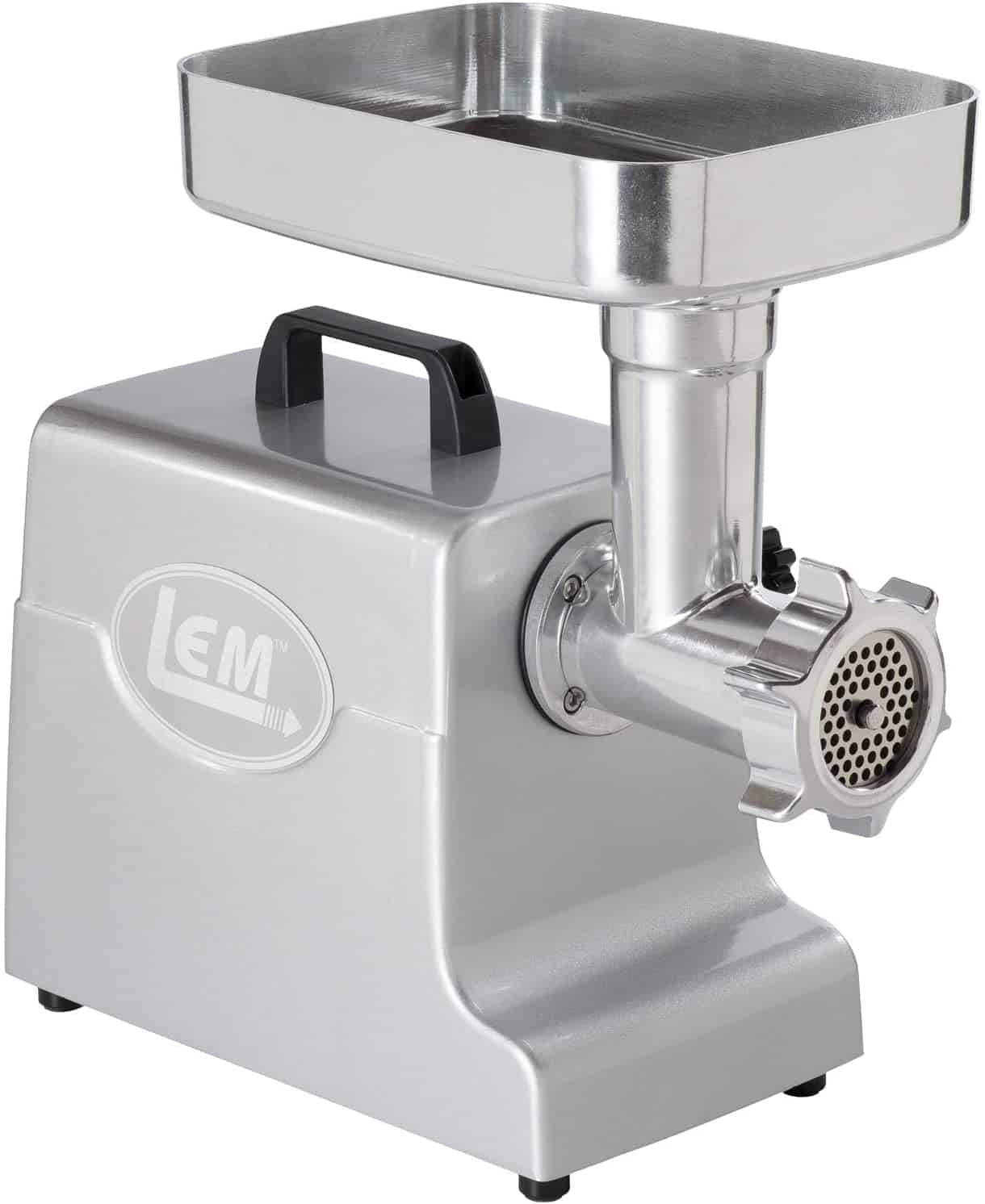 Dubbed "the little brother of Big Bite Grinders," this machine might not be the most powerful machine in the LEM Products portfolio, but it certainly has its potential.
Frequently Asked Questions
Check out these common Q&As for more relevant information on LEM meat grinders:
Question: Where are LEM meat grinders made?
Answer: LEM Products is a family-run business established in Ohio, US. All of their products should be designed and produced in the USA. Nevertheless, some users claim that their LEM products were marked as produced in China. It looks like the country of origin of these products now depends on the actual model and batch you come across.
Question: Where can I buy LEM meat grinders?
Answer: LEM Products can be found in 3,500+ brick and mortar retail stores all over North America. They are also sold online – the brand, for example, has its own LEM store on Amazon now.
Question: Is LEM the best meat grinder?
Answer: Finding the best meat grinder for you requires you to understand your needs and expectations first. If you're looking for a sturdy, heavy-duty pro-grade grinder for your business, LEM's Big Bite series offers some of the best pro/semi-pro-grade meat grinders on the market. On the other hand, some other brands probably have more budget-friendly options on offer for those who only plan to use their grinder occasionally at home.
Final thoughts: LEM meat grinders are good mainly for the professional use
LEM Products is a reputable American manufacturer of various meat processing tools. Their products boast a great tradition, wonderful reputation, and thoughtful designs. These attributes make them ideal for those who are not afraid to invest in top-class equipment for their commercial kitchen. If you need an exceptionally strong and reliable grinder, LEM Products Stainless Steel Big Bite Electric Meat Grinder #32 might be exactly what you really need. However, it also comes with a relatively steep price.
At the same time, LEM also offers various affordable options for those who don't plan to use their grinder commercially or daily. LEM Products 1158 Mighty Bite and LEM Big Bite #12 are just two of your numerous options from the brand's catalog.
Have you already decided if LEM meat grinders are what you were looking for? We hope that this article provides you with all the information you need. If you're seeking more advice, check out our recent Weston 22 Meat Grinder and KitchenAid Meat Grinder reviews, too for even more options.