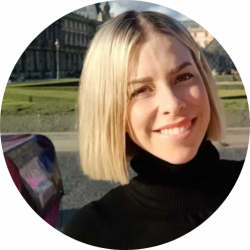 Latest posts by Jodie Chiffey
(see all)
If you love Italian cured meats, then Soppressata is going to be a treat for you. In this guide, we will find out what Soppressata is, how it's cooked, and any alternatives to this salami.
Soppressata is an Italian salami that has its history, tradition, and taste. Widely known as the pride of southern Italy, there are many variations of Soppressata that are native to different regions.
Soppressata – The Basics
Soppressata is a popular salami from the southern regions of Italy and has gained popularity here in the States. Soppressata is a type of air-cured meat that takes about a week to prepare. Depending on the region, the choice of pork cuts, spices, and grounding process vary drastically.
For instance, the Soppressata salami of the Calabria region is labeled as Denomination of Protected Origin (DOP). This ensures that strict SOPs are followed in the breeding, production, and packaging of Soppressata salami. Also, just to give you an idea, Soppressata di Calabria salami is only cut with a knife, unlike other variations of the salami where it can be cut using a meat processor.
Soppressata salami is so popular in southern Italy because it is more than just a food item. It is a part of their culture, and it is a tradition to have the salami with friends and family on occasions and reunions. It's also a family affair as the breeding of pigs to salami packaging is passed on through generations.
Related: Ever tried Kurobuta ham? Check out our Kurobuta ham guide to find out more!
What does Soppressata look like?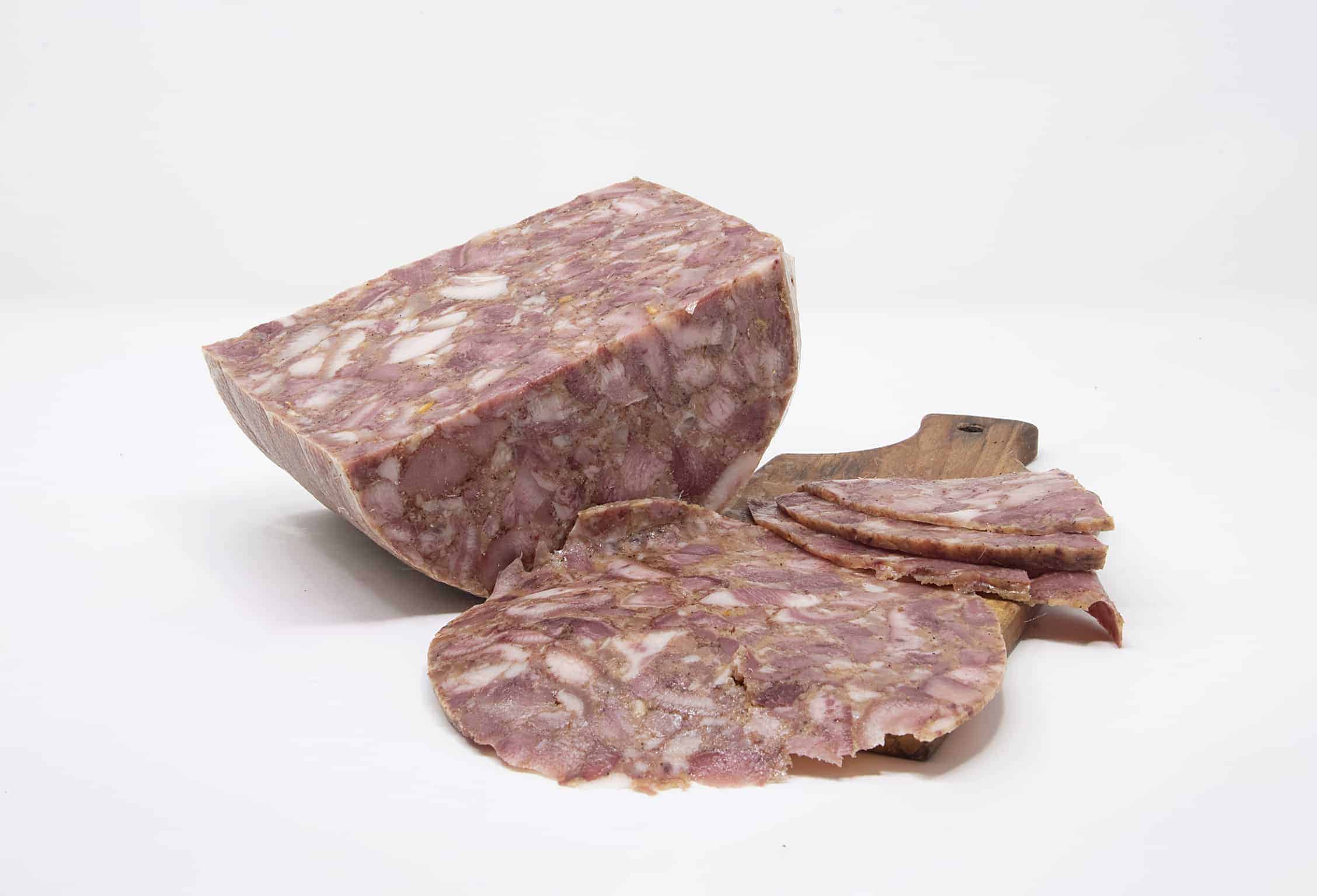 Soppressata is one of the most unique salami's in terms of appearance. It has a distinct oblong shape thanks to the preparation technique. Soppressata is pressed using two linen sheets and wooden plants with stones on top, unlike traditional salami pressed by hand.
Typically, Soppressata is made of lean pork with either lard in the center or multiple pieces placed throughout the meat. The amount of fat used in Soppressata will vary according to the region of origin. That said, Soppressata will almost always be made of lean pork and lards.
What does Soppressata taste like?
When it comes to salami, the taste varies from region to region. In some regions, Soppressata has a sweet taste. In others, it can be salty, tangy, or even spicy. However, what's common in almost all the methods of preparing Soppressata is the use of garlic, basil, oregano, and fennel.
There is no cooking or smoking involved in preparing soppressata. However, you will need to have a meat curing chamber such as the FORSPARK dehumidifying cabinet to cure the meat and give it the signature flavor.
The flavor profile of Soppressata is excellent, regardless of the variety you eat. My favorite is the Soppressata di, Calabria, as it's spicy and has a distinct aroma of hot pepper, black pepper, and cumin. It's also the most commonly available Soppressata variety here. This is one salami you will enjoy with pizza and if you want a fine dining experience, pair it with pecorino and a glass of red wine.
How much does Soppressata cost?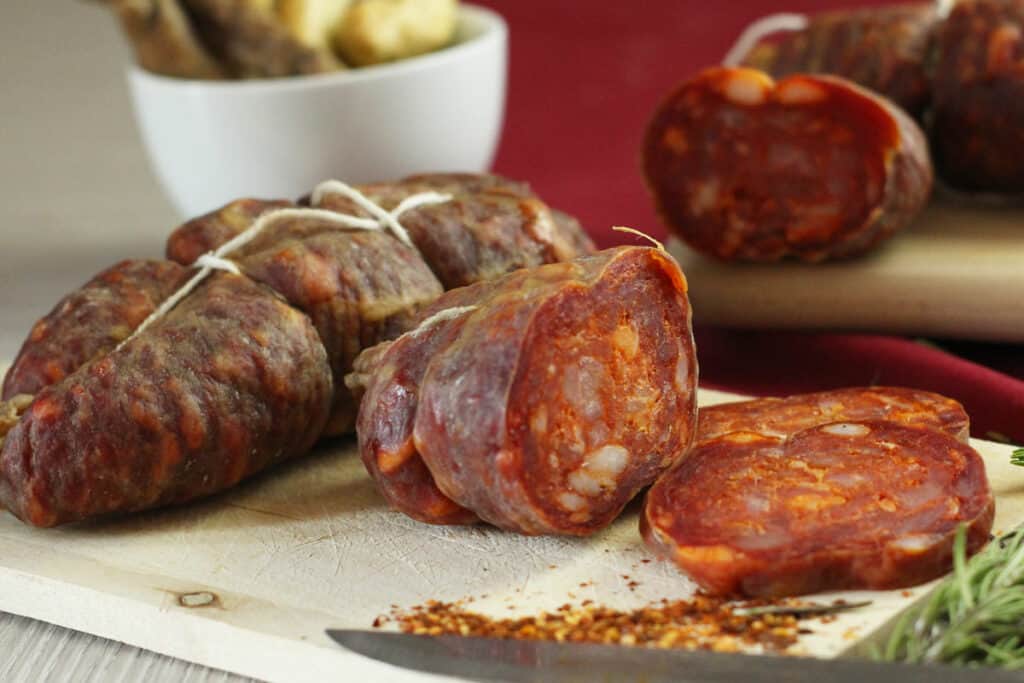 Authentic soppressata is not cheap. Soppressata di Calabria is not as readily available, and it can't be made at home, though the recipe can be replicated. However, most other varieties of soppressata are widely available in many states, and it's become a popular salami for sandwiches and pizza.
The cost of soppressata will depend on the choice of cut and cost per pound of pork in your state. Typically the shoulder cut is used to make soppressata which can cost anywhere between $2 to $4 per pound and higher if you are going with free-range, ethically raised pork.
Looking for an economical meat grinder or one that makes it easy for you to make sausages, salami, and more? Read our guide on the 32 best meat grinders available in 2022!
How do you cook Soppressata?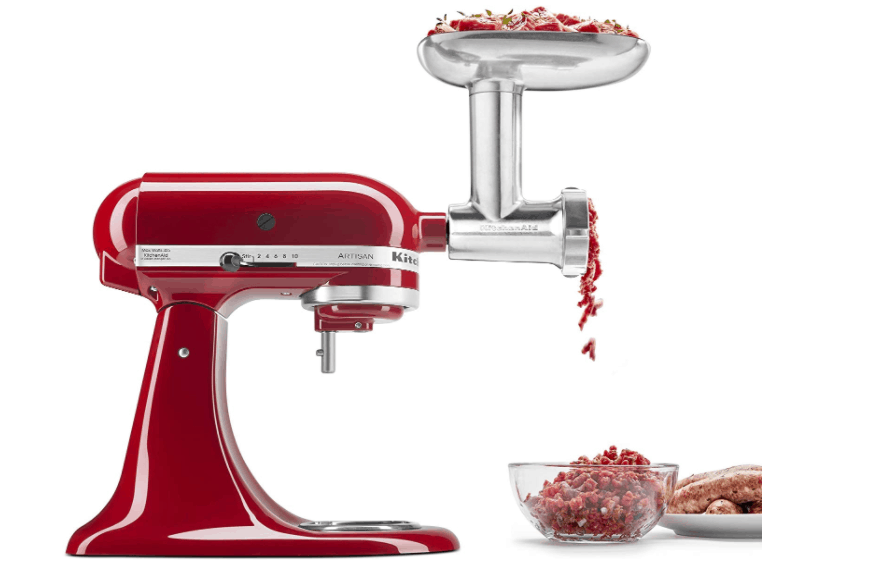 Instructions need to be followed carefully to ensure that they can replicate soppressata's authentic taste and aroma. To make soppressata at home, you need to have some tools such as a meat grinder and a dry curing chamber. I use the KitchenAid meat grinder and FORSPARK dehumidifying cabinet.
Here are the instructions to season and prepare soppressata:
First, add ice in a bowl and grind the fat through the 6mm plate and into the bowl.
Grind the meat through the 12mm plate and combine both in the bowl. Refrigerate the meat and fat mixture.
Add Bactoferm culture in water and dissolve it. Combine culture with salt, hot pepper, minced garlic, ground black pepper, dry milk powder, and dry white wine.
Mix the seasoning with the meat and lard mixture for 2 to 3 minutes or until the seasoning is evenly distributed.
Stuff the meat into a hog casing and tie both ends. Use a needle to prick small holes in the casing to remove air pockets.
Let the sausage rest at room temperature (85° F) for 12 hours. Once done, weigh the sausage.
Put the sausage in the curing chamber and let it dry at 60° F with 60% humidity for about 20 to 30 days or until the meat loses 30% of its weight.
Once done, slice into pieces and serve.
Want to know about the KitchenAid meat grinder? Check out our KitchenAid meat grinder review and find out if it's the right fit for you!
Soppressata Alternatives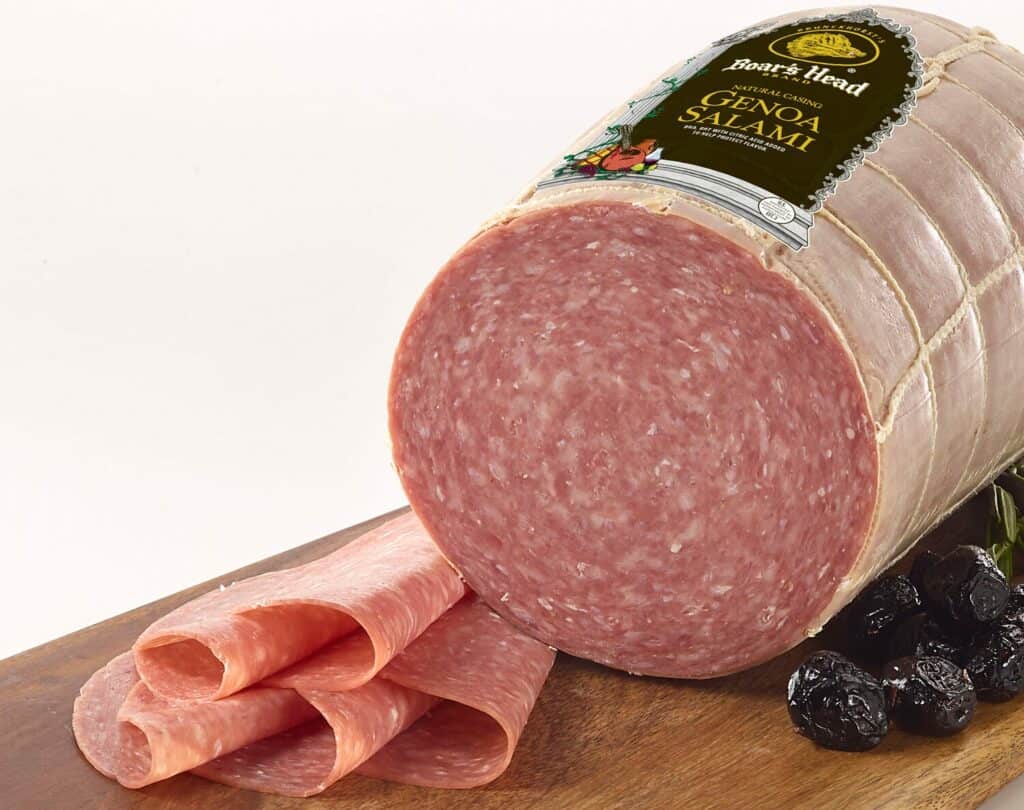 If you think soppressata is too much of a hassle to prepare or want to try other types of Italian cured meats, here are a few alternatives you should consider:
Capocollo: Just like soppressata, the preparation method of capocollo has been preserved to this day. Capocollo has a rich, smoky flavor that will make you fall in love with this salami. It's relatively easy to prepare (compared to soppressata) and you can pair it with just about anything!
Genoa Salami: A dry-aged salted salami, Genoa salami originated from the foothills of Genoa. It is prepared in a similar way to soppressata but the taste couldn't be any more different. Genoa salami has a meaty, tangy flavor that's slightly acidic. It goes well with pizza, pasta, and antipasto platters.
Cotto Salami: Perhaps the most popular and common lunch meat salami, Cotto is as good as salami gets. Unlike soppressata, Cotto salami is cooked at a high temperature by either smoking or boiling. As a result, it has a distinct salty flavor, and there's room for creativity when it comes to seasoning.
Frequently Asked Questions
Here are some common questions and answers about soppressata.
Question: How many variations of soppressata are there?
Answer: There are many variations of soppressata as it's a popular salami across Southern Italy. While it would be impossible to list each variation, the major ones include Soppressata di Calabria, Gioj, and soperzata from the Calabria, Puglia, and Rivello regions.
Question: Can I buy soppressata from the supermarket?
Answer: Yes, you can buy soppressata from the supermarket. However, if you're looking for close to the authentic taste, go for soppressata from Slow Food. For the most part, the Italian company has maintained the tradition of making soppressata the right way.
If you have an Italian butcher shop in your area, that's even better. Chances are you may be able to get soppressata and many other varieties of salami prepared traditionally. Keep in mind that the spice mix will be according to the traditions of the family.
Question: Is soppressata healthy?
Answer: Yes, soppressata is a relatively healthy option as compared to salami that is brined in salt. Many people believe that since the meat is not cooked, it may not be healthy for consumption. However, the dry curing process allows the meat to be safe for consumption.
Question: Can I add soppressata to pizza?
Answer: Yes, you should! While not as commonly used in pizza in Italy, soppressata has become a popular salami for pizza instead of pepperoni. The best part about soppressata is that if you add it to pizza before baking, the lard will melt and allow the salami to become incredibly tender.
Question: Does soppressata go well with an antipasto platter?
Answer: Yes, soppressata is a great option to add to your antipasto platter. However, I prefer an antipasto platter with similar meats. For example, if I'm making a platter, I would want all the meat to be dry-aged rather than having a mixture of smoked and dry-aged meat. However, this is a personal preference, and soppressata taste just as good as smoked and grilled meats.
Question: Does soppressata go well with a charcuterie board?
Answer: Yes! One of the main items in a charcuterie board is the cured meat, and few can match the flavor profile of soppressata. I highly recommend pairing it with Genoa salami, Cotto salami, and capocollo for a truly authentic experience.
Question: Can I smoke soppressata?
Answer: Yes! Once the salami has been dry-aged, you can smoke it according to your preference. I don't enjoy smoking soppressata and other types of dry-aged salami. However, I know that smoking will enhance the spices and add a new layer of flavor that you will appreciate.
Want to try other varieties of pork? Check out our top pork dishes that you can easily make at home!
Conclusion – Should You Try Soppressata?
Yes! Soppressata is one of the best cold cuts of Italian cured meats you can have. The spices blend well with the meat, and the dry-curing process allows time for the flavors and aromas to develop. This results in a unique and truly sensational experience that you wouldn't want to trade for anything else!
My recommendation would be to follow the instructions provided in this guide or by Italian chefs who have experience preparing regional varieties of soppressata. While experimenting is always a good thing, you want to make sure you get the authentic experience first before adding your twist to the meat.
To conclude, soppressata is a crowning jewel of southern Italy, and for good reason. It's tasty, light, and melts in your mouth. For more cooking instructions on Italian meats, German sausages, and more, check out our resources and guides on Meat n Marrow.