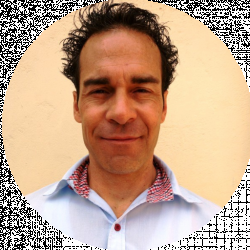 Latest posts by Douglas Bloom
(see all)
Chefs need to cut different kinds of meat ranging from poultry to pork and to beef to fish. This underlines the need to have a proper knife to handle this task. One of the knives you need for such tasks is a boning knife. It's better than a chef's knife.
As much as the chef's knife is an efficient all-time knife, it tends to leave a lot of flesh behind when removing meat from bones. Begin by understanding the different parts of meat you plan on eating. The move ensures you get the best knife to use to cut your meat. 
Boning knives are well-known for their thin, sharp, and flexible blades. More importantly, the knife is strong enough to go up against tough bones, joints, and ligaments. Unfortunately, not all boning knives are flexible. 
These knives are at the bottom of the popularity chain, especially in homes. For instance, most home knife sets don't have a boning knife. However, they remain an important tool for anyone who is looking forward to building their butchering skills as well as remove meat from bones. 
If you are looking for a good boning knife, we got you covered. We did thorough research and chose these knives using reviews, testimonials, and consumer ratings to come up with a list of the best boning knives you can find. Each has been categorized according to its overall use, pros, and cons. 
Our Top 8 Boning Knives Picks
It doesn't matter if you are new to the kitchen, know your way around it, or are a chef. Everyone interested in improving their culinary skills needs information on current trends of boning knives. This is why we have compiled a list of the best in the market. Each product includes its features, advantages, and disadvantages. Read on to know more!
Best Overall – WusthofClassic 5-Inch Boning Knife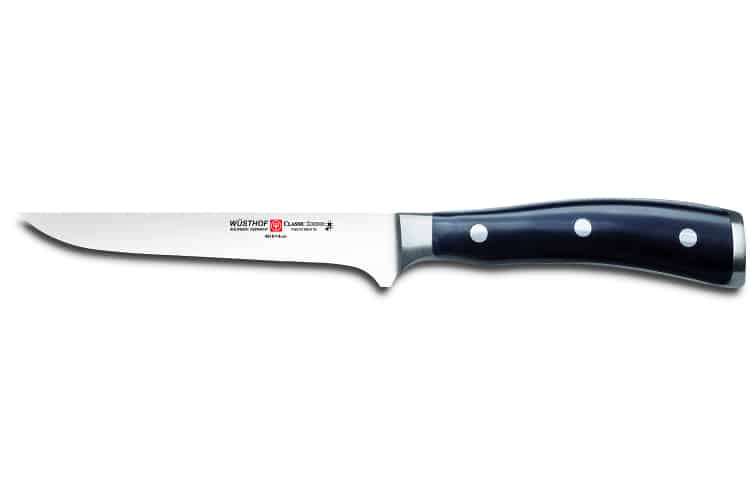 People who cook at home, as well as professionals, love this knife. For a wide range of kitchen fans, it's comfortable to use. Wusthof Classic 5-Inch Boning Knife also offers seamless trimming and slicing because of its arched blade. 
It comes with a finger guard to minimize the probability of injury. The synthetic handle provides for comfort and ensures it is easy to handle. Although the blade cannot withstand gamier cuts it offers some flexibility.
This knife is expensive, but it gives you the durability to ensure it lasts for years. That's why it's a boning knife worth your money. The sharpness and maneuverability of the blade around any meat cut are unparalleled. It just weighs 3.9 ounces and is 5 inches in length. Made from stainless steel, it's considered the best boning knife in the market according to user ratings in 2022. 
Pros
Sharp

Easy to handle

Finger guard protection

Seamless slicing and trimming

Arched blade 
Cons
Pricey

Not the best for beginners 
Best Budget – Mercer Culinary Genesis 6-Inch Flexible Boning Knife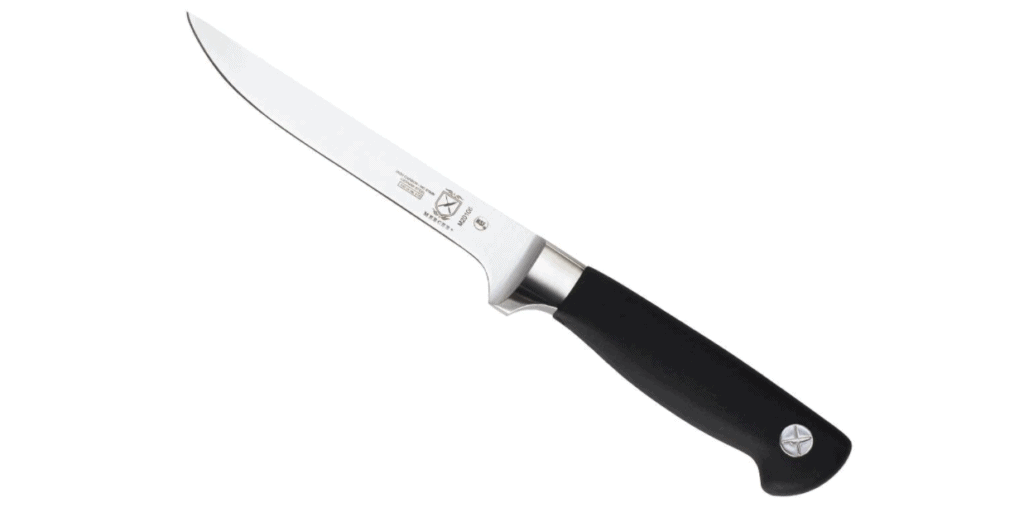 The price offered for this knife is not shocking considering all the recommendations it has. Its handle is made with Santoprene. The material is famous for its comfort and no-slip grip even when handled with oily or wet hands. The handle offers a natural and comfortable experience. 
Additionally, it is made from high carbon forged steel that ensures the knife does not rust over time even if the material isn't as durable as stainless steel. It also has an arched blade which allows for a seamless maneuver around tough bones and joints.
Unlike high-end knives, this model comes with a 6-inch blade. On the downside, the length of the blade contributes to its weight (6.3 ounces). This weight is not the best for chefs and other professional culinary artists. All the same, it can be used by people who are trying out their culinary skills with a boning knife.
Pros
Available in various lengths

Affordable

Option of a 6-inch blade

Arched blade

High carbon forged steel
Cons
Not made from stainless steel

Heavy for some professionals
Best Japanese – ShunCutlery Classic 6-Inch Boning and Fillet Knife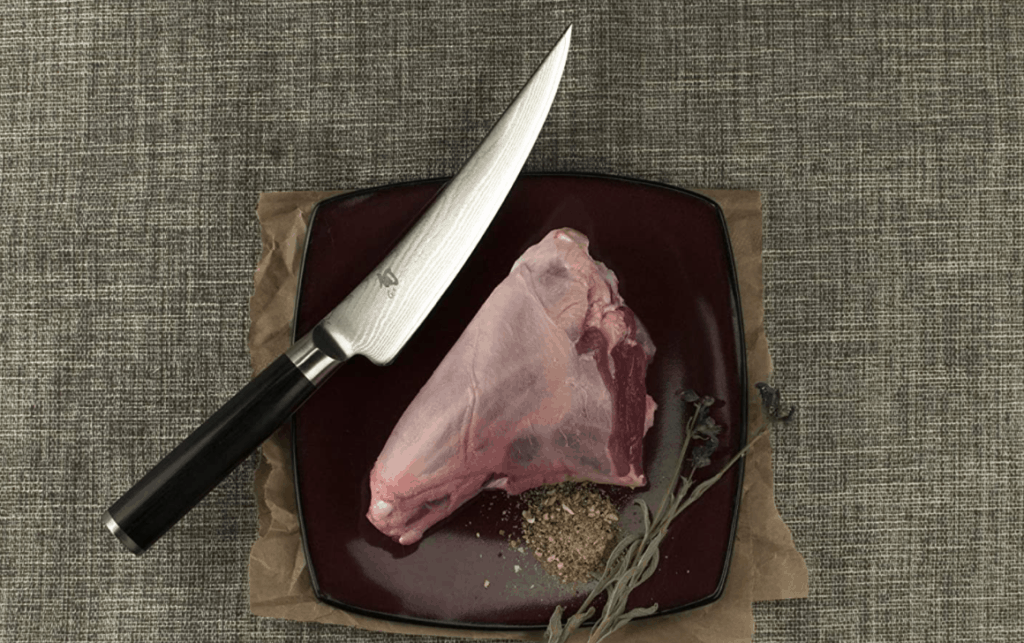 Made by one of the leaders in the Japanese knife manufacturing industry, this is a convenient, well-made boning/fillet knife. Although its flexibility is not ideal for cuts like beef or lamb, it's good for fish and poultry. The sleek look offered by the D-shaped handle offers a secure grip and excellent handling. Ebony Pakka wood is used to make the handle. 
According to people who have used it, the curved blade offers a slightly different feel from an arched blade. Its convenient upward curve, superfine tip, and ultra-sharp edges make it a favorite among users. 
The blade is made from stainless steel meaning it's durable and rust-resistant. At 6 inches, the blade is long enough to cut through most cuts of beef, chicken, and fish. On the downside, the weight, 7 ounces, maybe heavy for people inexperienced in using boning knives. 
Pros
6-inch blade

Stainless steel blade

D-shaped handle

Curved blade

Superfine tip and ultra-sharp edges
Cons
Heavy for amateurs

Not the best for beef
Best for Camping – KitoryForged Meat Cleaver Boning Knife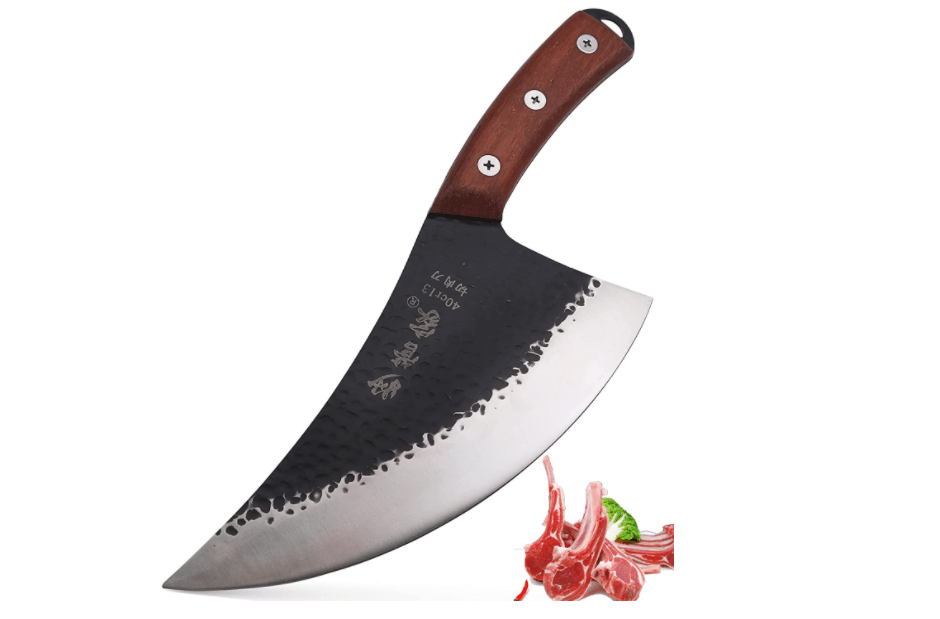 The durability offered by this knife makes it the most suitable for outdoor activities as well as wild adventures. Both the blade and the handle are curved giving you an easy time when navigating any angle. For convenient storage, the knife comes with a small hanging hole. Additionally, the sleek handle offers a comfortable and practical feel considering it's made of Pakka wood. 
The blade is made of carbon. This means it requires you to keep it clean and dry to avoid rusting. Its natural feel, comfort, and versatility make it a favorite among people who have used it. At 5.1 inches the blade is a good balance between a long and short boning knife. Unfortunately, 7.9 ounces makes the knife one of the heaviest boning knives in the market. 
Pros
Pakka wood handle

Curved handle and blade

Affordable

Great for boning game meat

Hanging hole included
Cons
Carbon steel blade

Requires regular cleaning and proper storage 
Best Multipurpose – Zwilling5.5-Inch Flexible Boning Knife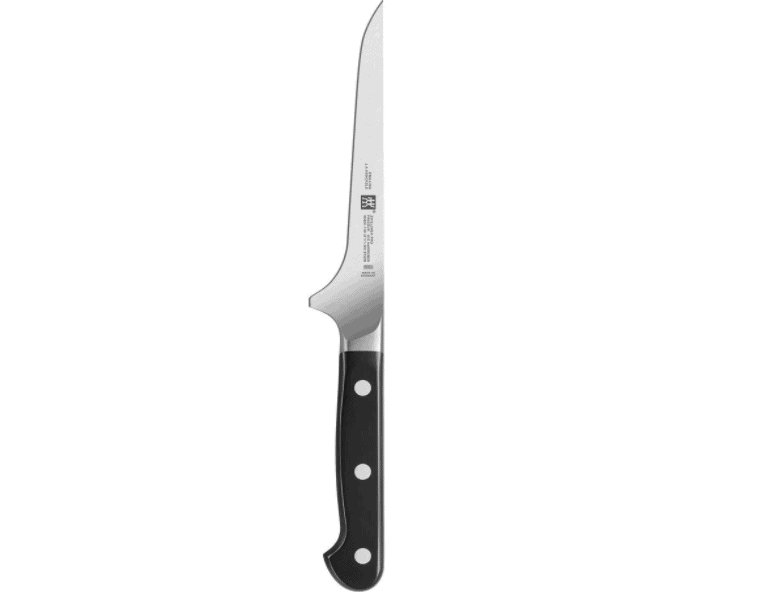 Are you looking for an all-in-one boning knife? If so, Zwilling's 5-inch model is your all-in-one boning knife. With a curved bolster as one of its properties, this knife offers added finger accuracy and comfort. 
The handle is built in such a way that it provides a comfortable and natural feel. Its flexibility is good enough for fish and skin trimmings. On the downside, it can't efficiently slice off meat from the bones of beef, pork, lamb, or game.
Take note this knife is costly. However, users and reviewers say that the added advantages that come along with this knife are worth it. For example, the product can perform a variety of tasks and its durability is just worth the price.
The blade is made using stainless steel. Length is 5.5 inches. This is the perfect balance between smaller or larger boning knives. 6.4 ounces is the weight, which is a good balance between heavy and light.
Pros
Multi-purpose blade

Curved bolster

Comfortable handle

Durable

Made using stainless steel
Cons
Not good for slicing bone from common meats

Pricey 
Best Professional – KYOKU7-Inch Daimyo Series Boning Knife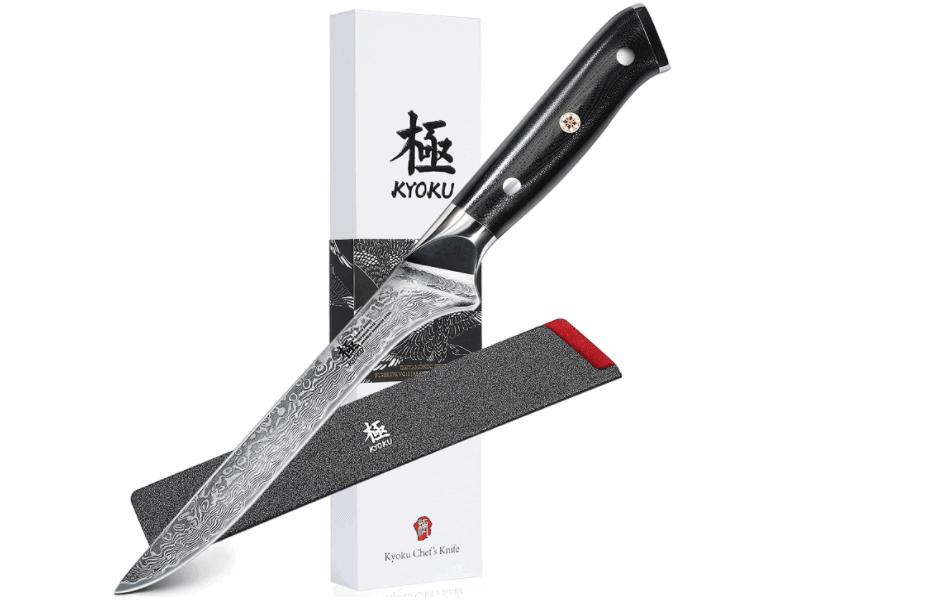 The price of this product, being a Japanese steel blade of good quality, is without a doubt fair. When it comes to its properties, this knife comes with a flexible blade. It allows you to handle any boning task as you prepare your food.
Additionally, the handle is heat and moisture-resistant. It's because the handle is chemically treated making it moisture and heat resistant. Furthermore, it provides comfort and firmness. The blade is crafted to ensure intense edge retention, sharp scalpel-like edges, and durability. These may be the reasons it's considered one of the best boning knives in the market. 
People who have bought it state the product maintains its sharpness even after long use. With a fair price and good performance, this knife has found its way to the hearts of chefs and others.
One of the unique features is it's made from alloy steel. This is rare with high-quality boning knives. The blade is 7 inches long, making it one of the longest boning knives you can find. It's also heavy weighing 1 pound. Again, it's rare to find a knife with such features.
Pros
Moisture and heat resistant handle

Edge retention

Remains sharp after long use

Great for professionals

Long 7-inch blade
Cons
Heavier than most boning knives

Alloy steel instead of stainless steel 
Best Design – BerghoffRon 6-Inch Boning Knife

This model comes in as the most elegant and stunning boning knife you can add to your knife collection. It's uniquely designed to offer flexibility for easy maneuverability. Take note the blade doesn't have an arch or curve. 
The steel blade is covered with a non-stick coating. A heavy bolster provides for added control and comfort. When it comes to the handle, you can choose either a contrasting wood handle or go for an all-matte black look.
The sleek looks offered by this knife allows it to come in handy as a nice gift for a person considering to up his/her knife collection. Its price is reasonable and it can be used by professionals and amateurs. 
Apart from the stylish looks, the knife is made using titanium and steel. The length of the blade is 6 inches. This makes it fall under the category of most good boning knives. Get it if you want to give someone who loves cooking a special gift. 
Pros
Affordable

Sleet and stylish look

Non-stick coating

Heavy bolster

Option of a wood handle 
Cons
Lack of a curved or arched handle

More of style than functionality
Best Flexible – Victorinox6-Inch Fibrox Pro Flexible Boning Knife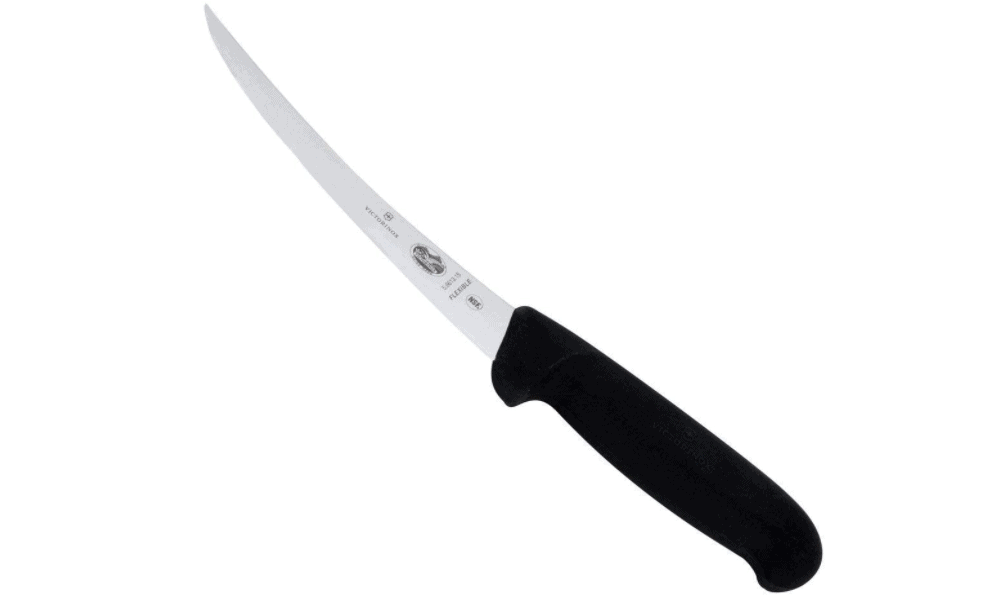 The Victorinox model stands out as the best boning knife in terms of flexibility. With a stainless-steel blade, it's lightweight, easy to maintain, and durable. The knife is fitted with a non-slip Fibrox handle which offers a comfortable and firm grip.
The flexibility of the blade provides easy maneuverability around delicate foods. This blade is also great for trim, snip, and butterfly even when dealing with soft meats. On the downside, the knife has a small curve. At the end of the day, its benefits outweigh the demerits. This is a fact that is substantiated by numerous positive consumer reviews, ratings, and testimonials.
One of the unique features of this product is the Fibrox handle and stainless-steel blade. This combination is rare in boning knives. Additionally, the blade is 5.9 inches, something you don't see every day. However, the most mind-blowing feature is the weight. Very few boning knives weigh 3.5 ounces, and this is one of them!
Pros
Flexible blade

Affordable

Lightweight 

Stainless steel blade

Non-slip Fibrox handle
Cons
Small arch on the blade

Not for amateur chefs/cooks
Boning Knife Buying Guide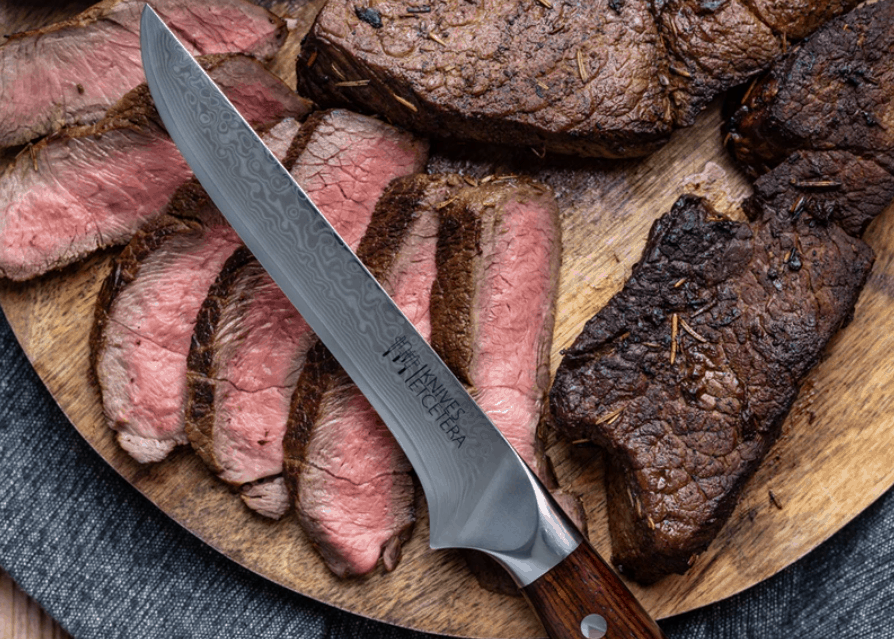 You may not like the above choices when it comes to purchasing a boning knife. If so, don't worry, we got you covered. There are some factors you need to consider when you want to buy a boning knife. These factors will determine the kind of knife you get and its performance. Check out the different features of boning knives below to ensure you make an informed decision.
Types of Boning Knives
There are 3 main styles for boning knives. The style determines the purpose of the knife. Here is an explanation about them.
Gokujo
The name is renowned for making blades. This boning knife is a Japanese "all-purpose" blade. It is categorized somewhere between fillet and boning knives. How? They feature the stiff structure of boning knives plus the steeply curved blade associated with a fillet knife. These features make Gokujo a versatile, but not a specialized blade for filleting or de-boning. 
Inflexible
Most chefs use it as their standard boning knife. Probably because they allow for precise, direct cuts to preserve the meat's integrity. It should be your choice for home cooking because it makes it easier to prepare whole cuts of meat by easily separating bones.
Flexible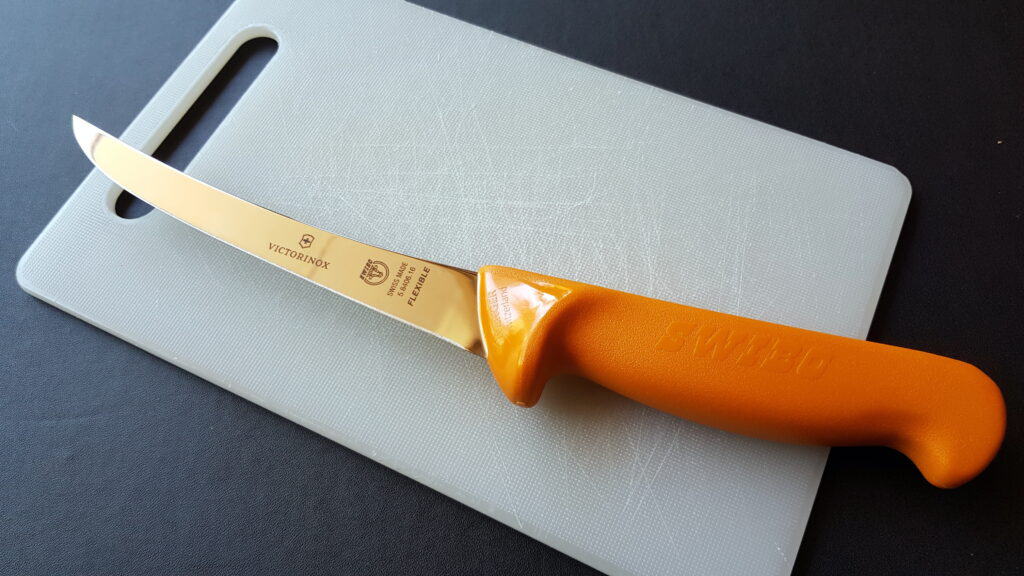 Fillet knives are the "closest cousins" of flexible boning knives. The main difference is they have a less exaggerated blade curve. If you want to maneuver through large chunks of meat this kind of boning knife should be at the top of your list. On the downside, it's not as precise for fat and cartilage. 
Size and Shape
There are various sizes and ranges of boning knives to accommodate the needs of different cuisines. However, each has one thing in common. Such knives feature a steep blade angle leading to a pointed and narrow tip. The design ensures the knives can trim cartilage, fat, and efficiently maneuver around bones. 
Do you plan on using your boning knife for small cuts? If so, a short blade is the best for better control. The best baseline is a 6-inch blade, give or take a few inches. Such a blade length ensures you can comfortably handle red meat and poultry. For more information, look at the table below for the recommended boning knife for various uses.
Boning Knife Size and Shape Table
| | | |
| --- | --- | --- |
| Characteristic | Function | Meats |
| Flexible | Has finer cuts and more delicate movements | Poultry and/or fish |
| Stiff | For cutting larger pieces of meat (particularly red meat), and cutting or deboning larger pieces of meat | Large fish or red meat |
| Curved | Better to get into smaller pieces with finer movements. Mostly for small pieces of meat | Poultry and fish |
| Straight | Best for getting large chunks of meat or bones | Large fish and red meats |
| Thin | Makes smooth cuts and moves easily through any meat type | Any |
| Broad | For cutting large and thick pieces of meat easily | Large fish and red meats |
| Large blade | For large pieces of meat | Large fish and red meats |
| Small blade | For small meat pieces | Poultry and fish |
Thickness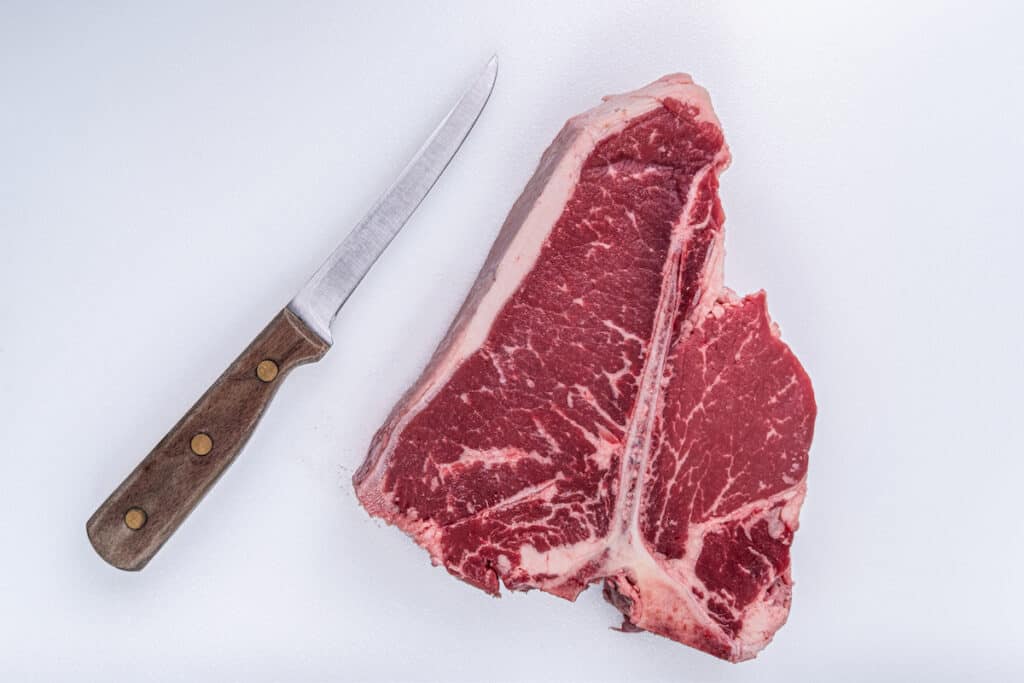 For starters, the thickness of the blade doesn't affect the flexibility. The fact is thinner blades can easily maneuver difficult corners or move through the meat. 
You will notice a thick blade is normally used to handle thick portions or sections of meat. 
Blade
Irrespective of the material used to make your boning knife, you need to decide between stiff and flexible. From the reviews and testimonials, we have seen from both professionals and amateurs, a stiff blade is a way to go. You can get focused cuts by using a stiff blade. It allows you to get into the nitty-gritty of trimming around the bone and separating joints. 
Do you need/want a boning knife that you can use as a fillet knife? In this case, you need a semi-flexible blade. It makes it easier to trim the skin off fish fillets. 
Tang
A blade is put under a lot of pressure when making exact cuts using a boning knife. A full tang construction ensures you avoid this issue. This type of construction is designed to ensure a single steel piece extends from the tip of the blade. The same runs through the handle's butt. You get a boning knife that's long-lasting and strong thanks to the resulting durability and stiffness. 
Handle
There's a good chance you get your hands greasy and wet when you work with large cuts of seafood, poultry, or meat. It's the same reason why you need a good handle when you are choosing a boning knife. For starters, natural wood or hard synthetic handles with non-slip textures are the best. 
Slick synthetic handles should be avoided. For example, avoid handles made from lightweight and/or cheap plastic. They don't provide a fine balance to the weight of the knife's blade. Additionally, they are not comfortable to use.
Finger Guard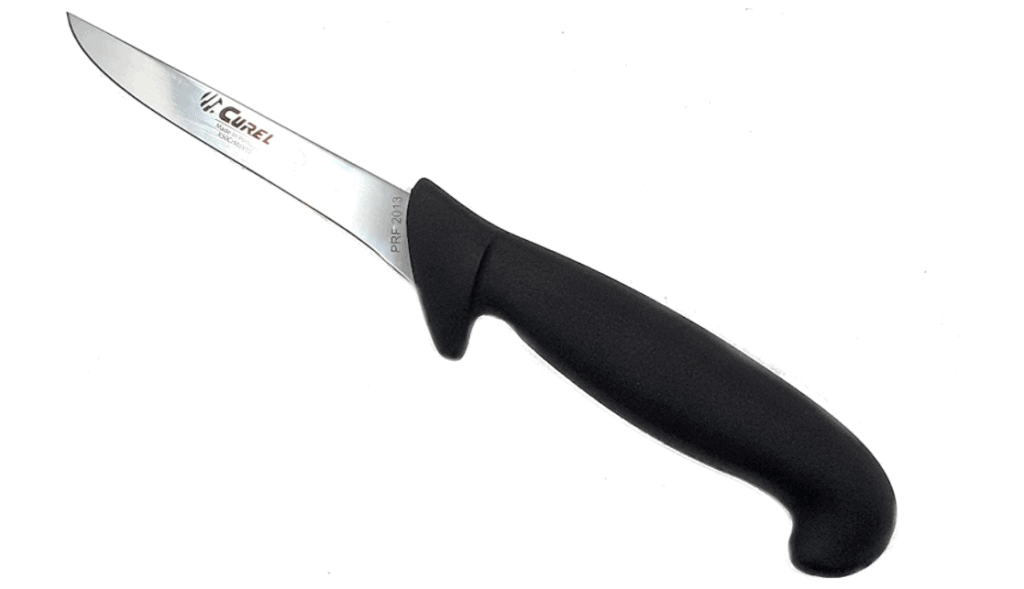 For beginners and amateurs, a finger guard is paramount to ensure the safety of their fingers. After all, you don't want part of your finger to be part of the meal, right? That said, some boning knives feature a small finger guard at the junction of the blade and handle. 
Make sure you check out this feature especially if you are working in wet environments like fish cutting environments. Full bolster or finger guard can be avoided by most chefs or cooks/homeowners using boning knives. As for beginners and amateurs, a finger guard is something to consider before honing down their boning knife skills. 
Maintenance 
Proper maintenance and care are paramount on your boning knife. It ensures you extend the overall sharpness and life of your knives. For boning knives, you need to pay attention to two things:
Storage – You can use an in-drawer storage system, magnetic knife rack, or use the case your knife came in. Whatever the case, ensure your boning knife is not paced with other utensils to avoid it banging around other kitchen tools.
Maintenance – Ensure the knife is always dry in between uses. Leaving such tools wet leads to corrosion or discoloration, even if the product is made from stainless steel.
Apart from the above main points, it's advisable to sharpen your boning knife often. The amount of sharpening depends on how often you use the knife. For example, using the item once every week means you need to sharpen it at least twice a year. 
Tips for Using a Boning Knife
Just like a normal knife, you should know how to use a boning knife. For example, you need to:
Ensure you have a secure grip on the knife. You can use all your five fingers or place the index finger on the blade. Whatever the case, make sure you are comfortable and have a secure grip.

Never cut towards your body. Make sure all your cuts are done away from your body. In case your boning knife slips or moves unexpectedly, you reduce the probability of injury. 
Boning Knife FAQs
Question: What's the Difference between a Boning Knife and a Fillet Knife? 
Answer: Famous for their flexibility and thin blade is the fillet knives. This makes them more suitable for more delicate meats such as fish. As much as boning knives are thin, they are not as thin as fillet knives. The flexibility of a boning knife is less compared to a fillet knife making it preferable for tougher meats such as poultry, beef, or pork.
Question: Should a Boning Knife be Flexible?
Answer: In distinction to other kitchen knives, boning knives are more flexible but still not as flexible as fillet knives. A boning knife doesn't need to be flexible. It depends on the type of meat being cut. For tough meats, a stiff boning knife is more suitable to avoid injuries.
Question: What's the Use of a Boning Knife?
Answer: As the name suggests, they are used for boning beef, pork, poultry, and fish. They have long semi-flexible blades for this purpose. To easily pierce meats, they have thin blades and their sharp blades are efficient in working around bones. The curved blade allows one to cut the meat off any bone.
Bottom Line 
The above information is derived from thorough research. We went through reviews and statements from professionals and amateurs regarding boning knives they have purchased and used for a while. Despite their various responses, we were able to garner the best boning knife for each category. There is one for each category such as budget-friendly, professional, design, outdoor (camping), and so forth. 
You can take a look at these options from various online stores or your local store dealing with kitchen utensils and accessories. If you didn't find a boning knife that suits your needs, don't worry. Use our buying guide above to guide you on how to get one. At the end of the day, you should get a boning knife to suit your needs by the time you are through with the above information.