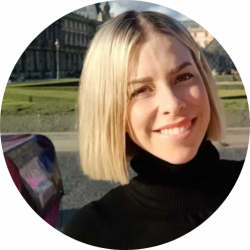 Latest posts by Jodie Chiffey
(see all)
If you haven't tried Knackwurst yet, you're missing out big time! This plumpy, fat sausage is one of the most underrated wursts from Germany that you can eat. Today we'll look at the history of Knackwurst and go over the cooking methods and common alternatives.
You've probably tried frankfurters, bratwurst, and other common types of German sausages. One of the less popular but equally delicious varieties is Knackwurst.
That's not to say that the sausage is not commonly consumed as it's a staple food in the German diet, especially during Oktoberfest. So let's look at the history of Knackwurst and how it found its way to the US.
Grilling sausages is one of the favorite summer pastimes of America. Check out the best grills you can buy in 2022 that will make you the grillmaster of your neighborhood!
History of Knackwurst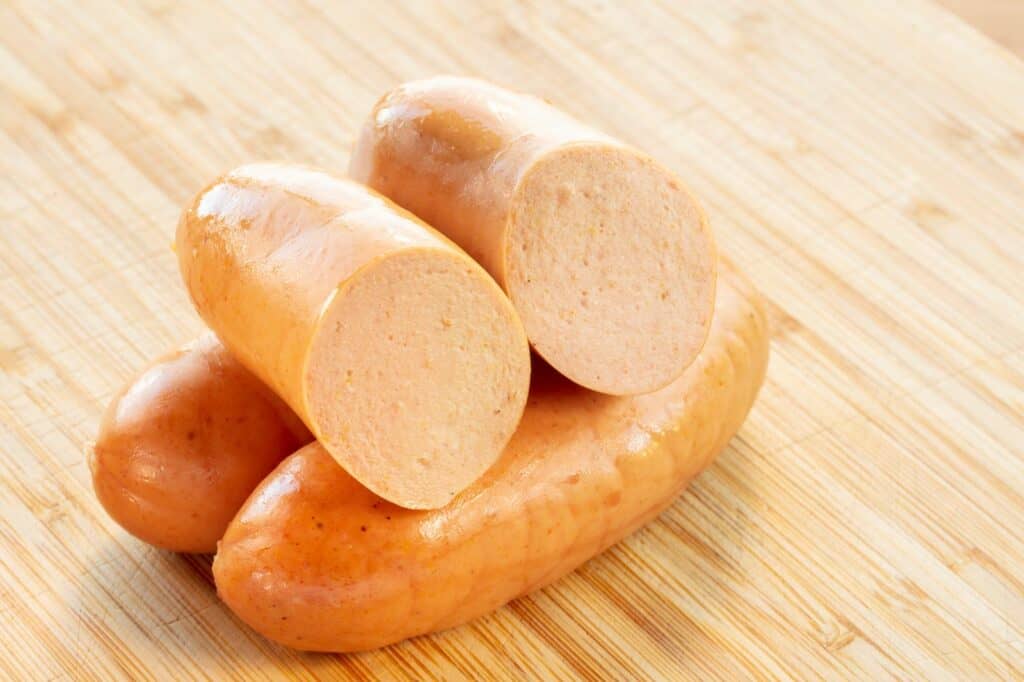 The history of knackwurst dates back to the mid-16th century in the Holstein region of northern Germany. Back then, it was a delicacy for the royals. Amongst the 1000s of wurst that were consumed all across Germany, knackwurst stood out as a short yet plumpy and flavorful choice.
Knackwurst etched its name in Oktoberfest in 1810 when it was served as one of the main dishes when Prince Ludwig of Bavaria wed Princess Therese. Knackwurst was served in a stew with apples, potatoes, and caraway seeds.
Over the course of two centuries, knackwurst found its way from the halls of the German elite to supermarkets and German food groceries around the world. The original recipe, for the most part, is used to prepare the sausage.
Erbswurst is another popular German sausage that has historical significance. Read our guide on Erbswurst and find out how this nutritious food was created.
Knackwurst – The Basics
Knackwurst, or as we call it here in the US as knockwurst, is a plumpy sausage made from pork and veal and a lot of seasoning. On occasion, beef can be used to make the sausage. The key here is the seasoning. Knackwurst has a lot of garlic and spices that give it a signature taste.
Knackwurst is an aged sausage that's crispy and juicy when cooked. This is one sausage you would enjoy preparing on your grill or smoker as it tastes great either way. We're going to cover the entire preparation method, from grounding the pork to aging the sausage and getting it nice and crispy.
What does Knackwurst look like?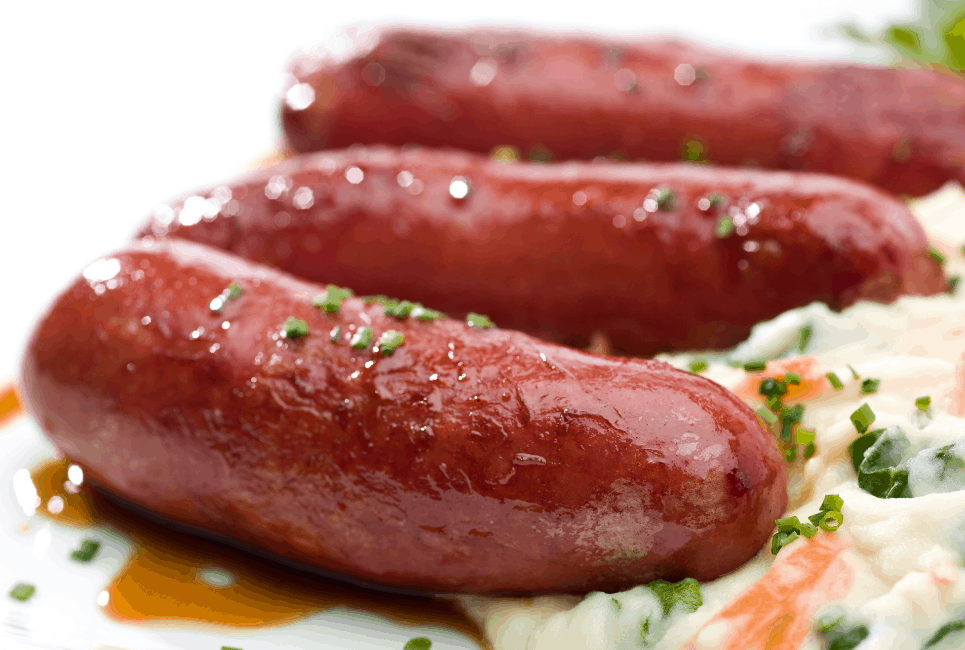 Compared to bratwurst and frankfurter, this is a smaller sausage, but it makes up for its size with thickness. In addition to the size, the color of knackwurst also differs from other varieties of wurst. Knackwurst has an orange or reddish color, whereas most other wursts like bratwurst and frankfurters are pinkish in color.
What does Knackwurst taste like?
I bought the pork and veal from my local butcher. I've been making knackwurst for quite some time, so this is one German wurst I've been an expert at. I normally like to smoke sausages, but knackwurst tastes amazing when it's grilled, so we're going to use a griller.
I took out my Cuisinart Portable Charcoal Grill to prepare the sausage. I have to say this is my favorite sausage and if you haven't tried it yet, you're missing out.
The flavor profile is unmatched. Once you bite into the crispy sausage, it's juicy and flavorful on the inside. The spices blend so well with the meat that you can eat it without any sides or condiments and still have a great time. But if you want to pair it with something, bread, sauerkraut, buns, and salads go well with knackwurst.
How much does Knackwurst cost?
The price of knackwurst will depend on the per pound price of pork and veal in your area, the cut used, and the meat grading. You can pretty much make knackwurst from all cuts of pork and veal. However, keep in mind that the cut you choose will impact the sausage's tenderness, taste, and marbling.
You can buy pork anywhere from $2 to $6 per pound. My recommendation would be to get a shoulder or neck cut if you are going to smoke the sausage. However, if you are going to grill it, then tender cuts like pork belly, ham, picnic, and loin should be good to go. As for veal, you can buy it from $4 to $8 per pound.
Looking for a place to buy natural and ethically sourced pork and veal? Read our review of Fossil Farms and find out if it's the best place for you to buy meat online.
How do you cook Knackwurst?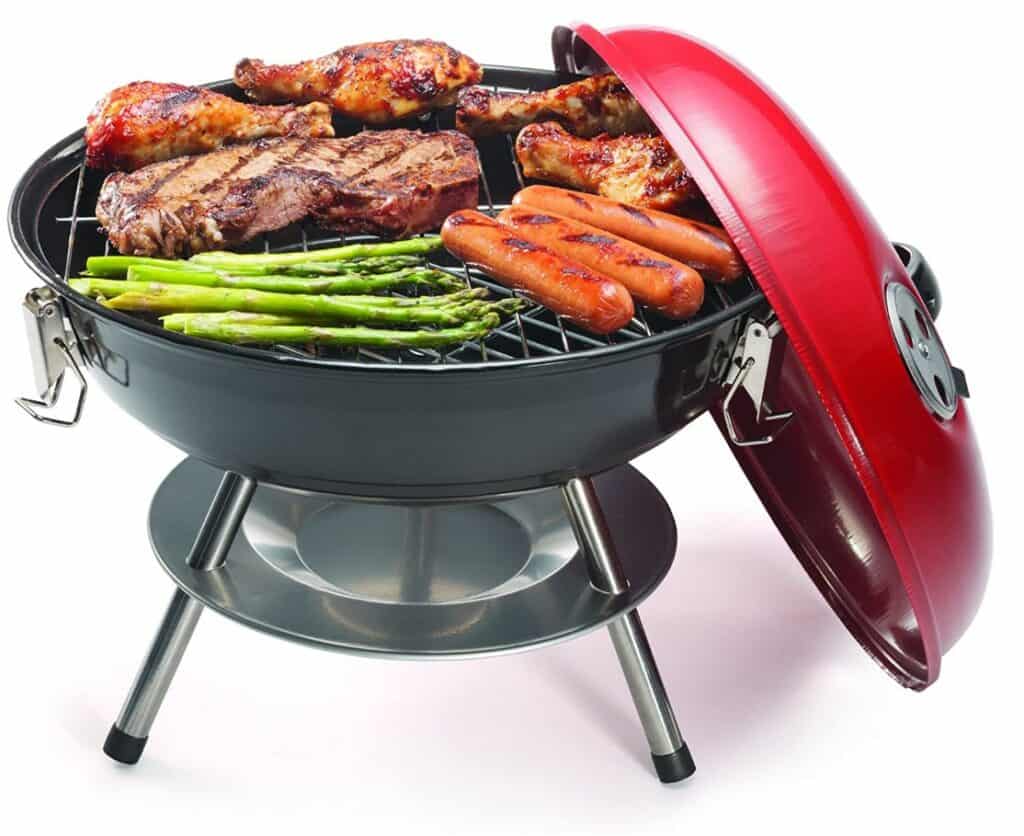 So we're going to cover all the steps from actually making the sausages to cooking them on a grill. I used the Cuisinart Portable Charcoal Grill as it's easy to carry around and allows for greater temperature control with dual ventilation. However, if you're looking for an electric grill, then George Foreman has some great options for you to choose from.
When preparing knackwurst or any other wurst for that matter, keep an eye on the temperature as that will significantly impact the end result. Let's take a look at how we can make knackwurst sausage:
Dice the pork and veal into 1-inch cubes and ground them using a 4 mm plate on your meat grinder. Mix well and place the meat in a refrigerator for 30 minutes.
Remove the ground meat from the refrigerator and add the seasoning mix of garlic powder, salt, paprika, ground pepper, and coriander with water.
Mix thoroughly, then place the seasoned meat in the refrigerator for another 30 minutes.
Put the ground meat in a mixing bowl and add crushed ice to it. Mix well until the temperature reaches 54° F. The meat should have a glossy and paste-like appearance at this stage, kind of like a meat ice cream.
Now that the meat is done stuff it in a hog casing and make it short and plumpy. Place the sausages in the refrigerator so that they absorb all the seasoning.
Now that your knackwurst sausages are ready, it's time to get cooking!
Add charcoal to your grill and let it heat. If you have an electric grill, set the temperature to around 200° F. Meanwhile, remove the knackwurst from the refrigerator and allow it to rest for 30 minutes.
Add the knackwurst to the grill and cook thoroughly. Make sure to flip the sausages so that they get even crisp.
Remove the knackwurst from the grill once the internal temperature reaches 150° F. This is the ideal temperature resulting in a deep brown, crispy skin and minimal juice loss.
Serve with a choice of bread and sides.
Looking for a good meat grinder to make wurst, sausages, and salami at home? Check out our list of the 32 best meat grinders in 2022!
Knackwurst Alternatives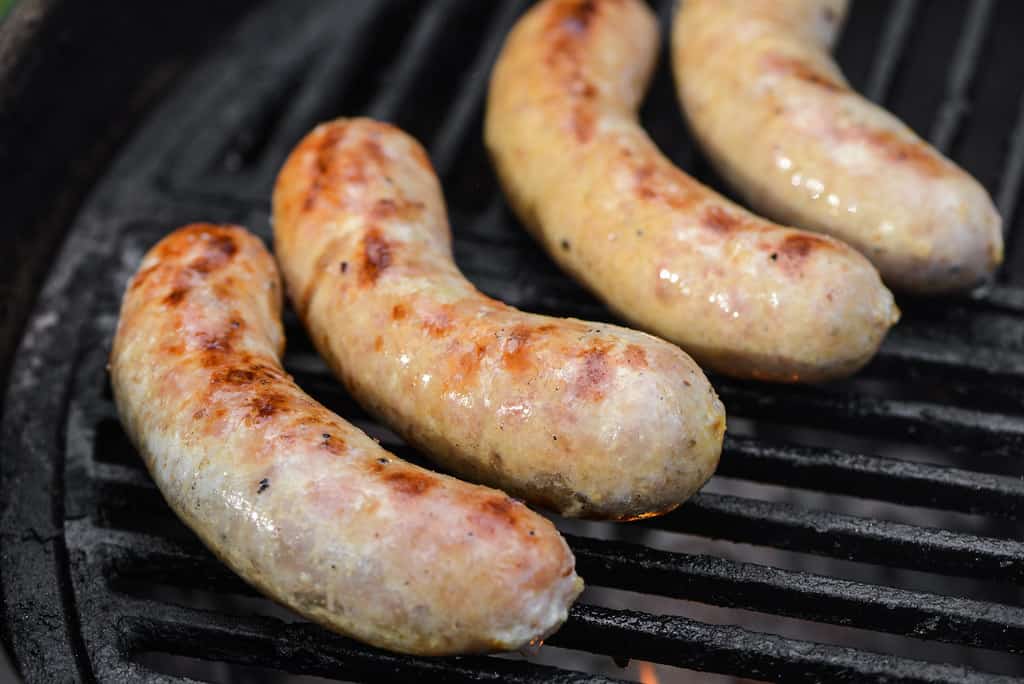 Knackwurst is one of the best German sausages out there. However, if you're looking for something else to try, here are a few alternatives you can consider:
Bratwurst: You've probably had it at sports stadiums or from a hot dog stand nearby. Bratwurst is the most common German wurst that is made from minced pork and beef. Bratwurst can be served fried, roasted, grilled, or even smoked, but we all know that the grilled sausage is the real deal!
Frankfurter: Also known as bockwurst, this sausage takes its name from the city it originated from, Frankfurt. Frankfurter is typically made from veal but may also contain pork. This seasoned wurst has a curved appearance and is typically boiled, unlike other grilled or smoked wursts.
Italian Sausage: Chances are you've probably had Italian sausage in your lifetime. Commonly known as salami, Italian sausage is cured meat that is often smoked and served as cold cuts. There is a wide range of salami varieties for you to try, with each offering its unique taste and aroma.
If you want to try an Italian sausage that you can prepare in your smoker, check out our guide on capocollo that will make you fall in love with the meat.
Frequently Asked Questions
Check out the answers to some common questions regarding knackwurst?
Question: What's the difference between Knackwurst and a hot dog?
Answer: That's a great question! So what we call a hot dog is basically bratwurst, the most common type of German sausage globally. However, the ingredients, composition of meat, and preparation methods of knackwurst are different from bratwurst.
Knackwurst is more on the red and orange side in terms of appearance, whereas bratwurst is typically pinkish. In addition, knackwurst is a short and stocky sausage, whereas bratwurst is a longer and thinner sausage.
Question: Can I buy Knackwurst from the store?
Answer: Yes, you can buy knackwurst from most supermarkets and German grocery stores. While it's not as popular as frankfurters or bratwurst, knackwurst is readily available in most parts of the US. Knackwurst is often sold as Knockwurst here, so keep that in mind.
Question: Can I smoke Knackwurst?
Answer: Yes! Knackwurst is a versatile sausage when it comes to cooking. You can fry, smoke, grill, or even boil it. While I won't recommend boiling or frying, smoking and grilling are two great ways to eat knackwurst.
Smoking will add a rich smoky flavor to the meat, whereas grilling will make it crispy. It all depends on your personal preferences. While I'm more of a smoker than a griller, I enjoy grilling knackwurst because the crispy flavor is just too good for me to ignore!
Question: Is Knackwurst Nutritious?
Answer: Yes! As the sausage contains lean pork and veal, it is one of the most nutritious meats you can have. So regardless of whether you're on a restricted diet or not, knackwurst is a good, healthy meat option to have that tastes like comfort food.
Question: Can I use Knackwurst in a hot dog bun?
Answer: Yes! This is a versatile wurst that you can have with pretty much all types of dishes. It tastes amazing with some sweet mustard and toasted bun. I suggest keeping it simple with the condiments because the sausage itself has a lot of flavors.
Question: Can I eat Knackwurst raw?
Answer: No. Knackwurst is not fermented, so it's not safe to eat raw. If you really wanted to, lightly smoke the knackwurst before having it. If you are buying the ready-to-eat variety, then boil or grill it a little before consumption. Raw sausage may not be safe to consume and may cause foodborne illnesses.
A meat grinder is a must-have if you want to prepare sausages and wurst at home, but it's not the only thing. Our comprehensive guide on the best butcher tools and meat processing equipment will help you become a better cook.
Conclusion – Should You Try Knackwurst?
Yes, you must try knackwurst as it's one of the best German sausages. While not as popular as bratwurst or frankfurter, the flavor profile and juiciness of knackwurst are unmatched. Plus, the fact that you can practically cook it in any way you want or prefer makes this a really convenient option for many people.
If you want to have a great-tasting hot dog, just add some sweet mustard and put the knackwurst in a hot dog bun. If you want to make a smoked meat sandwich, knackwurst is a great choice. If you want to add some meat to your salad, knackwurst will offer a great kick to spice things up. It's so versatile that you can practically have it with or in anything.
So to conclude, do give knackwurst a try. If you're a beginner and don't have any experience preparing sausage at home, I suggest buying knackwurst from your local supermarket. If you have some experience, then make it at home as it's truly a satisfying experience. For more cooking methods of popular varieties of meat, Meat n Marrow is your one-stop destination.